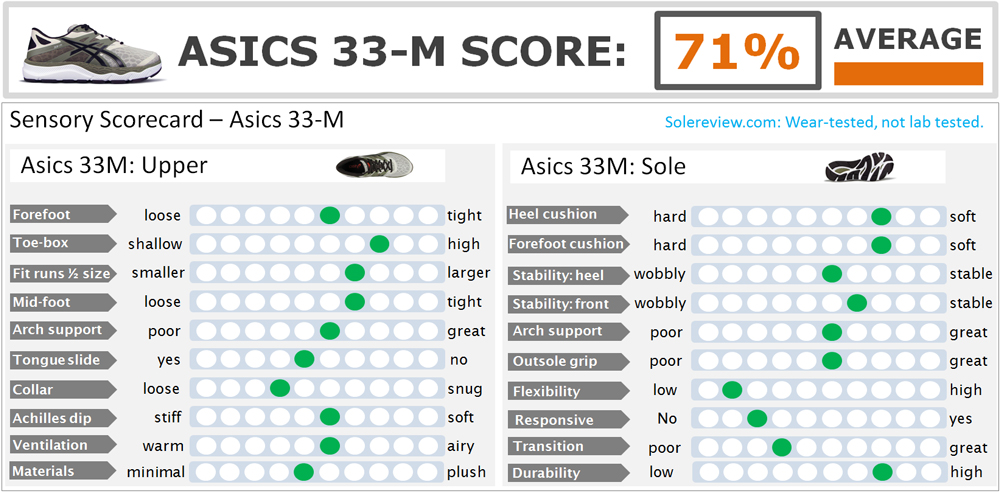 Color: Khaki/Coffee/Orange
Asics' marketing pitch: A natural running experience with a maximum cushioned ride.
Surfaces tested on: Road, ambient temperature of 25° C/77° F
Upper: Mesh, synthetic leather overlays, TPU welds.
Midsole: Dual density midsole in a stacked design. 4 mm heel to toe drop
Outsole: Hard AHAR carbon rubber in  heel, softer blown rubber under mid and forefoot.
Weight: 373 gms/ 13.15 Oz for a half pair of US11/UK 10/EUR 45/CM 29
Widths available: D-standard (reviewed).
This is Asics's first foray into the world of semi-oversized midsoles, and the results are far from impressive for a $140 pair of shoes. Better off in the 33-FA than the 33-M.
Asics 33-FA
Soft cushioning, relaxed forefoot fit
Heel slippage, heavy, price
Asics has redesigned their 'natural 33' line-up this year, bringing in three new models with tinyurl-esque  names – the 33M, 33FA and 33DFA. We missed reviewing any of the earlier 33 models, but like they say, better than late than never. Today we take a close look at the 33-M, and the FA/DFA will soon follow. We've put miles on the FA and DFA as well, so we now have a fairly good hang of their places in the series 33 playbook. Definitely helps put the 33-M into perspective.
A simple way to decipher the 2015 series 33 assortment would be to relate each model's retail price to its weight and level of cushioning softness. At the very top is the 33-M, which comes with a $140 sticker and a midsole loaded with a high amount of foam softness. Pay more cash, get more foam – good old system of barter like how the ancient Mesopotamians rocked it.
Next in line is the $110 33-FA, which adjusts its cushioning downwards along with a few design tweaks. The $90 33-DFA is the least soft of them all, and by using a midfoot strap and a firmer insole, it has less in common with the FA than the latter has with 33-M. A 4 mm heel to toe gradient cuts across all three, and we'll dive into deeper details on the FA and DFA when it's time to review them.
Visually, the new 33-M would seem like Asics's answer to the maximalist mayhem brought upon by brands such as Hoka One One. When viewed from that lens, the 33-M seems be an unoriginal and uninspiring concept. At the same time, if you wear a pair of Hoka (Bondi 4, Clifton) and then switch to a pair of 33-M's, the contrast couldn't have been starker. By means of design and material, the 33-M turns out to be a very different experience.
Different, but is it impressive? If you've gotten this far into the review, you must have glanced at the score and verdict right at the top. So you already know that we're not exactly won over by the 33-M. Not that it is an inferior product, but you don't look forward to welcoming this shoe as a part of your regular rotation.
There are a few reasons for this. To begin with, the ride experience is fairly mono-dimensional. By that we mean that there's a lot of cushioning softness, but minus the responsiveness, resilience or any other defining characteristic which transforms ordinary into something more engaging.
There's a second hurdle at which the 33-M stumbles, and that is how it compares to rest of the new 33 product line. It doesn't necessarily feel a better shoe than the cheaper 33-FA, for reasons we'll get into over the spread of this review – it simply fails to make a convincing case for the $30 premium it charges over the FA.
We might have had a different opinion of the 33-M were it reviewed in isolation. But the truth is that all three models have been compared, and we think that paying $140 for 33-M doesn't make sense in light of the $110 FA being available. If we had to edit the natural 33 assortment, we'd do so by dropping the 33-M and 33-DFA, and focus solely on the $110 model.
But what's done is done, so you do end up with the 33-M/FA/DFA trio, and we're hoping to help you make an informed decision when it comes to buying any one of these.
The 33-M's midsole adopts a fairly uncomplicated set-up. It uses two densities of foam, a soft one (olive hued) over a less softer (white) layer. Okay, the softness is not on par with the Nimbus 17, but still provides plenty of give.
The 33-M uses an open celled foam insole atop a strobel sheet made of the same material. You might recall from our Nimbus 17 review that Asics has replaced their SP45 EVA sheet with the lighter density material used on the sockliner. This is exactly how the 33-M is set up too.
So when the insole, strobel and the first midsole layer play together, softness immediately prevails underfoot. But as highlighted previously, the cushioning quality lacks dimension, it begins and ends at just being soft. There's little responsiveness or feedback, a trait which has now become a default expectation.
Things have moved ahead a lot in material development, and plain, one dimensional EVA doesn't cut it anymore. Think adidas Boost, Nike Lunarlon, UnderArmor's charged foam. Even the Fresh Foam Zante. Asics has Gel, but that's more of an aesthetic marketing scam than a functional contributor.
33-M's midsole softness is consistent from heel to toe, as the foot rests on fairly thick stack heights. To give you a perspective, the 33-M's forefoot has the same stack height which the 33-FA uses for its heel. So foam compression is available for use throughout, regardless of whether you're a forefoot or rearfoot striker.
This makes transitions bit of a slog on the 33-M. You can't be going fast when your body weight dips into the soft foam core; at best the 33-M's use is limited to long slow runs or recovery runs. And there's the weight angle too. The 33-M is extremely heavy in present day context; something we'll spend some time fleshing out in a bit.
There's a lot of outsole rubber separating the midsole foam from Asphalt. The lugs look like thick slabs of chocolate (at least on our reviewed color), and come divided by very wide flex grooves exposing the foam beneath. This articulation would seem to offer much flexibility, but the 33-M is a surprisingly stiff shoe to bend.
We have a fairly neutral stance when it comes to forefoot flexibility. It might be a good thing or an unwanted quality, depending entirely on the individual who's using the shoe.
One thing worth a call-out is that the 33-M's outsole follows a standard toe spring and an almost un-beveled heel. So forefoot roll-over (think Hoka) isn't part of the transition quality, neither is a late stage rearfoot strike. Because of how the heel edge sits nearly flush with the running surface, that area takes most of the footstrike impact.
Unlike shoes such as the Skecher GoRun Ride 4 or most of the Hokas, rearfoot landers won't find their footstrike move forward. Apart from how the outsole wears under heel, heel to toe transitions don't come gradually as they would in shoes with beveled ( angled upwards) heel.
There's a wide outsole footprint in the front, so it's a fairly stable base for forefoot strikers to land on. The front outsole has a rather quirky wear pattern, and presumably so because of how much grooving separates outsole pads. The forefoot rubber shredding tends to be localized, instead of being wider spread.
In our case, the wear happened on the edge of the third outsole row from the front. Based on early impressions, long term durability should not be an issue; forefoot uses blown rubber and the midfoot-heel is layered with hard carbon rubber, and in both areas the rubber is super thick.
The 33-M lacks any kind of ground feel – the soft midsole muffles that feedback. It's funny how Asics decides that a low heel to toe differential of 4mm is all what takes a shoe to qualify as 'natural'. A mushy midsole, a stiff forefoot and 20-24 mm stack heights are anything but. The fact that some runners decide whether a shoe is good or bad by just on the basis of the heel drop is also a very strange way of evaluation.
The stack heights, the level of compression (the difference between published static drop and loaded heel drop), and the overall midsole design play an important role in determining how different shoes behave, and the heel drop shouldn't be seen as the single most important thing to consider.
Paradoxically, the softness does not rob the 33-M of stability. The shoe being neutral, there is some amount of roll, but the white section of the midsole serves as a stabilising base. It interlocks with the Olive colored foam – you can see that on the bottom where the upper midsole exposes itself in small windows. The lower midsole also flares out around the heel area, creating a wider plant. So the combination of a soft core encapsulated in a comparatively firmer surrounding gives the 33M a neutral, yet supportive stance.
The sensation of stability is also helped by 33-M's surprisingly heavy weight. Not only does this Asics shoe possess more empirical mass than examples of Hoka maximalism, but also when placed against traditional high heel drop (and stack thickness) models.
374 grams/13.1 Oz for a half pair of US 11 far exceeds the acceptable median, and enters a region where the actual weight is felt during runs. Here's a quick rundown of how other heavier models compare – 382 gms/13.5 Oz for the Nike Air Max 2015 and the adidas Springblade at 396 gms/13.9 Oz. This is to say that the 33-M is no more than 10% lighter compared to these big boys.
You'd think that the FA and DFA would fare far better, but they weigh average at best, both of them in the neighborhood of  300 gram/10+ Oz levels.
The upper design is a now oft seen mix of mesh, synthetic leather and TPU overlays, all while maintaining a no-sew approach to putting all together.
The forefoot area is mostly uncluttered and unencumbered with overlays, save for a narrow band which runs along the curve of the toe bumper. The midfoot sides are swathed over with synthetic leather panel and the Asics logo.
For aesthetic detailing, the lateral (outer side) has the molded version of the Asics stripes, and the medial side sticks to a plain synthetic leather cutout treatment.
There isn't much padding on the tongue, which like most Asics shoes, is supplied without a gusset tethering it to the upper sides. Lacing is based on standard 6+1 eyelet rows, and if you happened to use the last row, you will find out that there isn't much tongue flap left underneath.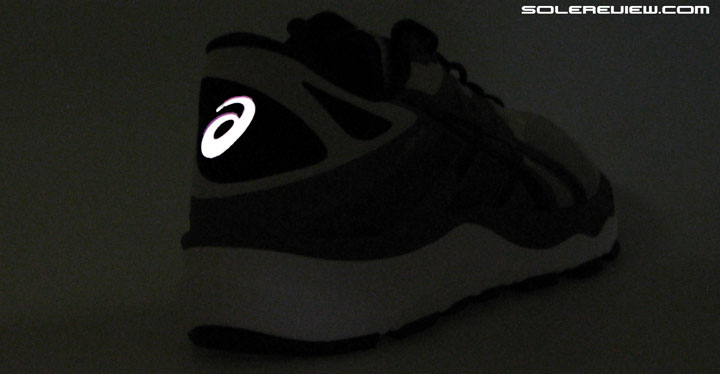 Heel part has an internal and rigid molded stiffener, and this is where the 33-M differs from FA and DFA. Both the $110 and $90 models have collapsible heels, and gentler on the Achilles than the 33-M.
As far as the lining goes, it's a smooth mesh backed with foam. Low light visibility is limited to just the Asics logo on top heel, and this design treatment extends across the current 33 series, with the retail price deciding the size of the shine-in-the-dark logo. Lower the price, smaller the reflective logo.

Inside, there's room aplenty, and we wished Hoka used a similar upper fit over their oversized midsoles. Asics says that this shoe 'uses the roomy 33-last' and what that means is that forefoot delivers a space which is in a happy place between snug and baggy, with no tight spots on rest of the upper. The toe-box height is generous, and the snug nosed toe-bumper converts into adequate medial toe space.
Sizing should run true to size for most, with the caveat that the 33-M has a little more open space ahead of toes than one is typically used to. There will be a small minority of runners who might half-size down, so better to try it first before committing.
Tongue doesn't have much foam inside, and we thought that lacing pressure might be an issue. But it really was not, and we can think of one reason why. There is a synthetic leather lacing guide over the tongue, and it appears to insulate the foot from top down cinching.
The only time you'll face any lacing issue is when the last row is used. There's not enough tongue length, so the laces will barely skirt over the flap, and you'll feel some pressure over the tongue edges.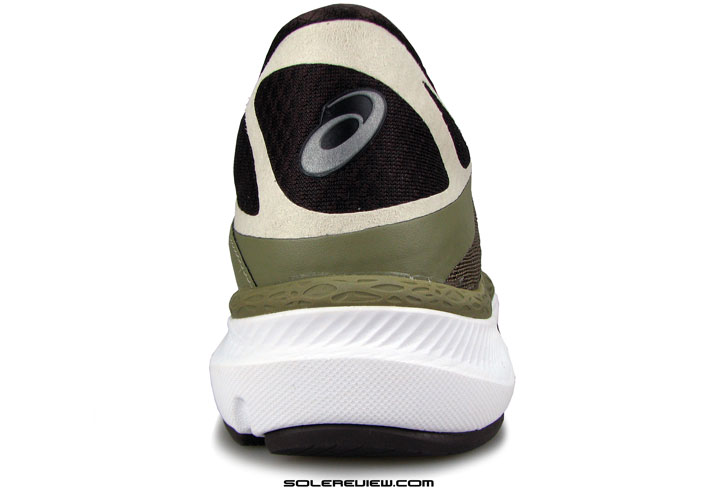 Two things which could have been better on the 33-M upper would be the collar and the interior feel when worn barefoot. The heel collar might use an internal counter, but the design is more straight than contoured. This doesn't provide much heel grip, and has the tendency to let the foot slide.
We also feel that the sheer weight of the shoe is an also an accessory in reducing collar grip. The other 33 series models do a better job at this; their lower weights combine with a collapsible heel (and hence better at wrapping around the foot) to produce an upper grip with no complaints.
If you decide to go socks free on the 33-M, you'll certainly be introduced to the thick seam inside, around the forward arch area. The Nimbus 17 also had a medial seam for support, but it was cleverly covered with a no-sew tape. The 33-M doesn't and instead uses a Mizuno type material which isn't exactly best friends with bare-skin. You are sure to feel irritated during runs, so better off to pair this one with running socks. And you'd also like to know that the 33-FA does not have this bothersome seam. The 33-DFA has.
Asics throws the brand new 33-M on the wall of oversize midsoled models, but does it stick? We did that say that given the choice of the 33-M, FA and DFA, and if we had to choose one for our daily run – it'd be the $110 33-FA.
When that happens, you know that Asics's newest shoe is still very much a work in progress.
(Disclaimer: Solereview paid full US retail price for the shoe reviewed)