Color: Infra-red/Black-Runwhite
Intended use: All runs except trail and in bad weather.
Surfaces tested on: Road, synthetic track, 20° C/67° F
Upper: Spacer mesh, synthetic Tirrenina Suede overlays.
Midsole: Boost foam with hard EVA rim.
Outsole: Carbon rubber, Adidas Quickstrike under forefoot.
Weight: 248 gms/ 8.74 Oz for a half pair of UK10/US10.5 (Adidas sizing)
Widths available: Only one standard width.
The Boost midsole carries over from last year's Adios Boost 1, but the upper is a redux of the 2012 Adiprene based Adios 2. Responsive heel and firm forefoot make for a great ride, but the tongue design leaves something to be desired.
Adidas Takumi-sen 2, Adidas Hagio 2
Responsive ride, strike economy, ventilation, weight.
Tongue irritation near the top eyelets, potential arch dig from sharp midsole edge, price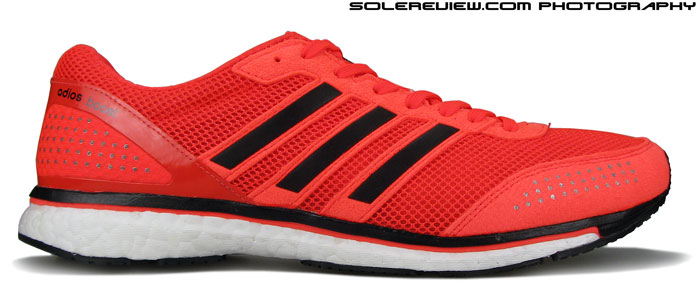 We observed the low-drop, minimalist footwear phenomenon of 2009-2012 with interest, and one aspect of it was truly puzzling. Driven by the meteoric (and temporary) success of brands like Vibram, it was natural for many brands to want in on the wave. A new category of lightweight shoes mushroomed almost overnight, each model marketing a low heel drop number and overall minimalism in construction. But hang-on a sec there, weren't traditional racing flats the exact same thing? Lightweight, snug fit, low drops, the works? Some racing flats successfully slipstreamed off the minimalist wave, but other than that, only the new 'minimalist' models marketed by brands hogged prime-time. Can't really seem to get our head around it.
One could argue that Racing flats have a narrower fit than mainstream low-drop shoes, but then you had options of different brands and fits which could take care of that. We remember reviewing the quasi-flat Adizero CS in 2008 (yes, we've been around longer than you think), and it actually came in a wide. Durability? Distance flats – then and now, came in different outsole designs, offering a broad spectrum of durability levels. Was it the price then? Not that either, because running flats have been (and are) available at below $100 prices.
Regardless, running shoes broadly tagged as 'flats' have survived the crests and troughs of footwear trends. Because when it comes to putting some speed into your runs, few shoes do a better job. They weight less, have a low drop, and have a flat (and stiff) forefoot profile inclined towards producing efficient touch-and-go – a critical ingredient for making modern day homosapiens faster. In the racing flat context of things, the Adidas Adios has always been an in-betweener between running flat purism and mainstream neutrals.
For the simple reason that heel is relatively generous in volume and cushioning, which makes it closer to a neutral regular, yet the flatter forefoot distances it from the latter. Adidas hasn't published the heel drop for the Adios 2 Boost, but going by what online retailers say, general consensus plugs the Adios drop at around 10 mm. The Adios has always been so, even in its non-Boost avatar. You have to see where the Adios is coming from. It was a replacement for the Adizero CS, which combined elements of a traditional comfort shoe with that of racing flats, resulting in a middle-ground pace shoe. The Adios took that formula and refined it, making the shoe sharper functionally. Buoyed by the Boost momentum, Adidas decided to inject its newly concocted foam into the Adios last year, and 2014's Adios 2 Boost is a follow-up to that. So what does this year's Adios evolution bring?
You can't go wrong by starting with the basics, so we'll do exactly that. The sole unit is an exact carry-over from the 2013 Adios Boost, no changes there. A near full length layer of Boost foam (see this review for a complete Boost lowdown), capped on the top with a harder EVA rim. On the upper, major changes take place, if you use last year's Adios as a frame of reference. Adidas does away with the signature upper design language found in its Boost line up – things like the distinctly shaped heel counter pattern, mid-foot design and Tech-Fit-mimicking overlay on its toe box. Instead, it reverts back to the design and material fundamentals of the 2012 non-Boost Adios 2, bringing back soft synthetic nubuck and a much more simpler design. The mesh used is the same, a breathable lightweight type which runs across the upper surface without a lining underneath.
When it comes to ride, the recently introduced Boost foam gives the Adios an advantage over its previous EVA foam versions. That difference is felt in its heel stack, which at approximately 25 mm, offers a lot of cushioning for a racing flat. But here comes the catch. At slower speeds, rear-foot strikers won't find the Boost midsole very responsive; it is only when you pick up speed that the snappy nature of the foam comes into action. A glancing heel strike will momentarily cause increased compression of the Boost foam globules, unlocking the cushioning sensation found lacking at lower velocities. What we like about the Boost is that it doesn't make the heel mushy or wobbly, keeping the foot stable. It also helps that there's this extra hard 'rim' of EVA capping the outer upper edges of the midsole. It is not a layer between the Boost foam and foot, it limits itself only to the periphery. What's above the Boost midsole is a thin fabric strobel and a drop-in sock-liner, with edges of the heel counter synthetic folding in over the Boost foam.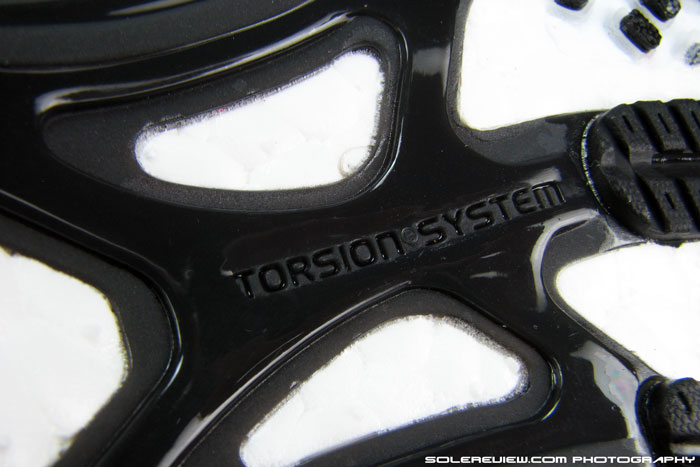 Forefoot is very slim (hence the high heel-to-toe drop differential), so there's close-to-none cushioning there – at least not the type you can feel. It is a bit stiff too, and flexing it results in a spring-back sensation. There's a reason behind this; the plastic 'Torsion' thing located in middle of the outsole doesn't restrict itself to just that area. Its invisible 'fingers' stretch forward into the forefoot, with the medial (inner) and lateral (outer) extensions spanning the entire length of forefoot. We've edited a picture (above) with the red section showing the reach of plastic bands. It isn't a new thing though. It was there in last year's Adios and even in the non-Boost Adios 2.
Stiff the forefoot might be, but that's exactly what makes fast running in the Adios Boost 2.0 so rewarding. With not much material to 'give' or compress under the forefoot, propulsion just feels so much more economical. Great touch and go, and it is helped by the racing flat specific 'Quickstrike' outsole. Found in many high end racing shoes, small pieces of rubber are glued on to many TPU (Thermoplastic Urethane) mini-platforms, which in turn are affixed to a fabric base. This whole assembly is stuck to the underside of the midsole, with the basic purpose of reducing weight, yet providing excellent grip.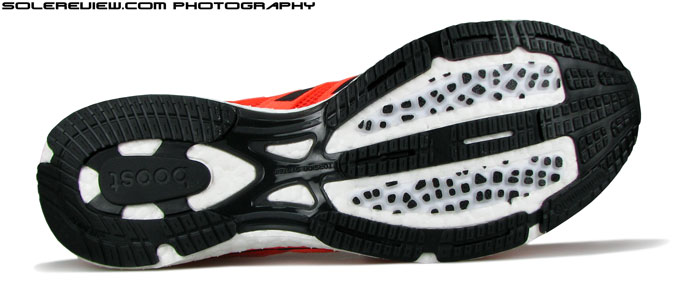 Talking of grip, the Adios really comes into its own on synthetic tracks. The Quickstrike forefoot rubber nuggets feel like an embryonic version of 3/16" Omni Lite Xmas tree track spikes, and works amazingly well. We saw the Adios perfect for those intervals, where you need the forefoot grip to be tenaciously grippy during quick accelerations, yet want the shoe to be somehow well padded when you're catching up. Wish the entire forefoot had these nubs, because the band of Continental rubber in the center feels kind of lumpy. On the other hand, the liberal use of Continental rubber increases durability. The injected rubber micro-lugs aren't very hardy, and will see quicker wear if used on road often. The rubber running along the forefoot center eases off the abrasion pressure on the Quickstrike, making the Adios a little more capable of taking a greater number of training runs.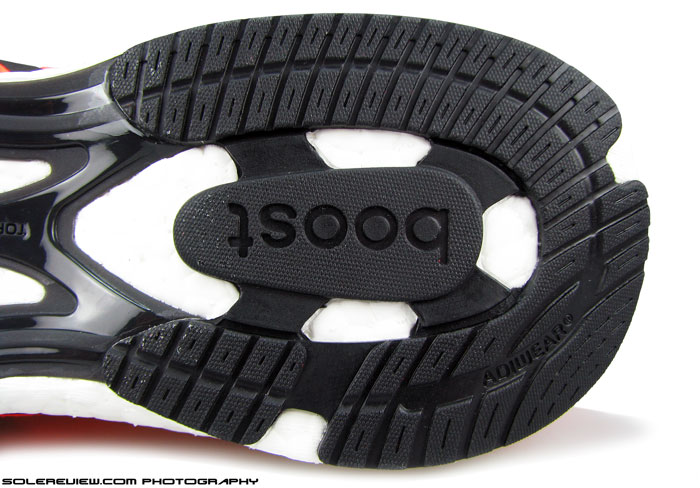 On roads, the durability isn't as bad as we thought it would be. The rear-foot wear levels equals the Energy Boost, with plenty of outsole rubber coverage. In the forefoot, moderate wear shows up on the Quick-strike lugs after a few runs, with rest of the regular rubber coming unscathed. The micro-lugs have this glossy finish on the top, and that is the first to go – they have the appearance of dried-up rice starch flakes, but they're purely cosmetic and do nothing to impact traction performance.
We feel the Adios (or for that matter any distance flat) should be weaved into a training rotation, with a frequency of 1-2 days a week being optimum. It has enough cushioning to be a daily trainer, but forefoot lugs might not take that abuse. There's a pattern to the outsole wear though; as the forefoot center is raised relative to its sides, signs of wear (on both the quick-strike and rubber area) will first show up somewhere around the middle. It's also likely that the snug upper fit focuses forefoot pressure on a smaller area instead of spreading it out, which might lead to wear just under the roll-off pressure zones.
One shortcoming of the Adios Boost 2 midsole will be made apparent if you're a low arched runner. The midsole waist (area above the Torsion shank) is very narrow, as befits a running flat. That isn't a problem in itself, but the firmness and angle of midsole wall is. The rim lining the Boost foam is rather firm, and its hard edge shoots up as a straight line right below your arch. So start putting miles on it, and if you tend to load weight on that area, a faint soreness will make itself felt under-foot. It isn't acute, but that's something you should watch out for. And if you're prone to PF injuries, it would be healthy to cross the Adios Boost 1 and 2 completely off your list. It's a small risk, but why take it?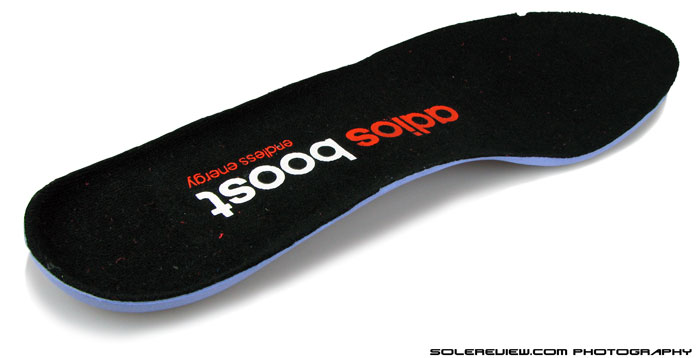 We think it rather strange that Adidas should overlook this. In the regular EVA Adios 2 version, the under-arch midsole area curved out nicely, so it wasn't a problem. The material was also way softer, unlike the hard rim used in Boost Adios. There is a foam sockliner between the hard rim and the foot, but it only provides marginal insulation from the hard edges.
The sockliner, by the way, is a straight lift from the 2008 Adizero CS (yes, 2008). And when we see it from a manufacturing eye, Adidas might be using a very old pressing mold too. The molding lines under the forefoot and the Adidas logo isn't very clear, suggesting that the metal compression mold might actually be of 2008 vintage. Metal molds age with multiple compression cycles, and the channels which give molding definition get blunt and chipped. The last numbers have changed from what was printed on the Adizero CS footbed, but the foam molding around those numbers has a certain roughness to it. Experienced manufacturing blokes will see this as a tell-tale sign of retro-fitted modification.
The upper, as we pointed out earlier is a nod to the 2012 Adios 2 design. The well ventilated mesh is used in combination with a synthetic called Tirrenina Suede – basically a cluster of polyester fibers which can pass off as natural suede leather when it comes to hand feel. The tongue and collar are lined with another kind of mesh, which has got a smooth texture. The heel area is made of smooth synthetic (same as the 2012 Adios 2), and hardness of the counter points at use of an internal stiffener. Though the suede like panels look like they're going to break-in over time, we see that as unlikely. Polyester fibers lack the natural, adjustable elongation (properties) of natural leather fibers, regardless of how close both appear in touch and feel.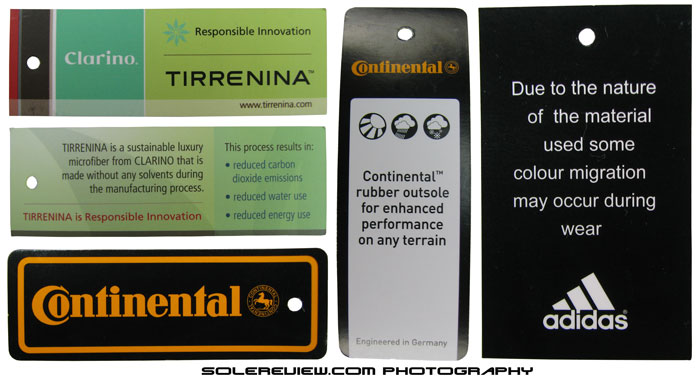 There are quite a few paper labels which come packaged with the Adios 2.0. Couple of them calls out the features and benefits of Tirrenina and Continental rubber, while the third is a cautionary warning about potential color migration from the eco-friendly Tirrenina suede. Rain loving runners and general populace of the Pacific North West (USA), please note.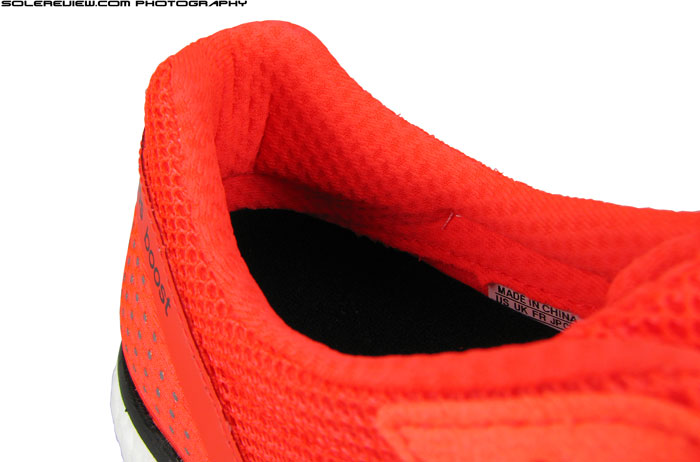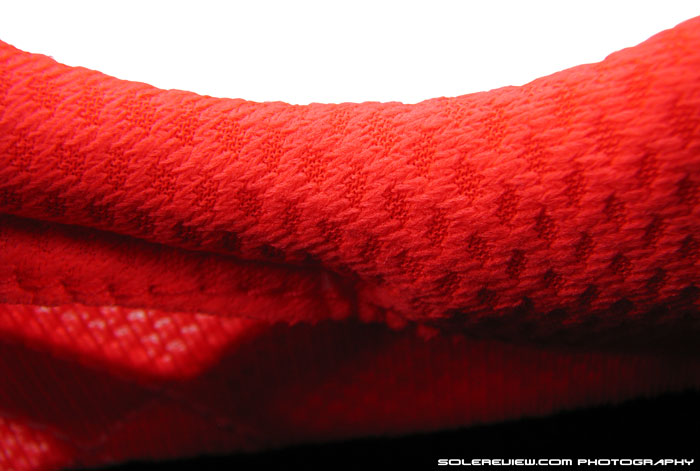 Fit is extremely snug all over, with a shallow upper ceiling and a narrow instep. As with all Adidas shoes, you'll need to do a compulsory half upsize when switching from same sized US brands. Not because the shoes adopt a different last, but just because there's a difference in how the German brand converts its sizing. But the Adios is best worn snug, because the collar fit isn't exactly great. Leaving some room ahead of the toes results in less than stellar heel grip, and moments of slippage become apparent during runs.
And if you don't want to upsize, you can't go barefoot either. The tongue design is flawed and causes discomfort when running. The tongue is attached just to front of the shoe, so it runs free of the upper – kept from sliding by laces passing through an off-center lace loop. But that construction isn't the problem, the tongue component itself is. The tongue is short and thin, so when you pull it while trying to lace up, its edges fold under. When it does, the coarser side of the mesh makes contact with your skin and is irritating. You can manually reach in when putting the shoes on and try to correct the folds; but the lacing is very long and there will be always be a portion of folded tongue tucked in somewhere deep inside. So what happens during and after a run? While in motion, there's this constant sensation of a lump just under the top of the tongue. After a run, mesh shaped depressions show up on the bare skin. This does give 'Feet You Wear' a whole new meaning.
Wearing a pair of socks dulls this effect vastly, but we're certain that making adjustments on the tongue pattern will also translate into a more comfortable fit, even when worn with socks.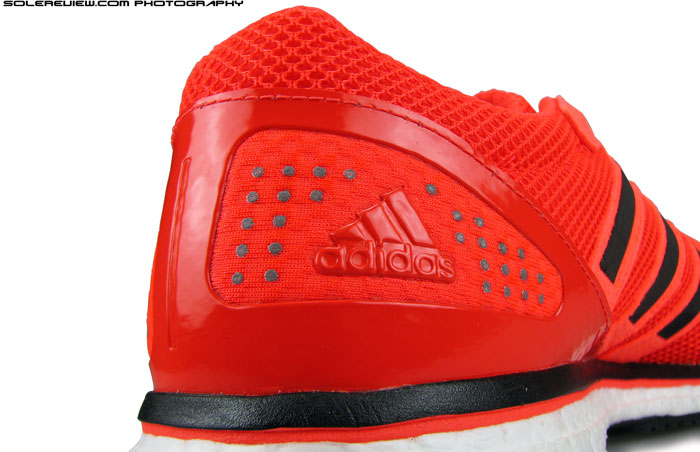 Smaller details include change of laces to a flat, tubular type, and increased night time visibility on the upper. The Adios Boost 2 ditches the loosely knitted, flat laces which had a cottony texture – used in all Adios versions so far and in the Adizero CS. The new laces need to be tied tight, else they're prone to coming undone because of its smoother surface. Reflectivity is cranked up on the 2014 Adizero Adios Boost 2, with shiny dots placed on either sides of the upper. The toe box alone has 66 reflective dots, while the heel has 75 – enough for low light running.
The Adizero Adios Boost 2.0 has an excellent forefoot ground feel coupled with responsive heel cushioning, and it is very lightweight too (248 gms/8.7 Oz, US 10.5). The forefoot grip is stellar, and running fast in them just feel so right, so economical. Yet it does not impress us, its merits weighed down by the could-do-a-better-job tongue and the hard midsole under-arch. For a shoe which costs $140, every part of it should shine with distinction.
If you don't plan to run sock-less, and have a high arch, or are happy with the Adizero Boost 1, you could consider the Adios Boost 2.0 as one of your options. Otherwise, when it comes to racing flats, there are choice aplenty, both within and outside Adidas' product line construct.
(Disclaimer: Solereview paid full US retail price for the shoe reviewed)
Note on ratings: Our numeric scoring of 7.4/10 is based on a total of weighted averages. The attributes namely transition, stability and fit contribute to 69% of total scoring weight, which we see as more important than material (7%), cushioning (7%), traction (12%) and weight (5%). Hence the scores will not add up when simple average calculation is used.