Color: Hyper Cobalt/Hyper Punch-Black
Intended use: All runs except trail and in bad weather.
Surfaces tested on: Road, synthetic track, 21° C/70° F
Upper: Single layer mesh, welded synthetic overlays, Flywire loops, inner sleeve.
Midsole: Single layer compression molded EVA, forefoot Zoom Air bag.
Outsole: Carbon rubber, exposed midsole foam.
Weight: 289 gms/ 10.19 Oz for a half pair of UK10/US11
Widths available: Only one standard width.
A training shoe for tempo runs. Its firm ride and snug upper is a bridge between a traditional cushioned trainer and a racing flat.
Nike Zoom Streak 5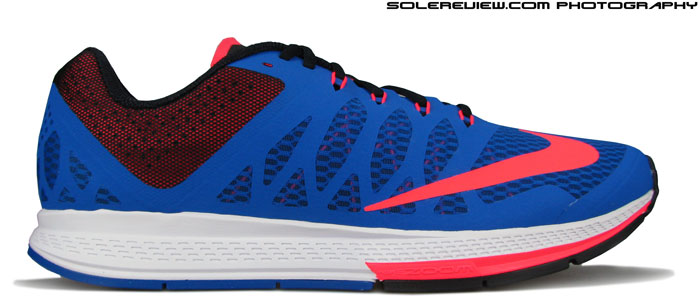 The Air Zoom Elite 7 is part of the four-shoe new Zoom pack which Nike gave everyone a preview of last summer. Each model featured a major re-design, overhauling its persona in more ways than one. If you've been following Nike long enough, this sort of thing happens once every few years. Strong winds of change blow away any hint of oldness from every nook and cranny, transforming what was once familiar into something totally new. The names might be the same with an ascending numeric suffix, but the shoes seldom are.
The consequences of this come two-fold. One, runners struggle with a constant love-hate swing with Nike. Just when they were getting used to their pair of Pegasus or Structure, out comes a brand new version of it. The fact that you've been wearing the 'same' model for the past ten years counts for nothing. It's like going to your favourite diner and ordering your regular.
Fifteen minutes later, you're chewing on your 'regular', and find out it isn't the same. 'Hey', you yell at the server. 'What's this? Tastes completely different from what I had yesterday.' The server just shrugs and shouts back, 'You know Jeff? The cook? Well, he's gone. There's a new guy in the kitchen.' Soon after, you either learn to love the new 'regular', or start eating something else – after spending a week tasting dishes on the menu, trying to find a match nearest to your now-historical favorite. Sound like your running shoe story?
Two, in such cases of sweeping revamps, a common theme binds a whole shoerack of models. In case of the Zoom pack, 'fast' is the new marketing buzzword. If you go to Nike's 2014 Zoom Air collection landing page, you'll notice that all four models have a one-liner summing them up. No medals for guessing that the word 'fast' figures in all four sentences. Nike's once-in-a-few-years transformation also leads to an aesthetic sameness of design, with a palette of materials being shared more widely across different models. There is a bright side to this though. And in case you haven't noticed, we'll be happy to point it out for you.
For a long time, Nike was perceived as an 'expensive' brand. But how times have changed. Look around you, and it's clear that the bastion of $100+ running shoes isn't just Nike's anymore. Smaller brands like Hoka sell versions of their maximalist promise for around $160 a pair, and Newtons at $150 a pop (pun intended). Saucony is still relatively reasonable, while brands like Brooks have moved their pricing goalposts by around $10 this year. Asics? You'll only get something nice and plushy if you spend upwards of $120. Welcome to the new world order; where $150 is the new $100. So while the following sounds preposterous, Nike's Zoom Elite 7 and Pegasus 31 appear cut-price compared to some of the stuff that's out there.
So how does Nike achieve this? We did a small study comparing manufacturing costs across brands, and Nike's obvious cost efficiency comes into the picture. It combines scales of volume with common materials and simplified construction to keep costs low. Good for them, and good for us, as long as it keeps retail prices in check.
From a visual standpoint, you might actually get confused between the Pegasus 31 and Zoom Elite 7. The statement might sound odd, but do compare both the shoes. Lateral side profile of the Pegasus and Zoom Elite 7 midsoles look identical, with visually common elements in their upper too. It's ok if you've been in and out of previous Elites and Pegasus and know what to half-expect. But it could certainly flummox someone trying to navigate Nike's maze of products for the very first time.
As we write this, Nike's promotional banner for the Air Zoom Elite 7 went online on their running web-store , and the headlines emphasise that the Elite 7 has 'highly responsive' cushioning. This might lead runners into believing that it rides somewhat similar to the Pegasus 31, which by the way, is truly responsive. But we feel that the brand specified adjective isn't an apt description of how the Elite 7 feels.
Because in real world, the Elite 7 is a shoe with a relatively unyielding ride. It's a good shoe with many positives to write about, but 'highly responsive' is bit of a marketing exaggeration. The shoe uses a compression molded midsole which is way harder than, say a Pegasus 31. The heel area is particularly bereft of responsive cushioning; if the Zoom Elite 6 felt firm, the Elite 7 is even more so. There's an unexpected layer of hard cardboard below the Strobel and above the firm midsole, a feature we previously thought was only reserved for shoes featuring a Zoom Air bag underneath.
Resultantly, rear-foot landings feel like running in a board-lasted, die-cut 1980's EVA shoe. And per-chance if you happen to feel that the heel is cushioned, that's only because you're probably landing on its edge, where the midsole tapers to a thinner layer of foam. The fore-foot is responsive, yes, and snapback from the Zoom Air bag will be felt more by forefoot strikers than rear-footers. Yet, it runs firmer than the Elite 6 since the softer, blown-rubber (used on Elite 6's lateral side) now switches places with regular hard rubber. And yes, the softer Cushlon crash pad of the Elite 6 bids adieu too.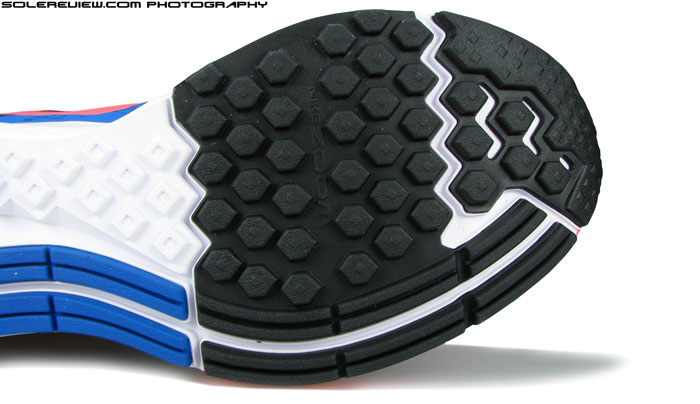 And don't read us wrong; a firm ride is not a lesser thing. The rather spartan heel area ends up in good ground feedback, and helps build tempo – something which the Elite 7 is meant for. Nike specifies a 8 mm heel to toe drop, and since the heel area is fairly hard, there should be little difference between unloaded and loaded heel drops. The common design language has a bearing on how the outsole is designed too, with layout and general aesthetics similar to that of the Pegasus.
Rubber covers most of the surface save for the medial (inner) side, where there's an exposed area of midsole foam. This helps cut down the weight of the Elite 7; it weighs in at 289 gms /10.19 Oz for a half pair, which is an achievement for a shoe of its category. There's a lower number of flex grooves in the front, and when coupled with an internal Zoom bag, you get a stiffer midsole more resistant to bending. The flexibility is in a similar league to the Structure 17 and the Vomero 9, and noticeably less than a Pegasus 31.
We have to come to terms with the fact that the days of mid-foot shanks are quickly coming to an end. Instead, most shoes now fill that cavity with foam and rubber, extending the reach of midsole to the ground. The Elite 7 is not exempt from that trend, and the expanse of rubber now runs full length. It also features the 'crash rail' outsole structure, which are basically two parallel strips of rubber running along the outer side – meant for transition and marginal stability increase through splaying. Does it work? Hard to say, but one way to put it is that the transition felt good and not lacking in any way, so the crash rail probably figures in the sum of works.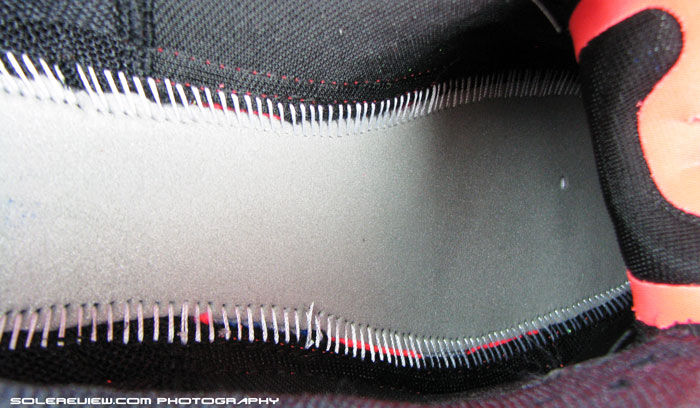 Toss the firm ride, outsole design and the forefoot air bags together, and what you get is a ride which converts into forward motion in a very lean, business like way. With none of the mush or motion control variables, the Elite 7 is a good middle ground between a traditional trainer and road racer. Nike likes to use the word 'push-off' when talking about the Elite 7's forefoot Air bag, but in reality, that word should be roll-off. One mentionable positive is that the forefoot Air bag does not feel lumpy like in the Vomero 9, and in all likelihood the reason is not redesign. It's probably got more to do with consistency of the Zoom Air bag matching the firmness of the midsole foam surrounding it – making it less of stand out density-wise.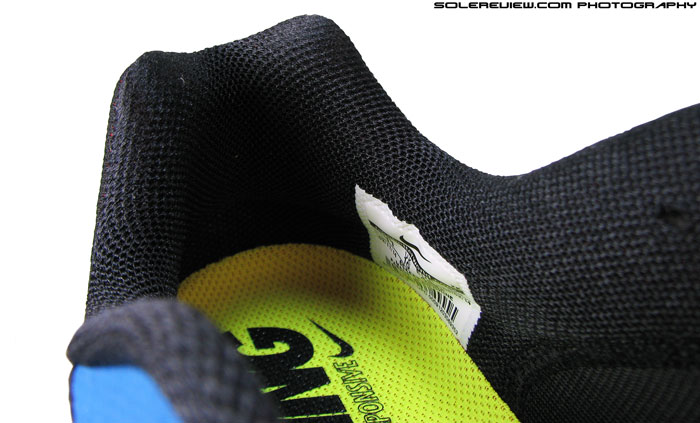 The upper is a curious mix of plush and spartan, and strangely it appears to all add up together. In the back is a soft mesh topped, padded collar which is a straight lift from the Pegasus (and Vomero). The plush mesh with a soft Achilles dip is an improvement over the Elite 6. It is connected to a full fledged internal sleeve made of foamed sandwiched mesh, which as you might have already guessed, is part of Pegasus-Elite part sharing program. Top upper mesh is a breathable, single layer type overlaying the sleeve. Mid-foot takes a turn for minimalism, with a near-flat tongue, featuring a small patch of padding only near the lip.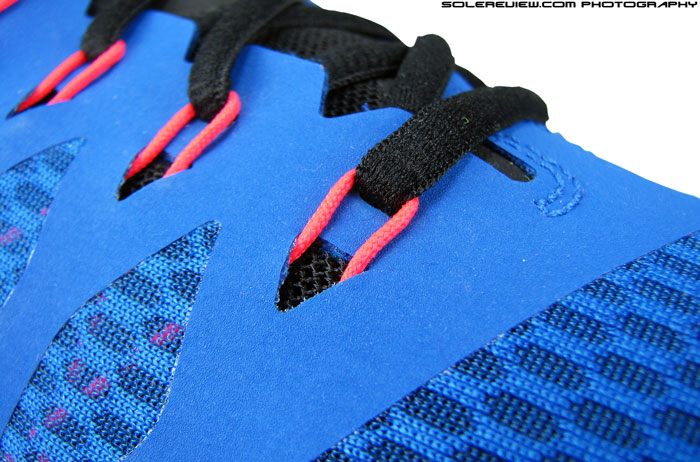 In line with rest of 2014 models, Flywire cords are single loop instead of double (better spread), with lacing passing over and through the tongue; a small center loop allow the laces to go under it. The Elite 6 and Nike Free 5.0 used a similar construction, and speaking of which, the mid-foot of Elite and Free do look strikingly similar. Geometric cut-outs on the sides, flat tongue and all that. A Nike regular would also be quick to point out that the layer of fused synthetic on the upper is identical to the one used on the Pegasus and Free 5.0. We talked about the economics of material sharing, and here's a good example of that in action.
A huge florescent Nike Swoosh logo covers the lateral side of the upper, and in athletic footwear industry lingo, this is called a 'Television logo'. Why? Because Nike hopes that some of Zoom Elite 7's customers, will be, well, elite athletes. They do show up in media often, and when they do, Nike wants to make sure that the logo is seen, either in video or print. Add the Zoom Streak 5, LunarSpider and Zoom Rival to that list too. It also isn't a coincidence that most of Nike's baseball, football shoes and some of signature basketball models feature a prominent, TV camera-facing swoosh. This also brings up the topic of visibility (of the non-media type) and sadly, that's a missing fixture on the Elite 7. The Swoosh is no longer reflective like it was on the Elite 6, and that loss hasn't been made good by any other part of the shoe.

Overall fit is snug, at least the upper area which goes till top of the small toe. Beyond that, there's some room in the upper curve over your smaller toes, and around 1/3rd of US sizing ahead of the big toe. But for all practical purposes, sizing should be treated as true with a medium thick pair of running ankle socks. Midfoot has a particularly good wrap, with the Flywire, sleeve, asymmetrical lacing and flat tongue coming into play together. Arch support is satisfactory, held up by both the cinching action of the Flywire+sleeve combo and the slightly upwards flare of the midsole. The laces criss-crossing under the tongue lace-loop does not irritate, and we observed that the soft lining material on tongue tip was a thoughtful touch. It rides up soft against the foot, preventing any irritation.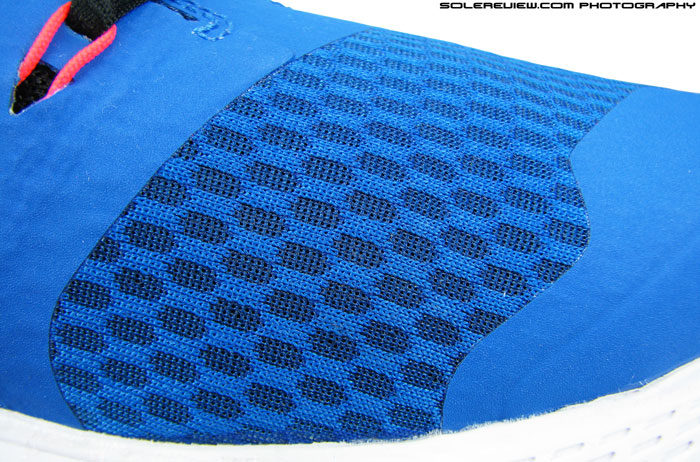 Though the forefoot is snug, it still allows room for foot splay. The inner side of the forefoot is left uncovered except for the mesh, so that helps add leeway in foot movement. If there's something which could be better, that would be the curved overlay at the base of toe box. It isn't felt at all during speeds, but at snail pace you feel the material bending inwards. Doesn't cause any pain or anything like that, but you know it's there. If the tip was shaved off a bit, it would absolutely negate the effects of bend-in.
Another thing we'd change (and actually, we did on our pair) is to swap the round laces with flat ones from Nike Free 5.0. With a minimally padded tongue, the quality of top down pressure from flat laces is far better than round ones. There are also two eyelets placed very close to each other just near the tongue tip, and round laces tend to make that area visibly crowded. Also like to highlight that if you tie the laces with long loops, they tend to smack the sides of the fused synthetic, and the effect is quite audible. Flat (and slightly shorter) laces dispatch that minor annoyance into oblivion.
The fit, we should add, is shallow. There's close-to-none wiggle room above the forefoot, with upper mesh sitting very low and kissing the foot top. In Vomero 8 style, a portion of the synthetic leather toe-box extends over the toe, reducing upward movement.

Haven't talked about the insole yet, so we'll quickly come to it. The sock-liner is the same as used in the Pegasus 31 – open-cell foam based which feels a bit like memory foam. It provides an immediacy of cushioning when sitting atop a firm midsole, and while at it, does some arch-support duties too.
There's a problem though; on our left shoe, we felt the sharp edges of the sockliner arch bite into the foot when worn without socks. It was pretty bad, to the extent that we couldn't wear the Elite 7 without a pair of socks. The issue is how the fabric top cloth bonds with the foam around the edges; it seems that there's too much pressure applied (during manufacturing) to get the two together. That results in a sharp edge which bites into the side.
That dark spot aside, all in all, the Zoom Elite 7 is good value at $110. It's got a firm ride conducive to building pace, the fit's great and the outsole grip has a good enough bite. It does away with the relatively chunky heel of the Elite 6, and comes packaged with a sharper sense of function.
(Disclaimer: Solereview paid full US retail price for the shoe reviewed)
Note on ratings: Our numeric scoring of 8.6/10 is based on a total of weighted averages. The attributes namely transition, stability and fit contribute to 69% of total scoring weight, which we see as more important than material (7%), cushioning (7%), traction (12%) and weight (5%). Hence the scores will not add up when simple average calculation is used.