Color: Solar Red/Solar Red-Black
Intended use: All runs except trail and in bad weather.
Surfaces tested on: Road, synthetic track, 20° C/67° F
Upper: Spacer mesh, synthetic Tirrenina Suede overlays.
Midsole: Combination of compression molded EVA and Boost foam, Torsion shank
Outsole: Continental rubber
Weight: 262 gms/ 9.2 Oz for a half pair of UK10.5/US11 (Adidas sizing)
Widths available: Only one standard width. (Reviewed)
Looks very similar to the race-day Adios Boost, but is in fact a shoe more suited for daily training runs, tempo included. The fit is snug but more relaxed than the Adios, likely due to use of a wider last, and there's a lot of cushioning and outsole rubber to go around too.
adidas adizero Adios Boost 2, Nike Zoom Streak 5, Nike Zoom Elite 7, Mizuno Wave Sayonara 1/2
Responsive and cushioned ride, ventilation, weight.
Upper feels scratchy when worn barefoot, narrow counter molding makes sizing run half smaller, zero night-time reflectivity
To be entirely honest, the thought of reviewing the adizero Boston 5 (or plainly called the Boston Boost) crept in only after some readers mentioned it in our comments section. If not for that, we would have simply passed it over, because the Boston Boost looks near identical to Adios Boost 2 when seen in pictures – except for some small tweaks on the midsole/outsole. So firstly, thank you for commenting, love it when you do. Secondly, having a pre-conceived notion is indeed a serious folly for a shoe reviewer. That to pre-judge a shoe based on how it looks. Sometimes, that works, but in this case, the Boston Boost wear-test punched some rather large holes in our assumption.
For a shoe which could very well pass off as Adios Boost's Doppelgänger, it has quite a few areas of differentiation worth writing about. Actually a full notebook page's worth of scribbled shorthand. Well, not literal shorthand, but a jumble of broken sentences and words in barely legible handwriting. But they come in very handy, and sentence by sentence, these connect and expand into a full review. Hopefully, that should result in a course of action which could have you:
a) Consider the Boston Boost over Adios, or vice versa.
b) Buy both shoes – the Adios and Boston.
c) Not buy it at all.
It would seem proper to start having fun with the upper first, since it looks so similar to Adios. Like some of our other reviews, we don't have history with previous generations of Bostons, so feel free to sound off in comments if you've got some informational nuggets to share. Because of its strong visual resemblance to Adios, we're drawn to compare the Boston with it throughout this review. This comparison will be of little use to you if you have no interest in the Adios. But in doing so, we trust that we'll be able to lay bare the Boston's character traits – something which will help in case you're looking at the Boston from a standalone perspective.
The Boston 5 upper appears near indistinguishable from the Adios at first glance. You've got the combination of synthetic suede and open structured air mesh, to the extent of individual patterns assuming similar shapes and positions on the upper. The synthetic is Tirrenina Suede, but with a smoother texture; the one used on Adios was more fibrous. Strangely, while the Adios Boost came tagged with paper label briefly describing what Tirrenina was, the Boston Boost just has the tag for Continental rubber. However, adidas' website mentions the Boston as being made with Tirrenina.
Mesh looks close to Adios, but is actually more padded. There's noticeably more sponginess when you squeeze the mesh between your fingers. The tongue is made of the same material, but at the top there's a section of foam sandwiched, synthetic suede with the adidas logo welded on it. Collar lining is soft mesh spartanly backed with foam, and provides a snug feel due to how the heel counter is molded – we'll talk more about it later. Tongue slide is near non-existent, as an asymmetrically placed tongue loop is stitched on, mirroring what's on the Adios Boost 2.
Yet, the fit feels quite different. There are many parts to this, but the most significant component is sizing. For this review, we bought a US size 11 (vs. a 10.5 in Adios) since we wanted some more room. But strangely, when it boiled down to heel-to-toe sizing, both felt exactly the same, with equal amount of space left (or not) ahead of the big toe. Considering that the two shoes should have a fit difference corresponding to half a centimetre of size increment, the outcome felt odd. The only probable reason is what we've experienced on other shoes – that there's a difference in how the heel molding is executed, which in turn affects overall size.
The heel is molded much narrower on the Boston, creating a pointy back end and an Achilles dip with a forward lean. This is in contrast to the more-rounded contours of the Adios heel, and causes the foot to shift slightly forward – and justifying the half size down. The toe box is very shallow, causing the toe to push against the ceiling of spacer mesh.
Apart from the actual sizing, overall fit is a bit more relaxed. The Boston Boost's toe isn't as pointy, opening up some space on medial (inner) side of big toe. There's also more mesh on both inner and outer forefoot sides, which helps increase foot splay. But we suspect that it's not only the design and pattern change which results in the fit difference, and there's more to what meets the eye. Before diving into that topic, let's have a look at what's going on in the midfoot area.
Just know that we're using the word 'relaxed' for the Boston 5's fit purely from an Adios Boost context. When compared to most shoes, the upper fit is quite snug, and that reflects in how we've graded Boston 5 in our sensory scorecard.
The upper midfoot is snug, but feels more spacious than Adios. The lacing width is broader, with more space between opposite eyelet holes. This, combined with an overall thicker tongue mesh and synthetic leather flap, reduces the intensity of top down lacing pressure felt in the adios. But like we said, there seemed to be more to this than these tweaks. We believe that the Boston 5 Boost uses a wider version of the Adios last, despite online 3D scanning apps like ShoeFitr saying that both shoes have identical fits.
Most running shoe insoles have last markings mentioned on its reverse side, and comparing the Adios and Boston throws up something interesting. Both (see picture above) have the last number 21026 molded on them, except for the suffixes. The Adios Boost has a 'D' suffix, while the Boston 5 has an 'E' appended to the number. This, in our view can mean only one thing – that Adios uses a standard D width last, while the Boston uses a wider, E sized last. Given that the dimensional difference between D and E is 5 mm, this would explain the relatively relaxed fit of the Boston 5.
Consequently, the midfoot doesn't wrap around the arch as well as it did on the Adios, but the Boston Boost betters its racing counterpart in one area – the midsole wall edge does not poke into the underfoot, and that's because of how the midsole is put together.
Side profile view of the midsole is a familiar sight if you've kept up with recent Boost launches. There's a visual rim of EVA on top, with the white Boost foam sandwiched between the latter and rubber outsole. In some shoes like the Energy Boost and Adios Boost, the EVA is only a mere rim surrounding the upper base, with the center being Boost foam core. But shoes like the Supernova Glide and Sequence Boost, along with today's special, our good friend Boston 5, feature a real layer of compression molded EVA beneath the insole. This obviously swings ride dynamics.
The Boston 5 Boost is more cushioned than the Adios. A good way to put this is it sits somewhere between the raceday Adios and easygoing Supernova Glide Boost. If the gap between them was represented by an imaginary scale, then the Boston 5 would sit nearly in the middle, but with a slight bias towards the Glide. There are a few factors involved here, and we'll run through them one by one.
The volume of Boost foam is higher than that of the Adios, and also with a corresponding increase in width of the heel base. Not so much, but even a few millimetres swings the needle. Along with that, toss in firm midsole EVA over the Boost foam. This midsole layer extends from heel to forefoot, where it ends and leaves only the layer of fabric strobel over Boost. When weight is loaded on the midsole bed, it tends to compress the Boost foam in a more widespread manner. This is in contrast to the immediate cushioning feel of the Energy or Adios Boost (though to different extent), where cushioning feels more localised and concentrated over a smaller heel area. The midsole acts as a pressure plate of sorts, somewhat similar to what Nike has done with the cardboard layer over heel Zoom Air the past few years.
The outsole design also amplifies the cushioning feel. Right under the heel, there's an open space in shape of an elongated oval, which trampolines a bit during foot strike. The lateral rear-foot area of the outsole has some amount of articulation built in by means of open slits (showing the Boost foam through), so when you land rear-foot/heel first, that portion tends to breakaway more efficiently. This increases the range of motion of the crash pad, elevating cushioning feels. And in typical adidas fashion, there's a good amount of bevel under the (lateral) heel which smoothens rear-foot strikes.
Forefoot is decently cushioned; there's a good chunk of material under the foot, a combination of Boost and EVA. From the side, it would appear as if the Boost portion ends just short of the forefoot, but turn the shoe over and you'll see Boost extend right till the toes. The EVA part acts as a kind of an external cage. Admittedly, if you were expecting the Boston 5 to have a very focused front-end like the Adios, you'll be disappointed. The relative thickness of forefoot robs the Boston of the excellent ground feel and grip witnessed on the Adios, which means that track workouts are going to be less rewarding.
The bright side depends on how you perceive the Boston 5 Boost. In our opinion, the Boston 5 is more a daily trainer good for fast paced runs than a pure raceday shoe, which the Adios is. The cushioning levels are adequate enough to go the distance, and the bottom is a layer of Continental branded outsole rubber. This makes the shoe more durable, especially under the forefoot. Grip is more than adequate, though Continental's grip on wet surfaces isn't as cracked up as people make it out to be. It so happened that one of the test runs happened on roads after a brief spell of showers, and we did not notice any incremental levels of traction over regular outsole rubber.
Running continuously over 7-10 kms in the Adios Boost 2 gave us under-arch soreness due to the sharp edge of midsole rim, so we were naturally apprehensive of the same happening in Boston 5. But none of that experience repeated itself. In the Adios, the EVA rim poked in because it was hard, and was well, just a rim sticking upwards. It's a different situation on the Boston. The edge is part of the midsole and not a rim, and the material is softer too. So the midfoot is resting on the EVA midsole, which takes most of the pressure. Any potential dig is dulled by the insole, so we were relieved not to go through it again.
Barefoot running incompatibility plagues the Boston 5, as it did the Adios. The materials and construction are nearly the same, so it ends badly if you decide to trade your socks for birthday shoes inside the Boston. The tongue edges fold over inside and press/scratch against the foot, leaving a temporary impression (of the mesh folds) on the skin after a run. The lateral side of u-throat (near start of the lacing) and sides of the big toe also feel uncomfortable. Could barely continue after a few kilometres, after which point the socks came back on again. It is becoming pretty obvious that brands don't pay much attention to how their shoes feel when worn barefoot, going by our less than ideal experiences with recent shoes. At times it is liberating to wear the shoes sans socks, and materials like an airy spacer mesh make for a sweet deal when you do.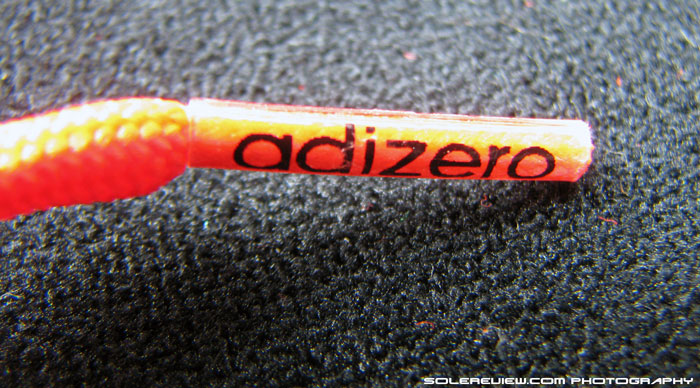 If you've got no experience with the adios Boost, and want nothing to do comparing the Boston against it, then just see the adizero Boston 5 as a lightweight, neutral trainer with elements of speed dialled in. At 262 grams/9.2 ounces, it weighs far lesser than many neutral running competitors, and the snug upper gives it bit of a distance racing flat character. The Boost foam feels cushioned, supportive and responsive, as has been our experience with most adidas Boost shoes we've tested this year. (except the Pure Boost).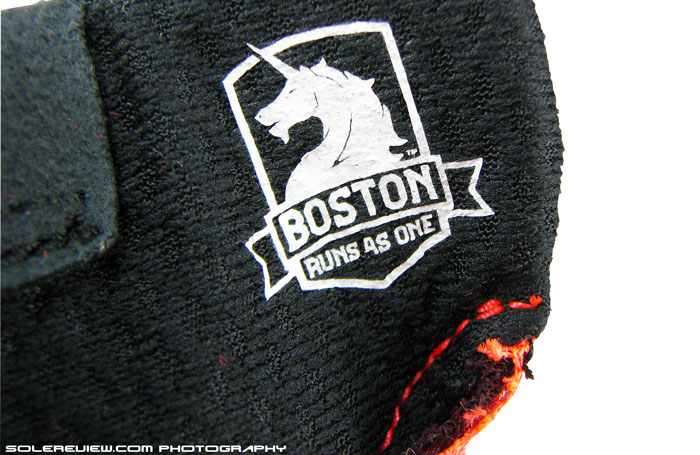 The shoe can be best described as a hybrid between a traditional, 300gm+ neutral runner and a distance road racer, an uncommon category we'd also plug the Mizuno Wave Sayonara 2 into. And before we forget, adidas calls out that a portion of sales from this shoe go to the 'Boston One' fund. In case you're wondering, the Unicorn logo is for the Boston Athletic Association, organizers of the Boston Marathon.
(Disclaimer: Solereview paid full US retail price for the shoe reviewed)
Your purchase through any of the promoted retailers in this review supports solereview's work. We make a small commission every time you do, and this helps funds our review costs.
Note on ratings: Our numeric scoring of 8.5/10 is based on a total of weighted averages. The attributes namely transition, stability and fit contribute to 69% of total scoring weight, which we see as more important than material (7%), cushioning (7%), traction (12%) and weight (5%). Hence the scores will not add up when a method of simple average calculation is used.