Color: Titanium/Black-red
Intended use: All runs except trail and in bad weather.
Surfaces tested on: Road, 21° C/70° F
Upper: Air Mesh, TPU welds, synthetic leather.
Midsole: Dual density foam, heel and forefoot Asics Gel pads.
Outsole: Carbon rubber (heel), Blown rubber (forefoot)
Weight:  353 gms/12.45 Oz for a half pair of US 11/UK 10/EUR 45
Widths available: D-standard (reviewed), 2E-wide, 4E-extra wide.
Same old, same old. Some Gel in the heel and forefoot, with an overall padded ride. But runs firmer and un-plusher compared to last year's Nimbus 15, with an inflexible forefoot. Nothing wrong with the shoe, but the whole experience is very average.
Nike Air Zoom Pegasus 31, Nike Zoom Vomero 9, Adidas Energy Boost 2 ESM, Brooks Transcend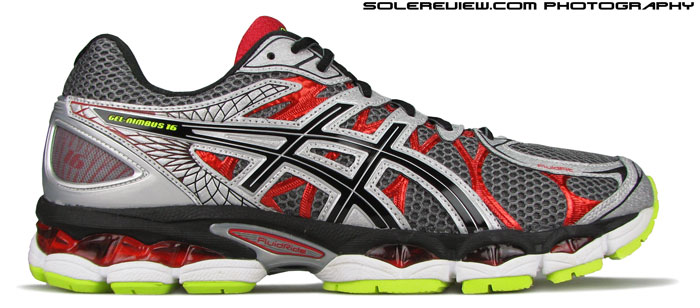 There was a time when the Japanese ruled the roost in the consumer electronics business. It was primarily led by Sony, its then charismatic business leader driving a relentless pace of innovation, hitherto unprecedented in that industry and country. Their products were so popular that many of their names became proper nouns, in the same way one would call every photocopier a Xerox. Remember Walkman, Handicam, Trinitron and Playstation? It would be fair to say that the brand significantly elevated the perception of Japanese made products, the impact of which rubbed off on many of its same country competitors like Hitachi, Sanyo, Panasonic and Toshiba, among others.
This is 2014, and much water has flown under the bridge. Sony is still a large company, yes, at $75 billion dollars of last year revenue. But it is no longer the darling of the industry nor investors, its products challenged and profit margins flattened by aggressive forays from South Korean and American competitors. It doesn't take a crystal ball to deduce that innovation is key to winning this game, something which the Japanese desperately need to weave in to their culture. Japanese designed products still remain extremely high quality, representative of that country's culture of tending to the details. But if you wanted something fresh in consumer electronics, you will surely look at newer and cheaper alternatives.
For long, we've heard stories about seniority and experience trumping everything within the Japanese corporate set-up, and it still holds true today. Decision making tends to be in the hands of select seniority of age and rank, making things move slowly with little or no change. The latter isn't only a Japanese thing; years of experience tends to instill a sense of safety-first approach, drawing on the past to cautiously shape the future. It isn't a surprise that many recent first generation entrepreneurs were in their twenties when they started; failure is an abstract notion when one starts young. Now we don't know how Asics works from a cultural perspective. Also never been inside their offices, but from what we've recently seen in their technical running line-up, everything seems to be emblematic of the culture we just referred to.
Which is being resistant to change or talking risks in product development; relying solely on legacy models to drive forth their business. And while their products are good, well engineered, what's desperately missing is a crucial element of progression. While some might argue that if it ain't broken, don't fix it, that philosophy just doesn't hold water in the running shoe game anymore, at least in North America. It's like bringing a once-cutting edge projection TV to a curved LCD screen party. It's well put together, will work without fault for many years, but just quite doesn't seem to fit in. When was the last time you heard to Asics bringing something new to the market? The Kinsei? That was half a decade ago, and we've yet to come across a runner wearing them. And we suspect that its high price wasn't the only deterrent. The natural 33? You don't want us to start on that one.
That said, it would have still been okay for the Nimbus 16 to keep doing what it has been for the past many years. That is, striving to be the go-to shoe in the premium neutral cushioning category. However, the tweaks made this year run contradictory to that intent. How else would you explain that flexing the forefoot of Nimbus 16 makes you consider including weight training into your routine? Or it doesn't feel as half as plush and cushioned as the 2013 Nimbus 15? Or the fact that its heel set-up behaves very oddly, and certainly straying way from the shoe's 'neutral cushioning' positioning. The shoe looks beautiful from an aesthetic standpoint, with use of premium looking materials and exemplary cosmetic detailing. All that is good when you're not going anywhere, but put some miles on it, and the overall experience can be best termed as unremarkable. It will serve you well if you're looking for a shoe with reasonably padded feel, but to coax anything more out of the Nimbus would be a daunting task.
Now, coming to the strangeness in heel midsole set-up we were talking just a moment ago. The definition of a 'neutral' shoe, according to us, is one which does not use any component(s) designed with the goal of gait correction. In plain words, the softness of midsole foam on both sides of the shoe should be the same, allowing the foot to roll naturally. That is why the design of the Nimbus 16 so puzzles us. The Nimbus 15 was no issue, its heel Gel pads balanced in softness by cushioned foam on the opposing side. Not so on the Nimbus 16. There are a couple of changes which tilts the till-now familiar ride behavior in a different direction, literally speaking.
The Gel Nimbus 16's midsole foam on the inner side is much firmer than the outer Gel pads, and if this reminds you of something, then your hunch is spot-on. Every rear foot strike produces a result which feels eerily similar to the Kayano 19. The softer Gel inserts compress more than the foam(medial) side when you land on the heel, tilting the Nimbus 16 slightly outwards. And that's not the only thing which causes that. The Gel and medial foam are stacked at an angle along the centerline, bringing images of pronation-control shoes forth to mind. The picture above clearly shows the contrast between Nimbus 16 and 15, while highlighting design closeness with the 2012 Kayano 19.
In the Nimbus 15, the foot strike was unmistakably neutral because of its more gradual layering, combined with softer density foam. The non-Gel midsole side also had these horizontal grooves built into the wall, helping easier compression – something which ended upping the cushioning levels. The 2014 Gel Nimbus 16 has a much firmer ride, made possible by the changes we've run you through earlier and the lack of grooves on its sidewall. In a way, it goes back to how the 2012 Gel Nimbus 14 felt with its relatively firm feel, except for the 16's mysterious Kayano-fication.
Forefoot in the N-16 is very stiff, and is firmer too. It doesn't bend very well, and that translates into a feeling that your foot is working harder during runs. Within the Asics world, its stiffness is equaled by the Kayano 20, while models like the Nimbus 15, Kayano 19 and Cumulus 16 fare better. And about the firmness, it appears that reduction of Gel volume is the reason. Can't say for sure unless we dissect the shoe, but the massive weight reduction holds a strong clue. The Nimbus 15 was 380 grams, and this year's model see a straight drop of 30 grams, going down to 353 grams for the near-same size. Now all things being equal – the upper and midsole foam doesn't swing the needle much, which leaves only one variable: the Silicon based Gel pads. The forefoot windows are also smaller than the 15, a possible indication of corresponding (and reduced) usage inside.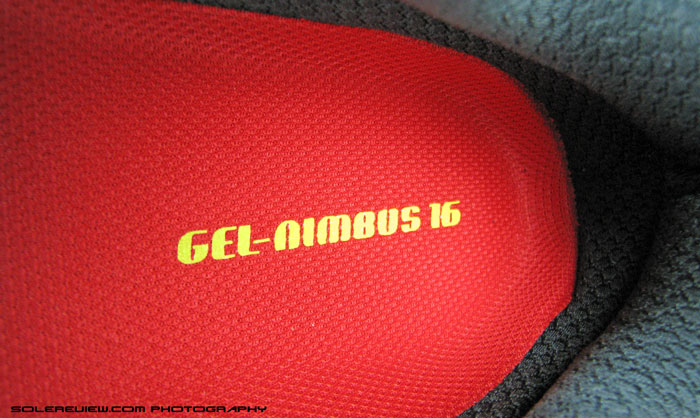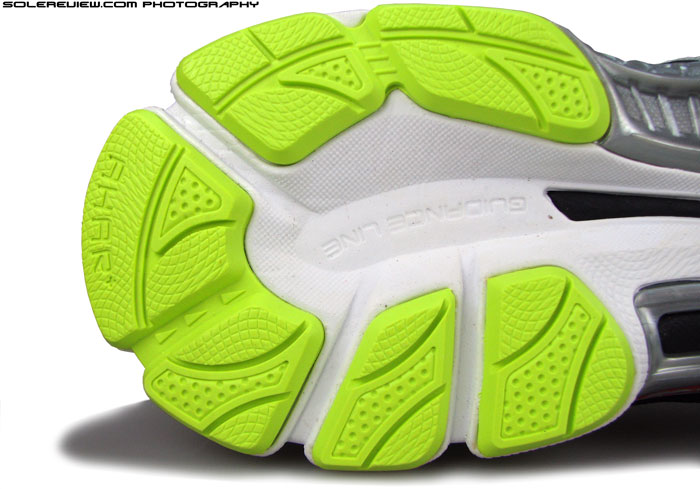 Round all these updates up, and what do you get? Nimbus 16 runs cushioned, but in a firmer fashion relative to the Nimbus 15. The footbed is a carry over, with a generously air-blown cellular structure (see picture above), and scores well on delivering just-under-the-foot cushioning. Since the midsole densities are firmer with possible trimming down of Gel units, the shoe has been un-softened overall compared to previous year plushness. Rest of the ingredients are part of the tried and tested Nimbus formula, like the blown rubber forefoot and carbon rubber rear-foot, groove separated heel crash pad and the plastic shank. Grip is ok, and so is durability. Transition feels no different than many other Asics models, as the 'guidance line' makes its appearance here too. Which happens to be this grooved depression running midfoot to toe, designed to keep weight loaded along the center.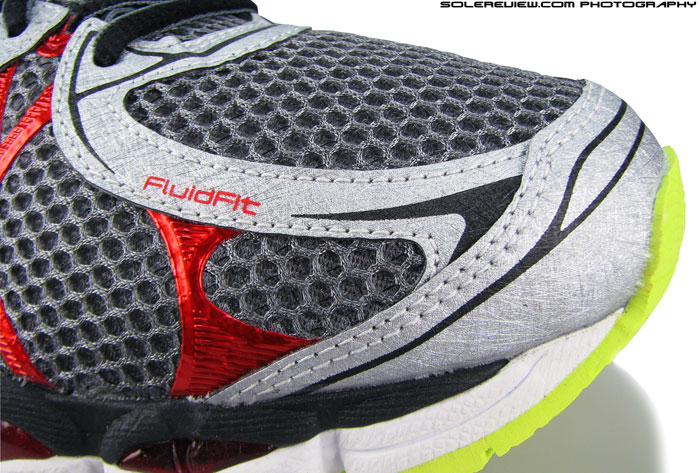 Upper features all the standard Nimbus fitments, utilizing a palette of welds, synthetic overlays and spacer meshes. The synthetic leather used looks more detailed than the Nimbus 15, featuring a faux fibreglass kind of texture – with no difference in function. However, if you're transitioning from the Nimbus 15, you'll immediately sense that the level of plush has taken a knock. While it feels premium, the collar and tongue meshes aren't as smooth as the type used last year. This change is evident the moment you slip your foot inside the new Nimbus. Collar is securely snug, but misses the soft cocooning sensation of the 15. Ditto for the tongue. And what's with the new laces on the 16? The one used here feel hard and raspy, in a stark contrast to the materials surrounding it. Same laces are used on the $100 GT 1000 2, but hey, that shoe's $50 cheaper for a reason.
Nimbus 16 has a snug fit all the way from the collar to forefoot, while running true to size in length. The new mesh is flatter and less spongy than the one in the 15, so it adds to the reduced feeling of overall plushness. If anything good comes out of the change, it's the ventilation. Open spacer mesh sits closer to the foot surface, which allows better air circulation. We took a few inside shots which show that while there are lot of overlays, there's plenty of open-ness weaved into the mesh structure.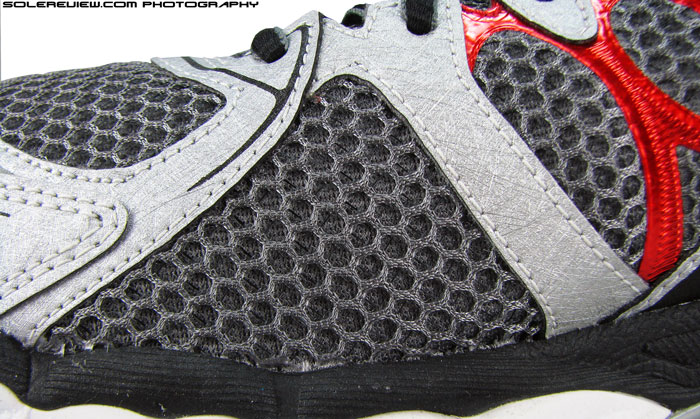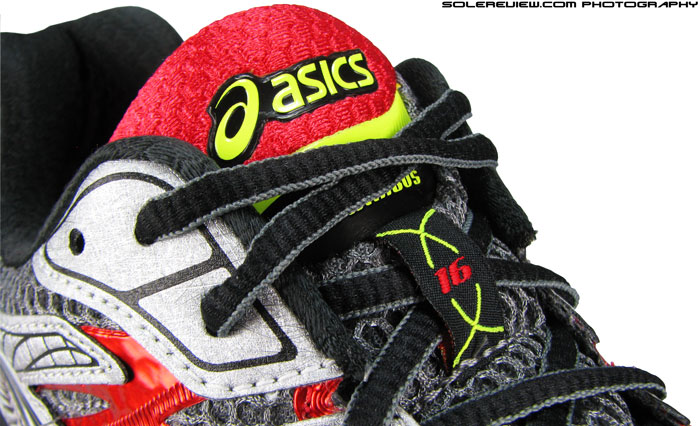 Forefoot sides on the Nimbus 15 had this soft plumpness of a mesh, which also felt more roomy. This section is replaced by a regular mesh in the 16, the consequence of which is a snugger feeling. Tongue is a separate component without a sleeve, as the precedence has been in current and past Asics models. However, due to the choice of material and pattern design, tongue slide isn't an issue. Midfoot fit is snug, and traditional lacing maintains adequate levels of lock-down.
Night time visibility has been improved here. Teardrop shaped heel panel grow larger in size, artistically overlaid with the '16' and 'IGS' (Impact guidance system) on either sides. In addition, there's the carryover bit on the outer midsole and on the toe tip.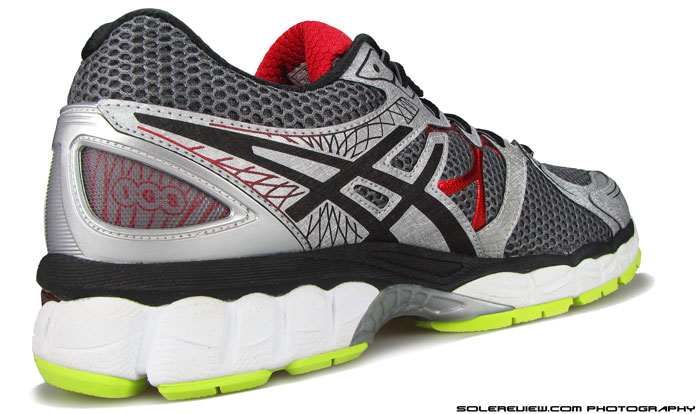 The Nimbus 16 lacks any shape or manner of newness, a slightly crooked repetition of its Gel+weld+EVA+spacer mesh formula. Crooked because it behaves more like a version of Kayano than any of its previous Nimbus editions, and repetitive because we're hard pressed to point out anything fresh. In the world of lightweight running neutrality, the Nimbus is inching towards product obsolence. At $150, it is an expensive shoe, yet doesn't excel in even one area. It isn't the lightest, because at 353 grams, it is heavier than most running shoes. It isn't the most comfortable nor plush in materials and fit; there are shoes which will top Nimbus in that regard. And as far as running footwear innovation is concerned, Asics is pretty much dead in the water, relying on 2006 footwear construction techniques to make a 2014 model.
We beg of you – do something radical, Asics. Dump the status quo and completely redesign the Nimbus over the course of next two years. Don't worry about how runners will miss the old Nimbus; there are still plenty of models in your line to fill its Gel padded hooves.
(Disclaimer: Solereview paid full US retail price for the shoe reviewed)
Note on ratings: Our numeric scoring of 8/10 is based on a total of weighted averages. The attributes namely transition, stability and fit contribute to 69% of total scoring weight, which we see as more important than material (7%), cushioning (7%), traction (12%) and weight (5%). Hence the scores will not add up when simple average calculation is used.