Color: Black/Anthracite/Orange
Intended use: All runs except trail and in bad weather.
Surfaces tested on: Road, 21° C/70° F
Upper: Closed type spacer mesh, synthetic leather, welded and 3D fit print overlays.
Midsole: Tri-density foam, heel and forefoot Gel based DNA cushioning.
Outsole: Soft Carbon rubber from toe to heel
Weight: 345 gms/ 12.16 Oz for a half pair of UK10/US11, M Width
Widths available: B-narrow, D-standard (reviewed), 2E-wide, 4E-extra wide. All these widths available only in the White/Electric Blue colorway.
For $120, the Brooks Adrenaline GTS 14 packs a lot of goodness. Like a plush upper fit and cushioned ride, with support features seamlessly blended in. Highly recommended.
Asics GT 2000 2
In a short span of time, we've quickly grown fond of the Brooks Adrenaline GTS 14, similar to how we felt about the Glycerin 10 and Ghost 6. During many years of a particular model's existence, there comes a time when the stars align perfectly together – creating a shoe which truly personifies the term 'sweet spot'. Something which mixes in all the elements it's supposed to have, doing so with the perfect balance of a champion Gymnast. We're sure you already know what the GTS in the shoe name stands for in its expanded form. Brooks is always up for some clever, tongue-in-cheek wordplay, suffixing the Adrenaline name with a 'Go-To-Shoe' acronym.
And in GTS 14's example, the latter embodies a literal translation of those words. Because the Adrenaline is so good – and we have a feeling we're going to miss it soon. Later this Holiday season, the sun will set on the GTS 14, and a new offspring will take its place. We know what changes are afoot on the GTS 15, and that's more the reason why we'll be sad to see the 14 go. It's like this amazing summer vacation you never wanted to end, knowing that once you pack the bags on the last day, things will be different from tomorrow. You might not have experienced the future yet, but your vision of it is accompanied with palpable apprehension.
What are we going to miss? To begin with, the Adrenaline GTS 14 is a shoe which retails at $120 but looks and feels every dollar worth of a $150 price tag. Its plush upper is a mix of old and new, and in a good way. It employs age-tested, old school techniques of building a shoe upper, which delivers on multiple fronts, be it plushness, fit and aesthetic appeal. The midsole and outsole is a familiar sight of multiple density foams and rubber cladding, which functionally comes together to deliver a disgustingly smooth ride. On the other hand, the upper takes some of the new stuff which Brooks is using nowadays, and blends it well with the overall design. Like the use of 3D Fit Print overlays, which is deployed abundantly on the Glycerin 12.
The Adrenaline GTS 14 upper is a veritable swatch-book of premium materials and construction detail, putting in all what's good and leaving out undesirables. Slipping into a pair makes you realize how soft the foam padded collar feels. The fabric is super plush and smooth to the touch, with two types of meshes securing the ankle. There's a separate section of softness lining up against the Achilles, which bends together with the motion of your foot. Rest of the collar closes in comfortably on each side, ending where the curved lip of the tongue takes over. None of this takes away the collar's functional goal; grip feels snug, helped by an internal heel counter which lends a sensation of solidity and structure around the lower area of the heel.
Tongue adds to the overall sense of softness, using the same mesh used on the Achilles area. Its design also points out the well-thought-of execution; top of the tongue has an inwards flare built in, which means the curve cups the foot without getting in its movement. We do wish the tongue was gusseted and seamed in with the upper, but a small Brooks workaround puts tongue slide to stop, keeping it centered overfoot. You'll recognize the small loop stitched into the upper area of the tongue; the second last row of lacing passes through this and locks the offending component in place. Brooks also tends to put in some Easter eggs every now and then on their models, and this small tongue loop throws up one too. Flatten the woven loop, and there appears a text which says 'tongue tied'. Touche.
There might not be an inner sleeve, but that doesn't get in the way of superlative midfoot grip. Either side of upper midsection is covered with TPU; the outer side has welded fingers running vertically, and the inner face has a glossy sheet of synthetic. The Brooks logos serve both as cosmetic and functional props, integrating into the midfoot saddle. The lacing design also helps build up snugness; there are synthetic leather panels on the first and last few rows of eyelets but three rows in the center are left uncovered. That area is made using two layers of flat straps, and the laces pass between them.
This results in the laces sitting flush over the tongue, pressing down with consistent pressure and locking down the side TPU panels at the same time. The laces feel premium in their tubular sponginess, with some amount of stretch built into its knit structure. The shoe feels just right when the last eyelet is left un-threaded. You can go ahead and do that, and you'll sense better grip but find the remaining lace length slightly shorter than ideal.
Forefoot sees plenty of layering. The base is a flat, honeycomb textured spacer mesh which is used throughout the shoe. Materials on top include conventional synthetic leather panels, and a few rows of high density printing which Brooks calls 3D Fit Print. If this sounds familiar, that's because the recent Glycerin 12 makes use of it too, in a much more widespread manner. In the Adrenaline these printed layers also cover a good portion of the heel, making the design look compact.
So it comes as a slight bit of surprise that while Adrenaline fits true to size, the forefoot doesn't feel tight or narrow, even with all these layers. Two panels of leather run on both sides of forefoot, and there is still room for the forefoot to splay. The height of toe box will accommodate most foot sizes, though it tends to be a bit slim just above the big toe fingernail. This was our experience with a 'D' width, and should you seek a different level of fit, 2E (wide), B (narrow) and 4E(extra wide) widths are available in the Adrenaline. Regardless, this Brooks shoe runs a little toasty, as ventilation is hampered by liberal use of closed meshes, overlays and what not.

The GTS's headlining act is its multi-density, combination lasted sole, which is the secret sauce behind the impressive ride quality. But first appearances can be deceptive, for how the Adrenaline looks has little to do with how it behaves during runs. Visually, the midsole has hardness stamped all over it. Turn the shoe toward the arch side, and the firmer (grey) part of the midsole sticks out as a prominent feature.
The orange crash pad on other side doesn't seem to have much give as you try to squeeze the midsole between the thumb and index finger. The removable footbed (insole) might be plush and heavily contoured, but beneath that is a combination lasted strobel board, one which combines part cellulose board (rear), part EVA (front). All of this adds to the notion that the Adrenaline might ride very firm.
But it doesn't. Landing your entire bodyweight on the shoe is way different than trying to squeeze the foam with your fingers, which amounts to little. All that perception of visual intimidation disappears once you run in them. What you don't see from the outside is the presence of heel and forefoot DNA gel pads, sitting inside the midsole.
Brooks Gel DNA is unique in the sense that its compound adapts to foot strike pressure (these are called non-Newtonian fluids), so when you're walking around in the Adrenaline, the cushioning feels semi-soft. Crank up the speed, and that transforms into a firmer, yet padded ride. Though the Adrenaline is a motion control shoe designed to correct your gait (reduce inward roll-ins), it does so without sacrificing stability or cushioning. The lateral crash pad (orange) is softer and increases the heel-strike bias to the outer side, but there's this huge midsole flare which catches the foot from over-rolling.
The DNA layout isn't full length (we know because we slit the midfoot open) but the overall ride is extremely smooth. The outsole coverage is near continuous, except for the gap under the arch area. Heel to forefoot outsole contact results in an equally consistent weight transfer, making transitions come across as seamless. The Adrenaline's heel isn't as angled up, so rear-foot strikes will happen fairly early stage. The rubber is soft so it sticks to the ground extremely well, although durability levels seem to take a knock. And for a shoe which looks that bulky (at least aesthetically), it is flexible and within weight limits for that category.
Forefoot strikers, if they happen to run in the Adrenaline, will find that the front is sufficiently planted, with great grip and noticeable padding to boot.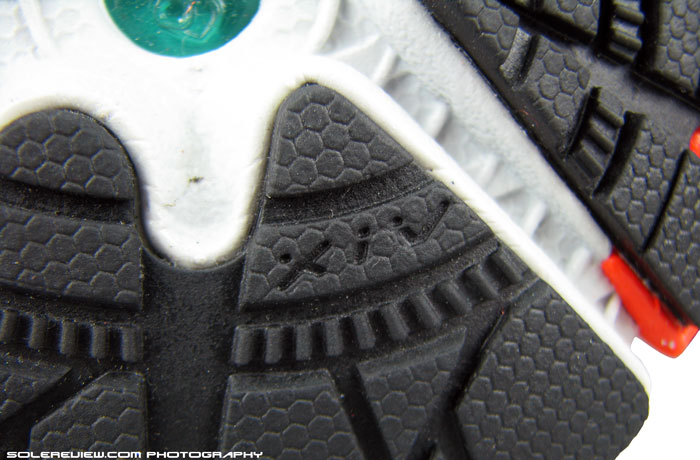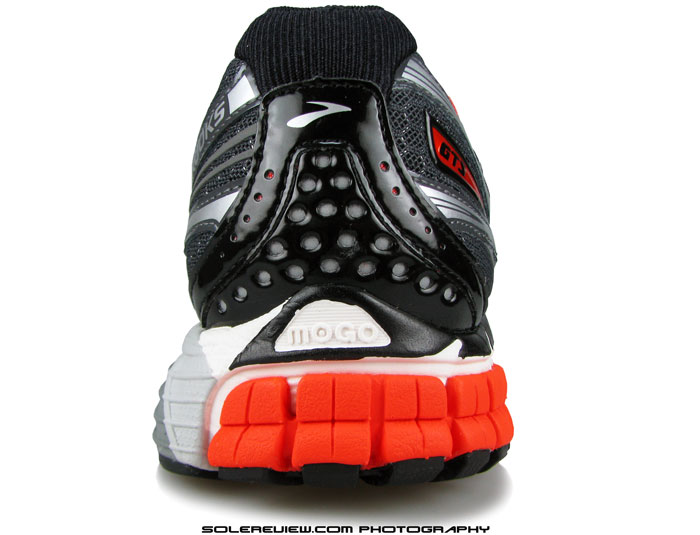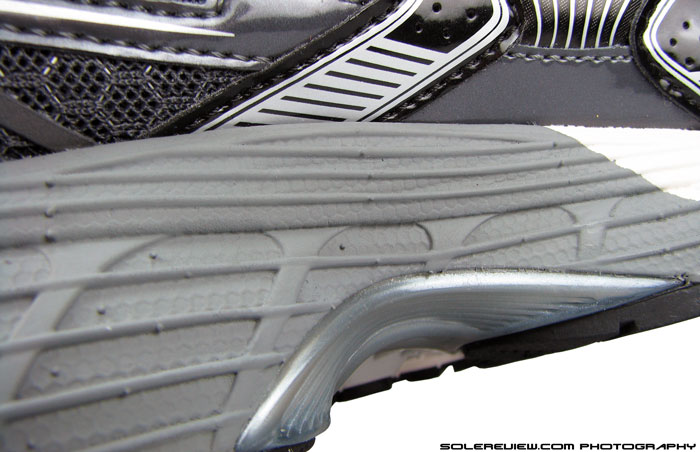 Surely, there must be something to nitpick on? Alright then, there're a few teeny weeny ones which do nothing to marr the overall stellar perception of Adrenaline. On the lateral side of big toe, there's a seam right at the point where the 3D Fit print and toe cap meet. It's not irritating or anything like that, but you know it's there. Then there's this matter of night time reflectivity, an area in which the GTS doesn't fare so well. There's some of the heel and a tiny smudge on the toe box, but other than that, you're left to fend for yourself during times when the sun is busy on other side of the world.
Durability is always talked about in a less favorable light when it comes to Brooks, and the Adrenaline doesn't escape that. The outsole might be super sticky, but it isn't long lasting. Rubber starts getting shredded in high wear areas just after a few runs, so higher mileage will produce a predictable outcome. Lastly, for a motion control and 'support' shoe, arch support could have been better from a midsole perspective. The upper is quite competent at medial midfoot support, but the midsole wall just points straight up, and does little to compliment the upper. We know that flared and filled up midsoles aren't mere placebos; the Brooks Transcend shows how it's done.
There's no such thing as perfection, but the Brooks Adrenaline GTS 14 cuts it pretty close. If you've been wearing these and love them, we just have one advice – just hoard a few extra pairs. As far as the upcoming GTS 15 is concerned, a new chef's in town. Good or bad, don't know yet, but it's sure going to taste different.
(Disclaimer: Solereview.com paid full US retail price for the shoe reviewed)
Note on ratings: Our numeric scoring of 9/10 is based on a total of weighted averages. The attributes namely transition, stability and fit contribute to 69% of total scoring weight, which we see as more important than material (7%), cushioning (7%), traction (12%) and weight (5%). Hence the scores will not add up when simple average calculation is used.