Color: High Risk Red/Flame Orange/Black-Lime
Intended use: All runs except trail and in bad weather.
Surfaces tested on: Road, synthetic track, 21° C/70° F
Upper: Closed type spacer mesh, synthetic leather, high density ink and TPU overlays .
Midsole: Dual-density foam with foam 'cradle' surrounding the shoe.
Outsole: Carbon rubber pieces under heel, blown rubber in forefoot.
Weight: 340 gms/ 11.99 Oz for a half pair of UK10/US11
Features a similar upper to last year's Glycerin 11, and replaces the Gel based DNA cushioning system with 'Super DNA', which suspiciously looks, feels and rides like regular EVA foam. Otherwise a beautiful looking shoe with a uniform, albeit stiff ride.
Saucony Ride 7, Nike Air Zoom Pegasus 31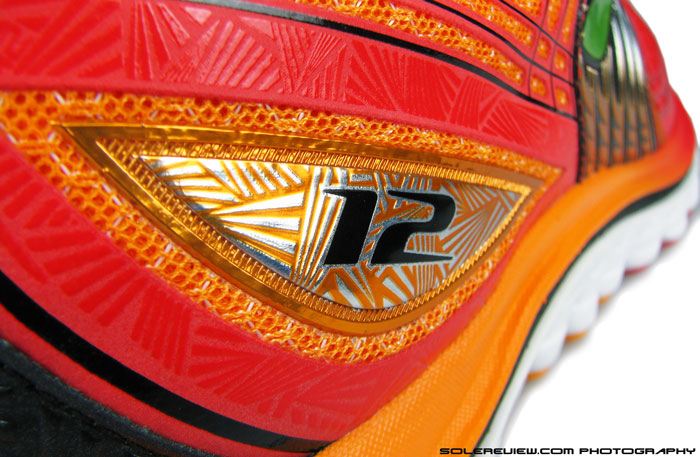 The general truth is, a $150 shoe isn't necessarily better (functionally) than a $100 one. We mean, it won't make you go faster, burn calories faster or blunt the annoying effects of gravity. Of course, you can point out exceptions, but then those are exactly that. So why do we pay so much for a pair to run in, a humble feat which can be achieved by far lesser shoes? What do we really get for the price difference? The answer varies.
The notion of extra value could come in the form of innovative upper construction (Flyknit), cushioning technologies (Boost, Air, Wave) or simply the use of expensive materials which makes the experience of slipping into a shoe surreally luxurious. For the average runner, this could translate into a better fit, more plushness, increased cushioning/support. Or could be none of the above, but simply be the newest pair of heavily marketed running shoe which every double-page ad spread talks about.
In that context, where does the Brooks Glycerin fit in? Before the strangely shaped Transcend showed up, it used to be the Seattle based brand's most expensive running shoe. Till 2012, that lofty price was justified by use of extremely plush upper materials and a multiple layer midsole, resulting in a fine example of running footwear opulence. The pièce-de-résistance was the use of this unique thermoplastic Elastomer material named 'DNA' by Brooks, one which actually lived up to its marketing claims. DNA cushioning was shear-thickening, which meant that when force (foot-strike) was applied, the material would briefly change its molecular structure by absorbing impact forces and briefly turn harder. This kind of protection is tried and tested in the safety apparel industry. BMW Motorrad's Rallye Jacket for example, uses NP2 foam protectors which harden in an event of an impact, hence absorbing residual force. Naturally, we were impressed by the very notion of it – and Brooks DNA came into its own during running, doing everything it claimed to do. The Brooks Glycerin 10 was a shoe which combined exemplary plushness with DNA, a shoe which so pleased us that we chose to shoot it within the opulent confines of a first class aircraft suite.
Brooks running, for the past several years, has focused on the high end of the running shoe market, staying clear of the cut-price footwear model. Their approach has been successful, to say the least. Just on the basis of that strategy alone, the brand has crossed half a billion dollars in sales. In April 2014 that is, on a rolling 12 month basis. Even in June 2014, the brand has seen high single digit sales growth. Given that background, we have high expectations of every new Brooks shoe. Unfortunately, the 2014 Brooks Glycerin 12 is a letdown, one which has us scratching our heads in bewilderment.
Last year's Glycerin 11 featured the DNA Gel, but toned down on plushness and instead chose the path of 3D-printing upper overlays. We couldn't complain; innovation is an indispensable ingredient for progress, and change has to be embraced for things to move forward. Ok, the Glycerin 11 did not feel as luxurious as 9 and 10, and rode slightly firmer. Still, we were curious about what the future will bring, and waited for Glycerin 12 to make its appearance. The 12 incarnation showed up last month, and here we are, doing a review. The Brooks website says that the Glycerin 12 comes with a 'full length DNA' and that the new "Super DNA has 20% more cushioning than Biomogo DNA".
Well, we've got news for you. All that the Glycerin 12 features is a compression molded foam midsole, and no sign of the Gel based DNA inserts anywhere. Don't just take our word for it, we cut a small part of the heel strobel and all we saw was white foam. Maybe, this DNA thing is embedded inside the white foam like a Jelly doughnut, we thought.
So we partially slit the heel foam open with a cutter and then prised open the gap with a flat-head screwdriver. Still nothing, and more white foam. Now, for your reference, the picture is what a 'full length' DNA should look like – example is that of Glycerin 9.
Since we have (or had?) a high opinion of Brooks, we assumed that like BMW's NP2 foam, the new midsole foam must have unique shear-thickening powers. We tested that hypothesis by hitting the midsole foam with a round hammer head. Now you must think we're nuts for doing that, but hear us out. If you hit a piece of BMW NP2 foam hard, the surface will instantly harden, resulting in a sharp whack sound instead of being muffled. But unfortunately, striking the midsole hard resulted in no such outcome, and we finally had to conclude that the midsole behaved just like an ordinary piece of foam. The change in weight is also a dead giveaway. The similarly built Brooks Glycerin 11 was 30 grams (just over an ounce) lighter, and the absence of DNA gel explains that.
Now, this clearly shows that the product description on Brooks' website is misleading, bordering on blatant mistruth. The 'Super DNA' is nothing but a piece of EVA foam which looks and feels exactly like the ones used in much cheaper shoes. It does not have the spring of Adidas Boost nor the resilience of Nike Lunarlon, and even if it was more than just ordinary foam, there's not much on the Brooks website describing it. We looked around on the internet, but couldn't find any answers.
Wording the midsole as 'Super DNA' draws the obvious conclusion that it is an extension of the original DNA material. But if it isn't ,Brooks owes it to runners to explain what it is actually made of, instead of saying things like '25% more cushioning than Biomogo DNA', which means little, and sounds more like marketing spin for catalogs and press releases. We know that the foam based DNA has been in use on Pure Connect/Grit/Cadence/Flow models for sometime, but it is unclear how it differs from Super DNA used in Glycerin 12.
However, if this US patent (see description 0033) is anything to go by, there is a provision of mixing the unique properties of the original DNA gel with foam, allowing a full length unisole without the need for an insert.
How does the 'Super DNA' actually perform? It feels padded, as all foams usually do, and delivers a cushioned ride which is neither mushy nor too stiff. It rides softer than the outgoing Glycerin 11, and that is because the foot rests directly on the white midsole foam instead of the firmer layer, which was the case in 11. The Glycerin 12 appears to have a secondary layer of midsole atop the white portion, but it is only a fringe which surrounds the shoe. The construction is similar to what was seen in the Transcend. It doesn't come in contact with the foot, which means that foot strike happens directly on the softer foam beneath. It is not pillowy soft by any standards, the best word to describe the cushioning feel would be firm. Because of one single midsole material underneath, cushioning is delivered in a uniformly spread out manner.
Based off our wear-testing, there's no sensation of the foam's shear-thickening properties, if it exists at all. The midsole foam is rather firm to begin with, so there's a narrow spectrum between its passive (standstill) and reactive (foot-strike) states. The Gel based DNA was effective because it was soft to begin with, so the shear-thickening effect was more noticeable. So while the midsole works as a padded platform, this whole 'Super DNA' thing falls woefully short of expectations.
Nevertheless, the Glycerin 12 comes across as a very stable shoe, with no uncomfortable sink either in the heel nor to the sides. The raised midsole walls on the sides also help keep the foot in place. Heel to toe transition is also superb, in much part a result of the full contact midsole and increased width underneath the midsole compared to G-11 and prior. The rear-foot outsole area is narrower than before, but has no negative impact on stability.
The outsole rubber continues to be an area of concern, as it has been for previous Glycerin and Ghost models. Rubber wear on the heel starts happening from the first 5k, so expect to see faster than usual wear and tear relative to other brands. On the flip side, the rubber is sticky and grips well, but is it too much to ask for both? Forefoot is soft and cushiony blown rubber and the durability is so-so.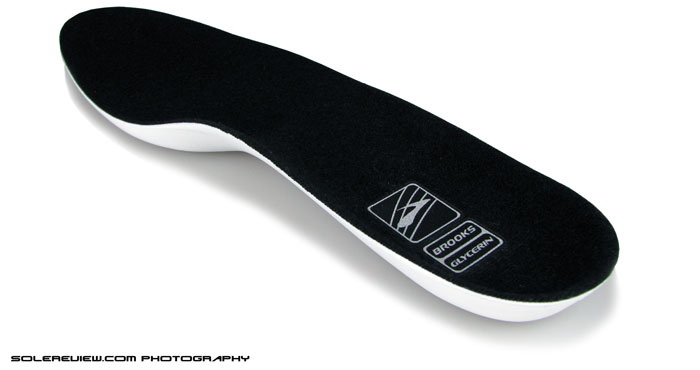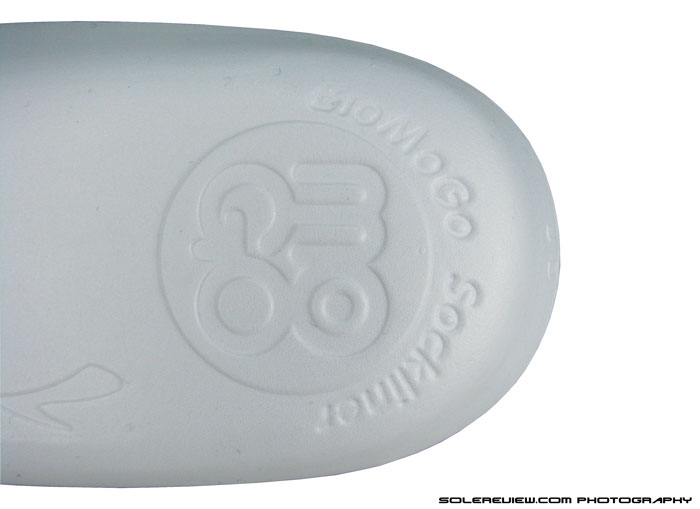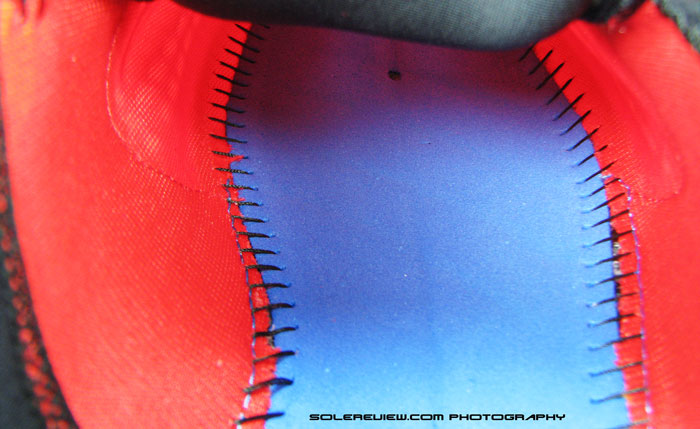 Drop-in footbed is unchanged from last year's Glycerin 11. It's a contoured layer made of molded BioMogo EVA, Brooks' biodegradable sockliner. The latter is placed atop another layer of EVA strobel, so both of these combined add to cushioning levels.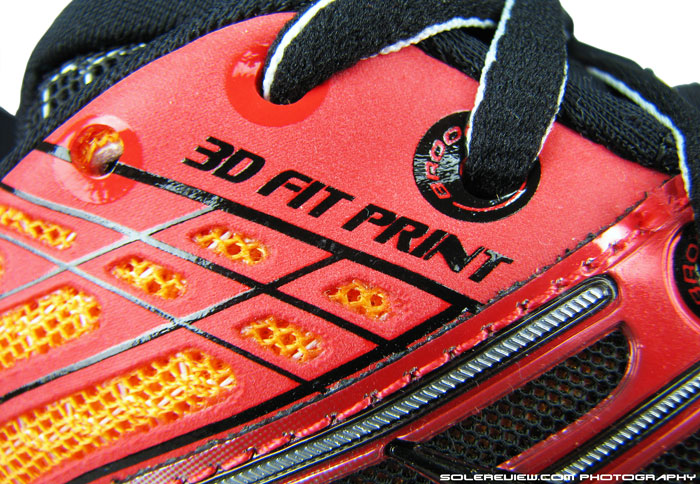 Upper is made using identical construction technique featured previous year. Brooks calls it '3D Fitprint', a way of fusing upper overlays by printing high-density layers of polymer over mesh. The end result is thinner than traditional high-frequency welded TPU, reducing bulk. But what about the fit? Brooks claims that the 3D fit print creates a custom fit, but in reality that isn't the case.
Custom fit is true for slightly elastic uppers, like Adidas Techfit or Nike Flyknit where the stretch tends to wrap the fabric around foot contours. The Glycerin 12 fit isn't any better or worse than traditional synthetic overlay uppers. What it does is to reduce bulk, both aesthetic and metric, while minimizing waste – which is a good thing.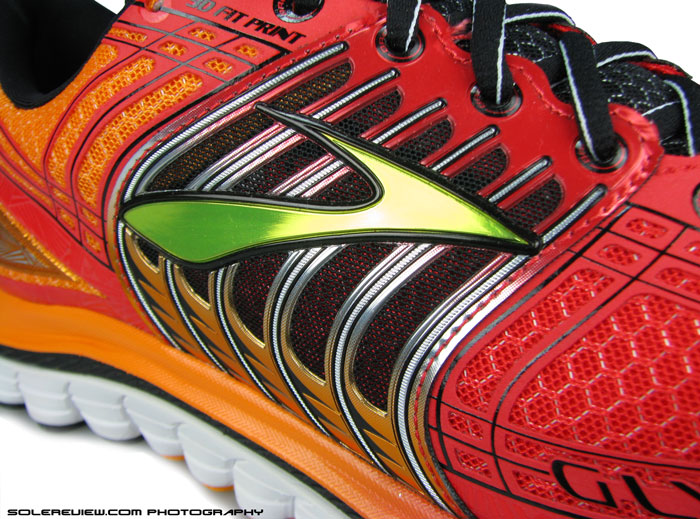 The shoe does look visually graceful because of 3D Fit-print, and the color we reviewed is absolutely delicious. Amazing contrasts of light and dark red, gold and black come alive on the upper, and the mid-foot color gradient with molded logos is a standout.
But this is more form than function and does not translate into a higher level of plushness or fit. Given the 3D Fitprint, there's a limitation in what texture of mesh can be used here. On the Glycerin 12, it is of a closed type so that the shoe runs warmer than comparable open-mesh models.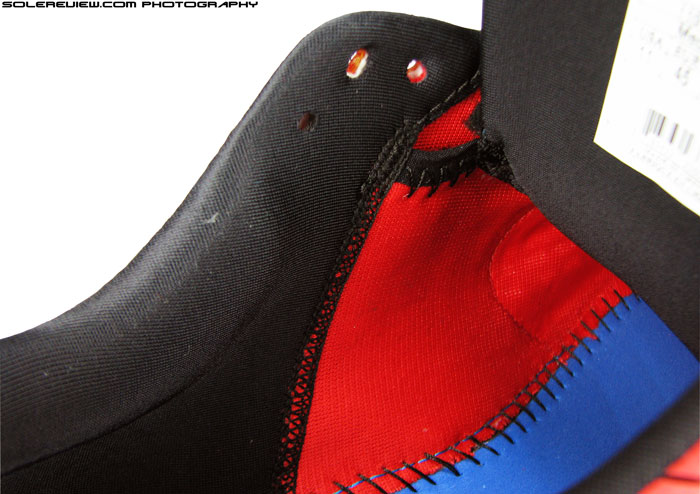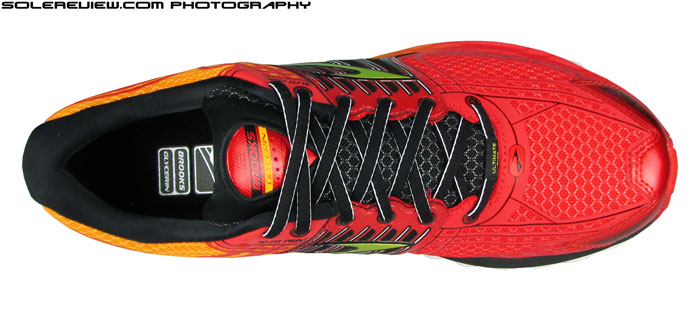 In fact the Glycerin 12 feels much roomier than the 11 and the reason doesn't seem to be the last, because the foot-bed have identical last markings – indicating that it hasn't changed. What is different though, is the way in which the tongue is attached to the upper and the placement of printed patterns. At first glance, the Glycerin 11 and 12 appear to have internal sleeves, but they don't. There's a small strip of fabric connecting both components, and it just about keeps the tongue in place.
This strip of mesh is much small in width in Glycerin 12 than it was in the 11, and it influences the fit. While the forefoot fit on the sides feels unaltered, there's a lot of vertical slack. The lacing in the Glycerin 12 starts a little later compared to the G-11, so that results in looseness on top of the foot. Length-wise, the G-12 fits true to size, with almost no extra space ahead of the big toe. Downhill running is a more of a struggle on the new Glycerin 12, with forward foot slide more pronounced than 11.
We'd like to add that the tongue gusset design is extremely shoddy, with poor finishing. The lining to which the tongue is attached appears to have been crudely cut using a pair of scissors, and there's a factory marking of some kind scribbled on that component. The Glycerin 11 also used a similar construction, but with a much cleaner execution.
In our pair, the tongue was also not perfect, with the final assembly giving it a lopsided look. Incidentally, the Ghost 7 pair which we're currently testing also has issues with manufacturing. Brook's recent growth seems to have negatively affected its output quality; these are indications of slip-ups in its quality check processes.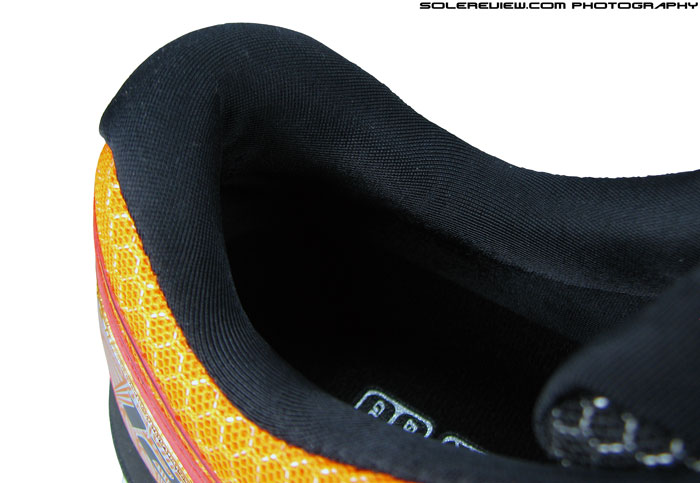 The collar area is same at the back, except that the softer Achilles dip area is increased. If runners were facing dig-ins with the previous (we did not) Glycerin 11, the Glycerin 12 has this sorted out now.
Reflectivity is an unfortunate casualty of the annual evolution, with the huge reflective panel of G-11 being replaced by an overlay of molded synthetic. This leaves the Glycerin 12 with absolutely no reflective element, so please bear that in mind if it happens to be a need for you.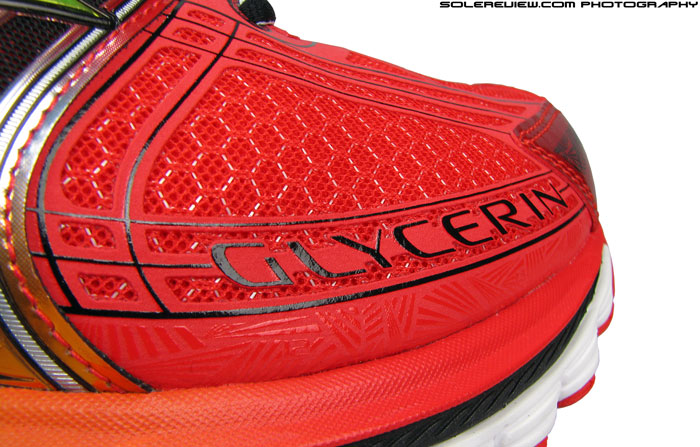 For past many years, Brooks had their premium, neutral cushioning template down pat with the Glycerin. Major updates came on board last year with the G-11, and this year's avatar adds new layers of update to the revised platform. The shoe carries the illustrious badge forward, but has little in common with namesakes as recent as two year prior. So you have to ask, is the price of admission worth it? In this case no.
The upper looks visually graceful, but the cushioning quality, level of plushness and fit behaviour doesn't justify paying $150 for the Glycerin 12. We are also current wear-testing the much cheaper Saucony Ride 7, and that is a good alternative if you're in the market for a decently cushioned shoe with no special tricks.
(Disclaimer: For the review, Solereview.com bought this shoe at full US retail price)