Color: Black/Black-Volt- Crimson
Intended use: All runs except trail and in bad weather.
Upper: Elasticated, two-piece knitted mesh.
Midsole: Injection molded EVA variant, 6 mm heel to toe drop.
Outsole: Carbon rubber pieces under toe and heel, injection molded EVA unisole.
Weight: 238 gms/ 8.4 Oz for a half pair of UK10/US11
The Flyknit experience without the extremely compressive fit of 2013 Free Flyknit and Free 3.0 Flyknit. Perhaps the best expression of the Free design ever. Only if it was better finished.
Nike Free Flyknit (2013), Nike Free 3.0 Flyknit
Gotta love this colorway of the new Free 4.0 Flyknit. Looks pretty rad – a fiery melange of red, orange topped with black, it doesn't get any better than this. And what an evolution has it been for the Nike Free line-up. The shift started with release of the original Nike Free Flyknit in August 2013, followed by the brand new Free line-up earlier this year. Do you want a primer? We'll break it down for you just in case, with our much used reference chart below. The suffixed numbers on the Free scale represent minimalism levels in each of Nike Free products. The Free 3.0 is the minimal-est shoe of the lot, followed by 4.0 and finally the 5.0, which is middle ground and most popular of the lot. There is also a Free 1.0 in Nike Women's training, but that does not count.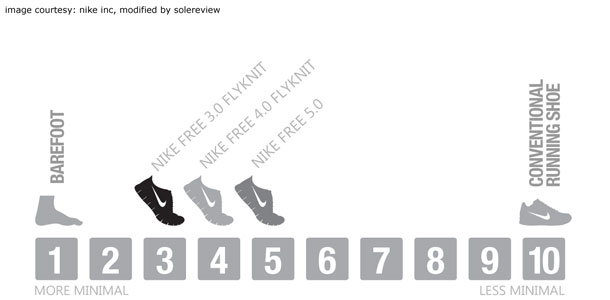 In pre-Flyknit era, the Nike Free 4.0 used to be this neglected step-child of sorts. Wedged between the ultra-minimal 3.0 and mainstream 5.0, it often had difficulty differentiating itself from its odd numbered neighbors. It did not seem minimal enough to appeal to many low-drop yearning runners, and traditional shod runners didn't know what to make of it. Thankfully, a ball of yarn turned out to be its saviour, effectively changing its place in Nike's minimalist-offering hierarchy. How so? We'll explain.
Let's take the Free 3.0 Flyknit to begin with. It features a tight, compression fit near identical to the original Nike Free Flyknit, with the difference being use of a minimal, more flexible outsole worthy of 3.0 lineage. The regular Free 5.0 is a more relaxed shoe, packed with Flyknit inspired aesthetics without actually featuring one. Noteworthy mention is that both Free 3.0 Flyknit and 2013 Free Flyknit feature a sock like upper without a conventional tongue or lacing system. The heel on both these models have aggressive compression with a vice-like fit.
So what about runners, who crave the Free Flyknit fit, but wanted something a bit more relaxed, resembling a traditional shoe? This is where the Free 4.0 Flyknit comes in. It's got a Flyknit upper, but nowhere as tight as other models. It has a got a traditional tongue, gusseted to the upper with proper lacing and all that. The collar area is snug, but not corset tight. And because of the tongue, the upper goes easy on pressure, making Free 4.0 Flyknit a comfortable, daily use shoe. And by chance or design, Nike might have created the truest expression of its Nike Free platform yet. The premise of Free concept was based on delivering a 'natural motion' experience, with elements like 'less shoe' and more 'feedback' being enablers towards that goal.
Upper of the Free 4.0 Flyknit is built using the same construction fundamentals as other shoes in the yarn-spun product line. The upper is a two piece, knit panel type, with variations in knit patterns producing different stretch behaviors. The forefoot sides have dense knitting for structural support, while top of toe box has a generously perforated pattern meant for easier stretch and ventilation. Forefoot snugness feels similar to the 2013 Flyknit experience, securely locking down the front. There is some space ahead though, a near-half size gap between the toenails and tip of the shoe. This, we believe has something to do with the near-squareness of toe – likely a design pre-requisite for the unique Flyknit construction. Our speculation is that an upper with a pointy toe could lead to wrinkles in the upper and put more curling pressure on the outsole – because of concentrated elasticity. So if you own a pair of 2013 Free Flyknit, you'll notice that the 4.0 Flyknit runs 2/3rd of a  size larger.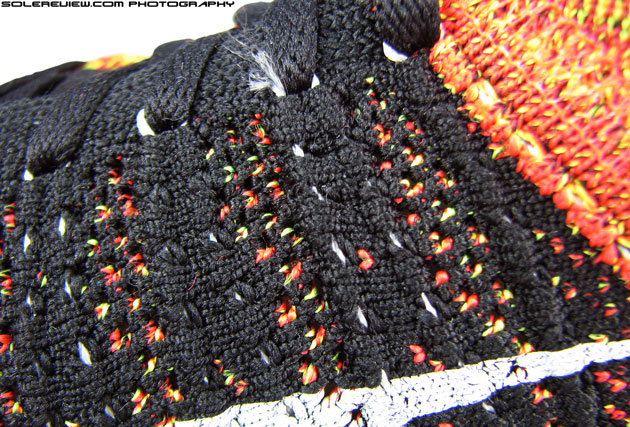 The mid-foot design shares aesthetics and construction basics with the 2014 Flyknit Lunar 2. Flywire threads weave their way upwards from the upper base, ensconced in small 'tunnels' woven into the mid-foot panel. The eye-stay is a separate flap, and tongue is knit-integrated into the upper from half-way down, giving enough freedom for the top half to move around. Naturally, the fit ends up being a mix of the no-holds barred Free Flyknit and more relaxed Flyknit Lunar 2. Which is actually a good thing. There is determined snugness in the fore and mid-foot, but without the choke-hold grip of 2013 Free Flyknit's tight collar and tongue area.
Flywire cord lacing isn't perfect though, as seen in other instances. Some loops are shorter while others are long, leading to an unevenness in cinching. Mercifully, the Flyknit upper has decent levels of stretch built-in, so the drawback of Flywire becomes a lesser factor in bigger scheme of things. The top-down pressure on the 4.0 is is less terrifying compared to Free Flyknit. An asymmetrical lacing system and a narrow gap between opposing eyelets help ease off pressure.
How does the 4.0 Flyknit perform on ventilation? Pores are knitted into the mid-foot panel, but the crazy colorway makes it hard to see. Fret not, we know of a perfect way to show you. Simply put a small camping light inside the shoe, and hit the on switch. Lo and behold, the eerie glow makes it easier to see where the 'cool' zones are. We tried this technique in our 2013 Flyknit Lunar 1 review, so thought why not try it on the Free 4.0 too? The result didn't disappoint, with the Flyknit lighting up like a shoe-shaped Chinese paper lantern.
Rear-foot is separated from rest of the upper by two zig-zag side seams. The construction itself is a simple affair. Most of that area has a dense, fibrous knit, with exceptions being the elastic oval window cupping the curve of heel bone, and the collar. The stretchy window wraps the heel without discomfort, and the elastic collar is a flat, unpadded band which goes around the ankles. Like the rest of Free 4.0 Flyknit upper, the experience is far less intense than Free 3.0 or the Free Flyknit. The grip comes across as a no-nonsense feeling of lock-down; consequently there's no foot slip during runs.
Like other Free Flyknits models, you can go sock-less in these shoes. The upper feels seamless from the inside (because it is almost so), and no unruly bits rub against the skin. There's a minor glitch, though. Without socks, the tip of the slightly long tongue tends to ride up against the curve of the foot. It doesn't irritate or chafe, but you are likely to feel that.
The foot-bed is identical to the one used in 2013 Free Flyknit. Thin layer of Ortholite branded foam which feels part memory-foam, part regular EVA (Ethylene Vinyl Acetate). The sizing label is cleverly attached to its sides (which you can tuck under, by the way) and the top-cloth is smooth and grips well. The 2013 Flyknit had this peculiar problem; after running bare-foot the sockliner would stick to the undersole of forefoot and become displaced while taking the shoe off. This was due to extreme upper lock-down, and caused the foot-bed to glue to the foot. The more relaxed nature of the Free 4.0 prevents that from happening.
Look below the upper, and the sole is largely made of one material. Injected molded EVA forms majority of the midsole, and tiny rubber pieces are placed in high wear areas. The design is transformed from that of rectangular criss-cross flex grooves in earlier Free versions to a hexagonal array of foam pieces – each parted into individual columns by a network of deep, thin siping. The transition is much smoother than previous Free outsole design because of this change. Cushioning comes from both midsole compression and the 'piston' like effect of lugs pressing down inwards. The 4.0 Flyknit is much more cushioned than most minimal shoes due to its choice of sole material.
For a near full-foam midsole, traction comes pretty good for what it is. It helps that the outsole is soft, which helps improve its grip on multiple paved and synthetic surfaces. Of course, it will be unfair to compare it with fully rubber clad running shoes where the latter will score higher both in grip and durability. Based on our long term ownership experience of other Nike Free shoes, the 4.0 should last at least 250 miles before you start seeing significant wear and tear on the outsole. Durability is always subjective, so we've quoted what we believe is a bare-minimum threshold.
Since there's a lot of deep grooving, plonking miles on unpaved surfaces is best avoided on all shoes from the Free line-up. Unless, you enjoy fishing out small pebbles and departed insects from Free 4.0's outsole. The world is a strange place, so it wouldn't surprise us if some people derive pleasure from doing that. It could be like one of life's deeper, unexplained mysteries, like a craving addiction for popping bubble-wrap sheets. There, we got you.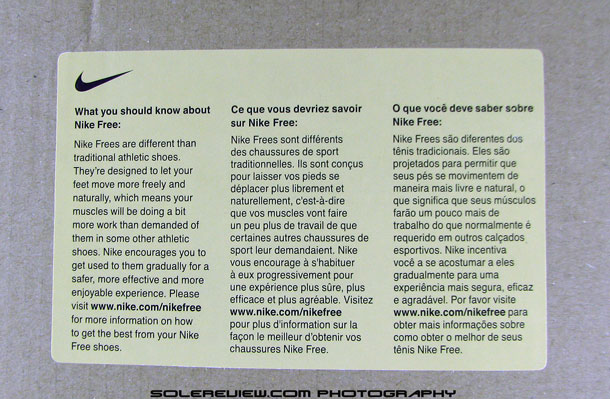 Also worth noting is that first use of this ultra-flexible, 6 mm heel-drop shoe might potentially lead to some initial aches and soreness in muscles. With that in mind, it will do good to ease into these shoes gradually and not put many miles during the first few runs. And if you're already firing all cylinders on an older pair of Nike Free, then transition should be seamless, only a better one.
We were somehow unkind to the 2013 Nike Free Flyknit, saying things like it was 'too less of a shoe for $160'. Well, we still stand by what we said, but that statement also piqued our curiosity at the same time. We wondered, what is the manufacturing cost for a pair of Nike Free Flyknit, and how does it compare with 'traditional' running shoes? From a very reliable source, we got estimated costs for a few popular models across three brands. We won't disclose the actual dollar costs, but when we stacked the prices on a graph along with their retail prices, a surprising trend emerged: (click to enlarge the graph)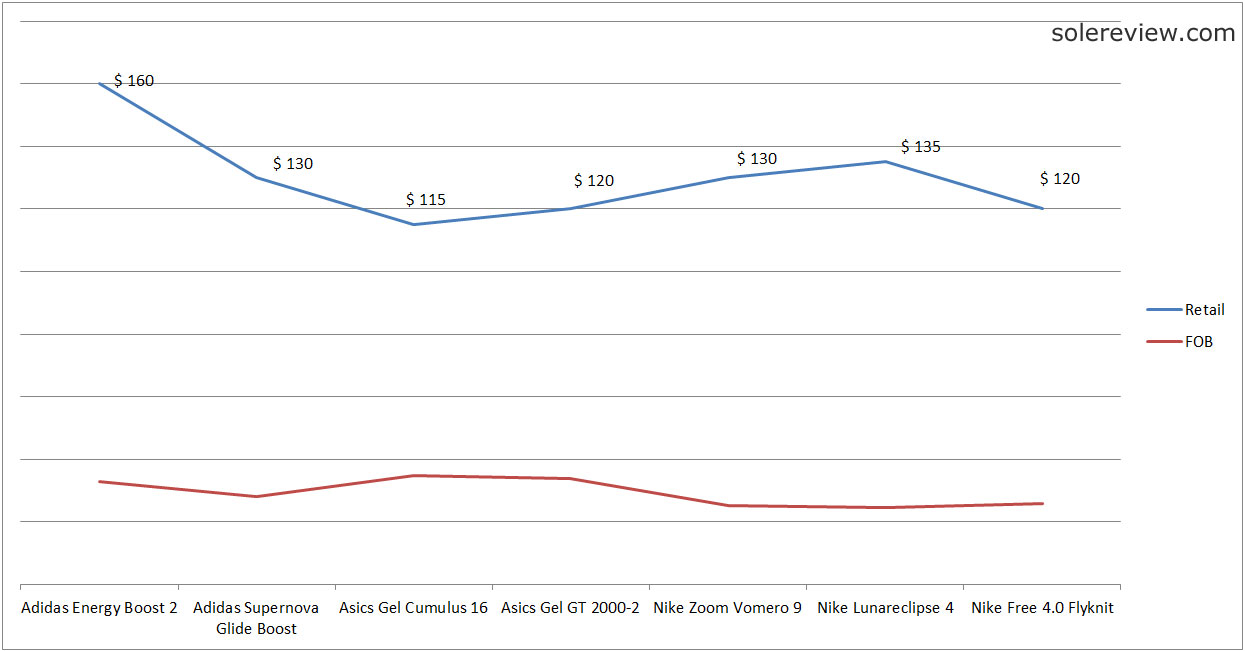 The top line represents retail pricing of different shoe models, and the line below shows FOB costs ('Freight on board' or 'Free on board' ). Look at the Vomero 9, Lunareclipse 4 and Free 4.0 costs – it is pretty much a flat line, though the retail prices aren't. It is clear that the minimal Flyknit does cost more to make than higher priced Nike shoes, its minimal construction notwithstanding. It seems that what Flyknit saves in material, it loses in time. And in industrial manufacturing, time is money. But like any other industrial product, scale and manufacturing productivity should lower the cost of future Flyknit shoes.
However, this brief examples makes it obvious that Nike is more efficient at keeping costs down compared to brands like Asics and Adidas. Look at the $130 Lunareclipse 4 cost, it is lower than the $115 Asics Gel Cumulus and the equally priced Supernova Glide Boost.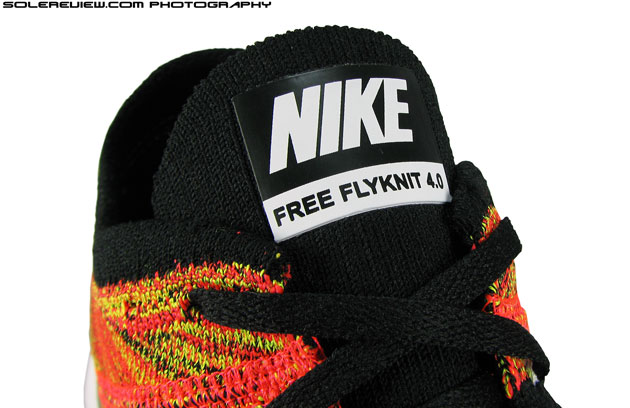 We can easily sum up the Free 4.0 Flyknit by saying it is perhaps the best expression of the Nike Free platform so far. It has an upper which feels natural, resulting from use of minimalist construction principles, fit and selection of upper materials. Its lightweight outsole bends with an effort barely felt, allowing the foot to flex without much coming in its way. So shall we quickly give it a crown of perfection, shower it with confetti and make it the highest rated shoe on solereview?
Not so fast.
There are a couple of not-so-good things about the Free 4.0 Flyknit. Although neither of them have any bearing on the ride experience, they are blemishes nevertheless. We'd like to point out that Nike shoes tested recently were tardily glued together, with dollops of shoe adhesive visible around the upper edge. It is very prominent in black colored uppers, which tends to contrast with the glue. There is a certain unspoken allowance for adhesive showing up on the upper, but we're sorry to say that here the glue marks cross that line.
The screen printed swoosh also looks tacky, especially in white. The Flyknit is an innovative concept which incidentally costs a lot to make. So why should the Swoosh be applied using archaic screen printing? They could easy take inspiration from their Nike Apparel division, which puts logos on fabrics much stretchier than the Flyknit upper.
Looks do matter, after all.
(Disclaimer: For the review, Solereview bought this shoe at full US retail price)