Color: Black/Lightning-Red Pepper
Intended use: All runs except trail and in bad weather.
Surfaces tested on: Road, synthetic track, 22° C/72° F
Upper: Spacer mesh, synthetic leather, welded overlays.
Midsole: Tri-density foam with firmer (integrated) medial post, 10 mm heel drop.
Outsole: Carbon rubber pieces under heel, blown rubber in forefoot.
Weight: 332 gms/ 11.71 Oz for a half pair of UK10/US11
Second generation successor to the GT 2170, it delivers a well rounded package of cushioning and support. Way better than the $20 cheaper GT 1000-2 and a worthy rival to the much more expensive
Kayano 20
Brooks Adrenaline GTS 14, Saucony Guide 7
For many years, the venerable Asics GT 21XX series had a loyal army of followers, and it was easy to see why. The shoes were ones where cushioning and stability happily co-habited, and this amicable balance was served in a manner which appealed to most runners. Starting with the original GT 2000 in mid-nineties, succeeding models added a '10' number to their name, finally culminating in the 2012 GT-2170. With a running shoe franchise as successful as the GT, the name did carry a lot of weight, loaded with nearly two decades of legacy. So Asics surprised many when they dropped the 21XX name a couple of years ago, and instead chose to rename the 2013 GT version as GT-2000, a throwback to the 1995 originator. A reset of sorts, at least in letter.
Name was not the only thing which changed; the evolved construction brimmed with newness. The larger medial dual density foam piece was 'integrated' into the midsole, no longer making it as much of an aesthetic differentiator. A firmer bed of midsole foam was introduced into the set-up, overlaying the larger chunk of midsole foam. The size of the heel gel pads shrunk too, and the 'guidance line' groove became part of the under-sole. The upper design and fit took a few tweaks too in terms of materials and fit.
With changes as sweeping as this, polarizing reaction from many was a foregone conclusion. But reactions by its very nature are subjective, so outrage and adoption happens in equal measures. Some liked the change in overall firmness and the level of heel cushioning. Others didn't like either, and switched to other brands. But we'll tell you this – if you don't fixate on the changes between the GT 21xx and GT-2000, then the 2K comes across as a shoe very well put together. One that's frustratingly difficult to criticize, as everything gets delivered in measured doses, be it levels of cushioning or stability.
GT 2000 V2 is the successor to GT series' first reset, and in an evolution very characteristic of Asics, the updates are incremental in nature. The only noticeable change is in the forefoot, where there's an interesting duality of fit. The outer forefoot feels a little snugger than GT 2000 due to the change in upper patterns, while the medial side feels slightly more roomy. The firmer midsole liner sees some exposure along the 'guidance line' on the outsole, something which wasn't there in last year's GT, but the ride behaviour is more or less identical. There was molded plastic in form of a heel clip on the GT 2K, but that's gone in the present version. No harm done there either, as the internal heel counter is quite stiff and lives up to its functional expectation of providing rear-foot support.
A few runs in the GT 2000 2, and one starts questioning the purpose of the much expensive Kayano 20. The $120 priced GT-2000 2 uses upper materials equal in plushness to the Kayano 20, the fit is actually better, and overall ride more consistent. At the same time, the overall package widens the gap between it and the $100 GT 1000-2, much more than what the mere $20 price difference would seem to suggest. On its own merits, the GT 2000 captures the sweet spot in the Japanese brand's 'structured cushioning' segmentation. Simply put, that place happens to be between the overtly soft Kayano 20, and firmer GT 1000-2 (which also has a tacky build quality).
The GT-2000 2's upper blends plush and support by means of a spongy spacer mesh and an interconnected networked of stitched-on and welded overlays. The air mesh uses no lining ahead of mid-foot, which helps ventilation and flexibility. It is also roomy in the forefoot, with nearly a half size gap ahead of the toes and space on the sides. Due to welds and synthetic leather overlays going on the outer forefoot, that side is snugger than the inner side. The side of bigger toe has relatively open spacing covered by mesh, so it feels roomier.
Lacing pressure feels, well, regular. There isn't a fancy lacing set-up in the GT, only the good old way of passing soft cords through holes punched in the upper on either sides. The outcome is predictable. Laces are tied together at the tongue top, so top down pressure is highest there, gradually slackening down along the front slope. The overall mid-foot fit is snug, no loose spots.
Tongue is a traditional type, attached only to the front of the shoe with no sleeving, typical of most Asics shoes. It is thickly padded, and uses the same lining mesh as the 2012 GT 2170 and last year's GT 2000. Good call too, for the tongue sits plushly (and snugly) on the foot. What ceases to amaze us that the lack of a sleeve construction doesn't seem to have any detrimental effect whatsoever, and the tongue stays securely put and well behaved. If this were a Nike shoe, the tongue would have slid on its side after the first few hundred yards. We've talked about this in our Gel Kayano 20 review – use of softer materials and a curved tip helps control sideways movement and helps keep the tongue centered.
The heel area has been cleaned up. The external (plastic) heel clip is gone, and in its place is an internal molded piece. The collar lining is soft fabric and behind that is ample foam stuffed in. This makes collar grip one of GT-2000 2's stronger points, and it was evident when we were doing a comparative wear-testing with the Nike Lunarglide 6 thrown in. The GT collar reassuringly wraps the neck of foot with a sensation of uniform fit and feel, an area where the LG6 was found wanting.
Trim quality on the GT-2000 2 is of high quality, befitting its $120 sticker price. The synthetic leather has a comforting gauge of thickness, with a whorl like texture adding dimensional depth. It has a molded surface in lateral mid-foot while it is printed on the toe box and inner mid foot; and in this particular colorway, shiny red welds snake their way around. Must say it makes for an alluring combination. Reflectivity is imparted by means of small strips on the toe-box and the heel. Not spectacularly dazzling, but will do for the occasional gloomy day.
Everyday usability is what the GT-2000 2 is all about. The combination of tri-density midsole foam, Gel pads and outsole rubber comes together in an easy-going package. Heel cushioning is instantly noticeable on foot strike; the separate crash pad and external heel gel units make sure of that happening. From there on, there's a certain consistency in cushioning feel, made possible by a soft foot-bed placed over another few millimeters of EVA strobeling. The tech specs for GT 2000 points out that there's a forefoot gel pad, but its existence is hardly felt. It must be a really thin layer of Gel, so forefoot loading is devoid of any heightened cushioning feedback. What remains true though, is that the forefoot just feels adequately padded with good ground feedback and that's that.
We'd like to stress that the heel feels cushioned without being mushy – the external Gel pads delivers ample compression, but that is filtered through layers of firmer midsole material.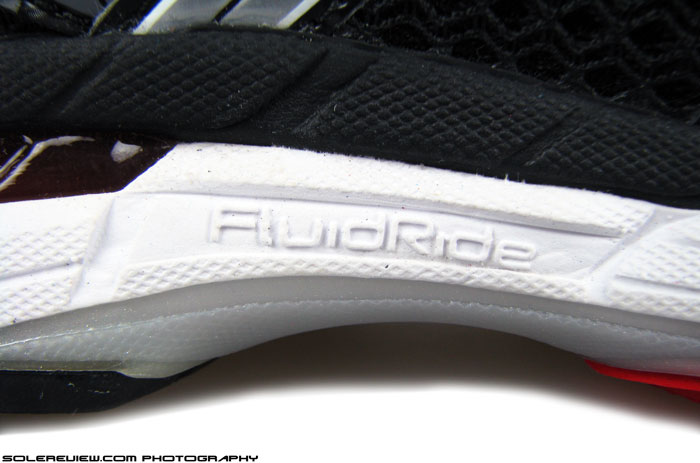 Progressive weight loading from heel to toe during each gait cycle is an uncomplicated affair. There's a singular top layer of firmer density midsole foam (introduced in last year's GT 2K, remember? ) which gives the transition a consistent feel. There's a slight disconnect when the foot goes over the mid-foot; we're assuming this is because of the gap beneath the plastic shank. Hence we wonder whether the transition could be improved by introducing a filled-in area like what Brooks and Nike have done. But still, straight line tracking comes across as good in the GT-2000 2. There's an integrated firmer density foam piece under arch (named as scientific sounding 'Dynamic Duomax' by the suits in Kobe), but there isn't much of a difference in hardness between it and rest of the midsole. As an outcome, at no time does it feel as if your foot is sinking on the outer side ( Structure 17) – what one gets instead is a stable ride which keeps the foot tracking straight. And yes, there's a 'Guidance line' on the outsole, a depression (groove) which runs from heel to toe and helps keep the weight lowered.
Outsole grip is better upfront than rear due to the presence of softer blown rubber which aids not only traction but serves as the final layer of forefoot cushioning. The now familiar Asics outsole design splits the rubber pieces into multiple parts, so there's plenty of exposed foam and grooves. It's then a no-brainer that flexibility is good. Out there in the back, the GT uses hard carbon rubber which is durable enough, from what we seen in Asics shoes all these years. Large gaps between the swatches of rubber helps keep the weight in check too. The GT 2000 2 comes in at 11.7 Oz/332 gms for a medium width US 11, which is within limits for that category. We actually benchmark weight against a median of 350 gms, though that might change, looking at recent frenzy of mesh and foam lightness.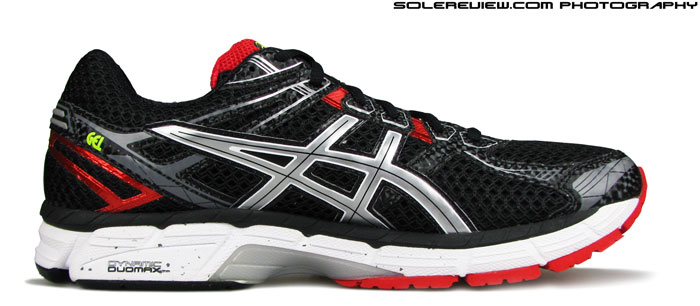 Summarizing the GT-2000 2 isn't that hard. It is not the same shoe as 2170 but still a jolly good replacement. If you're looking for a running shoe which offers moderation both in cushioning and stability, you'd do well to include the GT in your list of probables. It is also very well made, and offers more price-value than the $160 Kayano 20 or even the cheaper GT-1000 2.
(Disclaimer: For the review, Solereview bought this shoe at full US retail price)