Color: Black/White-Volt
Intended use: Conditioning/recovery runs, heavy runners.
Surfaces tested on: Road, synthetic track 21° C/70° F
Upper: Tightly woven forefoot mesh, Flywire cord based lacing system, two layer mesh from midfoot to heel.
Midsole: Cushlon foam (EVA), Zoom air bags in heel and forefoot.
Outsole: Blown rubber in forefoot, Carbon rubber in mid-foot and heel.
Weight: 337 gms/11.89 Oz for a half pair of US 11.
US Retail: $ 130 at Amazon.com

 The Nike Zoom Vomero 9 feels stale, carrying over the same sole unit from Vomero 7. The ride is firm (for a Vomero) with a stiff forefoot, and the tongue slides around. Silver lining is improved heel fit, but you'd still question the need to spend $130 for a shoe which feels no different from the 2012 version. Our advice? Don't buy, and hunt for Vomero 7 and 8 bargains.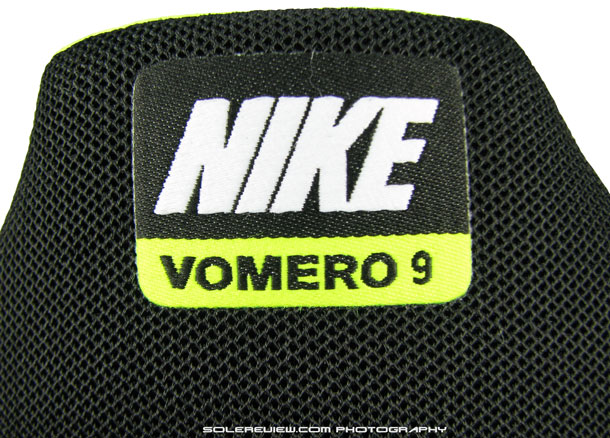 The true purpose of a shoe review is fairly straightforward. It just tells you how good or bad a shoe is, which in turn helps you decide whether to spend your greenbacks or save them for something better. So with that context set, we'll come directly to the point without bantering with adjectives, metaphors and fancy words. Should you be buying the 2014 Nike Zoom Vomero 9?
Our answer is a resounding no, and we can't recommend this shoe in good conscience. For three reasons, chiefly.
Firstly, the Zoom Vomero 9 achieves the rare yet dubious distinction of carrying over the SAME sole unit for last three years. Yes, you heard that right. The 2012 Vomero 7 featured the then brand new midsole/outsole, which subsequently did cushioning duties on 2013 Vomero 8 and then finally (and shamelessly, if we may add) showing up on the 2014 Nike Zoom Vomero 9. This shoe is as fresh as a dish cooked last week and then refrigerated. Eating it won't do you any harm, might have some nutrition left and look presentable too, but there's no escaping the staleness of the situation.
We spent $130 on the Nike Zoom Vomero 9 just because we had to review it, painfully aware that comparative shoes from other brands came with brand new uppers and outsole updates. Carrying over an outsole for two years (the case with many Nike shoes) is somewhat acceptable based on precedence, but three years is unadulterated sacrilege. Especially for a shoe priced north of $100.
Two, Nike seems to have forgotten what the goal of the original Vomero was. If our memory serves right, the first few Vomeros were standard bearers for superlative cushioning and cocooning plushness. An epitome of a superior, neutral running shoe. The last few years has been unkind to Vomero. Every successive version saw the shoe being gradually flayed of its once luxurious richness, with the 2012 Vomero 7 hitting rock bottom. The 2014 Vomero 9 feels more like a stability shoe with some bounce in the sole, married to an unremarkable upper. Nike has completely lost the plot with the Vomero, and we think it might actually be a good idea to put the model down instead of dragging it through the years. After all, there are shoes within Nike's own product line which fits Vomero's original job description. Example? The Nike Air Pegasus 30.
Three, there are far better alternatives to the Zoom Vomero 9 which outclass it in every way possible. If you are a Nike loyalist and wear nothing other than swooshes on your feet, then look no further than the discounted Vomero 8, and basement bargain Vomero 7. They do the same job at a far lesser price. The Air Pegasus 30 is a good neutral running deal at $30 cheaper, and that shoe still remembers why it's here in the first place. Or consider the brilliant Air Pegasus 31, a full upgrade over version 30 and with a heel which looks exactly like Vomero 9's. Look past the swoosh, and models like the Asics Gel Nimbus 15/16, Brooks Glycerin 11, and Adidas Energy Boost shine bright like lighthouses. Those shoes deliver the promised experience in a far more competent package than Vomero 9.
Our scathing criticism of the Vomero is now bordering on embarrassment, but these words reflect exactly what we think of the shoe. We'll still cover the updates on the Vomero 9, in case you were wondering what's 'new' in the 2014 version.
Design and construction updates: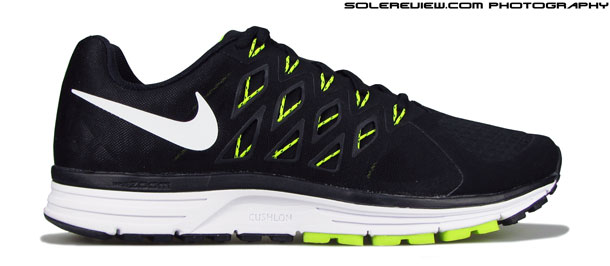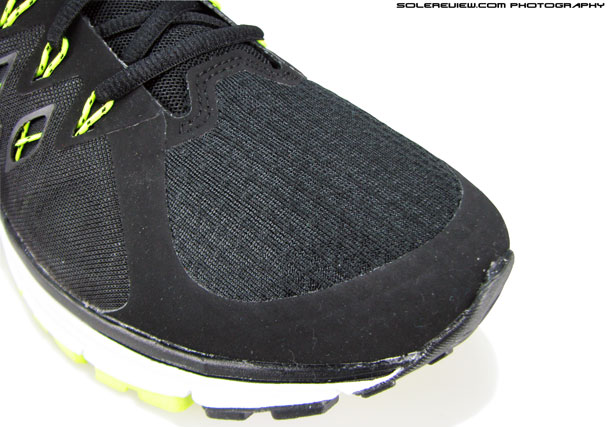 The 2014 Zoom Vomero 9 completely overhauls its upper. Mid-foot cinching system is overhauled, with Vomero 9 shifting to a Flywire lacing arrangement from last year's dynamic support. The mesh is changed from a spacer type to a kind which is more tightly knit and has less compression when squeezed. The thin Hyperfuse layers have been replaced with regular, adhesive bonded synthetic overlays, making the Vomero 9 look a tad more conventional.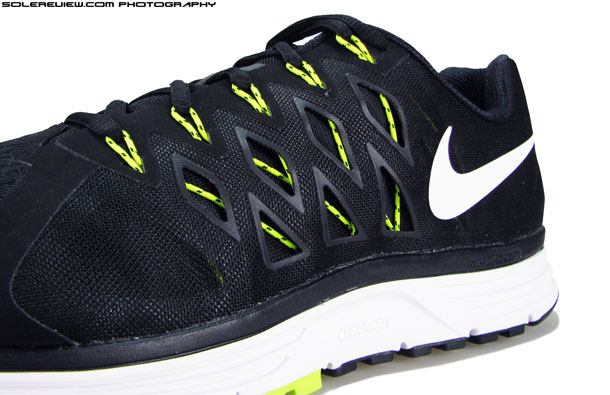 With Dynamic support straps gone in the mid-foot, the design now features diamond shaped cut-outs with the Flywire cord's showing through. Eyelets are traditional punched-in holes on the upper, with loops of the Flywire cords lined up against it. The laces go over the tongue which is shorter than last year's Vomero, and comes un-gusseted with the reflective lace loop missing.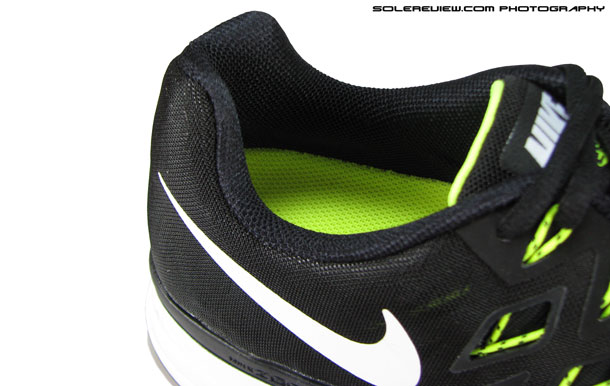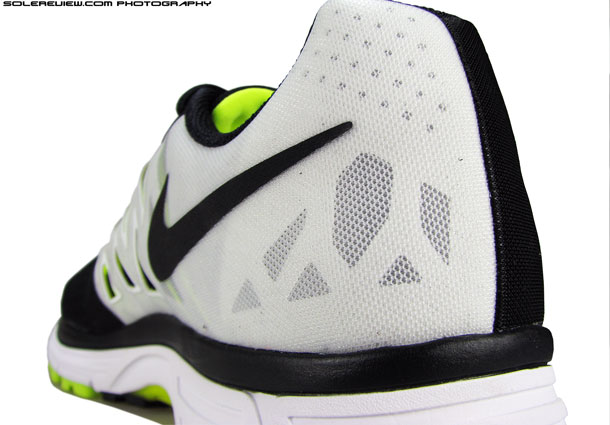 The heel area is altered in a couple of ways. One, the mesh lining is upgraded to a plusher kind, and two, the heel counter molding is slimmer, bringing both the sides closer to the foot. Reflectivity is scaled down around the heel – the large, curved area from the Vomero 8 is replaced by reflective panels placed underneath mesh cutouts. Here's a picture of how they look during low visibility: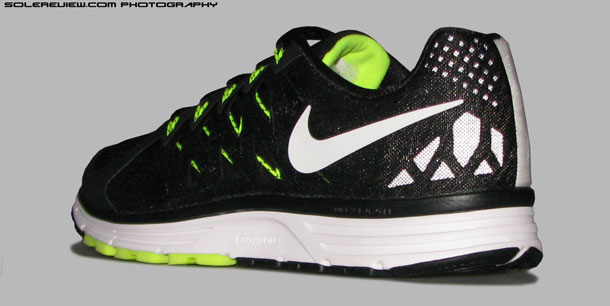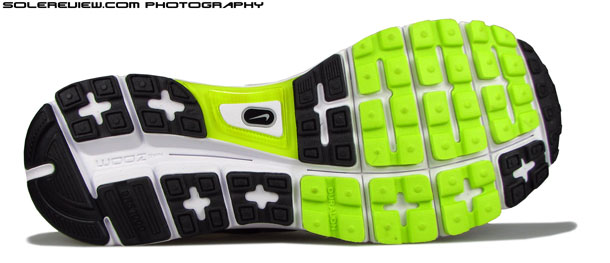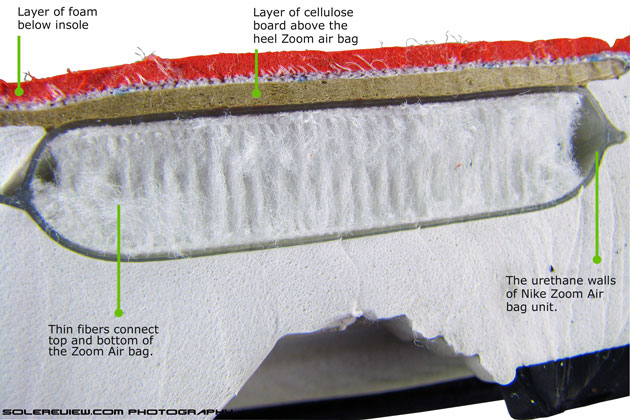 The bottom unit hasn't changed at all. We've covered all in our Vomero 8 and 7 reviews, but for everyone's benefit, here's the lowdown. The midsole is a single piece Cushlon foam which looks like it's made of two parts because of paint on the upper portion. The heel and forefoot have zoom units, with the plastic stability piece under the arch side. Rear of the outsole is Nike's BRS 1000 compound, a type of carbon rubber (marking) which is used by the brand around high wear areas. Forefoot outsole is blown rubber, or Nike Duralon in brandspeak, which is softer than BRS 1000. Rubber lugs are of the rectangular kind, with generous amounts of Cushlon showing through the flex grooves.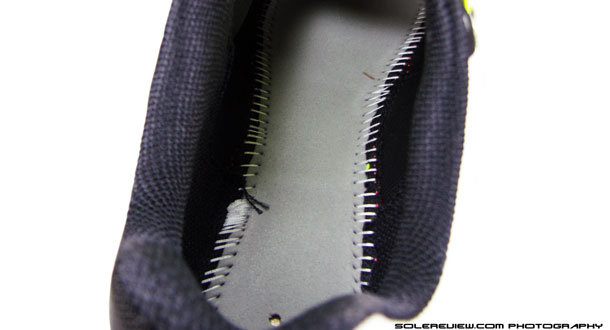 Though this is a three year old sole design, the Nike+ callout is not longer visible under mid foot and the familiar red cavity under left insole is gone too. Instead, the pocket has been filled with a foam plug. The midsole continues to be topped off with Nike's Fitsole 3 insole which gives satisfying levels of padding and support with its tri-layered construction. Firm layer at the bottom, a lighter density foam above it and covered with a smooth fabric.
The 2014 Nike Vomero 9+: Ride experience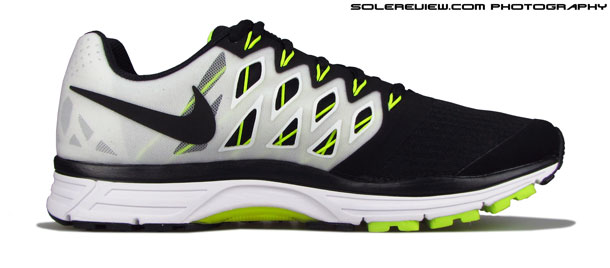 Running in the Vomero 9 results in an overwhelming sense of Deja Vu. It rides like the Vomero 7 and 8, because well, uh, the sole unit is exactly the same. Heel cushioning is firm, with the foot resting over a heel Zoom air unit encapsulated in a single layer of Cushlon midsole foam. A piece of hard cardboard sits between the Zoom Air bag and heel, and that is the reason why the padding feels slightly stiff. This sole unit does not have the separate foam crash pad of Vomero 6 and earlier, so landings are no longer pillowy soft – part of  older Vomero's appeal.
Forefoot feel is not ideal too. As we've pointed out in our reviews of the 2012 and 2013 Vomero's, the Zoom Air bags reduce forefoot flexibility. It also gets in the way of smooth heel to toe transition, with  a lumpy sensation felt underneath at slower speeds. You can literally feel the Zoom Air bag as a separate component underneath while in motion. On the brighter side, grip is good on the Vomero, with lots of rubber lugs positioned between the heel and toe. Rearfoot is regular carbon rubber, and the forefoot gets Duralon, a kind of blown rubber which is softer. Durability also scores high with rubber covering the expanse of the outsole.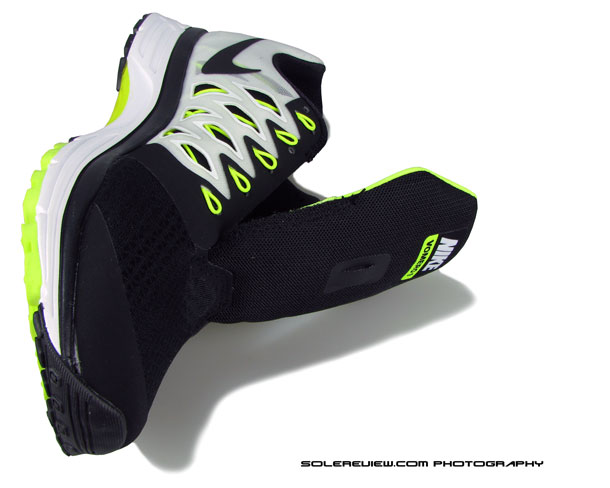 Upper plushness goes down by a few notches due to mesh swap, and use of the Flywire lacing system which tends to apply localized pressure on the mid-foot. We preferred the Dynamic support straps used in the Vomero 8 which distributed mid-foot compression much more uniformly. The tongue continues to be de-attached from the upper, and lack of a gusset has the tongue sliding to its side after a few minutes of running. The tongue is shorter than the Vomero 8, but we didn't feel any negative effect on the performance.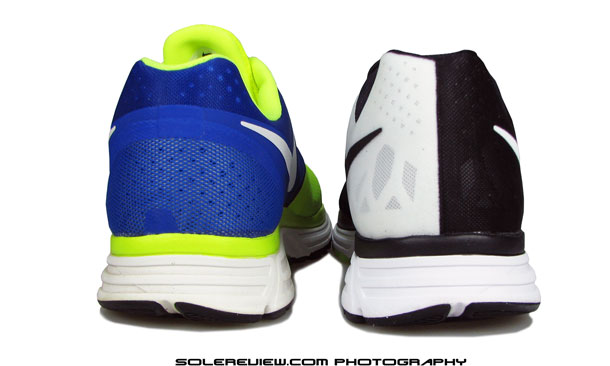 Heel is one area which the Vomero 9 does better than the 8. The collar grip has improved dramatically because of the narrower heel counter molding . The collar of the 2013 Vomero 8 was molded very wide, which caused the foot to move around during runs. The Zoom Vomero 9 modifies counter molding to reduce the open space between both sides of heel. The result is a much improved fit around the ankles, with no heel slippage observed during our test runs.
But then a shoe is sum of parts. Add everything up, and the Vomero 9 fails to meet our expectations. The expectation of being a plush, neutral running shoe which betters older Vomero versions. The expectation that every step should be one of supreme ride comfort and luxurious fit and feel. The expectation of the satisfying feeling of $130 well spent. The 2014 Vomero 9 does none of that, and that is sad. Because we know it is possible. Six years ago, the Vomero 3 shone bright over anything else in mesh and foam, and Vomero 9 could have been a torch bearer of that legacy. But unfortunately, it is not.
Zoom Vomero 9 dislikes:
Not be confused with our introductory (negative) rant, the following are issues which can structurally improve the shoe by their absence:
A) Un-gusseted tongue: The inner sleeve was last seen on Vomero 6, and hasn't made a comeback yet. Which means the Vomero 9 has a tongue which slides. A lot.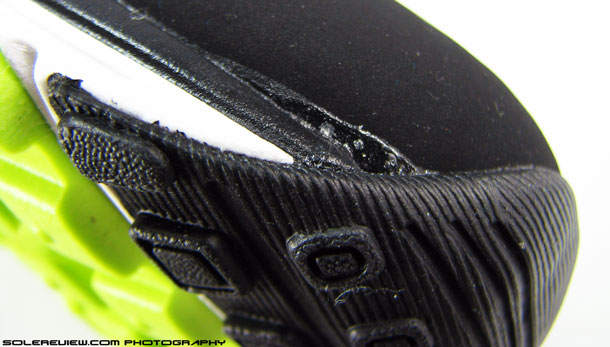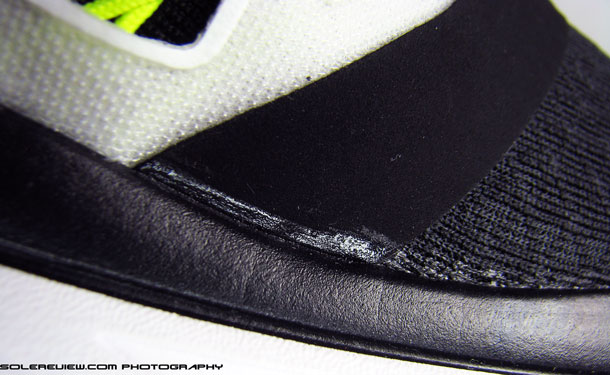 B) Sub-standard finish: The upper is full of ugly glue marks, mostly at the area where upper joins the sole. This could also be due to the change in materials, where it is harder to rub off the glue after assembly. Poor material selection, in that case.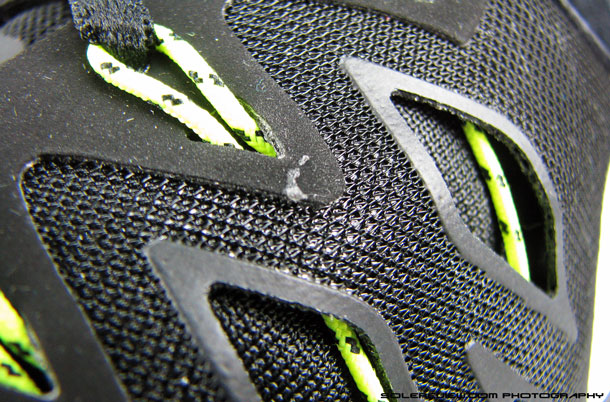 C) Upper mid-foot design: The diamond shaped cutouts do not sit flush with the foot surface on the arch side. They bulge out, making the area look loose.
D) Stiff forefoot sole: The Zoom Air bags get in way of flexibility and makes the sole under the forefoot stiff, despite the flex grooves.
E) Reduced reflectivity: Night-time running elements tones down in coverage. The tongue lace-loop is now non-reflective, and heel area sees reduction in reflectivity.
Conclusion:
The Nike Zoom Vomero 9 is a pitiful shadow of its once glorious past, degrading to a shoe which neither belongs in upper echelons of neutral cushioning nor in the category which combines support with cushioning. At $130, it will be a purchase decision you will likely regret. Our suggestion is that you buy the 2012 Vomero 7 which is a comparable shoe available at a close-out price, or the Pegasus 3o. Or you can choose fish to for options in Adidas, Asics, Brooks and Saucony. Maybe even Puma. Don't support the Vomero 9 by buying it, else you'll encourage another version of evolutionary apathy in 2015.
Tester note on review rating:
Given that our review ripped the Vomero 9 on so many levels, you might be surprised at the relatively higher score. But our rating follows a system of fair scoring. The shoe when viewed in isolation is not structurally bad or uncomfortable, with decent levels of cushioning thrown in. So on individual parameters (which have weighted averages, by the way) will add up to the scores they deserve. Variable marking is thrown into the equation after the score sub-total, and in this case, we have deducted points for lack of freshness. We adopt the following methodology: annual outsole refresh will not impact the overall score, outsole refresh every two years will result in a deduction of 0.5 points. But if the sole unit remains unchanged for three years, we impose 3x of 2nd year negative points. In Vomero 9's case, it is 0.5 x 3 = 1.5 point deduction from a total score of 10.
We treat weight similarly, and negative (variable) marking is applied if the shoe exceeds the category median, and/or exceeds the weight of its previous version. We hope to post a comprehensive guide to how we rate our shoes – soon.
(Disclaimer: Solereview paid full US retail price for the shoe reviewed)
---
Update, August 19th, 2014: We came across what looks certainly looks like the official Nike Video for the 2015 Nike Air Zoom Vomero 10, shared on the film-maker's page who shot it. (Edit: the video has now been removed) This tells us a few things:
a) The Nike Air Zoom Vomero 10 release date could be earlier than the usual summer 2015 drop date. Maybe a late Holiday 2014, early SP15 drop? (Edit: Not here yet, so let's assume it's going to be in April)
b) Upper features a Flymesh construction, which appears to be a Hybrid between the Flyknit and engineered mesh. It looks identical to the 2014 Nike Air Zoom Structure 18 upper.
c) The sole unit is finally dual-density again! Full length heel to toe Cushlon, with a Cushlon blended crash pad under the heel. Rear and front Zoom Air bags.
d) Offset is 12mm. (24 mm heel, 12 mm forefoot)
e) Lightweight – 10.8 Oz for US 10
f) The collar mesh is the same as used as Vomero 9, which is soft.
g) Reflective swoosh? Maybe, can't say for sure
f) The sole appears to have a blown rubber forefoot and carbon rubber rear-foot. The 'crash rail' design from this year's Pegasus carries over.
A few screenshots from the Vimeo video, previously found on sambrosnan.com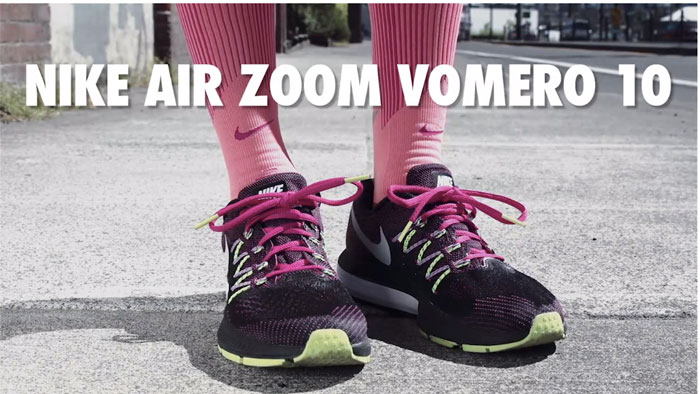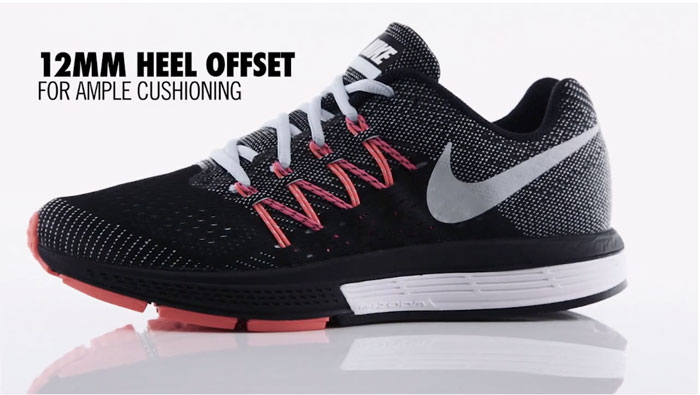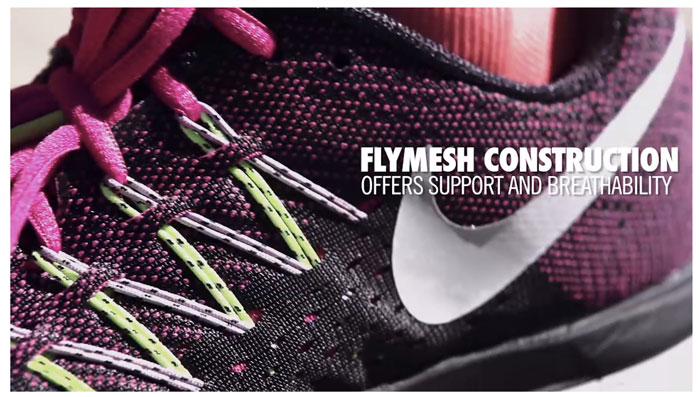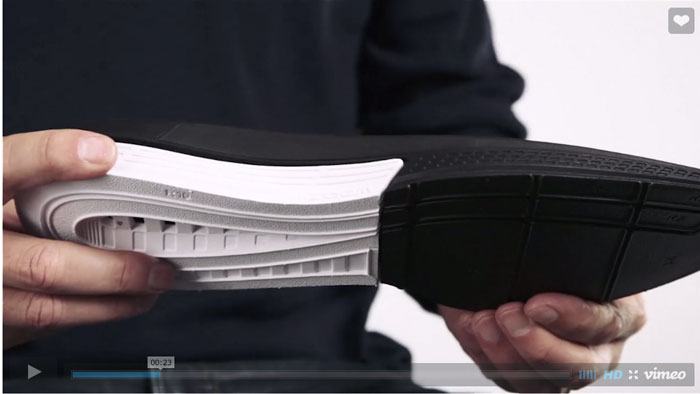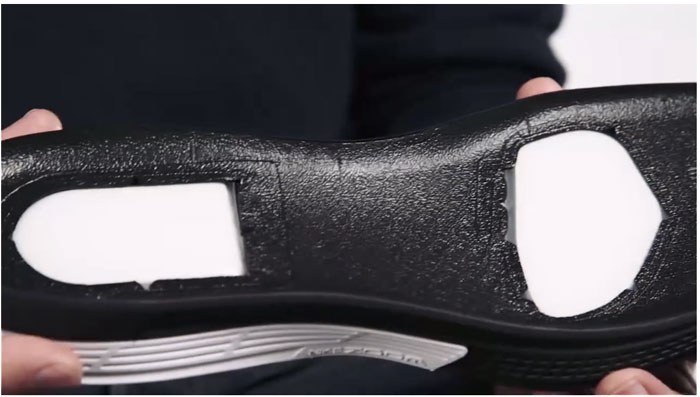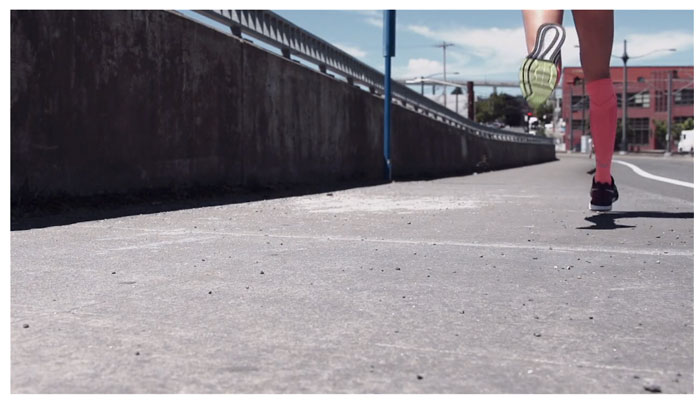 Definitely worth waiting for!