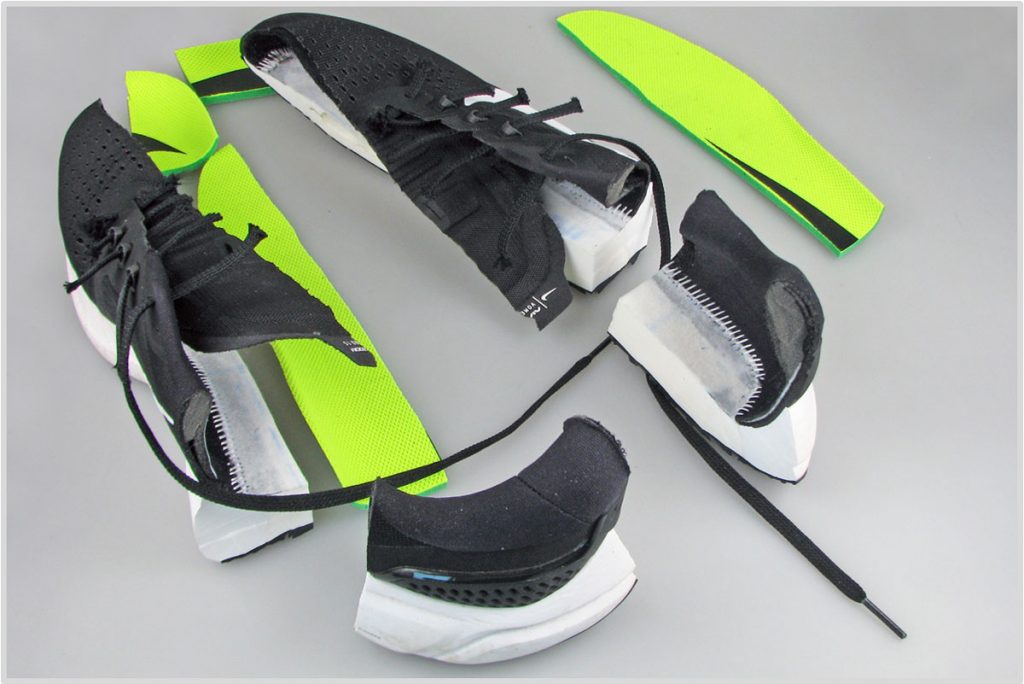 This is a new feature that focuses exclusively on footwear dissections. For a detailed review of the shoe's fit and ride character, please refer to our list here. If you don't see the review yet, it will follow soon! This feature complements our in-depth reviews and does not replace them.
THE INTRODUCTION
This is the inaugural edition of Solereview's 'teardown' content series.
We decided that it was a good idea to carve shoe dissections into separate spin-offs. Our detailed reviews routinely run between 2000 and 4000 words, and the teardown pictures often get lost in the word-soup.
We've done many footwear post-mortems before, but they have always been a part of the review. For example, our reviews of the Pegasus 37 and Nike Vaporfly 4% contain midsole dissections.
Solereview spends lots of time shooting and editing images, so it's a pity when few people read them.
Based on our analytics, there is a hard ceiling to attention span. Whether an article is 1,500 words or 5,000 doesn't make a difference in how much time a reader spends on a page. Thus, splitting the word count across two articles will result in a better user experience.
So why does Solereview publish all those detailed reviews? Because we can, and we like to provide as many details as possible to help our readers make an informed decision.
Tear-downs or dissections are very useful, as it accomplishes two important things:
a) Why does a shoe behave the way it does? Once we see the inner workings of a midsole, it's easy to understand the overall character.
b) Brands often make marketing claims that don't necessarily translate into functional benefits. A dissection separates the truth from fiction.
Unlike most review websites, Solereview buys all its products at full price and never publishes sponsored content. Thus, we couldn't care less if brands are offended by our dissections and a critique of their marketing claims, if any.
The Nike Air Zoom Vomero 15 is a good shoe to kick this series off. From a construction standpoint, it is a fairly complex shoe. According to Nike, the midsole combines a Zoom Air unit with ZoomX foam.
But just how much ZoomX foam exists inside the midsole? Is it full-length, or just a tiny core? What kind of a Zoom Air unit resides inside the forefoot? And what does the sleeved upper look like on the inside?
Cutting open the Vomero answers all those questions. We won't cover any ride or fit-related topics; that's a subject for our in-depth review.
THE MIDSOLE TEARDOWN
The forefoot has the same Zoom Air bag as the Pegasus 37 and 38, and presumably, the same kind that resides inside the Structure 23.
It's a fairly sizable unit with built-in flex grooves – a feature that was missing in the older generation Zoom Air units. It comfortably covers the entire forefoot area and comprises 1/3rd of the total thickness. Here, it appears as if it's half the thickness – that's because it's deflated.
Zoom Air is a pressurized urethane chamber that's filled with an inert gas like Nitrogen. Using an inert gas prevents the unit from swelling after a long run – which would have occurred if Zoom Air used regular air instead. And just like a double-paned window of a house, the inert gas also provides thermal insulation.
This Urethane chamber also employs a drop-stitch construction. Thousands of thin fibers connect the ceiling and floor of the Air bag to maintain the overall shape and structure.
This design is widely used in outdoor gear like Air mattresses and stand-up paddleboards. A SUP board is nothing but a gigantic Zoom Air bag.
There's another 'Zoom' inside the midsole. By that, we refer to the ZoomX foam. Here, it's used as a core and not the primary midsole. The outer casing is made of a firm EVA-blend. When viewed cross-sectionally, ZoomX occupies half of the midsole width.
Calling it 'full-length' would be stretching the facts, because ZoomX tapers to a sliver under the Air bag. And there's no ZoomX in front of the Air bag – that white foam is EVA.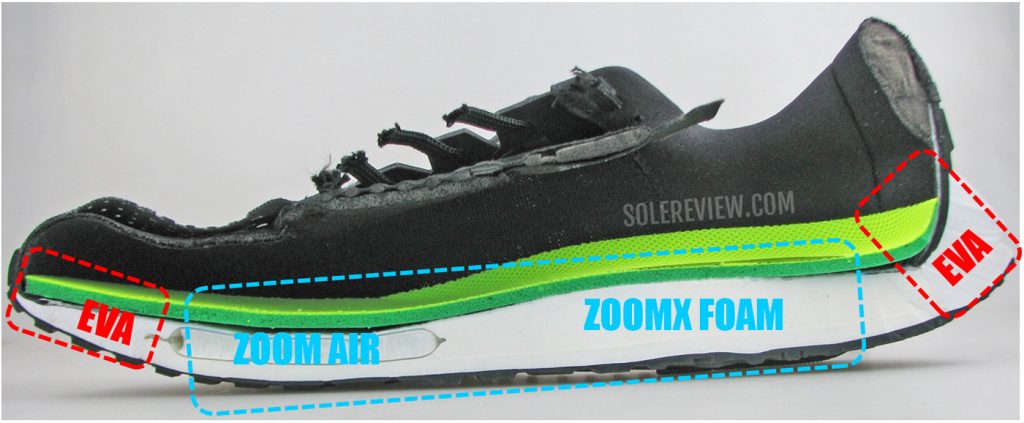 Since it's hard to tell the different foams apart, we've annotated the materials in this picture.
The ZoomX foam is comprised of two layers – that's where the small gap is. We're not sure why; our best guess is that it has something to do with the integration process of the Zoom Air bag.
It's worth noting that the Vomero 15 setup differs from a shoe like the Pegasus Turbo. On that model, the ZoomX foam was laid atop a firmer React layer without an EVA casing.
Interestingly, the Vomero 15 doesn't use a conventional lasting – the thin layer of foam that is usually below the insole. Speaking of which, the removable insole is a blown-foam type with average thickness.
Here, the lasting or Strobel is a very thin sheet of synthetic fabric; it's a millimeter thick at most. If the recent shoes are anything to go by, Nike is slowly getting rid of its lasting or tapering them to near nothing – as is evident on the Vomero 15.
THE UPPER TEARDOWN
Though this is a standard sleeved upper with distinct Nike design signature, it's worth highlighting a few areas of interest. The interior lining and sleeve are the same thing here, so the second layer of mesh extends to the toe-box. Except for the interlocked seams of the tongue and heel, the interiors are seam-free.
The mesh sleeve has a bit of foam padding, so it's a kind of spacer mesh if you will. The 'vents' are only on the outer mesh; the sleeve fabric doesn't have any.
The tongue is thin, with some foam separating the foot from the lacing. The tongue flap doesn't have any quilting, but the heel collar has lots. It's worth noting that though the heel has an external clip, an internal stiffener is also included.
There isn't a conventional toe-bumper, but a printed-type layer that gives the toe-box its basic shape. It's so thin that's it's nearly invisible. This fused 'bumper' is sandwiched between the outer mesh and inner sleeve.
SUMMARY
For the most part, Nike's claims are backed by the presence of the necessary components – even though that may not have produced the cushioning experience we expected. The Zoom Air bag is sizeable, and there's enough ZoomX foam to make a functional difference.