Color: Dazzling Blue/White
Mizuno's marketing pitch: Blur the lines between race day speed and everyday training.
Surfaces tested on: Road, synthetic track, 18° C/64° F
Upper: Spacer mesh, synthetic leather, PU overlays.
Midsole: Compression molded U4Ic EVA, Pebax parallel heel Wave plate. 10mm heel to toe drop.
Outsole: Hard carbon rubber (X10) in heel, combination of fabric mounted grip lugs and softer blown rubber in forefoot.
Weight: 259 gms/ 9.1 Oz for a half pair of US11/UK10/EUR 44.5
Widths available: Standard (reviewed), 2E (wide).
As advertised, the Wave Sayonara 2 is a shoe which takes on race day and daily training duties equally well.
adidas adizero Adios 2 and Boston Boost, Nike Zoom Streak 5
Stable ride, responsive wave unit, transition, ventilation, weight.
Barely any reflectivity, U4ic foam not responsive as marketed.
Sometimes, a quick track session will fully coax out a shoe's character, and within a very short span of time. Especially when the shoe in question is designed for fast paced running – like the Mizuno Wave Sayonara 2, which straddles middle ground between a full blown distance racing flat and neutral trainer. And what makes it so?
To begin, it is very lightweight without looking the part. We mean, look at the parallel Wave plate in the heel. It cuts no corner on volume, making the stack heights look close to what's on regular runners. The Sayonara 2 heel isn't exactly pancake flat, putting out a 10mm drop on a stack of 24mm. The midsole's a piece of compression molded EVA foam, which logically should throw its weight around, as is the natural order of things. From a distance, the upper also looks like a busy place to be, with all the overlays mapping the surface. And lastly, throw in plenty of outsole rubber too.
And yet, a half pair in US size 11 is mere 9.1 Oz (259 gms) light, placing it well within the boundaries of the distance running shoe median. For comparison's sake, that's full 41 grams under the Mizuno Wave Rider 18. The key to its weight management can be attributed to design balance; be frugal yet clever with upper construction, and thus create greater leeway to pack in more stuff where it matters.
So where were we? Ah yes, back to the track part. Two traits of any shoe will quickly come into their own during a track workout. First is the front end outsole grip, and second is upper fit. The first one was of particular interest on the Sayonara 2, with the forefoot section featuring road racing specific outsole. By which we refer to the section with small pieces of rubber fixed on a mesh base.
This design, which visually looks similar to a computer circuit board (or Canapés, if you're culinarily minded), reduces weight while delivering superlative grip on surfaces. That said, the Sayonara 2 restricts latter's frontal coverage, with around 2/3rds of forefoot featuring this lightweight construct. The remaining lateral side is layered with traditional looking slabs of blown rubber.
The compromise makes sense, given that most of the transitional forces will be concentrated in that area. Mixing in blown rubber also provides more durability than in a scenario where the entire forefoot features a Canapés-ish outsole design.
This translates rather well on the track. Forefoot grip is good on straights and curves alike, though the experience is a cut below a shoe like the Adios Boost, which felt more linear and accurate. Within this category of running shoes, we'd award the Sayonara a place between the Adios 2 Boost and Nike Zoom Streak 5, with adidas being more focused and Nike being more easy going.
Upper forefoot fit is actually relaxed, more on the lines of Wave Rider 18 and Nike Zoom Streak 5. This makes the Mizuno a lesser track tool, as the upper fit dilutes the explosive, focused levels of push-offs you'd wish for on a track. It is far from blunt, yet not optimal for maximal track sessions.
But what's found wanting on shorter track workouts doesn't necessarily hold true for road running; much in the way like a racecar which can corner fiendishly well on track, but will have little going for it on long and straight interstates.
A relaxed upper is likely to be a more desirable aspect, as it actually helps the rigors of distance running. A lot of runners might look for a snugger forefoot to help them put on ultra fast miles in shorter races, but then there are plenty of other shoes which cater to that need. In a running shoe category populated with all pervasive snugness, the Sayonara 2 and Zoom Streak 5 make for an equal (and somewhat uncommon) pairing, given their fit character. This is a shoe which will please you if adequate foot splay sits high on your wishlist podium.
The  Sayonara's upper is a comfortable place to be in. It is made of a single piece, lining-less mesh which is breathable and pleasant to touch. The tongue's a softy-soft piece of work, spacer mesh on top and a smooth fabric on the business side. It's pack-stitched with foam and wide across, which means it provides great coverage over foot instep, and minimizes tongue slide while at it.
You can wear the Sayonara 2 barefoot, but be mindful of these support strips on the lining, which help give the minimal upper its shape and eyelet panel reinforcement. While these strips are nowhere as bad as the ones on Wave Rider 18, their presence is felt inside nonetheless. With socks, these don't do any harm and blend right in.
Forefoot fit, as pointed out, is relaxed on either sides. Note that the lacing starts with an asymmetrical sideways skew, opening up some lateral room. Toe box height is just right, feeling neither cavernous or shallow. Heel to toe sizing runs true.
Upper heel mimics the fit overtones of Wave Rider 18. This has the collar closing in on the foot with a medium level of snugness, and lower part is relatively relaxed, much in part due to the molding flare of the internal stiffener. The grip around ankles isn't found lacking, but leaves you with the feeling that it could be improved with optimal spread and placement of foam padding. The eyelet curve (where collar ends and lacing begins) is hard, and has a tendency to rub over the foot. This is an issue which becomes less noticeable after half a dozen runs.
Sayonara 2 comes fitted with functionally efficient laces. The flat shape helps them sit flush over the padded tongue, distributing lacing pressure over a larger area. And once laced up, they stay that way without coming undone midway. The length's just right; neither too short nor too long.
Weight reduction is achieved by a variety of means, the chief ingredient of that being the use of PU upper overlays. That's the green, curvy strips going over the upper, which have the look and feel of high density printing. Atop that, there're secondary layers of barely visible, translucent fused-on material. These filmic overlays go over the toe bumper, forefoot sides, under the white Mizuno logo and over the eyelet panel.
There's a near-complete absence of stitched-on, synthetic leather panels on the upper, except on the heel. A circular, quarter shaped patch of synthetic boasts of what is the Sayonara's only reflective piece, a la Rider 18. The upper construction and materials have a significant bearing when it comes to keeping digits low on the weighing scale, and allows for the well endowed sole area. Because for what the shoe is, the bottom packs in a lot.
Midsole is made using two pieces of compression molded EVA , which goes by the Mizuno bestowed U4ic name. The white part is a heel to toe, single piece of molded foam. Move to the rear, and the second piece of green EVA lines the bottom, with its medial part extending to midfoot. Can't really call this a dual density arrangement though; regardless of different colors, both foam units feel the same in hardness.
A parallel Wave unit is locked between the white and green foam section. It is a true 'parallel' design, with the crests (rise) and trough (dip) of the Wave unit being consistent across lateral and medial sides. We thought this was worth highlighting since the Rider 18's 'parallel' wave wasn't exactly so, with its lateral side being more subdued (and hence pliable) than medial side.
As far as the outsole is concerned, Mizuno's hard X-10 carbon rubber is underlaid rearfoot in a horse-shoe shaped pattern, and when you move forward, that material changes to softer blown rubber on lateral side. The star of the show is of course, the network race specific lugs situated medially on a fabric base.
Mizuno describes the U4ic's ride as ultra-responsive. To that, we see the flowery adjective as the work of an overtly imaginative mind. The midsole foam looks, feels and performs like regular compression molded EVA foam. It is firm and  the word responsive would be an incorrect description. However, solace comes in form of the removable insole and the strobel beneath, which elevates cushioning levels of the Sayonara.
Lift the insole, and it reveals a soft strobel layer with few millimetres of foam inside. The sockliner is comfortable, a perforated dense sheet of molded EVA with a super smooth top cloth. Mizuno has got the fabric material of insoles down pat; the one in Rider 18 felt ultra-luxurious. Here, the Sayonara's insole cloth might not be in the same silky league as the Rider 18, but comes through as plush enough.
We don't understand why Mizuno tries to sell responsiveness in a shoe like this. It is almost as if Mizuno see a firm ride as a pariah, staying away even from a mere mention. We think that mindset to be pretty futile. Everyone knows that Mizunos have an unique ride, and loyalists will respect the difference, and many newcomers will embrace it. Especially in a shoe like the Sayonara 2, firm ride is a positive trait; one which helps fast paced running.
If there's any responsiveness, that is the result of the heel Wave cushioning. In our Wave Rider 18 review, we observed that thinner the EVA holding the Wave plate together, greater the case for responsive cushioning. Well, that applies in this situation. The lower profile foam sections amplify the Wave plate's rebound properties, making it much more responsive.
Now, all this is relative to the Mizuno catalogue, and use of this word is brand specific – not to be mixed up with adidas Boost responsive or Nike Zoom responsive, which are different things altogether. The Wave technology was actually designed to prevent deformation than to cause it, with the end goal being stability. The responsiveness corresponds with increase of input forces, which means faster rear-foot strikes or higher body weight will cause a greater splaying of Wave, and with that, pronounced feedback.
Mizunos are not known for their soft ride, so you can practically bid goodbye to that aspect once you sign up for a pair with the Runbird logo. Sayonara, by the way, translates into farewell in Japanese. So there you go.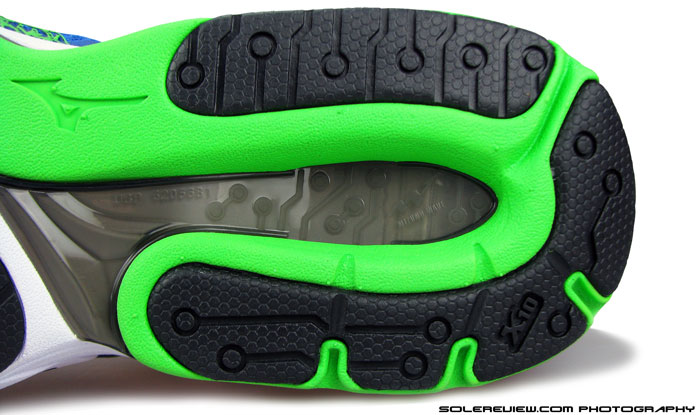 There's no lateral bias (unlike Rider 18) in Sayonara's heel cushioning, as the design of Wave Plate follows parallel symmetry. This makes the shoe a close image of what true neutral behavior should be. Rearfoot strikes are gentle, with smooth transitions. Landings have none of the bone jarring impact of Rider 18, which incidentally uses the same X-10 rubber based crash pad. There're a couple of reasons behind this.
Medium thickness rubber pods sit nearly flush with the green midsole foam which they are mounted on. This allows both the materials to shoulder the burden of foot strikes, as opposed to the hard rubber taking the entire brunt. Also take into the account the somewhat articulated design of the Wave Plate. Towards its heel end, the plastic unit breaks away into separate extensions, affording it a greater freedom of flex when pressure is applied.
Transition is smooth, a predictable outcome of consistency in material density underneath, the Wave plate extending far into medial midfoot, and a full contact outsole with slight heel bevel. This is a shoe which doesn't have much cushioning sink, and the gait cycle feeling economical.
It has good support overall; though the forefoot lacks the slight inward curve we so loved on the Mizuno Wave Rider 18. In the Sayonara, the foot sits on top of the midsole and not in it; and we understand why Mizuno kept it that way. Scooping out the midsole would have reduced the midsole thickness which was low profile to begin with, and one might have felt a lot more road than what's good for most. In the existing set-up, Sayonara 2 balances cushioning with ground feedback well.
The Sayonara 2 is great for runners who want a fast ride, but in a lightweight package which does not strip a shoe down to a bare minimum. The shoe is padded well enough while being flexible, and offers an upper which fits and breathes well.
Owing to its half-race outsole, durability might not stand up to heavy mileage expected of full fledged trainers, but will fare better than many of the minimal distance racers.
(Disclaimer: Solereview paid full US retail price for the shoe reviewed)