Color: White/Silver/Black
Hoka's marketing pitch: Lightweight, fast ride with high levels of cushioning.
Surfaces tested on: Road, ambient temperatures of 17° C/63° F
Upper: Unlined spacer mesh, synthetic leather, heat fused overlays, rubberized+plastic eyelets.
Midsole: Structured injection molded EVA blend, 2mm heel offset.
Outsole: RMAT foam, rubber pieces under forefoot and heel.
Weight: 287 gms/ 10.1 Oz for a half pair of US11/UK10.5/EUR45.3 (Hoka sizing)
Widths available: Single.
The Huaka is a neutral running shoe which promises a fast, yet cushioned ride. It does live upto that claim, except that it is $40 too expensive and has an upper with a lot to crib about. 
Hoka Clifton, New Balance Fresh Foam 980
Quality of cushioning, ventilation, great transition, relatively lightweight
Price, upper fit and lacing system, durability
Life must be tough for a Hoka shoe designer. It's been a few fast years since the European-now-American brand debuted their running shoe line with bottomless midsoles, and all that has built up a set expectation of what Hokas should feel like. They should be super cushioney, deliver a smooth transition, and have a unique sole design, which for all practical purposes, has become a visual Hoka trademark. A stereotype of sorts, if you will.
So here comes the not so easy part. How do you add new models year after year while keeping the Hoka-ness of the shoe intact? These guys are no Asics or Nike, whose running shoes can go from slim to fat to somewhere-in-between without breaking a sweat, because they can play within a wider boundary of footwear design.
Hoka has planned a quiver of new designs for next year (Constant, Odessey, Valor, Vanquish etc). Hard to say how those models are differentiated till the time we have a go in them. But if we're talking about the Huaka, it is easy to see a clear separation from the rest of road Hokas.
The Huaka is positioned as a distance racer which is designed to facilitate a fast ride. It might sound laughable to some, but then we've seen that even shoes like the Clifton doesn't have a negative influence on running speed, unless you're planning to sprint in them. Huaka is much firmer, yet has a smoothness of transition expected of a Hoka. Something which helps running uninterrupted long miles in adequate comfort.
It may not have the squeeze down of Clifton's midsole, but cushioning is very much a part of Huaka's character, albeit present in measured doses. It spreads evenly from heel to toe, a signature linearity easily recognizable if you've run in a Hoka before. The lack of midsole layering might have you believe that Huaka is a lower profile shoe, but stack heights suggest otherwise. With stack heights of 27mm heel and 25 mm forefoot, not much sets it apart from a Conquest (29:25) or Clifton (29:24).
The difference here is that Huaka boasts of a 2 mm drop, with the added firmness bringing static and loaded drops closer to each other. That said, stack heights don't act as a reliable barometer for cushioning. The overall design and choice of materials is what brings about a change in ride manners. The Hoka Rapa Nui 2 would claim that distinction of using the thinnest (sic) Hoka midsole (H 26: F 21); a handy tip if you are in a quest to seek the lowest road Hoka.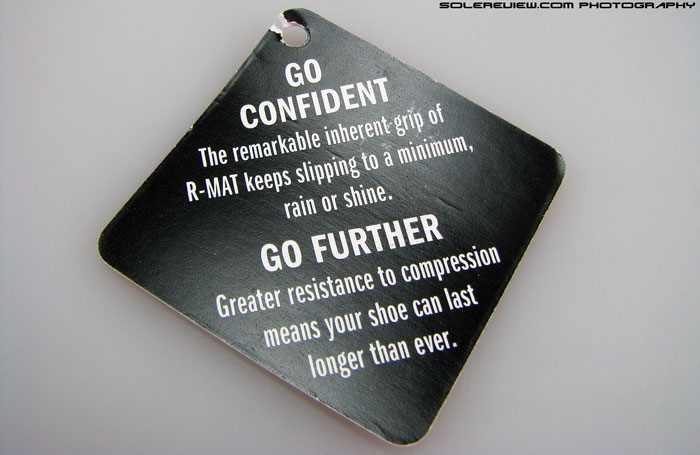 A new midsole material called RMAT (also on Conquest) is Huaka's marque component. Unlike compression molded foams seen on other models, RMAT is an injection molded compound with a difference. Commonly found injection molded foam midsoles get their final shape by first expanding and then shrinking; RMAT appears to be made using a low pressure, 'structured injection molding' process, which keeps expansion in check.
This adds resilience and also helps maintains a sharp definition of cosmetic details on midsole walls – something which is usually achievable only under traditional compression molding. The other effect of this is greater density, and hence higher weight when compared to regular EVA.
Wonder what does R-MAT stand for? Resilient Material?
Hoka puts a lot of burden on RMAT's shoulders, trusting it not only with cushioning duties, but also has it serve as a significant chunk of the outsole. Huaka's bottom is partially covered with soft rubber featuring lugs in shape of miniature Hoka bird logos. These lugs have excellent grip on a variety of surfaces, but the tradeoff is their fragility, which become quickly apparent once on road.
Initial runs will level them off to flatness till rubber is near flush with midsole foam. This wear will be concentrated in the area of footstrike, which could be heel or forefoot – depending on how you land. Drawing on our experience with other shoes, the intensity of shredding should taper off once the Boomerang shaped nobs are worn down to their base.
Don't have any reason to believe that RMAT will last longer or shorter than most reinforced EVA foams. That said, love to see a comment or two from readers who've logged in 100+ miles on the Huaka and tell us like it is. There have also been talk of the welded overlays delaminating from upper, so related insights based on long term ownership would be welcome.
During runs, the Huaka melds typical Hoka smoothness with a touch of firmness. This shoe is no Clifton, and if you were anticipating squishy pillow-ness, then you would have spent money on the wrong shoe. Compression of the foam happens judiciously as you transfer weight over the shoe; you feel the foam pressing downwards, but only to a certain depth. You can visually see that in action if you choose to video record it; the rear-foot foam will splay outwards slightly with each impact.
At the same time, it does not feel extra firm. An apt analogy would be a NB Fresh Foam 980 with slightly thicker midsole, but underscored with foam properties of the Clifton. However, calling the Huaka 'very' responsive would be a bit optimistic, as there's little feedback from the midsole to classify it as such.
A punched out strobel sheet and a thin insole are two more layers over the midsole, which were also seen on the Clifton.
Huaka is somewhat of an odd man out in the Hoka line-up, as it lacks a prominent 'rocker' heel spring. The toe spring is in place, early stage metarocker, stiff forefoot and all that, helping the forefoot roll forth. But the heel is just like any other running shoe, with only a slight gap between the midsole heel and running surface.
That design difference results in early stage rear-foot strike, instead of pushing the strike zone a little forward. (Read our Clifton review for a detailed explanation of what Metarocker does) At this point, we'd like to re-mention that Huaka has a mere 2mm heel drop. With that aspect part of Huaka, chances are that rear parts of your lower leg will get a workout if you're switching from a higher heel drop (8-12mm) running shoe. On the same note, if your daily trainer is a low drop model, then nothing to fret about.
There might be not a separate midsole layer which doubles as the Hoka 'speed frame', but Huaka's midsole comes with raised sidewalls in mid and rear-foot. These help achieve the cupping like action advertised in the product description. And as marketed, the RMAT midsole lives up to its promise of helping go fast. While it might lack the utter immersive-ness of models like the Clifton, transitions come seamless and quick, helping the foot see through one fast gait cycle after another.
We'e aren't exactly Hoka experts, the Huaka being only one of the two shoes we've reviewed so far. And yet there's a feeling of Déjà vu all over again, with the Huaka upper turning out to be a severe compromise. The fit quality is awfully out of sync, the lacing system is a fumbling mess and overall Will-o'-the-wispiness of construction is a red flag. Hoka has got their midsole set-up figured out, but boy, do they need a footwear 101 on how to make good uppers. And please, Hoka. Your last sucks. Copy New Balance's or Saucony's fit. Do something.
Forefoot fit is strange indeed. It is narrow, but more on lateral (outer) side than medially. The upper pins down the small toe, behaving identically to the Clifton. Except that the difference in overlay design eases off some of the pressure.
The Huaka also runs half size larger as there's lot of space in front of the big toe. Logically, one should do ok with buying a half size smaller, but then there's the question of forefoot fit. Since the midsole is gradually tapered towards the front, we assume that closer the big toe to the shoe tip, more premium the overall forefoot space (on the sides) will be.
The Huaka comes packed with an extra pair of laces, but the default lacing system uses a toggle cord and a pair of elastic holding straps to keep it down. Operation sounds simple enough; pull on the cord laces at the end, and when the pressure is right, slide the two piece toggle downwards. The plastic fastener locks down the laces in the position, and then shove the remaining length of laces under twin stretch loops.
Either way, it doesn't end well. Leaving them above the loops will see it slapping the sides around. If you tuck them in, a part of it sticks ahead over the forefoot, and faster runs will see the plastic end moving all over the place. Doesn't make a racket, but isn't a pretty sight to see. We don't think that this end result was intentional; ideally the cord joint should end just ahead of the second loop, as pictured above during our photoshoot.
The issue is with upper pattern design. When you tighten lacing, either sides of midfoot upper come extremely close to each other, mimicking Clifton's behavior. This results in wider lacing span in the front and extremely narrow near the tongue tip. This also consumes less lacing, and thus leaving a lot more cord than what's necessary.
And the funniest thing of all? Huaka has an extra row of lacing near the collar. That's good, because that's what we missed in the Clifton. But the question is; since both the cord ends are securely tacked together, how do you pass them through? Uh Oh.
This reminds us of the Chinese linking rings magic trick – two solid metal rings without gaps linking and unlinking at will.
So the bottom-line is, if you want to get a better collar fit and overall reduction in fumbling movements, cut the 'Race-Lace' loose and go old school with the supplied pair of laces.
The only positive we saw in the cord lacing is that they pass through the combined rows of circular plastic and metal eyelets smoothly, and keeps top down pressure over the paper thin tongue at bay.
Coming to construction materials, the upper is made using a huge panel of unlined mesh. Very lightweight and breathable with large pore structure; you can actually see your fingers from outside when you run them under the forefoot.
Toe area has a molded internal bumper, and another layer of grey PU covers it.
The shoe is fused over with a network of transparent overlays. These begin from the toe section and provides most of the structure needed to keep the thin mesh panels propped up. There have been (other) numerous reports of this layer separating from the mesh, but this hasn't been noticed on our pair yet due to low mileage. But the whole upper does look flimsy, except for the heel area, which is bulked up with an internal stiff counter and padded mesh collar. There's some reflectivity too, in form of the heel pull tab and over the forefoot.
Needless to say, the Huaka won't be an all round crowd pleaser. We bought the shoe because we had a review to write, but if that weren't the case, it was unlikely that Hoka would have got our crisp Franklins . The ride is great, as is expected of Hoka, but a few other things don't add up. Like:
– The Huaka is horrendously expensive for what it is. The materials used look like they belong to a lower price segment, and not on a $150 shoe. As a matter of fact, all Hokas are expensive. We can guess how that might have happened. In early days, these shoes were sold to a small band of runners in limited quantities. Understandably, the cost of development and running the brand had to be amortised over a smaller number of pairs, increasing the per pair cost. Add to that the fact that Hoka was a European brand. Everything is expensive in most of Europe, where even buying a cup of coffee and sandwich will make your wallet a lonely place. But now with sales numbers growing, it is high time Hoka had a re-look at the prices, or create a better price-value equation. Running shoes are industrial products, which means that a greater scale will translate into lower cost of manufacturing.
– It is heavy. Relative use of that expression, but compared to the Clifton, it is. Let's look at the empirical dimensions real quick – 239 gms/8.3 oz vs. 287 gms/10.1 oz on the Huaka. Yup, that's a big gap between the two.
– Durability is an obvious concern, with poor outsole rubber durability and suspect upper longevity.
– There are better shoes in Hoka's road running line-up, with Clifton being an obvious favourite. The Huaka is sufficiently differentiated by its firm ride, but if you wanted the best of both, isn't it better to buy the cheaper Clifton and a regular distance flat for speed work? There's some foam for thought.
The Huaka is a good shoe functionally, except for its could-be-better upper and low durability, for which we've taken points off the total score. It is just that the shoe packs too little for its hefty price tag, and then some.
(Disclaimer: Solereview paid full US retail price for the shoe reviewed)