Color: Blue/Black-Citron
Intended use: All runs except trail and in bad weather.
Surfaces tested on: Road, synthetic track, 21° C/70° F
Upper: Flat type spacer mesh, synthetic leather, TPU welding
Midsole: Compression molded EVA foam, 'Powergrid' perforated foam insert, heel crash pad.
Outsole: Carbon rubber pieces under heel, blown rubber in forefoot.
Weight: 292 gms/ 10.3 Oz for a half pair of UK10/US11
Lightweight neutral running excellence. Combines responsive cushioning, plush upper and drips with reflectivity. Thorn in the sides? Minor tongue slide and the $120 sticker price.
Brooks Ghost 7, Nike Air Zoom Pegasus 31
Though it has little to do with the actual review, a little trivia is always fun, with no harm done. Keeps us hapless shoe reviewers from getting jaded too. Here it comes – every second grader knows Neil Armstrong and Buzz Aldrin, the first men to walk the celestial surface. So what connection does Saucony have with mankind's historic milestone? The moon boots were made by a company named AR Hyde and sons, which after a few years of achieving that feat, bought the Saucony brand.
But the brand existed long before that, and its founding in 1898 makes it the oldest mainstream athletic footwear brand. This is ancient as it can be. To put things in perspective, Adi Dassler, the German founder of Adidas, wouldn't be born until two years later.
Despite its turtle years, Saucony is still a small brand. Going by Wolverine worldwide's (its parent company) Q2 2014 revenue reports, Saucony should be around $300 million annually tops. That is a small speck in a running footwear market where $25 billion behemoths run amok and make competing harder for smaller brands. But what Saucony lacks in financial and marketing firepower, it makes up with sheer experience. A century of cobbling shoes together does count for something, and from time to time that cumulative know-how of tinkering with mesh and rubber bears fruit.
Before we jump into finer details, we'd like to callout that we haven't tried the previous versions of the Saucony Ride. So this review will treat the Ride 7 as a standalone shoe, based on its merits and faults alone. So if you have any questions about how version 7 compares versus the Ride 5 or 6, we won't have any answers. But hey, this is where you can step in, and make the comment box a busy place with your insights and feedback.
The neutral cushioning category is the biggest when it comes to the running footwear market. The premise is rather simple, really. Create a shoe which feels cushioned but stable, without any of the 'motion control' appendages which aim to alter the gait cycle. Naturally every brand worth its logo wants in on this segment, and have met with varying degrees of success. Yet, creating a flawless 'neutral' shoe formula is a deceptively hard nut to crack, and more often than not, a few things slip through the crack. The 2014 Saucony Ride 7 in our opinion, is a neutral running shoe which is a fine example of that category –  in more ways than one.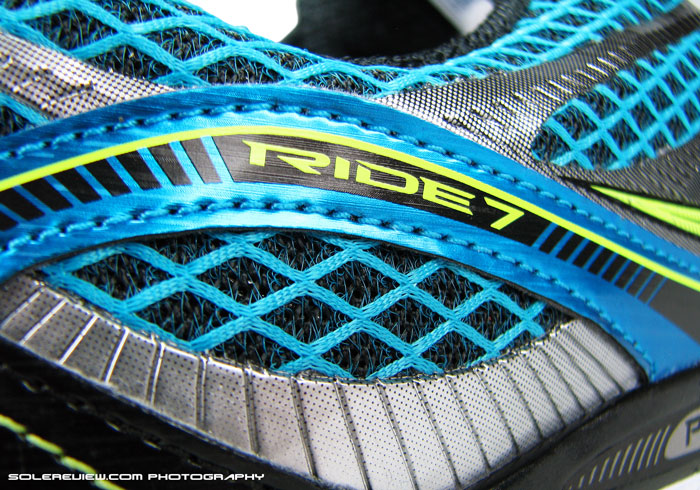 The Ride 7's biggest (and obvious) strength is its ability to deliver a no holds-barred, traditional shoe execution in an extremely lightweight package. By traditional we mean a fully rubber clad outsole, a chunky multi-density midsole and a plush upper which justifies the $120 price. At 292 grams or just a smidgen over 10 Oz ( US 11), it is one of the lightest, non-minimalist, neutral shoes available currently. If you're less than a US size 11, the weight will drop to below 10 Ounces. It's hard to beat that.
In what we see as an exception to the norm, weight reduction in the Ride 7 is an added advantage and not a trade-off. Usually, less weight means less rubber on the outsole, a slimmer midsole or at times a combination of both. Robbing Peter and paying Paul isn't the case in the Ride 7, with all the necessary goodies of a shod shoe stitched in their rightful place. It looks like a traditional cushioned shoe, with the element of surprise coming unmasked only when you pick the shoe up.
There's a copious supply of cushioning in the Saucony Ride 7, and we're mighty impressed with the quality of it. By which we mean it is responsive and uniformly spread. Key to that experience is the brand's 'Powergrid' cushioning system. What's amazing though, that Saucony has relied on the Grid system since the start of the 90's and over the years, evolved it to make relevant to contemporary footwear construction.
The concept, when it started, went something like this: a trampoline like grid was placed between the footbed and midsole, causing the foot to experience responsive cushioning. While the initial (and some current) Grid cassettes were made from Dupont Hytrel filaments , recent versions have taken liberties with the original design. The Saucony Ride 7 uses heel-to-toe Powergrid which is made out of a resilient foam sheet with holes in them, mimicking the original Grid design. We tried to prise open the Strobel to show you what it looks like, but the layers were tightly bonded together. So here's a screenshot from the Saucony website instead.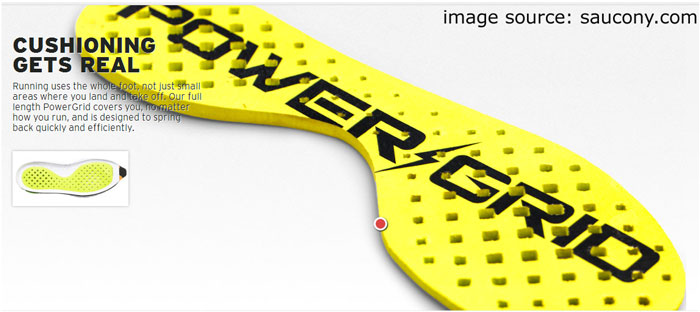 How does it ride? If you have been out window shopping lately, and have been able to try the Nike Pegasus 31 and Brooks Ghost 7, the Ride 7 sits firmest of the lot. Make no mistake, the heel cushioning is deep but it is not of a pillowy soft variety. It just feels enough, with a satisfying degree of responsiveness. We've noticed that most Grid featuring Saucony shoes have a chunky midsole, and it appears that the use of 'Grid' system mandates a certain level of midsole foam thickness. Which is necessary to make the trampoline like effect come to life, we think. Other minimal Sauconys like the A6 and the zero drop Virrata can't afford to feature the signature cushioning technology. We appreciate this approach, it just goes to show that Saucony is conscientious about how Grid is used and where. On the lateral (outer) side, the midsole looks less bulky because of midsole paint and crash pad giving an illusion of sleekness, but turn over to the medial (inner) face, and the actual bulk of the midsole becomes apparent.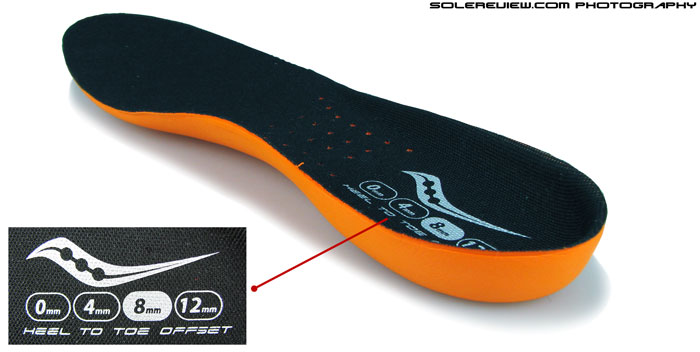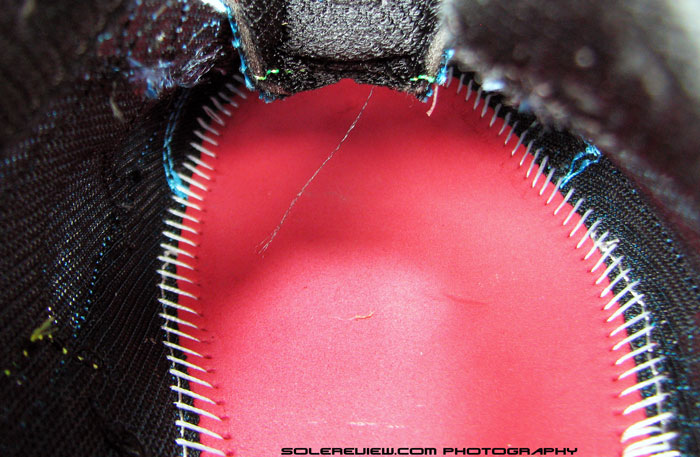 Sockliner is standard, molded foam fare, with the mid and forefoot area being thicker than the heel. Not so because of design, but due to excess molding pressure during manufacturing, required for the heel curve and Saucony text underneath. So unsurprisingly, the heel sockliner foam feels flat, whereas there's much padding under your forefoot. EVA (Ethylene Vinyl Acetate) Strobel underneath is now commonplace in the footwear industry, and it is used in the Ride 7 too. Adds that extra couple of millimeters of cushioning when compared to a fabric type. The replaceable foot-bed also means that occasionally you can pop-in that aftermarket Spenco or Sofsole, if you so desire.
Stability comes good on the Ride 7, with the foot resting on a wide rear-foot sole base. There's also full rubber contact beneath, with no gaps below the mid-foot area. As a result, gait cycle comes across as good. Up in the front, the forefoot base has a noticeable and functional flare. It keeps the foot securely planted and makes for a cushioned base when it comes to toe-offs. Besides, it makes the shoe look the part apart from playing it well.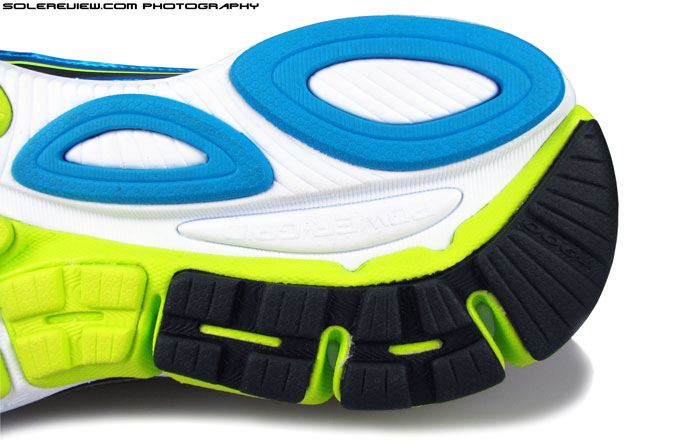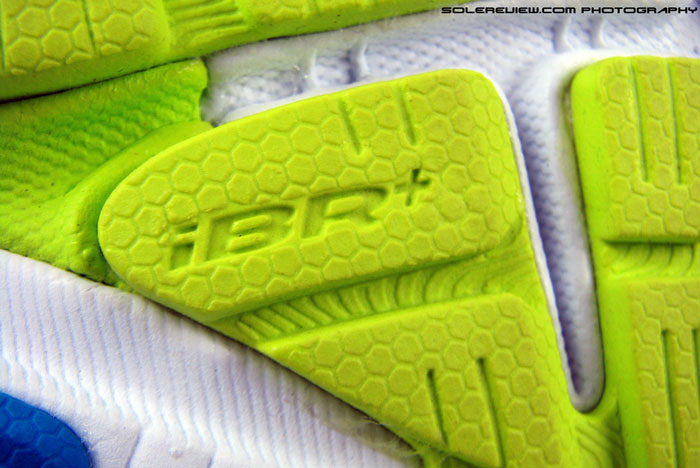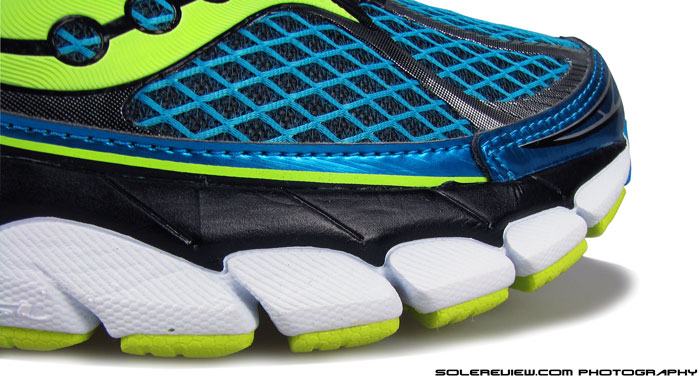 Grip is managed by a generous spread of rubbery parts stuck to the business side of the midsole. In the back, hard ones attempt to prolong the life of the shoe, and under the forefoot, there's softer blown rubber which combine relative compression with traction. And right under the tip is a logical placement of hard rubber, which should help in taking some of the burden associated with toe-offs. Even with all that rubber, the outsole abounds with a well spread-out network of flex grooves. Which not only make the shoe flexible, but also helps the shoe maintain its composure on less than perfect roads. Though not subjected to long term wear-tests, the Ride 7 shows the promise of acceptable durability stretching into a few hundred miles. We saw some wear on the heel, but only just. The heel bevel and overall rounded off heel edges also help minimize accelerated wear.
Our colorway came with an upper bathed in a sheer lucidness of blue, the latter only broken by twin, florescent green mid-foot logos. But aesthetic nicety is not the only thing scoring high on the Ride 7; the materials and fit also excel functionally. Mesh used is a spacer type, with strands of fibres connecting the top and bottom layers. But unlike other examples of spacer mesh, this one feels flat and there's no squeeze. That said, there's plenty of ventilation to go around – right from the toe to mid-foot, where this mesh is applied liberally. Synthetic leather is also part of the upper, but sees judicious use and positioning. Only the toe bumper, eye-stay, heel, medial mid-foot and the lower edges of the upper gets constructed with this material. If the upper stays up, then it partly owes it to the welded overlays, which snake their way around the upper. The toe box area is propped up by these thin welds and does the outer mid-foot and heel area. The good thing, though, is that during runs none of these bend inwards (2014 Nike Free 5.0, remember? ) and only serve as functional, support structures.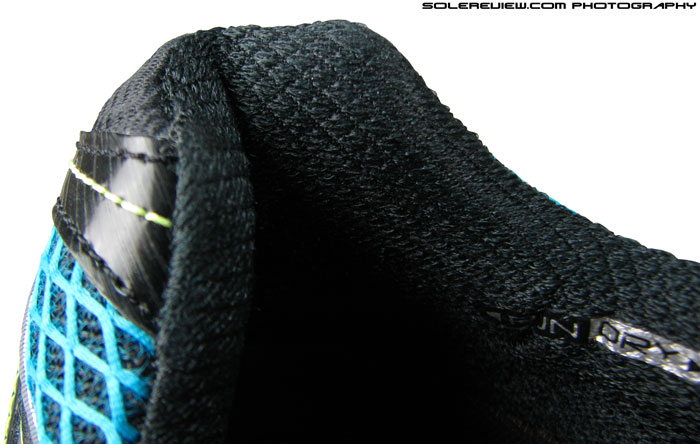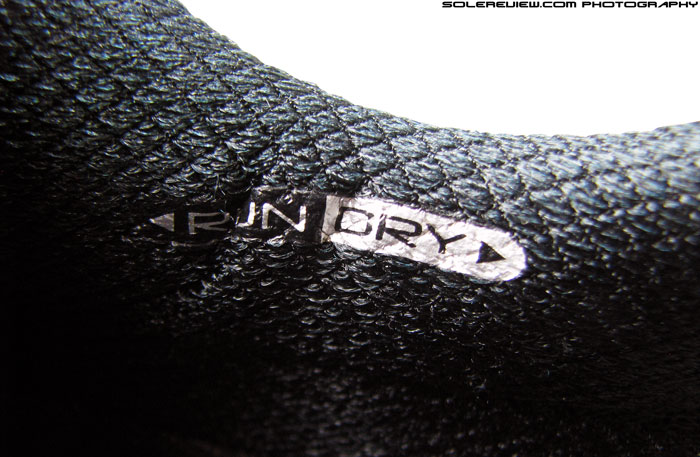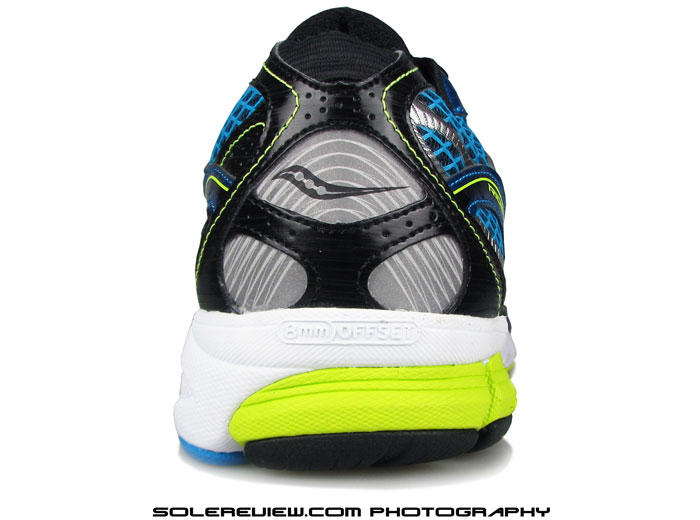 Regardless the use of flat spacer mesh, the Saucony Ride 7 upper feels extremely plush, and that's entirely because of the lining material. The fabric used under the tongue and around the color is very soft to the touch, almost luxurious. Throw in some soft foam between the tongue and conforming padding in the collar area, and that's a perfect recipe for upper comfort. Not good enough? Top that off with a compliant Achilles dip area. It has an internal heel counter, which goes around the rear-foot. But it sits low inside, only extending two-thirds upwards from its base. The remaining top 1/3rd of the heel is a U-shaped layer of two soft meshes, keeping any potential Achilles irritation at bay.
Fit is snug and uniform, and some extra room opens up once past your small toe. The forefoot sides are somewhere between snug and roomy, both because of actual fit dimensions and choice of material. The forefoot area is nearly all mesh, save for the thin welds which don't get in the way – and this makes the Saucony feel more roomier than it actually is. The length is near true-to-size, with 1/3rd of US size ahead of the big toe – if that happens to be the outermost part of your forefoot.
Under arch support is so-so; there's no input from neither the upper pattern, sockliner molding or midsole design. If this happens to rank high on your list of pre-purchase check-list, try the Ride 7 to see how it fits in the arch area before swiping that Visa, Amex or whatever card calls your wallet home.
Do you value low-light visibility in a shoe? Then you're in for a visual feast of the nocturnal kind. There are enough reflective bits on the Saucony Ride 7 to light up a small apartment, with the heel, lateral midsole, tongue top, U-throat and two lace loops being conductors of luminosity. The heel piece is particularly gigantic, and when helped by other bits, makes the shoe hard to miss at night. Consider the Saucony Ride 7 a running shoe equivalent of a high beam, Xenon car headlamp.
So you have to ask, is the Saucony Ride 7 perfect, even when seen through our overtly critical eyes? It would have been, except for two small, over-lookable nicks in its veneer. One, there is some amount of tongue slide, which is stopped by the centre lace-loop from going completely sideways. The second is the delicate matter of retail price. At $120, there's a $10 mark-up over last year's Ride 6. It would have been okay if it wasn't for the newly released Nike Air Zoom Pegasus 31 at $100, which does make for an alluring distraction.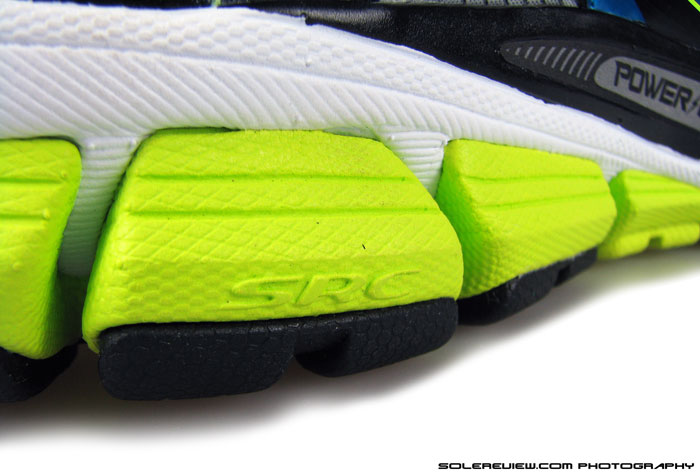 But, but. Let's not ignore that the Saucony Ride 7 is packed to the gills with running shoe goodness. We do think our 1200 word ramble does a nifty job of covering all that, but just in case, we'll give you the long and short of it. The Ride 7 is neutral cushioning excellence personified, distilled and packaged into 10 ounces of unboxed weight. One that is well cushioned but extremely lightweight. Ideal for long distance, speed work training too. Feels soft at lower speeds, with more than decent levels of plushness sewn in.