Color: Electric Blue lemonade/Lime punch/Peacoat Navy
Intended use: All runs except trail and in bad weather.
Surfaces tested on: Road, synthetic track, 21° C/70° F
Upper: Closed type spacer mesh, synthetic leather, TPU overlays .
Midsole: Tri-density foam, rear-foot crash pads on outer and inner side, heel to toe EVA foam.
Outsole: Carbon rubber pieces under heel, blown rubber in forefoot.
Weight: 310 gms/ 10.93 Oz for a half pair of UK10/US11
Lighter and softer ride than Ghost 6, with similar upper construction and materials. The DNA gel pads have been removed so the ride comes across as cushioned, but ordinary.
Nike Air Zoom Pegasus 31, Saucony Ride 7
Reputation (rɛpjʊˈteɪʃ(ə)n/ ) noun : A widespread belief that someone or something has a particular characteristic.
It isn't one to be trifled with, the aforementioned word. Takes years to build, and needs to be guarded with a great amount of zeal, as if one's life depends on it – because it really does. Especially in the case of Brooks Sports Inc., whose success depends on a loyal base of runners shopping from specialty running retailers.
Because of its focused approach towards product, Brooks shoes are more likely to be found on the feet of speedy runners than dress-down Friday adopters. They don't have the broad appeal of brands like Nike, which skilfully slacklines between performance running and lifestyle sneaker-dom.
Why bring this subject up? Because reputation is built on a foundation of past experience and future expectations – based off the former. Making drastic changes to an existing franchise should be carefully deliberated through, because failure in doing so could potentially risk alienating long-time brand loyalists. Let's take the Brooks Ghost as an example. For past many years, it has been regarded as an example of neutral running competence, blending cushioning sweet spot with agreeable levels of stability.
The shoe complemented its slightly more expensive cousin, the Glycerin, but at the same time maintained a clear differentiation strategy based on levels of kit included. Till the Ghost 3, Brook's liquid filled 'Hydroflow' cushioning system added a dimension to the padded feel. The impressive DNA Gel made its debut in the Ghost 4 (pictured above), its slimmer profile replacing the bulk of the Hydroflow, yet doing a stellar job at shock absorption.
So if Ghost 7 is meant to follow in the exalted footsteps of Ghost 5 and 6, why deprive it of the very thing which was partly the reason behind past successes? We're sure you already know what we're talking about – the DNA gel. And what's worse, Brooks makes no direct mention of this drastic change on their website, instead cramming the product detail section with loads of marketing fluff. So what's in place of the Gel DNA?
Nothing, just a layer of white midsole foam which feels like conventional EVA foam used in a lot of other running shoes. In our Glycerin 12 review, we explored the possibility that the new foam could have shear-thickening properties like the protective inserts (images above) used in motorcycle apparel. But after a few manual tests, we found that assumption unlikely to be true.
Changing the DNA moniker seems the right thing to do in this case. Otherwise, it is clearly misleading runners who buy the Ghost 7 based off their experience of previous models. The earlier DNA inserts had shear-thickening properties, which meant that they stiffened on impact. The foam used in G-7 does not deliver any of that. Such changes are not obvious on the surface, but instantly noticeable during runs. Ghost loyalists used to the rather multi-faceted cushioning quality of previous versions will see right through it, and this change risks creating polarizing reactions instead of the unanimous agreement on prior models.
It is worth noting that the foam based DNA has been in use on Pure Connect/Grit/Cadence/Flow models for sometime, but it is unclear whether it is the same as used in the Glycerin 12 and Ghost 7.
The midsole ride comes across as cushioned, more so than the Glycerin 12, which was relatively firmer. Somewhat akin to the Pegasus 31 foam without the Zoom Air bags, but firmer by 30% –  if we had to put a number to it. After we had a few miles on these shoes, we suspected that the midsole softness was not the only factor contributing to the cushioned feel. The midsole thickness at its slimmest under-heel point is a mere 14 mm, so the midsole actually trampolines slightly during each foot-strike.
In simpler words, the portion of heel midsole flexes downwards when weight is applied on it, making the heel area feel more softer than it is actually is. It was easy to verify that; we just turned the shoe over and saw scuff marks on the heel midsole foam. Given that the main midsole sits in a deep recess flanked by extended outer and inner crash pads, there's no denying the midsole does that to some degree.
To the shoe's merit, the transition/weight transfer comes across as smooth, as the single density foam underfoot stretches right upto the tip. It is layered on top with the dual combination of removable footbed and EVA strobel, which produces an expected sensation of underfoot padding.
Arch support is moderate from a midsole standpoint, though the upper plays a larger role in propping the arch area up.
The two midsole crash pads are made from new molds, but virtually unchanged in firmness, design and placement. They do their bit, by adding stability in the rear-foot locality.
We've talked a lot about this in our Glycerin 12 review, and similar sentiment applies to the G-7. It would be helpful if Brooks could better explain what the new 'DNA' material is made of. From a wear-tester's perspective, it feels like regular EVA foam. If it is indeed the 'ground-breaking' material which the brand claims it to be, then back that up with data. Bio-mechanical laboratory testing is a thriving industry in the Pacific North-West (where Brooks' HQ is) so a quick graph comparing the residual forces of last year's original DNA vs. the new foam should not be hard to procure – in case Brooks does not have this testing facility in-house.
The outsole has a few updates, but all of them cosmetic, having to do with surface texture only. From a real-world use perspective, they're exactly the same as the outgoing Ghost 6. Unchanged layout of rubber pieces, similar shapes and same outsole compound. While grip is good due to placement of softer blown rubber portion in the forefoot, and harder yet sticky rubber in the heel, durability continues to be average. Regular users will experience fast wear and tear in foot-strike and load bearing areas, much like the Ghost 6 and Glycerins, present and past. On the plus side, mid-foot transition is smoother so is straight line stability; helped both by the filled up under-arch area and the heel-to-forefoot groove.
While the flex groove set-up carries over from the Ghost 6, with exposed areas being in the exact same location, flexibility is slightly improved. No prizes for guessing why; the disappearance of forefoot DNA gel inserts makes that area easier to bend.
Upper is fundamentally the same as Ghost 6, with some common parts like the tongue and collar lining packages being carried over. There are small updates, mostly in the way how overlays are applied. While stitched-on synthetic overlays are still seen on the G-7's toe bumper, eyelet area and parts of mid-foot and heel, welded layers are more common-place on this year's model. To point out examples, both the side logos are fused-on TPU (Thermoplastic Urethane) ones, and so are the upper mid-foot panels. There's also a secondary layer of membrane-like, heat fused structures which go over the toe box and beneath the mid-foot welds. This props up the upper, preventing it from going all floppy.
The fit? Identical to the Ghost 6 except for one small difference. The forefoot is snugger, ever so slightly, as the base of the sides have this thicker 'wall' of welded TPU compared to last year's fused membranes. The interior environment is improved by use of an updated mesh material – the reverse side of which is smoother than the type used in Ghost 6. The pay-off though, is noticeable only when you run barefoot in the Ghost 7, otherwise it feels just the same with socks on. Speaking of barefoot, the Ghost 7 isn't the best model to go birthday-shoe running in. It lacks an internal sleeve, so tongue edges and seams are felt on the bare-skin. The upper fits true to size, as was the case before, with ample vertical toe-box space.
Collar area uses the same lining materials and padding levels, but comes with an important update. Much like the Glycerin 12, the Achilles dip is softer than G-6. The height of the hard (and molded) heel stiffener is reduced, making the upper area move more freely. Minimizes chances of Achilles irritation if anyone found that to be an issue in Ghost 6.
Tongue is unchanged in its entirety. The unique construction with sandwiched perforated foam shows up on the Ghost 7 too, with the same level of foam padding and lining softness. The sides are not sewn into the upper, but there's a mini-loop which keeps the tongue from sliding across the foot. Top down pressure feels the same, despite a minor re-arrangement of the lacing set-up.
The center speed-loops from the Ghost 6 are replaced with standard punched-in-the-upper eyelets, which makes the lacing narrower. Damage, if any, is that the earlier (fabric) speed-loops had built in reflectivity – which are gone now.
Actually, low-light visibility is toned down on the upper downwards of the mid-foot. An earlier strip on top of the toe box is removed, while retaining the one on lateral tip. Thankfully, that loss is compensated by a much larger piece behind the heel, so you can say it's a net-off.
Ready or not, here comes the rather unsavory bit. There's a larger problem at hand here, one that we think are symptoms of a deeper malaise in how Brooks approaches footwear manufacturing. The shoe we bought for this review was actually a manufacturing lemon, the type which should have pulled off the conveyor belt in the final quality inspection process. We can live with minor aesthetic flaws; after all, even brands like Nike have low standards when it comes to things like excess glue marks. Incidentally,  Ghost 7 slips on that front too, with a un-snipped upper thread sprouting right from its upper base. Very visible too, long enough to fly a kite with it. Adhesive marks? Plenty of that too, with ungainly dabs of it on the upper and sole. The picture above shows you an example.
But our pair of Ghost 7 came with structural flaws, and that is not good news. The issue? You see, all shoes are made which include a manufacturing process called lasting. This happens right after the upper and outsole have been made separately, and when it's time for both to come together. A plastic last is inserted into the upper, and then using a combination of adhesives and hydraulic pressure, the upper is fixed on to the sole. Here it is very important the upper sits level on the sole before bonding, otherwise the resultant pair will result in fit issues.
There are obvious fail-safes in place to avoid defects arising out of this process – like marking the gluing area with a disappearing ink, or having these two small Strobel holes below the foot-bed, which helps align with corresponding 'marking dots' on the last. Despite these measures, the defective Ghost 7 got through the quality checks, if there was any to begin with.
One could argue that this was an isolated case, and should not be representative of the norm, but we disagree. The fact these shoes were selling at retail at $120 makes them a reflection of Brook's quality standards. And we bought this shoe from a brick-and-mortar, running specialty goods store in Brooks HQ's zip-code neighborhood – the very channel which has contributed to the brand's stellar growth the past few years. So instead of returning them, we chose to review them. At least, if someone from Brooks reads this review, they will be able to see what their far Eastern factories are churning out.
Despite our recent less-than-ideal experiences, we know that Brooks has a history of making superior products. We could have gotten unlucky with our shoes, but still, this is a worrying trend which needs remedy.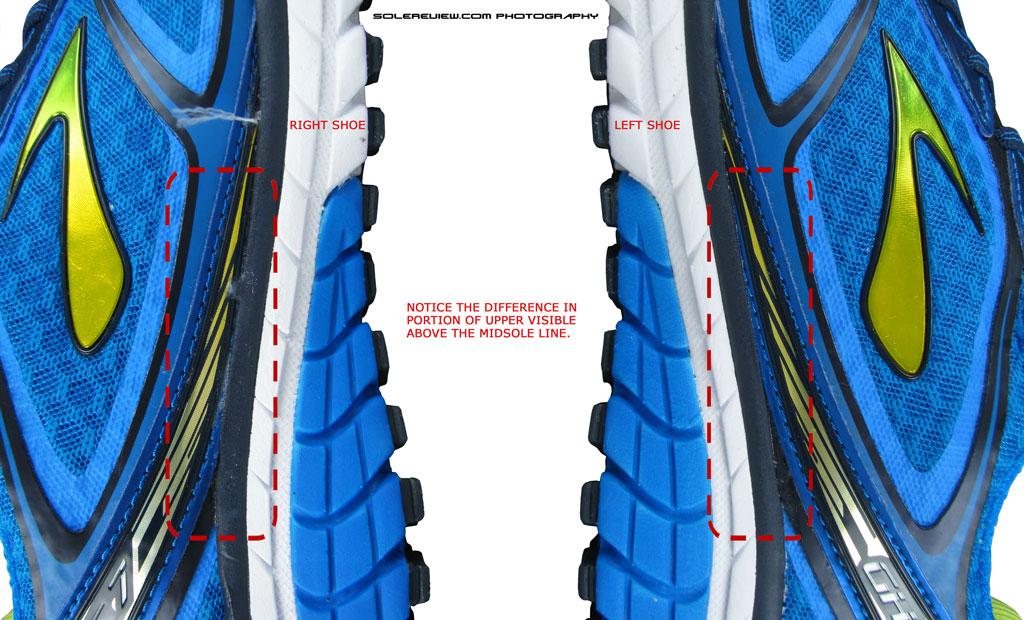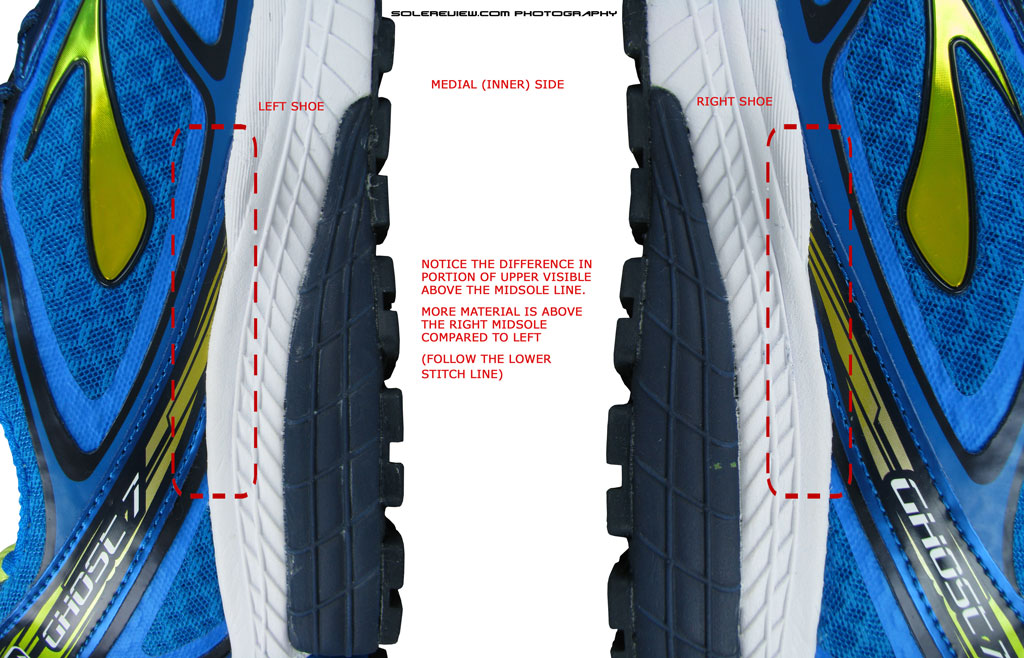 So what exactly is the nature of problem in our Ghost 7? The right  half pair (image on left) has been 'lasted' incorrectly, pushing more portion of upper inside the midsole compared to the left (image on right). The result is a tightness just in the center of the foot instep (below the tongue area), and a feeling of mild, localized discomfort sets-in after running 5 miles or so in a single run.
Thank you for squinting your eyes and looking at the comparison pictures. That no look good, yes? We hope the well-meaning folks at Brooks can sort this Gremlin pronto.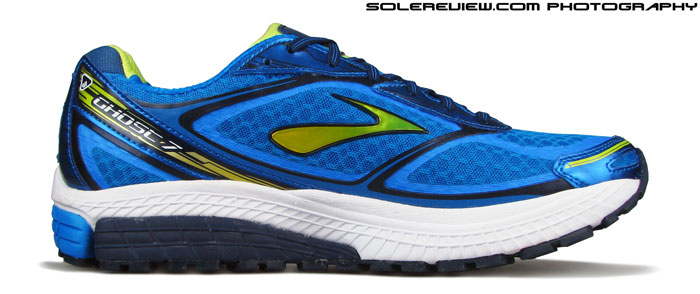 Okay, let's consider an alternative, what-if scenario. Let's say, we start with a clean slate, and the Brooks Ghost 7 was judged not by the weight of expectations, nor it had the shortcomings of faulty assembly. How would it fare against rest of the world? The Ghost is well cushioned, check. It is lightweight, ok. Heel to toe transition? Great. Fit? Satisfyingly snug. All the marks of a competent running shoe. At the same time, you can't seem to get over the ordinariness of the shoe.
But this is the real world, and unless you were a just-thawed Iceman just woken from a slumber of several thousand years past, comparisons are bound to happen. Which means long time Ghost users will quickly discover that the 7 does not possess the multi-tiered cushioning feel of Ghost 5 and 6, and will be wary of the Ghost 8 next year.
And just for kicks, even if you were an actual Rip-Van-Winkle, you would soon get wise to the ways of the new digital world and search what people are saying about the new Ghost 7. In all likelihood, that path will lead you here, to this review, among other things.
(Disclaimer: For the review, Solereview.com bought this shoe at full US retail price)