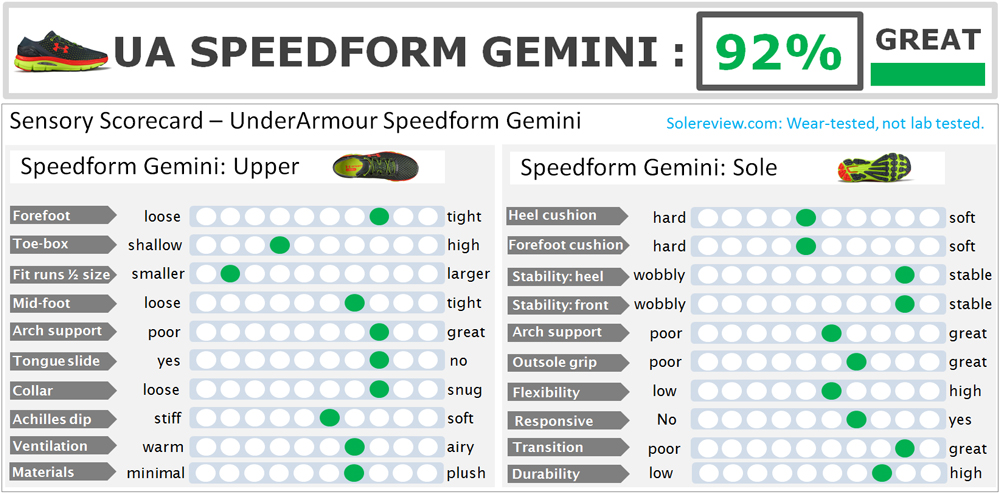 Color: Lead/Yellow/Orange
Under Armour's marketing pitch: 'Charged cushioning' delivers game changing impact protection and energy return.
Surfaces tested on: Road, ambient temperatures of 19° C/66° F
Upper: Soft mesh, urethane molding, Bemis tape, TPU toe and heel elements.
Midsole: EVA foam blend, dual density. 8 mm heel to toe drop
Outsole: Hard carbon rubber in heel, softer blown rubber in forefoot.
Weight: 314 gms/ 11 Oz for a half pair of US11/UK 10/EUR 45/CM 29
Widths available: Single.
The competant Speedform Gemini is proof that Under Armour is taking its foray into the running footwear business very, very seriously. This shoe is clearly a winner.
adidas Supernova Glide 7, Nike Lunarglide 6, Saucony Triumph ISO
Balances cushioning, responsiveness and stability adeptly, transition, consistent upper fit
None of significance. But we had to nitpick, then we'd say that the collar edges aren't comfortable for barefoot use, and there's too much upper pressure over the small toe.
It is reassuring to see that Under Armour isn't flooding the market with a slew of new releases. Last year, they released the lightweight Apollo, but did not immediately follow on with multiple spin-offs. Instead, the Baltimore based company chose to keep its cards close to their chest, and waited a full year before letting the Speedform Gemini loose. Not rushing things is a good approach; especially for a brand known more for its apparel than footwear. Better to go slow and steady rather than heading blindly into an unfamiliar area, because as far as running shoes are concerned, Under Armour is still in its freshman year.
That approach has yielded a result worth the wait, and the superlative Speedform Gemini is a testament to that.
The Speedform Gemini picks up where the Apollo left off, adopting the familiar Speedform silhouette and lines of the latter but with a number of new enhancements. We have a question about the naming convention, though. Assuming that Gemini and Apollo are obvious references to manned US spaceflight programs, shouldn't the Apollo come later than the Gemini? From a timeline point of view, it was the Mercury-Gemini-Apollo. But we're talking spaceships here, so perhaps this is a reverse countdown. In which case, perhaps the next UA shoe is called Mercury? Time will tell.
One of the other things we find likeable with Under Armour is that they're focussing on neutral shoes instead of lateral expansion into motion control shoes, and that move appears to be intentional. There are interviews in which one of their execs said that the focus should be on injury prevention through physical conditioning than relying on motion control shoes, and we couldn't agree more. Unless one is switching from a 10 mm drop shoe to a Vibram overnight (which is a recipe for disaster), most shoes with a blend of cushioning and support will do if one is in great physical shape.
The new 'charged' midsole foam is the headlining act on the Speedform Gemini. Now the Gemini is not the replacement for the Apollo; rather it is a complement, offering a higher level of cushioning and outsole durability while maintaining design consistency. One area which immediately gets noticed is the Gemini's weight. At 314 gms/11 Oz. (for US 11), it is substantially more bulkier than the Apollo, and majority of that difference owes itself to how the Gemini is designed.
Midsole foam is the newly targeted territory which brands want to annex, and everyone's trying really hard to make inroads into this crowded arena. Not many years ago, the crown jewel used to be a proprietary cushioning system embedded inside the midsole, and not the midsole foam itself. But things have changed of late, with Nike's push with Lunarlon foam half a decade ago, adidas with Boost, Brooks with DNA, Saucony with Powergrid+, Hoka of course, and in 2015, Asics and Puma. Some of these introductions back up the lofty marketing claims, while others are damp squibs.
Speedform Gemini uses a dual stack of midsole foam, a thinner sheet glued on and interlocked with a larger volume base. UA calls this 'charged foam', and we know not what this is made of. These days, it is hard to generalise foams as EVA (Ethylene Vinylene Acetate) anymore.
Most midsole foams are blends of multiple compounds, with the goal of offering enhanced ride characteristics. In Gemini's case, the foam texture feels a bit rubbery, and is firm with a touch of resilience.
When it comes to the actual level of cushioning and responsiveness, the Speedform Gemini is a bit measured, muted. The midsole cushioning is certainly adequate, and there's responsiveness too, but it is almost if something is holding the two back.
A curtail of cushioning, if you will. So it is not super soft or cushiony, and ditto goes for the responsiveness.
All of the above makes up for a great running experience. The midsole delivers a ride quality which is in the goldilocks zone of cushioned and firm, making the shoe feel very efficient. There are no mushy sink-in spots, nor a variation in cushioning feel for the most part.
The underside of midsole heel is exposed, allowing for a minor amount of trampolining on rear-foot strike. Except for that, it is unadulterated cushioning consistency right from heel to toe.
Transitions are excellent on the Gemini. The ride is on the firmer side, outsole is pretty much full contact, and there aren't many midsole parts to interrupt weight loading. Forefoot isn't very flexible, has a touch of stiffness, and that's something which works in your favor when doing pace runs. Heel has a minor angle of upward bevel, and the crash pad is segmented for gradual impacts.
The Speedform Gemini is performance minus the fuss, drama or distraction. If you were expecting wow-evoking levels of soft cushioning and bouncy responsiveness, then this isn't the shoe for you. The true character of the shoe only comes to the fore when you're a few miles into your run; when you start appreciating the fact that softness and cushioning can be two different things.
We must point out that the Gemini would not make for a like to like comparison with most of other neutral shoes available. Because the shoe, like the Apollo before it, does not have a separate insole cupping your foot. And that makes all the difference.
If you've run in the Apollo, or at least seen how the insides of the shoe looks like, then you know that the Speedform design's claim to fame is its smooth heel lining. Meaning there is no independent footbed. Replacing that is a construction which allows the footbed fabric (from midfoot to heel) to extend upwards without seam, making the inside super smooth.
Use of no insole means that the foot directly rests on the midsole foam, kind of. In the Gemini, there is some foam between the footbed and midsole, but it is a very soft type, something regularly seen in collar and tongue fills. Something which makes not swing the needle as far as its contribution in the cushioning level is concerned. So what if the Speedform Gemini came with a separate insole? And from experience (read our Go Run 4 Ride and NB 980 review), we know that the insole does make a difference.
So we pulled out a pair from the adidas Tempo 7 Boost and slid them inside the Speedform Gemini.
In stock form, the Speedform's cushioning is firm and slightly responsive. As a benchmark, it could be described as being somewhere between a Kinvara 5 midsole and adidas Glide Boost – cushioning is there, but with firmness very much a part of it. And we think that's purely because of a lack of an insole. We have been on that road before, with Skechers' Go Run Ride – where the shoe feels completely different depending on whether you use the insole or not. Same thing with the New Balance 980, a review in which we experimented running in them without the insole. This way, we have a clear sense of how the stand-alone midsole performed.
However, a hypothetical Speedform Gemini with a removable insole is a different beast altogether. And just how does that feel?
The Gemini instantly transforms into a shoe which feels far more responsive and cushioned. If a runner was to be blindfolded (and somehow managed to run in a straight line) with the stock Gemini and insoled version one after another, he/she would have sworn these were two completely different models. What the insole does is to provide an immediate layer of padding underfoot, as compared to the deeply located midsole cushioning, which takes more time and load to unlock. The foam just below the footbed cloth makes little impact, and cannot replace the insole's functionality.
That said, in its default, super snug set-up, putting an aftermarket insole is not a practical solution. Sweeping changes would have to be made to add a few millimetres of material inside – something which only UA can do on a new model, that is if they choose to. Under Armour did say that the shoe is made in a bra factory. An insole,in that sense, would be the equivalent of a push-up bra.
That digression nonetheless, personally we like the Speedform Gemini the way it is, minus the additional layer. There is too much softness going around in running shoes nowadays, and Under Armour does well here to disrupt the status quo.
There is a lot of rubber used on the Gemini outsole, with the conventional division of harder rubber in heel and blown rubber on forefoot. The design lines and geometry are similar to what we saw on the Apollo, except that all contact points are covered with rubber. The lugs are fairly thick too, and it impacts durability. Going by the level of wear we saw after the first few runs, we'd place the UA rubber slightly above what a brand like Brooks might use.
Midsole firmness and generous use of outsole rubber brings up the weight to around 314 gms/11 Oz for a half pair of US 11. That would be the median for traditional neutral running shoes, which the Gemini happens to be.
The midsole density and flare gives the Gemini great stability and a very neutral stance, with no bias felt during runs. Compression is directly squarely at the heel center, no nervous see-sawing of the foam. It is important not to confuse our use of word 'stability' with traditional 'stability' shoes. That word is the footwear industry's most abused term, which can mean anything from a shoe which is actually stable and firm, to a pronation control shoe with an aggressive lateral lean. The Under Armour is stable because of a softer core surrounded by a firmer midsole casing, which helps keep the foot centered. We use the word stability in its literal sense, and not because the Gemini has some 'stability' device.
If we had to name any other shoe which felt similar, that would be the Lunarglide 6 with its soft core inside a firmer base. Except that the Gemini does not feel as squishy as LG6, and we suspect that might be purely because of the lack of an insole.
The upper has design familiarity with last year's Apollo. The minimalistic looking main upper is two piece; a larger panel in the front joined to the rear by a stitch free Bemis tape. There's that molded plastic clip which wraps around the heel, and the collar edge is a thin strip with 'grip strips' fused on the inside.
The inner rearfoot area has a seamless heel cup – a design element which debuted on the Apollo. Like the one on the outside, there is another strip of bemis tape connecting two sides of the inner lining. The mesh, while it looks like one composite material visually, is actually made of two meshes. The open pored type on the external upper, and that is fused to a second layer of softer inner lining.
Tongue is wide and carries forward the slanted flap design – something which helps reduce tongue slide. Lacing passes through speed loops which are part of the mesh upper, and compared to the Apollo, the opposite ends of the laces are closer in distance – hence reducing top down pressure.
Reflectivity is placed in three places; bar shaped strips right at the start of forefoot lacing; an insert on lateral midfoot, and finally, a stack of bar strips on the heel.
When viewed from the side, the Gemini's upper silhouette looks very tapered, with the flat nosed front appearing to be extremely shallow. It is not as bad as it looks; while the toe box is shallow and compressively snug, it is no more so than say, a pair of Nike Pegasus 31.
The reason for this is that actual level of toe-bed is lower than the midsole edges on the outside. So the foot sits slightly recessed in relation to outer midsole; but this doesn't take away the fact that the Gemini is very snug fitting.
The mesh presses down over the big toe, and there's side pressure over the forefoot. Particularly over the small toe, which is pinned down by the upper, in a very Hoka kind of way. It is also clear that the forefoot midsole design still needs some improvement; part of the small toe tends to be directly over the edge of the midsole.
View from the top, and the lateral forefoot has a wee bit of an overhang. Fortunately, the midsole foam is soft and does not lead to discomfort, but yet you come away with the feeling that the could have been better designed.
Barring the laterally tight forefoot, there is consistency in fit through the upper. Midfoot has the right amount of snugness and under-arch wrap, the wide tongue goes over the foot nicely and does not slide. The lacing top down pressure feels right, with no hotspots. Heel collar, despite lacking traditional foam padding, performs a form-fitting wrap around the foot, helped in some measure by the grip-strips too.
The seamless heel cup is functional as it is aesthetically pleasing, the absence of seams leading to incredible interior smoothness. However, note that in case of barefoot use, the collar edges tend to rub against the skin. Expect some break-in time if you're planning to go no-socks on the Gemini.
The shallow toe box would call for a half up size for most, though there might be some cases in which you'll find the Gemini run true to size. If you want to err on the side of caution, buy half size bigger, but if you want to be dead sure, try them at the local store first.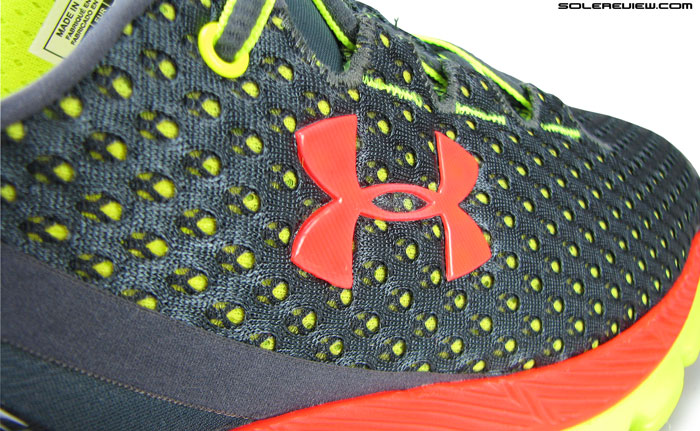 If you find the Speedform Gemini sizing to your liking, chances are everything else will be smooth sailing. Under Armour's done a stellar job here, by producing a neutral riding shoe which melds cushioning, responsiveness and stability in balanced doses. Great all purpose running shoe, whether you're in for shorter comfort runs, distance running or for pace workouts.
Don't know what exactly goes (we trawled patent databases in vain) into the making of the new midsole foam, but whatever it is, it happens to be darned good.
(Disclaimer: For this review, Solereview.com bought the shoe at full US retail price.)