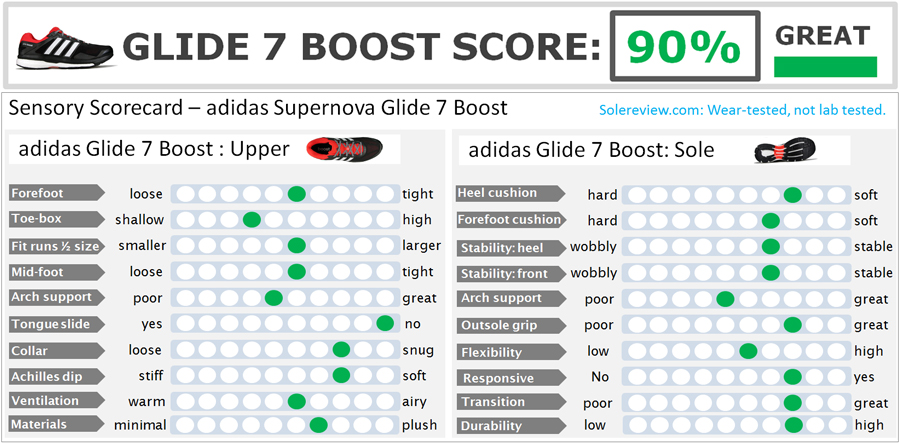 Color: Core red/black.
adidas' marketing pitch: Supercharge your stride with the power of Boost cushioning.
Surfaces tested on: Road, ambient temperatures of 18° C/64° F
Upper: Spacer mesh, synthetic leather, fused toe bumper, half inner sleeve.
Midsole: EVA layer on top, Boost foam layer in between.
Outsole: Continental branded rubber in heel and forefoot.
Weight: 341 gms/ 12 Oz for a half pair of US11/UK 10.5/EUR 45/CM 29 (adidas conversion)
Widths available: Single width - medium.
For once, we're happy that adidas hasn't tinkered around with the Glide Boost much. The 2nd version of Glide Boost is a polished version of the 2014 model, ironing a few kinks and making it a better shoe in the process.
adidas Energy Boost 2, adidas Response Boost, Saucony Ride 7, Nike Pegasus 31
Responsive and cushioned ride, stability, consistent upper fit, reflectivity.
None of significance.
We've got a fair number of adidas Boost models covered here, and we think the adidas Supernova Glide Boost to be the most rounded of the lot, near equaled by the firmer riding Sequence Boost. The Supernova Glide has an upper fit which isn't as tight as Energy or Response Boost; the amount of foam used results in a satisfying balance of compression and responsiveness, and the pricing isn't too bad either.
While not as fast as the adios or Boston Boost, the Glide makes up by being more durable and comfortable, without sacrificing a great deal of ground feedback.
So the fact that the newest Supernova Glide 7 Boost hasn't changed much from previous year can be seen as glad tidings, functionally speaking. Aesthetically, it is a bit stale, yes, but that'll always be the trade-off, isn't it? This year-on-year sameness will also result in a lot of runners sticking to the older version – be it coaxing more miles out of their existing Glide 6, or buy a brand new pair of the latter at a much cheaper, discounted price.
But there must be something new on the Glide 7? Yes, but these are very subtle updates, and many might even go un-noticed. Without much ado, we'll list these out for you. The forefoot feels slightly more relaxed, the midfoot top down pressure slides down to easy mode, and reflectivity sees an increased coverage area. Collar padding also gets a bit more foam, but from an usage viewpoint, not of significant impact.
Coming to think of it, as shoe reviewers, this is the second time in January we've been on the same train. For the updates take place (nearly) on the same areas as the Saucony Guide 8. Not that anyone in the market for a Glide Boost would care about Saucony Guide, but we thought this uncanny coincidence to be worth a fleeting thought.
One key takeaway emerged once the dust settled  – after a comparative wear-test between successive versions of Glide Boosts. The upper fit sees a change, though on first wearing, it might be hard to pinpoint It's like that feeling when you know something's afoot, but can't quite put your finger on it. Because visually the Glide 7 looks so, so familiar; down to every cosmetic detail.
Talk of upper mesh, it has the same engineered (open in some areas, close knitted in others) structure. The fused toe bumper is identical material-wise, and tongue/collar mesh is an exact carry over. Add to that molded synthetic leather side panels in shape of adidas three stripes, and you have a split image of Glide 6.
However, minor revisions in the forefoot area makes the upper fit more relaxed in nature. But we have to be specific here – 'relaxed' does not mean increase in room, but just less pressure over the small and big toe.
The Glide 6 Boost mesh had a fused layer going up horizontally, just below the last lacing eyelet in the front. This slightly elevated snugness over the base of toe on either sides.
The Glide 7 changes this arrangement by removing the fused strip over the toe base, and also by cleaning the mesh area up around the tip of small toe. This results in a comparatively easygoing fit.
It is also helped by the new mesh which looks very similar, but has a more open (and hence accommodating) knit structure.
The second part of Glide 7 which affects fit is the size of midfoot panels. We did say that the top down lacing pressure decreases on Glide 7, and the reason is horizontally longer midfoot cage.
Synthetic leather panels stretch upwards around 5mm longer than Glide 6, and this translates into narrower lacing. And if you know what that means – less lacing pressure on top of the foot.
So in essence, the Glide 7's upper fit can be said to decrease side and top down pressure. The actual space doesn't increase, but things just feel less intense. Or improved consistency of fit, to put it in other words.
When we compared our Glide 6 and 7 pairs at hand, we noticed that the Glide 7's toe bumper was lower in height. We thought this would create some extra toe-box room, but after a few runs, we were hard pressed to tell the difference. (It is truly amazing how the extent of updates mirror that of Guide 7 vs. 8 – as if each designer had a doppelgänger working across brands!)
New Glide 7 laces have a melange texture with a different knit than last year, and feels a bit cotton-ish. Not sure whether this is specific to this colorway, but nevertheless adds a welcome element of design. Tongue design is the same, foam quilted, soft mesh lining and all, and is attached to the upper by a full gusset for a good midfoot wrap. This is not a full internal sleeve, and maybe that's a desirable thing. Frees up some much needed forefoot space in default adidas snugness, while providing the benefits of zero tongue slide.
There is a 'Mi-coach' text printed on the tongue loop, but that does not translate into a transmitter cavity on either of the shoes. The box also says 'Micoach compatible, but that doesn't serve any other purpose than to confuse people. If adidas is referring to its fitness app installed on smartphones, then one could use it perfectly well even with a a pair of Crocs, and not just the Glide 7 Boost.
Out in the back, a couple of things change. The upper collar wall sees a foam stuffing increase which is visibly noticeable near the tongue lip. In addition, the upper heel is molded narrower when seen from above.
Although, once laced up, it's hard to tell the difference in grip, if there was any to begin with. That said, if you pay close attention to the fit, then the foam bulge in the collar can be felt at the base of your ankles.
Night time visibility sees a big bump – somewhat. The triangular piece of reflectivity on Glide 6's heel has been done away with, and in its place come semi-reflective side stripes and tongue label. We can it semi because it doesn't have the full shine-back expected of it. It does have some amount of reflectivity, but it is as if it went through a 50% dimming process. Don't go by our simulated pictures of the shoe in dark, real life contrast happens to be a scaled down version of that.
The tongue label is made of the same material which the Energy Boost heel logo was. A pastel colored overlay with some level of shine back. The printed logos on either sides also exhibit tiny amounts of reflective behavior.
Reminds us of the Nike Lunarglide 6. The swoosh logos have some shiny sheen, but it is some distance away from full service reflectivity.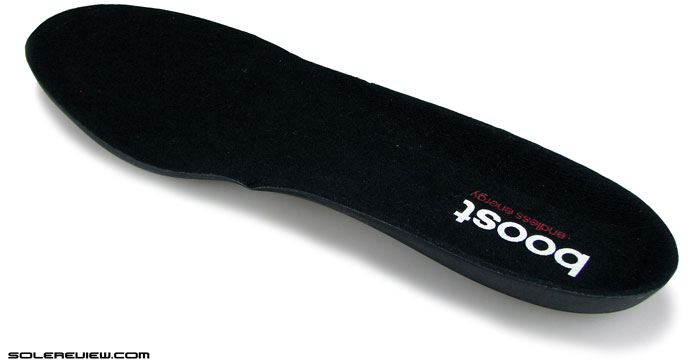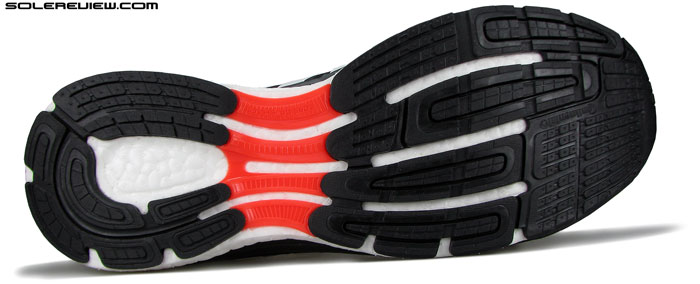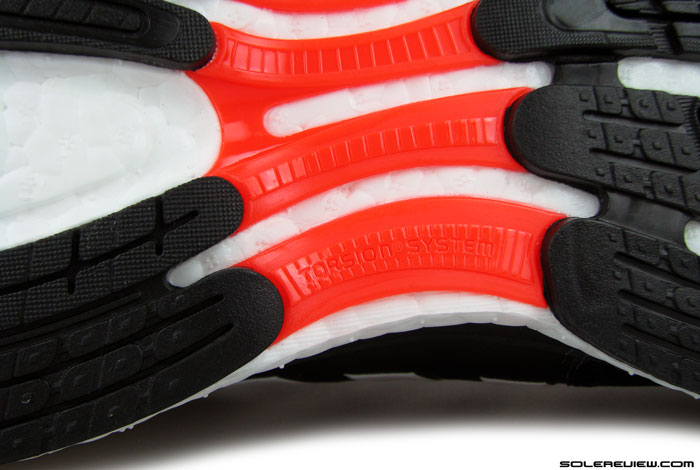 Train your sights on the lower part of the Glide 7, and everything is exactly the same as Glide 6, nary a Boost globule out of place. A molded insole, then a fabric strobel below that.
A firmer layer of EVA follows, which lies on top of a heel to toe Boost foam midsole. (more info on the Boost foam here) At the very bottom, a sheet of Continental branded rubber makes for the outsole, with a plastic Torsion shank bridging the midfoot.
And like the Glide 6, the firm EVA layer completely separates the foot from Boost foam, while forefoot has the pair of exposed openings.
Thought this was important to point out, as shoes such as the Energy Boost and Sonic Boost come with heel openings which heighten the Boost experience.
One small cosmetic change this year is that adidas has chosen to keep the EVA part unpainted. If you remember Glide 6, the upper and lower part were painted in contrast colors, but the Glide 7 goes colorless. This has the effect of making the black part look larger, but without any impact on cushioning.
All things equally matched with the GB6, the midsole's ride is completely unchanged. For the uninitiated, that translates into a noticeable amount of responsiveness cushioning coming from the Boost foam, yet accented by a firm overtone – handiwork of the firmer EVA (Ethylene Vinyl Acetate) foam on top. In the Boost cushioning hierarchy, the Glide sits next rung below the more plumper Energy Boost.
And yet the firmer EVA helps the GB7 combine stability with cushioning, and that is never a bad thing. We now know what happens when the entire midsole is made entirely of Boost foam. For example, the PureBoost was a shoe we had an extremely poor opinion of.
Till the time adidas learns to harness the structure of Boost foam better (smaller globules, maybe?), the EVA layer is something which adds value. And needless to say, transition of gait cycle is helped by the firm consistency. Forefoot isn't the most flexible, but then, it helps efficient toe-offs.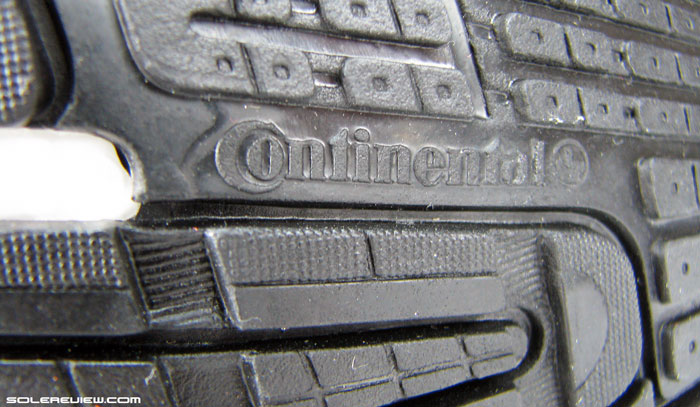 The Continental rubber outsole does a fairly good job at grip, and durability isn't bad, though not in the same league has Mizuno X-10 or Nike regrind rubber.
GB7 is a shoe which can don many hats, as its inherent properties bode well for speed training, comfort runs, or even just walking around in them. It doesn't have a point to prove, and makes no pretence of doing so. If there was a sweet spot within the ever-growing crowd of adidas's Boost offering, then the Glide Boost is pretty much it.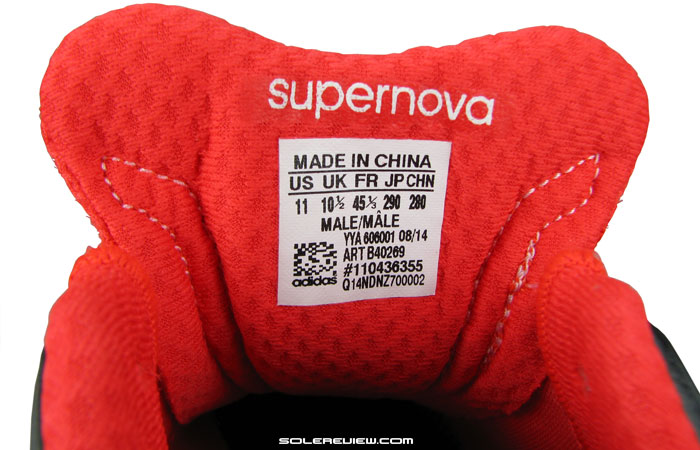 Now if the Glide 6 was a mediocre shoe, and this very Glide 7 was a follow-on act, then we would gone all out Gandalf on the lack of sweeping updates, and what not. But that isn't the case here.
The Glide 6 Boost was a good all rounder, and the Glide 7, with its small tweaks, smoothens out the rough edges. With the updated GB7, adidas has taken the adage 'if it ain't broken, don't fix' to heart this year, and we wholeheartedly agree with that approach.
Because sometimes, little change is good change.
(Disclaimer: For this review, Solereview bought the shoe at full US retail price.)
Looking to upgrade your old Supernova Glide 6 Boost to the latest version, but not sure how the 2015 model compares? We can help here. The following infographic is a ready-reckoner for what changes you might expect in the new model vs. old. To make this more fun, we've put in a system of percentage match, which calculates a weighted average for a set of attributes.
A higher or lower match percentage is neither good or bad. The % number just tells you how similar or distanced the new shoe is from the previous version. Total match % is a result of weighted averages.