Color: Blue/Black/Lime
Hoka's marketing pitch: Possibly the smoothest ride on the planet.
Surfaces tested on: Road, ambient temperatures of 16° C/61° F
Upper: Unlined spacer mesh, synthetic leather, heat fused overlays.
Midsole: Compression molded EVA blend, 5mm heel offset.
Outsole: Rubber pieces under forefoot and heel.
Weight: 239 gms/ 8.3 Oz for a half pair of US11/UK10.5/EUR45.3
Widths available: Single.
All that hype comes backed with solid substance. The Clifton rides incredibly well cushioned without feeling mushy, and very lightweight for a shoe which looks like a flotation device. Upper execution is a mismatch with its better half, with plenty of areas for improvement .
Hard to compare, but Brooks Transcend's ride feels vaguely similar
Light weight, quality of cushioning, flawless transition/ride
No reflectivity, cramped forefoot, collar fit could be better, tongue bleeds color (under dry conditions), poke from forefoot overlay when running without socks
It is a rare occurrence when a shoe actually delivers on the enormous amount of hype it comes backed with. For a shoe reviewer, that is once in a thousand moment, something which is fleeting and to be savored. Because that is the time when the shoe in question is undoubtedly in its finest hour; and even if there were some minor shortcomings, they are squashed under the impressive ride experience. At the same time, one realizes the fragility of the moment, wondering if the stellar act is ever going to be repeated, and whether the next shoe can better a past version of itself.
The Hoka One One Clifton is one such example of what we've just finished describing, and it is all what the brand claims it to be. The ride is superlative, delivering cushioning in a way which no other shoe with a full-foam midsole does.
You have to give massive props to the guys who started Hoka, for they did so in a very unlikely time. The year 2009, when minimalist shoes were all the rage; businesses selling pancake flat, zero drop running shoes witnessed growth numbers which could put viral YouTube kitten videos to shame. But this wave subsided as quickly as it swelled, and ultra minimalist shoe models fell by the wayside, much like abandoned motels on an once bustling motorway.
But for Hoka, it just signaled the beginning of a brighter future.
Frenchmen Jean-Luc Diard and Nicolas Mermoud, founders of Hoka, are enterprising outliers, for they did something which they thought was right, with scant regard for what the current market trend was. In what was a glaring dichotomy of ideology, these gentlemen along with ex-coworkers Christophe Aubonnet and Sebastian Mazars developed the earliest Hokas (Mafate) with oversized midsoles, initially targeted at the very community the founders were long part of – ultra runners. They pitched the shoe calling out its two very important, and distinct aspects. First of which was being able to offer maximum protection by means of a foam midsole possessing unprecedented thickness. And second, its unique outsole geometry with a pronounced heel and toe spring meant to economize foot strike and overall gait cycle.
But the minimalist boom wasn't just for nothing . A low heel to toe drop midsole continued to remain relevant, a likely enduring legacy of the short era. Hoka chose to combine low heel drop with their peculiar looking oversized midsoles, which today the brand calls as a 'blend between minimalism and maximalism'. Starting from its initial base of early adopters, it continued to gain upwards traction towards a higher level of mainstream awareness.
There are mentions of wide bodied powder Skis as being one of Hoka's design inspirations, and we see no reason to disbelieve that. After all, a quick search revealed founder Jean-Luc Diard to have a number of patents in Ski design.
What does Hoka One One mean? This phrase is borrowed from Maori (New Zealand) language, but there seems to be some confusion about what it actually means. Versions like 'it's time to fly', or 'it's time to fly over the earth' are the oft chanced upon interpretations, but we decided to look it up in an online Maori dictionary. The word 'Hoka' translates into soar or fly, with 'OneOne' being earth or soil. It would seem that 'Soar over earth' is a literal translation, but hey, we don't know Maori. We get a fair number of readers from New Zealand, so it'll be great if someone from middle earth could let us know whether our assumption holds water.
Deckers corporation (Teva, Uggs) bought the Hoka brand in September 2012, and that was indeed great foresight. The brand is growing at an amazing pace, and shoes like the Clifton only help its cause. Runners are not the only ones who've noticed; other brands are already making inroads into this new shift of footwear trend. Brooks have their full foam Transcend, doing away with their Gel inserts. New Balance has jumped into the game with Fresh Foam 980 and upcoming Zante; and Asics is also looking at the Hokas for inspiration, with 'Fluid Foam' based excel 33-M nearing its retail debut.
That was a brand introduction long enough, and time to get into the actual review. So what are we dealing with here?
Let's move things into gear with a quick smattering of basics. The Hoka (road running) construct has four characteristics or sub-categories which attempt to draw invisible lines between its similar looking maximalist offerings. These happen to be ultrasize, oversize, early stage metarocker and late stage metarocker, which is also known as the balanced metarocker. These features show up in pairs on Hokas, like the Clifton being an oversize with early stage metarocker.
And what exactly do these mean in English? The 'ultra' and 'over' prefixes refer to midsole thickness, or in running parlance, stack heights. Ultrasize is the big daddy here, with midsole heights going upto 35mm in the heel and 31mm in forefoot. Oversize is the shorter denomination, with sole heights being capped at 30 mm under the heel and 24 mm in the forefoot.
These don't mean anything as standalone numbers, so we'll try to offer you some perspective. Shoes like the Nimbus 16 have a heel stack of 32 and forefoot of 22, which makes a section of the shoe higher than Hoka Clifton, which comes in at 29 mm heel and 24 mm forefoot. Shoes like the Saucony Ride 7 would be lower, but yet not very different in thickness (from a Clifton) with a 28 heel and 20 forefoot.
The Hoka Clifton, like most of its ilk, come with exaggerated midsole walls which also function as support structures over the upper. This gives the impression that the Clifton has a midsole of monstrous thickness. But if you compare stack heights quoted in above mentioned examples, the shoe is more or less the same as many traditional neutrals. But mind you that we're just talking about vertical thickness and not volume. When it comes to sheer volume, Hoka trumps them all.
The term Metarocker (MR) simply refers to the midsole shape in the forefoot. Hoka comes with a noticeable raise of heel and forefoot areas, hence the use of word 'rocker', much like a chair by the same name. This design element is meant to smoothen transition/gait process through delayed foot-strikes and supported toe-offs. The 'meta' part is a shortened form for Metatarsus, a group of bones extending from midfoot to forefoot. An easier way is to follow the foot arch; the metatarsals heads start right at the end of the arch curve. This area is where the foot flexes during toe-offs.
An early stage metarocker would mean that the Hoka in question would have the midsole starting to rise up right from the Metatarsal head area or even a little before it; hence the word 'early'. This causes the foot to roll earlier towards toe-off by help from the upwards midsole curve. In contrast, a late stage metarocker would have a smaller area of curved raise. This means that forefoot transition will feel a bit 'flatter' than early stage MR and produce a little work for push-offs.
The simplest way to tell an early stage MR from a late stage MR is to look at the section of midsole which is in full contact with the ground. If the flat part extends further into the forefoot, then it is late stage. If the midsole starts rising upwards right from the midsole-forefoot meeting point, then that's a dead ringer for an early stage metarocking Hoka.
The Clifton belongs to the category of oversize early stage Metarocker shoes, making it one of the less extreme Hokas. It won't be wrong to say that the Clifton is the sweet spot of all what Hoka has to offer, extending its appeal to a larger crowd of neutral, road runners. A year or two down the line, this shoe will be seen a major milestone in the brand's history, one which helped it cross the bridge to mainstream.
Fun fact: While Hoka's unique design which combines different construction elements is patented, there exists precedence for rocker design in therapeutic footwear, as evident from this patent. A part of the Meta Rocker's feature is also found here, in another patent for a shock absorbing medicinal shoe.
Upper construction is fairly simple. Regular synthetic leather overlays cover the toe bumper and rear-foot sections, and a breathable air mesh keeps things going in the fore and mid-foot. The mesh lacks any stitched-on layers, so support comes by way of fused overlays in a tonal color. Tongue is an unpadded deal, made of the same upper mesh and uses a softer, synthetic nubuck on its lip. Lacing is what's commonly seen, medium thickness laces threading through punched eye-holes.
Collar is foam packed and lined with a soft-to-touch fabric, and a rather large pull tab is fixed just beneath the Achilles dip. On the outside, there are decorative windows with mono-mesh, with the Hoka text welded on lateral side and a panel with the 'soaring bird' logo on the heel.
Clifton comes with no reflectivity. There's a printed patch of silver on heel and toe box, but they are just that – paint. If those areas were supposed to be reflective at night, then they fail to do so.
The lower half is a compression molded, single piece midsole. Rear-foot thickness might seem humongous, but in actuality it's the high side wrap walls playing an optical trick. The walls around the heel shoot up around 17mm higher than the actual foam thickness, forming a kind of foot cradle or bucket which Hoka calls Speed Frame . When viewed from the side, it looks as if a separate, black layer of foam is stacked on white. But this happens to be just paint, and very neatly done at that. The Clifton design has an unmistakable visual tie-in with the more expensive Conquest, which by the way, does feature two different layers of midsole foam.
Angular grooves are cut into the sides, filled with the same black paint; besides giving the shoe an aesthetic depth, we discovered that the grooves are actually functional. We'll detail this in our midsole performance breakout when we come to it.
Insole is made of very thin molded EVA which is removable. Its heel is adorned with Hoka branding and decorative printing which seems to be inspired by Ta' Moko (Maori face tattoo), a nod to Hoka's etymology. The footbed is generously perforated, and so is the Strobel it sits on. It is quite possible that these components are borrowed from other Hoka models (eg: Conquest) which feature water drainage. But as far as Clifton is concerned, these holes don't serve any functional purpose.
The outsole has a fair bit of rubber coverage, considering the shoe's overall weight. The heel area has some, and the forefoot is generously covered. The rubber is thin and soft, and its capacity to withstand wear depends on your footstrike. If you're a rear-foot striker, wear happens on the initial contact area while forefoot rubber remains relatively unfazed.
The Clifton's crown jewel is its superlative ride, but we'd like to start with our thoughts about its upper. If there's anything to be fixed, that happens to be only on the shoe's upper. We were hoping that the Hoka Clifton will score much higher (90%+ out of 100), but a few upper imperfections proved to be its undoing.

Cutting to the chase, the fit could be much better. Starting with the forefoot, the upper feels snug. Not a bad thing, except that there are undesirable pockets of tightness. To be specific, the upper presses down on the pinky toe area, hemming it noticeably more than rest of the forefoot. This is something which potentially could be unbearable in wider feet. Even for regular forefoot width, this cramps the foot's ability to splay.
This is a shortcoming for a shoe meant to go the distance in, where the foot tends to expand slightly over long miles.
In a stark mismatch of how the forefoot felt, upper midfoot is more easy going, so much so that when you tug on the laces, both sides of the upper come super close. You'd think that if it weren't for the tongue, the twain would have met. There's only one bright side to this; the side panels come so close that they keep the ungusseted tongue from sliding.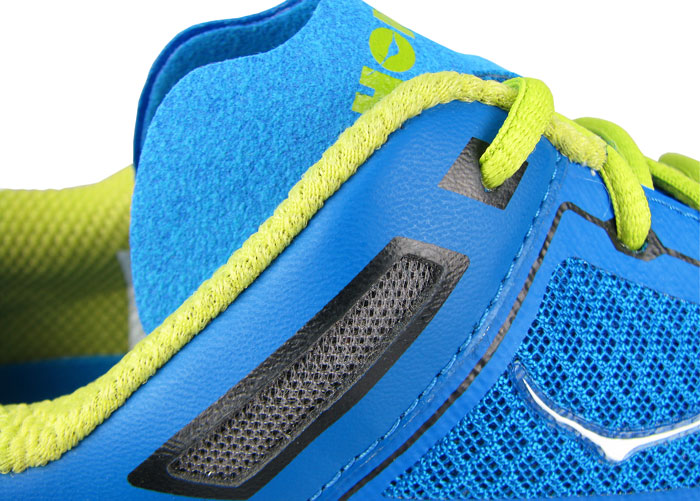 Given this inconsistency, overall pattern dimensions and placement seem to be bit off and is an area which can be improved upon. The midfoot panel's also missing the last eyelet – and not that this is a Hoka thing. We're also currently testing the 2 mm drop Huaka, and that shoe has additional eyelets for an optional level of cinching. This leads to the quality of Clifton's collar fit being less ideal than what it should be. It is plush enough, but you're left wanting for a higher level of grip around your ankles.
In our opinion, midfoot fit and feel could have been bettered by use of a padded tongue. This would have made the Clifton experience more wholesome, especially when you're doing your running on cloud like cushioning. A single layer tongue like what's used on the Mizuno Wave Rider would have been perfect. It doesn't add much weight, and even if it did, it should be least of Hoka's concern. The Clifton comes in super light at a mere 236 gms for a US 11, which is much, much lighter than most of the shoes out there. The distance racing adios Boost 2 weighs more than the Clifton, despite the Boost looking malnourished in comparison.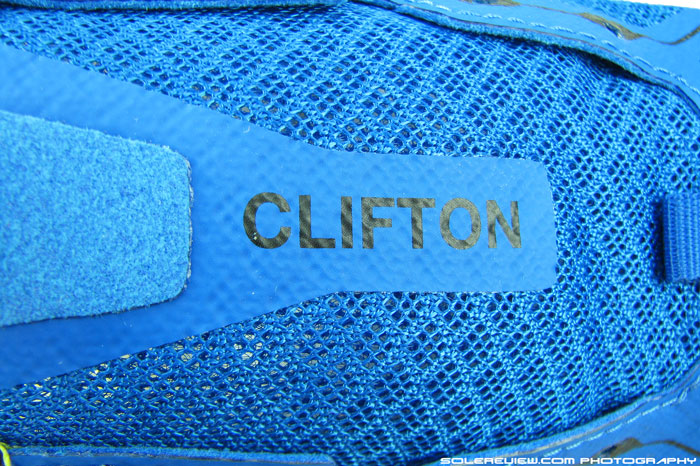 To cut Hoka some slack, we can see where the spartan tongue and tight forefoot fit is coming from. Our guess is that since initial Hoka's were purpose built for trail running, the fit was customised accordingly to accommodate the rigours of downhill running. That build philosophy might have transferred to this shoe. But then Clifton is an outright road shoe, and trail footwear best practices doesn't necessarily need apply here.
The lack of tongue padding isn't the only thing which displeased us. The tip of tongue uses a synthetic nubuck like material, and this transfers colour on the socks. And we're not talking about running in rains, this happens in absolutely dry weather. The socks turn blue under the area where this material is used. This can only mean two things. Either this material has sub-standard dyeing, or the synthetic nubuck is something on the lines of Tirrenina Suede (adios Boost 2) which has inherent trouble retaining color. If this was the latter case, Hoka should have put in a disclaimer like adidas has.
And in our pair, we found the left tongue to be a bit shorter than the right. For Hoka, it's another area to keep an eye on.
Toe-box is vertically accommodating, and unlike some shoes the big toe doesn't stick out through the mesh. There's a seam where the tongue joins the upper, and this is bit of a bother in a scenario when you decide to run without socks. It feels rough against bare skin, the thick seam rubbing over.
The Hoka sizing chart is same as what's used in adidas and Salomon footwear. Not a coincidence, since Hoka founders are ex-Salomon employees and it made sense to go with what they were accustomed to. Does that affect the fit? Not in US sizing. A US 10 will equal the same size on a pair of Brooks or Nike in overall length. It is only when you start converting into UK or Euro sizing does it get a bit messy. Hoka (along with adidas and Salomon) prefers to use half UK and decimal Euro sizes when coverting from a full US size.
Here's a tip. The ONLY true measure of a shoe's actual length is the JP or CM sizing, which is a simple measurement of the insole (wearable area) from heel to toe in centimeters. So if you're a JP 29 on a pair of Asics, then a JP/CM 29 on a pair of adidas should do it for you, regardless of what the US, UK or Euro sizing is. This obviously discounts variations in last fits, which can make a shoe tighter or looser in areas other than sheer length.
From a practical usage standpoint, the Clifton's sizing runs true, leaving you with a small measure of width between the toe and shoe tip.
No full foam midsole-d shoe has felt as smooth and well rounded as the Hoka Clifton. It's a lofty feat, given that unit construction midsoles have been around for ages. Reebok was the originator, really, when it debuted the 3D Ultralite back in the 90's. Since then, numerous shoes have come and gone, but the Hoka Clifton stomps all over them in a class of its own. An honorable mention would be the Brooks Transcend, which in its own way, exhibits vaguely similar cushioning behavior.
So how do we begin a detailed description of how the Hoka Clifton feels like?
It is very soft in the heel and forefoot. But it does not have the sink-in mushiness, nor the bottoming-out-and-then-flatness which typically comes with the territory. There's a certain amount of responsiveness, rebound, or resilience, call it what you will. It almost feels gel-like, but with less viscosity. Every footstrike, be it under front or rear, yields a sensation of bottomless cushioning.
It is certainly not just the stack height, since you now know that the actual thickness is similar to traditional neutral trainers. The major reason is certainly Hoka foam's chemical formulation combined with a larger volume of it, as the Clifton feels vastly different from regular EVA midsole shod shoes. Skechers GoRun Ride 3 and New Balance Fresh Foam 980 might also boast of full length foam, but they have nothing on the Hoka.
The other reason which results in the Clifton ride is the latter's unconventionally designed midsole. A careful observation will reveal a couple of things as outlined below.
When seen from the top, you'll notice that the midsole wall doesn't extend straight downwards. The upper portion (around 30% of midsole wall) appears to sit separately on a thicker midsole base, as if they were two different components. This is achieved by a groove which goes horizontally around the midsole, deeper in rear-foot than forefoot. Coming to think of it, even the Nike Pegasus 31 does a similar thing, only with a pronounced lateral bias.
The midsole flare is where bulk of Hoka's extra foam volume resides, the stack heights being what they are.
This allows the heel area to achieve a more effective 'sink' into the wider midsole base, increasing responsiveness. There's also the vertical sidewall groove to be taken into the equation. What happens during a rear-foot strike is the following.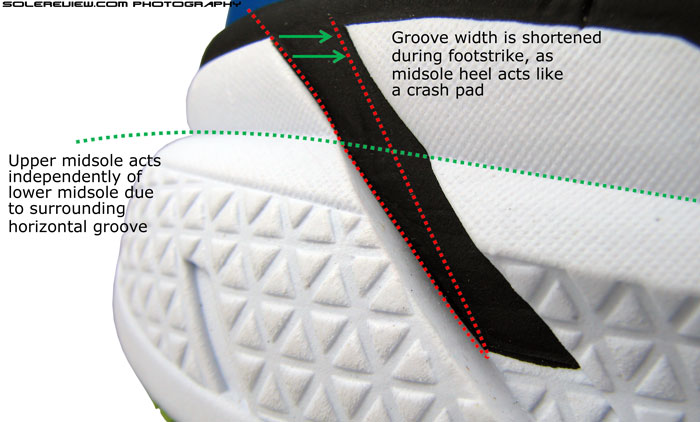 In a behavior typical of rocker sole design, (Skechers GoRun Ride 3 too) foot-strike takes place in mid-stage rearfoot instead of heel edge. When that happens, both the surrounding groove (green dotted line) and vertical groove (red dotted line) come together to make the rear midsole act as a giant crash pad. The upper heel sinks into the rearfoot base, and at the same time, part of lower midsole shifts slightly forward, shortening the width of vertical groove. Sounds a bit complicated, so the captioned image above makes an attempt to explain what's going on.
The freedom of heel movement is a double edged sword, as it shaves a few points off when it comes to stability. We call this out not with the intention of describing this as a negative, but to better manage expectations. The Clifton feels stable enough for a neutral shoe with level of cushioning this extreme; but if you seek more stability, you'll be better off with a lower to the ground (and firmer) shoe like the Hoka Huaka.
Transition is extremely smooth, owing to single density midsole and extended side wrap(s) which Hoka calls 'Active foot frame'. Naturally, for a shoe this cushioned, ground feel is non-existent, all of which is absorbed by the midsole. The rocker design sole also controls forward movement, with a rigid, minimally flexible front-end tipping the foot forward.
If you're looking for a high level of under-arch support, the Hoka Clifton isn't the one to deliver the goods. Yes, the midsole is wide and generally supportive, but that's a different thing from specifically engineered arch support.
Another great thing about Clifton's ride? It is undoubtedly the most cushioned shoe we've ever tested, but it's no slouch. Running in them doesn't seem to sacrifice speed, and this seems to be due to improved economy of transition. A rocker sole results in rearfoot strike instead of heel, and a stiffer forefoot helps roll. That's the only thing we can think of, as soft soles and good pace aren't exactly drinking buddies. Ok, the Clifton is no Zoom Streak, but for a shoe of this class, it can take you by surprise.
This gives the foamy invention a lot more versatility than one would expect. Great shoe if you're looking to do long runs in. Ideal as a daily trainer. The ultimate recovery shoe. If you can live with the snug upper, then this is a shoe which can wear many hats, doing extremely well under multiple sets of expectations or needs.
For a world grown weary of marketing jargons being thrown around with little substance to back, the Hoka Clifton comes as a breath of fresh air. It does with aplomb what the brand says it does, and that is a pretty rare instance. Highly recommended.
(Disclaimer: Solereview paid full US retail price for the shoe reviewed)