Color: Slime/Orange-Citron
Intended use: All runs except trail and in bad weather.
Surfaces tested on: Road,  20° C/68° F
Upper: Spacer mesh, Flexfilm and regular TPU weld overlays, elastic midfoot saddle.
Midsole: Injection molded EVA foam, 'Powergrid' perforated foam insert under heel.
Outsole: Carbon rubber pieces under heel and forefoot, blown rubber under lateral midfoot.
Weight: 240 gms/ 8.5 Oz for a half pair of UK10/US11/EUR 45
Widths available: Only M-standard (reviewed).
Major updates takes place on the Kinvara 5, making the lightweight staple softer in ride while significantly bulking up the upper - without increasing weight or retail price. In the process, the new shoe loses a lot of the minimalist upper feel, which can be a good or bad thing, depending on how you see it.
Brooks PureFlow 3
Saucony Kinvara 5 steps on the evolutionary gas pedal with a slew of new updates, with major structural and design changes on its upper and sole. And the question will quickly be asked – will the new Kinvara successfully assume it's predecessors mantle? The answer depends on how you see the changes. For our part, we'll objectively break down the finer details for you, that's what we always do.
Here's the certifiable good news which we're sure, will not sway the minds and hearts of Kinvara loyalists. Saucony hasn't tinkered drastically with the sole design, retaining its 4 mm drop, general design profile and outsole geometry. That fact established, the ride is unmistakably softer than past editions. We'll expand on the how and why of that later, as not one, but several factors influence the change in cushioning level.
The other news could be good or bad tidings, based on how you like your Kinvara served. The upper has changed completely. There is only little familiarity and material sharing when compared to previous generations, with newness coming through in overall aesthetics, construction techniques and fit behavior. Since the magnitude of change is so huge, we'll prefer to walk you through individual design updates first. And how the latter has a bearing on upper fit, that topic will soon follow.
Upper material highlight of Kinvara 3 and 4 was Flexfilm, a thin layer of synthetic welded on a flat mesh. Kinvara 5 uses Flexfilm too, except that its use extends right till the shoe tip. In doing so, it replaces the earlier toe bumper design which used to be an overlay of thick TPU. Mesh on the toe box and partial mid-foot is a spacer type, which looks like two separate layers but is actually one. There's a second layer of fused-on synthetic, which covers major parts of heel and mid-foot, with its pointy ends extending on both sides of the forefoot. Because the Kinvara 5 is substantially more beefed up with thicker layers, the shoe retains a crisp outline and shape even in its boxed state. In contrast, the Kinvara 3 and 4 were far more minimal in construction, and as a result had a droopy, saggy shape when unworn.
The softer collar mesh of recent past has been ditched, and in comes a neoprene kind, with traditional foam padding. We say traditional because the two small pods of foam padding earlier found on the inner side of collar has been removed – which featured on K3 and K4. Tongue is built using the same mesh, and with a corresponding increase in padding. The upper tongue is wider, its angular corners amply padded with foam.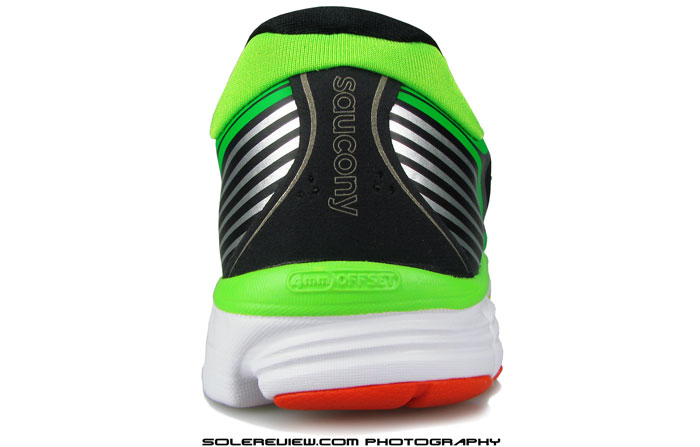 Upper heel now features a full size, internal heel counter, which makes that area very stiff. The funny part is, how that component has evolved over the last few years. The Kinvara 3 had a barely noticeable, shallow heel stiffener, which at its highest point was around 25 mm tall. Then came the Kinvara 4, with a slightly higher insert. This year's shoe goes all out in that aspect, and when you cup the Kinvara 5 with your hand, the hardness is felt distinctly. Reflectivity is gone from behind the heel, but that is replaced rather ingeniously with a strip on the outsole.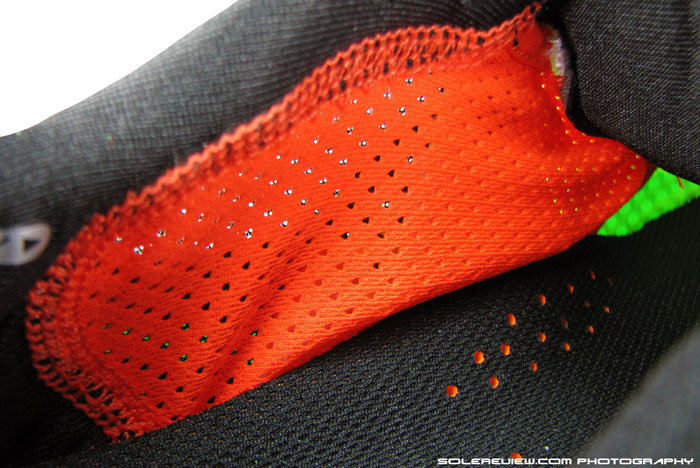 Saving the biggest changes for last, here they come. The K5 only features a half gusset which attaches the tongue to rest of the upper, and not a full internal sleeve which was the case in earlier Kinvaras. Its effect on fit is rather predictable, and we'll sum that up in our fit breakout. The K5 also puts in a brand new feature called the 'Prolock' which is basically a semi-stretchy, mid-foot band connected to a row of laces. The top layer is printed, elastic synthetic and is reinforced with backing on its upper and lower portions. The area in middle is left blank, allowing the band to stretch when lacing pressure is applied. When we saw the the Prolock for the first time, the 2010 Nike Lunaracer came into mind. We mean, its hard to look at the Prolock strap design and not be reminded of the Flywire based Lunaracer.
Piece all these changes together, and what do you get? To begin, the forefoot is rather roomy, in spite of all the overlays on both sides. It's more relaxed than the Kinvara 4, and in some way a throwback to the Kinvara 3. This is the result of removing the full inner sleeve, which opens up room ahead. Where it really differs from earlier Kinvaras  is the height of toe box right at the tip (see image above). Since the K3 and 4 used a TPU toe bumper, the area had a raised front wall, freeing a lot of room above your big toe. That isn't the case in the Kinvara 5. Use of the new Flexfilm material on the upper tip results in a flatter, low profile toe box, causing the top of your toe to poke through mesh. This also results in a snug fit along the medial side of big toe as well. Otherwise, rest of the toe box has ample height, and there's space around the curves of small toes.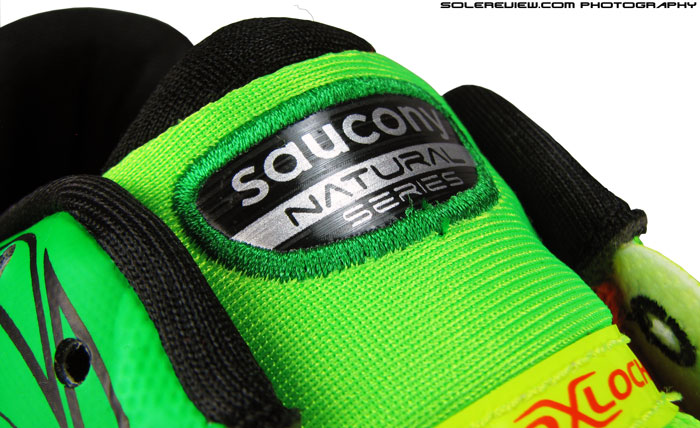 The 'Prolock' strap is very effective in its function; to the point that it makes the midfoot super snug. Tug on the laces, and the strap is quick to respond, its elastic midsection stretched taut by cinching. Lacing pressure is snug, and the foam-lined tongue absorbs any could-be hot spot. Though the midsole lacks any under-arch bolstering, the Prolock mechanism serves nicely as upper arch support, propping the area up when laced. The upper collar area is snugger than Kinvara 4, as the generous plumpness of foam padding fills in the gaps nicely. The part rubbing Achilles is soft too, since the upper part of heel is just fabric backed with foam. We do miss the soft pods from the past Kinvaras; they just felt good.
One thing to keep in mind while lacing up. The last eyelet hole is best left unlaced, because the curve just above it is folded TPU, and hard. When the last row is laced up, it causes the curve to slightly bend inwards. This leads to some initial irritation, though we noticed this eased off with time. More a matter of breaking the shoe in, but why bring it upon yourself in the first place?
The next thing is about going barefoot in the Kinvara 5, which isn't as a pleasant experience it was in Kinvara 3 and 4. There're a couple of things. Firstly, remember that the K5 has a half sleeve, which means there's a seam somewhere inside. In this case, there's a thick band of material vertically at the point where midfoot ends and forefoot begins. The pressure from this transfers on to the bare skin, pressing down on it during runs and leaving a (temporary) post-run depression on the skin for around 10-15 minutes. Wear a pair of socks, and this issue disappears completely. The bright side of wearing the K5 barefoot is that the new mesh has excellent ventilation, so much better than older K's. There's also a semi see-through mesh window over the Prolock panel, so that lets the outside air in too. Overall, the Kinvara 5 scores much higher than its 2012 and 2013 avatars when it comes to breathability.
Kinvara rides softer than versions prior, and there are a few things which make that happen. The obvious one is the overall EVA midsole density, which comes across as being softer than Kinvara 4 when compressed. Not very much, but a bit. Next comes a tweaking of the outsole geometry, which impacts cushioning. There's more open space and grooving just under the heel upto midfoot, so every landing makes the heel trampoline a bit, along with the piston effect coming from raised up outsole pods. Deeper grooves also translates into crash pad getting more isolated, which results in softer, albeit gradual rear-foot strikes. Lastly, the Kinvara 5 introduces a row of blown rubber section (same material as Ride and Guide 7) under outer midfoot, which betters midfoot transition while providing some cushioning.
Undoubtedly, it's a sign of changing times. Low heel drops still remain a preferred attribute, but firm rides no longer are. If you want proof, look at the current running shoe landscape dotted with midsole monstrosities. Hoka, Fresh Foam, upcoming Asics Fluid Foam – all point at the emergence of superlative cushioning gaining mainstream traction, and the Kinvara attempts to shift towards that, ever so slightly.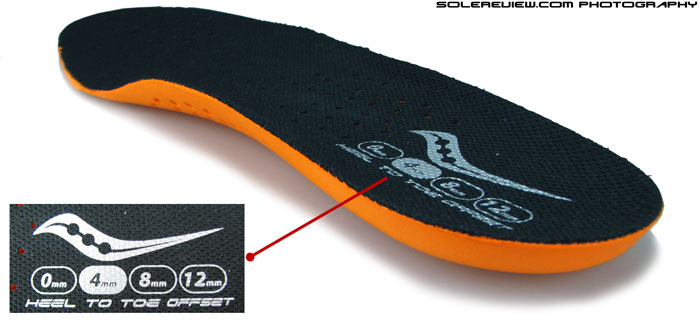 Footbed carries over sans update from 2013, and a fabric based strobel lines the midsole surface. The Kinvara 5 uses a heel only Powergrid unit, which seems to be the same one popped in Kinvara 4's heel. It's a foam based insert with perforations, and with a different density than rest of the midsole.
Durability is often discussed in the same breath as Kinvara, and there is a good reason why. The forefoot pods on the K3 and K4 were susceptible to wearing out really quickly, so we were curious to see how the new shoe performed. Well, the rubber compound is unchanged, but Saucony was smart in making sure that the triangular rubber pieces were inset deeper into the EVA cavity. So now what happens on the K5 is equal wear of the rubber and the EVA pods, instead of only the rubber taking the brunt of abuse. However, making sections of the heel area pop out causes the crash pad rubber to wear out faster.
Grip is not an issue on new Kinvara's, but over time the texture on the forefoot rubber lugs will wear out. Traction will be affected then; not so bad to slip, but a lesser thing than other shoes with rubber clad forefoot. Flexibility on the Kinvara isn't great, it is as stiff as last year's edition, regardless of prominent forefoot grooves. We do like our forefoot firm when we're trying to go a little faster, so the stiffness isn't necessary an undesirable.
Lastly, the shoe takes an uncommon approach to night-time visibility. If you recall, the upper heel lost its reflective bits, but guess what, it's been moved down below. It is effective while running, when a light source shine behind you and momentarily lights the reflective strip underneath. Clever. The remaining two bits are located on the toe box and midsole wall.
If you've been into Kinvaras for a while, the fact quickly dawns on you that the minimal feel of earlier models is a casualty of this year's sweeping changes. It's not like the shoe has become heavier; in fact the weighs exactly the same as before. It's only that you no longer sense the lightness of upper, instead there's more shoe mixed into the whole deal.
The bottom-line is that Kinvara has changed. For better or worse, that's up to you to decide. One side of the coin sees the shoe gaining a lot of support features on the upper and increased padding underneath. This will please runners who wanted the shoe to be more comfortable from its previous versions, while retaining its lightweight character and 4 mm drop. On the flip side, the Kinvara 5 is an overtly upholstered version of its past self, almost as if inching towards a Ride 7 transformation.
If this bothers you, buying a few pairs of Kinvara 4 could be one of your options, and wait till 2015 to see if the minimal Kinvara returns. Will fortune favor you, in that case? Don't know, really. We're shoe reviewers, and not soothsayers.
(Disclaimer: Solereview paid full US retail price for the shoe reviewed)
Note on ratings: Our numeric scoring of 8.7/10 is based on a total of weighted averages. The attributes namely transition, stability and fit contribute to 69% of total scoring weight, which we see as more important than material (7%), cushioning (7%), traction (12%) and weight (5%). Hence the scores will not add up when simple average calculation is used.
Your purchase through any of the promoted retailers in this review supports solereview's work. We make a small commission every time you do, and this helps funds our review costs.