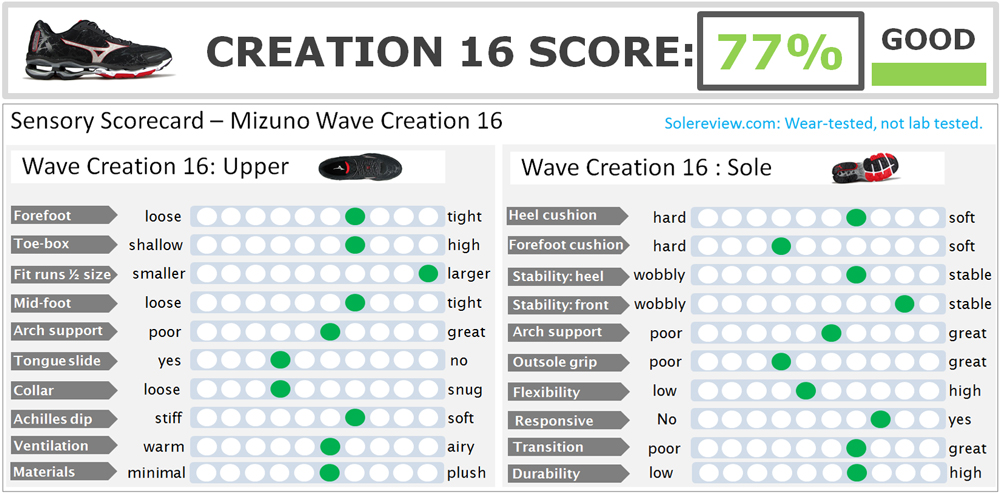 Color: Black/Silver
Mizuno's marketing pitch: Neutral runners will love the simplified, smooth ride and refined fit.
Surfaces tested on: Road, ambient temperatures of 20° C/68° F
Upper: Spacer mesh, synthetic leather, hot melt overlays.
Midsole: Triple density foam, thermoplastic Wave plates separated in heel by rubber pillars.
Outsole: Hard wearing carbon rubber in back, grippier rubber under forefoot.
Weight: 363 gms/ 12.8 Oz for a half pair of US11/UK 10/EUR 45
Widths available: Single (regular) only.
Like the feel of Mizuno Wave but want something more responsive and cushioned? This is the shoe for you, but mind you, it is far from soft, just a little un-hard compared to other Mizunos
Mizuno Wave Prophecy 4
Transition, stability, supportive cushioning
Weight, internal seams irritate when worn barefoot, price, tongue slide
This is our fourth Mizuno review, and so far we haven't encountered anything such as a soft Mizuno. Even when the shoe is question has a hollow midsole heel propped up by nothing more than a rubber tripod. And yet, in the relative landscape of things, this shoe is one of Mizuno's most cushioned, supposedly bested only by the more expensive Prophecy 4.
But that has always been the way of Mizunos, hasn't it? The brand has stuck through thick and thin to its proprietary 'Wave' shock absorption platform over the past couple of decades, producing a line of running shoes with a distinct ride signature.
When it began its life 15 years ago, the Creation was introduced with goal of being the maximal representation of Mizuno's Wave technology, which happens to be this hard, corrugated plastic plate embedded within the midsole.
The Wave's design objective, as we'd explained in our Rider 18 review, was to dissipate impact pressure without excessive deformation of the midsole. While most Mizuno shoes come with only one sheet of Wave running through, the Creation combines two hard plates together to allow a greater range of vertical compression under the heel.
The current sole design of the Wave Creation has been unchanged, more or less, since the 2007 Creation 8, when the then low profile design evolved into a Wave Plate stack with a larger gap separating them. To prevent runners from knocking out their fillings, the plates are connected by rubber pillars which besides allowing the structure to compress, act as independent elements of cushioning.
Mizuno calls this the 'infinity Wave', thus the symbol on the heel. You'll also see this on the Prophecy, which is an extended version of the Creation 16. In other words, the Creation is a Prophecy half-fulfilled.
There's a two-faced quality of behavior when you're talking about the Creation 16. It feels like one shoe when worn on the shop floor, and another when you're a few miles out into your run. It would be wrong to judge the Creation based on first impressions, because it feels firm and unyielding to body weight when walking around. But you really do need to take the Creation for a proper run before you can start tapping into its cushioning potential.
For the Creation starts feeling more pliable under heel during runs, but at the same time one needs to look at the overall picture. The Pebax Wave plates are hard, and so are the rubber dampeners joining them. The midsole foam which sits on the Wave is also firm – everything is designed to deliver a firm ride, and that's what the Creation is. It has cushioning, but without the squish or flattening out. Firm, but with a greater level of snapback in the context of Mizuno Wave.
There are structural elements like a foam piece between the medial base (Wave) plate and outsole, and a pair of splay notches on the lateral side and heel center. The foam piece is right where usually a rear-foot striker would land, and hence designed to minimize foot strike jar. The groove helps in post foot-strike transition as it allows some amount of splay. Having said that, none of these make themselves conspicuous, but rather work behind the scenes.
The complexity aside, what you really need to know is how the shoe feels overall. To sum up, the Creation's a good shoe for runners who need a good level of heel cushioning, but without the sink or instability which usually follows as +1 to the party.
Ok, what about the forefoot? The ride is as firm as Mizunos come, but this being the Wave Creation, the top plastic plate extends unbroken from heel to toe, sandwiched between two foam layers. The design isn't symmetrical though.
The lateral Wave edge has articulation (cutouts) built in, while the medial side has an unbroken surface. The midsole compression doesn't amount to much since both the foam layers are quite firm, but there is noticeable splay of Wave plate under forefoot.
The splay will be felt more by forefoot strikers than rear-foot runners, and even if you run without the plush insole, you'd still sense the Wave plate splaying, so there's no trickery here. The footbed is standard Mizuno-ness, found in the Wave Rider 18 and just released Inspire 11 and Prophecy 4. Silky smooth textile on top, memory foam kind of deal below.
Hang-on a second, if one side of forefoot Wave has a segmented structure and the other side doesn't, won't it create a flexing imbalance of sorts? Good question, and one we had too when we first saw this design. The forefoot is generally stiff, does not flex easily, but no mismatch was felt between the lateral and medial side. We dug deeper, and on removing the insole, we saw this:
Notice the ridges only under the right (medial) side of the cloth strobel? These are internal flex grooves built into the midsole foam, and the work together with the medial side of Wave plate. This is the method in which Mizuno has tried to compensate for extra flexibility coming from the lateral side.
But really, you neither feel the lateral articulation nor the medial flex grooves. What you get is consistent forefoot behavior, which essentially is a combination of minor Wave splay, firm midsole overtone yet lined with some insole softness.
For a shoe which has so much structural disparity between heel and forefoot, transitions come pretty good. That can be attributed to the firm ride, which prevents the heel of sinking in too much and thus paving the path for a smoother weight transfer.
The forefoot's inherent stiffness lends it a rocker motion of sorts, creating less work for the foot. While this would have helped quicker pace under usual circumstances, the Wave Creation's mega heel and more-than-median weight (363 gm/12.8 oz) somewhat saps speed.
Outsole is fairly rugged, and hard. More so in the rear where the hard wearing X-10 forms a horse-shoe shape. In the front, rubber softer than X-10 provides grip, but still of a firm variety – far from commonly seen densities of blown rubber. It rained out during one of our wear-test runs, and the rear-grip deteriorated pretty quickly. Basic rubber science: hard is durable, but bad for traction. Soft is grippy, and does not have as long a life. Brands or running shoes which combine both softness and durability together – bravo, but Mizuno isn't that brand yet. Closest to achieving this balance would be the Nike Pegasus 31's outsole made of recycled rubber.
When in casual walking mode, the Wave Creation's rubber is noisy on hard surfaces. But still better than Wave Rider 18; that shoe makes an audible din even during runs.
Upper is a draft off Mizuno's design template for the current year. In a practice which no other brand does, Mizuno take a single upper design, and then clones them on all the shoe models they launch in a given year. 2014-15 is a good example of that standardization in practice.
Look at the Wave Rider 18, Sayonara 2, Wave Inspire 11, Prophecy 4 and then compare it with the Creation. Near identical upper design, in this case formed by distinctly recognizable toe bumpers, laces, split eye-stays, circular heel patch, molded logos, and same tongue design.
Even the tongue and collar lining are exactly the same across many of their models. Yes, that also applies to both the $120 Inspire 11 and $210 Prophecy 4. The only spin here is the upper mesh, which can vary based on structure or textured treatment. In Wave Creation's case, it is a soft mesh with a Japanese art inspired surface texture, achieved by the use of hot melt layers.
Wonder if Mizuno uses the same last across many of their models and even the exact same size parts? Just a conjecture, but if it were true, it would be saving Mizuno a heck lot of cash. They are certainly achieving efficiencies by using same lining materials (and probably the midsole foam formula too).

Upper fit is what's expected of a Mizuno. Forefoot's roomy, with a little lateral side snugness over the small toe. This is a shoe which runs a half size larger, so generally speaking you should be ok with buying a half-size smaller than what you might buy in other brands.
In sizing terms, US 11 in Nike should translate to a US 10.5 in Mizuno. But this is a generalization, and you should try the shoe first before taking a call as foot anatomy might vary from runner to runner.
The interior suffers from the same anti-barefoot-use ailment which Wave Rider 18 does. The mesh upper looks like one piece, but is actually two, joined by hidden seams under the Mizuno logos. There's an underlay on the medial side, which has stitching running across, and these brush again the bare-skin. This isn't a case of  'might lead to blisters', but rather sockless running will lead to one – there's no questioning that.
Much like the Rider 18, this is a pity since the insole feels absolutely heavenly when trampled on barefoot. Collar has anaemic padding inside, and though the foot doesn't slip out, it might have felt better if the collar walls had more squish in them.
Among other smaller things, reflectivity is limited to the round heel patch, the TPU Mizuno logo has a nice holographic-eque whorl texture, and the Wave plate has an industrial, glue-like smell.
This pungency was noticed in the Prophecy (past and present) too. Not sure what this is – extra strength adhesive, maybe? Anyway, this "Eau-de-Mizuno " isn't pleasant, and hope Mizuno does something to get rid of it.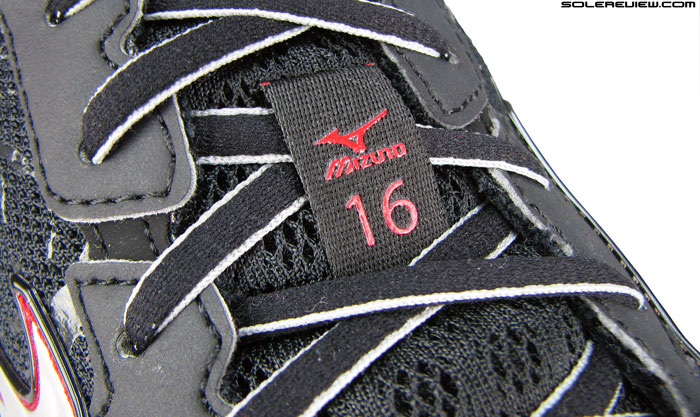 When it boils down to the basics, the Wave Creation feels very, very familiar when coming from other Mizuno models, with tons of commonality in upper construction, materials and overall design. Think of it as driving the same car, but with different Mizuno models representing swaps in suspension and tyre setup.
Is it good value at $160? Can't say so, but then, that depends on what the Creation is worth to you.
(Disclaimer: For this review, Solereview bought the shoe at full US retail price.)