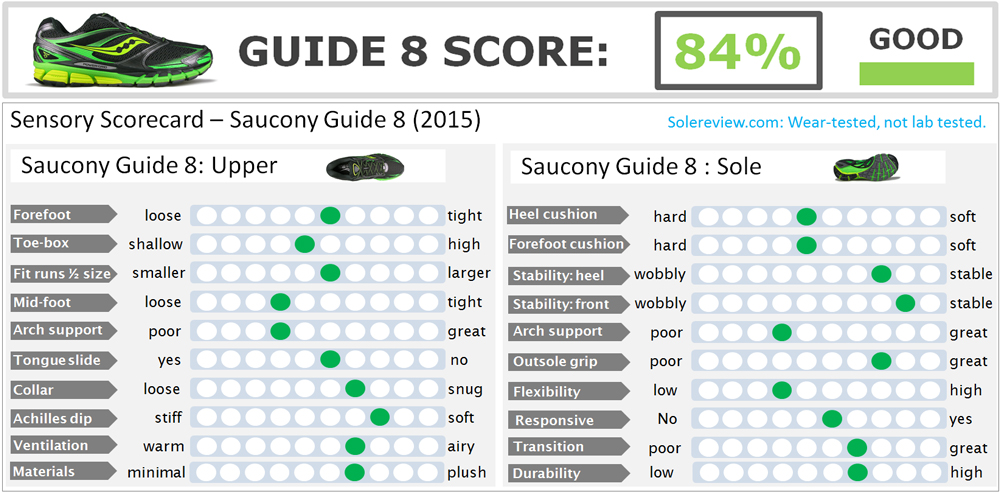 Color: Black/Lime-Citron
Saucony's marketing pitch: Blends responsive cushioning with light stability.
Surfaces tested on: Road, ambient temperatures of 18° C/64° F
Upper: Spacer mesh, synthetic leather, hot melt overlays.
Midsole: Quad density (with Powergrid component) compression molded EVA foam, 8 mm drop (Heel 26mm, forefoot 18mm).
Outsole: Hard wearing carbon rubber in back, softer blown rubber under forefoot.
Weight: 306 gms/ 10.8 Oz for a half pair of US11/UK 10/EUR 45
Widths available: Regular - M (reviewed), wide (W) in all colors. Womens colors have additional N-narrow width available.
There is only a small amount of updates to the Guide 8, making it virtually indistinguishable from last year's Guide 7. It continues to build on the Guide 7's strengths, like providing a firm, yet smooth ride alongside cushioned feel.
Asics GT-1000 3, Adidas Supernova Sequence 7 Boost, Nike Zoom Elite 7
Transition, stable ride, ventilation, plush collar and tongue
Tongue slide
For those of you who've been doing miles on the Guide 7 so far and want to know the extent of updates on the Guide 8, we'll make it easy for you. The 2015 model is near identical to the Guide 7, which can be looked at in two ways. You can upgrade to the Guide 8 safe in the knowledge that very little has changed, or save money by buying another pair of on-its-way-out (and discounted) Guide 7 without paying the new model premium. You can scroll straight down to the 'Match' report for a quick summary, and then get back to more important things.
On the other hand, if you're a newcomer trying to hop aboard the Guide express, then stick around, as we walk you through the minutiae of it all.
We'll begin by saying that the Guide is, first of all, not a shoe which induces significant motion control. What it happens to be is a neutral behaving shoe with a firm ride. Of course, as the pictures suggest, it comes fitted with a harder medial post, multi-density midsole and all that jazz, but does not end up delivering a pronounced lateral lean or bias. Neither does the medial post make itself felt as a separate, larger than life component, usually a characteristic of pronation control shoes.
Not all neutral runners like softly cushioned shoes, and Guide 8 fills in the gap for that requirement by combining overall firmness with a touch of cushioning. We look at the Guide as a supportive, no frills shoe, a bridge between models such as the soft roader Pegasus and gait controlling New Balance 860V5.
Guide 8 carries forward the near entirety of Guide 7's form and character, making both of them virtually indistinguishable during runs. There's a nip here and a tuck there, but none too major enough to sway the boat.
Broadly speaking, updates take place in two areas; the upper forefoot and midsole, where the midsole foam density changes slightly along with a minor realignment of components.
What may be reassuring to know is the separate 'Grid' foam insert is also present in the Guide 8, in case you were apprehensive with sweeping changes happening in the Triumph ISO. So disregard the graphical representation of Powergrid on Saucony Guide 8's webpage, that is incorrect and inconsistent with what's really inside. We'll show you a cutout of the midsole strobel to reveal the Powergrid foam in a later part of this review.
So. You want to know what's changed on the upper, yes?
At a basic level, the general design looks very similar. So much so that if you were to look at the Guide 8 from a distance, you could very well mistake it for its predecessor.
The general lines of upper patterns lend familiarity to the silhouette; similar toe bumper, midfoot and heel panel design, same laces and tongue. Add to that the dual color tone and side profile of the midsole, and it brings out a cosmetically similar overtone of the Guide 7.
On the new upper, one update which is worth devoting some time to happens to be the forefoot fit. If you recall what the Guide 7 upper looked like, it had wide channels of thick synthetic leather over and sides of the forefoot.
Well, that's a thing of the past now, literally. In its place are thin, fused overlays which require no stitching.
Won't say that these changes open up some more splay room, because it doesn't – at least not to the extent of being highlighted. However, it does impact the quality of forefoot fit.
Even with similar (to G-7) levels of snugness, the foot feels less constrained by the upper, and the sensation is that of improved uniformity or consistency. Know what we mean? The forefoot lining just feels smoother, while delivering near-identical levels of sideways space.
Toe tip is a different story though, and the change will be noticed without debate. The Guide 8's toe-box has a shallow ceiling than G-7, and that's because of one reason. The toe tip is pointer than G-7. And we don't see the reason as a change of last or anything like that. It is just that the synthetic leather bumper is now lower in the front, compared to the G-7 where it went higher and curved over the forefoot mesh like a canopy.
The older toe-bumper design helped extend the ceiling of forefoot mesh, resulting in free space above the big toe. In contrast, the Guide 8 bumper shifts the mesh-leather seam area forward, and creates more tension on the mesh . So the toe-box mesh now rests on the big toe; something similar to what we noticed on the Nike Pegasus 31 too. It is not uncomfortable, but if one is moving up from the Guide 7, this area of difference will surely be noticed. Sizing still stays true to length.
Special mentions can be made of one another thing – the new mesh material is a spacer type but comes with a denser structure, and less spongy.
With that change, ventilation is relatively lower than G-7, but still breathable by any standard.
Lacing carries over exactly, striped and semi-elastic, and so does the tongue which is identical in design, including its plushy thickness. It also retains the reflective lace-loop, which is paired up with a second bit on the heel. We cribbed about the extra long laces of the Guide 7, and that has been fixed in the Guide 8, their length cut down to right size.
Tongue is not fixed to the upper sides, meaning you will experience the same tongue slide from Guide 7. Night-time visibility on the heel sees an increase over Guide 7, with the previously thin sliver morphing into a larger presence.
The insides of upper heel and collar remain soft to touch and generously padded. But given the subtle changes affecting toe-box fit, some runners might encounter a more snugger heel fit compared to Guide 7. Or conversely, find last year's Guide 7's slightly wanting in collar grip.
A lot depends on how individual foot anatomy matches Guide 8's D width, so whether you end up experiencing fit difference (or not) will be purely circumstantial.
Medial side of the Guide 8 has a snugger wrap around the foot, as the upper undergoes a design change there. Guide 7 had a medial panel with mesh opening in it, which made the fit more relaxed than Guide 8.
Latter opts in for a solid synthetic leather piece running alongside medial midfoot, which dials up snugness. The Guide 8 also comes with midfoot mesh underlays with honeycomb texture, but it is situated rearwards in placement.
Other than these small adjustments, nothing else has changed on the upper. Barefoot use is possible, and while the Guide isn't the best shoe to do that in, there's nothing which irritates either.
Molded insole and the foam strobel which it rests on are exact carryovers, with the insole top-cloth calling out shoe's 8 mm heel drop number.
Coming to the midsole and outsole, construction fundamentals stays true to the Guide 7 design. Softer SRC crash pad on lateral midsole, firmer medial post, and main midsole foam filling rest of the area.
You'd also be relieved to hear that Guide 8, like the G-7, has a separate 'Powergrid' insert below the strobel. We thought mentioning this was important, for Saucony appears to be moving away from this design, as evident from the 'new Powergrid+' of Triumph ISO.
Outsole maintains the soft blown rubber front and carbon rubber rear configuration, with a plastic shank extending upto the medial side from underneath. Placement of rubber and flex grooves are same as Guide 7, which has the effect of neither affecting the grip, durability or flexibility. Lug texture and size have minute modifications, but has no tellable effect on traction.
There is some minor re-tuning of midsole components like the crash pad, medial post and TPU shank, something which Saucony advertises on its webpage too. Both the SRC crash pad and medial post length are increased by approximately 10 mm on the Guide 8, and the plastic shank shrinks in dimension. The G-7's shank pretty much covered the entire midfoot, but here it keeps to the medial half only.
None of this makes a significant impact on the ride, really. At least not to the extent of being noticed, except that there's one more change which needs to be dealt with. The biggest area (bright green color) of midsole foam has gone firmer, the section which rests over the crash pad, co-molds with the medial post and extends right till the toe tip.
Cause and effect plays out here, so the Guide 8 runs firmer than mister 7. But mind you, we're talking about near identical siblings here, so everything is being expressed in relative terms. The difference in ride is diminutive in nature, and for all practical purposes, you can barely tell the two apart. But there is something which feels out of place with respect to the Guide 7, and that happens to be the ever so slightly firmer feel.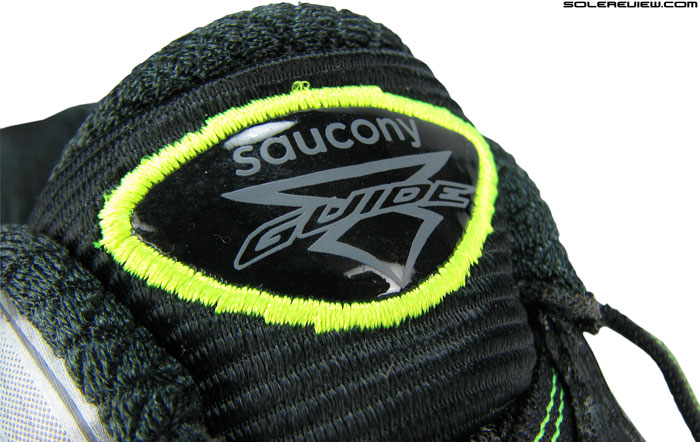 This also helps create a wider segmentation between two of Saucony's offerings – the Ride 7 and Guide. Because the way we see it, the Guide can be said to be a more supportive version of the Ride 7, and the increment in Guide's firmness further distances it from the Ride 7.
Not a bad thing; in corporate, this separation in personality may be described to possess a 'strategic intent'.
But frankly, both the Guide 7 and 8 feel great to run in. The perforated Powergrid foam, softest part of the midsole, does a good job at keeping things cushioned and smooth. Transitions feel connected, and though the Guide isn't the best tool to break land speed records in, it serves very well as a daily trainer. Doesn't lug around too much weight either. Both the Guides are matched bulk-wise to 99.99% sameness, with just a measly 2 gms or 0.7 oz separating them.
So the question is, with the new version being a personification of evolutionary subtlety, do you keep going Saucony strong in version 7, or pony up $120 to get a fresh off the line Guide 8? Coming to think of it, we answered that question right at the beginning.
(Disclaimer: For this review, solereview bought the shoe at full US retail price.)
Looking to upgrade your old Saucony Guide 7 to the latest version, but not sure how the 2015 model compares? We can help here. The following infographic is a ready-reckoner for what changes you might expect in the new model vs. old. To make this more fun, we've put in a system of percentage match, which calculates a weighted average for a set of attributes.
A higher or lower match percentage is neither good or bad. The % number just tells you how similar or distanced the new shoe is from the previous version. Total match % is a result of weighted averages.