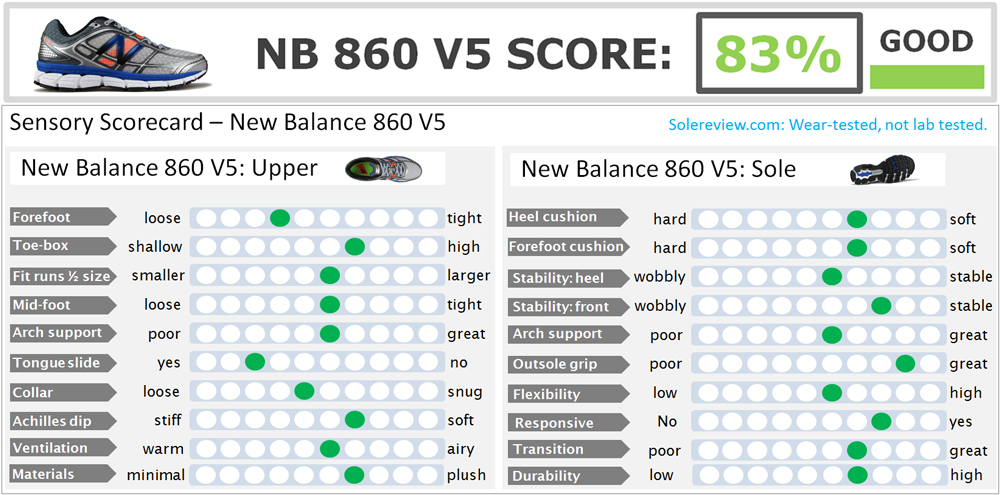 Color: Silver with optic blue.
New Balance's marketing pitch: Stable and soft.
Surfaces tested on: Road, ambient temperatures of 20° C/68° F
Upper: Spacer mesh, synthetic leather, hot melt overlays, midfoot strap.
Midsole: Triple density foam, T-Beam plastic shank, 12mm drop
Outsole: Hard wearing carbon rubber in back, blown rubber under forefoot.
Weight: 329 gms/ 11.6 Oz for a half pair of US11/UK 10.5/EUR 45/CM 29 (New Balance conversion)
Widths available: D-Standard (reviewed), B-narrow, 2E-wide, 4E-extra wide.
Not so stable as other shoes in its priceband (read Asics, Brooks, Nike, Saucony), but offers a higher level of motion control. Cushioned ride, and reasonably unheavy.
New Balance 1260 V4, Asics GT-2000 3, 2013 Nike Lunarglide 5
Upper fit, cushioning, materials.
Less reflectivity, tongue front tends to fold over itself, long laces, not as stable as NB makes it out to be.
Of all running footwear categories, the assortment of 'stability' shoes is undoubtedly the most confusing to navigate. When a brand tags a particular model for stability, does it mean it is actually stable, or is it a synonym for motion/pronation control? How pronounced is the level of motion control? Is the latter effective for early or late stage kind? Is it cushioned at the same time? How does it differ from a more expensive shoe from the same brand and category?
There is simply too much noise to make clear sense of.
Most brands provide a general description about what the shoe is supposed to do, but more often than not, marketing literature is open to interpretation. New Balance says the 860V5 is meant for 'stability and motion control' but that sounds somewhat contradictory, if you ask us.
Because for a shoe to have pronation control in any form, convention dictates the use of a lateral midsole bias complemented with a firmer medial post to affect pronation. But once you do that, it causes the foot to lean outwards during footstrike, and that takes a bite off stability, doesn't it? Think Nike Structure 17 as an extreme manifestation of this principle.
The 860V5's design DNA matches that of the $30 more expensive, made in 'Murica 1260 V4, which to sum up, was a model which mixed cushioning, stability and a bit of motion control. But that's as far as appearances goes; when it comes to ride behavior, how close or far is the 860?
We'll come around to discussing the upper fit and material details later, but we'll start off by saying the 860V5 has a higher level of gait influencing behavior that its higher priced counterpart. Yes, this defies expected tiering logic, but it's true.
The cheaper shoe has a telling difference when it comes to lateral midsole bias, and that's because the construction fundamental is set apart from the 1260 V4. That too in a couple of different ways, one of them being the use of an uncommon design element.
There are three separate foam densities forming the 860 midsole. An expected, medial post (in marbled white) which is hardest of all. It is then followed by the main midsole (deep blue) which then joins the lateral section, which has the softest density. These are stacked so as to create a lateral bias during the gait cycle.
The midsole wall's where things get interesting. Have a look at the picture (above) and you'll observe these small cutouts built into the sidewall. Six of them actually; three under the heel and three more (shallow) ones upfront (not in frame), but those resemble notches rather than gaps.
The heel gaps open up inside to a huge cavity between the blue and white midsole foam. And just how deep is this transition altering hollowness?
A humble car key helps shed light on the impressive width of the foamy chasm. The metal key is exactly 40mm long, and all of it disappears inside the midsole. Wait, the tip actually comes out on the other end too. Flip the shoe over, and the confluence of three foam densities is visible right under the heel. Look closely at the base of waffle textured foam; there are these small gaps which connect to the space inside. The car key, after crossing the entire span of lateral midsole, comes out at the heel base. That's a long journey of around 4 centimeters.
So, hard solidity of a medial post on the inner side, and a laterally situated cavity built on top of what is a soft layer of foam. One doesn't need to be a soothsayer to predict what the resulting physics of such an arrangement would be. Weight loading after each footstrike follows the path of least resistance, making the foot lean laterally. And that's ok; motion control shoes are supposed to do that.
However, the acute disparity of construction between sideway halves of the midsole makes the medial side feel noticeably stiff. If your runs are nice and easy, 5 mile pace type, then after sometime, the medial post starts pressing upwards into your inner heel. Run like this for an hour, and temporary soreness might happen, more likely on heavier rear-foot strikers.
There is a workaround for this, and that is to simply pick up pace. It's like the squeaky sound coming out of your car at slow speeds; but give it some throttle, and the noise disappears. Conversely, the more time body weight dwells on the harder medial post, more likely the chances that it'll be felt. That said, the distracting medial post will be felt even by fast runners who like to taper off their workouts with a mile or two of slower pace. So the quirky nature of medial post is the caveat which accompanies the 860 v5, and you are well advised of this idiosyncrasy.
Given its rather unusual design, it is a bit surprising that New Balance makes no mention of the cavity on its website. They should have, so that it manages expectations as far as what the shoe's capabilities are.
It is a decent gait control shoe, but we've called out the specifics so that you know what are you stepping into, literally.
Transition gets a few knocks off because of this novel midsole design, as it labors its way out of the heel and onwards to front of the shoe. Forefoot is stiff; visually around 75% firmer (blue) foam and 25% of the white stuff placed laterally.
Actually, we prefer shoes with firmer forefoot as we feel they make push-offs more efficient and adds stability too. A segmented heel crash pad and angled bevel do their bit in the transition department.
Cushioned the 860 is. The inward collapsing thing of heel midsole adds to softness, but at the same time, shaves off degrees of lateral stability. The 1260 V4 fared much better in this aspect, as it had no such sleight of foam, just good old, dual density interlocking.
Forefoot is firmer, but then blown-foam insole provides relief on top with its cushioning efficacy. This is the same insole as what's used on the 1260 V4.
Fair degree of responsiveness too, resulting from two things. There's that lateral gap we spoke about, and also the center of outsole heel is an open space. So there's some trampolining effect there, not unlike the 1260 V4, but just to a lesser extent.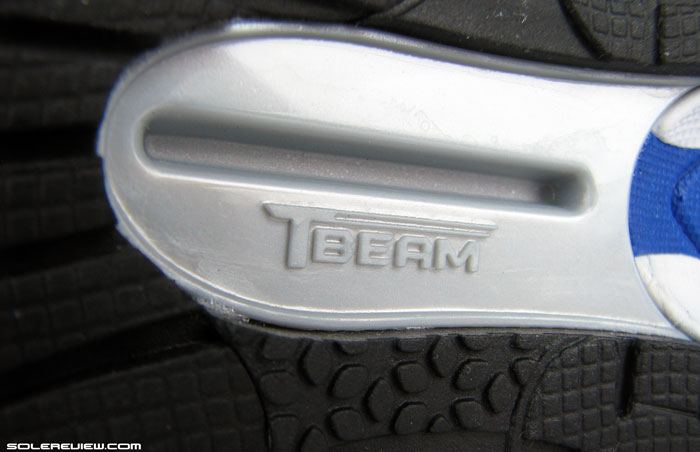 Midfoot is fairly rigid, as there's a mini version of the T-Beam plastic shank we saw on the larger 1260 V4. This keeps the center of the shoe from twisting sideways, and moves the flexing point ahead – where the shoe is supposed to bend. It prevents something like this from happening.
Despite using a midfoot shank, New Balance is still generous enough to cover the complete underside with rubber. Hard wearing compound under the heel, and softer blown rubber under forefoot. Traction feels great on the 860; tenacious front grip and not-so-bad stickiness at the back. Durability seemed somewhere between Brooks and Saucony carbon rubber.
We're on our fourth New Balance review here, and the upper fit continues to impress. In a sideways standard 'D-regular' size, forefoot space is just right and so is the toe box height.
Of course, this being New Balance, there are options of B, D, 2E and 4E widths available, but the medium D should fit a large percentage of runners. Materials are top-notch, textured synthetic leather, fused overlays, premium mesh and all.
860 incorporates a free moving strap into its upper for better midfoot lockdown, and at the same time keep the foot from sliding forward. It is functionally effective, without uncomfortable pressure as it is sandwiched between the upper and lining fabric.
Speaking of which, the lining's pretty smooth so barefoot use is not an issue, save for one small, yet manageable concern.
Tongue design is similar to 1260 V4, by which we allude to its ungusseted construction and elasticated portion near its front. The stretch portion is supposed to help the tongue drape better over the foot, but the tongue isn't as wide across as it was in the 1260 V4. So when pulled, the edges fold under itself, and this can be sensed over the foot.
In our case, we needed to reach inside with our index finger and straighthen things out. Now where did we encounter a similar bug? Ah, the adidas Adios Boost 2. Lace length was another area which could see some revisions. The 860 V5 comes with semi-elastic laces (similar to Saucony Guide 8) which do a great job at staying tied during runs, but they are too long, which has the tips slapping the sides.
New Balance's 'Asym heel' is used on the 860 too. Which is this internal stiffener counter with different medial and lateral heights. The medial side is higher and lateral is lower, as seen in the pictures here. The underlying logic is to give more support to the foot on inner side.
Regardless of design intent, extra upper stability doesn't hurt. Heel collar is good but not great. There's some padding thrown under soft lining, fairly basic set-up.
There is close to zero reflectivity on 860, with its application restricted to just a tiny strip on front. We think heel visibility to be necessary too, in case (for some reason) you are running in the same direction as approaching vehicles. With a low beam set-up, shoes are the first part to light up from a distance, not running shorts or tops.
The 860 V5 has its own place and purpose in its price band, exhibiting the highest degree of motion control amongst the new $110-130 'guidance/stability' shoes we've recently reviewed. That would be the Asics GT 2000 3, adidas supernova Sequence 7, Nike Structure 18 and the Saucony Guide 8. We'd even throw the Brooks GTS 15 in this list too, based off first impressions.
And one more thing. This shoe isn't made in the USA, like the 1260 V4, but in the far east, the foundry of most modern day running shoes. This doesn't mean good or bad, just saying.
(Disclaimer: For this review, Solereview bought the shoe at full US retail price.)