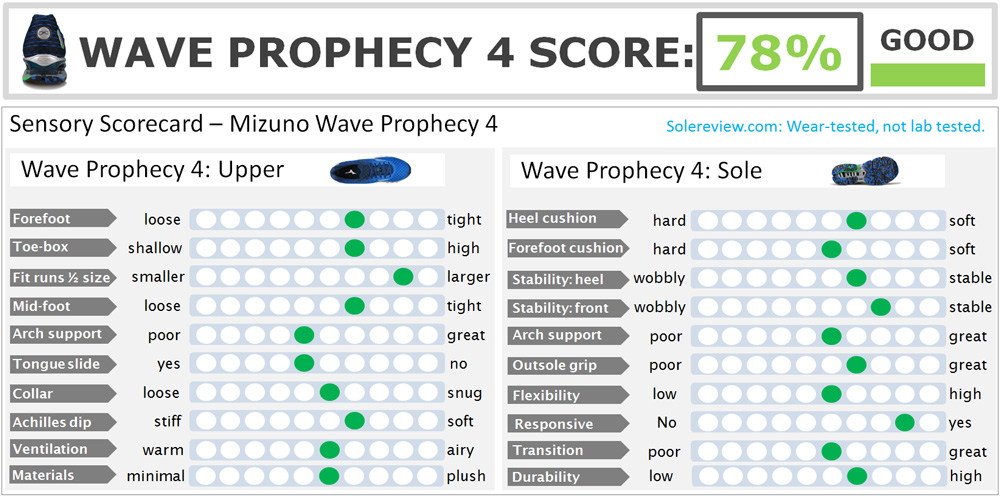 Color: Turkish Sea/Silver- Classic green
Mizuno's marketing pitch: An unparalleled experience that delivers maximum cushioning and unsurpassed ride.
Surfaces tested on: Road, ambient temperatures of 16° C/61° F
Upper: Soft mesh, synthetic leather, urethane molding.
Midsole: Compression molded EVA , Pebax  Wave plates, rubber pillars.
Outsole: Hard carbon rubber (X10) in heel, softer rubber in forefoot.
Weight: 398 gms/ 14 Oz for a half pair of US11/UK 10/EUR 44.5/CM 29
Widths available: D-regular (reviewed)
Without doubt, the last bastion of (near) foamless midsoles. The twin stacking of stiff Wave plates will summon a firm and responsive ride - if you're willing to pony up $200, that is.
Mizuno Wave Creation 16, adidas Springblade
Responsive ride, roomy upper
Price, inner seam irritates with thin socks or barefoot, little reflectivity
Brazil is an outlier in the performance footwear market. Because the kind of shoes sold there (and in South America as general) differ from assortments available elsewhere. If someone were to move to Brazil, and shortly after decides to go shopping for running shoes, he or she will be faced with product choices otherwise inaccessible in most parts of the word.
To illustrate our point, there is a copious count of footwear models using cushioning systems which mimic 'spring loading', a shock absorption system which relies on conspicuously bulky setups of plastic or foam. Example? adidas Springblade, Nike Shox, and Mizuno Wave Prophecy.
A virtual obituary has long been written for this general category of footwear, but nobody in Brazil seems to have got the memo. Myriad variations of such shoes sell in Brazil, including models which sell nowhere else globally. Like a adidas half Springblade (yes, such a Unicorn exists), with novel colorways and styles in Mizuno Wave. The Mizuno Wave Prophecy is also included in this grand scheme, selling in color make-ups which seem conjured exclusively for that market.
We have a vague theory about the why South America sells those shoes, but that would prolong the digression, and would not be wise to mix it up here. Perhaps that could be a tale for another day.
Three years ago, we reviewed the original Mizuno Wave Prophecy (v1) and talked about the what and how, besides delving into the patent number embossed on the Wave plate. We also said that these models had become a footwear anachronism, out of place and time in an era when midsole design is moving in a completely different direction. It isn't as if the brands have stopped trying; adidas got their Springblade out a couple of years ago and said things like 'this will turn the shoe industry upside down', 'revolutionize running' and other hyperbolic statements of similar nature.
As it turned out, those lofty words proved to be a poor prophet of things to come. It didn't exactly set the sales chart on fire.
There are some factors which make smooth sailing difficult for these 'mechanical cushioning' shoes. The common negative which runs through is the stratospheric near $200 price, which holds true for Springblade and Mizuno. The Prophecy 4's price is listed at $210, but you get it for $190 or whereabouts. adidas is priced similarly. That creates a concrete entry barrier for most of us with bills to pay.
Use of these cushioning systems lead to subjective, polarizing reactions about how the shoes look. So some people love the unique cosmetics, while others won't go near them. But ok, let's say you managed to cross the first two bridges; which being price and aesthetic appeal. Yet the third, and perhaps the most deciding factor remains: Do these mega-priced shoes really deliver the best in cushioning, comfort and transition?
Our answer would be an emphatic 'No'. Regardless of the price and visual bulk, a shoe will overcome the latter if it delivers a superior level of performance. Hoka shoes look like a baking exercise gone terribly awry, but guess what, few seem to care about that or their anti-value pricing. Hoka delivers when the foam meets the road. And this is where the 'spring' shoes fall short of expectations. It doesn't help that the use of helium filled words like 'revolutionary, unsurpassed, unprecedented, ultimate and game changing' load the shoe with an immense burden of carry-on marketing baggage.
The Mizuno Wave Prophecy is of the same mold. The $1 Billion+ Japanese brand's Wave platform has been used in countless models for the last two decades, but mind you, successful instances were single plate ones (Rider, Inspire, etc) with median price-points. The 'Infinity wave' – a name give by Mizuno to two-plate Wave stack cushioning – has also seen use in the moderately commercial Mizuno Wave Creation. A full heel to toe rendition made debut in the 2012 Wave Prophecy (our review is here) and 2015 brings in the fourth edition of Mizuno's most expensive running shoe.
Three years ago, our review echoed the sentiment that the Prophecy did have relatively higher levels of wave compression, and the upper material was certainly premium. But it was frustratingly hard to justify its $200 price, with the underlying notion that paying so much does not necessarily guarantee a superlative running shoe.
And after doing miles on the latest Wave Prophecy 4, our thinking hasn't changed much. While recognizing some of the updates done on v4 vs. the original, the shoe remains what it is: an ultra expensive shoe which can be called a decent shoe, and will find favors with runners who have a yen for its unique ride. But there's no envoking a sense of wonderment or excitement. Few shoes manage to do that. In recent memory, the Hoka Clifton and adidas Energy Boost occupy that rarified mindspace.
We cut ahead of the line to go straight from reviewing the 2012 Prophecy to testing the 2015 version, but guess what, we haven't lost much ground. The Prophecy 1 sole design carried over as is to version 2, and a new plate was introduced in version 3, which continues to be used on the Prophecy 4 without changes. So really, between the 2012 version and what we have here today, there has just been a singular design update.
So as far as cushioning and ride characteristic is concerned, you can treat this review as a comparison between Prophecy V1 and V3/V4, or V2 against V3/V4. The reverse of that will also be true. The upper has seen changes over each version though, so can't comment how V2 and V3 performed on that front.
The evolution of the Infinity Wave plate design does alter the Prophecy's behavior a lot, and we'll love to walk you through it. Before that, a quick overview of the Wave midsole construction.
In contrast to single Wave plate (a corrugated sheet of plastic) sandwiched between layers of foam, the examples of which are the Wave Rider/Inspire/Sayonara, Prophecy adopts a different approach.
It relies on two separate Wave plates one above other, and distanced by empty space and rubber pillars. The idea behind this design is to deliver cushioning and shock absorption through compression/deformation of this structure, both in heel and forefoot.
Plastic, after all, is hard. So there's an extra layer of midsole foam between the foot and Wave plate to keep stiffness under check, and there are further toppings of the EVA foam strobel and the ultra plush insole.
The strobel design is a bit unique, as it combines foam with a thin mesh like layer on top. Why is that so? We really don't know. Prevent the insole from slipping? Reinforcement? Maybe, maybe not.
There is a high level of standardisation across Mizuno models in any given year, and the removable insole is one of those parts which runs common across the line.
The blown foam footbed is what's used in Wave Rider 18 and Creation 16, and it lives inside the Prophecy too. The fabric used on top is super plush, and identical to what's used on the Rider 18 insole too.
Flip the shoe over, and there's the outsole, in its full rubbery glory. Hard wearing (and noisy) X-10 horseshoe shaped rubber on heel, and slightly stickier compound under the ball of your foot. There are a couple of deep flex grooves to help the bendy side of forefoot. Medial (arch side) heel area has a piece of foam between the Wave plate and the outsole, while the lateral side makes do with a splay notch.
The main story as far as differences in Infinity Wave design goes is the revised toe spring, combined with an overall lower profile. Sub plot would be the heightened sense of cushioning coming from the Prophecy 4 vs. P1 and P2. The why and how of it? Here it comes.
The picture above shows the original Wave Prophecy (same as P2) and its abnormally high front end. Toe spring happens to be the distance between the surface and the underside of outsole tip section. In this case, it was massive, and thus hugely influenced transition quality.
Running in the Prophecy 1 was like doing so in a rocker shoe; once your bodyweight transitioned to the front, it tipped over quickly, resulting in a roll over effect. Actually, if you ask us, that was the only thing which we thought was cool, other than the premium mesh upper.
Forward to Prophecy 4 (also 3), and that toe spring is gone, the forefoot silhouette now replaced by a lower toe spring. The latest Prophecy lacks any type of rocker motion, but it makes amends in a couple of areas.
The Wave plate is now extended further towards the toe tip; so much so that the forefoot Infinity Wave features an additional 'window' as compared to P1/P2. So less foam, more Wave.
From a firm, rocker inducing forefoot, Mizuno has transformed the Prophecy's forefoot into an area with more cushioning, Wave plate splay and flexibility.
This is despite the fact the older Ap+ foam has been replaced with U4ic, which is firmer. Key to the new experience is the revised outsole design, and the extra window of Infinity Wave we brought up earlier.
The additional window acts as a compression cavity, increasing the splay, and hence cushioning. But that's not where the main action is. If you look closely at the flex grooves, they are open on medial and lateral sides, but closed in the center. The ends of Wave plates disconnect at the point where the grooves are, but continues unbroken along the center, overlaid by outsole rubber.
So when weight is applied on the forefoot area, the side flex grooves, burdened by the stiff plate no more, stretch out slightly. All this happens in tandem with force being applied on the center strip, so what you get is a springy/splaying/cushioning sensation which is noticeable. Even when you're not very heavy. This also brings up the feeling of the foot spending more time on the forefoot before toe-offs. This isn't bad, except this is pretty much the reverse of what you'll experience in the Prophecy 1 and 2.
The Prophecy 4's heel runs softer than the first generation design. Ok, maybe soft might not the correct word to describe the Prophecy, but you do know what context we're using it in. Like the forefoot, there are quite a few updates around this area, making the heel Wave section a tad more pliable than before. Ingredients of this change, you ask?
Like the forefoot, the lateral side of heel crash pad has a flex groove which creates a gap in the wave plate. Complementing that is another groove situated right under the center – splitting the Wave plate under the heel edge – and this allows the lateral crash pad to work as a semi-independent unit. When that happens, you get more cushioning, or the sense of softness, as the heel deforms and momentarily breaks away (and snaps back again) on footstrike.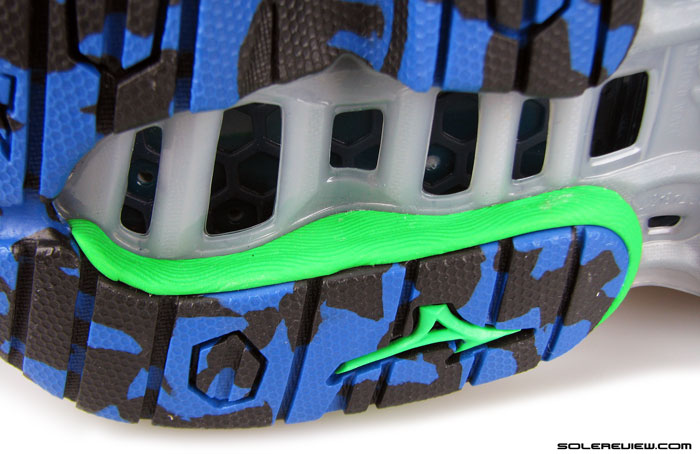 Also consider the fact that the foam insert (between Wave and the O/S) is softer than Prophecy 1 (and assuming P2 as well) which makes the landings slightly less hard. Additionally, there's the redesigning of the rubber pillars separating the top and bottom Wave plate.
Right under heel center (below the Achilles), the plates are joined by just a narrow strip of rubber, instead of the top Wave sheet dropping down to lay over the lower plate, as was the case in Prophecy 1 and 2.
The base of Prophecy 4 heel is narrower and lower profile than its previous design. Adjusting for this change in area, the twin rubber pillars reduce their width, creating more space between them. With a narrower heel footprint, footstrike forces are focused on a smaller area, resulting in easier compression of Infinity Wave plates.
But we did say that the use of the word 'soft' to describe Prophecy 4's cushioning was relative to its earlier design. The shoe's ride is tuned towards being more responsive – tinged with firmness than soft – with noticeable splaying of forefoot and heel wave plate. The removable insole is the only part which has some semblance of softness. Also to be pointed out that the Prophecy starts to 'break-in' not only over a course of time (as early as after 5-6 runs), but during the run. It might be a figment of our imagination, but the Prophecy feels different at mile five than it does at mile zero. Different in what way? It starts feeling a bit more conforming underfoot; it feels as if the Plates have 'warmed' up. A bit more malleable, for lack of a better word.
And our hunch could be right. The Mizuno Wave is made out of thermoplastic elastomer,  or Pebax Rnew to be specific. And here's a chart which shows the material softness at before (instantaneous) and after load is applied on the plate.
The Prophecy 4 is lower profile than P1 and 2, with reduced stack heights across. Makes it more stable, and less disconnected from the road. This change also brings the Prophecy 4 closer to the current generation Wave Creation 16. The Creation is slightly lower in the heel, but the (heel) cushioning levels are nearly the same and hard to tell the difference.
Lowering the Prophecy 4 is a step in the right direction. The shoe doesn't have the in-your-face molded bulkiness of the earlier Prophecy design; and it might not be a bad idea to further lower the Infinity Wave midsole, and add more (smaller) rubber pillars. Make it more responsive, increase outsole articulation, and you know what, more people might start giving the Prophecy a try.
For a shoe with so much going on under its forefoot, there's enough flexibility to go around – a sign of its changed character. The shoe bends in the front with a spring like behavior, owing to how the forefoot is redesigned – flex grooves and rubber bridges teaming up as happy co-workers. Durability is good on the Mizuno, with lots of hard wearing rubber married to the underside. Traction is better under the forefoot, with grippy hexagonal lugs scattered across the landscape, but the heel area is average. The X-10 rubber is hard, and lacks bite on most running surfaces.
The Prophecy 1 Wave midsole let off an industrial glue-y odor, and the same's the case with Prophecy 4. Could be the adhesive, or the metallic paint they use on the foam portion above the Wave plate.
We would be very curious to know how many footwear designers Mizuno have on their team. We're thinking, maybe a couple of designers, a bigger team of developers and colorist and an army of pattern and tooling engineers. How's that? You'll catch the sarcasm in what we just said, but you know what we mean.
Talked about in our Rider 18, Inspire 11 and Sayonara review(s), the current trend is that all Mizuno shoes sport a solitary upper design. A very subtle tweak here and there in materials, but other than that, all shoes look exactly the same. If you've seen one, you've seen them all. Most work should be adapting the upper design to different Wave midsoles, and that's pattern engineering for you.
The Prophecy's upper packs no surprises. Same as the Rider 18 and co.; synthetic leather toecap, eye-stay, and a circular patch on the heel with a smidgen of reflectivity.
Padded mesh tongue comes with no overlays and has embossed lining, and connects to anemic collar padding in upper heel. Molded Runbird logos are stitched on both sides of the upper, and now oft-seen metallic oval label on lateral side of the heel calls the shoe's name.
Mesh is a soft, single layered textile which feels nice, but not as much as the superlative variety used on Prophecy OG. Synthetic leather used is remarkably unremarkable for a shoe which requires a barter with two hundred dollar bills; the leather won't look out of place on a $50 shoe either.
Collar and tongue lining is exactly the same which shoes like the Rider/Creation. Mesh on the heel area gets a graduated dark-to-light color treatment, with dashed lines wrapping the rear-foot over.

Similar upper design converts into similar manners during runs. The tongue has a minor amount of slide (Prophecy 1's tongue was gusseted), and the arch-side seam will be a nuisance in case you decide to go running with thin socks, or worse, no socks. Splay room in the forefoot will suffice for most, and the sizing on this upper runs half larger.
Meaning, if you were a size US 11 in other brands, the Prophecy should see you through in 10.5. That's our read on the Prophecy; but as running shoes go, they need to be tried on first to make sure you're fitted right size-wise. Compared to the Prophecy 1, the P4 has more toe box room, as the shape transitions from being pointy to being more rounded at the tip.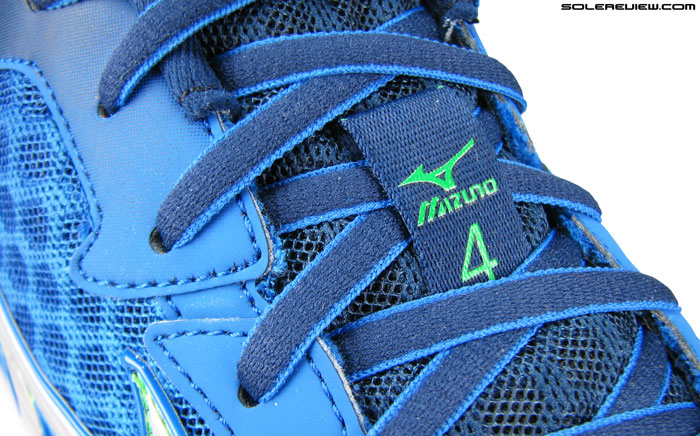 If you don't want to empty your pockets buying the Prophecy, what's the alternative? That's easy. The Wave Creation 16 is a very close match, with a near identical heel structure. The Creation's forefoot also conceals a single Wave plate, so you get the splay effect too. Admittedly, not to the extent of the Prophecy 4, but nevertheless an acceptable compromise for $50 less.
As for the Prophecy 4 itself, it isn't exactly the personification of the 'unparalleled experience and unsurpassed ride' promise. But then, there are runners who find the shoe to suit their individual preferences. It's always hard to put a value to something like that.
(Disclaimer: For this review, Solereview.com bought the shoe at full US retail price.)