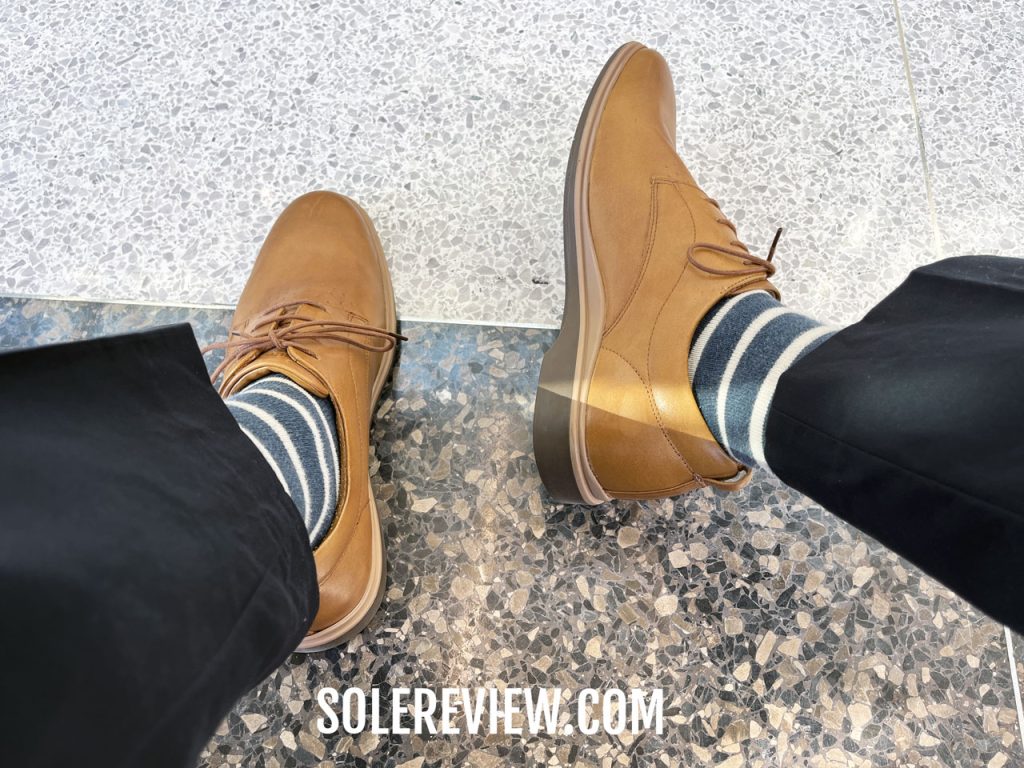 Amberjack's marketing pitch: The world's most advanced dress shoe.
Upper: Corrected grain leather, Derby silhouette.
Midsole and outsole: Single-density TPU in a two-tone effect.
Insole/footbed: Single-density Polyurethane foam with textile cover.
Country of origin: Portugal.
Airport-friendly: No, the upper has metal eyelets.
Waterproof: No. For use in dry weather only.
Vegan: No, the upper uses genuine leather.
Weight: 538 gms/ 1.3 pounds for a half pair of Men's US 10.5/UK 9.5/EUR 44.5/CM 28.5
Widths available: D - regular.
Color reviewed: Honey Tan.
The Amberjack Original isn't a bad dress hybrid shoe, but it's not as comfortable as we hoped it to be.
Decent leather quality, sturdy construction, all-leather lining, stable ride, durability
Stiff ride, lack of forefoot cushioning, heavy, narrow forefoot fit, excess space over forefoot, no widths, minor finishing issues
THE SUMMARY AND VERDICT
Solereview usually reviews running shoes, but we occasionally explore other categories like dress shoes and winter boots.
It's a nice break from our regular gig, and helps us from falling into a creative rut. It's also interesting to see the athletic footwear and dress shoe silhouette intersect in different ways.
Amberjack is a new dress-athletic hybrid shoe brand founded by folks who previously worked at brands like Cole Haan. By 'dress hybrid,' we refer to the category of shoes that combine a dress shoe upper with features borrowed from athletic footwear. We've reviewed many such shoes on this site; the Ecco ST.1 Hybrid, Florsheim Midtown, and Cole Haan Originalgrand are noteworthy examples.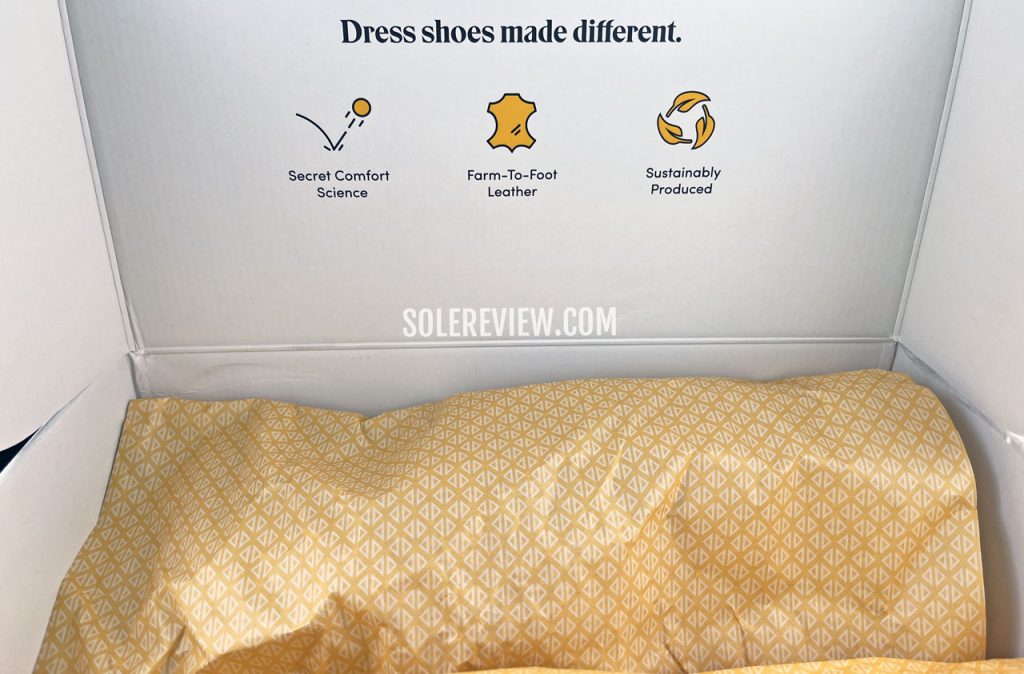 We've seen Cole Haan's quality standards (along with Johnston and Murphy) deteriorate over the years, so a new brand that promised to do better piqued our curiosity. On its website, Amberjack claims that it is the 'world's most advanced dress shoe.'
To test their claims, we bought a pair and wore their 'Original' dress shoe for over a week to see if the on-road performance backs up the claims. This involved a week of regular office commute, including a 4-hour walking session at an exhibition on public grounds.
So – what do we think?
This made-in-Portugal product has been designed with good intentions; the upper uses a decent quality of leather for its price. And except for the layer of low-density EVA foam under the insole, there are no signs of quality compromises. The construction feels solid and durable.
The brand has also opted to make their tooling (sole and insole) from the ground up, as opposed to retrofitting an existing design. The lining is 100% leather, even inside the forefoot. The cloth bag is also a nice touch.
However, their lack of experience as a shoe maker reflects in their odd design and material choices; the Amberjack Original dress shoe feels like a work in progress. Let's begin with the weight. Our pair of US 10.5 weighed over 18 ounces (or 1 lb 3 oz), so a median size US 8 will still come in at over 16 ounces.
To be clear, 16 ounces is acceptable weight territory for a shoe that uses a TPU or TPR (Thermoplastic rubber) outsole. For example, we've reviewed the Florsheim Midtown (TPR sole) on this site, and it weighs above 16 ounces. The Ecco ST1. Hybrid also weighs over 16 ounces, but it uses a PU (Polyurethane) sole instead.
The issue with the Amberjack Original isn't its weight per se, but rather its ROI on the bulk.
Besides the obvious benefits of using a TPU sole – like stability and long-term durability – there isn't much to show for it.
The heel footbed is not as plush as we hoped it would be, and the thin forward taper makes the forefoot lacking in comfort. The Amberjack Original has a stiff midsole, so this is unlike other dress shoe hybrids.
Also, using stiff TPU as a sole material is odd; the softer TPR (synthetic rubber) is usually the material of choice.
While the upper runs true to size, there's excess space above the forefoot – this is where the perforations are. That contrasts with the shallow and narrow fit over the pinky (small) toe; this turns uncomfortable during multi-hour sessions.
So what's our verdict? The Amberjack Original is a nicely-constructed shoe, and one of the very few in its class (dress hybrid) to be made in Portugal. The brand also claims that its leather is sourced from an ISO-certified sustainable tannery, and that's always a good thing.
We hope that future iterations of this shoe are an improvement. That said, if you're currently searching for a comfortable dress hybrid, this $180 dress hybrid doesn't make a compelling case for itself.
THE SOLE DESIGN AND RIDE COMFORT
The first thought that comes into mind when you hold the Amberjack Original in your hand is its weight. Our pair of US 10.5 tipped the scale at 1 lb and 2.8 ounces – in metric terms, that's 538 grams for a half pair. In plain English, that's half a kilo for one shoe.
When sized down to the median size of US 9, we guess is that it's still going to be a 16-ounce (480-gram) shoe. Not all shoes that are heavy are bad, just like how all lightweight shoes aren't necessarily good.
Given the right context, even a 16-ounce shoe can be excellent. We've seen that on the Ecco ST.1 Hybrid and Florsheim Midtown Oxford – both 16-ounce dress hybrid shoes that also happen to be comfortable.
However, the Amberjack Original's heaviness isn't offset by tangible performance benefits.
The TPU sole is extremely stiff, so every step feels hard at the point of contact. Though the brand claims the sole is dual-density, it's a single-density unit with a two-tone effect. Both layers are equally hard.
The ride stability is a silver lining, as the TPU sole doesn't compress at all. Long-term durability also appears promising; after the initial scuffing at the heel edge, the sole is holding up quite well.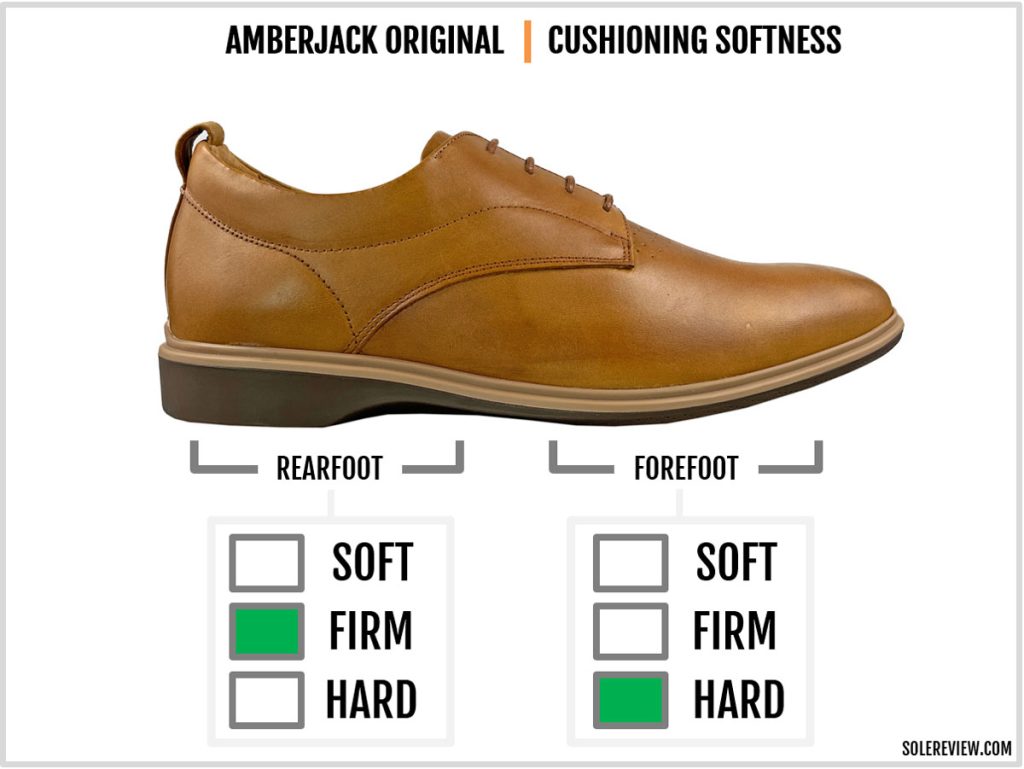 To compensate for the stiff sole, a thick removable insole tries to make amends. It's thickest under the heel, and tapers down to a very thin forefoot. Despite its thickness, the footbed doesn't produce a comfortable layer of step-in softness.
The product page compares it to a 'more durable version of memory foam', but it is nothing like memory foam, not even close.
Going by the molded bubbles on the bottom, the insole appears to be single-density Polyurethane foam with a textile covering.
As far as footbeds go, it's very firm even at the thickest point, and the cushioning under the forefoot is practically non-existent. The TPU insole is also thinnest under the forefoot, so the ball of the foot isn't well protected.
There are a couple of issues with this setup. The foot gets sore after standing or walking for long hours – one of our testing sessions involved walking around for over 3 hours at the Canadian National Exhibition – an annual fair that takes place in Toronto.
The lack of forefoot comfort was conspicuous by its absence, and the thin sole also lets the surface imperfections through.
For example, if you were to walk on a cobble-stone trail or gravel path, the contours can be felt through the sole. On a related note, leather soles of a similar thickness perform better in this area due to their dense fibrous structure.
There's a cellulose board above the main sole, and atop it is a layer of a cheap, low-density foam.
We're not quite sure why this layer exists – it serves no purpose, both from a comfort and structural perspective. It's too weak to be a lasting material, and too thin to provide step-in softness.
In either case, any softer foam should be at the top – not at the bottom – to enhance the step-in softness.
While the sole has a flared arch area, that doesn't create a pronounced sensation of under-arch support. That's because the removable insole doesn't have a matching flare, and the upper fit doesn't hug the midfoot. These factors dial down the sensory aspect of arch support.
So there you have it – the Amberjack is a dress hybrid with a hard ride, and there's only so much the firm insole can do.
Which begs the question – why did the Amberjack Original stray from the best practices of dress-hybrid silhouette? We hypothesize that it has to do with the country of origin.
Portugal, along with neighboring Spain, is the new Mecca for value-oriented dress footwear. Carmina, for one, is a popular Spanish dress shoe brand. Other brands like Suitsupply, Spier & Mackay, and Mvrqvist source a part of their dress shoe assortment from Portugal.
This $200-400 segment combines acceptable leather quality with traditionally constructed soles, either through Goodyear Welt or Blake Stitch attachment methods.
And therein lies the catch – while Portugal and Spain specialize in dress shoes, dress sneakers aren't their forte. Their limited experience with manufacturing dress hybrids doesn't allow them to tap into the design practices and components like how Asian factories do.
Also, specialization in dress shoe making is entirely different from the kind that seeks to maximize athletic footwear comfort on a dress sneaker.
How else does one explain the use of a stiff TPU sole instead of the softer yet equally durable TPR – which, by the way, happens to be the industry standard?
Or the use of a firm insole without a leather-lined footbed, arch support, or soft layers that less expensive Clarks or Florsheim have? Even Johnston and Murphy – a brand that has seen better days – is generally more comfortable than an Amberjack.
THE UPPER DESIGN, MATERIALS, AND FIT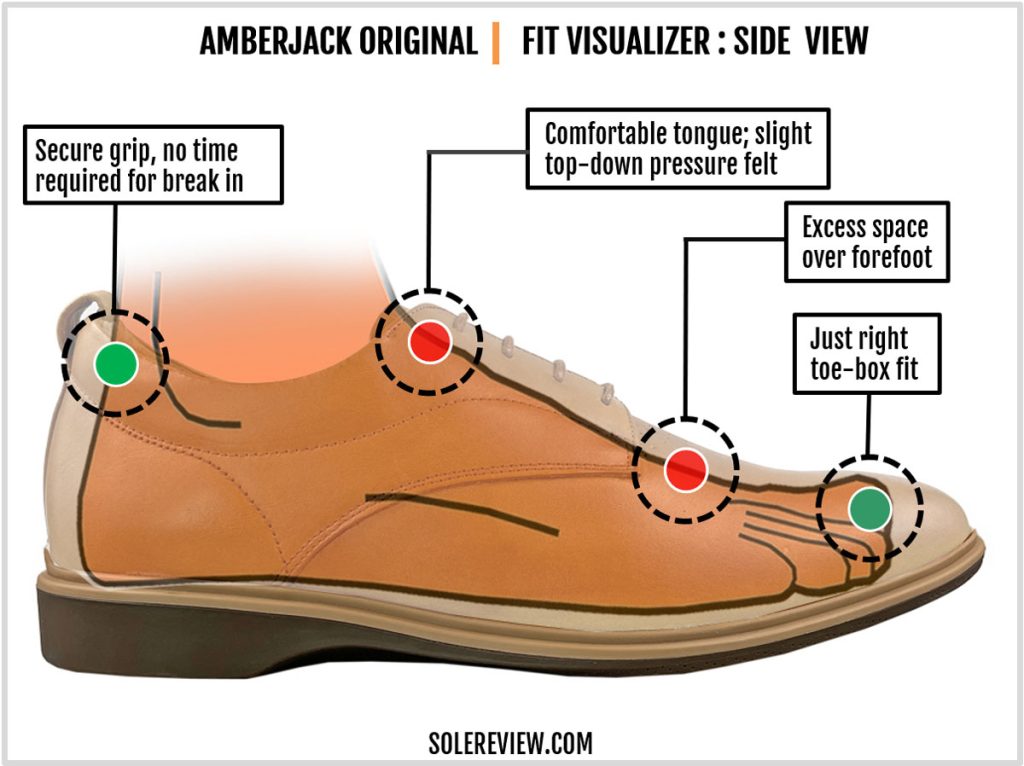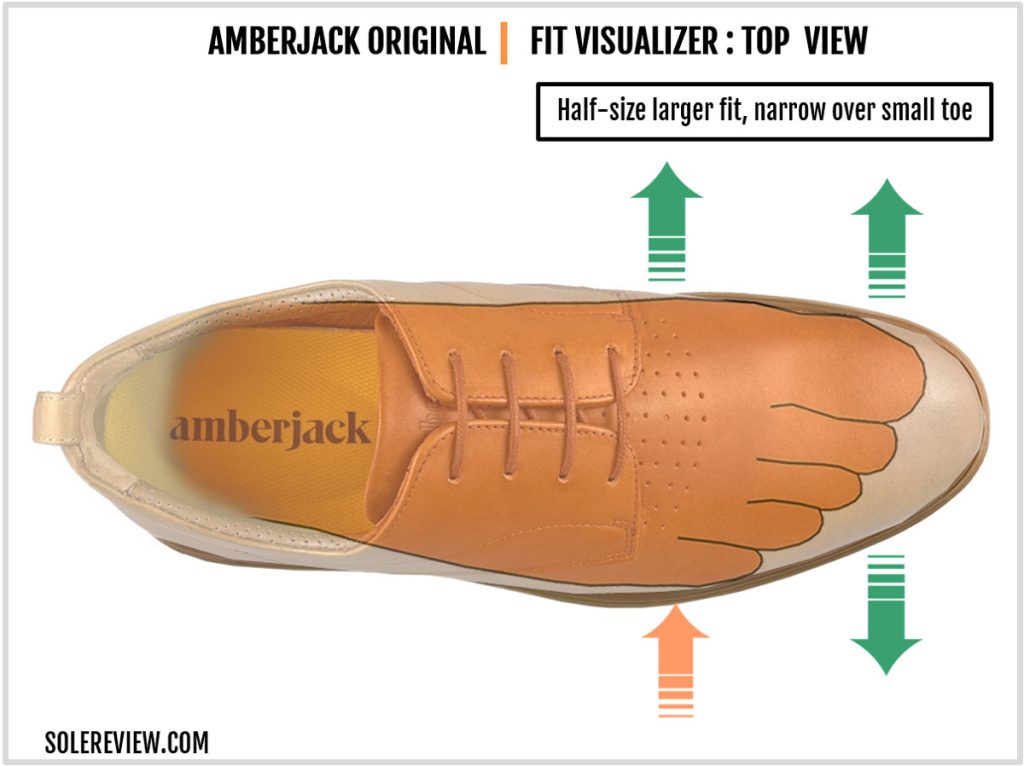 This is a shoe with a quirky fit. From a sizing perspective, we bought a half size larger than our regular size. For example, if you're a US 10 elsewhere, it's going to be a US 10.5 in Amberjack. Well, if you're narrow-footed, you can get away with a true-to-size fit.
However, the forefoot fit is an area that one needs to be mindful of. The upper presses against the small (pinky) toe, so standing or walking for long hours may result in minor discomfort – and more acute if you're broad-footed. At the time of writing this review, optional widths are unavailable.
There's also excess space on top of the forefoot – this is where the perforations are. When flexed, this results in a deep crease because of the excess material.
By the way, the perforations on the top have no functional use, as the inner lining (see image above) lacks matching holes.
The foam-padded tongue is very comfortable; the leather lining is buttery smooth, and an elastic gusset keeps the tongue from sliding.
However, the upper never quite felt right under the tongue. This could be an isolated issue on our pair, but there is a pressure hot spot on the inner side – between the first and second lacing row. This is where the seam connects the tongue to the forefoot.
It never gets to the point of discomfort, but more like a nagging sensation – you know it's there.
Other than that, the insides feel very smooth. The entire lining is made of leather – the forefoot has a smooth texture, whereas the heel and midfoot use perforated leather.
The heel collar is padded with foam, and an internal counter locks the foot down. That being said, the sheer weight of the sole pulls down on the heel, so some wearers may feel as if the heel is slipping.
The pull tab is cosmetic at best, as it's too small for the fingers to pass through, and too short to grab.
There were minor finishing issues and alignment problems on our pair, so make of that what you will.
PROS AND CONS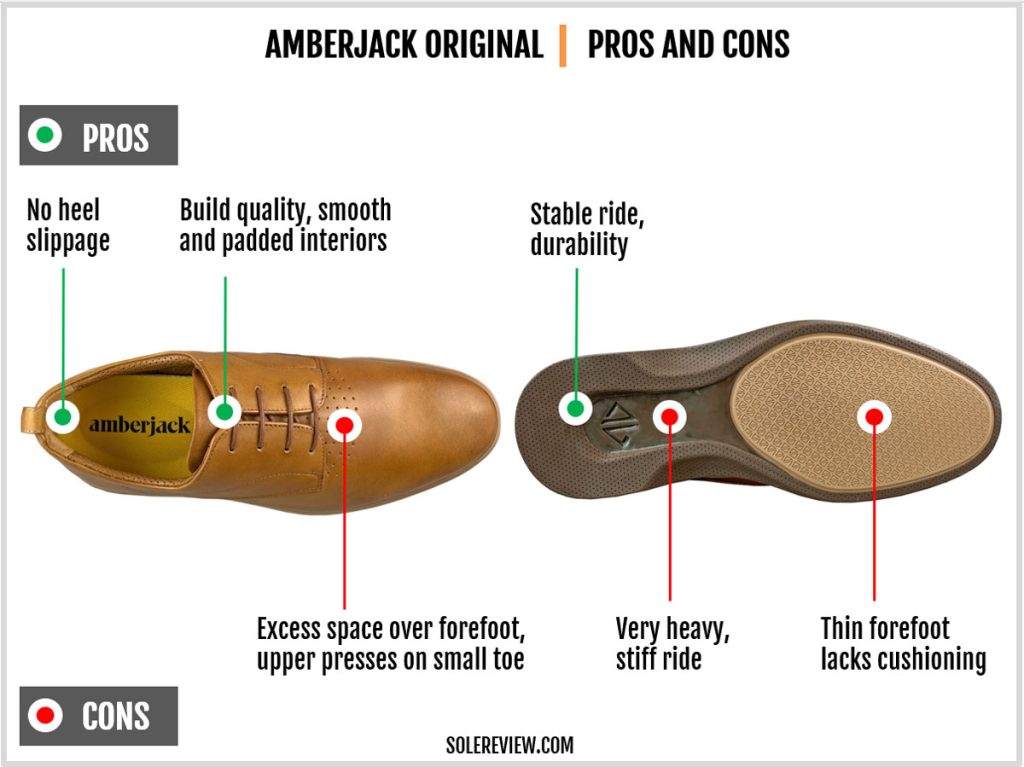 There are a few things we like about the Amberjack Original shoe. It's well-built, and the materials used are par for the course. While we won't call the shoe value for money, there's some premium for the European manufacturing and the all-leather construction.
At the same time, there's an unmistakable sense of missed opportunity. The shoe should have been 4 ounces lighter, plusher, and with better upper fit proportions.
SHOES SIMILAR TO THE AMBERJACK ORIGINAL
If you're in the market for a dress shoe hybrid – by which we mean a traditional derby-style upper mated to an athletic sole – we recommend trying the Ecco ST.1 Hybrid.
Sure, it's $60 more expensive than the Amberjack, but in return, you get a more comfortable ride and sorted upper fit. The true welt also gives the ST.1 a conventional aesthetic, but with all the benefits of a performance dress sneaker. It's also available in a waterproof Gore-Tex variant.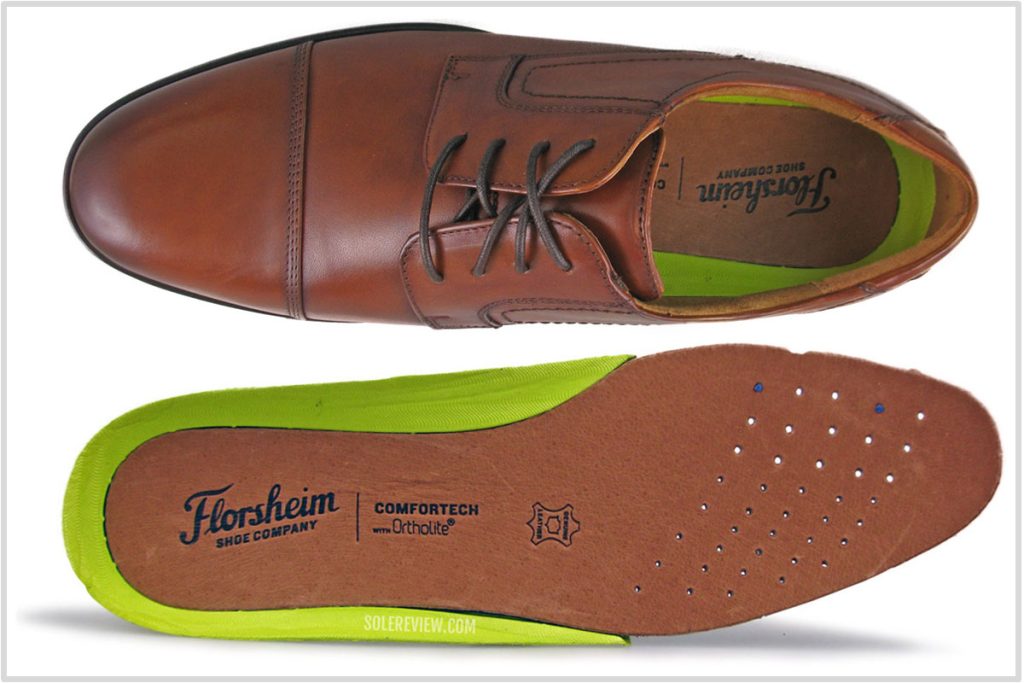 It's also worth considering the less-expensive Florsheim Midtown Oxford – the leather-lined Ortholite footbed adds step-in comfort over the flexible TPR (synthetic rubber) sole. The upper is lined with soft synthetic suede for interior comfort. If the cap toe version doesn't interest you, the Midtown is also available in a plain toe derby.
The Clarks Un Tailor tie is a lightweight dress sneaker that also looks very traditional due to the tonal black EVA foam midsole. Comfort-oriented features like the leather-lined Ortholite insole make the Un Tailor Tie excellent for all-day wear.