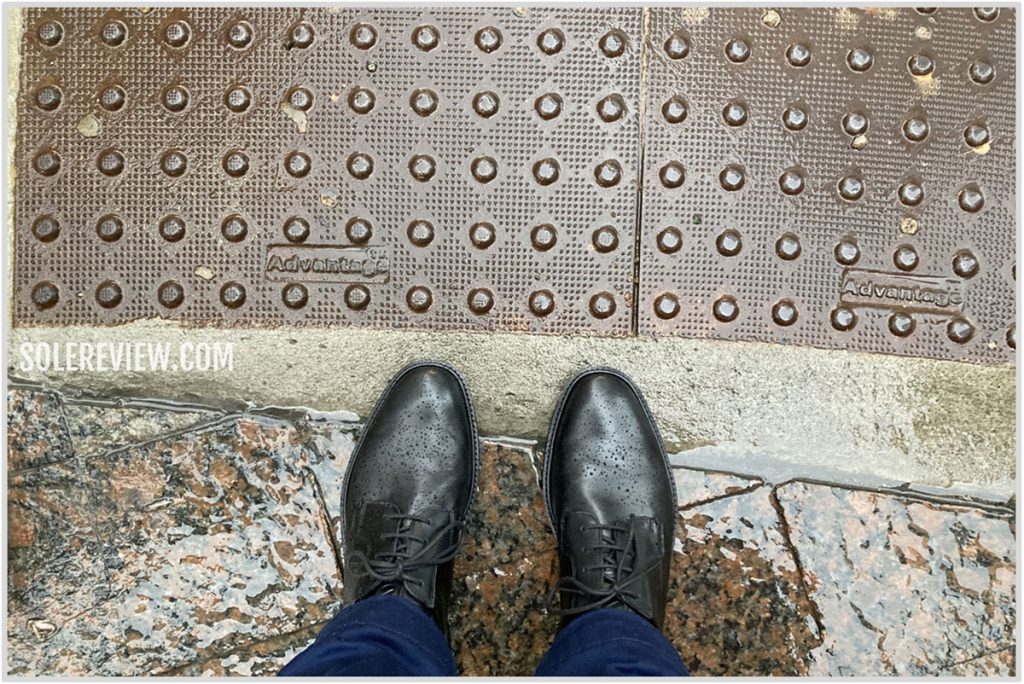 There are only three ways to keep your dress shoes dry when it rains. The first method is the easiest – negotiate a permanent work-from-home arrangement with the boss person. That way, if you stop commuting to work, your office shoes stay home and dry.
The second is somewhat of a middle ground, as it involves buying a pair of Galoshes to cover the shoe. However, this won't prevent the water from entering from the top. Also, thin Galoshes aren't very durable in the long run.
If you want to go the Galoshes route, then we recommend the Swims Galosh. Or any other Galosh you can find at your local shoe store. As long as it's not made of PVC, the brand and price doesn't matter.
We prefer the third way, which is to buy a pair of waterproof dress shoes. Ok, calling them 'dress shoes' is taking liberty with the sartorial term. Like the products featured in our comfortable dress shoe guide, these dress-sneaker hybrids use a non-leather sole.
However, these products outperform traditional office footwear during rainy weather, and we say this due to a few reasons:
Non-waterproof leather uppers are prone to damage from moisture
When a high-quality dress shoe without a waterproof upper absorbs water, the leather turns brittle. The natural oils within the fibers bind to the moisture and make the leather dry and stiff.
Ironically, the better the leather, the more prone it is to moisture damage. High-grade Aniline leather lacks a corrective coating on top, thus absorbing water rather easily. Deerskin is somewhat of an exception as it doesn't turn brittle after getting wet. But Deerskin is less commonly used in dress shoes because of its unique texture and hand-feel.
So even with a fancy waterproof Galosh, it's best to leave behind your pricey Edward Green, Paolo Scafora, or Santoni dress shoes at home instead of taking them to work.
Sure, dress sneakers have highly-corrected leather of a lower grade, but then, that's the understandable trade-off for waterproofing.
Protective sprays are ineffective and damage the leather
One of our pet peeves is a store associate trying to upsell a 'protective waterproof spray' with your leather shoe. Never, ever buy those sprays. Here's why.
If you're already buying a waterproof leather shoe, what good is the spray?
On the other hand, if you're planning to buy a regular leather shoe and make it water-resistant by using the said spray, then that doesn't make sense either.
A spray does not make a regular leather upper waterproof. Shoes get their waterproofing properties from a membrane or laminate like Gore-Tex, and not because of surface treatment.
As a side note, surface finishes like DWR work well on garments. But again, such apparel are merely water-repellent and not waterproof.
Waterproof sprays will ruin high-quality leather uppers, as the chemicals block the 'grains' on the surface. Not only does this affect the breathability, but also makes it more difficult for the leather to absorb the essential oils from conditioning creams.
So the next time you're offered such a spray in a shoe store, politely decline.
Synthetic outsoles have better traction on wet surfaces than dress shoe outsoles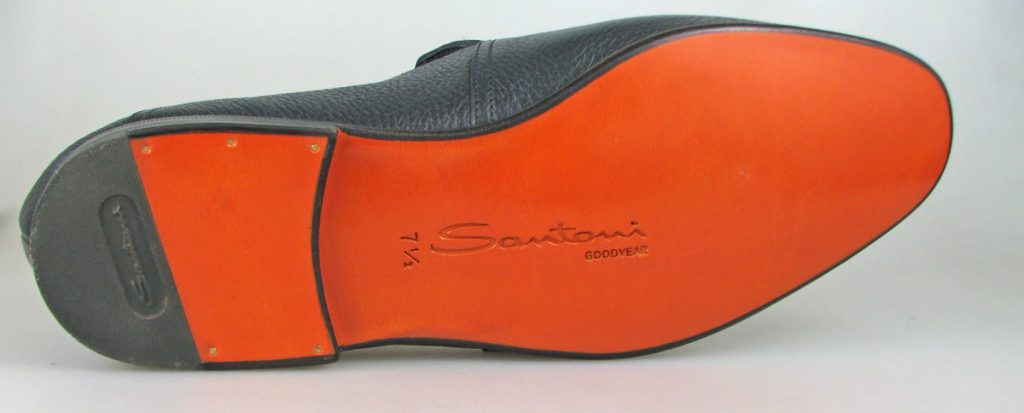 Most conventional offce footwear use leather soles with rubber inserts under the heel and forefoot. A lot of high-end leather shoes will use no rubber at all. This makes the soles and upper susceptible to water entry – even with a fancy-sounding construction like 'Storm Welt'.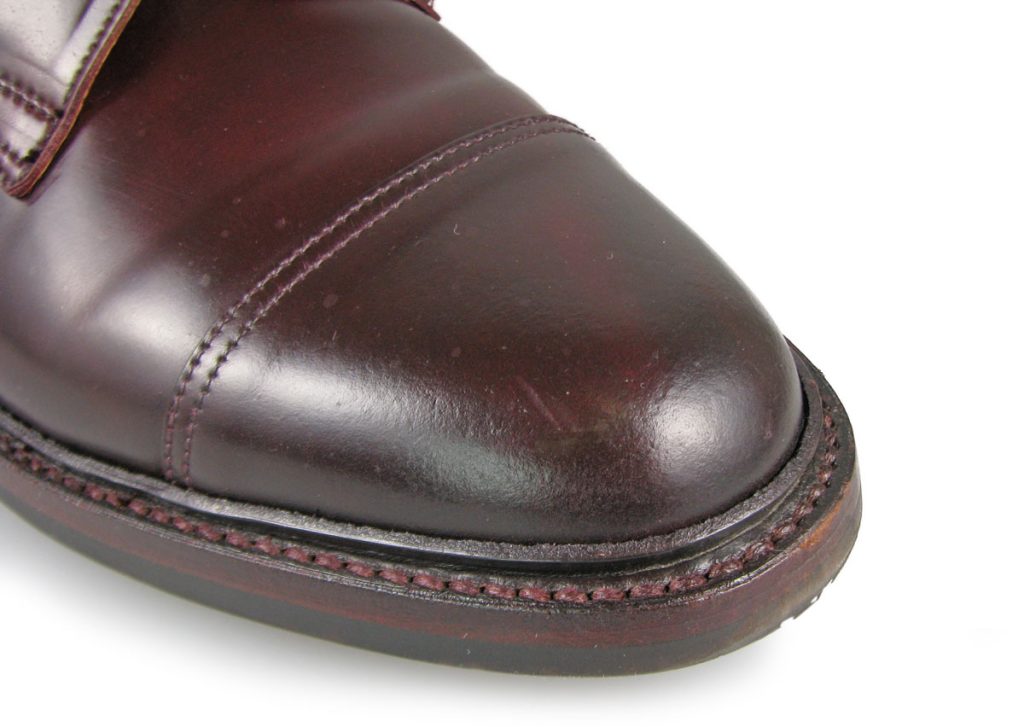 A Storm Welt is nothing more a variation of Goodyear Welting. As you can see in the picture above, the raised welt forms a 'cup' around the leather upper. However, a storm welt alone does not make the shoe waterproof. On the other hand, a rubber or foam outsole doesn't absorb moisture.
A rubber sole also provides superior traction. A grippy outsole is extremely important for walking on rained-on walking surfaces, and that's where a dress sneaker will outperform a leather sole.
Dress sneaker hybrids are more comfortable
Last year, we wrote a buyer's guide that made the case for dress-athleisure shoes.
By combining traditional dress shoe styling with elements from athletic footwear design, these contemporary products offer a higher degree of comfort than conventionally constructed footwear.
Features like foam-lined footbeds and cushioned midsoles significantly elevate the level of fit comfort.
Based on our wear-testing and research, two brands sell shoes with reliable waterproofing. Ecco relies on proven Gore-Tex technology to make their shoes waterproof, and they perform as advertised. Our review of the Ecco ST.1 Hybrid GTX attests to that.
Our other preferred brand is Johnston & Murphy.
Even though their shoes do not use Gore-Tex, their proprietary XC4 waterproofing is very effective. We also like how J&M designs its uppers. Unlike most shoes featured here, J&M uppers use a full sleeve or a bootie construction. That's the reason why we excluded 'regular' looking J&M shoes like the XC4 Maddox in the favor of XC4 Prentiss and Lancer.
For example, the Ecco shoe doesn't even have a full sleeve, nor does Clarks or Florsheim.
While there are exceptions, we've deliberately featured uppers with a plain toe design. Those are easier to wipe clean when compared to brogue wingtips or cap-toes.
Lastly, if you want a weatherproof shoe that's closer to a true dress shoe than a dress sneaker, then we recommend weatherproof shoes from Allen Edmonds.
In particular, the AE Strand weatherproof Wingtip with a storm-welted Dainite sole looks promising, and so does the Venture weatherproof Cap Toe Derby. Both these AE models are manufactured in the US, so they run a few hundred dollars and change.
The shoes are arranged in our order of recommendation:
1) Ecco ST1 Hybrid Gore-Tex
The Ecco ST.1 Hybrid GTX is our top pick for several reasons. Thanks to the conventional derby styling, it's the dressiest of the lot. Therefore, it's going to blend into most formal workplace settings.
Besides the clean visual design in an all-black color, it helps that the Polyurethane midsole has a real welt attaching it to the upper. Our in-depth review is here.
There's plenty of ride comfort as well. A leather-lined footbed with a molded arch delivers a plush and supportive layer of step-in comfort.
The Polyurethane midsole that Ecco calls 'Phorene' offers everyday comfort and stability. The synthetic rubber outsole is traction-friendly as well.
The ST.1's Gore-Tex waterproofing is effective, but with a caveat. This is a low-cut shoe, so prolonged exposure to rainy weather will cause the water to enter through the tongue opening.
2) Johnston & Murphy Prentiss Plain Toe
The J&M XC4 Prentiss Plain Toe and Lancer Wingtip are the only two shoes on this guide with a bootie construction. In other words, the Prentiss and Lancer lack a separate tongue.
Instead, the upper has a completely closed heel collar that does an excellent job at keeping the water out. The Prentiss is a part of J&M's XC4 (short for extreme comfort) assortment, so it's loaded with comfort-oriented features.
The Sheepskin footbed of the removable insole makes the interiors plush; underneath, a dual-density midsole combines EVA foam with a Polyurethane outsole for traction and stability.
Just know that the Prentiss and Lancer have a 'dual width' insole, meaning there's (another) functional footbed below the insole. Removing the insole will reduce some cushioning comfort but increase the interior space for wider feet.
3) Johnston & Murphy Lancer Wingtip
At first glance, the Lancer and Prentiss look alike due to their bootie heel construction without a tongue flap. The sock-like design also gives both the shoes a waterproofing advantage over the others.
Having said that, there are a couple of important differences.
The Lancer's upper has an Oxford construction; conversely, the Prentiss's external quarter panels make it a Derby. The Lancer also has a different midsole and outsole. Here, the midsole is mostly EVA foam with outsole rubber used only under high-wear areas.
Like the Prentiss, the Lancer's 'dual-width' insole is leather-lined and can be removed to create more interior space. The insole and midsole stack adds plenty of ride comfort for all-day wear.
It's also worth mentioning that the neoprene-like sleeves of the XC4 Prentiss and Lancer have 70% recycled plastic content.
4) Ecco CityTray Plain Toe GTX
Functionally speaking, the Citytray GTX offers no additional waterproofing benefits over the ST.1 Hybrid. Both models share a half-gusseted upper with a Gore-Tex lining, so neither is better or worse during a rainy day.
However, the CityTray's silhouette is more traditional – thanks to its heeled Polyurethane midsole/outsole. In contrast, the ST.1 Hybrid lacks a separate heel block.
The Citytray isn't lacking in ride comfort, though. The leather-lined footbed is comfortable, and so is the PU midsole. Since it lacks a welt or a rubber outsole, it's a lighter shoe than the ST.1 Hybrid.
5) Florsheim Forecast plain toe
The aptly-named Florsheim Forecast is waterproof, so that you don't have to check the weather forecast before leaving for work. Along with the Ecco ST.1 Hybrid and Citytray, this shoe is another safe styling choice that gets its footwear-101 right.
The waterproof lining aside, the Forecast is a nicely-constructed dress shoe hybrid with a comfortable fit and ride quality.
To be specific, the supple leather upper and the padded lining make the interiors very comfortable. The tongue even has a folded flap with soft leather lining. The waxed laces give the upper a dressy touch as well.
The removable insole is fantastic; it could be straight out of a running shoe. The molded leather-lined footbed and EVA frame blend cushioning softness with under-arch support.
Finally, the grippy outsole is non-marking – a feature that no other shoe on this guide has.