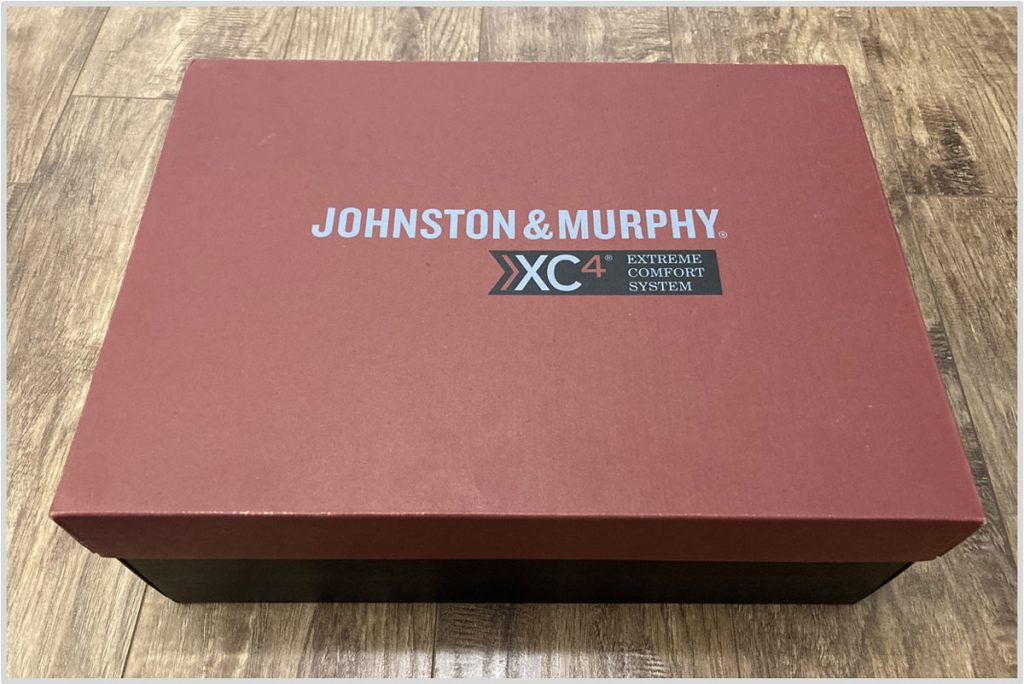 This article has been updated with current models for May 2021. The Ecco ST1 Hybrid Brogue Tie, Johnston and Murphy XC 4 Maddox Plain Toe, and Holden Wingtip are new additions. The Dockers Hawkins Oxford, Johnston and Murphy XC 4 Branning Moc Toe, and J&M XC4 Elkins Wingtip have been removed.
What's the best way to break out of a running shoe content rut? Writing about dress shoes is a good way. And not just any dress shoe – but ones that combine old-school traditionalism with comfort derived from the running shoe world.
Unlike most websites that compile such lists, this article is written by a trained shoe-maker. Therefore, we also know that the term 'dress shoe' cannot be applied to the shoes on this guide. Not in a strict sartorial sense, at least.
These shoes are more like dress sneakers that are better suited for jogging-style 'dress pants' than pleated trousers cut of super-130s cloth. Perhaps the term 'office-wear' is more appropriate and a good compromise.
We have experience making dress shoes by hand – the old school way. That means starting with a basic sketch and then drawing on a masked shoe last, followed by cutting patterns and size grading.
We've also cut fine grain leather and skived the edges so that they fold easily without the bumps. We've stitched dress shoes and lasted them manually by pulling the edges with a pair of pliers and then hammering over.
We've made leather soles too, including grinding, painting, and polishing. We've built Goodyear-welted shoes too – the gold standard of upper and sole attachment.
And what, exactly, is the point of this seemingly irrelevant technical rant?
If there's one thing that making dress shoes has taught us, it's that they are not comfortable. Not when you compare them to the modern athletic sneaker.
The traditional dress shoe design and construction haven't changed in over a century – and the shoes originated in a time when terms like 'foam' or 'cushioning' do not exist. Dress shoes were made almost entirely (save for a few Cork bits) of leather and delivered an extremely stiff fit and feel. A break-in period wasn't optional.
And as far as the sole cushioning was concerned, authentic dress shoes feel like a piece of wood. Also, some leather dress shoes still use metal shanks that light up security detectors at airports. Also, the grip of all-leather outsoles is terrible on smooth floors when new.
The generalization also applies to slightly (more) informal footwear like Chelsea boots or loafers that are produced using dress shoe techniques. A picture speaks a thousand words, so here are a few examples that make our point that much clearer.
So this guide isn't about dress shoes with an all-leather construction with Goodyear welting or Blake stitch.
Sometime during the '80s, office-wear shoes went through a rapid transformation due to the introduction of Polyurethane and rubber soles. This allowed the upper to retain its classic design while offering notable comfort-oriented improvements.
Brands like Clarks, Mephisto, and Rockport have been selling comfortable dress shoes for the last couple of decades. Many of their products combine formal silhouettes with rubber or foam midsoles – a design that makes walking or standing comfortable. A soft, foam-lined footbed is often part of the package.
The second wave of innovation came a decade ago, one that produced an exponential upside in dress shoe comfort. The change can be traced to a single brand – Cole Haan. The brand was then owned (not anymore) by Nike, which in its usual enthusiasm, decided to mate a staid Wingtip Oxford with a Lunarlon midsole.
Back then, Lunarlon foam was used in many Nike running shoes. So suddenly, there came a product with the aesthetic of a dress shoe and the ride comfort of a running sneaker.
It was called the Cole Haan LunarGrand Wingtip, and its contrast color midsoles spawned a thousand imitations. Today, office-friendly shoes with comfortable EVA midsoles and soft insoles are a ubiquitous sight, so this is a great time to write this buyer's guide.
We've curated nearly a dozen models from hundreds of available options using the following filters. We do this for every guide so that you can explore other options not mentioned here.
1) Non-leather soles: All the models featured here either have a rubber, Polyurethane (PU), or EVA midsoles. Besides adding comfort, foam midsoles help keep the weight low.
2) A comfortable footbed: A soft insole is essential for step-in comfort. Shoes like the J&M Maddox have removable insoles that can be substituted with a custom orthotic.
3) Preferably leather-lined interior or footbed: This type of construction elevates the fit and ride comfort.
4) Leather uppers in a traditional silhouette: Because – non-leather shoes stray into the casual shoe category. We may well as make a running shoe guide then.
5) Safe colors: If you think that the colors seen here are boring, that's because you're right. Most workplaces with a formal dress code will frown on sneaker-type colors. So this is a 'black and brown' shoe guide.
6) No luxury dress shoes: Except for the Mephisto, most shoes range between $130-200 here – much lower than brands such as Ferragamo, John Lobb, or Santoni that can easily cost north of $1000. We'll probably do a luxury shoe guide in the future, but those products are off-menu for now.
7) Additional features such as waterproofing: A water-repellent upper comes in handy during winter rains or spring showers. Wherever applicable, we'll call that out in the product description.
This guide contains various dress shoe silhouettes, so here's a quick style primer. A Wingtip Brogue is the most formal, followed by plain toe, Faux Moc with a stitched Apron, and finally sporty dress shoes with contrast color midsoles. Your choice should be based on how conservative (or not) the social setting is.
Our pick would be shoes from either Ecco, Johnston and Murphy, and Cole Haan – they offer an excellent balance between decent, if not great, construction, along with ride comfort and additional features such as waterproofing.
In particular, we like the Johnston and Murphy's Maddox Plain toe. It's got everything – a comfortable ride, dressy upper, waterproofing, and a removable (dual) footbed that can accommodate different foot widths or chunky winter socks.
The shoes are sorted alphabetically.
1) Clarks Un Tailor Tie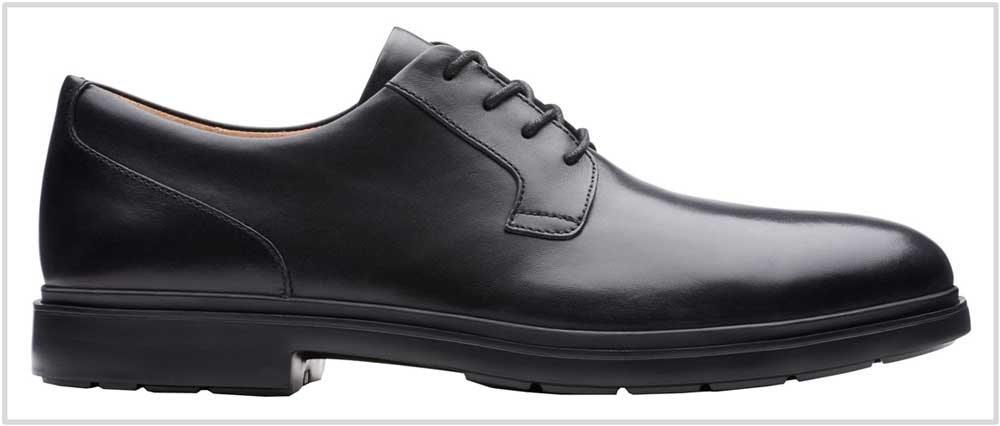 As a simple yet comfortable office shoe option, the Clarks Un Tailor tie-up should be on your radar. This is a basic Derby-style silhouette that is suitable for most workplaces.
Large panels of full-grain leather keep the aesthetics clean, while the leather-lined tongue and collar make the interiors comfortable.
The ride is fairly cushioned for a dress shoe, thanks to the molded Ortholite insole over an EVA foam and rubber midsole.
2) Cole Haan OriginalGrand Wingtip Oxford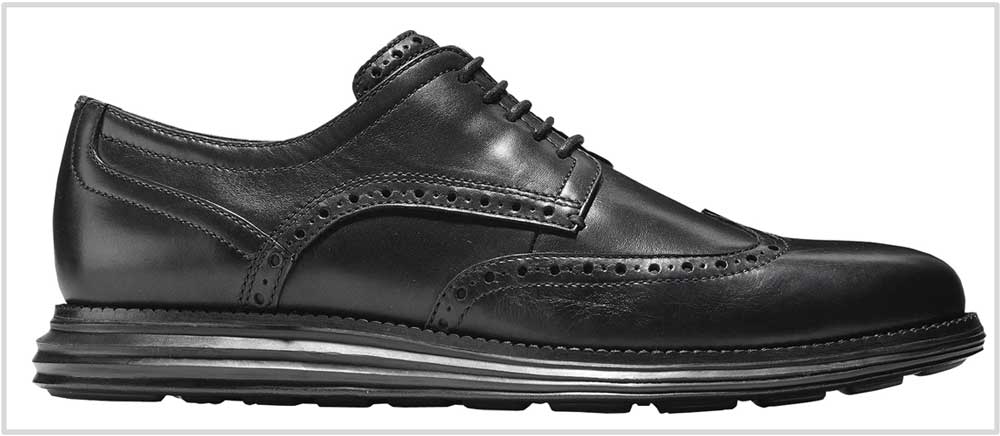 Cole Haan was the originator of the 'athletic fusion' category, and the OriginalGrand Oxford is its most vocal advocate.
A premium leather upper fashioned in a wingtip brogue style gives the shoe all the dress-shoe cred it needs. The Goodyear Welt on the edges is attached to a full-length foam midsole with a token placement of outsole rubber.
Do note that this version no longer has the Lunarlon foam since Nike broke up with Cole Haan. But still packs a generous amount of cushioning for a dress sneaker. Though an all-black color is pictured here, sportier versions with contrast midsole are also available.
3) Cole Haan Zerogrand Wing Oxford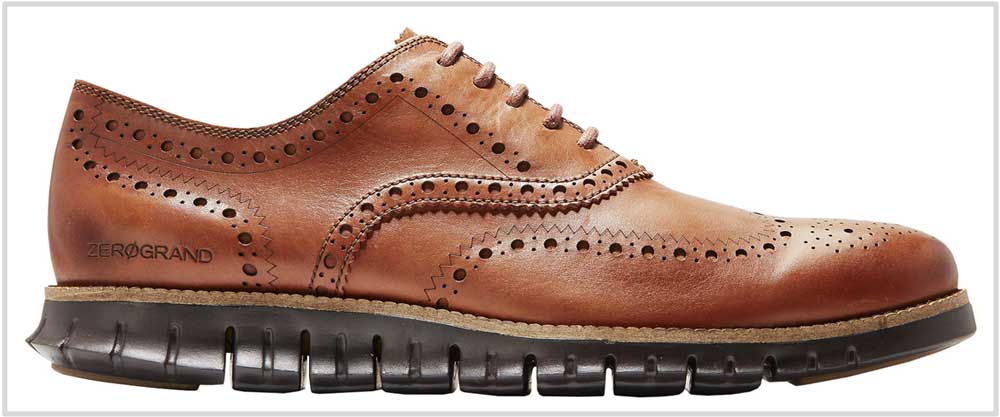 The ZeroGrand Wingtip is lighter, sportier, and more flexible than the OriginalGrand Oxford. The midsole is inspired by Nike Free, a design that makes it extremely flexible and comfortable.
Sure, the distinctive midsole takes away a bit of the formal dressiness. But this is 2021, and a shoe like this aligns perfectly with the post-pandemic dress code.
4) Ecco ST1 Hybrid Brogue Tie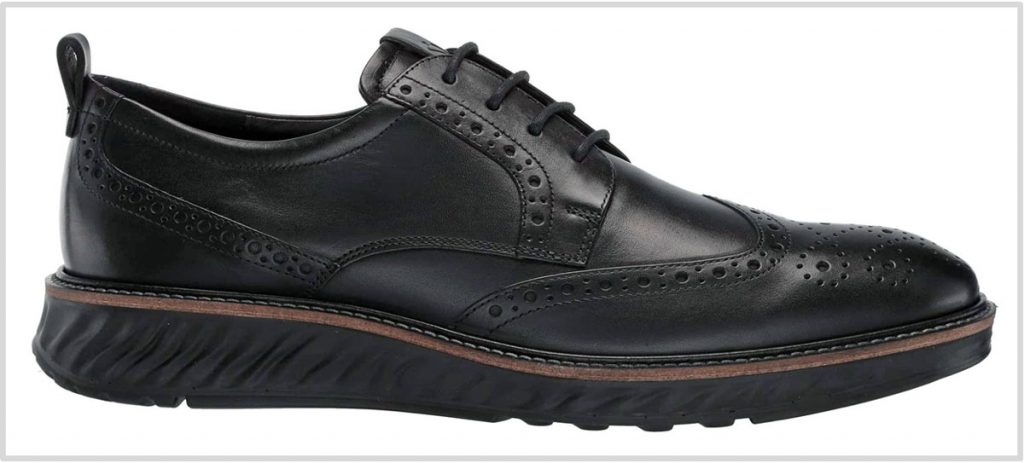 This is an Ecco, so everything about the shoe feels like quality. The Wingtip Brogue upper is made out of premium full-grain leather, and the insides also get the lux treatment. The lining is leather, and so is the surface of the foam-backed insole – thus making the interior smooth and comfortable.
As with most Ecco shoes, the cushioning is based on a resilient Polyurethane core. A soft thermoplastic rubber outsole adds grip and comfort to the ride quality.
A word of caution about the upper fit – the sizing fits larger than the norm, so try before you buy.
5) Ecco Seattle Tie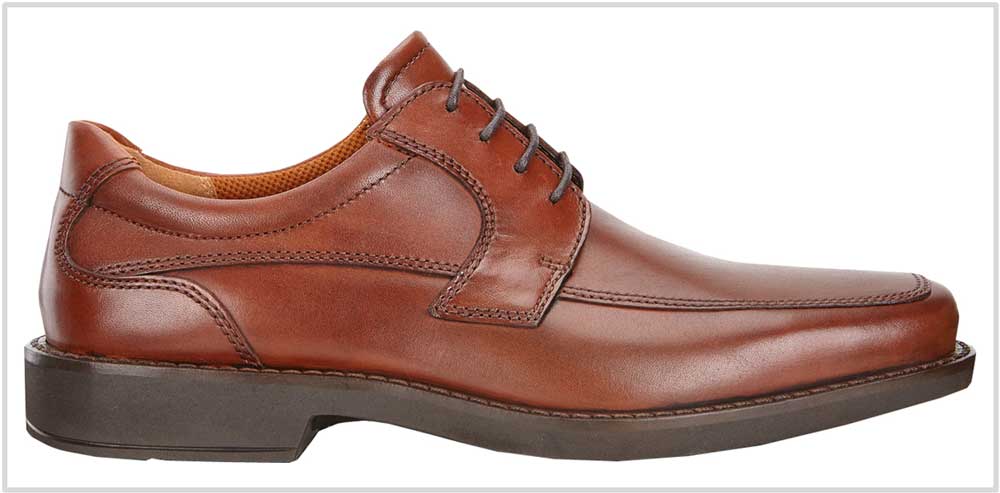 While Ecco shoes tend to run expensive, the Seattle tie is somewhat of an exception. This dress shoe packs a lot of value for its $130 MSRP. Take, for example, the full-grain leather upper styled in a Derby silhouette. Or the functional comfort provided by the leather-lined insole and full-length Polyurethane midsole.
Its clean, apron design places it in the office-wear category, but without being as dressy as Wingtip brogues. The upper is mesh-lined instead of leather to give it good moisture-wicking properties. Unlike the ST.1 Hybrid models, the Ecco Seattle Tie fits true to size.
Readers may have noticed that this is a square-toed shoe. Though that's a fashion crime in the eyes of the dress shoe connoisseur, hey – lots of people love square toes.
Also see: The Florsheim Midtown Moc Toe has a similar silhouette and pricing as the Ecco Seattle. It features a cushy Ortholite footbed along with a rubber sole and suede-lined interiors.
6) Florsheim Midtown Plain Toe Oxford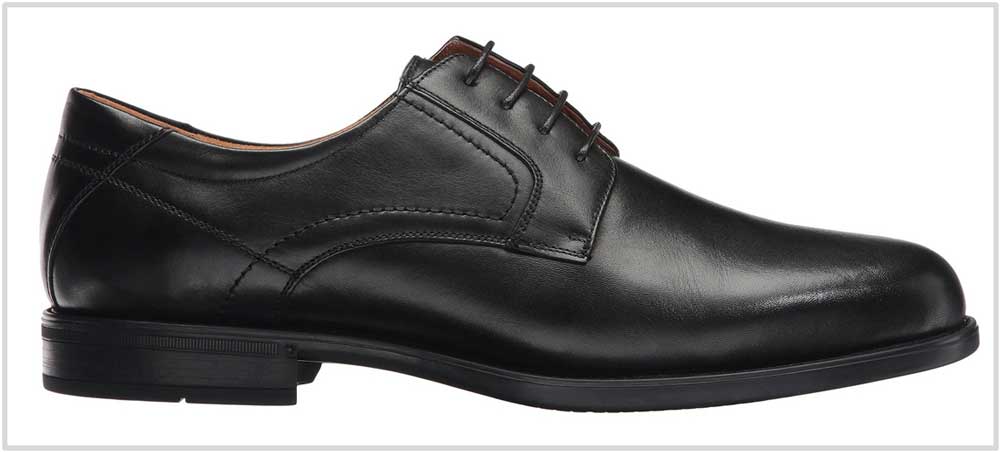 This plain toe Oxford is another variant based on the same fit and midsole as the Florsheim Faux Moc, but with a classic design that's apt for most formal settings.
There's plenty of room inside the leather-lined forefoot and toe-box so try before you buy – you may need to size down. The premium leather upper doesn't require a break-in period; the Ortholite and rubber sole provides plenty of all-day comfort.
7) Johnston and Murphy Holden Wingtip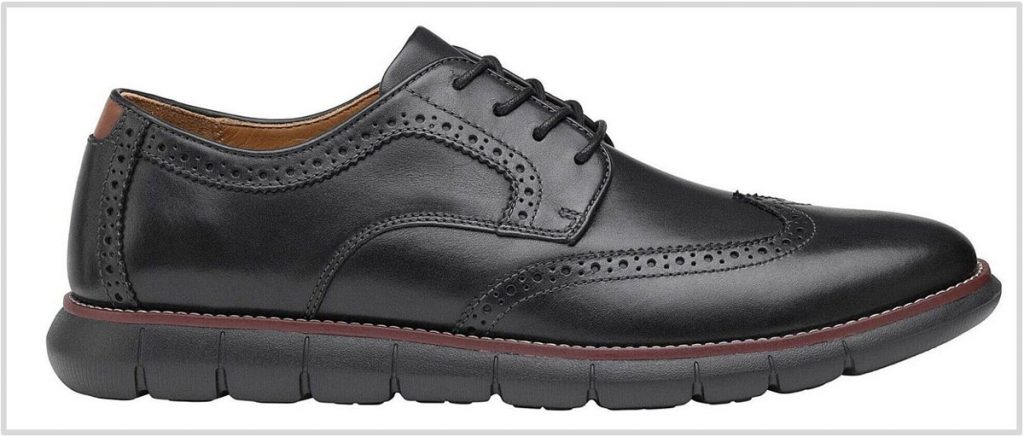 The J&M Holden Wingtip is an uber-comfortable dress shoe with a plush, Sheepskin-lined footbed. The upper interiors are lined with foam-quilted leather for a smooth over-the-foot feel. The Holden doesn't have a removable insole like how some J&M shoes do, but the next shoe – the Maddox Cap Toe – does.
The midsole and outsole is a foam unisole that delivers excellent cushioning for all-day comfort.
There are multiple color options available; both in contrast and tonal-colored combinations. Needless to say, the Holden models with tonal midsoles are dressier than the contrast-colored kind.
8) Johnston and Murphy XC 4 Maddox Cap Toe – Waterproof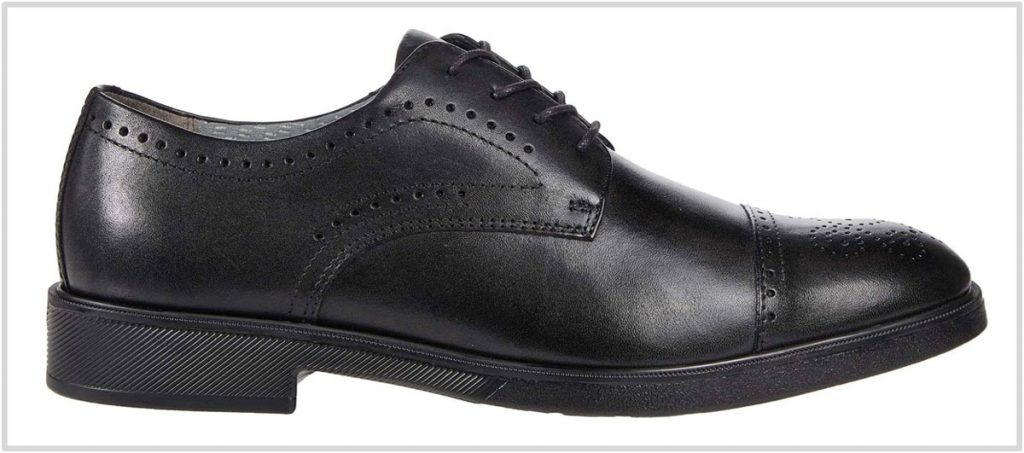 The XC4 Maddox Cap Toe's design has a dress shoe code that versatile enough for most occasions. With the waxed laces, perforated cap toe, and quarter panels, it's easy to forget that this shoe has a rubber sole – that's how dressy this shoe is.
The leather and mesh lining keeps the interiors smooth and comfortable. The memory foam insole adds step-in softness; the heeled rubber midsole adds a dress shoe aesthetic while delivering ample comfort.
Speaking of the insole, the Maddox has a special trick up its sleeve. The footbed is removable, thus making the shoe dual width. Under the footbed is yet another fully functional insole that frees up room when necessary. A removable insole is also very useful during winters when thick, woolen socks take up a lot of interior space.
As a bonus, the waterproof upper makes it an all-weather dress shoe.
9) Mephisto Marlon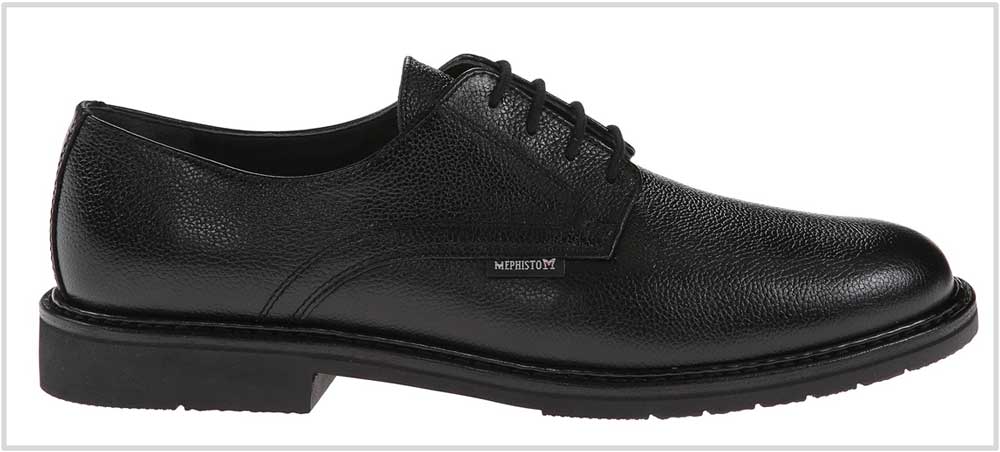 There's nothing groundbreaking about the Mephisto Marlon, and that's part of its charm. Its $400 MSRP gets you premium quality materials all around, be it the leather-lined interior or premium tumbled leather upper that's welted to the natural latex rubber sole.
The plain toe Derby design isn't the dressiest shoe silhouette but will work for most formal and semi-formal environments.
The Mephisto Marlon's fit runs large, so you may have to buy a size smaller than your regular fit.
10) Rockport Total Motion Sports Wingtip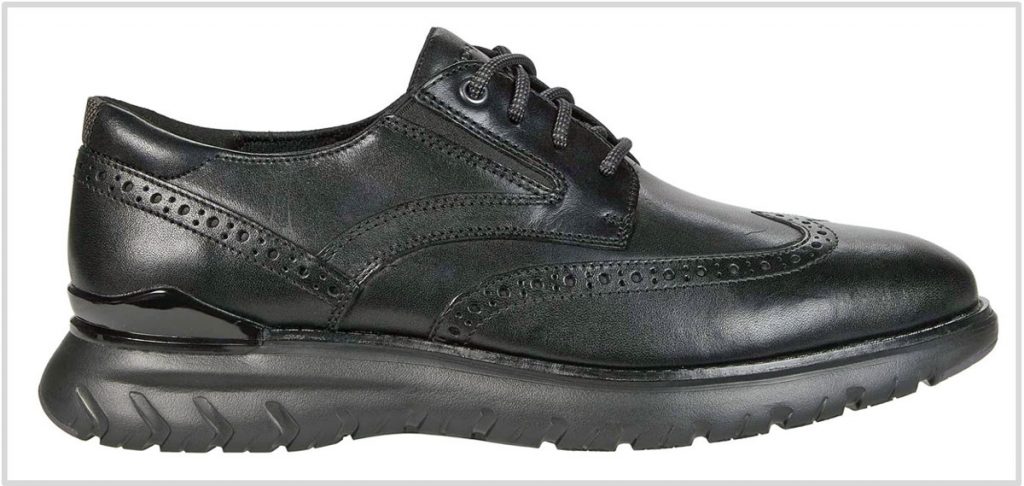 By marrying a very dressy leather upper with a sneaker-like midsole, the Rockport Total Motion Sport Wingtip channels its inner Cole Haan. A TPU shank provides the same support level as traditional metal shanks without tripping airport metal detectors.
The molded EVA insole padding and foam midsole make the ride very comfortable.
11) Rockport Big Bucks Margin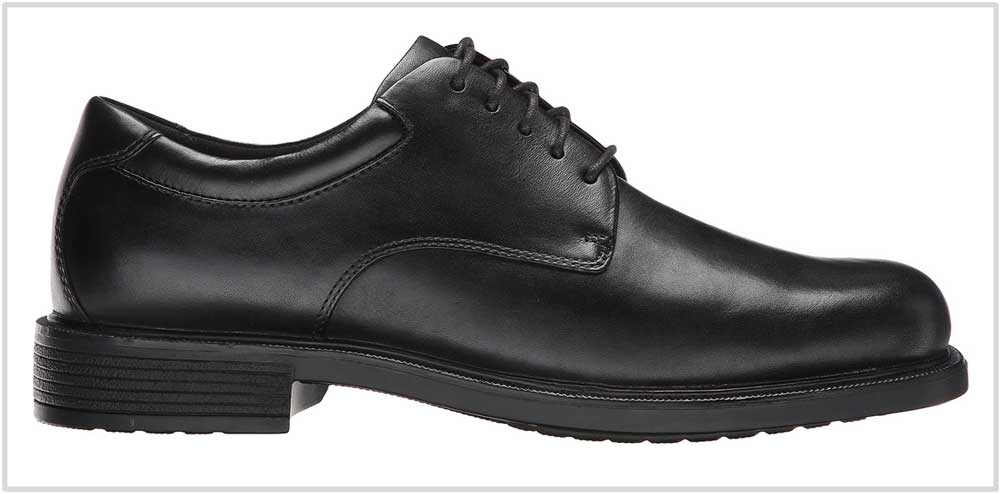 This basic Rockport Derby has a rather peculiar name for a dress shoe. But if you look past the verbiage, then there's little to complain about. And contrary to its name, this model doesn't cost big bucks.
A smooth leather upper keeps things simple yet dressy on the outside; a Polyurethane midsole adds ride comfort without the weight penalty.