Color: Lightning/White-Orange flash
Intended use: Recovery runs, long distance. Use on all surfaces except trail.
Surfaces tested on: Road, 21° C/70° F
Upper: Spacer mesh, synthetic overlays, welds.
Midsole: Dual layer EVA, TPU midfoot shank, front and rear Gel cushioning pads.
Outsole: Carbon rubber in rearfoot, blown rubber in forefoot
Weight: 345 gms/12.16 Oz for a half pair of US11/UK 10/EUR 45
Widths available: D-standard (reviewed), 2E-wide, 4E-extra wide. Width options in select colors only.
It's got a sorted, well cushioned ride which behaves better than the Nimbus. The upper fit and feel doesn't have much to complain about, but the material package is far from impressive.
Asics Gel Nimbus 16, Brooks Ghost 7, Saucony Ride 7, Nike Pegasus 31 
Well spread out cushioning, forefoot grip, snug collar
Finish looks tacky, mild tongue slide, heavier than competitors, short laces
The Cumulus is to Nimbus what the Nike Pegasus is to Vomero and the Brooks Ghost to Glycerin. These familiar sounding pairings represent two levels of neutral running offering across different price points; the more expensive version intended to be generally plusher and with a richer feature-set than its lower priced counterpart. Do brands succeed in maintaining a noticeable separation in features? Sometimes they do, and there are times when things get a bit hazy.
In that context, how does the Nimbus and Cumulus fare? The shoes have a price chasm of $35, which is substantial. So what does the Nimbus have which Cumulus doesn't? Functionally speaking, there isn't really much which could justify that difference in retail price. Which is saying that both shoes are well cushioned, with overall deliverables equally matched from a real world usage perspective. But the shoe names have to count for something, don't they? After all, moisture laden Nimbus clouds sit higher than puffy Cumulus clouds in the natural order of things.
So dig deeper, and few elements of differentiation comes into focus. As we review more Asics running shoes, it is getting increasingly plain that you get a high level of finish and plushness only when you buy their most expensive models. Move to a lower price segment, and premium-ness of fit and feel deteriorates rapidly. This is where the Nimbus 16 trumps the identically suffixed Cumulus. The material and overall aesthetics on the Nimbus appear leagues better than the $115 model, and that translates to a 'this-is-what-I've-paid-extra-for' feel when you slip into them. The Nimbus 16 has a higher volume of Gel, so the heel area results in a softer 'feel' than the Cumulus.
However, there are a few areas where the Cumulus actually manages to outdo the pricier model. The 'neutrality' of Cumulus is greater than the Nimbus, which makes the former stay truer to its functional goal. Let us explain. Neutral shoes are not supposed to have elements which result in pronation control. The Nimbus, with its generous use of Gel pads on lateral heel, comes across as a shoe which affects foot-strike behavior – more than it should. The softer Gel pads cause an outward biased lean, typical of shoes like the Kayano. On the other hand, Cumulus does no such thing. Its Gel pads are smaller and slimmer in comparison, and the medial foam – believe it or not – is softer than the one used in Nimbus 16. This difference in construction balances material densities on both sides, resulting in a rear-foot strike which is neutral, more so than the Nimbus 16.
The Cumulus 16 is more flexible in the forefoot than the Nimbus 16, and marginally lighter in weight too. We see these three factors as upsides over the Nimbus, something which will swing a lot of otherwise (potential) Nimbus buyers in Cumulus's favor. When compared to last year's Cumulus 15, there is nothing new to report, with overbearing design similarities and material carry overs passed on to the 16th edition. In the Cumulus 15, there was this small reflective bit above the plastic shank. It said 'IGS' then, and 2014 sees that text changing to 'Fluidride'. This implies no additional benefit other than one Asics marketing jargon replacing another. Most things fit and feel 90% the same in last year's context. The Cumulus 16 continues in the Asics tradition of snail pace evolution, and we won't bash that aspect (much) in this review. They've had enough of tongue lashing for a month, and we don't want to sound like a broken record either.

As far as the ride is concerned, the Cumulus is quite sorted. The Gel+foam cushioning strikes a fine balance between softness and stability, allowing rear-foot strike to move progressively without inducing gait correction. As we pointed out, the densities are evenly matched on lateral and medial sides, removing the element of foot strike bias – something which we observed in the Nimbus 16. The damping comes across as being centered in the heel, and then transitioning smoothly over to the forefoot, helped by the air foam footbed and the EVA (Ethylene Vinyl Acetate) strobel just below it. Asics calls it 'SP45' foam. Forefoot is well padded; it's got Gel pads between two layers of midsole foam, and then blown rubber serving as the outsole.
Centered cushioning also makes the Cumulus stable in heel, an area where it scores over the Nimbus. Forefoot has a solid plant, with wide flare and great grip coming from blown rubber underneath. Rear outsole has a familiar geometry of hard carbon rubber topped EVA pods, complete with a crash pad which acts independently due to deep grooves all around. In addition to the Gel pads and midsole foam, the crash pad also adds to cushioning feel during heel strikes – by temporarily flexing outwards during landing. Forefoot flexibility is high for this category, and as we highlighted earlier, better than the Nimbus or Kayano.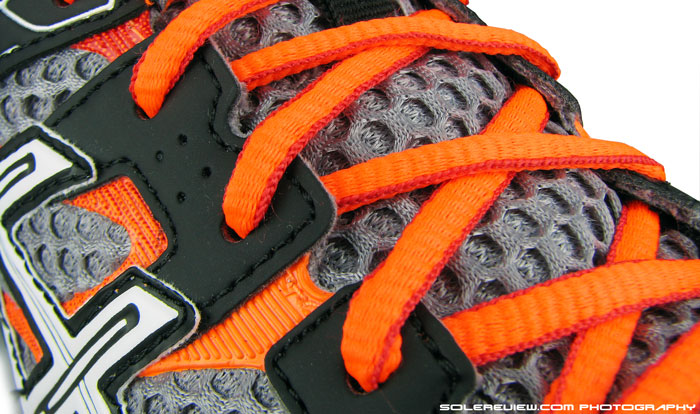 Upper is a spacer mesh/weld/synthetic leather medley, no different from what you've seen or experienced on past Cumulus versions and the like. Toe box is made using an air-mesh which is free standing except for a single 'bridge' made of synthetic leather. It's a no-sew overlay but has a reinforced stitch running across, with the obvious intent of keeping that piece from peeling off over time. Lacing is exactly the same as the 15; pieces of stitched-on synthetic with punched eyeholes to let the laces pass through. Speaking of laces, they are short, and there isn't much of it left at the end. Would have been helpful for them to be a little longer.
The spacer mesh isn't an open structure type, and while the shoe doesn't run breezy, it isn't stuffy either. Even with the overlays stitched and welded-on, the mesh lets the air in and out.

Tongue is traditional, by which we refer to its un-sleeved construction. As expected of such a design, tongue ends up moving a bit to one side after a few miles. Not completely, but it does shift a few millimeters to one side. The Cumulus 16 runs true to size heel to toe, and does so without jamming the toe forward. The fit is snug in most places, starting from the forefoot, which is shallow and snugger on the lateral side than it is on medial. The lateral side has the synthetic band going over the small toes and extending downwards, which makes that area slimmer and hence snugger. The medial side is relatively open, with mostly mesh as a barrier. The ease of fit on the inner side also applies to midfoot, where it is more relaxed when compared to the form-fitting (outer) side. With that, arch support isn't impressive from an upper standpoint, and that isn't helped by the midsole, where there's no supportive flare.
Collar is snug because the hard internal heel stiffener is molded narrow, when say compared to a Nimbus. This reduces the space between the collar walls, which closes in on the foot with a higher level of grip. The lining on either sides has decent foam padding too. Some runners will welcome this kind of snugness, while others might find it a bit overbearing. The Achilles dip is not hard by any standard, but lacks a soft feel.
The material package on the Cumulus is average for a $115 shoe. Parts of the shoe, like the tongue and collar lining, are straight lifts from the $100 GT 1000-2. They aren't bad; it is just that they don't feel very premium. There's a certain coarseness, for lack of the right word. It's all fine when you're looking inwards and vertically within the Asics construct; after all, a $150 shoe and a $115 variant have to be sufficiently differentiated by way of materials, right? That holds water to some extent, but bring in some of the new kids of the block and the contrast becomes apparent. The Brooks Ghost 7 has its shortcomings, but look at its materials, they're top notch. Ditto for the Saucony Ride 7 and the Pegasus 31, all of which feels better to wear than the Cumulus.
It's not only the materials, but the manufacturing execution also comes across as mediocre. Glue marks are seen on different areas of the shoe (refer to picture), and there are signs of imperfections like misaligned midsole and outsole rubber bonding, and embossing shifts. The reflective strip on heel works well functionally, but look closer and the fused edge has this waviness. And while at it, throw in some shoddy levels of stitching, with loose yarns sprouting out of the upper.
The shoe is also heavy. It is lighter than the Nimbus at 345 gms, but pit it against the Ride 7 (292 gms), Pegasus (323 gms) and Ghost 7 (310 gms) and suddenly it becomes the odd one out. There used to be a time when 350 grams was the category median for these kind of running shoes, but those days are quickly coming to an end.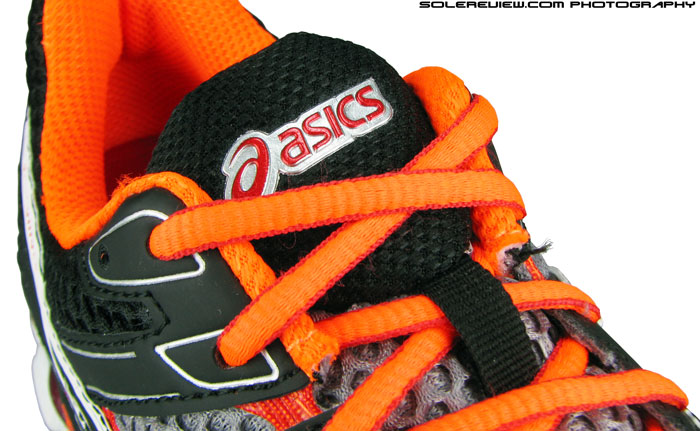 Functionally, the $115 Gel Cumulus is a running shoe with little issues. It's got a ride which balances cushioning with stability and the upper also passes muster, at least structurally Our rating system, which is based purely on function and filters subjectivity, awards the Cumulus a healthy 8.3/10. It is just that the shoe is plagued with design inertia, something which a lot of Asics models seem to be afflicted by. The Cumulus has old school, traditional shoe elements which will appeal to loyalists who don't want to see much change. But when released into the modern day jungle which is the running footwear market, it struggles hard to make a strong case for itself.
And as shoe reviewers, when we have to repeat buzzwords like 'Guidance line', 'familiar geometry', 'IGS' and 'spacer mesh' over and over again no matter what Asics shoe or calendar year it is, the future looks like a bleak place to be, overcast with rain laden Nimbus clouds.
(Disclaimer: Solereview paid full US retail price for the shoe reviewed)
Note on ratings: Our numeric scoring of 8.3/10 is based on a total of weighted averages. The attributes namely transition, stability and fit contribute to 69% of total scoring weight, which we see as more important than material (7%), cushioning (7%), traction (12%) and weight (5%). Hence the scores will not add up when simple average calculation is used.