Color: Lightning/Black/Yellow
Intended use: All runs except in bad weather.
Surfaces tested on: Road, 21° C/73° F
Upper: Spacer mesh, TPU welds, synthetic leather.
Midsole: Tri-density EVA foam with heel(visible) and forefoot (internal) Gel pads. Firmer foam insert on inner side. Midfoot plastic shank. 10mm heel drop.
Outsole: Heel carbon rubber, blown forefoot rubber.
Weight: 367 gms/ 12.9 Oz for a half pair of UK10/US11, D Width
Widths available: D-standard (reviewed), 2E(Wide) and 4E(Extra wide) in select colors.
The new GT 1000 hasn't changed much in character, but comes with some cosmetic improvements. Ride is still firm, and the upper gets snugger due to an additional layer of upper lining.
Asics GT 2000 2, Saucony Guide 7
Transition, stability
Tongue slide, weight
The annual refresh of Asics' bread and butter Triumvirate (Kayano, GT 2000 and 1000) is now two-thirds complete, with the new GT-2000 3 release due in November. Earlier last month, the Kayano 21 decided to embrace an increased level of midsole softness, altering its character (and potentially, its target customer) in the process. So where does that leave the GT-1000 3? Does it align with the new personality U-turn seen on the new Kayano?
No such thing happens. Masters of incremental evolution they are, Asics decides to keep the GT true to its earlier self, by which we mean a pronation control shoe with a firm ride. Asics calls out that now the shoe comes equipped with IGS (Impact Guidance System) which 'elevates it to a new echelon of technical performance' , but honestly, that's a marketing hyperbole which translates into little of substantial value. Nevertheless, there are changes. There are a couple which can definitely be seen as improvements. And there's one which could be favorable or undesirable, depending on what your needs are. These updates are similar to the ones witnessed in the new Kayano, albeit of a lower magnitude.
The last generation GT 1000 wasn't impressive from a material standpoint, its upper emitting a literal stink. The shoe actually smelled of acrid, industrial compounds, an odor more at home inside a can of bug spray than in a running shoe. Thankfully, that isn't the case in the 2014 refresh. We have a sneaking suspicion that the 2013 GT 1000 2 used materials other than polyurethane for welding parts of its upper, which could have led to the pungent smell. Now that we don't need the older GT, we'll do a PVC burn test later this month and see if our hypothesis holds any water. We could be wrong in our assumption, but no harm in trying to find out if Asics actually used PVC in the GT 1000 2.
Upper aesthetics also sees a shift towards the better as the new GT-1000 3 employs the use of a different mesh and leather material. The spacer mesh this time has a less raspy texture and looks much more premium. Same goes for the new synthetic leather used as overlays. Before expanding on the details, a quick primer on footwear materials. Most athletic footwear feature synthetic leather made of two layers. The upper layer is called a 'release paper' in footwear development parlance, and happens to be this thin layer which forms the surface texture. The bottom part is called the 'substrate', which is a dense fibrous base over which the release paper sits. At the start of every shoe's development stage, the footwear developer(s) in charge of the project will get to choose the release paper texture, based on the available budget. A series of leather textures will be available for the same substrate base, and prices could differ based on the choice of design.
Why are we talking about this? Because the 2014 GT-1000 3 uses a release paper texture which looks and feels more expensive than last year's. The surface has a nice sheen with a distressed whorl design which appears miles better than GT-1000 2's gaudy brushed aluminium design. As we mentioned earlier, the mesh also takes a turn for the better, resulting in a better hand feel and general aesthetic. Both of these updates are merely cosmetic, and do not influence the upper fit. The latter sees a change in behavior, but due to a few structural updates.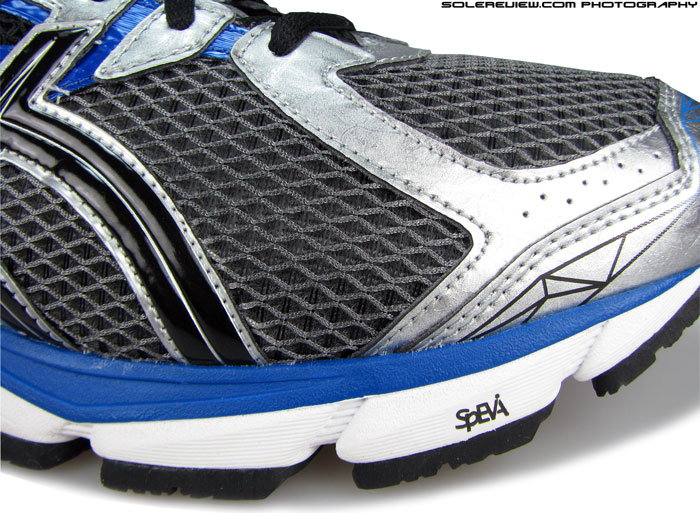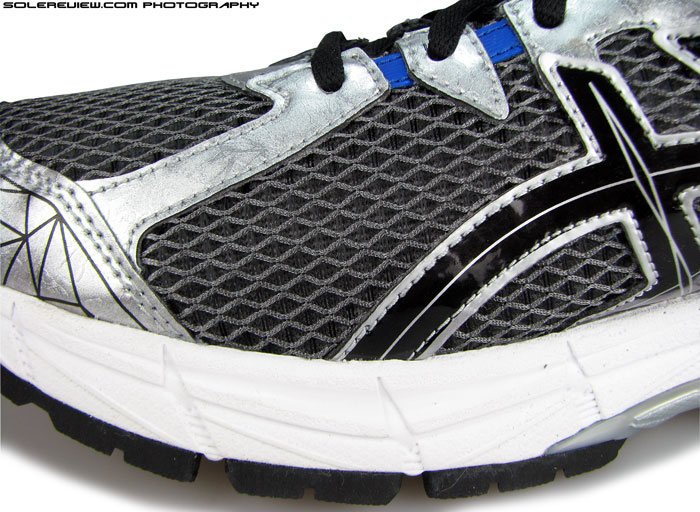 Firstly, taking a cue from the new Kayano, the GT-1000 3 introduces a layer of lining inside the upper. This fabric liner is identical to the one seen on the Kayano 21, except for one difference. In the GT, the lining is used only on the lateral (outer) part of the upper. The medial side remains as is, with no lining. Nevertheless, this has a bearing on fit, with the freshly minted GT-3 coming across as a mite snugger over the small toe. As if to compensate for the lining, synthetic leather overlays have been moved slightly forward and up on the toe box, creating a bigger mesh window on either sides of the forefoot. Despite that, the GT-1000 3 still feels more snugger than 1000-2 for the same D width. Solace comes for those who require a wider upper fit, as optional sideways sizes (2E, 4E) are available in the GT. Heel to toe length runs true, nothing new to report there.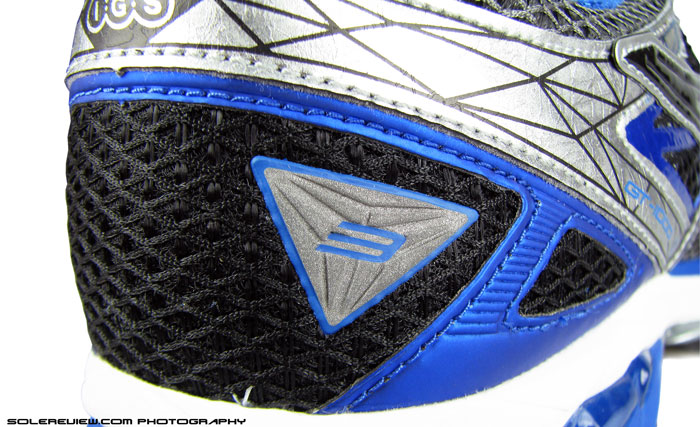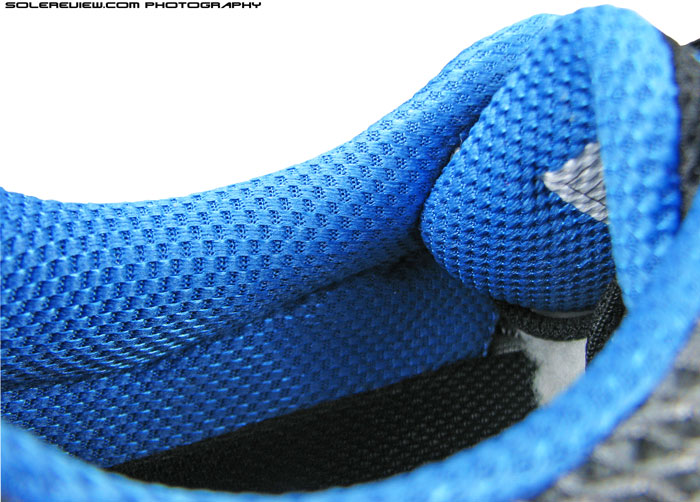 The sense of a narrower fit isn't restricted to just the forefoot area; lacing pressure on tongue top is stronger too. The gap between each opposing eyelet has been reduced, causing the intersecting laces to create top down pressure to be higher than GT 1000 2. The upper on the previous GT featured a wider lacing breadth, thus spreading the cinching forces over a larger area. The grip at Achilles point is greater too – the heel counter of GT-1000 3 curves relatively inwards at the top. The collar and tongue lining sees use of the same carryover mesh, so overall feel remains unaltered. The upper has an internal heel counter which lends solidity to rear-foot structure, and a solitary element of reflectivity is welded on. Nicely done too, there's a '3' numeral printed inset, alluding to the third iteration of the GT-1000.
Laces have been changed to a single tone type, and they happen to be softer too, with none of the tortuous twisting of the GT 1000 2. Good call to swap them out, certainly an advancement over what used to be.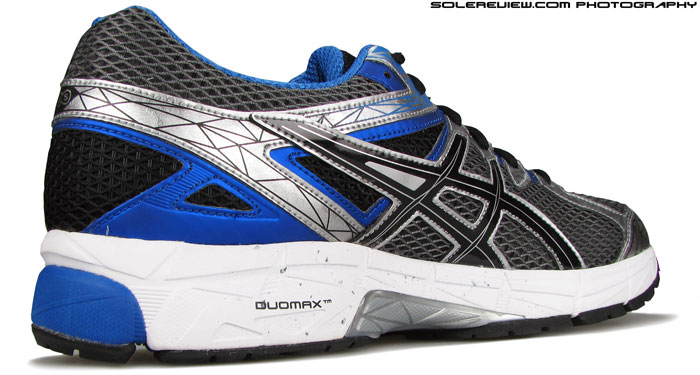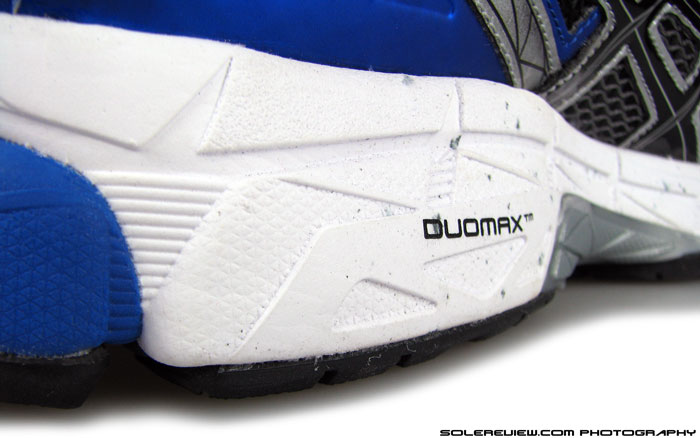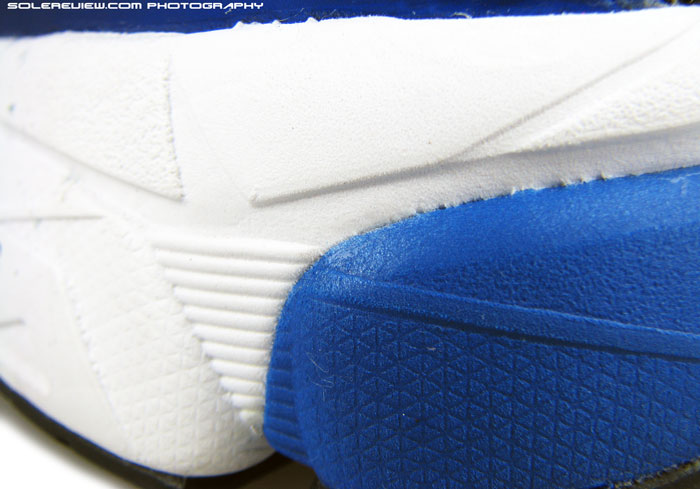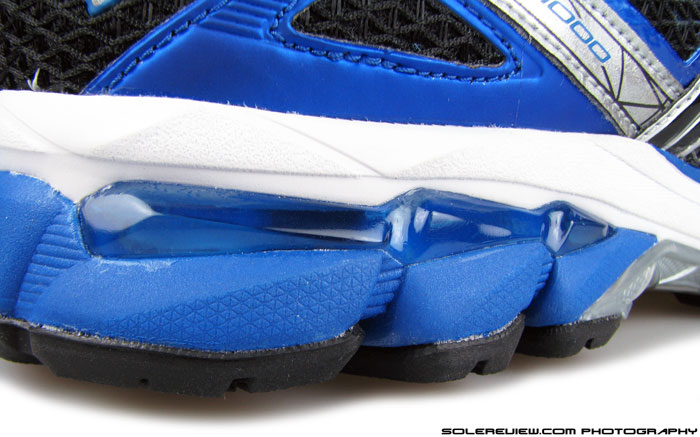 There are industry buzzwords like 're-engineered' thrown into the GT 1000 3's description on the Asics website, but the practical, real world output doesn't amount to much. The new GT continues to feature a tri-density construction in its midsole. There's a crash pad on lateral side (blue), with an integrated firm Duomax foam on the arch side – placed with the goal of controlling pronation. A main midsole foam binds these two densities together, with heel Gel units visible on outer rear-foot. The forefoot has internal Gel pads, and continues to offer a mild level of cushioning, delivering a firm ride. The forefoot is stiff, a tad more than GT-1000 2. The 2012 GT had a firm forefoot, but flexed better right under the metatarsal heads. The new GT in comparison, takes more effort to bend.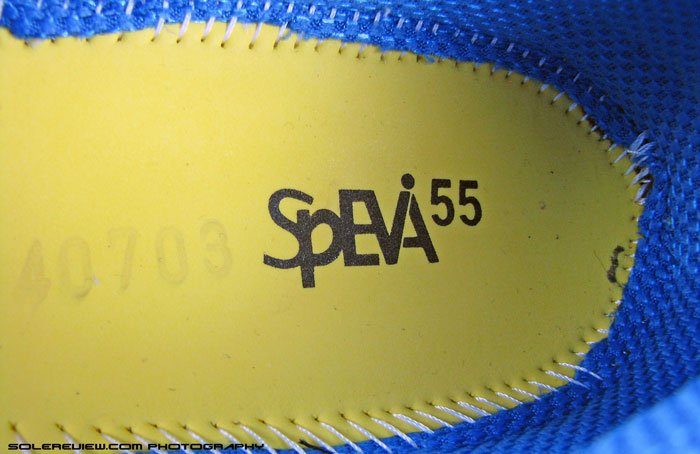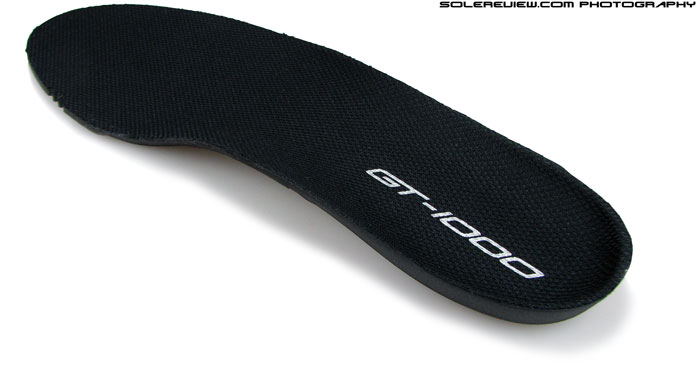 Heel and rear foot strikers will experience a greater level of cushioning feel, with the crash pad undergoing a redesign. The area is now shaped like a semi-circle, evolving from the pizza slice-esque geometry from a year ago. This means better articulation, which logically leads to increased flexing of the crash pad during landings. Consequently, the 'breakaway' effect leads to a heightened cushioning feel. Otherwise there's no change in foam density we can point out, with parts like the EVA strobel and molded insole staying the same. Regardless of the marginally increased cushioning, the GT-1000 3 remains a running shoe with a firm ride, this is no Kayano. Good in a way though; as this differentiates the GT from others in the pack. And as the case with most Gel based shoes, the ride isn't responsive.
The midfoot shank also sits a bit higher in relation to the midsole. Look closely, and there's some space between the plastic and foam. This was also seen in the Kayano 21, and we'll say the same thing which we called out in the Kayano review – no additional change in ride could be felt. The arch support is ok on the GT; the upper doesn't contribute to much in that aspect, and there's no hug coming from the midsole either.

Outsole durability is decent on the GT 1000 3. The sheet of rubber is thick, and should be able to withstand a high mileage of running over time. Like the case has been for the past versions, the forefoot has blown rubber and rear-foot has hard AHAR compound. The forefoot grip is better than heel, as the softer rubber offers better traction levels.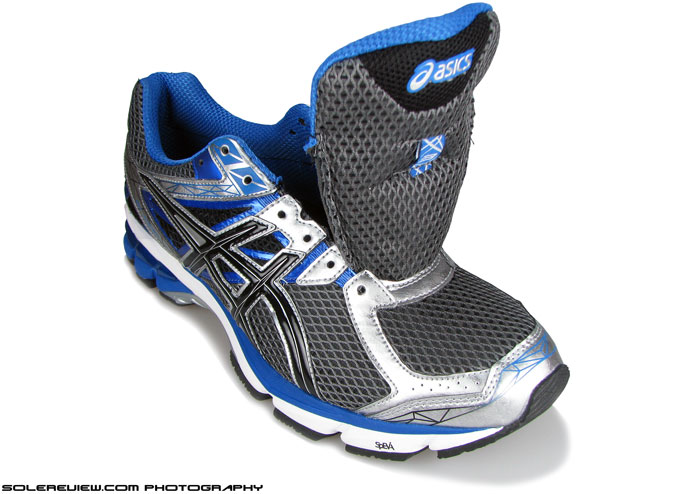 The GT-1000 3 will receive the standard criticism of excess weight and tongue slide, both of which take off a few points off the GT's total score. The shoe comes in heavy at 367 gms/12.9 Oz for a US 11, which makes it heavier than the Kayano 21 and even last year's GT 1000. The extra weight is not going to make you lead footed, but that leaves another potential area open for advancement. Tongue slide is not a deal breaker, but Asics' tenacious resistance to change is surprising. Why not put a small gusset or sleeve? If a new lining could be introduced in the GT-1000 3, a sleeve could very well make an entrance too. And if Asics does decide to do so, it will not be something new – mind you, just playing catch up with rest of the pack.

All put together, the GT-1000 3 is $100 traditionalism, which feels very familiar to earlier GT's, and yet sees a smattering of visible improvements (except weight). This is a shoe where stability and motion control are one and the same thing, and will be a potential buy for runners seeking a firm ride.
(Disclaimer: Solereview paid full US retail price for the shoe reviewed)
Note on ratings: Our numeric scoring of 5.5/10 is based on a total of weighted averages. The attributes namely transition, stability and fit contribute to 69% of total scoring weight, which we see as more important than material (7%), cushioning (7%), traction (12%) and weight (5%). Hence the scores will not add up when a method of simple average calculation is used.