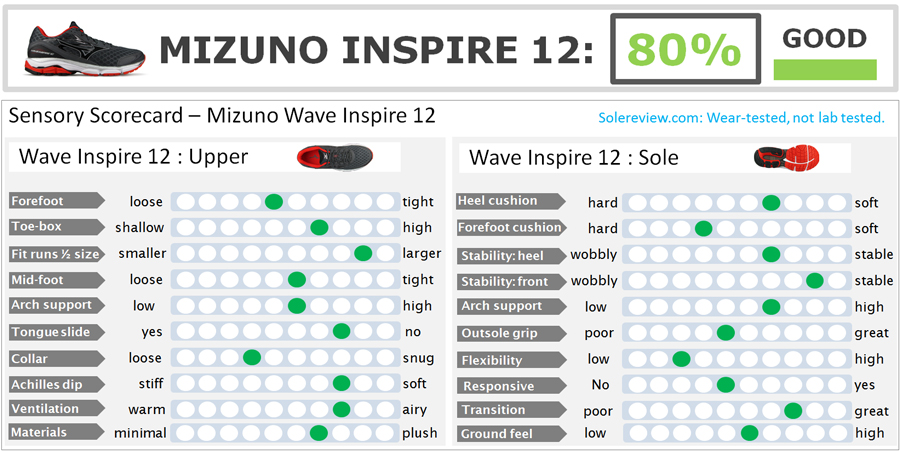 Color: Dark Shadow-Black
Mizuno's marketing pitch: The lightweight support you need to go farther and longer.
Surfaces tested on: Road, ambient temperature of 18° C/64° F
Upper: Spacer mesh,  synthetic leather, high frequency welded urethane.
Midsole: Compression molded EVA foam, plastic Wave plate. 12 mm heel to toe offset.
Outsole: Carbon rubber under heel, blown rubber under mid and forefoot.
Weight: 338 gms/ 11.9 Oz for a half pair of US11/UK 10/EUR 44.5/CM 29
Widths available: Regular (reviewed), wide.
The new Inspire 12's hallmark is its balanced ride behavior, which was also true for the Inspire 11. Changes? It's put on a lot of weight, improved its fit, and done a few things to its sole design.
Mizuno Wave Paradox 2, Wave Rider 19
Improved upper fit over Inspire 11, overall supportive ride character
Much heavier than before, feels sluggish compared to Inspire 11, very little reflectivity
Solereview does not have a great deal of experience reviewing Mizuno shoes, so far limited to a small assortment of models such as recent versions of the Rider, Creation, Inspire, Prophecy, Hitogami and the Sayonara. Nonetheless, one thing is pretty evident. That all Mizunos have a distinct ride signature uniquely their own.
If someone were to conduct the running shoe equivalent of a blindfolded Cola test, most experienced runners should be able to tell a Mizuno from other brands. And why's that?
Easy answer. On most of its shoes, Mizuno uses a cushioning tech called the Wave Plate. A hard thermoplastic is injection molded in the shape of a wave, with raised crests and dipped troughs across its length. This component comes sandwiched between softer midsole foam layers, and is designed to perform both as a support and cushioning mechanism.
Some models are equipped with a heel-only wave plate, while others feature a longer plate which extends from heel to forefoot. No matter what the design variation was, a common denominator cut across. Which happens to be the firm feel of the Wave midsole, tinging nearly all Mizuno shoes with an unmistakable ride character.
Given that context, it was somewhat surprising to see the Inspire 12 change a lot from the Inspire 11. For the record, the Wave's signature feel still threads common across both versions. However, design updates infused around it result in a markedly different ride quality.
The Inspire 12's new upper also receives a few updates, all of which lead to improvements in fit and feel.
Perhaps the most telling change of all is the Inspire 12's massive weight increase. At first, we thought it was a mistake, and weighed the shoes again just to be sure.
It goes from 287 gms/10.1 oz (2014 Inspire 11) to 338 gms/11.9 oz, which brings it closer to Paradox 2 territory. Which at 373 gms/13.1 Oz, is the Inspire 12's bigger brother within the 'support' category. There are plenty of reasons why the Inspire 12 gains so much mass, some of which are the same factors why the shoe feels different to run in.
And is this good or bad, both the ride and weight changes? Hard to judge.
Our viewpoint is limited to comparing only the Inspire 11 and 12 (which we'll do anyway), so that might not be a very well-rounded perspective. The Mizuno Wave Inspire goes back more than just a few years, so perhaps the Inspire 12 brings back something which the earlier versions (8,9,10) had?
Or maybe not. We don't know. All we can do is tell you what has changed from last year, and that the shoe maintains its 'Mizuno-ness' – for lack of a better word. The Inspire 12 does a few things differently from the 11, that's all.
The 2014 Inspire 11's upper was a very minimal affair. Save for the synthetic leather toe-bumper, lacing eye-stay and other small bits and pieces the upper was nearly all-mesh. This was true for all 2014 Mizuno models, because the entire product line adopted a rather peculiar design approach.
All the Mizuno models we reviewed in 2014 and 2015 had the same upper design. Which meant that except for the model specific variations in fit, ride, material and color, the basic upper template looked exactly the same across the line-up.
Mizuno changes that on the 2015-16 assortment. The Inspire 12 does not look like the Wave Rider 19, nor does the Sayonara 3 look anything like the Paradox 2.
Each model now comes with a visually distinguishable upper design, which makes things a little more exciting.
In the Inspire 12's case, the upper arrives with greater layering. Synthetic leather panels flank either sides of the midfoot and wrap around the heel.
The toe bumper also extends its coverage over the mesh, with increased height and medial side length. Add to that unseen upgrades inside the upper.
The toe-box gets a beneath-the-skin update. A tape-like material lines up the inner toe box in shape of a broad strip, which runs from the start of the lacing to the tip of the Inspire 12.
You can feel it when you touch the inner lining with your fingers – the presence of a crinkly material just below the forefoot mesh. This is the same fabric used in the eye-stay lining; a white woven tape.
And why could be the point of this – raising/elongating the toe-bumper and reinforcing the mesh? We suspect that the real reason is not to adjust the fit, but rather to make that portion stronger.