Color: Black/Volt/Hyper Jade/White
Nike's marketing pitch: Maximum cushioning for an unstoppable run.
Surfaces tested on: Road, ambient temperatures of 17° C/63° F
Upper: Engineered mesh, Flywire cord based lacing, inner sleeve.
Midsole: Compression molded foam, full length blow molded air bag. 13mm heel drop.
Outsole: Translucent rubber.
Weight: 382 gms/ 13.5 Oz for a half pair of US11/UK10/EUR 45
Widths available: Single, but 'wide' available when customized from Nike ID.
Nike's most expensive shoe isn't its finest, yet looks unlike none other. This year's edition comes with a brand new upper, and carries over the same sole unit.
Nike Air Max Tailwind 7
Transition, looks
Price
Nike Air. Saucony Grid. Reebok Hexalite. Asics Gel.
These are well known cushioning technologies, and for long been a selling point for the brands. But first, we have to understand how these Vanguards of old came into being. In ancient days, running shoes relied on a very basic material to deliver cushioning; the humble, die cut EVA (Ethylene Vinyl Acetate). Unfortunately, things weren't as high tech as they are today, which meant that EVA foam had the tendency to flatten out fairly quickly, losing any little cushioning it had to begin with.
To give credit where it's due, Nike, the undisputed marketeer of many things mesh and foam, was the first to recognize this as a problem. When they set out to do something about it, they came across the idea of putting air bags inside the sole of a shoe – an idea pitched by ex-aerospace engineers named Frank Rudy and Bob Bogert. Our Air Max 2014 review talked about this in detail, so we're not going to repeat that story. We'll sound like a broken record if we do.
Nike's adoption of a midsole insert spurred a new war between brands, with each going around town telling how superior their version was. And how these would not break-down like foam, and continue providing cushioning for a long time. No shoe advertisement was complete without an exaggerated mention of whatever cushioning technology went into the shoe, pretty much the same way how smartphone companies try to sell you powerful processors, battery standby and screen size. Many of the cushioning systems worked as marketed, and continue to do so. But things have changed of late.
This isn't the time of Chuck Norris movies and neon signboards anymore, and midsole foam has truly come of age. The same foam which was repeatedly spoken in the past as a thing to be despised is showing conventional cushioning systems the factory door. Brands like Nike seem to recruit as many material researchers and scientists as they do avant-garde shoe designers, with the end result of serious looking ladies and gents poring over foamy concoctions(among other things) in their labs. A quest to seek out the ultimate midsole foam formula, if you will.
The Nike Lunarlon foam is a sign of the changed times, with many of their models coming stitched and assembled with it. Saucony's grid isn't a trampolining 'grid' anymore, replaced by perforated midsoles literally filling in. Brooks is in the process of replacing their DNA gel insert with a foam of the same name. And adidas, which suffered throughout the years due to lack of an (marketable) embedded cushioning unit (Formation does not count) is finally making up for the lost time with Boost. And Hoka is killing it with an illegal excess of bottomless foam midsoles. Reebok is a lost kid in the woods going around in circles; and filling a New England cream pie with Sauerkraut for survival isn't going well so far.
It would be safe to say that insertable cushioning platforms are a breed of footwear dinosaurs, watching one of the lights in the star lit sky becoming brighter by the night, and making the air increasingly warmer. The gradually depleting count of Nike Air featuring running shoes supports that trend. Ok, Zoom Air is holding out on its own, but that's also evolving, going by what's plugged on the Lebron 12 and Hypercross Trainer.
Except for full Max Air, which seems to defy this phase of selective extinction. Launched in 2006 as a shoe to completely replace foam , it is going strong with consistent, annual refreshes. It has evolved down the years, and the midsole isn't 100% foam free anymore. For the last few years, a Cushlon foam-bed performs as a secondary layer between the upper and blow molded, full length air bag.
Last black friday marked the release of the 10th evolution of this model, with a new Flywire cord based upper teaming up with novel aesthetic detailing on the bubble-like midsole. So what newness does the Nike Air Max 2015 bring this year?
Not a great deal, we're afraid. The shoe might sport a brand new upper look, but is still based on the same 2014 Air bag unit. The new upper looks aesthetically striking and so does the treatment of the Max Air bag, with graphic prints and color graduation featuring for the first time on this model. Obviously, cosmetic window dressing makes no difference to the midsole functionality whatsoever, but the change in upper design results in a couple of fit related tweaks. One which we liked, and another which we did not, and in due course we'll call out both for whatever you think it's worth.
Solereview is all about performance, and from that perspective, our overall impression of the Nike Air Max remains unchanged. Nike's most expensive running shoe isn't one of its finest; it is an average running shoe at most, bested by many cheaper alternatives from its own line and competing brands. The ride is firm, regardless of what marketing spreads would have you believe, and the upper isn't the plushest considering the shoe leaves you poorer by two $100 bills. So if you're looking for a runner which combines great cushioning, transition and overall comfort, then you're better off giving this shoe a wide pass.
On the other hand, if you find the allure of a see-through midsole irresistible, and want something unique to do your easy running duties in, then by all means go buy it. Just know that the Air Max 2015 is Nike's trick pony, much in the way adidas Springblade is. Not much running talent to show for, but comes with impressive sneakerdom hype and a bit of blue blooded lineage, given that it is a maximal form of Nike's successful Air technology.
So with that out of the way in plain words, time to take a closer look at what the $190 shoe packs in.
As aforementioned, Nike has decided to carry over the exact same 2014 midsole to 2015 without any structural change. Full length Air bag, Cushlon foam above it, and a translucent, full coverage rubber outsole which is also quite thick. Back in the day, Air Max 360's (as they used to be called then) had a soft underbelly. Unwanted results followed, with Air bag punctures being common place. Ever since, Nike has taken no chances, choosing to reinforce the bottom with a thick sheet of rubber.
Insole is the same as what was the year before, a few millimetres of anatomically shaped foam placed over the strobel and midsole.
This adds a layer of responsive softness to what is a firm ride, and would be mistaken by some to be the cushioning coming from the Air bag.
The full length air bag is tightly pressurized, and feels firm during runs. That's because there is no inherent softness, cushioning happens when you displace the air inside the chamber with each landing. However, the tightly sprung Air bag has limited freedom to splay – both because of high gas pressure within a confined space, and the support pillars preventing the heel from sinking in too much.
The stiff outsole doesn't help much in cushioning too, as they completely lack articulation or grooves under the heel. So what you finally get is cushioning spread over a much larger area – as opposed to the localized sensation of softness you get from foam midsoles.
Transition is one of the better areas, as material sameness underneath the foot helps the weight transfer feel uniform. Flexibility isn't bad either, as deep grooves are inset within outsole forefoot, helping that area bend better.
In the 2015 edition, the thing to talk about would be the Max Air artwork. Don't recollect Nike doing this ever before on a visible Air bag, so it's a novelty feature for sure. The lateral sidewall of the transparent midsole wall has 'AirMax' text emblazoned across, and then graduates into an area with blue coloured tint. Cushlon area in the top line has paint over it, but the Air Bag and outsole actually have the color pigmented into them. We first assumed that the Air bag itself was transparent, and appeared tinged due to the background. A re-look proved otherwise, and it was easy to see that the Max Air bag had a blue tint of its own.
For people who have access to Nike ID in their countries, it is also possible to custom tint the midsole in color fades of your liking. You can also spice things up with speckles on the Max Air bag. Upper width (2E) is an option only on Nike ID and not on regular retail colors. At least two widths on regular AM15's would have been nice, as this year's fit runs slightly snugger. In our upper breakout, we'll tell you why that has come to happen.
In what's a rarity, the outsole has no Nike logo at all. For those who've seen the AM 2014, you'll remember the plastic logo overlay on the midfoot area. That looked tacky, and either Nike thought so too, or just looked at removing the overlay as another cost to save.
So there you go, no branding anyway at all on the outsole. Is there a bright side to this? Oh yes, though it depends on how you choose to see it.
The Air Max 2015 holds the distinction of being the most knocked-off shoe, months before its retail release. If you'd have googled 'Air Max 2015', scores of websites with dubious origins would show up in the results, each displaying what would be a meticulously crafted replica of the shoe. And guess what, most of them have outsole logo overlays.
So ironically, the absence of logo is now one of the ways in which you can visually tell legit merchandise from Xeroxed craftsmanship.
Upper undergoes a complete transformation, leaving the packed mesh upper behind. Cord based Flywire makes an appearance, its loops stretching over an all new mesh upper. Instead of the tongue being a separate component, it is part of a spongy textile which begins at the toe box. Side panels are single layer meshes which are now seen on a lot of Nike shoes, with perforations and close knit areas. These different mesh areas are joined together with stitch-less, fused overlays. It is worth noting that the Air Max 2013 also had Flywire loops, except that they were underlays between the upper mesh.
The Air Max 2014 was a heavy shoe at 414 grams for a US 11. So if the goal of using lightweight mesh on '15 was to reduce empirical bulk, then Nike has succeeded in doing so. Weight is now down to an acceptable number of 382 gms, and all that slimming has happened on the upper, as the sole remains untouched. With exception of the logo, of course.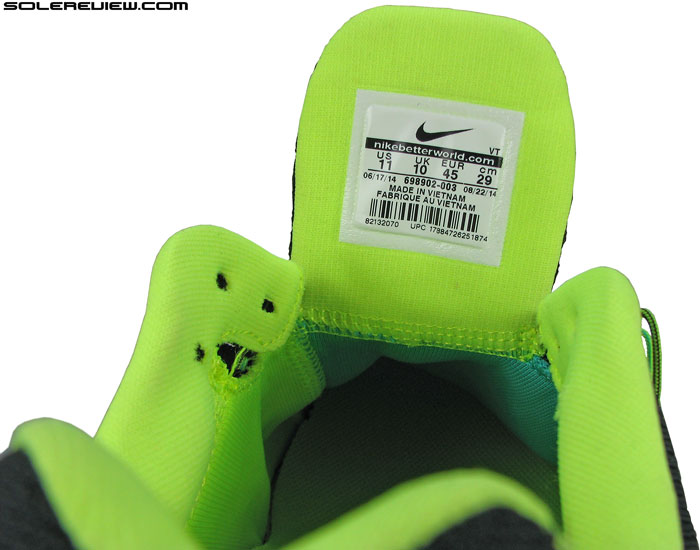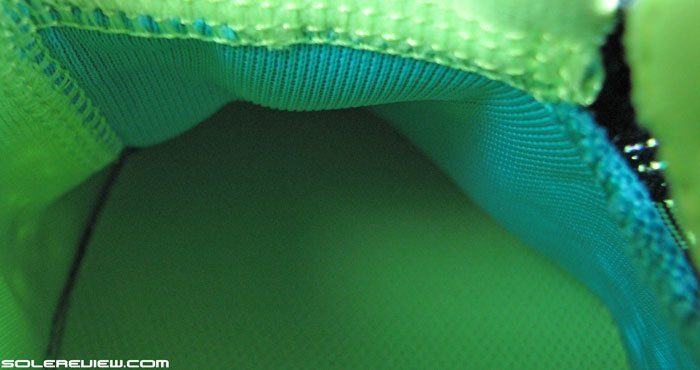 We bemoaned the lack of an inner sleeve in the Max 2014, and the Max 2015 makes amends in that department. There's a full internal sleeve, with less seams that what you would encounter normally. Since the tongue is not a separate component to be stitched in, it allows the shoe to do with one less seam. With the picture just above, we try and show you what that looks like inside.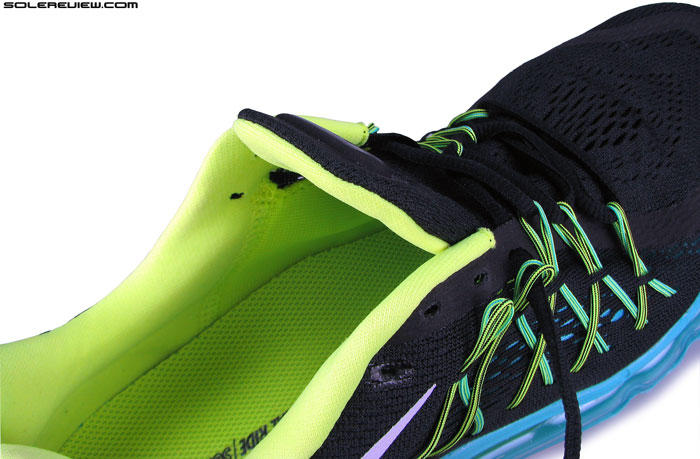 In a recent Nike trend that seems to be catching on, the tongue does not seem to have any foam padding inside. Squeeze the tongue with your fingers, and you'll notice that the layer of foam which was inside the 2014's tongue is missing.
That's something which we recently saw on the Structure 18, and going by the pictures, even the 2015 Vomero 10 does it too. The only patch of squishiness is on the AM15's tongue tip, where there's a welded-on branding backed with foam.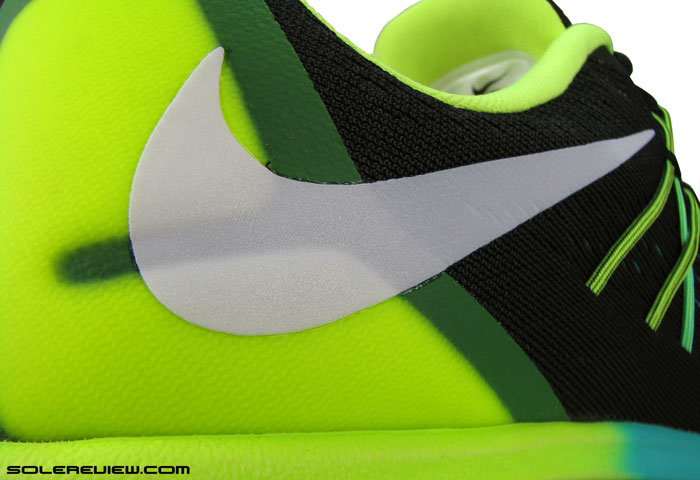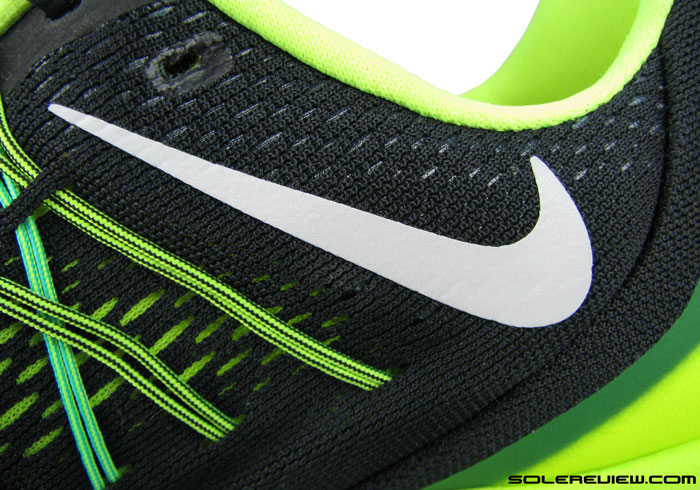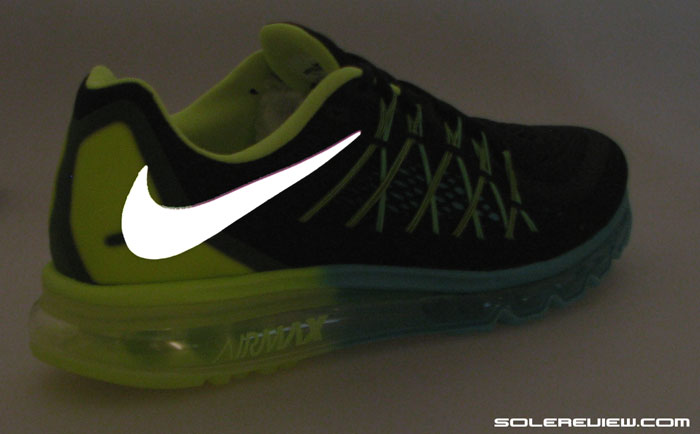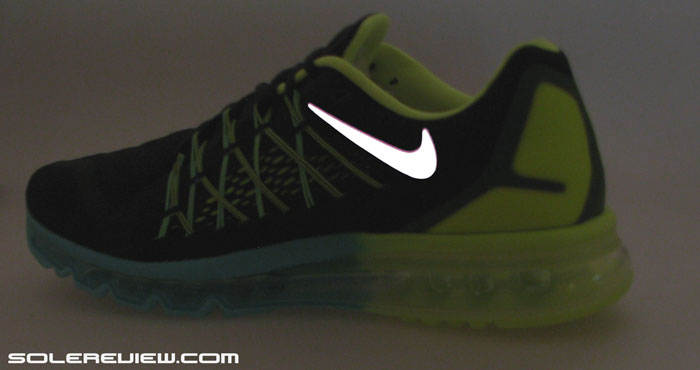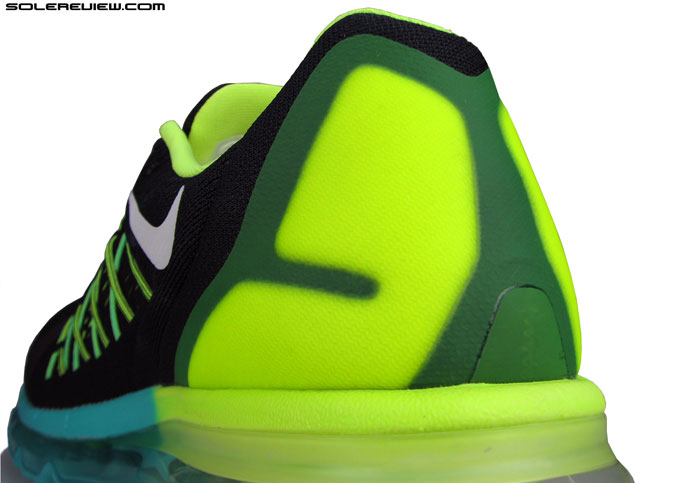 Night time visibility carries over from last year, with both side logos being reflective. Somehow we felt them to be lacking in reflective intensity compared to Air Max 2014. And both the swooshes have an inverted placement, in case you didn't notice.
On the heel, the Air Max 2015 sports laminated foam overlays, which somewhat look a bit like flat Zoom Air bags, with the urethane film structure. If you cut open that area, you'll see the foam tightly bonded to the translucent overlay – like a Zoom Air bag.

The addition of inner sleeve and Flywire cords lead to a natural consequence, which happens to be fit difference. The upper is now snugger than how AM14 felt, more so in the forefoot than anywhere else. This isn't a bad thing, as long as you don't have wide feet.
And that is the reason why we mentioned (earlier) that it would have been helpful to have a 2E option in retail colorways.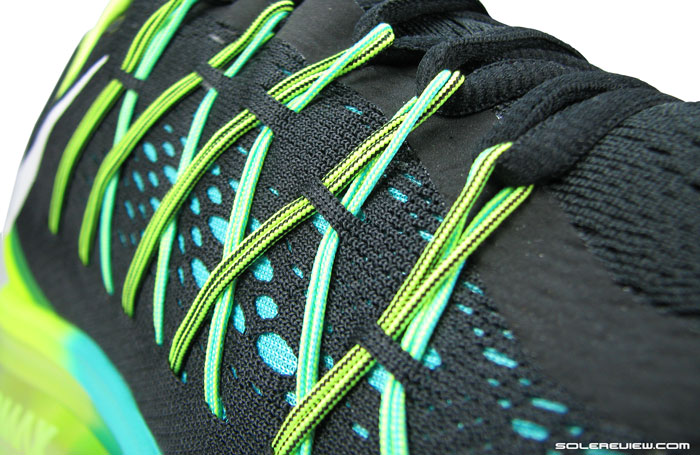 Out of the five Flywire loops on each side, only two work together with eyelet holes. The remaining three connect directly with the lacing, which means that every time you pull on the laces, the cords will effectively stretch taut on the upper.
This has the three Flywire cords deliver a higher side wrap pressure than what you might be used to. If you need a relaxed fit, then just don't tug hard on the front laces. The Flywire cords will still stay flush with the upper, as they are kept in place by the in-built guides. (see picture).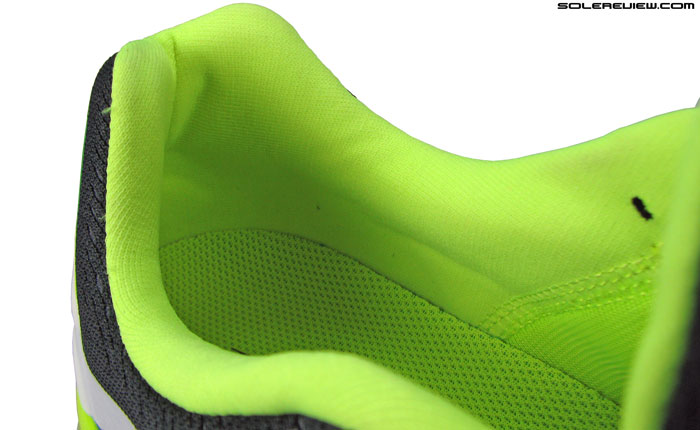 Heel fit is excellent. Padded collar walls close in on the foot without any gap, and if you needed to dial up the snugness, there's that last row of eyelet as a fall back.
Apart from overall snugness, you're bound to notice the revised shallowness of toe bumper. The area above the big toe in AM2014 was mesh, whereas that space is overlaid with a seam in Air Max 2015. That seam cuts right across over the big toenail, and hems in that part of the foot. Not irritating, but a difference you can't help noticing when swapping up from a '14.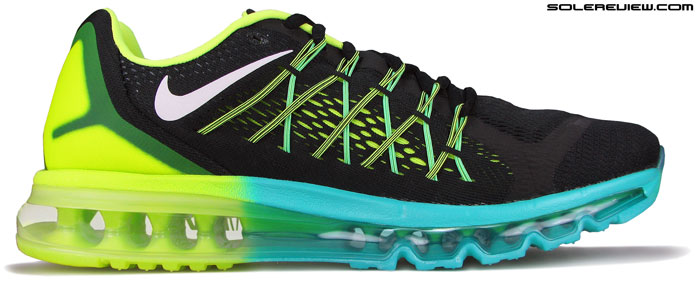 Taking into account the lighter weight, these are the only functional updates you're likely to discover during a run. From a running usage standpoint, Nike's alpha-priced running sneaker has always been about more show than go. That's all the shoe has ever been.
(Disclaimer: Solereview paid full US retail price for the shoe reviewed)