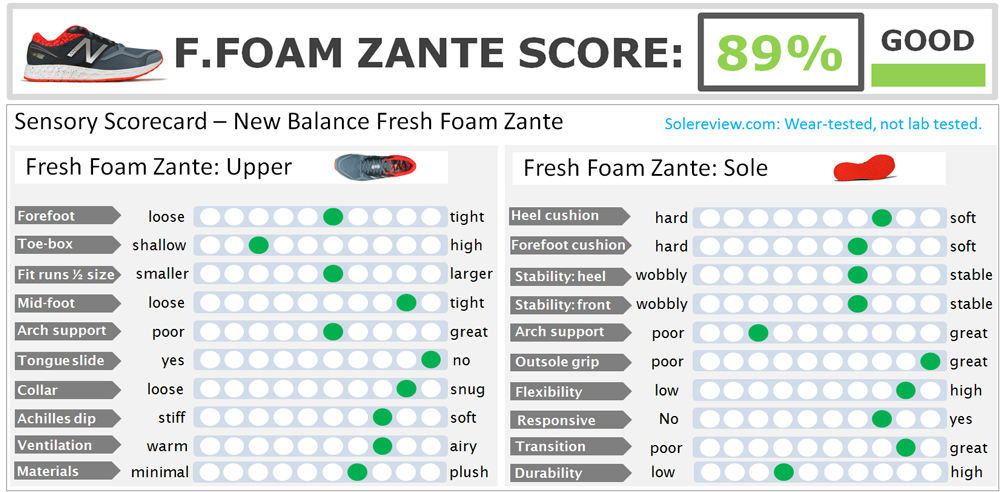 Color: Harbor blue/black/flame.
New Balance's marketing pitch: Born from Fresh Foam, fit to be fast.
Surfaces tested on: Road, ambient temperatures of 16° C/61° F
Upper: Multiple mesh types, synthetic nubuck. Full internal sleeve.
Midsole: Compression molded EVA foam, 6mm drop.
Outsole: Soft and grippy blown rubber.
Weight: 235 gms/ 8.4 Oz for a half pair of US11/UK 10.5/CM29/EUR 45 (New Balance sizing)
Widths available: D-standard (reviewed)
New Balance makes changes to its Fresh Foam formula, and uses it on the soft and smooth riding lightweight Zante. Fits like a glove too. Nice job, NB.
Nike LunarLaunch, adidas Boston Boost
Lightweight, night-time reflectivity, cushioning, upper fit, ventilation, transition
Outsole durability
When the Fresh Foam 980 was introduced last Spring, New Balance called it the 'science of soft'. As it turned out, their marketing team got a bit ahead of themselves. By around a year, give or take a few months.
For the much softer Fresh Foam Zante is partly what the 980 should have been, and would have somewhat justified the hyperbole. And we use the word partly, because the Zante isn't 980's successor. There is another shoe in the works called the FF Boracay, which should replace the ageing 980 in Spring 2015. The Zante happens to be an extension of the Fresh Foam template, a brand new model which will attempt to make its own mark in the world of 6 mm droppers.
The Zante also heralds the arrival of New Balance shoes which now actually come with a name, moving away from confusing numbered suffixes. To kick things off, initial names are island inspired – Zante is a Greek Island in the Ionian sea, and Fresh Foam Boracay borrows its name from an Island in Phillipines.
It was quite easy to be fooled by last year's 980. If you slipped on a pair and went for a run, the underside felt soft. It is only later you realized that the squish was coming from the memory foam like insole and not the novel looking midsole, which actually was quite firm. In our 980 review, we observed that a firm ride was not a bad thing, but ill conceived marketing certainly was.
The adage once bitten, twice shy comes into force here, so it was natural for us to initially look at the Zante with an overtly cynical eye. But the Zante turned out to be entirely different, and we're happy to report – mostly in a good way. There are some shoes which you know will dive headlong into a negative review, the list of lacunae filling the notebook at an alarming pace. Fortunately, Zante is not of that kind.
Instead, it is a shoe which most should take an immediate liking to, and that impression  should not change as you put more miles on them.
New Balance makes much needed corrections to its Fresh Foam midsole formula, and the Zante is a manifestation of that update. The midsole is now actually soft, unlike the firmer compound of the 980. It is also more responsive in behavior, as far as EVA foam based midsoles go.
This also means there's been a role reversal of sorts in the way the shoe is constructed. Instead of relying on a (FF 980) combination of soft insole and firm midsole, Zante goes the other way.
The molded insole has now been reduced to a thinner, perforated, less cushioned, compressed foam type. It rests atop a foam based strobel lining and a much softer midsole, which now takes on most of the cushioning chores.
This shoe was the NYC edition, and we were lucky to buy a pair from NB's website before it sold out. The brand says that regular colorways will release in March 2015.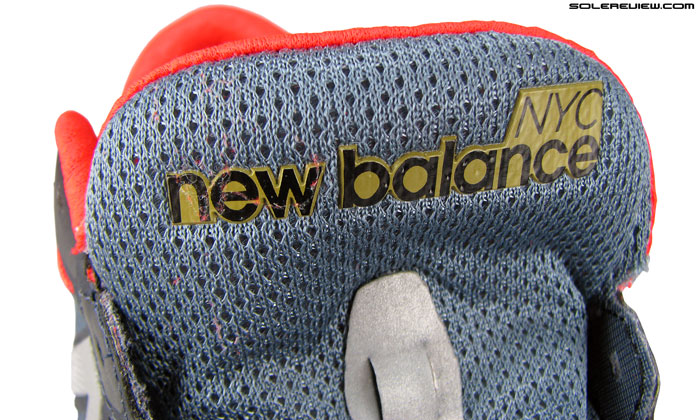 As part of this special colorway, the footbed top-cloth comes mono-chrome printed with the New York city skyline. The right insole has just the skyline, while the left (pictured above) has 'NYC' sublimated in red over the heel portion.
There are other areas which mark this edition, like the text over the reflective N logo, and the suffix on tongue top.
Upper aesthetics bears slight resemblence to the 980. Stitch-free synthetic nubuck overlays snake their way over the lightweight forefoot mesh. But that's where the likeness ends, as the mid and rear-foot areas take a different design route. The lacing eye stay is not single piece, but is split into two areas. The first row of eyelets (forefoot) cinches independently as they are not part of the main midfoot panel.
After the second eyelet, another type of mesh follows, with more synthetic leather overlays. Collar and tongue have soft linings, with outer section of the collar being textured fabric with a motif like design.
There are a couple of important things to be highlighted in the Zante's upper construction. The shoe comes with a full internal sleeve which makes the upper sock-like. The sleeve is so long, it extends right till the heel, resulting in interior smoothness from the use of same material.
The tongue is a component flat-lock stitched over the sleeve and not to its sides. So, as you can deduce, no tongue slide. This also happens to make the Zante suitable for barefoot use. There are no seams or bending components to cramp your run, and everything feels very comfortable over bare skin.
Collar also happens to be very shallow, not very different from the way racing shoes like the Zoom Streak 5 are designed. But some might want to know how shallow the collar is compared to 980, so here's the empirical lowdown:
Achilles dip height is lower by around 6 mm, lateral collar wall by 4mm and medial side by a whopping 7mm. However, don't let these numbers fool you into thinking that the collar doesn't grip well.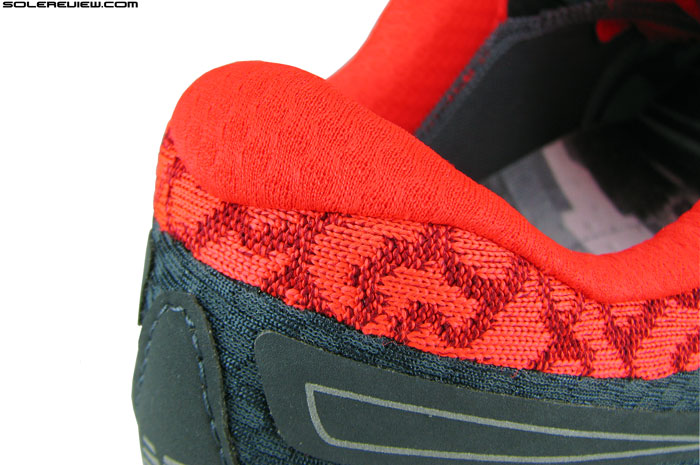 It actually provides a snappy fit over the Achilles without unwanted pressure or rub. That could be attributed to the Zante heel's deconstructed set-up. Unlike the mega internal counter seen on 980 with its overbearing surround, Zante's internal stiffener is very modest in structure.
It doesn't go all the way to the top, neither does it curve long around the sides. Just a rounded triangle of semi-stiffness doing its part to keep the heel in photogenic shape.
At times, there's only so much words can manage to describe, so we've tried our best to show what we mean through the series of photographs above. We've folded the upper over the inner heel counter so you can see its edges.
The lack of heel stiffness allows the upper to better snap-fit on the foot, and if you needed more snugness, there's that last row of eyelets. But wait, the tongue's too short for that to work properly. If the circumstances demand the use of the last eyelet, laces would end up half on the tongue and half on the foot, which as you can imagine, isn't very pleasant. Wish Zante had a slightly longer tongue. Like the 980's length, for example.
We're discussing fit, so let's dive deep into that, starting with the midfoot. The Zante feels super snug in the middle, brought upon by a combination of three things, namely the internal sleeve, narrow midsole waist and finally the semi-independent midfoot panel lacing. The upper is form fitting in that area; it also wraps nicely under arch, although there's not much under-arch support to speak of. You can go easy on midfoot lacing pressure in case you want your foot to have more breathing space.
Forefoot fit feels great in standard 'D' width. At this point, information on additional widths is not available, but more details should emerge closer towards the general release month (March '15). The existing width is snug but not constricting, staying away from creating any pressure hot-spots.
The general lack of side overlays allows the mesh upper to take full control of fit duties, so the shoe feels nicely draped over the foot with some space left over for splay. The toe tip retains a shallow fit, as is the general upper trend in lightweight trainers.
Toe bumper of the Zante has a squarish profile, which is a change from the pointy business end of 980. Runners who also own the OG fresh foam will notice that the Zante opens up some room on the medial (inner) side of the big toe. A good thing, that is.
And the mesh is very breathable. We noticed that during our morning runs, when cool air breezed its way in from the forefoot.
Don't know how the regular colorways are going to turn up, but New Balance surely went wholesale with low light visibility on this guy.
Side logos shaped in 'N' are fully functional reflective elements, and topped by ones on the tongue loop, heel and toe tip. The huge N is particularly conspicuous in the dark.
Zante's new midsole is singular piece of compression molding, and features the familiar, honeycomb shaped design on its walls. Except that our color came with glossy finish (reminiscent of Brooks Transcend) and speckles.
The minimal upper and lightweight midsole makes for a very lightweight shoe; 235 grams / 8.4 Oz for a half pair. That's around 10 gms lighter than the Saucony Kinvara 5.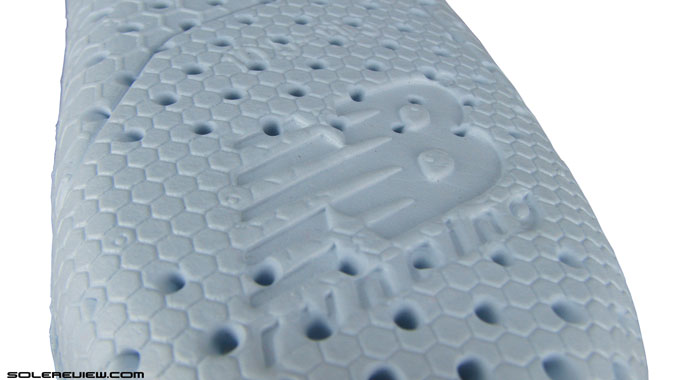 Ride is much improved over the original Fresh Foam midsole. The slim, low profile midsole doesn't have much foam volume, so there's no sink-in feeling, only noticeable softness. Most of the cushioning comes from the new midsole and outsole, with insole and strobel only playing a minor role. Footstrikes are adequately soft and responsive, and transitions are very smooth. This occurs both due to the single foam midsole design, and the full contact outsole which has many small, hexagonal nobs hugging the bottom.
Since the foam is soft compound, it also helps flexibility in the forefoot. You'll also see compression creases on the sidewalls after a few runs. Nothing to worry about, that is normal for this type of a midsole.
The outsole design language is nearly identical to the 980 except for two areas of differences. The crash pad isn't a separate piece like it was in the 980; instead it is now part of the rubber sheet, but visually separated by a flex groove. The Zante's outsole also happens to be more softer than that of 980, and this does two things. Improved grip, which happens to be great on the Zante, and it also increases cushioning feel as the rubber density gets closer to that of the midsole.
A few runs in the Zante reminded us of another shoe which feels somewhat similar – the 4mm drop Nike Lunarlaunch. Similar weight and upper feel, except that the Nike felt more cushioned and with a harder outsole.
What? Do you want to know whether the Zante has any faults? There isn't much to talk about. Please?
Ok, if you want us to nitpick, here's a couple. The laces are too long, which means that the aglets (yes, that's what the lace tips are called) slap around during runs. They also tend to get crushed under the foot every now and then. So one needs to tie big loops so that there's less free length remaining.
The other area is outsole durability. It is a single sheet of soft, blown rubber which adds to the cushioned ride and superlative traction. But soft means more wear, and Zante does not escape that generalization. You'll start seeing quick wear on landing areas. The durability level is similar to what you might see on many Brooks shoes.
But other than these small non-concerns, the Zante performs great, and is a redemption of sorts for New Balance's original non-delivered cushioning promise. It is a lightweight shoe with extremely neutral road manners, and would serve well as a daily training shoe. Maybe not a full blown race shoe, since we would have liked something firmer, but that's just us.
Regardless of whatever use you find fit for the Zante – be it daily training on roads or track, or running races, it is a good shoe to have in your rotation.
With the Zante experience behind us, the upcoming Fresh Foam Boracay has really piqued our curiosity.
(Disclaimer: For this review, solereview bought the shoe at full US retail price.)