Color: Hyper Cobalt/Volt-University Blue-White
Intended use: All runs except trail and in bad weather.
Surfaces tested on: Road, 20° C/68° F
Upper: Single layer mesh, inner sleeve, welded synthetic overlays.
Midsole: Two different densities of EVA injection stacked over each other.
Outsole: Carbon rubber.
Weight: 290 gms/ 10.2 Oz for a half pair of UK10/US11
Widths available: Only one standard width.
It's got a dual density midsole, but doesn't feel like one. The ride is very well cushioned and the inner sleeve results in great fit. Firm Achilles area and slightly out of place arch support are flies in the ointment.
Nike Dual Fusion Lite 2
The Nike Dual Fusion is another shoe from the Oregon based brand featuring a multi-density midsole, and given the fact there's a string of other models doing that, some clarification is in order. No, it isn't a baby Lunarglide 6, with its angled foam insert. The Dual Fusion doesn't have any gait correction tricks up its sleeve, it is just a shoe which offers a lot of cushioning while balancing it with stability. Here's a close-up picture of the educational label which comes attached on the brand new shoe. It points at the use of a comfort core, while being surrounded by a foam structure aimed at providing support. The label needs to be updated though; the new Dual Fusion uses two foams stacked together from heel to toe, and not only till the mid foot as the label suggests.
Till last year, foam pieces were attached to each other using the old school way, which meant sticking them using adhesives. The 2014 version goes glue-free and stacking happens by injection molding two pieces together. There is no midsole paint used here, just manufacturing advancement. And how can we tell? We zoomed in on the line which bisects where the upper and lower foam pieces meet; and the foam pores are clearly visible. When two foams are injected or compressed together, some part of it squeezes out on the sides. Much like making a breakfast waffle; while you can eat the crunchy, squeezed out flatness of the breakfast staple, in the footwear business they just trim that portion with a fast spinning rotary blade. This cuts the smooth upper layer of the foam, exposing the cellular structure which you see in our picture.
It is also worth noting that a brand new pair of Dual Fusion retails at eighty dollars, unchanged from last year. Considering that the price of admission into the running shoe club is $100 these days, you have to ask whether the $80 price tag comes with a catch. There isn't any. The Dual Fusion is an affordable, versatile and overall sensible pair of Nike, and though we have some minor gripes (which we'll point out with due diligence), chances are that they won't prove to be a serious botherance.
The upper, for example, is full of functional goodness. This year's edition has lost a considerable amount of bulk compared to 2013, replacing prior bits and pieces with elements way lighter in bulk, both aesthetic and actual. The mid-foot has been totally cleaned up by eliminating the windowed, synthetic overlay and instead using a mesh layer which covers most of shoe. Beneath that, there is a full inner sleeve with in-built sponginess which wraps around the foot. Lacing set-up is carried over from Dual Fusion 2, executed by flat straps rising from the upper base and then forming loops at the top. Kind of Flywire-esque, but with flat straps instead of cords. There are leather overlays on the toe bumper, eye-stay and heel, while heat fused layers blends in invisibly around different sections of the upper.
Fit, as befits an inner sleeve is snug, and in this case it isn't tight at all. There's plenty of open space in the pointy end of Dual Fusion; the forefoot sides being snug, room opens up around the tips of small toe and side of the big one. Can't really call the DF true to size, as there's almost a half size allowance between the front wall of the toe bumper and where your foot ends. The strap based lacing is all around pleasantness, coming together quickly once you tug on the lace ends. And because they're flat, side pressure is spread over evenly without any hot spots. Lacing pressure over the tongue is non-interfering, with the padded tongue insulating the foot from any top down discomfort.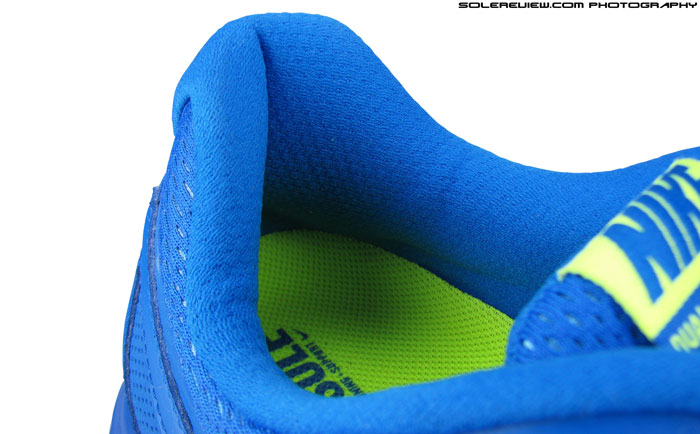 Coming to the minor gripes we talked about earlier – the collar area isn't perfect. The upper heel height is rather high, reaching far upwards along the Achilles. While the collar is soft, the corners of the Achilles tab is formed using folds of welded underlays, so there are firm and a bit unyielding. Runners with Achilles irritation issue should check this area before buying. We've been on multiple runs in the Dual Fusion, and encountered nothing which can be classified as discomfort. But the area deserves a few more minutes of attention when you're out trying them on for the first time. That applies when you're running barefoot in the Fusions – rest of the upper is perfect for doing that, except for the raised Achilles part.
Medial (inner) side of the collar has some slack, and isn't snug. Lesser foam padding seems to be the reason, and a better level of snugness can only be achieved by using the last row of eyelets. But doing so puts a noticeable amount of lacing pressure on the tongue top, besides making the whole area look very busy with lacing overlaps. It is not a deal breaker, but certainly an area which could do with some improvement.
Purely from a cosmetic perspective, the upper mid-foot comes across as loose. There are two synthetic leather swooshes welded on upper mesh, and they are relatively thick. The logos bend in waves along their length, raising the thin mesh and making area look slightly puffy. Frankly, no one would have noticed if Nike took off the medial swoosh overlay and replaced that with a small printed logo on the rear quarter panel – similar to what they have used on its heel. Would have saved some cents in product cost, which could have been used to place a reflective strip somewhere, which is currently not a fixture on Dual Fusion.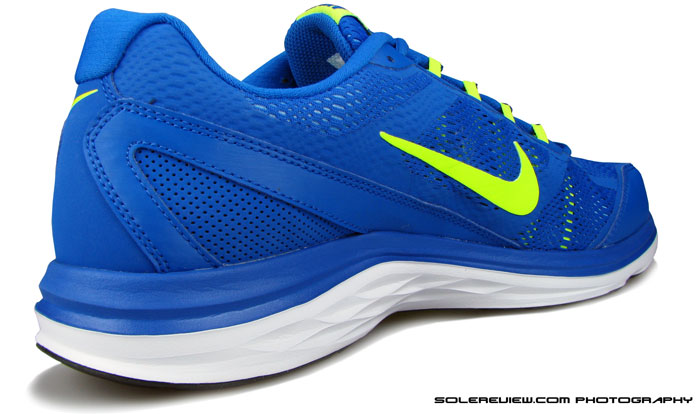 So coming to the centerpiece of Dual Fusion Run 3 – its dual density midsole, how does it ride underfoot? Before answering that question, we'd like to go through the construction basics of the midsole. The blue portion is the firmer foam and while it extends right from toe to heel, the bulk of it is used only from heel to forefoot (see outsole picture below). The blue foam is supported on the sides by a softer white foam, which wraps around till the forefoot, where it (internally) extends downwards. Looking at the Dual Fusion paper label, we first assumed the blue foam to be softer and vice versa, but it isn't. Regardless, there isn't much difference in the firmness between the two layers of foam. What you get are soft heel landings, and the softness extends all the way to the forefoot. The shoe does not attempt to correct foot strike, it just keeps the heel centered during all that compression, something which all running shoes are supposed to don in the first place. The Dual Fusion provides agreeable levels of stability in heel and forefoot, with smooth transition coming from the uninterrupted coverage of outsole rubber beneath.
Liberal use of rubber also translates into better durability. The midsole molding results in the outsole surface being recessed somewhat inwards in a concave shape, so the wear tends to happen on the edges first. The compound used is regular carbon rubber, with a level of recycled content mixed in.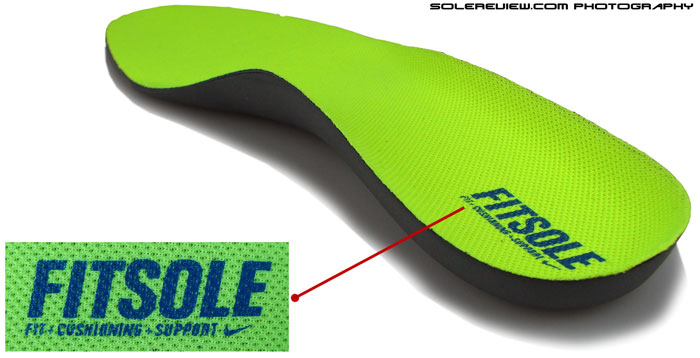 Arch support is substantial, especially felt inside the upper. But it feels a little out of place, and we mean it literally. The medial (arch side) midsole curves in sharply from the rear, so it ends up making the rear mid foot area quite narrow. When the foam sockliner is overlaid atop it, it tends to ride up the upper sides, creating a lump which feels like arch support, but just placed a little backwards. The initial runs felt a bit strange, but we got used to it after sometime. Not ideal at all, though. If the intention, which we're sure, was to provide arch support, the curve should be moved slightly forward. If you've worn the Dual Fusion Run 3, let us know in the comment box below so that we know this isn't an one-off thing.
That said, the Dual Fusion Run 3 is good value at $80, a sensible buy if the firm Achilles part isn't a hurdle. It's got a well cushioned ride, the sleeved upper fits well, is considerably lightweight for its category (290gms/10.2 oz) and has enough outsole rubber to go the distance.
You might also want to check out the Dual Fusion Lite 2, which has a similar construction, but with a toned down volume of firmer midsole foam.
(Disclaimer: Solereview paid full US retail price for the shoe reviewed)
Note on ratings: Our numeric scoring of 8/10 is based on a total of weighted averages. The attributes namely transition, stability and fit contribute to 69% of total scoring weight, which we see as more important than material (7%), cushioning (7%), traction (12%) and weight (5%). Hence the scores will not add up when simple average calculation is used.