Color: Black/Citron-Red
Intended use: All runs except trail and in bad weather.
Surfaces tested on: Road, synthetic track, 20° C/68° F
Upper: Dual layer spacer mesh, synthetic leather, TPU welding
Midsole: Compression molded EVA foam, 'Powergrid' perforated foam insert, heel crash pad, firmer density medial post, 8 mm heel to toe drop.
Outsole: Carbon rubber pieces under heel, blown rubber in forefoot.
Weight: 308 gms/ 10.8 Oz for a half pair of UK10/US11/EUR 45
Widths available: M-regular (reviewed), W-Wide, XW-extra Wide.
It's got a quad-density foam midsole, but don't let that scare you, neutral shoe seeking runners. The Guide 7 doesn't exhibit extreme motion control behavior, and has a firm and stable, yet cushioned ride. Any red flags? The laces are too long.
Asics GT 2000-2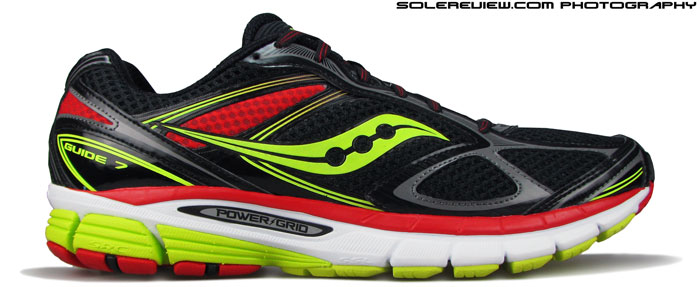 It's a pity, really. Just because a shoe is classified as being non 'neutral' by a brand tends to scare away a lot of would-be buyers, though the shoe would have worked perfectly for them too. For years, shoes have been classified under 'stability' and 'cushioning' headings, compartmentalizing product lines by the virtue of how many 'support' features the shoes packed in. Of late, things have moved towards being a bit more politically correct. Instead of plonking every motion control shoe under 'stability', brands like have started relying on softer wordplay, using terms like 'guidance' and 'support'. Which is a semantic progression of sorts, but at the same time does little to reduce levels of pre-purchase confusion.
Saucony's Guide 7 is a 'guidance' shoe (well done with the name, Saucony), and that's mostly because it features a quad density midsole, among other things. The arch side of the shoe features a firmer piece of foam integrated into rest of the midsole, which happens to be of regular density. Saucony also tries to differentiate the Guide from the neutral Ride 7 by integrating a plastic shank, and making the crash pad and removable insole a notch firmer. Apart from that, the Guide 7 sole unit shares a lot of common materials with the Ride 7. The bulk of midsole foam has the same density, more or less, and the outsole layout is similar, utilizing identical compounds. The reason why aren't referencing last year's Guide 6 is very simple – we haven't had a chance to wear them.
Unsurprisingly, the shoe rides firm, yet its cushioning behavior will be acceptable to most runners. Each foot strike rewards you with a sensation of satisfactory midsole compression, and the inner piece of firmer midsole isn't rock hard. At best, it isn't more than 30% firmer than the rest of midsole foam. Actually, its firmness almost matches that of the yellow crash pad on the outer side. This prevents the leaning-on-one-side feeling found in shoes like the Nike Structure 17, and instead delivers a decent level of stability. Somewhat akin to the Asics GT 1000-2 from a ride behavior perspective.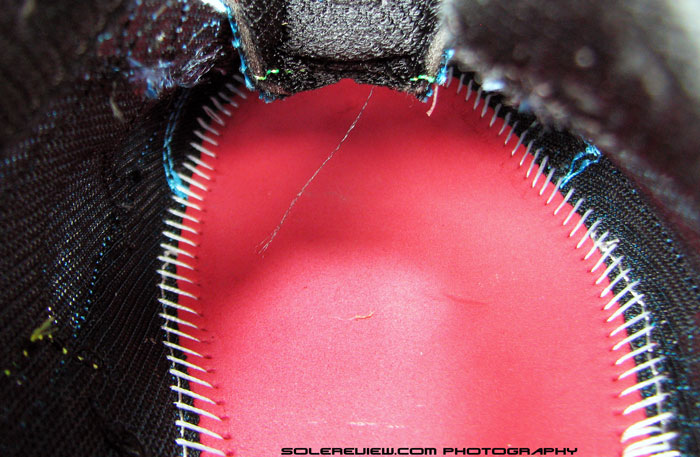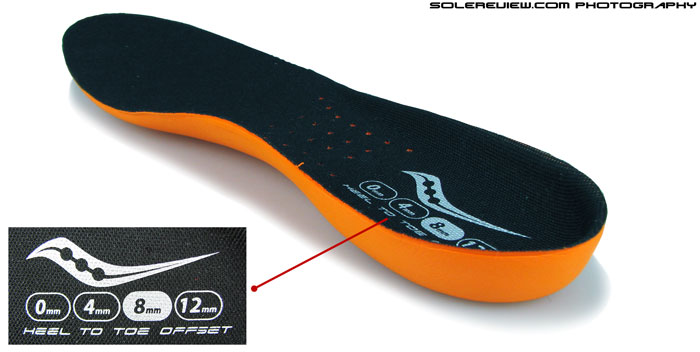 The Guide 7 uses a full length 'Powergrid' insert, which is basically a piece of perforated, cushioned foam. That is underlaid over a sheet of foam based strobel, which is topped over with a drop-in footbed, which is a bit firm in density. As you would expect, while the firmer footbed leads to a lesser feeling of immediate cushioning, damping from the Powergrid and midsole foam is delivered as you begin to put miles on them. Arch support from a midsole perspective is average, as the wall doesn't flare outwards enough to positively impact support. The bright side is that the midsole edge's wall does not dig-in, helped by the combination of yielding foam and the slight outward curve. While the molded footbed has a built in flare, that doesn't count for much as the upper mid-foot has a generous amount of slack, and doesn't wrap beneath the arch so well.
Transition is decent, with progression happening gradually. The rear foot is sufficiently articulated, with grooves, bevel and all that. But there's a small quirk which in most cases, will cause rear-foot strikers to land on edge of the outsole. If you look at the picture above, you'll notice that the Guide 7 upper has a prominent outside curve, and the outsole sits slightly recessed inside. In other words, imagine a ruler placed flat against the heel curve and placed vertically 90 degrees against the ground. In this case, the edge of the outsole won't even touch the ruler. This means that foot strike comes later than, say a Ride 7, hence resulting in the runner landing heel-edge first. So if you're overtly concerned about striking heel vs. late stage rear-foot, the Guide 7 might not be for you. At the same time, we'd like to make it clear that this aspect of the Guide isn't good or bad, we're just telling it like it is.
The outsole life should be fairly good, as there's plenty of hard wearing rubber on the heel and toe tip, with blown rubber coverage in the forefoot. That also makes the forefoot grip well, which by the way, also feels planted due to ample flare on both sides. Flexibility is average on the Guide 7, with a degree of stiffness felt while bending. But this isn't a trait reserved exclusively for the Guide 7; most Saucony shoes come across as stiff. Yes, that includes the cushioned Ride 7 and even the 4 mm drop Kinvara 5.
Saucony has a separate section promoting the Guide 7 on their website. The elaborate literature places emphasis on the fact that the shoe was almost three years in the making, and the Guide 7 was its longest development initiative. Well fellas, if you had spent just three hours (not years) of undivided attention on the shoe, one fact wouldn't be lost on you – that the laces are just too long. Just how long? By conservative estimates, at least 18(!) centimetres longer than they should be. We kid you not, we placed the Ride and Guide (well, that rhymes) laces together. Look at the result above. And we were too lazy to de-lace the Kinvara 5 for a comparison, otherwise the results would border on embarrassing, almost of inter-galactic tethering proportions.
Mockery aside, long laces aren't a good thing. If you tied 7 Guide laces the normal way, forming regular loop sizes, what's left of it reaches touches the ground. Which means you'll first crush the lace tips (they're called aglets) under your sole, and then a succession of jerky pulls will undo the lacing. A safety hazard actually. And if you revise the lacing to form bigger loops, you still lose, as the additional bulk jumps around. One could argue that the Guide 7 laces are flat and stretchy, but hey, Ride 7 uses the same type, so why this difference?
Another three hours of wear-testing would have also highlighted tongue slide on the Guide 7. As reviewers of many shoes a month, we're convinced of one thing. That an inner sleeve should part of the default running shoe setup, in the same way every hotel room should provide you with free WiFi, bottled water and HBO. The lightweight Kinvara 5 has a sleeve so why should a more expensive 'guidance shoe' be deprived of it? Ok, even in the unlikely scenario of some bean counter in Saucony passing a memo saying that inner sleeves are banned because doing so saves the company $ 100k a year, then at least be innovative. For example, how about moving the tongue-top lace loop to an asymmetrical, medially biased position? Like how the Adios Boost 2 does it. That will minimize tongue slide, and your accountant will purr with pleasure. And by the way, shorter laces save money, just saying.
Coming to the topic of night time visibility, the Guide 7 doesn't have much of it. The last Saucony we reviewed was the Ride 7, and the shoe put on a dazzling display of reflectivity. So we were taken aback by the sheer lack of it on the Guide. It is almost if it was last in line on the reflectivity buffet, and was only left with bottom of the barrel scrounging. That translates into small slivers on the toe-tip, heel and lateral mid foot insert – the last one happens to be standard fare on most Saucony models. And there is a reflective tongue lace-loop too, which for the most duration will be eclipsed by the laces.

Rest of the upper is typical Saucony. The heel collar and Achilles dip is plush, and likewise for the tongue. Mesh is a well ventilated spacer type, overlaid for the most part by stitched-on synthetic overlays. This has a bearing on the forefoot fit; there are overlays on either sides, going over the small toe and base of the big one. Resultantly, the forefoot feels snug on both sides. Vertical toe-box room falls in the median, neither too shallow nor too roomy. Length-wise, the Guide 7 will fit true to size, assuming you have a pair of socks on.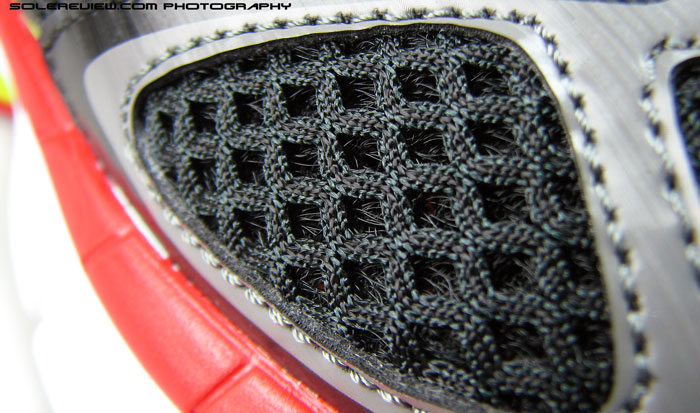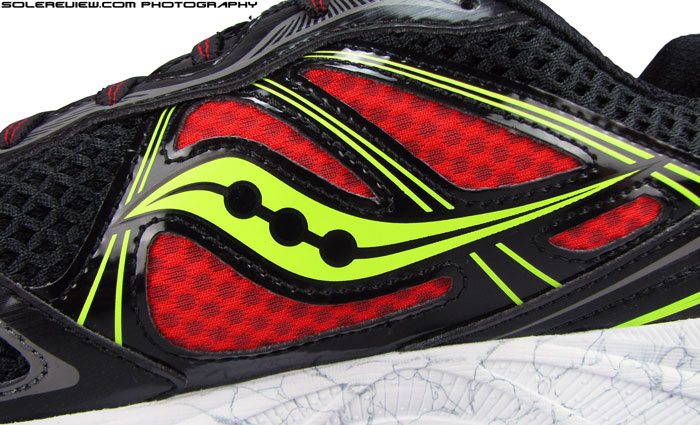 Use of conventional overlays means there are seams inside the shoe. We put some distance on the shoe barefoot, and though initially seams are felt right across the upper portion of small toe (lateral side), it does not result in any blisters or any other post-workout discomfort. Wearing the Guide 7 barefoot opens up some forefoot room, so that helps too. Wear the Guide with socks, and no seams are felt.
Saucony mentions use of a dynamic fit mid-foot system for a better wrap, but honestly, we found the so called feature a dud. There are these welded quarter overlays in the mid-foot, and they seemingly connect to the lacing, with two half-moon shaped eyelets in the upper section of the lacing. The idea is that tugging on laces passing through these holes should result in a custom fit. But the purpose is defeated, as the lace-loops are stitched tight into the panel, and do not work as independent fastening mechanisms. Also, the welds on the lateral side curve too far rear-wards, so sorry, the whole set-up is more form than function. Saucony has a shoe (Kinvara 5) in which this system works beautifully, but we'll talk about that in our upcoming Kinvara 5 review.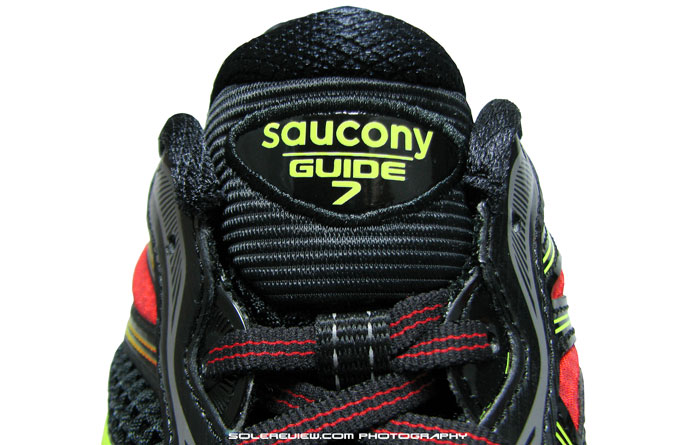 So who should be buying the Saucony Guide 7? Someone who wants a firm, yet cushioned ride in a relatively lightweight package (308 gms/10.8 oz, US 11), but without the overbearing interference of motion control tricks aimed at correcting your gait.
Sure, there's a firmer medial post in somewhere, but the Guide 7 is no Brooks Adrenaline or Beast. So going back to what we said at the start of this review – don't let the 'guidance' tag scare you off if you're in the market for a neutral trainer.
(Disclaimer: Solereview paid full US retail price for the shoe reviewed)
Note on ratings: Our numeric scoring of 8.5/10 is based on a total of weighted averages. The attributes namely transition, stability and fit contribute to 69% of total scoring weight, which we see as more important than material (7%), cushioning (7%), traction (12%) and weight (5%). Hence the scores will not add up when simple average calculation is used.