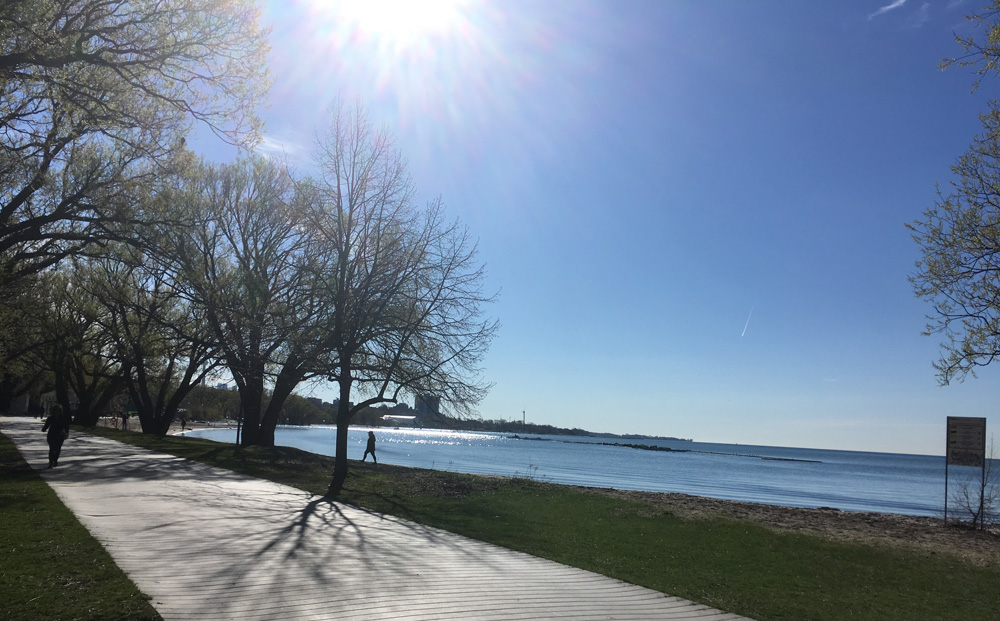 This article has been updated for June 2021. The Kiehl's Dermatologist Solutions Super Fluid mineral sunscreen is a new addition. The introduction receives a minor rewrite. All the products were purchased at full retail price. This guide contains affiliate links that generate commissions.
While summer is the perfect season for venturing outdoors, there's a risk of getting sunburnt. Most weather forecasts include a UV index that's rated between 0-15; a number that denotes risk levels of sunburn.
For example, if you go outdoors under UV 8 conditions without adequate sun protection, you're likely to get sunburnt under 30 minutes or less.
And just why does one need protection from the sunlight?
Sunlight contains UV-A and UV-B, shortened terms for long and short-wave Ultraviolet rays (UV-C is absorbed by the Ozone layer) respectively. Prolonged exposure to this combination of UV rays leads to short and long-term skin damage. This occurs regardless of your skin tone.
There's a common misconception that sunscreen or sunglasses are unnecessary when cloudy. That is not true. UV rays penetrate the skin even in the absence of direct sunlight. As a precautionary measure, sunscreen application should be paired with UV-A/B reflecting sunglasses during an outdoor run.
We suggest dabbing a half-teaspoon of sunscreen each for the face, neck, and both arms – 15 minutes before exposure to the sun. And don't forget to apply sunscreen over the earlobes and the tip of the nose – those are the often overlooked parts of the face.
There are two kinds of sunscreens – chemical-based and mineral-based. Both differ in their UV defense mechanism.
A mineral-based sunscreen is a blocking layer that reflects UV rays. The active ingredients are minerals like Titanium Dioxide or Zinc Oxide and stay on the skin.
On the other hand, a chemical sunscreen stops UV waves by absorbing them. Such sunscreens contain compounds like Octocrylene, Oxybenzene, Octisalate, and Avobenzone that get absorbed into the skin.
Because of their composition(s), both exhibit different application behaviors. Titanium Dioxide and Zinc Oxide-based creams tend to leave white streaks and usually require a greater effort to apply and take off. Some of them sting when they enter the eye.
In this mask-wearing environment, a mineral sunscreen will stain the fabric lining of the mask, shirt collars, or undergarments.
A positive aspect of mineral sunscreen is that they stay on the skin, and do not get absorbed into the bloodstream the way that chemical sunscreens do.
Chemical sunscreens are far easier to apply. Many of them have the feel and consistency of regular body lotions, and it's no surprise that they outsell physical sunscreens. They also do not stain dress collars or undergarments; at least not to the extent that mineral sunscreens do.
We prefer a blended approach. For example, the areas that come in contact with fabric – like say, the neck and ear area – could be where chemical sunscreens go to work. Over the face, a water-resistant mineral sunscreen will do the trick.
Running and most athletic activities involve perspiration, so water and sweat resistance are must-have characteristics. While mineral sunscreens are available in water-resistant versions, we prefer the chemical variety due to their ease of use.
While a higher SPF sunscreen, say SPF 50 or 60, allows a lower percent of UVB rays (that are responsible for sunburn) to reach the skin, they need to be reapplied every two hours.
The selection criteria for a good sports sunscreen would look something like this:
1. Have an SPF (Sun Protection Factor) of 30+ or higher. The number means that it would take 30 times longer to get sunburnt as compared to going outdoor with zero protection.
2. Broad Spectrum, or its ability to block/absorb UV-A and UV-B rays.
3. Water and sweat resistance rated for 80 minutes.
4. Does not sting the eye during run-offs.
5. No streaking, easy on and off, with minimal shearing.
6. Lotion form – these are easier to apply as compared to spray-type sunscreens. Exceptions apply to people with limited mobility.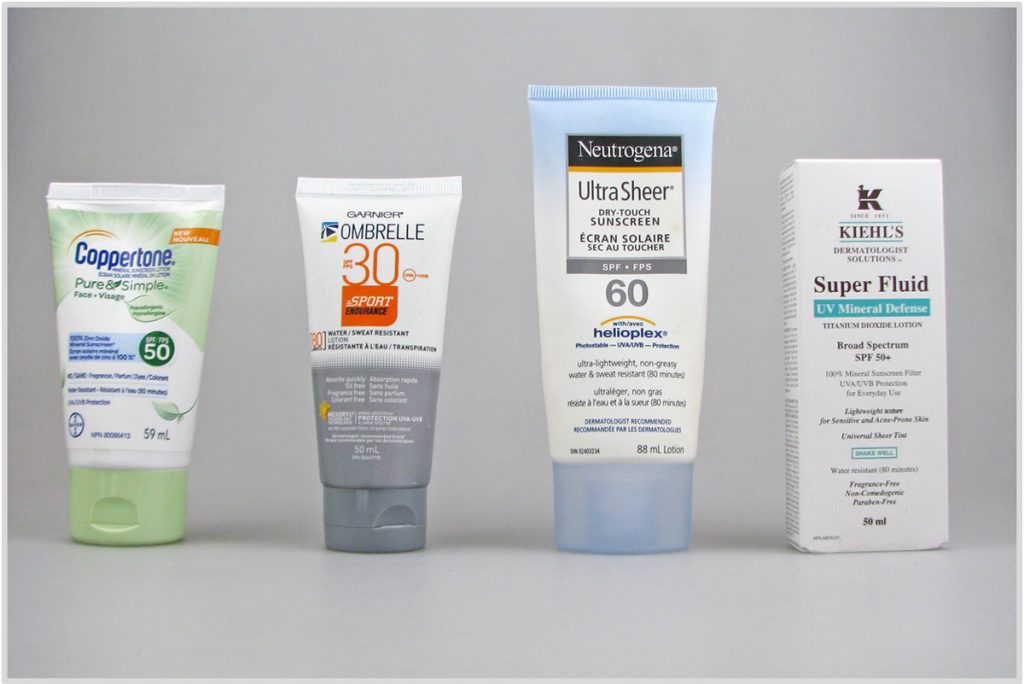 We're not going to compile a lengthy list of sunscreens – just two chemical sunscreens and two mineral (Zinc Oxide and Titanium Dioxide) ones.
1) Best chemical sunscreen: Neutrogena UltraScheer Dry-Touch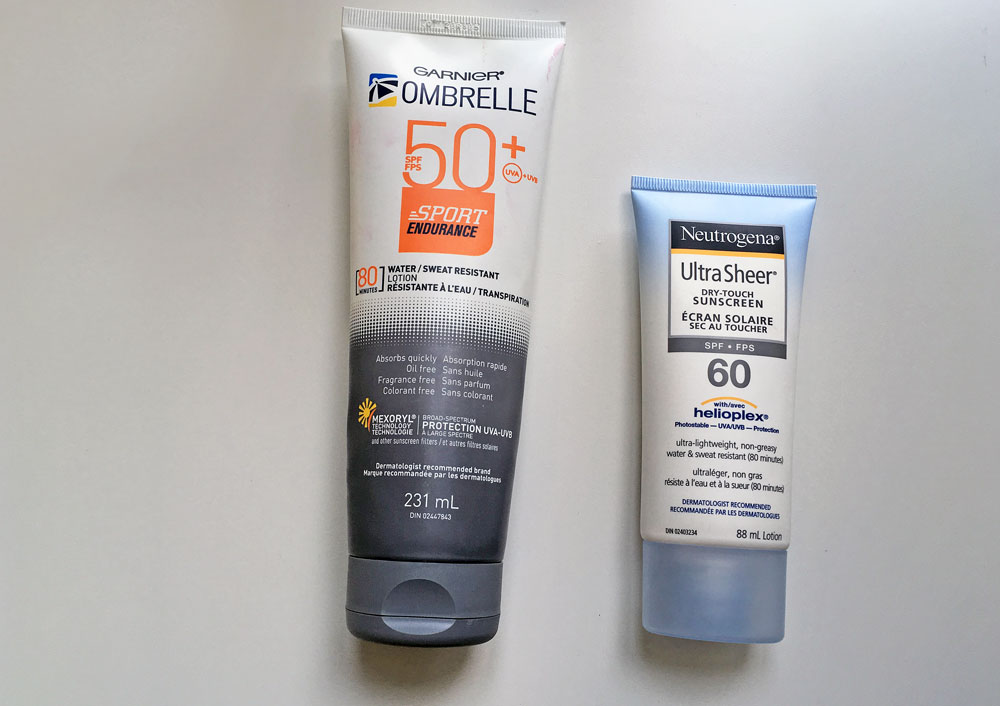 We've tried multiple products over the years, and we always kept coming back to the Neutrogena Ultra Sheer Dry-Touch. This comes in multiple SPF ratings – we tested the SPF 60 version.
With its minimal shearing behavior, the Ultra Sheer is easy to apply over the skin, and it washes off with soap just as effortlessly. When it's on the skin, it provides excellent sweat resistance. We've been using this product since 2012 and have never been disappointed.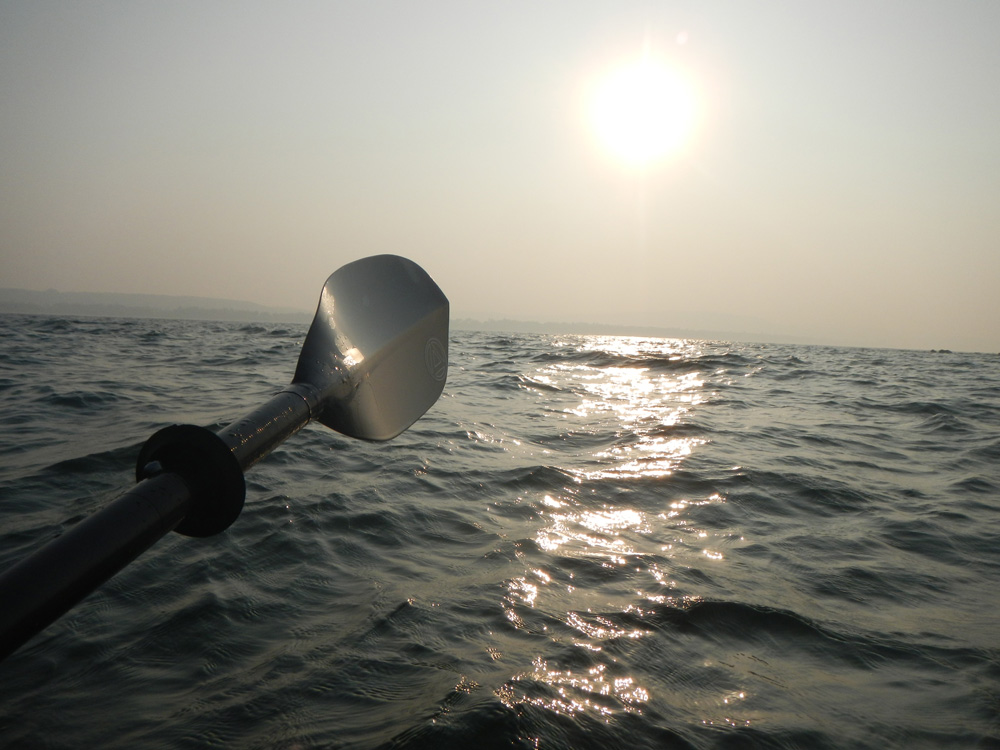 We have even used the Neutrogena lotion on a two-week Ocean kayaking trip, and it demonstrated superior water resistance to saltwater spray. As far as sweat resistance is concerned, the Ultra Sheer is good for marathon distances.
It also doesn't streak or leave visible stains on the clothes.
2) Best chemical sunscreen: Garnier Ombrelle Complete
We also use the Garnier Ombrelle complete lotion (SPF 30 and 50) during our shoe-testing runs – and we really like this sunscreen.
Along with water and sweat resistance, the Ombrelle delivers a very smooth, non-greasy lotion feel that makes it easier to apply than the Neutrogena Ultra Sheer.
If it is available in your country, then this is an equally good chemical sunscreen option. It's worth mentioning that the Neutrogena and Ombrelle lotion lack a strong fragrance; they have a very neutral smell. The Ombrelle is fragrance-free.
Unfortunately, this Garnier product is not as widely available as the Neutrogena Sunscreen.
3) Best mineral/physical sunscreen: Coppertone Pure & Simple SPF 50 Zinc Oxide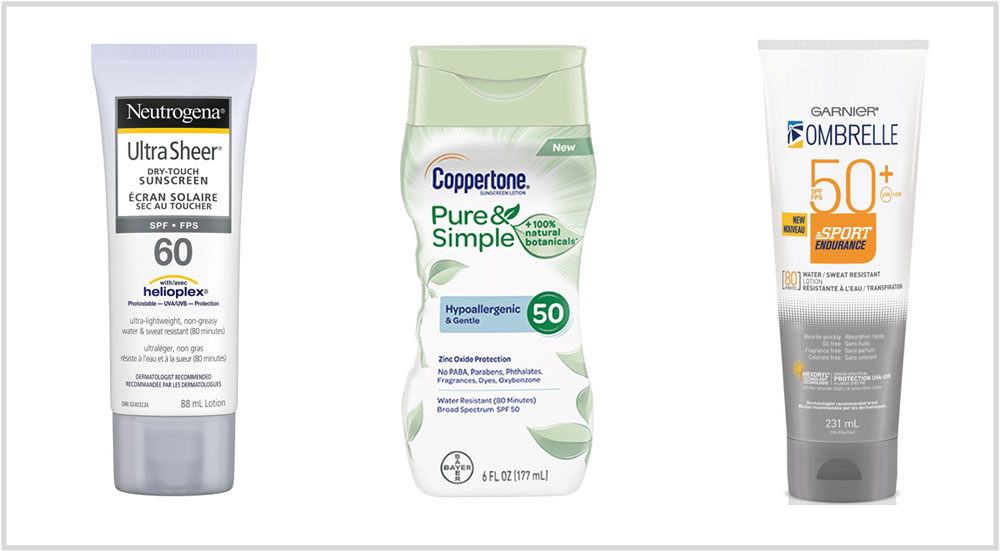 If you prefer a physical or mineral-based sunscreen, then we recommend the Coppertone Pure and Simple lotion with a Zinc Oxide base.
This product doesn't contain chemicals like Avobenzone, but there is a trade-off. When compared to chemical sunscreens, it doesn't disappear as easily over the skin and not as easy to apply or remove.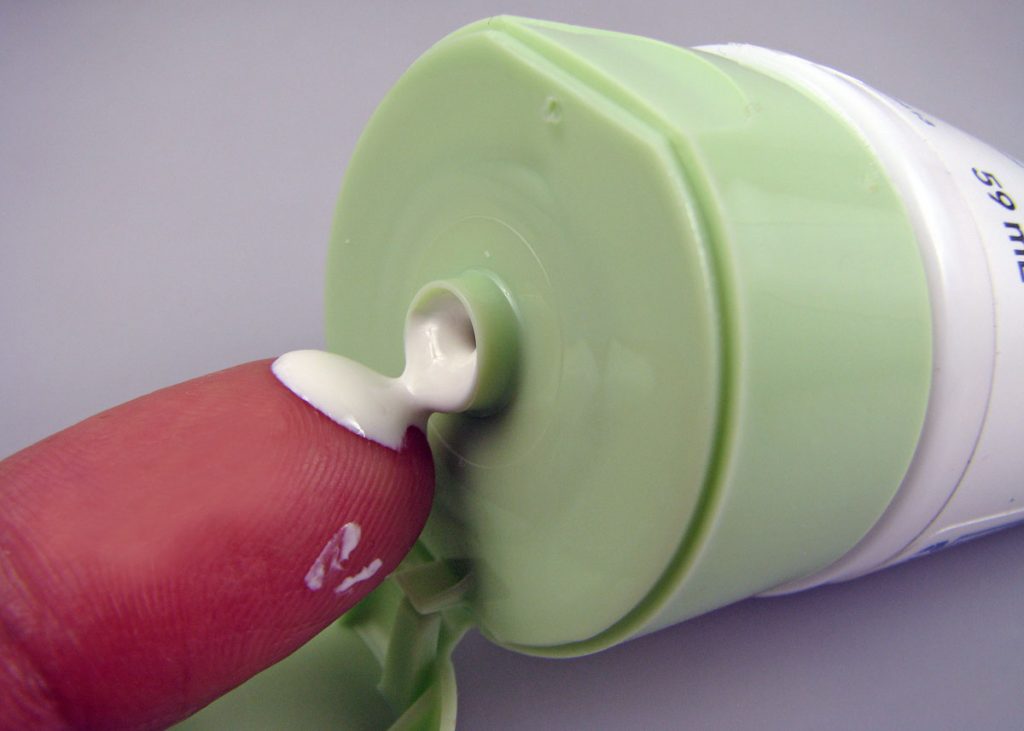 It shearing behavior means that it takes some effort to spread it over the skin.
Also see: The Neutrogena Sheer Zinc sunscreen.
Many of us overlook applying sunscreen on our lips; we recommend the Blistex Lip balm with SPF 15 protection. You can also use this lip balm during harsh winters, so this is an all-season product.
4) Best premium mineral/physical sunscreen: Kiehl's dermatologist solutions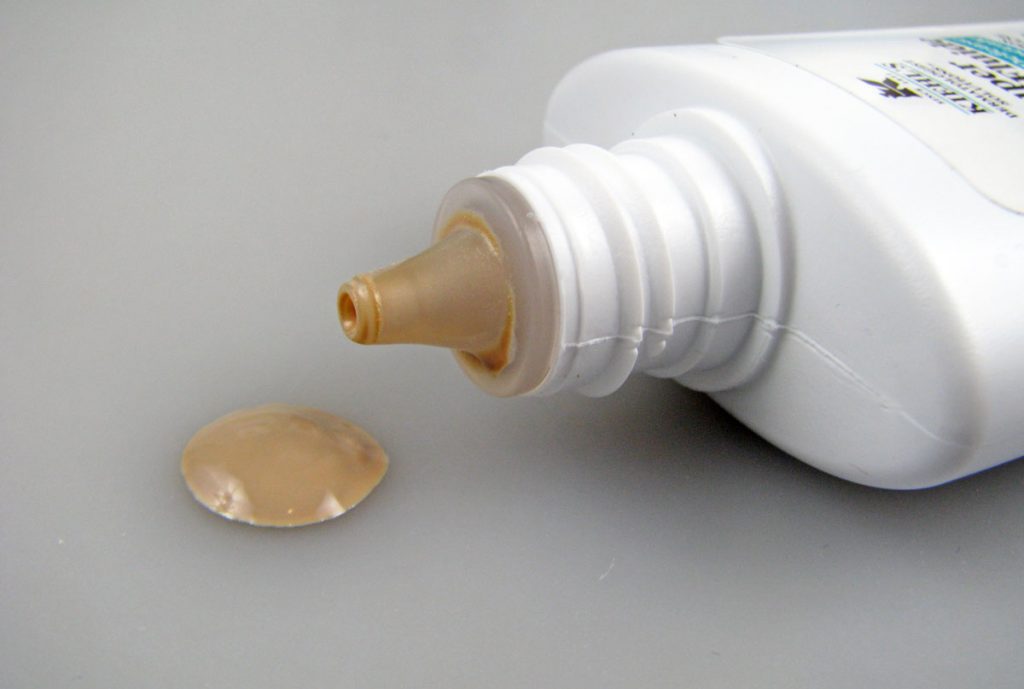 This Kiehl sunscreen is very pricey, but in our opinion, it's one of the best mineral sunscreens that money can buy.
The primary ingredient of this brown-colored fluid is Titanium Dioxide and is quick to disappear over the skin. It's got a water-like viscosity, so working it over the face feels effortless.
Regardless of its dark color, the lotion doesn't affect the skin tone. It just leaves a slight and barely noticeable tint.
On the flip side, it will stain fabrics that it comes in contact with. Thus, we recommend using the Kiehl lotion only on the face and earlobes. For the neck, we recommend using a chemical sunscreen.
Also, unlike the chemical lotions, this Kiehls is just a sunscreen and lacks a moisturizing component. For best results, use a moisturizer 15 minutes before applying this sunscreen.