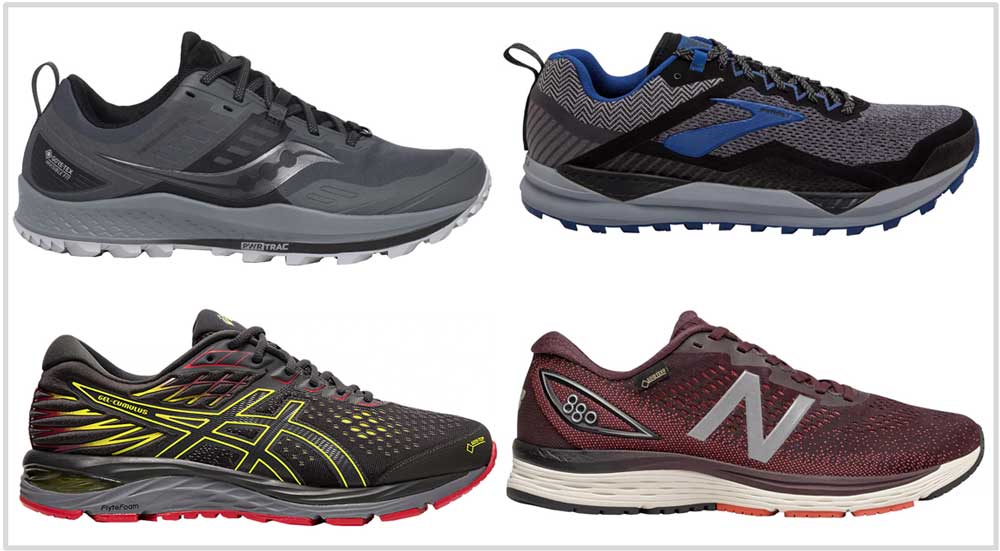 This article has been updated with current models for May 2020. The Asics Cumulus 21 GTX, GT-2000 8 GTX, and the adidas Terrex Eastrail GTX are new additions. The adidas Terrex CMTK GTX, Terrex Two GTX, and the Nike Pegasus 36 Trail Gore-Tex have been removed.
For most use-cases, running shoes cannot be truly waterproof by themselves – even with a Gore-Tex lining.
Yes, they can resist water in varying degrees but the low-cut design of shoe uppers cannot completely prevent moisture from entering. Water from the occasional splash can access the interiors through the heel collar. And the same lining that keeps the water out also restricts draining.
Think of a running shoe as a rain jacket without a hood. The jacket will work to a certain extent, but only half as effectively as one with a waterproof shroud.
Your socks will wick moisture, and the dampness will eventually find its way in. On a side note, wearing a pair of waterproof socks is one way to keep your feet dry. We even wrote a guide on such a product.
Wearing a waterproof gaiter or a bottom over a shoe will greatly improve your chances of staying dry. But then, you need cooler temperatures for that.
So are waterproof running shoes useless then? Why spend the extra cash if there's no guarantee of staying dry?
Think of a waterproof membrane as a water-delay timer. If you were to get caught in the occasional rain shower during your runs, a Gore-Tex lining will keep your feet dry for longer. It's the difference between your feet getting soaked in 5 minutes versus staying dry for up to an hour.
Unless you're running a half-marathon or longer, a waterproof running shoe repels dampness for the entire duration of the run. Of course, we're not talking thunderstorm-grade rain here – in which case you should be indoors binge-watching Netflix instead of being wet and miserable.
A waterproof shoe also does a much better job of protecting you from puddle splashes than open-meshed footwear.
Some trail running routes involve jumping over small water streams or channels, and the occasional misstep doesn't have to soak your feet.
If you're dealing with muddy trails, waterproofing is a godsend. The upper keeps the moisture from seeping in. Many Gore-Tex lined shoes have protective overlays and also use mesh materials with a closed structure. This design prevents the upper from getting dirty as well.
There's an added benefit of a waterproof shoe. It acts as a wind-blocker and keeps the insides toasty during colder months. So if you're preparing to run in the winter rains, rest assured that waterproof footwear also delivers better thermal insulation.
Now that we've built a case for waterproof shoes, what kind should you buy? It depends where you intend to run. If it's off-road, then the answer is obvious; buy trail running shoes with a Gore-Tex membrane.
There are road running Gore-Tex equipped shoes too, and we cover that in the first half of this guide. There aren't as many choices as we would have liked, but some of the popular neutral daily trainers are sold with waterproofing. These are dependable shoes and will work for a lot of runners.
There is a reason behind the slim pickings. Adding Gore-Tex to an upper will add $10-20 in cost, so one can imagine what that does to the retail price – and the profit margin.
Trail running footwear is a completely different beast. You're spoilt for choices here; most companies sell GTX-lined trail shoes. If you're looking for great value, adidas makes a clean sweep. It's the only premium brand to sell waterproof trail shoes between $110 and $130.
Another good thing about adidas is that it offers soft-road models, shoes that can be used for both on and off the asphalt. So if you don't like the road-going options, adidas shoes like the Terrex Eastrail GTX are an alternative.
At the time of writing this guide, Nike's Turbo Shield (below) is waterproof but doesn't have Gore-Tex.
Category 1: Waterproof road running shoes
1) Nike Zoom Pegasus Turbo Shield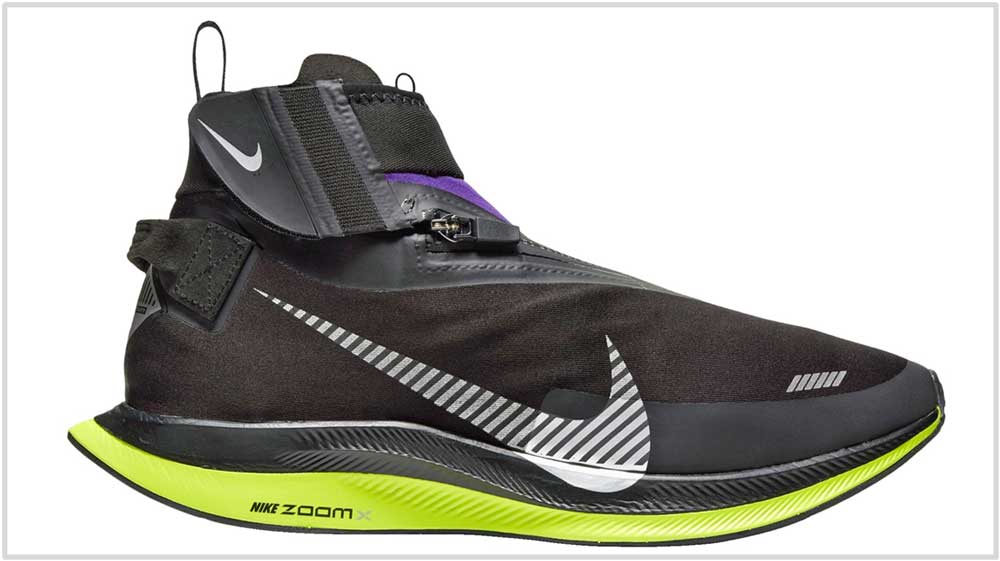 The Turbo is the odd one out in Nike's seasonal Shield pack due to a couple of reasons. One, it has an ankle-high shroud over the shoe. Two, the said covering is waterproof.
This is unique to the Pegasus Turbo Shield because the Nike Shield collection is usually water-repellent and not waterproof. The cinching system uses a combination of zips, stretchy bands, and hook-and-loop closures to lock the foot down.
The cushioning system is the same as the regular Turbo but with a tweaked outsole rubber formula.
2) Asics Cumulus 21 GTX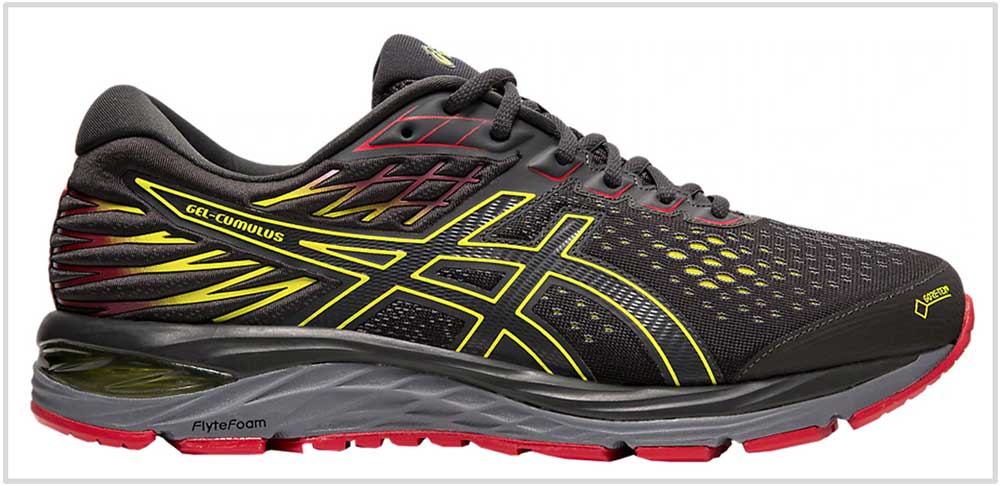 We've noticed that the release of Gore-Tex variants lags by a season. For example, the stock Cumulus 22 is out now but the water-proof Gore-Tex isn't. But better late than never, so the Cumulus 21 GTX will do just fine for now.
Barring a couple of differences, the shoe is mostly the same as the standard Cumulus 21. The upper runs warmer and narrower due to the waterproof-inner lining. The second change is in the outsole – it gets more outdoor-sey lugs as compared to the non-waterproof model.
This Cumulus is also a great neutral trainer for daily runs, except that you don't have to worry about damp pavements. Or the occasional spring shower.
3) Asics GT-1000 8 GTX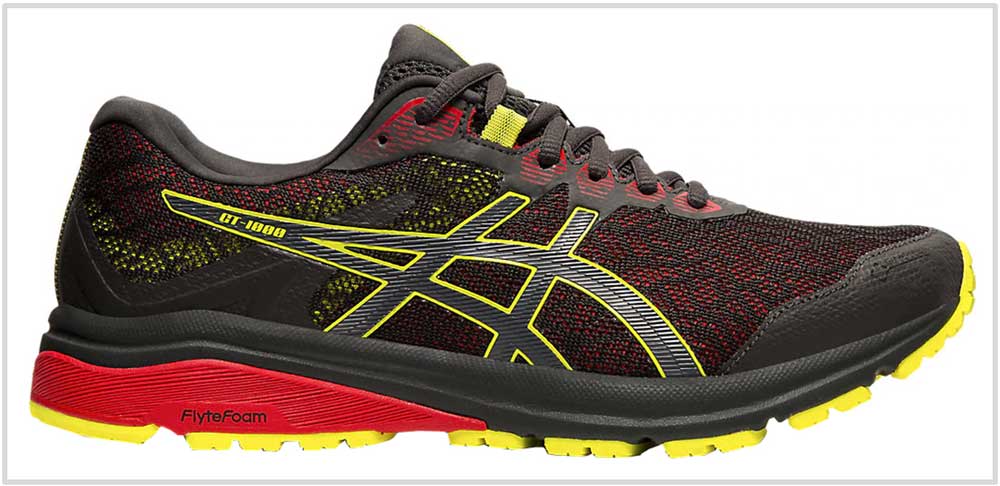 This is the only other stability running shoe in this guide, and a fairly mild one at that. The firm medial post is small and doesn't alter the compression dynamics of the midsole.
Along with the waterproof Gore-Tex lined upper, the GT-1000 also comes boxed with a lugged outsole.
At a retail price of $110, the GT-1000 offers the best value in this category. Available in Men's and Women's colors.
2) Asics GT-2000 8 GTX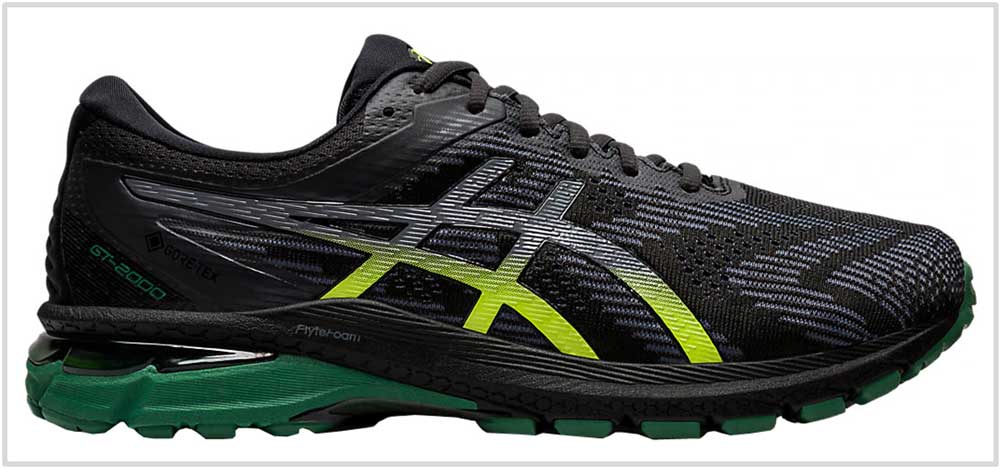 If the GT-1000 8 is a mild-stability running shoe, then the GT-2000 8 is the middle ground between the 1000 and the Kayano. It has a medial-post molded into the inner midsole for the old-school 'anti-pronational' touch, and the simple upper design is functional and well-fitting.
Just like the GT-1000, the 2000 has a more aggressive outsole than the stock model. The water-proof lining also makes the interior warmer and snugger.
Incidentally, the GT-2000 8 is available in a mind-boggling number of variants. There's a trail version and another knit upper model. There are narrow, wide, and extra-wide sizes available too.
So if your idea of a waterproof daily trainer is a firm stability running shoe, it's hard to go wrong with the GT-2000. We've reviewed the standard model here.
4) Brooks Ghost 12 GTX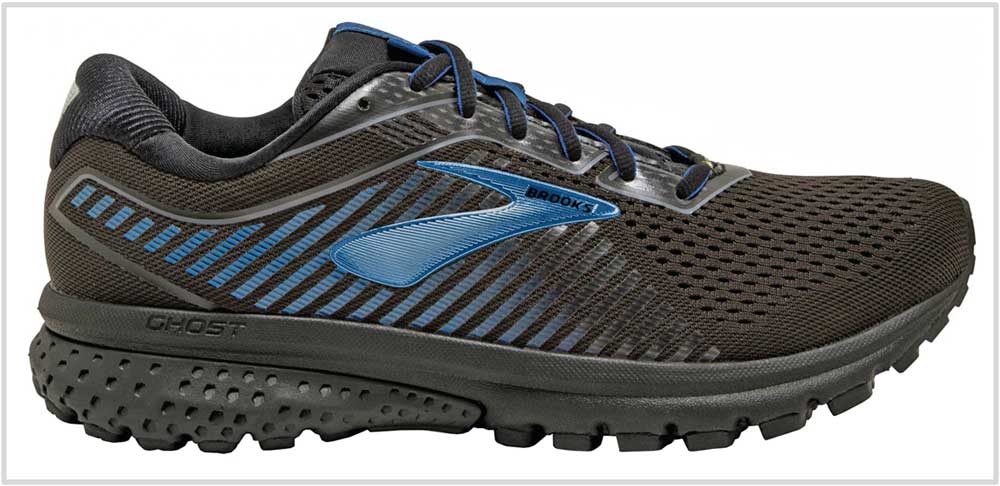 Brooks's popular neutral running shoe is also sold with a waterproof upholstery but at a hefty upcharge. You pay $160 retail for the Gore-Tex version of the Ghost 12.
But if you want a comfortable road shoe that keeps your feet dry, the Ghost 12 is a safe and reliable pick. If you're not fussy about which Ghost edition you're buying, the Ghost 11 GTX sells for $10 less than the 12.
5) New Balance 880V9 GTX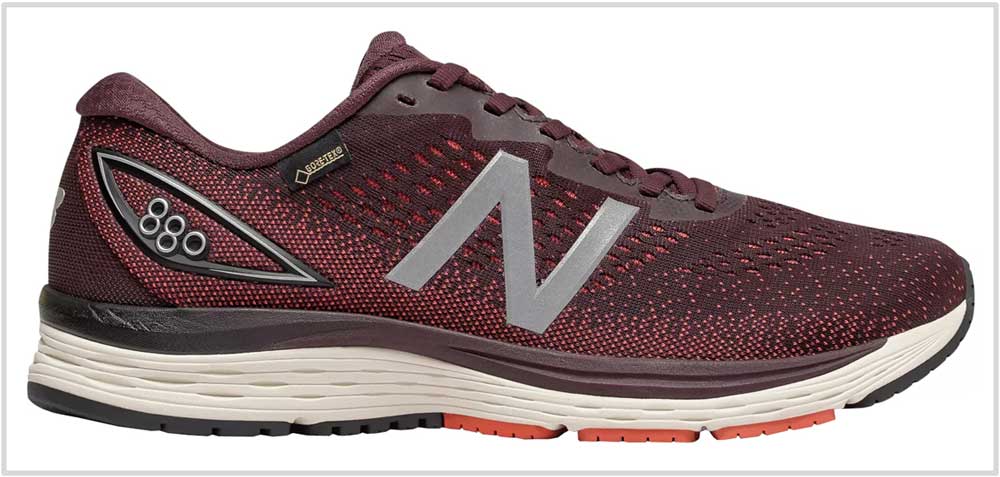 In our opinion, New Balance strikes a good balance between retail price and the Gore-Tex waterproofing premium. The 880V9 GTX retails for $140, which is halfway between the GT-1000 and the Ghost 12 GTX.
And except for the small Gore-Tex label, it's hard to tell the difference from the outside. The 880V9 is also available in a wide.
The standard edition of the 880V10 is out now, but we don't see a Gore-Tex version so far.
6) On Cloud Waterproof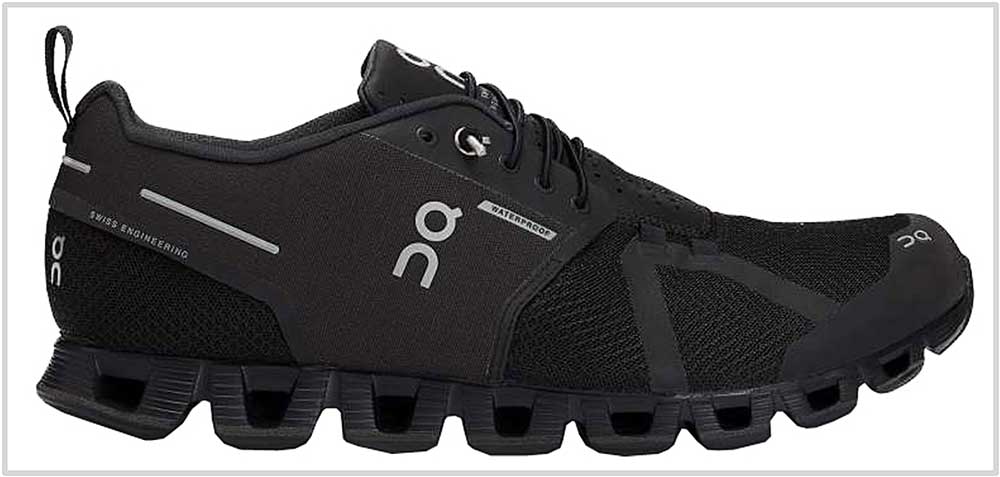 This is the waterproof version of the popular On Cloud. Since there are less expensive alternatives, buy this shoe only if you're a fan of their unique cushioning system and roomy fit. The foam and rubber pillar midsole has plenty of comfort for runs and urban exploring.
Several aspects of the shoe could be improved. Long-term waterproofing is sketchy, and the part foam, part rubber outsole isn't the grippiest.
Category 2: Waterproof trail running shoes
1) adidas Terrex Agravic XT GTX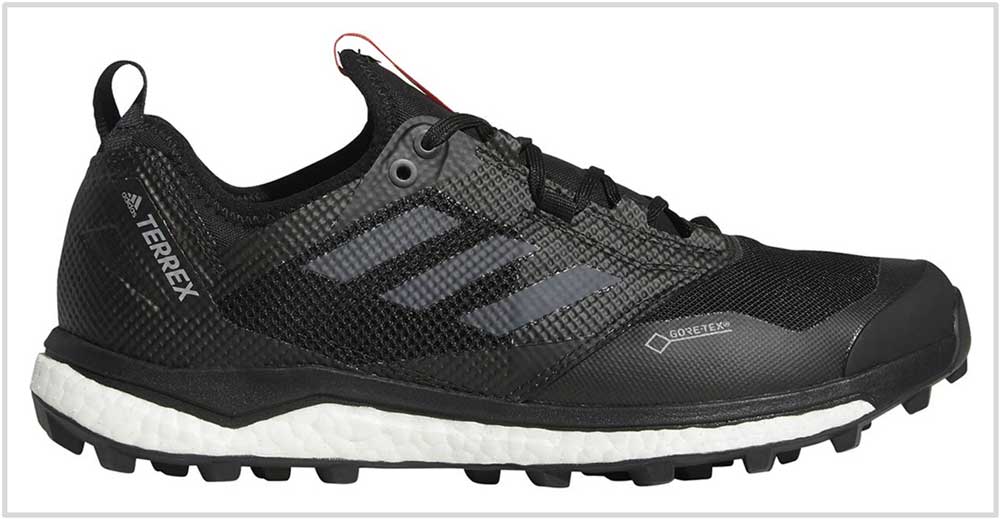 Not only do you get waterproofing here, but the Terrex Agravic also has all that's required of a performance trail running shoe.
The Gore-Tex shell is surrounded by a layered exterior in a bootie form, and the tough Urethane overlays act as a protective barrier. The Boost cushioning makes the ride easy on the feet while the wide-spaced Continental rubber lugs grip without clogging.
Also see: The Skychaser LT Gore-Tex.
2) adidas Terrex Eastrail GTX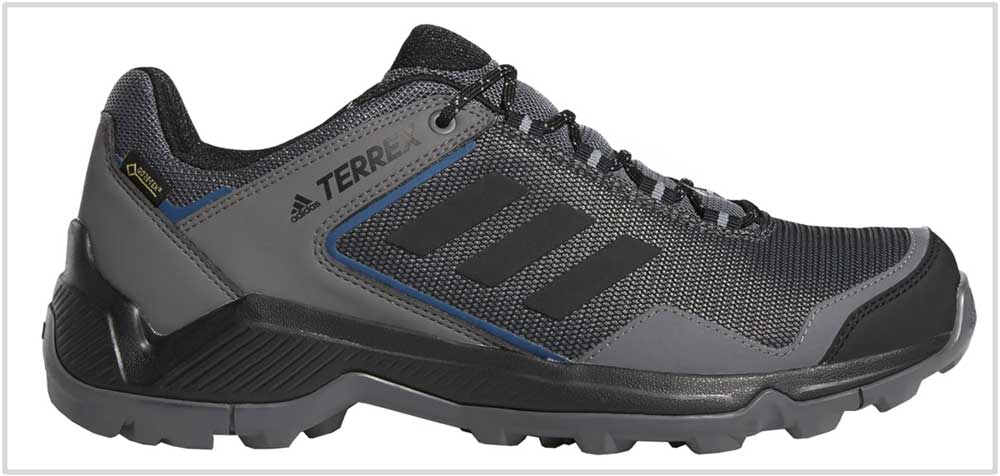 Though adidas markets the Terrex Eastrail as a 'hiking' shoe, it has several running-worthy features. The rubber outsole has long multi-directional lugs for traction on graded terrain. The midsole has plenty of comfort for distance runs on uneven ground.
The upper is fairly protective too. Not only do the thick overlays and sleeved design prevent the debris from entering, but the Gore-Tex lining also keeps the water out. The Eastrail GTX retails at $110, so it's great value for what it is.
3) Saucony Peregrine 10 GTX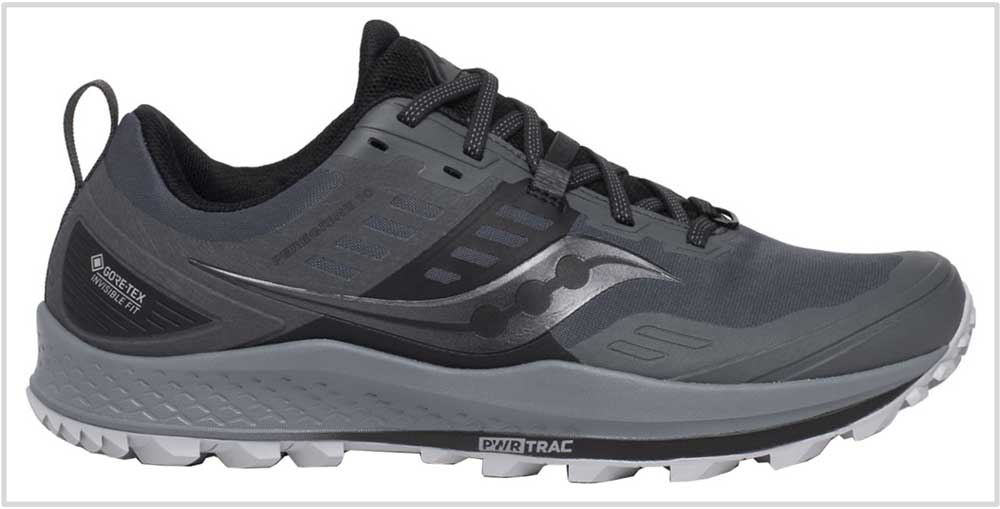 Rock plate? Check. Grippy PwrTrack outsole? Check. Midsole comfort? Yes. Waterproof? Yes, of course.
That's the Saucony Peregrine 10 GTX for you. Saucony's popular trail running shoe drops the ISOFIT panel and embraces a waterproof upper with fused, protective overlays.
Waterproofing isn't the only reason why the Peregrine featured on our guide. It's also got a 4mm heel to toe drop, something that not many waterproof trail running shoes have.
4) Brooks Cascadia 14 GTX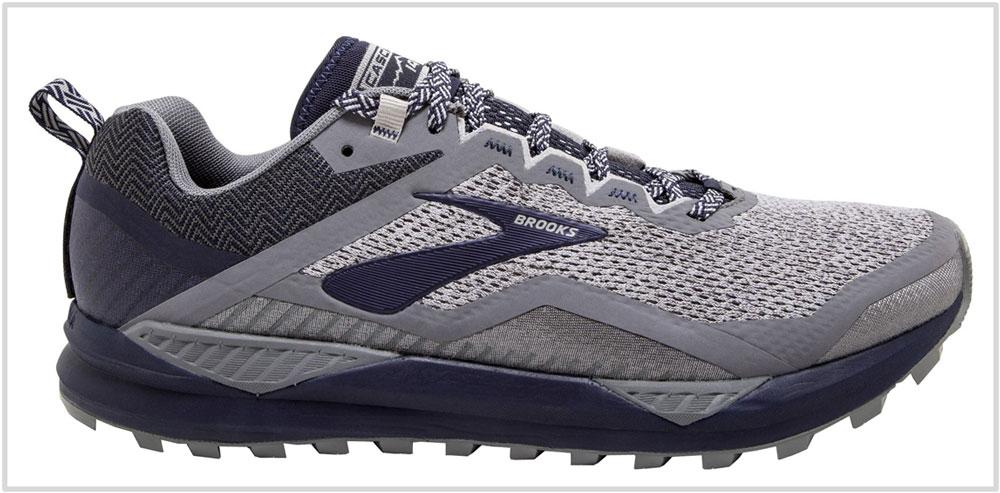 The Cascadia has been a Brooks staple for well over a decade, and it also sells in a GTX version for both genders.
This isn't a shoe you'd use on technical trails, but it's good enough for the average off-road excursion under wet conditions.
5) New Balance Summit KOM GTX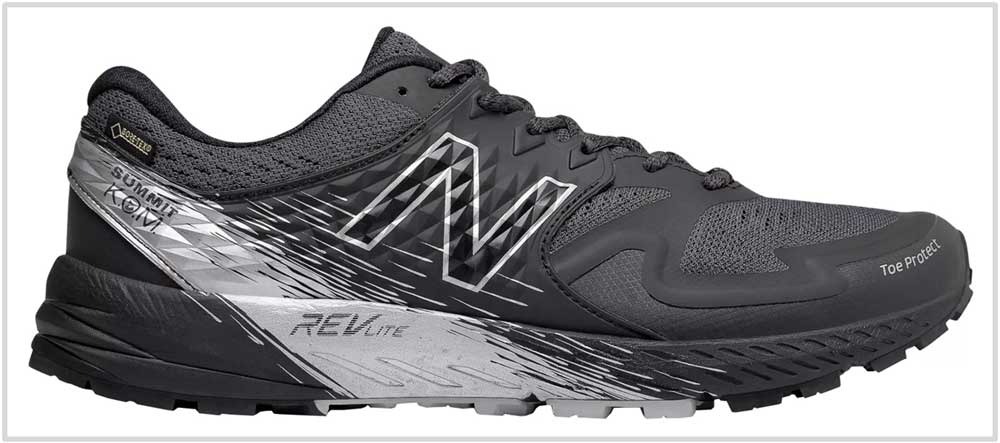 This is a speed trail shoe with a waterproof upper, so be mindful of what you're buying. A stiff forefoot 'rock-stop' plate adds a protective barrier from the pokey stuff on the trails, and a firm RevLite EVA cushioning builds its speed persona. The outsole uses a Vibram Megagrip compound for wet-surface traction.
The Summit KOM's Gore-Tex upper is narrow-fitting. Which is good, because it delivers a secure grip over challenging technical trails.
6) Saucony Excursion TR13 GTX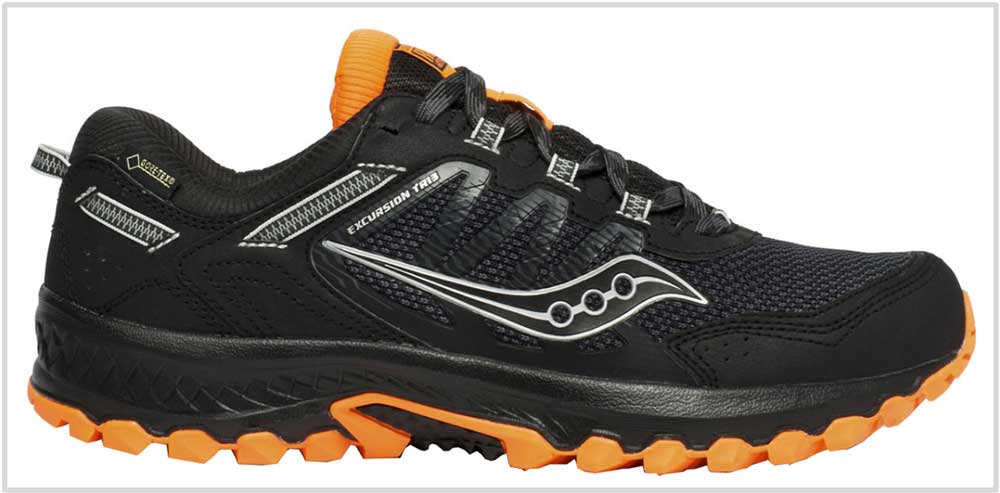 By far, the $80 Saucony Excursion TR13 GTX offers the best value if you're looking for a Gore-Tex equipped running shoe. Even though shoe retails in double digits, the upper construction and materials belie its price.
The snug upper has stitched and welded overlays for protection; the speed laces are quick to cinch. The basic EVA foam midsole has sufficient cushioning for on and off-road runs.
You also get a proper outdoor-oriented outsole made of Saucony's hard-wearing XT-900 rubber. What's not to like?