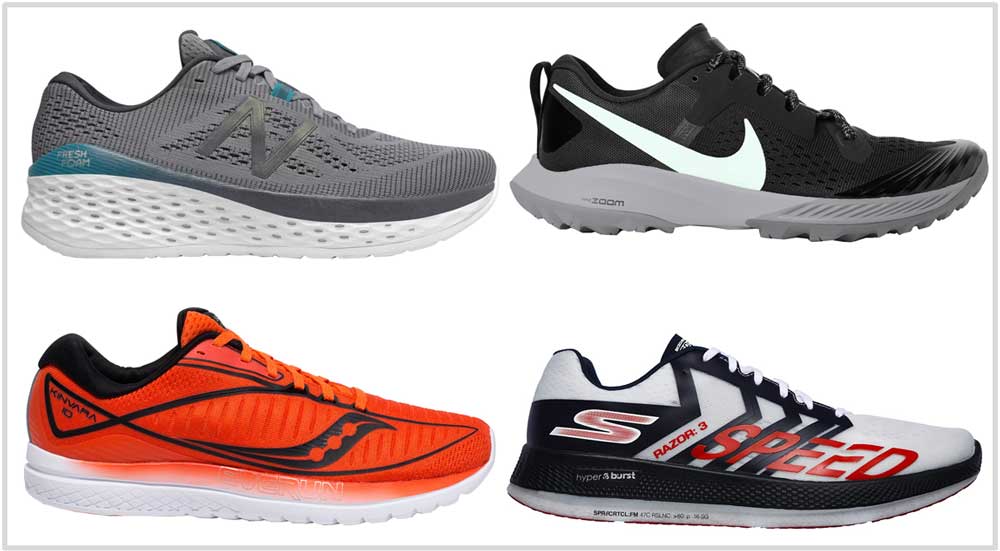 When you make a purchase using the retailer links in our guide, solereview may earn a small commission.
It's 2019, and you're still interested in heel drops? You're a decade late, but better late than never, as they say.
What exactly happened over a decade ago? The era of barefoot or minimalist running, that's what.
The whole movement was based on the notion that running barefoot – or in minimalist footwear – was healthy. It is ironic, however, that the 'barefoot' concept led to the creation of new running shoe categories – which was the exact opposite of actually running barefoot.
Several footwear categories were created to address different levels of minimalism. Vibram mimicked the anatomy of the human foot for its 'Five-Fingers' series. Others started selling zero-drop sandals. The rest adopted a middle-ground and marketed zero or low-drop running shoes.
Brands like Nike were ahead of their times with the ultra-flexible 'Free' assortment and they ended up selling container-loads of those products.
But if you've read the article so far and haven't the faintest idea of what was just said, here's a short primer on heel 'drops.'
What is a heel drop?
Every running shoe has a foam midsole, and every midsole has a certain thickness. For example, if you were to measure the front with the caliper, you'll get a certain number in millimeters, say, 20 mm. In the rear, the midsole could be 30 mm.
A heel drop is nothing but the difference between the forefoot and rearfoot midsole thickness. In this case, 30 mm – 20 mm = a 10 mm drop. Similarly, a 20 mm forefoot and a 24 mm rear would mean that running shoe has a 4 mm heel to toe drop.
And why is this spec thought to be important?
A lower drop running shoe is thought to promote a more 'natural' gait. As in, if barefoot running is zero drop, why should running shoes be stacked higher towards the rear?
A low heel-to-drop design is also associated with forefoot and midfoot striking. The logic is that having a lower rear stack allows the foot to land forward rather than striking the heel edge first.
This, of course, is debatable. A video of Elite runners racing a marathon in higher drop (8 mm+) shoes will often show them landing full-contact instead of heel striking. As they say, it's the runner and not the shoe.
It is safe to say that the barefoot running boom also villainized rearfoot landings, although there is no scientific evidence linking it to decreased biomechanical efficiency or a higher risk of injuries.
Midsole drops are a personal choice, and maybe over time, you became comfortable with running in drops between 4-6 mm. That said, we must point out that published heel drop specs are to be taken with a grain of salt. Not all shoes with the same heel offset number are the same.
A 4 mm drop midsole with a soft cushioning will behave differently under actual weight-loaded conditions than a firmer 4 mm drop midsole. A softer midsole will compress under the weight (and impact), thus creating a 'dynamic' heel drop which is lower than the advertised drop.
Truth be told, it's pointless to obsess over an exact number. This guide is about 4 mm drop shoes, but it will make no difference if you buy a 3, 5, or even a 6 mm drop shoe instead.
It's also getting harder to find running shoes with a 4 mm gradient. Though there are solid choices like the Saucony Kinvara 10 or the Skechers GoRun Razor 3 Hyper, you'll get access to a wider and better assortment if you're not fixated on an exact offset number.
For example, the New Balance Zante, Beacon, the 890, and the Rebel/Propel duo are all shoes with a 6 mm offset. Hoka running shoes also sit low at 5 mm.
But if you insist, here's a curation of running shoes with a 4 mm heel-to-toe drop.
The list is arranged from cushioned to minimal. So at the top, you'll see shoes like the ultra-cushioned Fresh Foam More. That's followed by lightweight trainers and then racing shoes. There's a separate list of trail running shoes as well.
Is there a downside to running in low-drop shoes? Not really, but if you're transitioning from a higher drop (8-12 mm) shoe, make sure to gradually build up the miles. It will allow your calves and Achilles to get accustomed and prevent severe soreness.
1) New Balance Fresh Foam More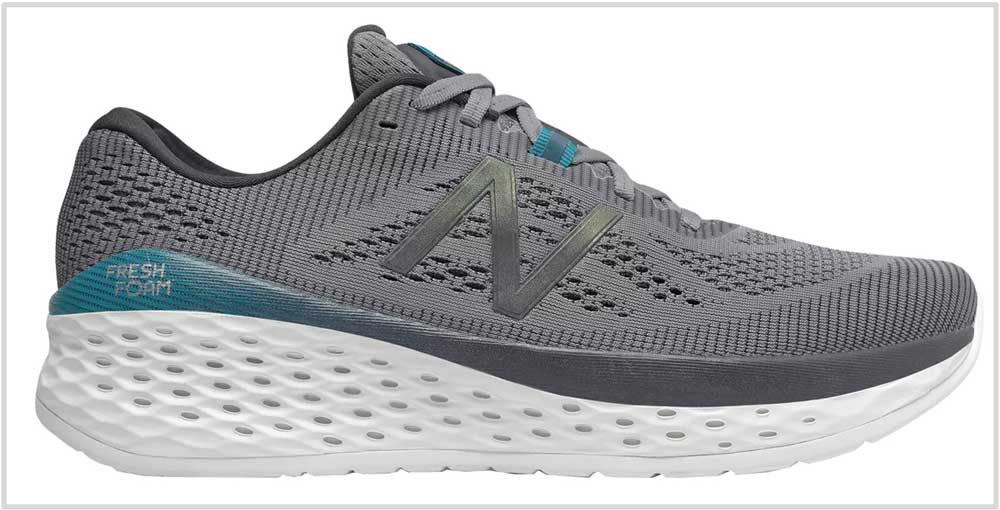 What's the point of making a Fresh Foam running shoe with the thickest midsole? Because they can, and this shoe is closest New Balance can get to a Hoka.
The signs are all here; a 4 mm (vs. the Hoka's 5 mm) drop and a midsole with maximal cushioning for those comfortable distance runs.
2) New Balance Fresh Foam Vongo V4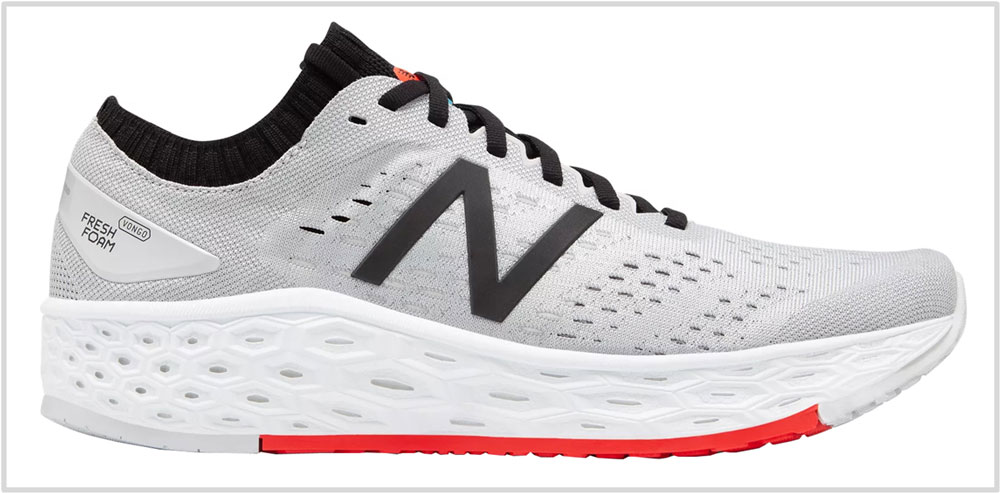 The Vongo V4 is a stability shoe with a difference. First, it doesn't have a firmer medial post so the overall vibe is that of a supportive neutral.
Two, it has a 4 mm heel to toe offset with a cushioned ride. Can't say we see this combination often.
3) Saucony Kinvara 10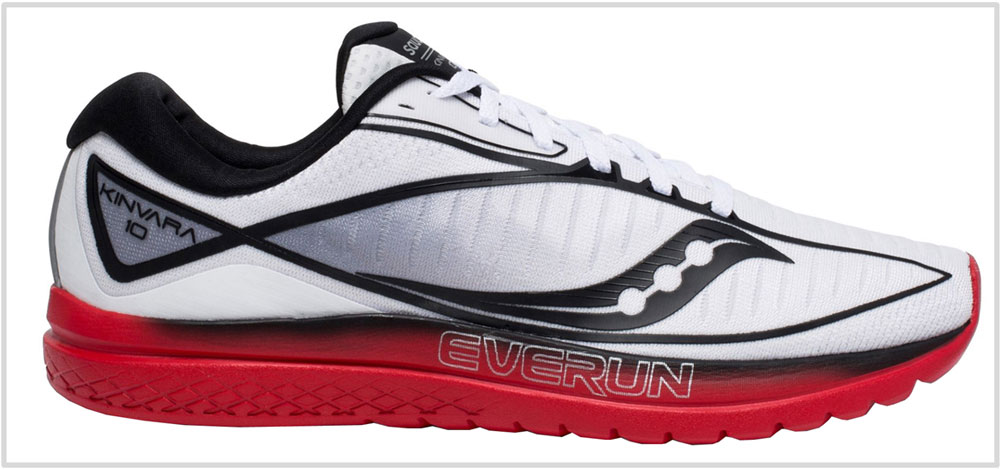 The Kinvara has long been the torch-bearer of the low-offset trainer category. Think of a 4 mm drop shoe, and the chances are, you'll come up with a mental image of the Kinvara.
And this is our top pick. We gave high marks to the Kinvara 10 due to its ride and upper fit quality; the midsole has just the right balance between cushioned and smooth along with a comfortable upper with ample interior space.
4) Saucony Freedom ISO 2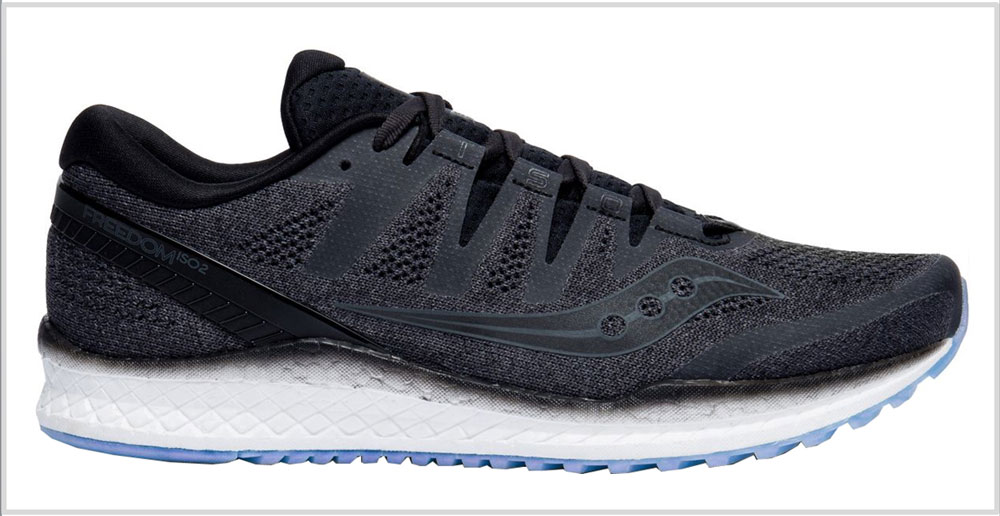 The Saucony Freedom ISO 2 is akin to a heavier Kinvara with denser cushioning and a more durable outsole.
The full-length Everun midsole feels more substantial under the foot and works well for long-distance comfort.
Also see: The Saucony Liberty ISO 2 – a mild stability version of the Freedom ISO.
5) Brooks Pureflow 7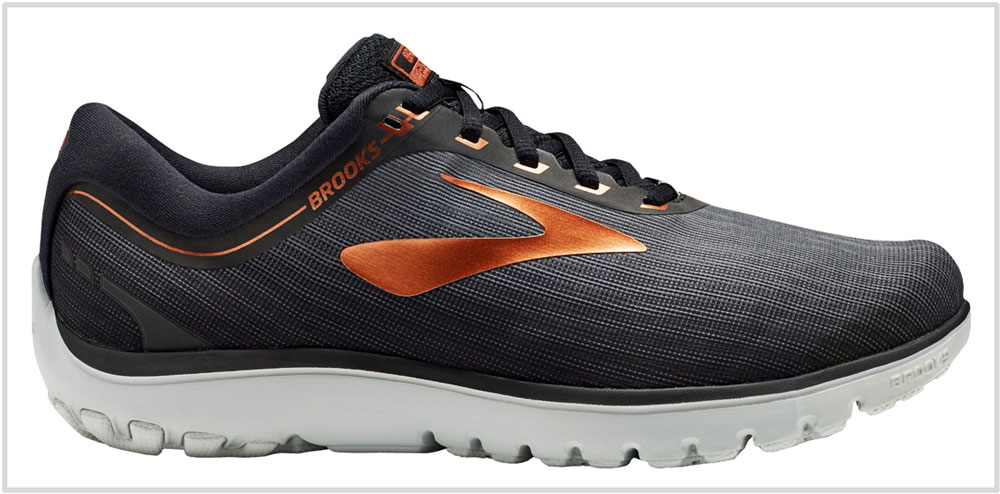 The Pureflow is all that's left of the original 'Pure' series collection – the other two were the PureConnect and PureCadence.
The PF 7 is a 4 mm drop trainer which doesn't weigh a lot but provides enough cushioning for most daily runs. It is similar to the Saucony Kinvara in spirit but with a different ride and upper fit experience.
6) Skechers GoRun Razor 3 Hyper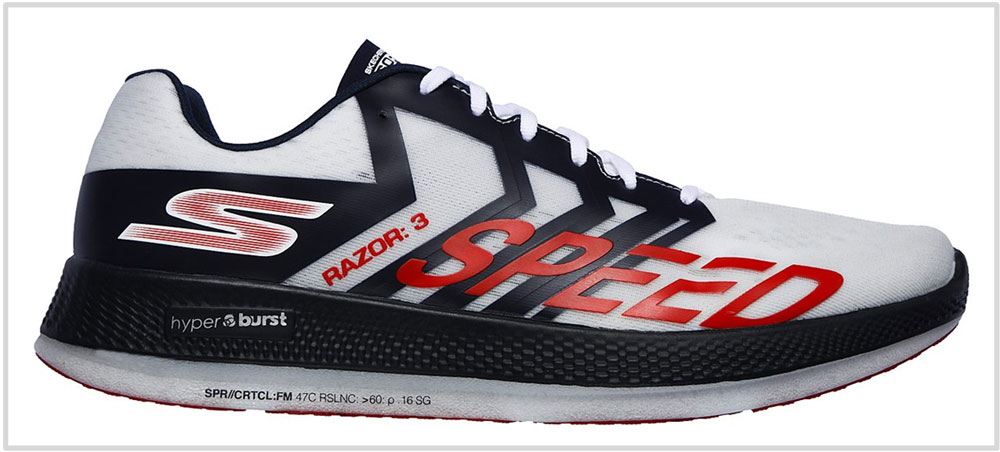 Skechers' use of the recently concocted Hyper midsole foam on its popular racer/trainer instantly made it a cult favorite.
Along with a low midsole offset, you get a ride experience which blends cushioning and speed on an incredibly lightweight shoe.
7) Saucony Type A9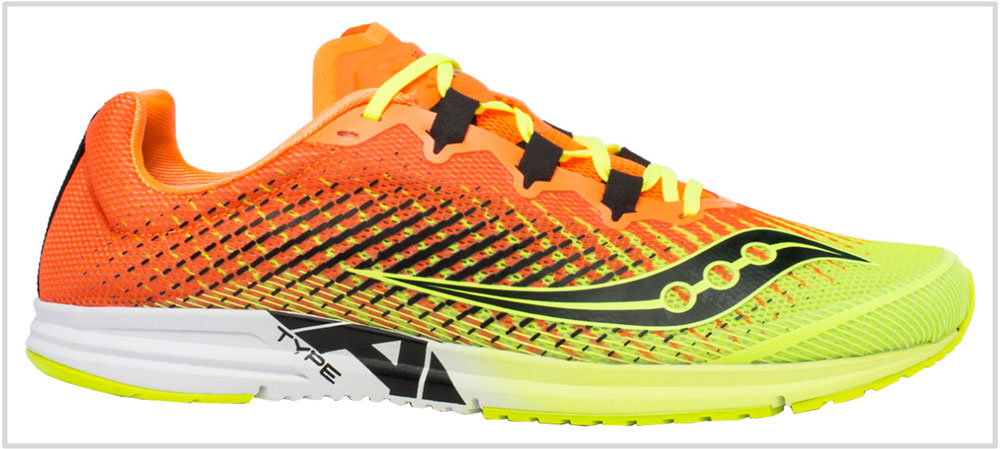 The Saucony Type A9 is built around a road-racer template which we are all familiar with.
Like the others in this category, the low profile midsole uses firm EVA to give it speed-friendly manners. Above it, there is a lightweight racer upper which disappears on your feet.
Also see: The Saucony Fastwitch 9.
8) Nike Zoom Streak LT4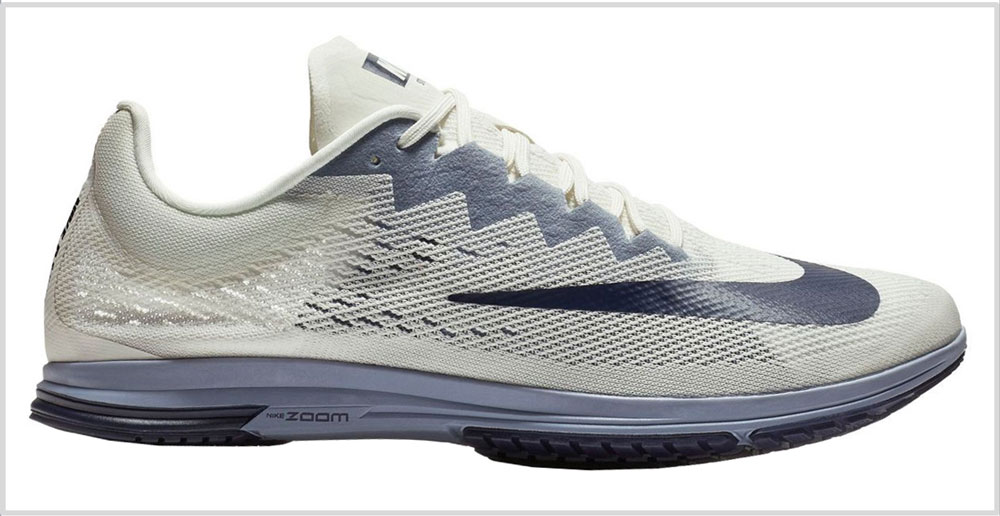 The Nike Zoom Streak LT4 is the more minimal of the Nike Streak series – the other being the higher-drop Streak 7.
In the Streak LT's case, a 4 mm offset midsole doesn't necessarily translate into a hyper-minimalist ride experience. A heel Zoom Air unit adds a much-needed cushioned layer while a midfoot shank keeps those transitions snappy.
Trail running shoes with a 4mm offset
1) Nike Zoom Terra Kiger 5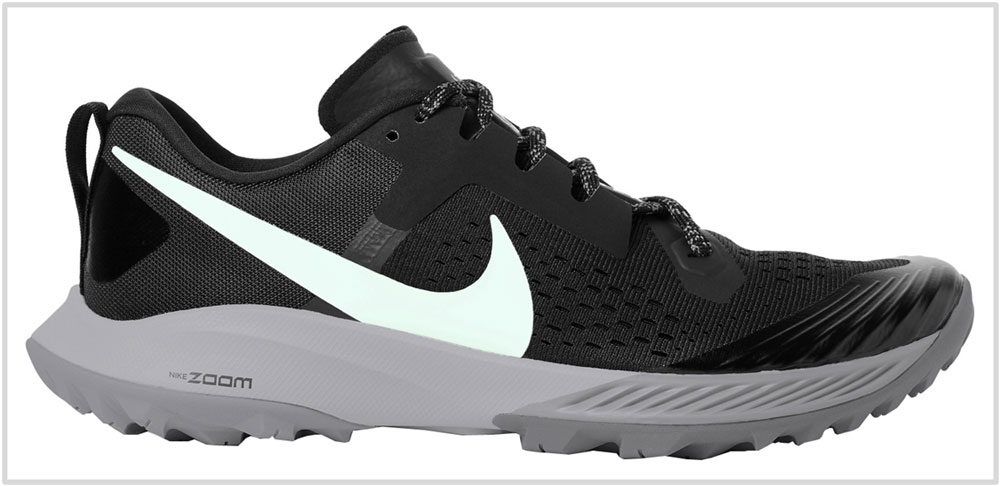 This is a great all-around trail running shoe regardless of its low heel-to-toe offset.
A segmented rock plate, grippy rubber, a reinforced upper with a comfortable and secure fit – the Terra Kiger 5 has it all.
2) New Balance Minimus Trail 10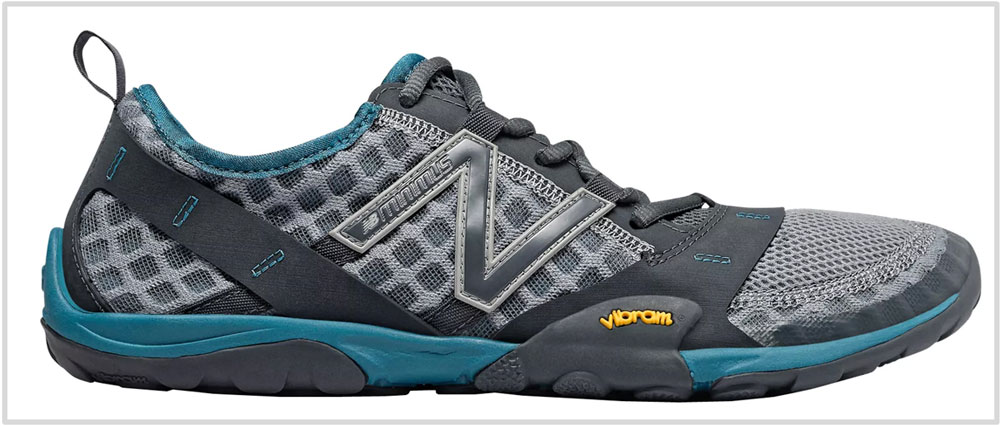 The name "Minimus' gives it away, doesn't it?
This narrow and short fitting trail shoe is the one for rocky trails, and its thin midsole works together with the low offset to provide the bare minimum in cushioning for a superior ground feel.
The minimalist midsole comes with an upper to match. A sleeved, low-slung upper fits keep the foot pinned down to the midsole for stability on uneven trail surfaces.
3) Saucony Peregrine ISO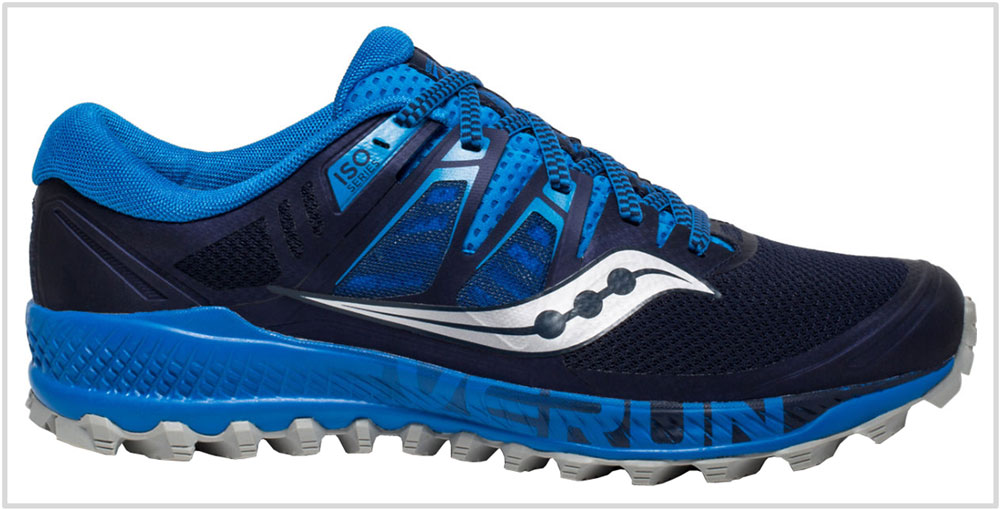 General-purpose trail running shoes such as the Peregrine ISO usually come with 8-10 mm heel offset, but Saucony ships this model with a 4 mm drop midsole.
The cushioned EVA midsole has sufficient cushioning and outsole traction for long trail runs of a non-technical kind. The Peregrine gets an ISOFIT upper. Admittedly, it's not as sharp and business-like as the Peregrine 8's upper but it's still comfortable inside.
Also see: Saucony Peregrine 8 ICE+ and Saucony Switchback ISO.