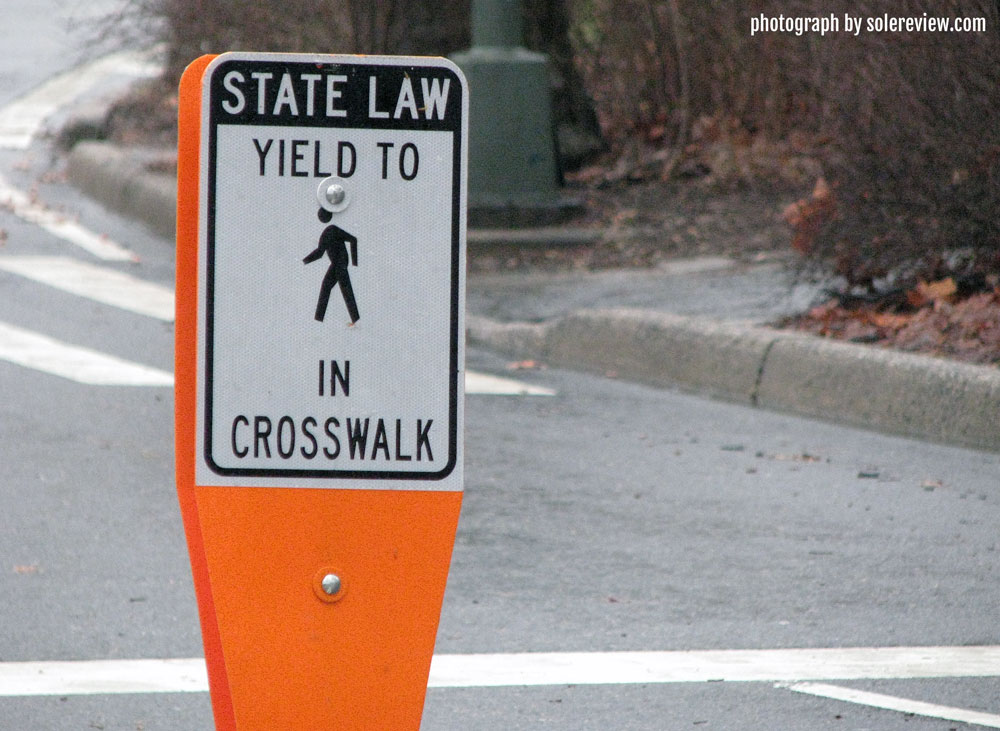 When some of us (including shoe companies) think walking, there's a mental image of someone strolling in the neighborhood or taking a brisk walk in the park.
But most people walk a lot more than they realize.
Are you a student? Then you're probably doing a lot of walking around the campus between classes. Going to a pedestrian-friendly city where the sights and sounds can be better absorbed by walking rather than driving? You'd be surprised by how many miles of walking you can do in a single day of sightseeing.
Do you walk from your home to the subway station on your way to work and back? That could be a couple of miles every day.
And then there are professions which involve a lot of walking. Solereview receives a lot of questions from readers who work as mail couriers, warehouse workers and the similarly employed, and about which shoe they should get. If you happen to work in a large warehouse or a factory, you can easily do several miles of walking every day without even noticing it.
Or one could be a runner recovering from a knee injury or surgery, and walking happens to be a low-impact, replacement exercise.
It's pretty obvious that your pair of brown brogues or flip-flops are inadequately equipped for walking. Well, technically you can walk in them, but those aren't the best choice of footwear once the mileage crosses a certain threshold.
Sportswear brands do make walking shoes, but boy, do they look drab and sedentary. Most are in tones of dull gray, white, or black; as if the designer involved in the making of those shoes worked in the darkest and dampest corner of the office with gray walls and no windows. Walking shoes also lack the breadth of color and material available in running shoes.
But can running shoes be used for walking? Sure. But first, it is important to understand the fundamental difference between walking and running and how it affects the choice of the shoe.
Shortly after the push-off phase of running, both of your feet are momentarily in the air. Contrast this with walking, where both feet can be in contact with the ground at the same time. One foot is flat on the ground, while the tip of the other foot is still in contact with the road. Hence, the transitions happen much in a much slower fashion than running, as the weight loading progresses gradually from the heel to toe.
If you've been reading solereview's buying guides lately, you know the drill. We list the selection criteria, and how it relates to the recommended shoes. So here goes:
The shoe should have a beveled (angled) heel: Unlike running where people either forefoot strike or heel strike, walking involves 100% heel striking – and you don't have a choice. So the running shoe in question needs to have an angled heel to make effortless heel striking possible.
The outsole should have as much as ground contact as possible: Since the weight loading happens in a very leisurely way along the length of the shoe, you don't want a wide midfoot gap. The midfoot should be bridged with rubber and provide continuity of outsole coverage, and the shoe should have a good grip.
The forefoot should be reasonably flexible: One thing you notice about walking is that your foot flexes in a more gradual and complete manner than running. A stiff midsole is likely to tire your foot faster than a flexible one, unless the midsole has a rocker shape which allows for roll-offs. One of the shoes on the list – the New Balance 1080V7 – exhibits the said behavior.
The shoe should have ample cushioning: If you're going to spend long hours on your feet, the midsole needs to have plenty of padding. Now don't confuse 'cushioned' with softness. A shoe can be well-padded without being mushy; an overly soft shoe creates more work for your muscles, resulting in tiredness.
The upper should fit well and be well ventilated: This one's critical. A shoe which is either too tight or too loose is not suitable for walking. Like running, your foot will expand after some time, so there needs to be enough room for splay. Conversely, a loose upper might cause blisters if your foot repeatedly slides over the insole.
The choice of socks is important for long walks. Avoid thick cotton or woolen socks which can gather/bunch under your foot and cause blisters. Invest in a pair of socks which does not move over your skin. Most running socks fit this description.
Without further ado, let's jump right into our list of ten best running shoes for walking:
| Model | Midsole | Check price |
| --- | --- | --- |
| adidas Supernova M | Soft | Amazon |
| adidas Ultra Boost | Soft | Amazon |
| Brooks Ghost 9 | Medium soft | Amazon |
| Brooks Glycerin 14 | Medium soft | Amazon |
| New Balance 1080V7 | Medium soft | Amazon |
| Nike Free RN 2017 | Medium soft | Amazon |
| Nike Zoom Pegasus 33 | Soft | Amazon |
| Nike Zoom Vomero 12 | Soft | Amazon |
| Nike Lunarepic Low Flyknit 2 | Medium soft | Amazon |
| Saucony Triumph ISO 3 | Medium soft | Amazon |
1) adidas Supernova M or ST (aka the Glide 9 and the Sequence 10)
There's plenty of consistent cushioning on this one. A large volume Boost midsole delivers a cushioned ride without being mushy, and the Continental outsole has good ground contact. You can also consider the ST version.
2) adidas Ultra Boost or ST
You can consider both the regular Ultra Boost or its ST variant, depending on your upper fit requirements. The regular Ultra features a Primeknit upper with an elastic fit while the ST has roomier interiors with a non-elastic fit.
Both have a comfortable ride due to the Boost midsole and score well on the transition quality, made possible by the single sheet of Continental rubber.
3) Brooks Ghost 9
Both of Brooks's neutral staples – namely the Ghost and the Glycerin – are great all-rounders. The Ghost 9 has a comfortable upper with a padded ride and an outsole which is softer than the most.
4) Brooks Glycerin 14
A plusher version of the Ghost, the Brooks Glycerin 14 passes most of the attributes mentioned in our selection criteria. It has a non-mushy and consistent cushioning quality which makes for comfortable transitions.
The blown rubber forefoot grips well, and the upper uses premium materials all around.
5) New Balance 1080 V7
The 1080V7 is an outlier in this list. The forefoot is rigid than the others, but there's a roll-off effect due to the high toe-spring. Otherwise, the Fresh Foam midsole has plenty of cushioning, and the full coverage outsole design allows smooth transitions.
6) Nike Free RN 2017
If a flexible shoe is what you like, the Nike Free RN is it. There's a caveat though; the midsole is thinner than the rest, so it is best to limit the Free RN 2017's usage to walks of under 5K.
7) Nike Pegasus 33
Ever since the Pegasus began using the 'crash rail' outsole design, it has proved to be a running shoe which also excels during walks. The outsole provides excellent coverage, and the midsole has enough cushioning no matter what the distance.
On a side note, we prefer the older Pegasus models (v31 and v32) which were better walking shoes than the 33. The Pegasus 33 has a forefoot Zoom Air, which makes that area less flexible than the 31 and 32.
8) Nike Vomero 12 (for narrow feet only)
The Vomero 12 is a well-cushioned shoe suitable for walks. You need to be mindful of the narrow fit, however.
9) Nike Lunarepic Low Flyknit 2 (for narrow feet only)
Like the Vomero, the Lunarepic Flyknit Low 2 has a narrow fit. The shoe's biggest strength is its cushioned unisole; the Lunarlon infused midsole and podular outsole provide both cushioning and smooth transitions.
10) Saucony Triumph ISO 3
The Triumph is Saucony's top-end neutral shoe. The combination of Everun and EVA foam adds enough cushioning the midsole, and the wide coverage of the combination outsole (blown and hard rubber) allows smooth weight loading and progressions.