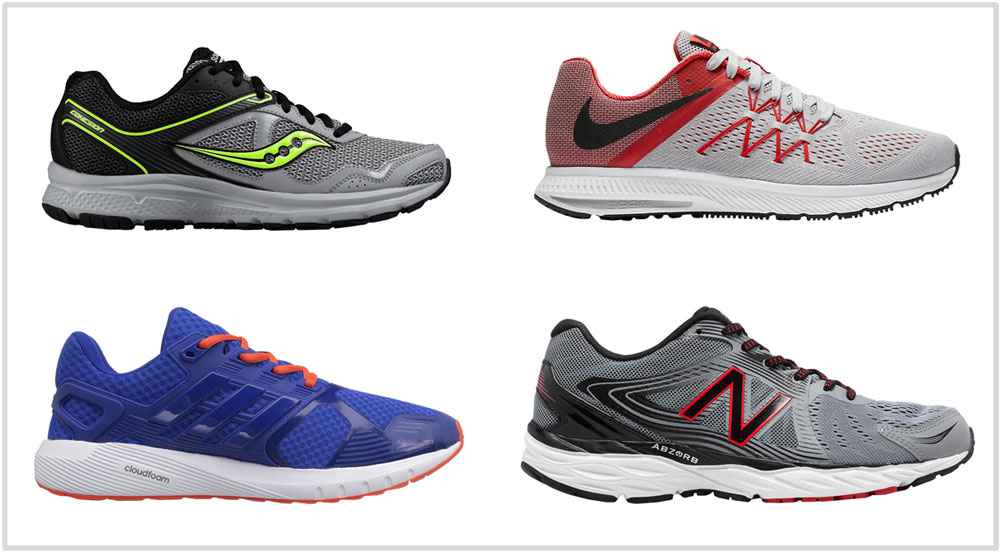 The other day, one of our readers offered this suggestion on our social media page:
"Solereview, can you please make a list of affordable running shoes?"
Happy to oblige.
Of late, we've published reviews on sub-$100 running shoes such as the Nike Zoom Winflo. We admit, though, that solereview hasn't exactly done a great job at writing about lower-priced products.
There are plenty of good models with retail price tags in double-digits, but most of the running shoes you hear about are the expensive ones. Brands spend their hype dollars on premium products, so the value assortment never gets any marketing sunshine.
It's important to talk about lower-priced running footwear because not all countries sell shoes at the same (US) retail prices.
A shoe priced at $100 stateside might cost $130-160 in international locations depending on the import duties – and that's before taking the potential difference in purchasing power parity into account.
In other words, the same money which gets consumers a top-of-the-line Saucony Freedom ISO or the adidas Ultra Boost in the US might only fetch a 'budget' running shoe in many countries.
It can be a chore to sift through the chaff, so we've curated a small collection of top 10 running shoes which retail for less than $100. The final selling price will depend on the retailer and your location, however.
This hand-picked list consists of models intended for daily running and excludes race-day or trail shoes.
The list brought up a few pleasant surprises; some of these affordable shoes use tech and components found in more expensive models.
For instance, the adidas Duramo uses an Ortholite insole instead of a regular one, and the Winflo has Zoom Air cushioning tech. The New Balance 680 V4 uses an advanced design which combines an engineered mesh, a cushioning insert, and a multi-piece outsole.
This proves that your quest for a good running shoe doesn't necessarily need to harm your credit score!
Happy shopping, folks.
1) Asics Gel-Exalt 3 (Has medial post)
The Exalt is one of Asics' entry-level stability shoes. The midsole has a firmer dual-density wedge, and the upper uses a basic combination of spacer mesh and stitched synthetic. Though the quality of materials is built to a price, the shoe offers decent value for its retail price.
The upper fits true to size, but if you're looking for additional widths, you're out of luck.
Weight: 304 grams/ 10.7 ounces, 10 mm offset, available in a single width.
2) Asics Gel-Contend 4
Looking for a no-frills neutral running shoe from Asics? The Contend 4 is just that, and nothing more.
The upper puts together mesh and stitched synthetic over a single-density midsole, and the outsole uses hard rubber throughout.
Weight: 298 grams/ 10.5 ounces, 10 mm offset, available in multiple widths.
3) adidas Duramo 8
There are a few value running shoes from adidas, but the Duramo has stood the test of time. It offers a lot of value for its price which, unsurprisingly, has made it a crowd favorite.
The upper is typical adidas design which brings together a soft mesh, fused layers, and a plastic cage (why, though). The interior upper fit is comfortable, and so is the ride.
The removable insole is an Ortholite type which provides cushioning along with the thick foam midsole. The only thing which we don't like about the Duramo is its plastic cage which feels like over-engineering.
Weight: 283 grams/ 10 ounces, 10 mm offset, available in a single width.
4) New Balance 680 V4
You can always count on New Balance to provide optional widths, a luxury skipped by many shoes on this list. At 10 ounces, the 680 V4 is reasonably lightweight, and that comes without compromising on the build quality.
None of the materials look cut-price, be it the engineered mesh or the welded synthetic. The midsole is single-density EVA but has an 'NB Response' insert for added rearfoot cushioning.
Weight: 292 grams/ 10.2 ounces, 12 mm offset, available in multiple widths.
5) New Balance 720 V4
This is a budget 1080 V7; the 720 design bears a striking resemblance to its more expensive cousin. The midsole is a largish piece of foam, and like the 680, there's an extra NB Response insert for cushioning
Plenty of rubber makes the outsole durable, and the upper has a no-sew construction with pleasing fit manners.
Weight: 296 grams/ 10.4 ounces, 10 mm offset, available in multiple widths.
6) New Balance 775 V3
This is the softest shoe of the lot. That's due to the thick EVA midsole with chunky foam pillars serving as its outsole, and the NB memory sole insert helps too. The no-sew upper is comfortable, as expected of a New Balance upper.
All in all, this sub-$100 shoe is excellent value for money and ideal for everyday training.
Weight: 272 grams/ 9.5 ounces, 8 mm offset, available in multiple widths.
7) Nike Dart 12
Does buying a Nike need to be an expensive affair? Think again. For over a decade, the Dart has been the (low) price of entry into Nike running and has proven to be a versatile, value-for-money trainer.
Considering the price, everything about the shoe is pretty basic. The upper uses regular mesh with a combination of stitched and fused overlays; below, the single-density foam midsole is mated to a rubber outsole.
Watch out for the narrow upper fit, and go for the wide version if required.
Weight: 311 grams/ 11 ounces, available in multiple widths.
8) Nike Air Zoom Winflo 3
We reviewed the Winflo earlier this year, and it impressed us with its price-value. It uses a softer EVA foam variant which Nike calls Cushlon, and the heel has a Zoom Air bag. This makes the ride noticeably cushioned and responsive.
Not to be left behind, the upper features Flywire lacing over an engineered mesh upper. At 255 grams, the Winflo is one of the lightest shoes in the list.
Weight: 255 grams/ 9 ounces, 10 mm offset, available in a single width.
9) Saucony Cohesion 10
There's a reason why the Cohesion has been around for such a long time. There's nothing spectacular about the shoe, and that's perhaps its biggest strength. It is simply a sturdy, everyday workhorse which performs perfectly for daily runs.
Its thick mesh and multiple synthetic overlays remind you of how running shoes used to be once, and the 'GRID' infused midsole is cushioned and supportive. Below, the rubber outsole borrows the Chevron design from models such as the Ride and Triumph.
Weight: 281 grams/ 9.9 ounces, 12mm offset, available in multiple widths.
10) Skechers GoRun Ride 6
Skechers has upped its performance running footwear game over the past few years. The brand from Los Angeles has built its credibility through successful product series such as the GoRun and GoMeb. The GoRun Ride 6 is Skechers' latest stab at updating its cushioned daily trainer, and the results are good.
The new Ride 6 combines a knit upper and soft midsole to result in an astounding weight of 8.3 ounces. The ride is extremely well cushioned, and the seamless knit upper makes for very comfortable interiors.
Be advised that the Ride 6 has a heel-to-toe offset of 4 mm, so make sure that's something which works for you.
Weight: 235 grams/ 8.3 ounces, 4 mm offset, available in a single width.