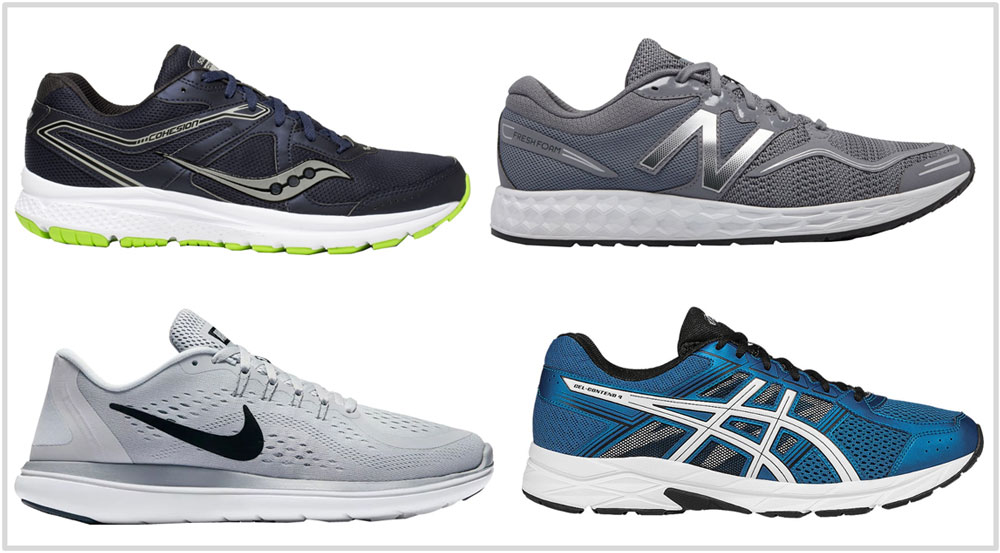 (This list has been updated for 2018)
Solereview hasn't exactly done a great job at writing more about lower-priced products.
There are plenty of good models with retail price tags in double-digits, and yet most of the running shoes you hear about are the expensive ones. Brands spend their hype dollars on premium products, so the value assortment seldom gets any marketing focus.
It's important to talk about lower-priced running footwear because not all countries sell shoes at the same (US) retail prices.
A shoe priced at $100 stateside might cost $130-160 in international locations depending on the import duties – and that's before taking the potential difference in purchasing power parity into account.
In other words, the same money which gets consumers a top-of-the-line Asics Nimbus 20 or the Nike Vomero 13 in the US might only fetch a 'budget' running shoe in many countries.
The search for a sub-$100 shoe can get confusing, so we've curated a small collection of top 10 running shoes which retail for less than $100. The final selling price will depend on the retailer and your location, however.
This hand-picked list consists of models intended for daily running and excludes race-day or trail shoes.
The list reveals a few (pleasant) surprises; some of these affordable shoes use tech and components found in more expensive models.
For instance, the Saucony Liteform Miles uses a memory foam insole instead of a regular one, and the Winflo has Zoom Air cushioning tech. The New Balance Veniz is a re-purposed Fresh Foam Zante V1 for less.
This proves that your quest for a good running shoe doesn't necessarily need to harm your credit score!
Happy shopping!
1) Saucony Cohesion 11
The Cohesion is a no-frill running shoe which covers all the bases – a solid and well-fitting upper, a cushioned and supportive ride, and durability. And what's more, the sub 10-ounce weight makes it pretty lightweight too.
Its entry-level price is proof that you don't need to spend a fortune to get a decent pair of running shoes. The Saucony Cohesion 11 is Solereview's top affordable shoe pick for 2018, with the most shoe per dollar.
Weight: 272 grams/ 9.6 ounces, 12mm offset, available in multiple widths.
2) Nike Downshifter 7
It might come as a surprise to many that Nike retails multiple shoe models below $100. The Downshifter is one of them and has been in Nike's line for many years now. The Downshifter is by far Nike's best value-for-money performance running shoe.
There're no fancy foam components or Zoom Air bags. Just a comfortable foam midsole paired with a seamless upper. The Pegasus inspired rubber outsole makes the Downshifter durable too.
Weight: 283 grams/ 10 ounces, available in multiple widths.
3) Nike Run Swift
The Run Swift is another entry-level Nike running shoe. Like the Downshifter, it comes with a single-density foam midsole which translates into a cushioned ride.
For a $10 upcharge over the Downshifter, the Run Swift's seamless upper has a Flywire lacing system.
Weight: 283 grams/ 10 ounces, available in a single width.
4) Saucony Liteform Miles
What's in a name? A lot, if the Saucony Liteform Miles is anything to go by. The Liteform is a lightweight trainer with shades of the Kinvara.
The seamless upper comes with a semi-collapsible heel counter, and the foam midsole and the memory foam insole combine to produce a cushioned ride. And just like the Kinvara, the Liteform has a 4 mm heel to toe offset.
Weight: 255 grams/ 9 ounces, 4 mm offset, available in a single width.
5) Asics Gel-Contend 4
Looking for a no-frills neutral running shoe from Asics? The Contend 4 is just that. The upper puts together mesh and synthetic over a single-density midsole, and the outsole uses hard rubber throughout.
Weight: 304 grams/ 10.5 ounces, 10 mm offset, available in single width.
6) adidas Duramo 8
There are a lot of value running shoes from adidas, but the Duramo has stood the test of time. It offers a lot of value for its price which unsurprisingly has made it a crowd favorite.
The upper is atypical adidas; it brings together soft mesh, fused layers, and a plastic cage (why, though). The upper fit is comfortable, and so is the ride.
The removable Ortholite insole provides cushioning in concert with a thick foam midsole. The only thing which we don't like about the Duramo is its plastic cage which feels over-engineered.
Weight: 283 grams/ 10 ounces, 10 mm offset, available in single width.
7) New Balance Fresh Foam Arishi
The Arishi is a very basic daily trainer, nothing more, nothing less. The seamless upper fits smooth thanks to a one-piece upper, and the 8 mm drop midsole cushioning relies on the Fresh Foam platform.
Though there's a full-length rubber outsole, the Arishi is very lightweight due to the minimal upper and midsole construction.
Weight: 237 grams/ 8.4 ounces, 6 mm offset, available in multiple widths.
8) New Balance Fresh Foam Veniz
If the Veniz looks familiar, that's because you have seen it before in the form of the Zante V1. The Veniz is a Zante V1 reborn with a different name and a cheaper price tag.
The Veniz has an upper design similar to the Zante with a snug fit; ditto for the midsole and the outsole. The interiors differ slightly than the Zante due to the lack of an inner sleeve.
Unsurprisingly, it's a great sub $100 deal for someone who's looking for a lightweight cushioned trainer.
Weight: 227 grams/ 8.0 ounces, 6 mm offset, available in multiple widths.
9) Nike Flex 2017 RN
The Nike Free line has been downsized in the recent years, but Flex RN series has always been a good substitute. Its generously grooved foam midsole makes the ride cushioned and flexible.
The Flex 2017 RN's seamless upper takes inspiration from the Nike Free. The breathable, engineered-mesh upper uses no-sew layers and Flywire lacing to create comfortable interiors.
Weight: 221 grams/ 7.8 ounces, 7 mm offset, available in a single width.
10) Nike Air Zoom Winflo 4
The Winflo is the price of entry into the Zoom Air platform. The Winflo 4 features a heel Zoom Air for responsive cushioning and there's plenty of rubber coverage providing outsole grip.
The clean looking upper fits snug, helped by Flywire lacing and an internal toe-bumper.
Weight: 255 grams/ 9 ounces, 10 mm offset, available in a single width.