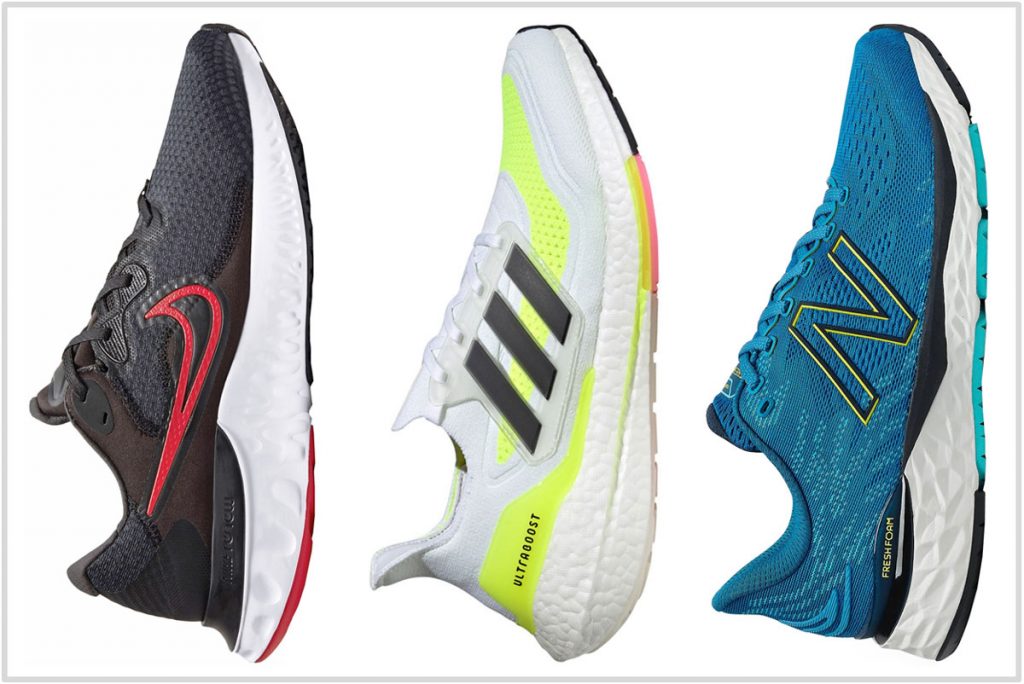 This article has been updated with current models for May 2021. The adidas UltraBoost 20, New Balance 1080 V10, New Balance 880 V10, and Nike Renew Run have been replaced with their updated versions. The Hoka Clifton 7 and Nike Winflo 8 are new additions. The Reebok Endless Road 2 and Adidas SolarBoost 19 have been removed. Except for the narrower 'B' width, the women's models are identical to men's.
Elastic knit uppers are a ubiquitous sight today, but it wasn't always like this. Before adidas and Nike turned knit uppers into the new industry standard, it was hard to find a running shoe that fit narrow feet.
In the old days, footwear choices were mostly binary. You either had a snug upper fit or a standard sizing that was too baggy for narrow feet. Sometimes you found a running shoe that hit the sweet spot of upper fit, but that was only after a long search.
Thankfully, those days are gone. Today, it's possible to enter any running shoe store and walk out with a pair that fits narrow feet.
Let's establish what 'narrow' means here.
A 'D' sizing (and B in women's shoes) is also known as the standard width, the default fit for all running shoes. A 'B' width is one size narrower than D. It is more common for brands to offer wide (2E) and extra-wide (4E) widths than a narrower B size. The exceptions are companies like New Balance and Brooks who offer B widths, whereas most do not.
There are four categories of running shoes in this guide.
The first category has running shoes that are not narrow in their standard 'D' fit, but compensates by offering a B (narrow) sizing.
The second group has shoes with regular D widths that inherently fit snug. This includes stretchy knit uppers that can accommodate a variety of foot shapes. Regular mesh uppers with a conforming fit are also grouped into this category.
However, if you're located in an area where the full range of widths (including a B) isn't available, we recommend sticking to the second or fourth category.
The third section has narrow shoes for faster runs. Here, you'll come across models such as the adidas adizero Boston and the New Balance 1400.
Lastly, we've featured a couple of affordable narrow-fitting shoes that cost less than $100 at retail.
Here's a hack if you happen to have small feet – say, like a size US 8 or under. It is not a bad idea to get a boy's model or even women's running shoes in neutral colors. Buying a boy's model will get you a narrower fit with 20-30% of price savings over the adult version.
Category 1: Neutral and stability running shoes available in a B (narrow) width.
1) Brooks Ghost 13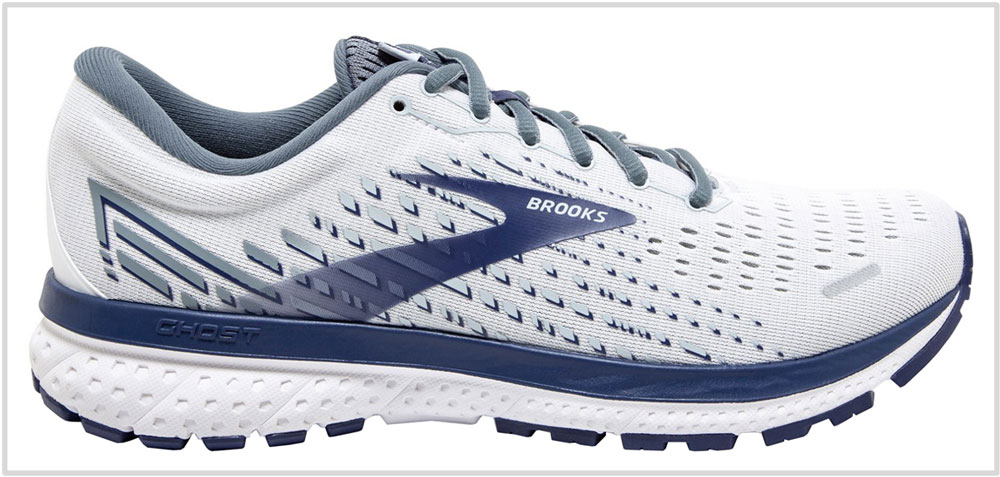 This very dependable neutral trainer sells in four widths; a narrow 'B' size is one of them. So if you want something snugger than the just-right 'D' width, then getting the B will do the job perfectly. The upper, as always, is put together using quality trims and upholstery to create a comfortable interior.
For 2020-21, the Ghost 13's midsole leaves the dual-density business behind. In its place is a single-density stack of foam that blends distance-friendly cushioning, smooth transitions, and stability. Be it everyday runs or distance cruising, the Ghost 13 does it all.
2) Brooks Adrenaline GTS 21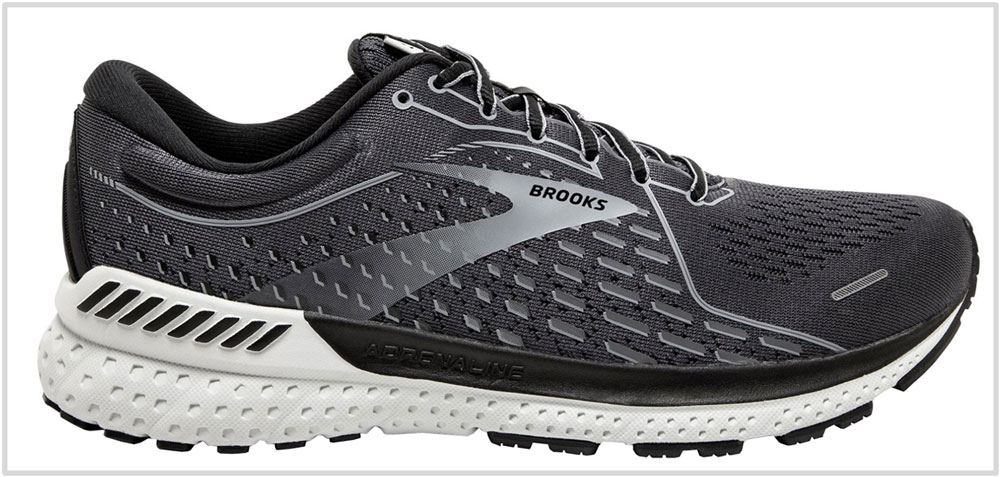 For this year, the Brooks Adrenaline GTS 21 goes the way of the Ghost 13. The heel crash pad is now part of the main midsole, and the only firmer piece of foam is the 'Guiderail' on the arch side.

So what does this mean for the Adrenaline? It's closer to the Ghost than ever before. We'd go as far as to say that the GTS 21 is a Ghost 13 with raised midsole sidewalls. Other than that, the levels of cushioning softness and support are nearly identical to the Ghost. This is no longer the firm, medially-posted Adrenaline GTS that runners once knew.
The upper is well-built, no complaints there. Buying the optional 'B' width will create a tighter fit for narrow-footed runners.
3) New Balance Fresh Foam 880 V11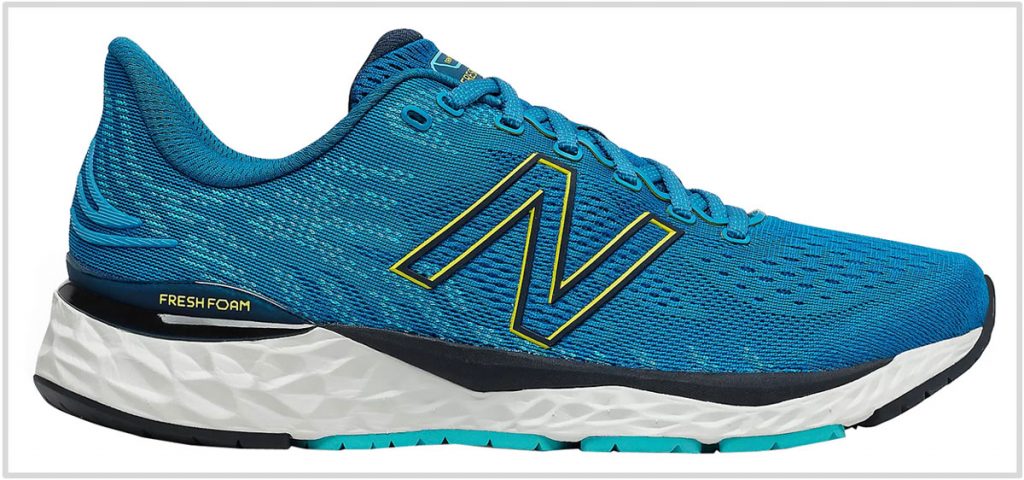 Along with the Brooks Ghost 13, the New Balance 880 has always been a safe and somewhat conservative do-it-all neutral trainer. By 'conservative', we refer to its sweet spot of the ride and fit quality that appeals to most runners regardless of their level of experience.
Last year, the 880V10 got a new ride – aka the Fresh Foam midsole. This made the cushioning smoother, and features like the heel clip and forefoot foam wedge added transitional stability.
The Fresh Foam 880V11 is very similar to the V10, and that includes the four widths that the smooth, engineered-mesh upper sells in. So regardless of whether you're narrow or wide-footed, there's a 880V11 width that will likely fit.
4) New Balance Fresh Foam 860V11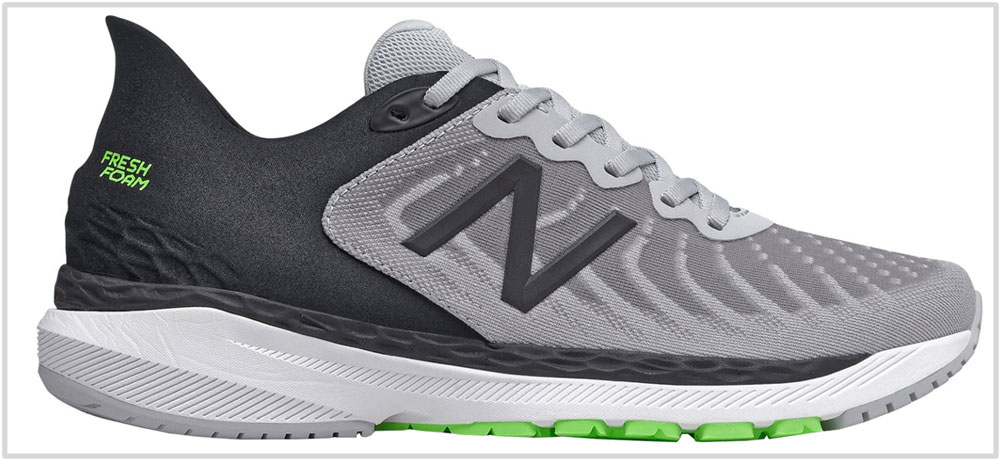 With a brand-new Fresh Foam midsole and heavily updated upper design, the New Balance 860 is almost unrecognizable.
The only clue of its 860-ness is the small wedge that is visually integrated into the midsole. This, too, is a lot smaller than the older medial posts. So not only does the 860 look different, but its ride character undergoes a marked change as well.
There's only a slight hint of motion control in the ride character. The Fresh Foam 860 is a good daily trainer pick for runners who crave the medially-posted ride experience.
Even with the radically changed upper design, New Balance keeps one thing constant – widths. Among the selection of different widths is also a narrow 'B' size for slim-footed runners.
5) New Balance Fresh Foam 1080 V11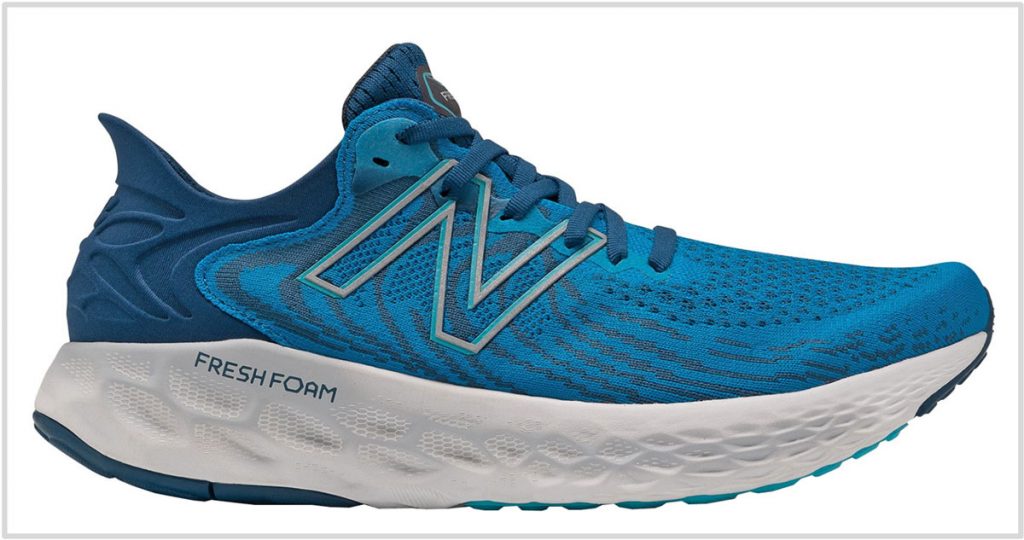 Like the 880V11, the New Balance Fresh Foam 1080 V11 is offered in four widths, ranging from narrow to extra-wide.
That said, its snug upper will fit most narrow-footed runners even in its stock (regular) width. The soft knit mesh is stretchy and wraps around the foot to deliver a custom fit.
And if you're not familiar with the 1080, it is New Balance's popular max-cushion shoe that works best for long-distance runs. The Fresh Foam stack provides distance-friendly cushioning without feeling mushy.
Category 2: Cushioned daily trainers with a standard snug upper fit.
1) adidas UltraBoost 21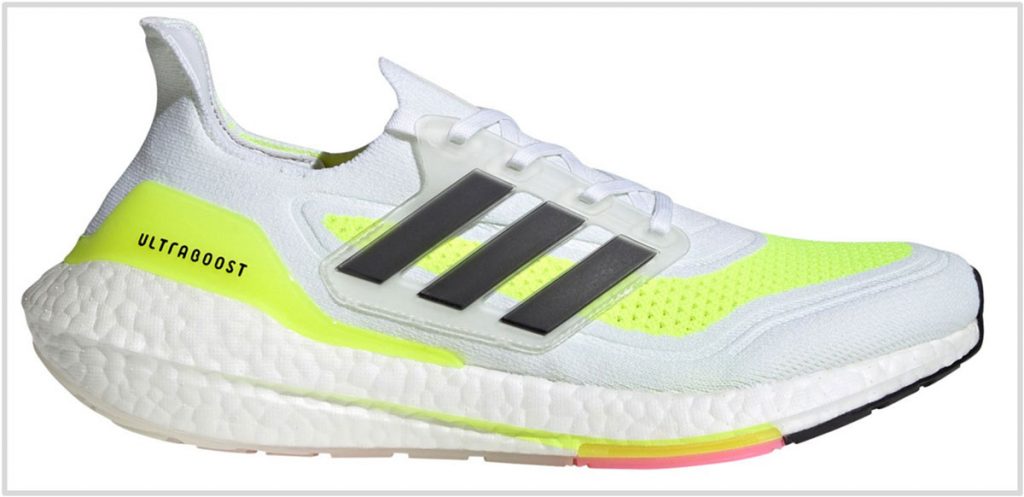 Ever since we reviewed the first Ultraboost model, we've found its upper to be shallow and narrow. The UltraBoost 21 is more of the same.
However, the narrow upper isn't uncomfortable. The stretchy Primeknit mesh upper accommodates various foot types while delivering a secure yet soft fit experience.
Below the snug upper lies a high-volume Boost midsole that makes all-day wearing very comfortable. This is a heavy shoe with an easy-going lacing system, so it's best utilized for relaxed runs and such.
2) Hoka Clifton 7
The Hoka Clifton 7 has a somewhat unusual fit. It has a roomy toe-box due to the broad profile, but then tapers into a relatively snug forefoot.
While the Clifton isn't as narrow as some of the other shoes (adidas UltraBoost, New Balance 1080) listed here, it will fit narrow-footed runners – or regular width runners who prefer a snug fit.
The upper fit isn't the only reason why the Clifton 7 gets a mention on this buyer's guide. It's also an excellent neutral trainer with gobs of transition-friendly cushioning delivered by the thick midsole. The rocker shape of the midsole keeps the transitions and turnovers efficient.
Category 3: Affordable narrow-fitting shoes below $100.
1) Nike Renew Run 2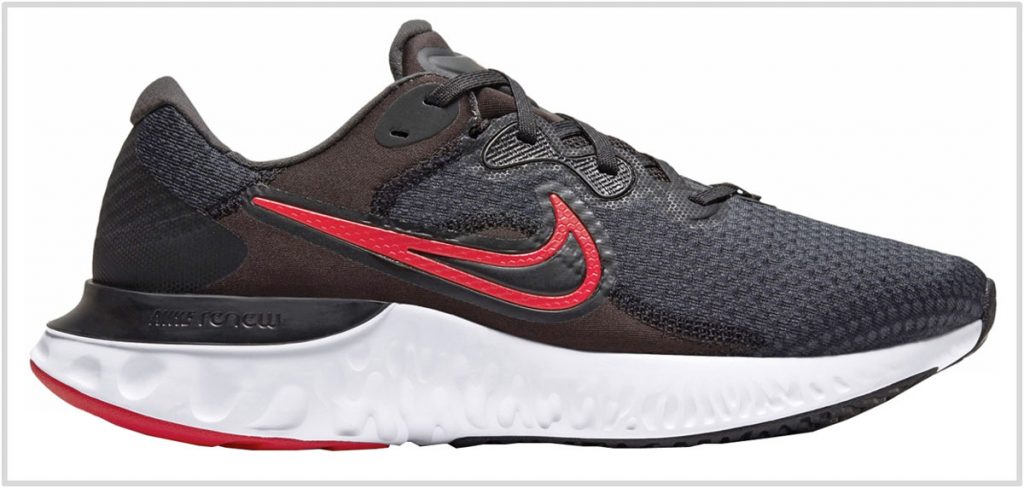 As far as Nike shoes go, the Renew Run 2 is excellent value. It costs just $10 shy of a hundred dollars, and in return, you get a cushioned ride that's comfortable enough for everyday runs of shorter distances.
This is also one of the few (or only?) Nike shoes that feature a softer Lunarlon core – a midsole material that used to be all the rage a decade ago.
The narrow upper is the reason why the Renew Run 2 shows up on this list. The insides are smooth and comfort-oriented, but the forefoot is rather pointy and short-sized. The pointy profile is accompanied by narrowness; that's a positive if a snug-fitting shoe is a requirement.
The midsole and outsole are the same as the last year's Renew Ride 1, so there's no need to upgrade if you already own the previous model.
2) Nike Winflo 8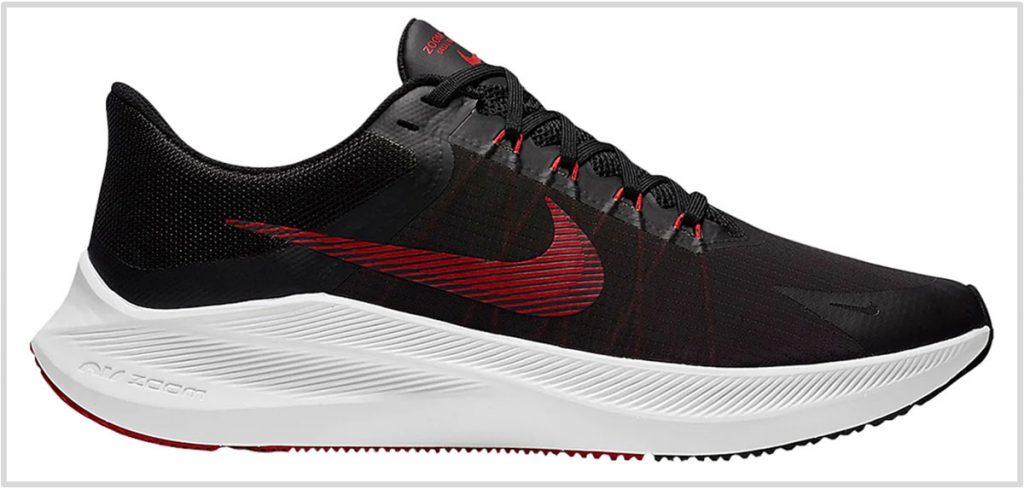 For reasons unknown, Nike's budget offerings usually have a slim upper with narrow interiors. In the case of the Zoom Winflo 8, the forefoot is both narrow and shallow.
The non-stretch upper, when combined with the (concealed) Flywire lacing and toe-box overlay, makes the interiors suitable for narrow feet.
Besides the fit, the Winflo 8's dual Zoom Air bags make it an excellent and versatile daily trainer – think of it as a toned-down Nike Pegasus, if you will.
Category 4: Speed trainers and racers with a standard snug upper fit.
1) adidas adizero Boston 9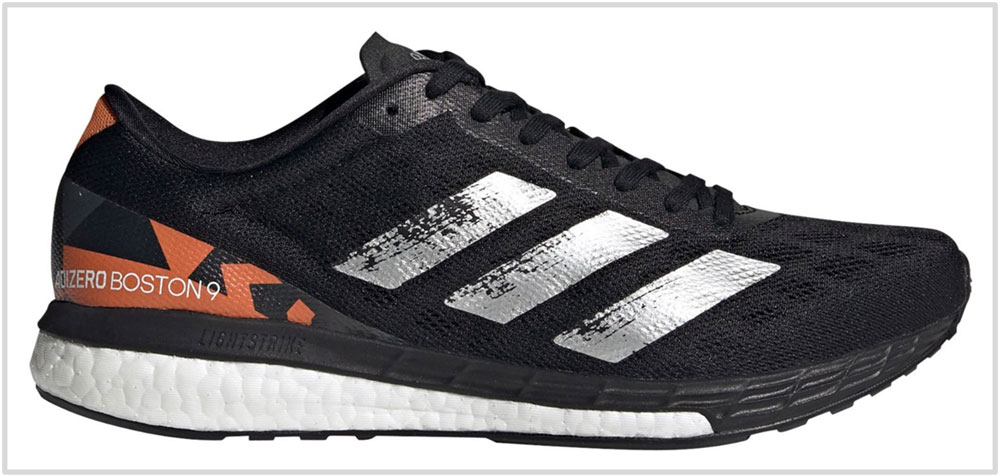 One of adidas's credible performance trainers, the lightweight and speed-friendly adizero Boston 9's narrow upper has a secure fit.
A 'B' width isn't required here; the very nature of shoes in this category (racer) demands a snug fit. And that's what the Boston delivers. That helps, because adidas doesn't sell widths in most of their shoes.
And what's the difference between the Boston 8 and 9? Not much – just a few upper changes.
2) adidas adizero adios 5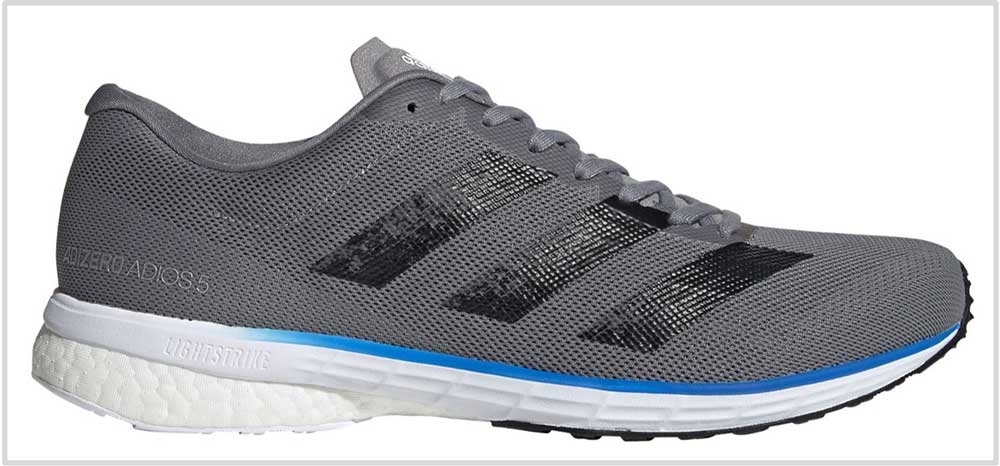 Throughout its history, the adidas adizero adios has always been a narrow-fitting shoe. The adios 5 is more of the same. The spacer mesh upper fits narrow, particularly over the small toe.
There's a reason why the upper fits narrow. The adizero adios 5 is a road racer, so the upper needs to lock the foot down securely during high-speed runs.
The Boost midsole is low profile, but packs sufficient cushioning for 5K to 10K speed runs.
3) New Balance 1400 V6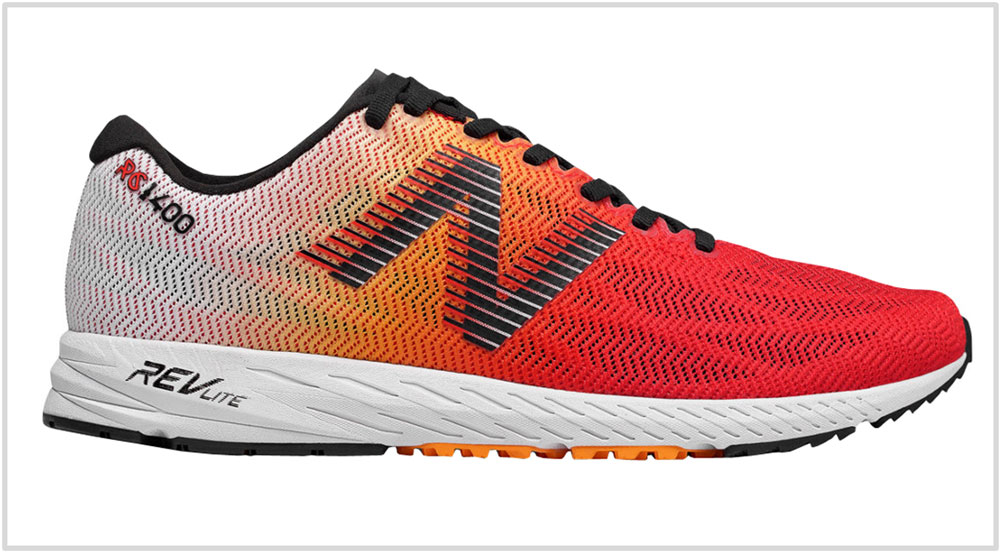 The New Balance 1400V6 is one of our favorite road racers. The Revlite midsole feels fast while offering a cushioned layer for protection from the road.
As with most racers, the mesh upper has a secure fit that suits runners with narrow feet. It doesn't cost a lot either, thus making it excellent value.
4) Skechers GoMeb Speed 6 Hyper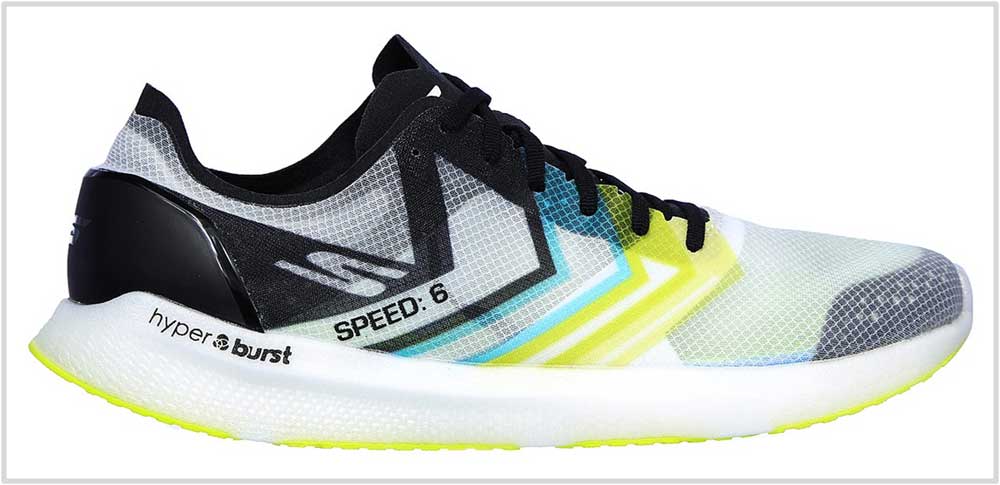 Though the GoMeb Speed 6 is marketed as a racing flat, it's capable of a lot more. Nearly 20 mm of Hyper foam cushioning separates the foot from the ground. And it's a 4 mm drop shoe.
So a true flat the Speed 6 is not, but a capable speed trainer it certainly is.
However, there's one thing that the Speed 6 has in common with racing flats, and that is the uber-snug upper fit. If you're a narrow-footed runner looking for a low-profile trainer capable of speedy runs or races, the GoMeb Speed 6 is worth considering.