This article has been updated with current models for May 2022. The adidas Solarglide 4 has been removed.
There was this crazy period – between 2009 to 2016 – when runners were obsessed with the 'drop' of a shoe.
Also known as the heel-to-toe offset, the 'drop' is the difference between the heel and forefoot thickness. For example, if a midsole has an 18 mm thick heel and 10 mm thick forefoot, it would have an 8 mm drop.
Running shoes often go through a cycle of fads. Over 10 years ago, it was the barefoot running boom that popularized the likes of Vibram Five Fingers, Vivo Barefoot, and Nike Free. It also led to the misplaced notion that running shoes with a lower heel-to-toe offset were superior to 'high drop' shoes.
Then came the era of maximalist cushioning that led to the growth of Hoka. We're not out of that phase yet; the max-cushioning has evolved to become the plate-in-a-midsole category that was made popular by the Nike Vaporfly.
Thankfully, the infatuation with heel offsets has waned in recent years, as it should. Many brands have even ceased advertising the heel-to-toe offset number in their spec sheet.
Getting fixated on just the 'offset' is unhealthy – even if someone is looking for a midfoot strike-friendly shoe.
There's a lot more involved in what makes a running shoe compatible with forefoot landings. For instance – what does the heel design look like? How wide is the forefoot? Does the upper heel allow the foot to fit flush against the heel? Is there a heel bevel for smooth transitions? Is the outsole a full-contact type?
We wrote a detailed buyer's guide examining the various factors that make a running shoe suitable for midfoot or full-contact landings.
Based on our experience and reader feedback, a running shoe with an 8 – 10 mm offset is the ideal sweet spot for a variety of reasons:
An 8 mm offset is the perfect middle ground
There's a reason why most shoe brands produce running shoes with an 8 – 10 mm heel-to-toe offset. Even Saucony, the maker of the 4 mm drop shoe (aka the Kinvara), focuses on running shoes with a higher heel-to-toe offset. For example, the extremely popular Ride 14 and Guide 14 have 8 mm gradients.
On one hand, companies like Altra base their entire catalog on the 0 mm form factor and remain a niche player. Then there are shoes like the Brooks Adrenaline GTS 22 with a 12 mm offset. In that context, an 8 mm offset is neither too high nor overly minimal.
(Related read: The best running shoes with a 4 mm drop)
The Achilles tendon is less likely to experience soreness
A lower 'drop' also lowers the position of the heel, thus stretching the Achilles tendon. Though the human foot has a zero mm 'drop', most people aren't accustomed to footwear without a heel.
Therefore, transitioning from a 12 mm drop shoe to 0 mm may require an adjustment period. An 8 mm drop running shoe needs little to no acclimatization.
It works for all experience levels
An 8 mm offset is versatile enough to be used across all running shoe classes.
It's found in daily trainers like the Asics GT-2000 and Saucony Ride, and also in performance speed-training shoes like the adidas adios 6 and Saucony Endorphin Speed 2. Even trail runners like the New Balance Hierro and Nike Wildhorse have 8 mm drops.
New runners can quickly find comfort in this offset range, and so can experienced runners who are shaking off their winter hibernation. With an 8 -10 mm drop midsole, it's easy to pick up where you left off.
A higher heel is useful in the gym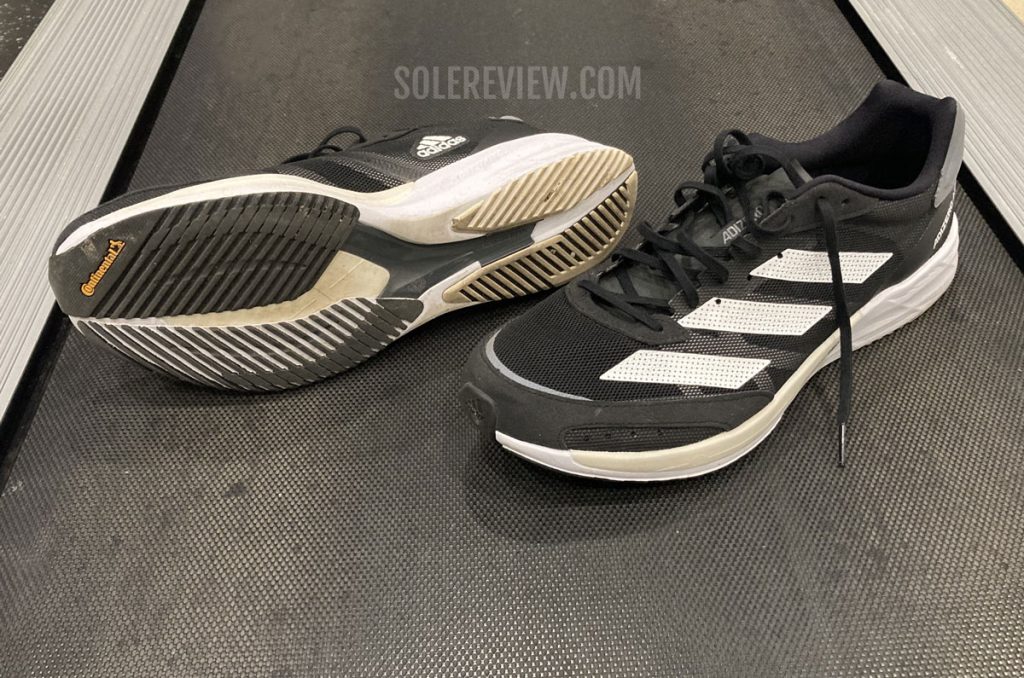 Not everybody runs on the road. For many runners, the treadmill is where most of their runs take place. That's also usually preceded – or followed by – strength training.
A higher heel-to-toe offset moves the center of gravity forward. This is helpful during lifts, where a forward bias is desirable. That's why training shoes that are designed for strength training have a high drop. We reviewed such a shoe (Nike Metcon 7) recently.
(Related read: The best running shoes for treadmill runs)
Lastly, running shoes with an 8 mm offset are readily available
Even though many running shoes with 0, 4, 5, and 6 mm offsets exist, it's way easier to find a running shoe with an 8 – 10 mm drop. And again – it's not just about the drop, so an abundance of choices also makes it likely to find the right combination of upper fit, styling, and midsole cushioning levels.
For ease of navigation, we've split this guide into five sub-categories – everyday trainers, soft running shoes, stability shoes, trail runners, and speed shoes.
Daily trainers with an 8 to 10 mm heel offset
1) Nike Air Zoom Structure 24 (8 mm heel offset)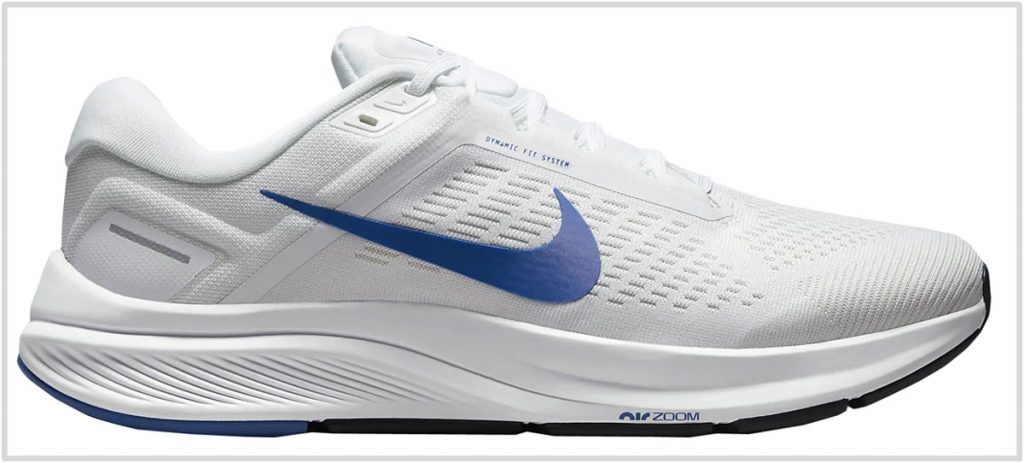 Between the Pegasus 38, Vomero 16, and Structure 24, we'd choose the latter as a daily trainer.
The ride is supportive, cushioned, and even snappy under the forefoot – thanks to the Zoom Air bag. The 8 mm drop midsole is versatile too – it can be used for daily runs, long-distance cruising, and even the occasional tempo workout.
The upper is also well-designed. There's plenty of plushness due to the padded foam and tongue, whereas the loop-assisted lacing makes the fit secure.
2) Asics Gel GT-2000 10 (8 mm heel offset)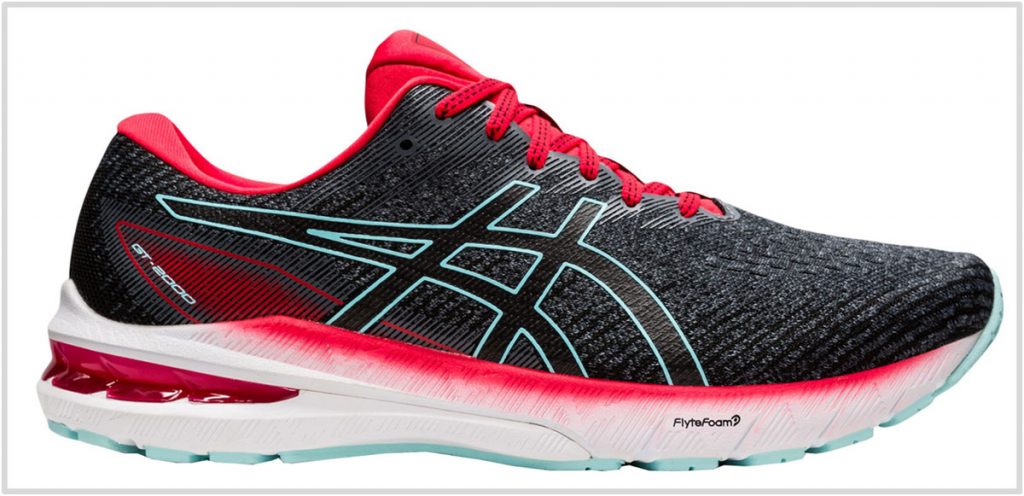 Though our in-depth review is available elsewhere on this site, here's the lowdown on the 10th edition of the GT-2000.
This is the first time Asics doesn't advertise the 'Dynamic Duomax' on the GT-2000, which is Asics-speak for a medial post.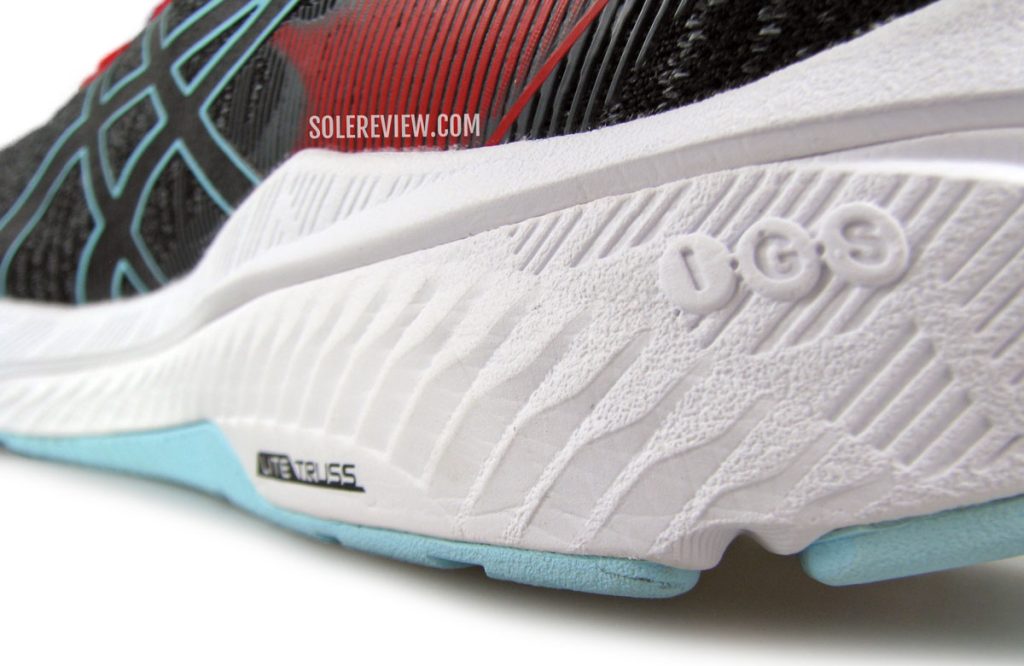 However, there's still a firmer density foam on the inner midsole. It's just that it's not visible from the outside, and its effect on the overall ride is negligible. The soft Flytefoam cushioning makes the GT-2000 10 a comfortable trainer for most use cases.
And like always, the upper is comfortable, secure, and is available in multiple widths. The GT-2000 has a heel-to-toe offset of 8 mm.
Also see: Saucony Guide 14 (8 mm heel drop) gets you a significantly firmer ride – if that's what you're looking for.
3) Asics Gel-Cumulus 23 (10 mm offset)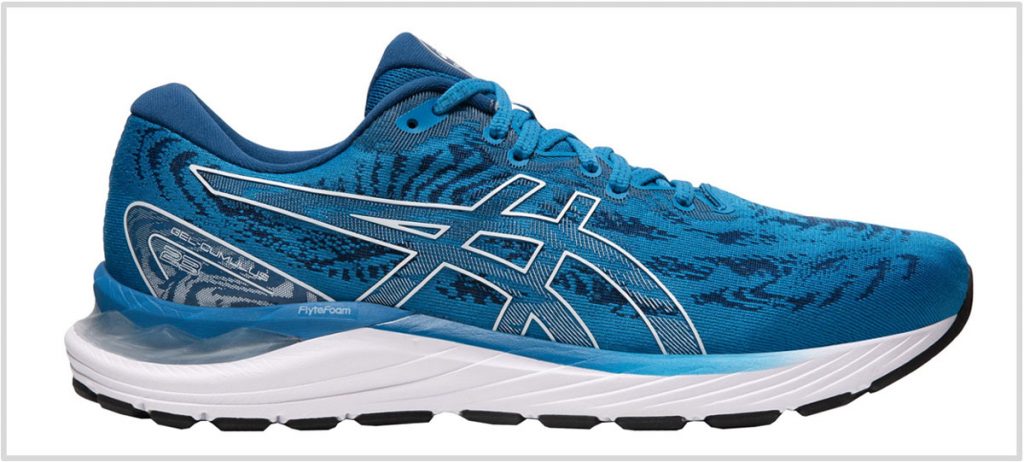 This 10 mm drop neutral trainer is a popular choice as a do-it-all shoe. Often viewed as the toned-down version of the plusher Nimbus and the 'neutral' version of the GT-2000, the Cumulus's blend of versatile cushioning and comfortable upper has gained a large following of loyalists.
The Flytefoam midsole (and decorative Gel) strikes just the right balance between mileage-friendly comfort and use case versatility. It's an excellent everyday running shoe, and doesn't complain when pushed hard.
The knit upper is soft and smooth on the inside – thanks to the one-piece shell exterior and padded heel and tongue. The upper also sells in additional widths.
Also see: Saucony Ride 15 (8 mm drop) – a neutral trainer with a firm and stable ride.
4) Asics Novablast 2 (8 mm offset)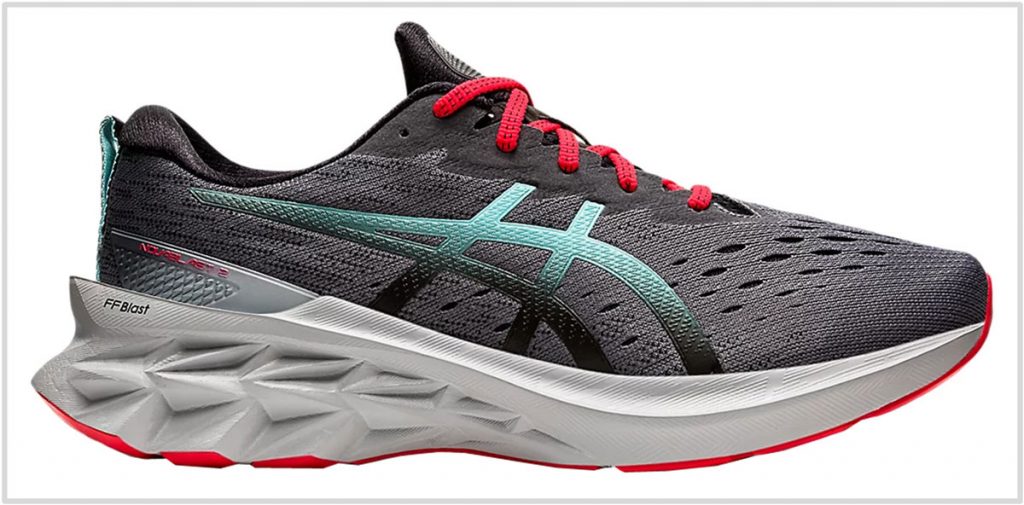 The first four shoes are 'safe' everyday trainers. If you're looking for something more fun, may we recommend the Asics Novablast 2?
It's a cushioned shoe with a bit of pep, thus making it versatile for daily training as well as tempo runs.
Even though the Flytefoam midsole is soft, the 'Blast' variant of this foam makes it responsive. Add to that a midsole design with a rocker profile, and you have a shoe that makes it easier to 'roll' forward.
The Novablast 2 also works better as a forefoot striker's shoe, which only goes to show that its 8 mm drop is of little consequence.
Also see: Nike React Infinity 2 ( 9 mm offset).
Soft running shoes with an 8 to 10 mm heel offset
1) Asics Gel-Nimbus 24 (10 mm heel-to-toe offset)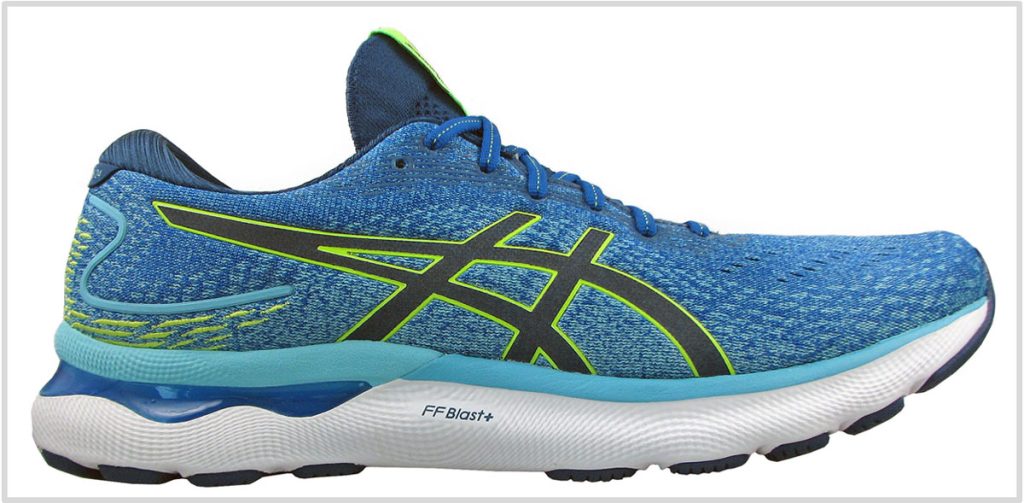 For a very long time, the Nimbus was advertised as the ultimate expression of Asics's neutral cushioning capabilities. The name – based on a type of cloud – conjured images of a soft ride that made running easy on the feet.
To be fair, the Nimbus delivered on that promise – even if the Gel technology wasn't all cracked up to be. For example, the last year's Nimbus 23 was a shoe with a plush ride and an equally comfortable upper.
Though the upper still carries forward the smooth and plush interior, the Nimbus 24 has evolved. Its midsole is now made of the 'Flytefoam Blast' foam – the same material that makes the Novablast so much fun.
As a result of these updates, the Nimbus 24 is still a plush running shoe, but there's a newly-acquired sense of responsiveness that was absent on the earlier models. That's not a bad thing at all. On the contrary, it's nice to see the Nimbus keeping up with the times. Our recent review explains what's changed on the newest Nimbus.
Also see: Brooks Glycerin 19 (10 mm heel drop)
2) Nike ZoomX Invincible Run Flyknit (9 mm heel drop)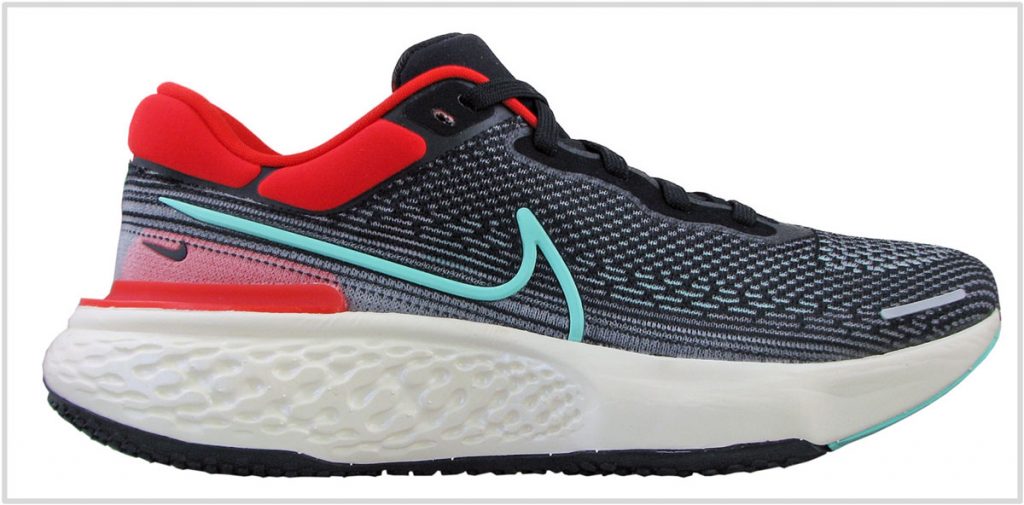 If you want the softest and plushest running shoe of all, look no further than the Nike ZoomX Invincible Run. The thick and wide midsole is made of 100% ZoomX foam – the same compound that powers the Vaporfly. It's responsive, lightweight, and extremely comfortable for long-distance runs.
It's fitting that the cushy midsole is matched with a spacious upper and plush interior.
However, there's a caveat – the Invincible Run is best used for easy cruising rather than speed runs.
Even though the shoe has the same ZoomX foam that makes the Vaporfly a fast shoe, there's no Carbon plate inside the Invincible Run. This is also a very high-volume midsole, so it's nowhere as agile as Nike's signature plated racer.
Our in-depth review of this 9 mm drop shoe is here.
Medial-posted stability shoes with an 8 to 10 mm heel offset
1) Asics Gel Kayano 28 (10 mm heel-to-toe offset)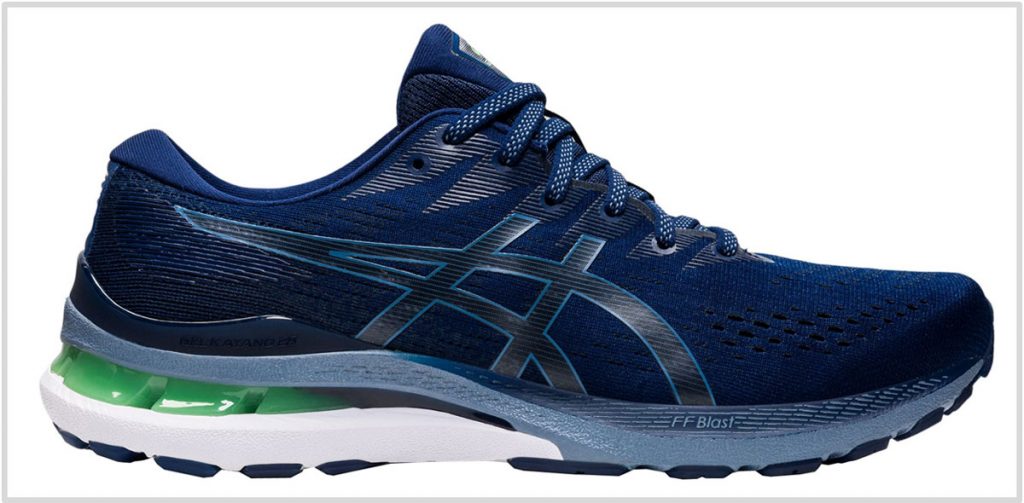 The Asics Kayano 28 is one of the few surviving running shoes with a firmer medial post, and we reckon it will follow the GT-2000 10's footsteps for its next iteration.
There's a high probability that the medial post (aka the Asics Duomax) will no longer be the defining characteristic of the Kayano 28. Most stability shoes (like the Brooks Adrenaline, Nike Structure, Saucony Guide) have evolved into the 'supportive neutral' form factor, so the Kayano's evolution is an expected outcome.
Also, even with a medial post, the Kayano 28 is a supportive neutral running shoe. The firmer wedge is barely noticed during runs.
The Flytefoam stack provides all the cushioning that needs for daily runs and long-distance training alike, whereas stability features like the molded heel clip and firmer midsole layer make the ride supportive.
The comfortable engineered mesh upper also sells in multiple widths.
2) New Balance Fresh Foam Vongo V5 (8 mm heel drop)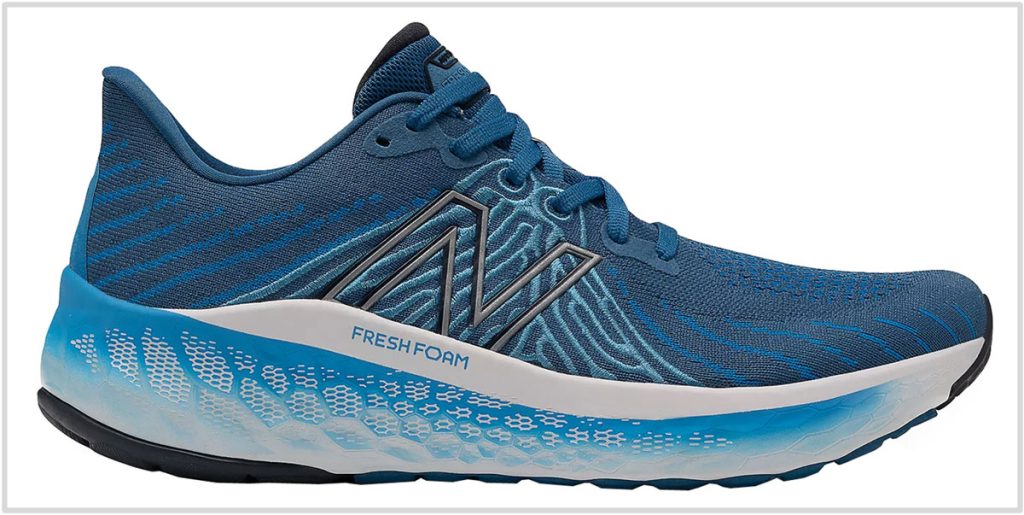 While most of the running shoe world is removing medial posts, New Balance is busy putting them back in.
How else would you else describe the Vongo V5? This 8 mm drop running shoe never had a medial post in its existence, but it has one now.
Unlike the earlier models that combined a deep outsole channel with a supportive inner midsole, the Vongo V5 now has a proper medial post. This makes the Vongo V5 a traditional stability shoe that also happens to be very cushioned. We see shades of the New Balance 1260 in the Vongo V5.
The wide Fresh Foam X midsole makes the Vongo an excellent choice for long-distance runs. The soft and stretchy upper has an accommodating fit and is also available in multiple widths.
Trail running shoes with an 8 to 10 mm heel offset
1) New Balance Fresh Foam Hierro V6 (8 mm heel drop)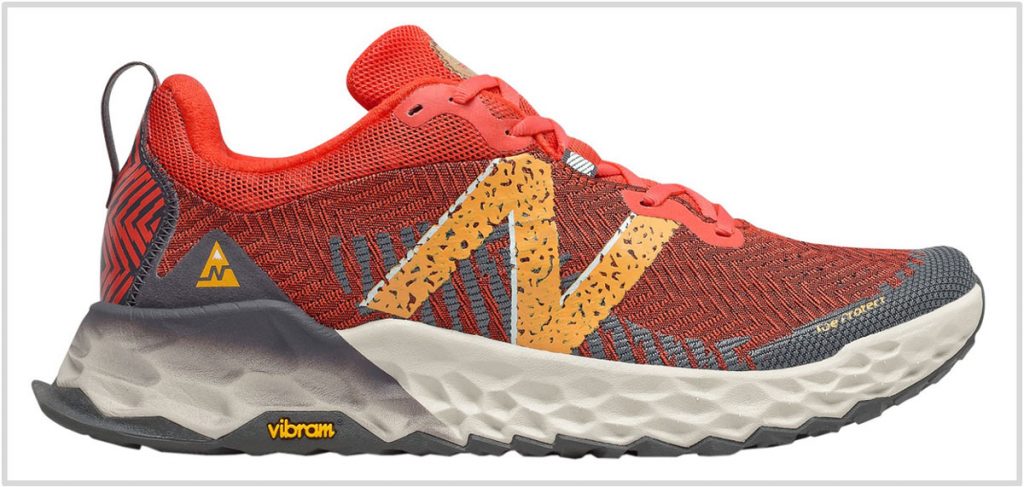 The 8 mm drop Fresh Foam Hierro is a road-trail hybrid with plenty of ride and upper comfort. The Fresh Foam midsole makes high-mileage trail runs less grueling; the Vibram outsole is grippy and protective over non-technical trails. The flat lug geometry makes it suitable for gravel paths and road sections.
The mesh upper has a closed knit structure and fused toe-bumper to keep the debris out. New Balance also sells the Hierro in a waterproof GTX version.
Also see: Nike Pegasus Trail 3 (9.5 mm heel drop).
2) Nike Wildhorse 7 (8 mm offset)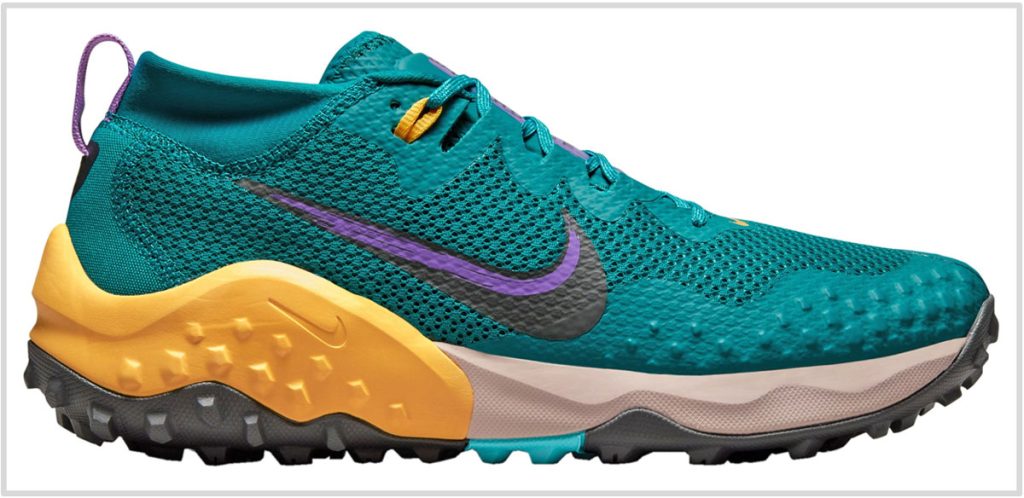 Though the Nike Wildhorse 7 is one of the softest trail running shoes in the market today, its performance on off-road terrain is respectable. The React foam midsole, a segmented rock shield, and aggressively-lugged outsole creates a cushioned yet protective ride.
The upper has a soft heel gaiter that helps keep the debris out. The Wildhorse 7 isn't the best shoe for technical trails due to its soft ride, but it's sufficiently versatile for general off-road use.
And why not the Terra Kiger 7? That's because it's got a lower heel-to-toe offset of 4.5 mm.
Speed-friendly running shoes with a 8 to 10 mm heel offset
1) adidas adizero adios 6 (8 mm heel drop)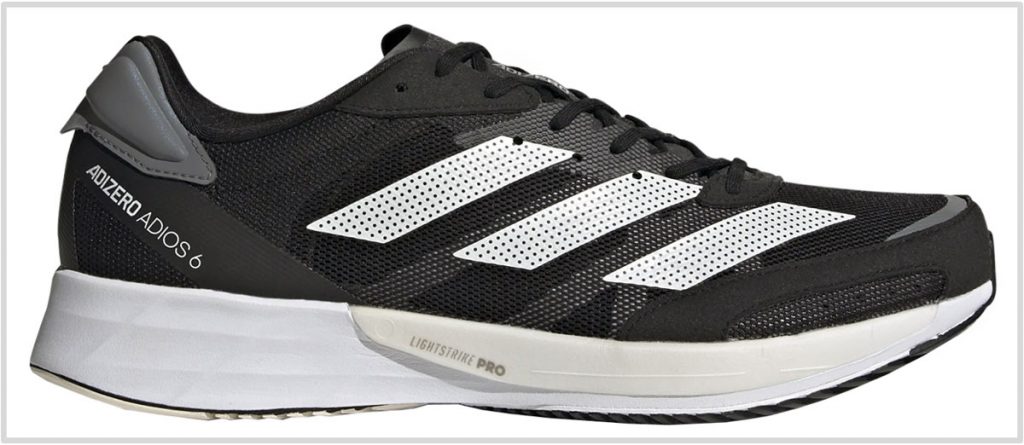 The adios 6 is yet another example of a forefoot strike-friendly running shoe with a high heel drop. The ribbed Continental rubber outsole provides plenty of traction and stability for forward landings and transitions.
Even though the adios 6 has changed a lot from its past versions, it continues to be a speed-friendly shoe for races and tempo runs alike.
A combination midsole (Lightstrike Pro and Lightstrike EVA foam) infuses cushioning comfort into the low-profile midsole. So the adios 6 is nowhere as harsh as it once was. As we said in our detailed review, the adios 6 is like the old Boston.
The upper maintains its old-school racing flat aesthetic. A combination of soft synthetic suede over a thin mesh upper makes the interiors secure and breathable.
2) Saucony Endorphin Speed V2 (8 mm heel drop)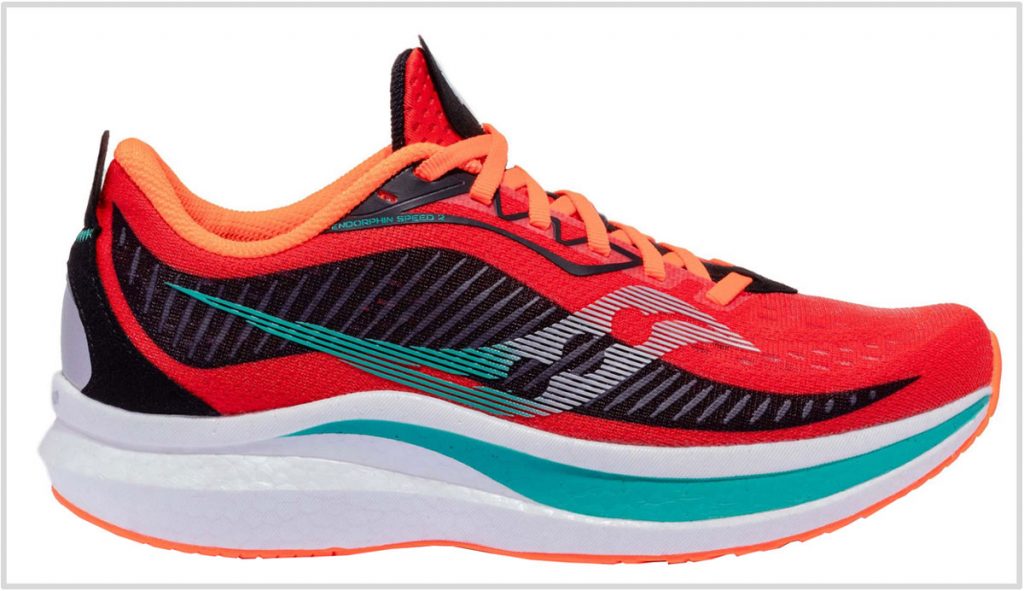 Never judge a shoe by its heel drop, and the Saucony Endorphin Speed 2 is proof. Given its plated midsole and lack of rearfoot stability, the Endorphin Speed is best used as a forefoot-striker's running shoe.
And it's not just any 8 mm drop shoe. The lightweight PEBA midsole is perfect for high-mileage runs, and the Nylon plate keeps things snappy. The spring-like action under the heel and the rocker forefoot make the Endorphin comfortable yet fast at the same time.
Most Saucony uppers are very comfortable, and the Endorphin Speed is no exception. The soft and breathable mesh shell breathes extremely well while securing the foot over the midsole.
3) Brooks Hyperion Tempo (8 mm offset)
If our detailed review didn't make it obvious, we love the under-rated Hyperion Tempo. It's not a cushy speed shoe like the Saucony Endorphin Speed, nor a low-profile racer like the adidas adios 6.
The Brooks Hyperion Tempo occupies that sweet spot between a firm everyday trainer and a purpose-built racer.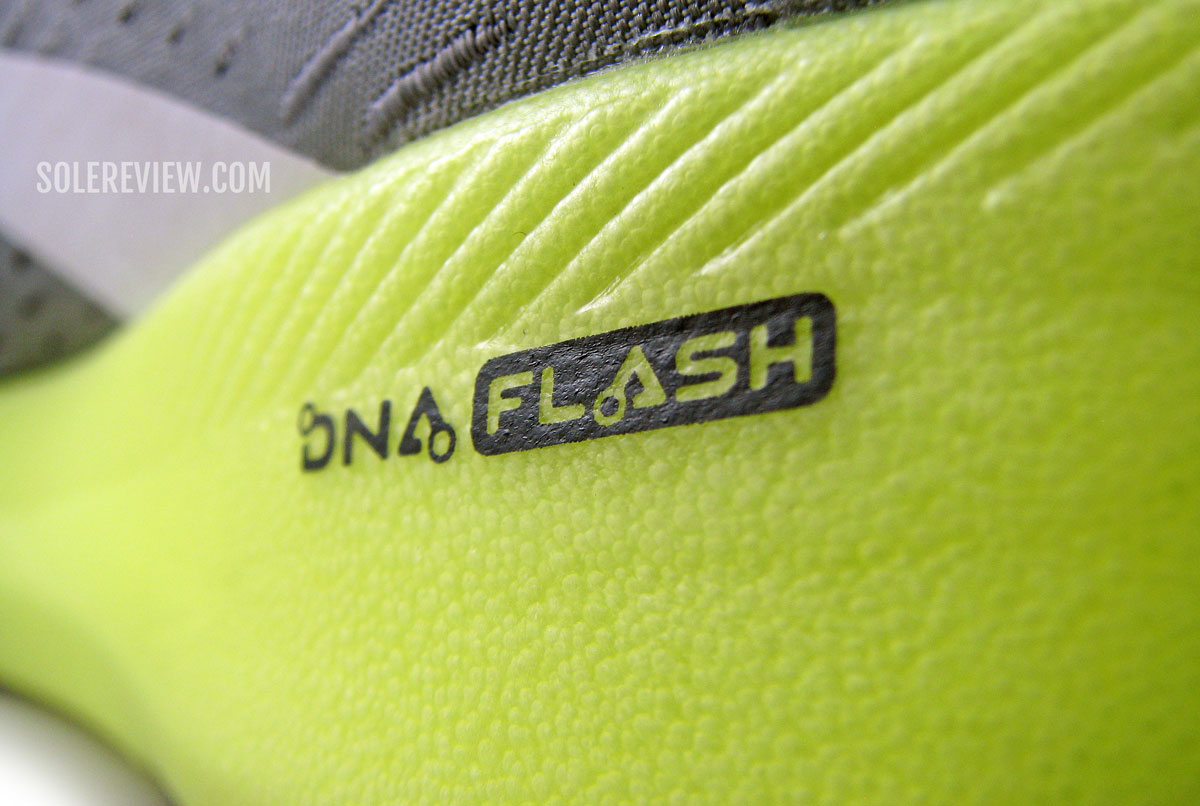 The Nitrogen-infused 'DNA Flash' foam produces a firm ride that's excellent for tempo runs. The small lugs of the rubber outsole also grip tenaciously on the road and help with swift turnovers.
Surprisingly, the breathable upper doesn't have an ultra-narrow fit that's usually the case with tempo trainers. The interiors have a secure lock-down, but are spacious enough to accommodate the changes in the foot volume during a long-distance run.