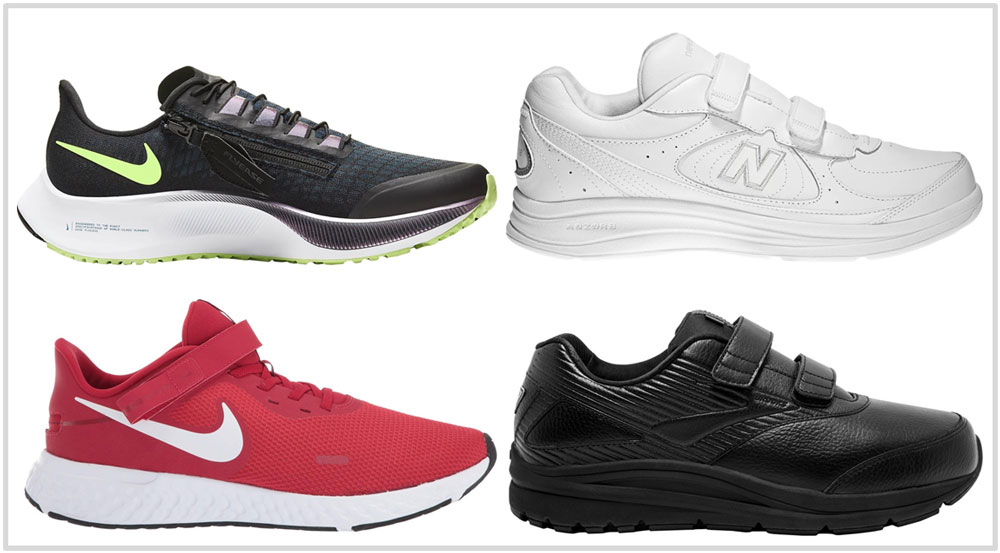 This article has been updated with current models for November 2020. The Brooks Addiction Walker V Strap and Nike Pegasus 36 Flyease have been replaced with their updated versions. The Skechers GoWalk 5 Wistful and Vans Old Skool V are new additions. The North Face Cadman Moc and Reebok Work and Cushion KC have been removed.
Why would anybody want a running or walking shoe with a hook-and-loop fastening system? Running shoes with laces work perfectly well, so why go to the trouble of finding Velcro-fitted footwear?
There could be many reasons why.
People with disabilities may lack the level of mobility or hand-eye coordination required to tie laces. Even temporary hand injuries could restrict the use of fingers.
Age-related arthritis also makes operating traditional laces difficult.
Lacing shoes with gloved hands is also hard. This happens during winters, and also in work environments where gloves become necessary. It is no surprise that the aerospace industry was one of the early customers of Velcro; it helped astronauts manage their bulky suits.
Or the reason could be as simple as finding laces cumbersome to manage. Slip-on shoes usually lack the required levels of lock-down, so a hook-and-loop closure is the next best thing.
So let's go find some running and walking shoes with straps. How hard can that be?
As it turns out, there aren't many options.
Strap-based closure systems add bulk to running shoe uppers – visually and weight-wise. The wide straps break the continuity of the upper design and make the shoe look stodgy – no brand wants that. Velcro straps are usually affixed over a synthetic or leather base, and that adds weight. That, too, isn't preferable when shoes are competing against each other to shave every micro-ounce possible.
There's a functional impact too. Athletic footwear – especially the running kind – need flexible uppers that work dynamically with the foot. Putting a couple of hook-and-loop straps on the shoe affects the upper's movement range.
Also, clocking serious miles on a running shoe will stretch and loosen the straps over time. Throw in some dirt from outdoor workouts and the efficacy of the fastening system becomes greatly reduced.
That is why running shoe brands prefer to go the BOA lacing route instead of strap-based fastening. This way, you retain the functional benefits of traditional lacing while maintaining a slim exterior profile.
On the other hand, footwear meant for biking/cycling and weight-lifting are solely reliant on a hook-and-loop strapping system.
Biking and lifting shoes have a static behavior; the feet stay in one spot instead of covering distances. Under the circumstances, the Velcro panels are perfect for locking the foot down. One also doesn't need to worry about the laces coming undone and getting snagged in the chain assembly.
Sure, lots of children's footwear are sold with no laces. But that's more about the convenience for the parents than anything else. Besides preventing kids from tripping on their laces, these closure systems allow an easy on and off.
There are only a couple of bonafide running shoes we could find for this guide. Nike's Flyease assortment is excellent in that regard. Instead of placing Velcro over the lacing panel, Nike uses a combination of zip and Velcro on the sides. This novel design allows the complete range of movement while being wear-friendly.
Running/training shoes with hook-and-loop straps.
1) Nike Revolution 5 Flyease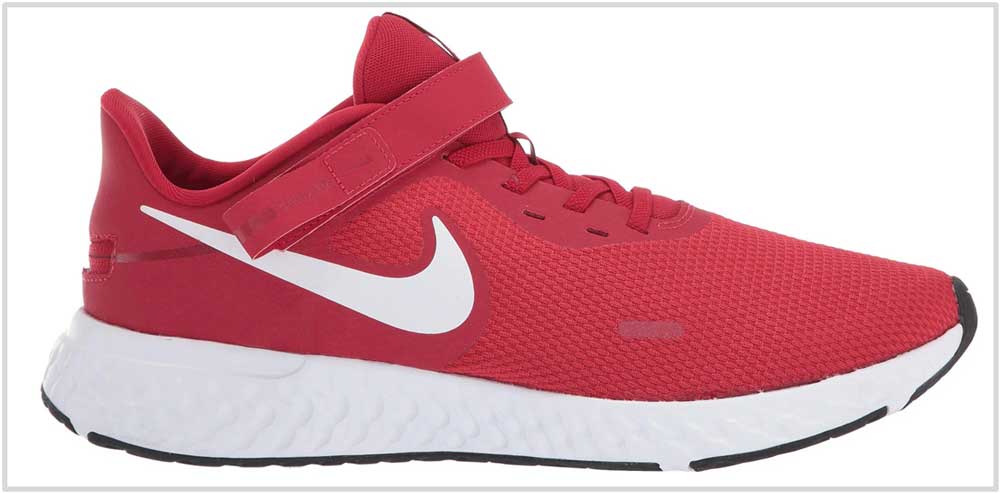 Our guide could begin and end with this shoe. The Revolution 5 Flyease is a legit running shoe that not only features an easy-to-use Velcro strap but also uses a zipper for easy in and easy out.
A hook and loop strap is connected directly to a long zip on the side. In other words, the strap is the pull tab.
The React-inspired midsole has lots of cushioning; the generous use of outsole rubber helps increase traction and long-term durability. The upper is snug in its 'D' (regular) width avatar, and an extra-wide version is optional.
Though this section covers only running shoes, Nike sells several Flyease-themed models across categories and genders.
2) Nike Air Zoom Pegasus 37 Flyease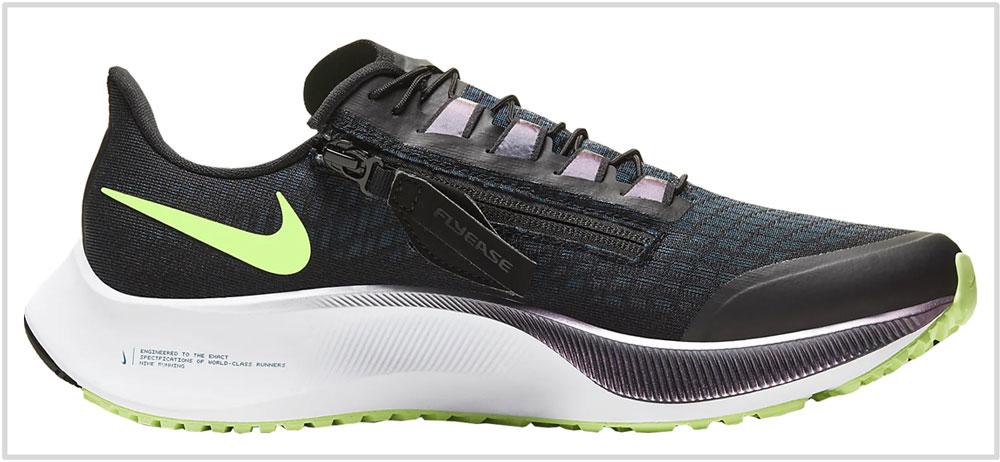 From a ride perspective, there's a marked difference between the Pegasus 36 and 37. But that isn't relevant in the context of this buyer's guide.
Just like the last year's model, the Pegasus 37 too, comes in a 'Flyease' variant. Instead of regular lacing, a midfoot zip and heel Velcro make it easier to put the shoe on. On the inner side, a zipper with a large pull-tab instantly creates a larger opening for the foot to get into.
On the top, the elasticated cords can be fastened quickly by tugging on the large tab that is a part of the hook-and-loop setup.
Besides the Flyease modifications, this Pegasus 37 variant also has a molded toe-bumper for increased protection and support. The ride quality is the same as the standard P-37, meaning that the cushioning softness is heel-loaded. At the front, the tensile Zoom Air bag adds responsiveness. Read our road Pegasus 37 review for dissection pictures.
Even with all the Flyease extras, there is no additional price mark-up over the regular Pegasus 37.
3) Nike Metcon sport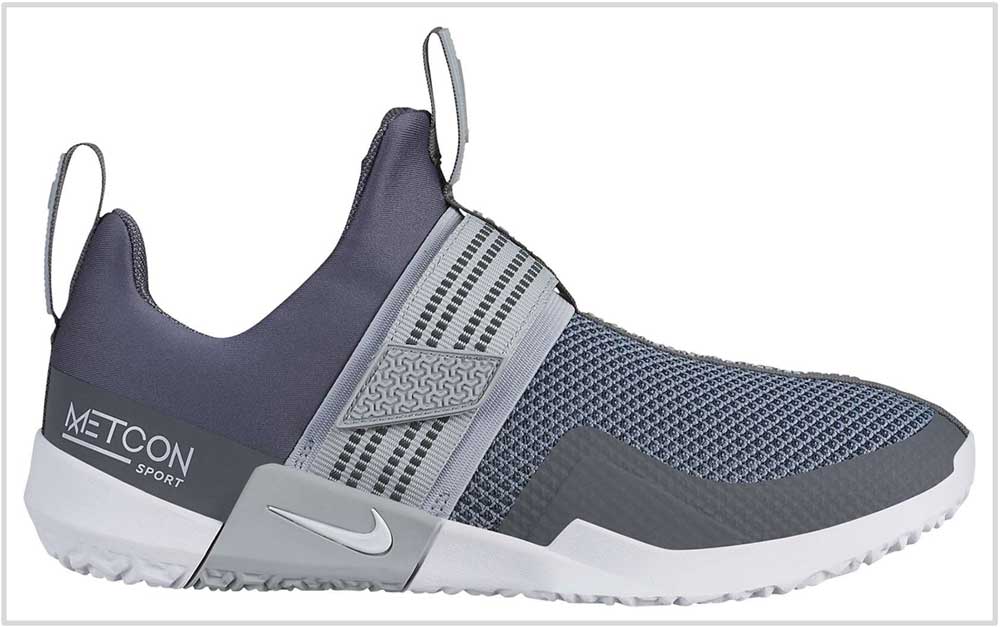 The Nike Metcon Sport isn't a running shoe per se; this is a cross-trainer. But you can run short distances in them, including treadmill workouts.
That's a small compromise for a shoe with a slip-on entry and velcro loop closure over the midfoot.
Also see: The Metcon 6 Flyease – the Velcro version of Nike's popular Metcon 6 cross-trainer.
Walking shoes without laces
1) Brooks Addiction Walker V Strap 2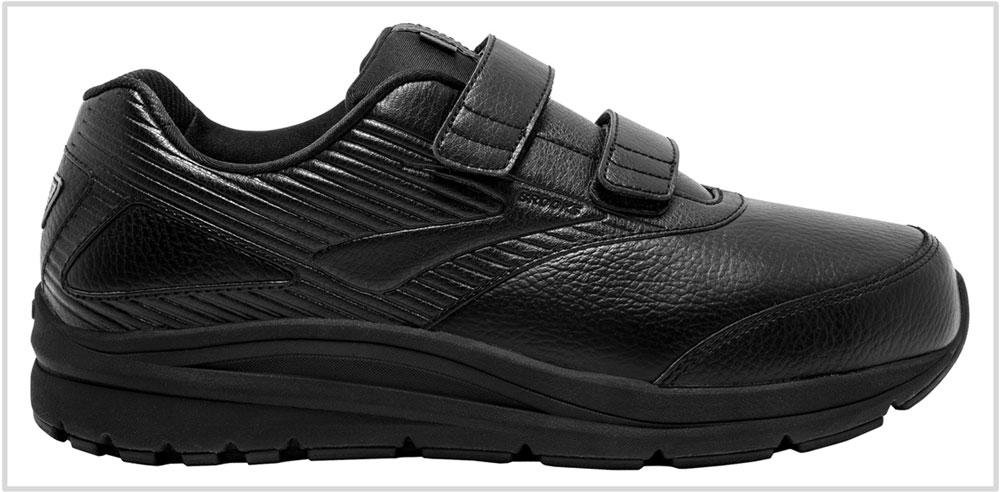 Brooks sells the Addiction Walker in two flavors; we've covered the laced edition in one of our other guides.
The second variant has an upper with dual fastening straps for ease of entry and egress. The rest of the shoe is the same as the laced version – the V Strap's upper is made of leather which adds comfort and durability. The interiors are made comfortable by the soft-touch lining materials and foam quilting on the heel and tongue.
The high-volume midsole has a wide geometry for cushioned support. The V Walker 2 comes standard with a slip-resistant outsole that is certified to SATRA TM144:2011 standards.
All in all, this Velcro-fitted shoe is good value for its price.
2) Skechers GoWalk 5 – Wistful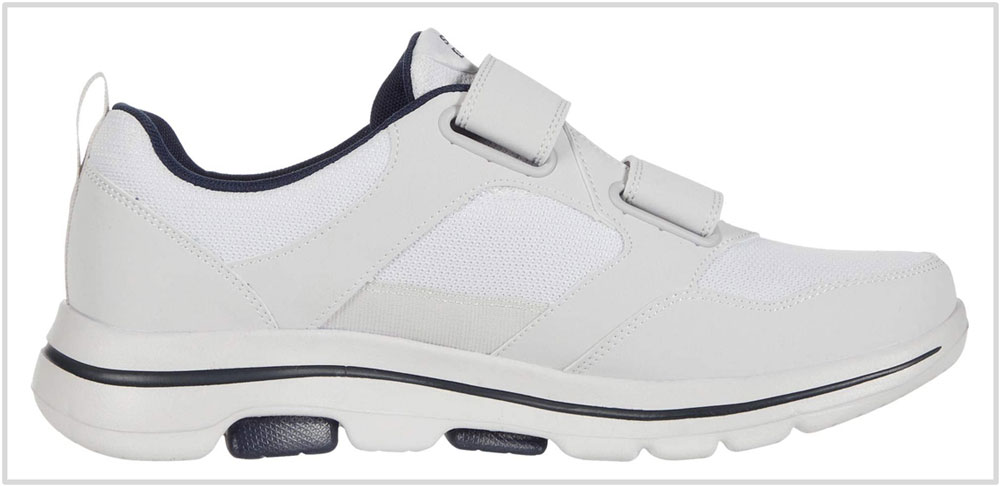 The GoWalk 5 Wistful is the quintessential Skechers shoe. It's affordable, lightweight, and comfortable enough for most low-impact activities. That includes walking too – the name GoWalk 5 gives it away. The ride comfort is derived from the single-density EVA midsole, the drop-in footbed, and rubber outsole pods.
Two rows of wide hook-and-loop straps keep the foot locked in; no lacing is required here. The mesh and synthetic leather upper is pretty basic but fits well and gets the job done.
3) New Balance Men's 577 Hook and Loop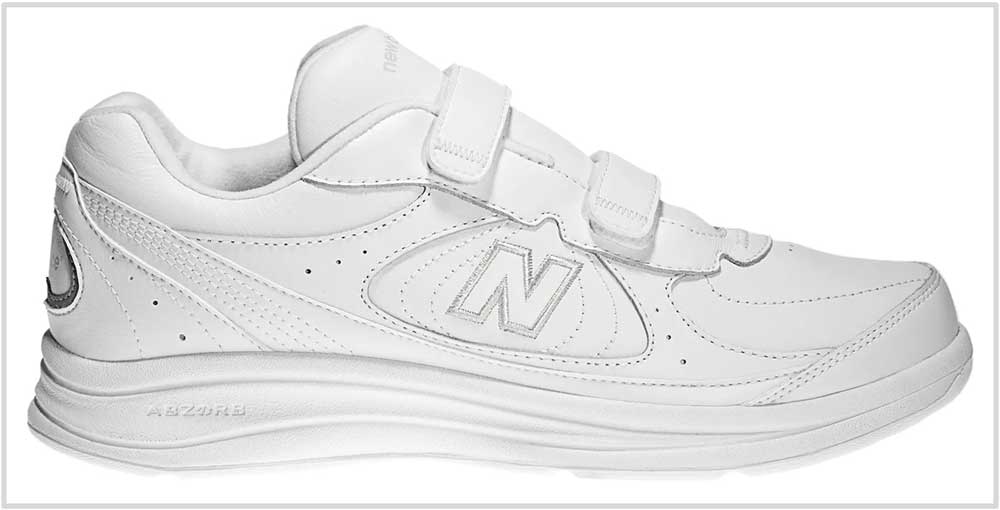 This is one of the best lace-free walking/work shoes with a sub-$100 retail price. The all-leather and comfortably-fitting upper can be fastened through the two straps and is also available in four widths, three colors, and a women's version.
A full-length Polyurethane midsole delivers firm, resilient cushioning and all-day support. The full-contact outsole geometry is specifically designed for walking.
Certain variants of the 577 are assembled in the United States.
4) New Balance hook and loop leather 928v3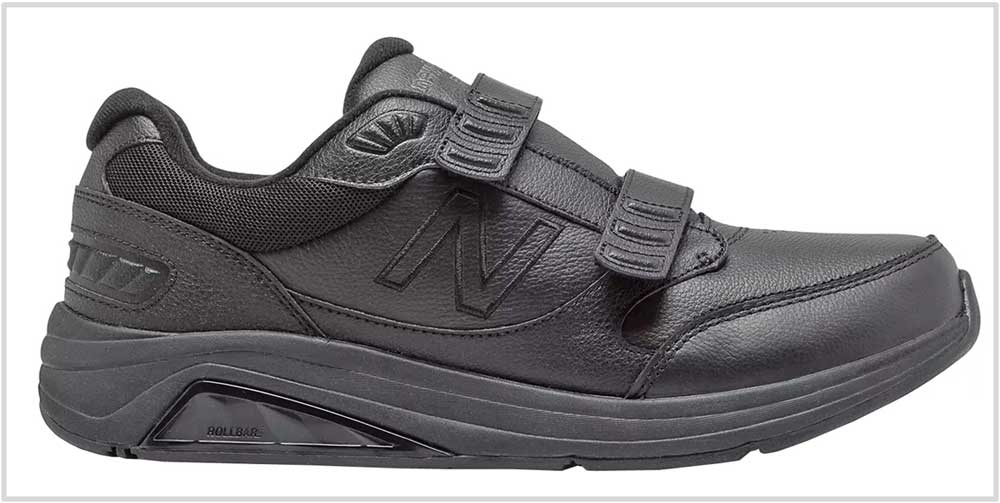 Available in both Men's and Women's versions, the strapped version of the 928 is a robust – yet heavy and extra firm – walking shoe. With its standard-fitting upper comes the option of five widths, ranging from a narrow to extra-extra-large.
Two Velcro straps loop through a wide receptacle for a quick yet secure fastening experience.
5) New Balance hook and loop 813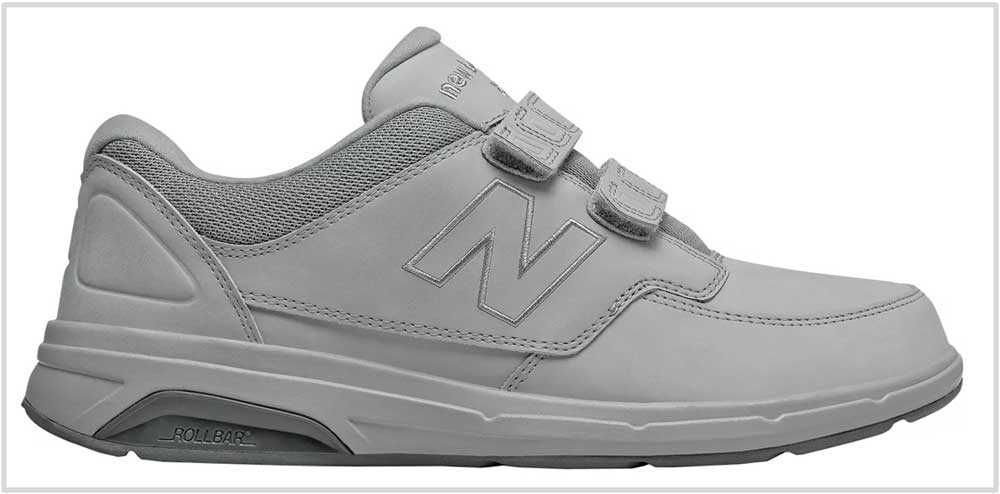 The 813 is a basic yet dependable walking shoe with a firmly-cushioned and stable midsole. The 813 is a good buy considering its $90 MSRP.
A full leather upper runs warm but is protective; the plump tongue and collar make the interiors comfortable and filters any top-down pressure. The 813 is also available for women.
6) Vans Old Skool V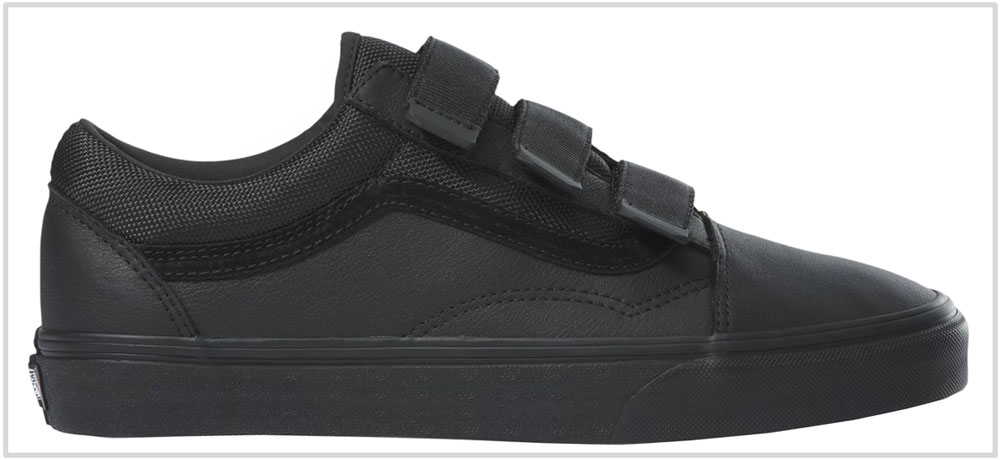 The Vans Old Skool V could be the one shoe to do it all. This is a skateboarding shoe, so the build quality and comfort levels are up there. Depending on which color one buys, the shoe is available in multiple material combinations.
The one pictured here has leather and ballistic Nylon in an all-black combination; it's almost dressy. The other colors use suede and canvas. The triple strap closure is a testament to Old Skool's performance roots. Three straps do an excellent job of locking the foot in while spreading the cinching pressure evenly.
Powering the cushioning are the insole and multiple layers of foam. The Old Skool has a full-length gum rubber outsole that provides great traction.