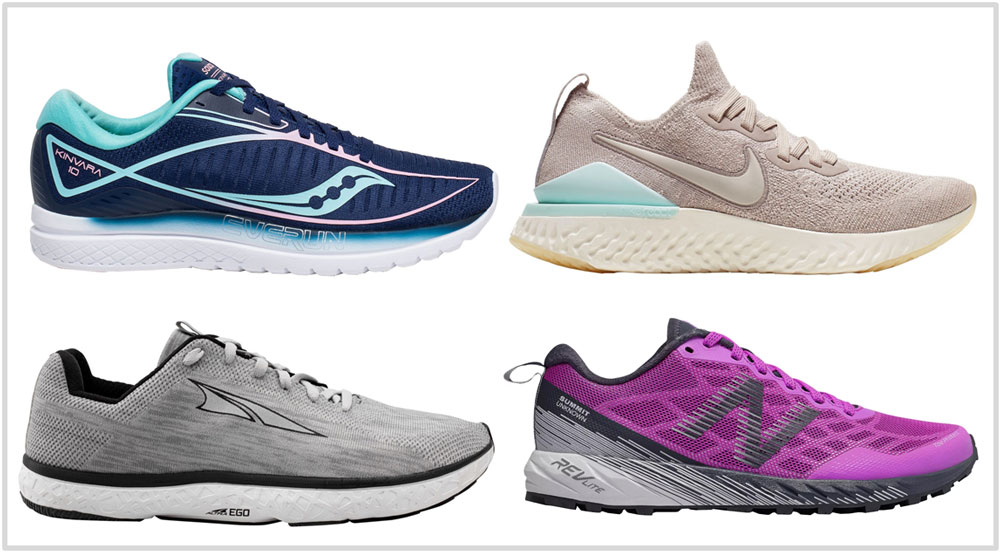 This article has been updated with current models for October 2019.
For most premium sportswear brands, the kid's footwear business does surprisingly well. In certain countries, sports footwear for children contributes to as much as 10% of a brand's total footwear business. But when you look at a number like that, you know there's got to be a catch somewhere.
Because you have to ask – how can children's footwear amount to so much business?
Not all shoes in this category are bought by children. Merchandisers often buy kids footwear for women; after all, the grade school sizing (3Y to 7Y) share common stick-sizes with women's running shoes. The fact that children's shoes are lower-priced makes it an easier sell.
This mindset speaks volumes about the footwear industry's apathy towards the female consumer.
Everybody knows that there is a fundamental difference between male and female foot anatomy, an aspect which requires different lasts (fits) and cushioning treatments. But despite this common knowledge, it is hard to find running shoes designed specifically for women.
Most 'women' running shoes are based on a 'pink it and shrink it' design approach. In other words, take a men's running shoe, narrow the last to a 'B' width, size it down, and splash some pink or blue over the shoe – a color stereotype for women's athletic footwear which has been done to death.
There have been some half-hearted efforts by the brands. adidas introduced the PureBoost X for women sometime back, but it was gone within a year. To our knowledge, Nike does not have a gender-specific running shoe, and neither does New Balance.
Niche brands like Ryka are women-focused, but only have a limited assortment of running shoes.
The reason given by footwear brands for not offering gender-specific footwear is that the 'women's business isn't large enough.'
An easy way to remedy this is to pick five currently bestselling men's running shoes and create a women's version of them with a different fit, ride character, and a 20% lower price. Don't change these models every year (which is pointless anyway), but every three. Offer these styles in at least five colors and four different widths. This, in our opinion, would be a good way of gauging the potential of the market.
But this is wishful thinking; it isn't going to happen anytime soon.
So if brands do not sell gender-specific shoes, how did we compile a list of the best running shoes for women? The short answer is: we made the best of what's available.
We applied the following set of selection criteria, ordered by their degree of importance. Not all of these conditions are met by the recommended shoes, it's all in bits and pieces though. Specifics are included in the individual product descriptions.
1. The running shoe should have a women's specific last: On the list below, only the Altra Escalante qualifies.
2. The shoe should have a gender-specific cushioning: We often give Asics a hard time for failing to innovate and doing funny things with their upper fit. But the Japanese brand lords over the others when it comes to gender-specific cushioning. Hence, you'll see a couple of Asics on this list.
3. Choice of multiple colors: At the time of writing this review, we looked at the women's running shoes which offer more than just pink or sky blue colors.
4. Unisex friendly silhouette: Not all men's shoes look good after 'shrinking-and-pinking'. Some models have a sleeker profile as compared to the others.
5. Multiple widths: Although the standard fit for a women's running shoe is a narrow 'B,' we've included models that offer multiple widths. Predictably, it's New Balance which does an excellent job here.
Similar to how our other buyer's guides are structured, we have split our recommendations by category.
Best women's neutral running shoes
1) Altra Escalante 1.5 Women's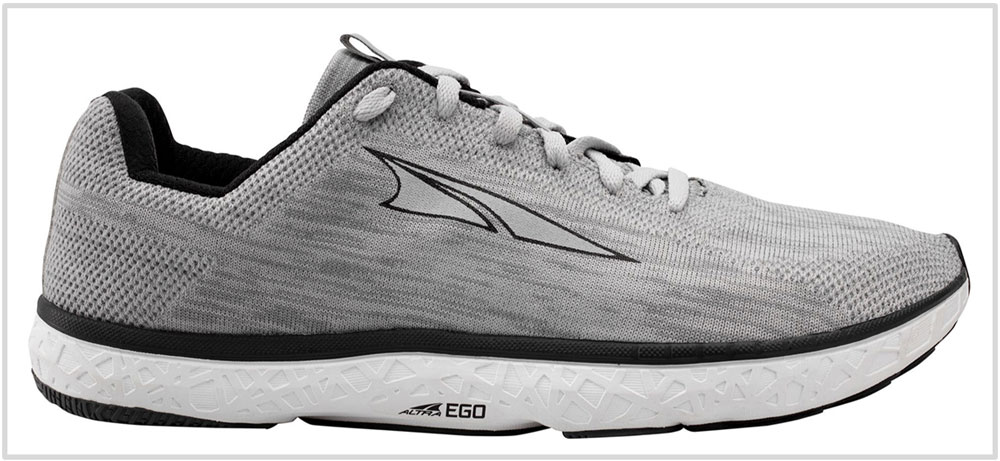 The Escalante is the only shoe on this list which comes in two different lasts – PFS-2 and PFS-W. This means the women's version uses a gender-specific PFS-W last which translates into a different upper fit for the female runner.
And then there's the regular goodness of the knit upper and the new midsole material which produces a cushioned and responsive ride. If you're ok with a zero/negative drop running shoe, then the Escalante 1.5 should be on your list.
We know that the Escalante 2 has been out in the wild for a while, but the 1.5 is a better version.
2) Asics Gel-Cumulus 21 Women's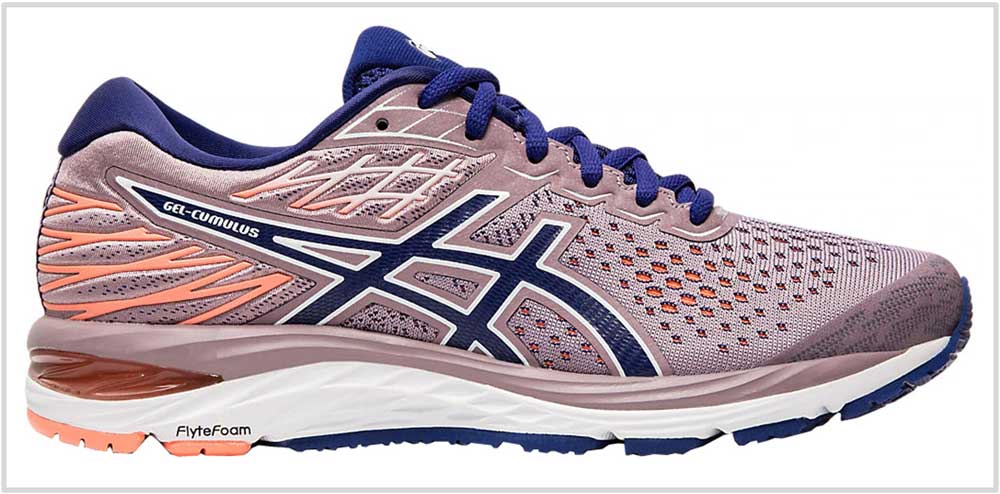 The Cumulus 21 isn't built on a women-specific upper last, but it does have a sleek, sculpted appearance with colors to match.
And why have we recommended the Cumulus over the supposedly plusher Nimbus? Because apart from being more expensive, the Nimbus 21 is the stiffer shoe of the two. Runs are more comfortable in the Cumulus, and the upper fit and feel aren't bad either.
Buying the Cumulus 21 also has the added benefit of a lower price and weight.
3) Saucony Ride ISO 2 Women's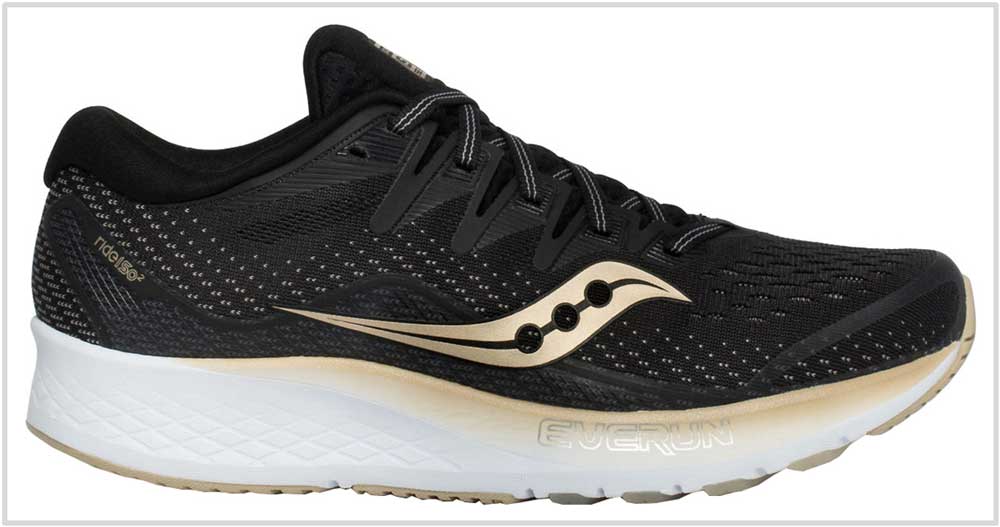 Not only is the Saucony Ride ISO 2 an excellent daily trainer, but its just-right softness also serves multiple roles.
Unlike some soft neutral trainers, the Ride ISO 2's relatively firm midsole supports runs at faster paces. In short, if you're running a marathon with a personal time goal, then lacing up the Ride ISO is a good idea. It's fairly lightweight for a fully-loaded running shoe – the Ride ISO weighs 8.8 ounces.
The ISOFIT upper has improved over the previous iterations; the inner sleeve and the engineered mesh covering wraps the foot in secure comfort.
4) Nike Epic React V2 Women's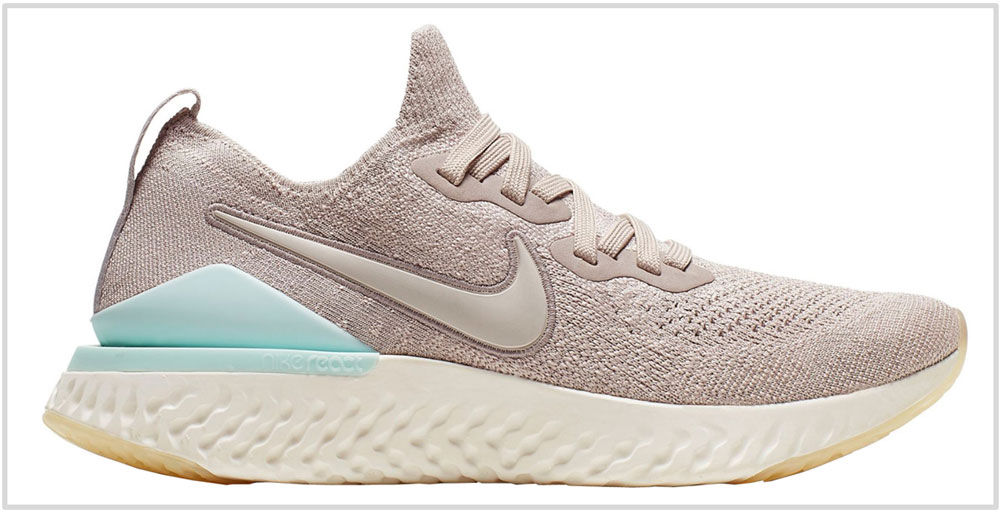 One of the good things about a stretchable knit upper is that it fits all genders extremely well. The V2 has an improved fit and rear-foot stability over the V1. The new external heel counter cups the foot better during runs. Inside the upper is more room, thus making it less narrow than the V1.
The midsole is very comfortable for long-distance runs and daily use; the React foam is very lightweight and yet densely cushioned.
Best Women's stability running shoes
1) Asics GT-2000 7 women's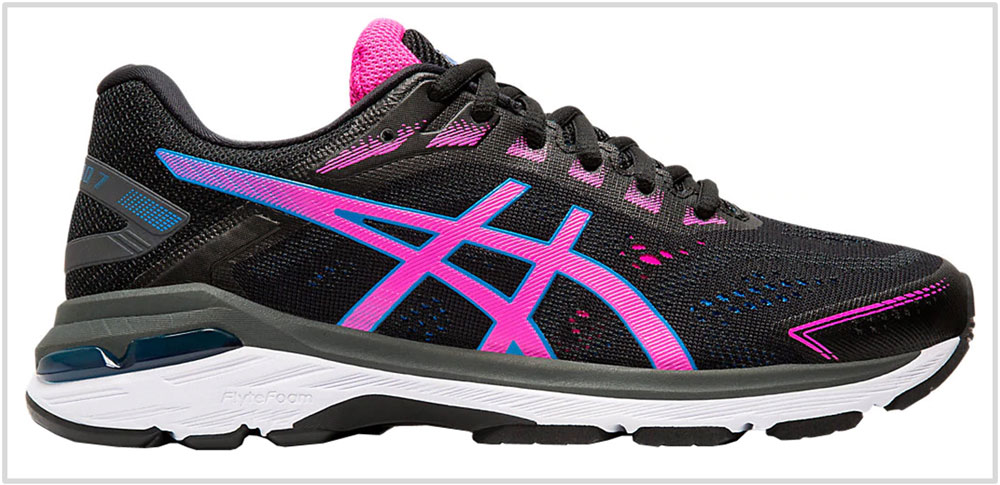 The women's edition of the Asics GT-2000 7 has a lower stack height than the men's model, and the upper is built on a B last – which most women's running shoes are. The upper doesn't have a fancy strapping system or even an inner sleeve, but the insides fit true-to-size in comfort.
The GT 2000 7 is a dependable stability shoe designed conventionally, meaning that the midsole is fitted with a firmer wedge on the inside for medial side support. So if you prefer a ride quality with a slight bias towards the outer side, then this Asics shoe is worth considering.
You could also try the Kayano 26, but that's a heavier shoe for $40 extra over the GT-2000.
2) New Balance 860V10 women's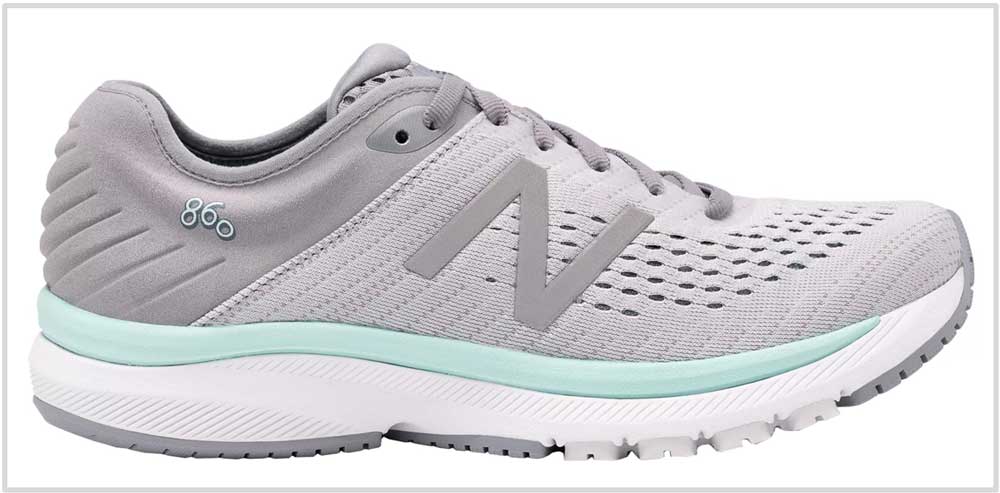 When you compare the 860V9 and V10 side-by-side, you may be led to believe that the V10 is missing a medial-post. That's not at all the case; this popular stability shoe has a medial post but visually blends it with the midsole by using a tonal color.
Thus you get the recognizable feel of a supportive inner midsole that doesn't feel invasive. A softer layer of foam above it creates a cushioned barrier so you don't feel the harder foam directly under the foot.
The firm cushioning makes the 860 good for different types of runs, and the upper fits true-to-size and sells in four widths. But don't ask us why New Balance decided to change its heel design. Depending on the runner, the molded heel cup construction can be a hit or miss.
Best Women's lightweight running shoes
1) New Balance Fresh Foam Zante Pursuit Women's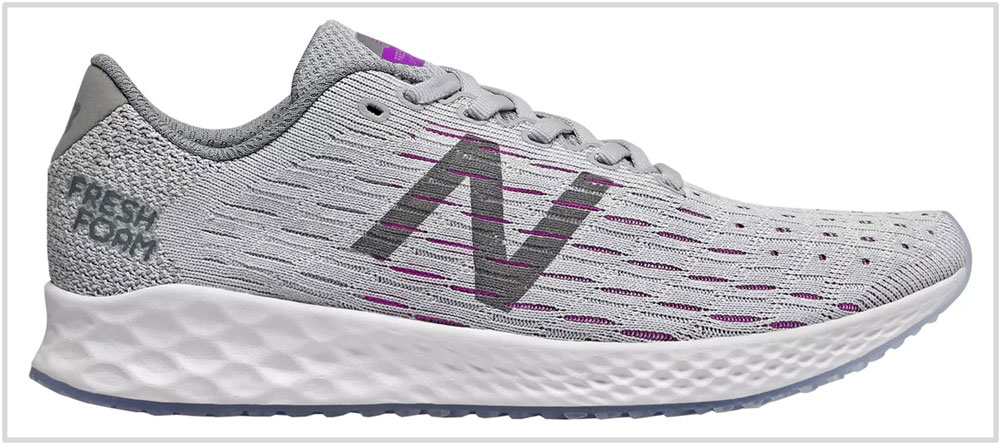 The Pursuit is a lighter version of the standard Zante. Despite shaving off a full ounce, the Fresh Foam Zante Pursuit is cushioned enough for runs of at least 10k, if not more. The new outsole geometry and layout offers improved traction.
Its expandable fit is one of the reasons why the Pursuit is on this guide. Though the stretch makes the upper fit narrow, it also conforms to the foot shape regardless of the gender.
Use the Pursuit as a running shoe for your tempo runs, 10K races, or fast daily runs.
2) Saucony Kinvara 10 Women's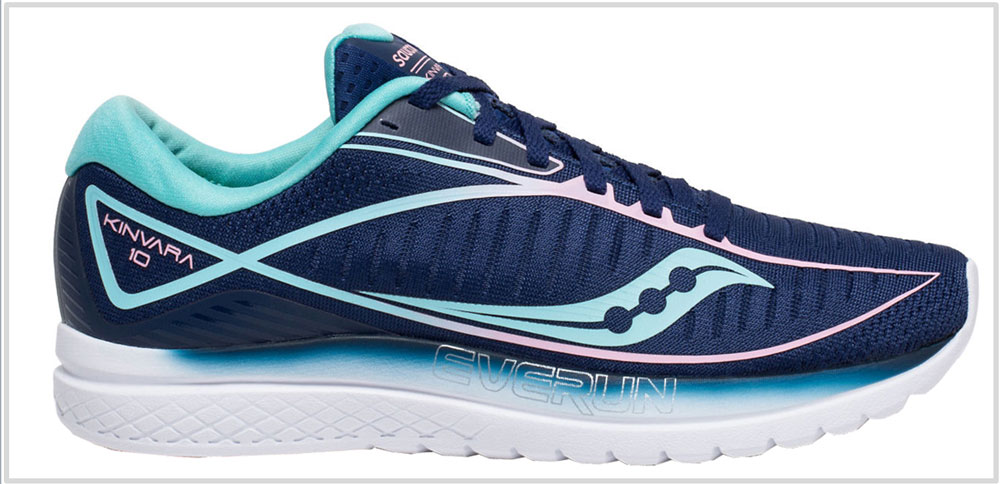 The 6.7 oz Kinvara 10 is the next generation of one of the most recognizable 4 mm drop lightweight trainers in the market. An airy and lightweight upper fits well and feels great over the foot – the 10th edition has cleaned up the unnecessary overlays.
This shoe is good for daily training, half-marathons and everything in between. The firm midsole is also responsive, courtesy of an Everun Topsole. This secondary insole adds a bit of springiness to the ride without slowing you down.
Best Women's road running shoe
1) New Balance 1400 V6 Women's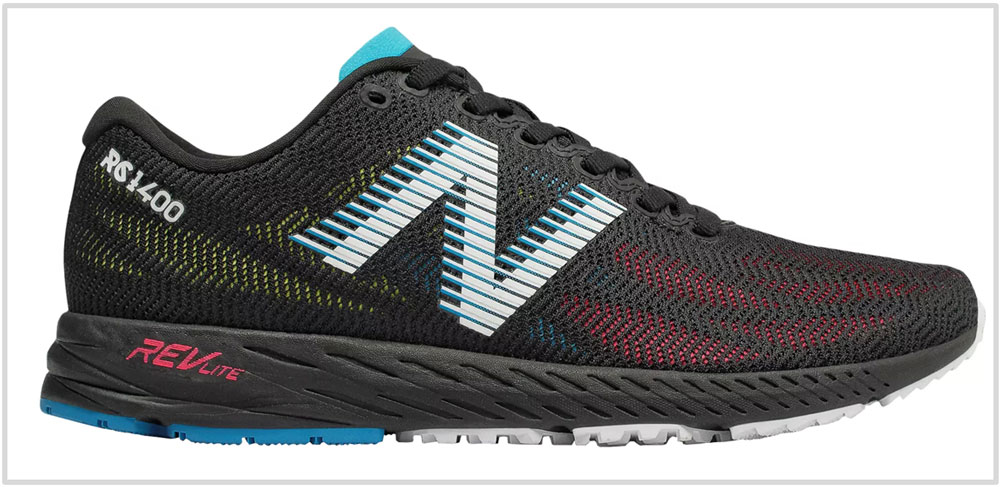 The New Balance 1400 features a lot on our rotation charts. Frankly, we don't see any other road racer which offers a near-perfect blend of tempo-friendly cushioning, outsole grip, and optimal fit.
The 1400 is a good a racer as it gets. Best of all, it retails at $100 and weighs only 6-ounces.
Best Women's trail running shoe
1) New Balance Summit Unknown Women's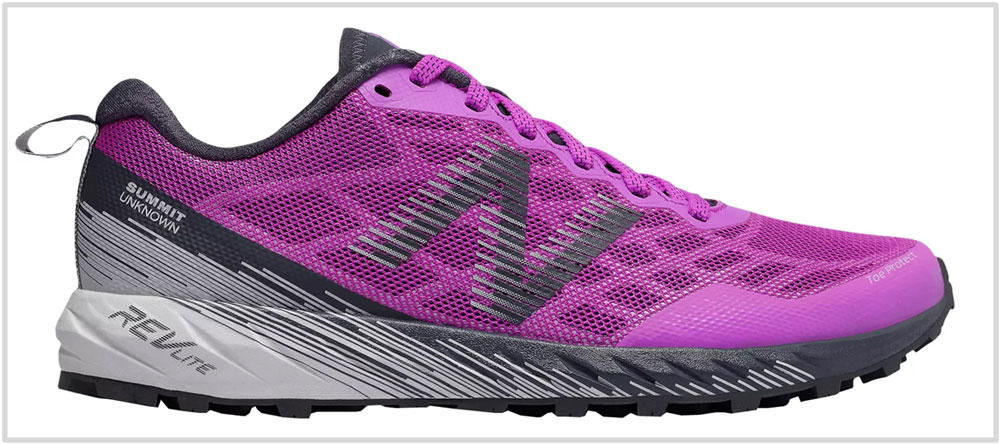 The Summit Unknown is a versatile trail running shoe with just the right amount of protection and cushioning. All of that is built into a low-profile, 7.4-ounce mix of mesh, foam, rubber, and TPU.
A rock plate keeps the foot insulated from protruding rocks and roots. The upper gets its protection from the rubberized overlays and a toe-cap. The fit is snug and secure – which is desirable in a trail shoe.