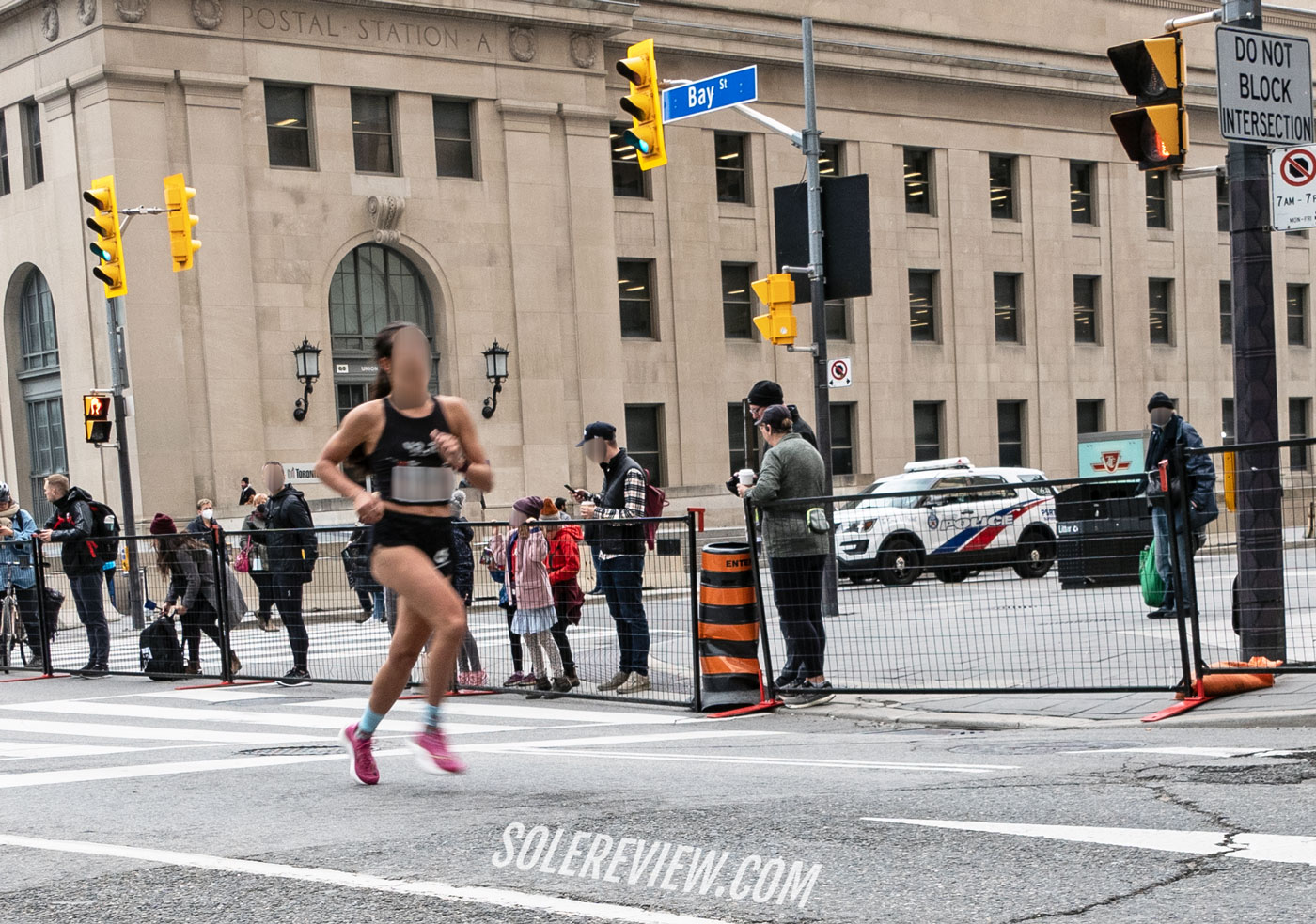 This article has been updated with current models for December 2022. Most of the shoes have been replaced with current models. The preface has been edited to reflect current trends.
For many sportswear brands, the kid's footwear business does surprisingly well. In some countries, sports footwear for children contributes to as much as 10% of a brand's total business.
Not all shoes in this category are bought by kids (or their parents). Merchandisers often buy kid's footwear for women. After all, the grade school sizing (3Y to 7Y) shares common sizes with women's running shoes. The fact that children's shoes are lower-priced makes them easier to sell.
This says a lot about the footwear industry's apathy towards this consumer segment.
There is a fundamental difference between male and female foot anatomy, an aspect that requires different lasts (fits) and cushioning treatments. Unfortunately, it is hard to find running shoes that are designed specifically for women.
Most 'women' running shoes are a result of a 'pink it and shrink it' approach. In other words, take a men's running shoe, use a narrow 'B' last, size it down, and splash some pink or blue over the shoe. That's a familiar formula that has been done to death.
There have been some half-hearted efforts by the brands. adidas introduced the PureBoost X for women a few years ago, but it was gone within a year. At the time of writing this guide, Nike does not have a gender-specific running shoe, and neither does New Balance or Saucony.
Niche brands like Ryka are women-focused, but only have a limited assortment of running shoes that are hard to find. Altra used to be somewhat popular, until it was not. Asics differentiates some of its women's running shoes with higher/lower stack heights, but that's the extent of it.
An easy way to address the women's running shoe problem is to pick five currently bestselling men's models and create a women's version of them with a different fit, ride character, and a 10% lower price. Don't change these models every year (which is pointless anyway), but every three. Offer these styles in at least five colors and four different widths. This, in our opinion, would be a good start.
But this is wishful thinking; it isn't going to happen anytime soon.
So if most brands do not sell gender-specific shoes, how did we compile a list of the best running shoes for women? The short answer is: we made the best of what was available.
We applied the following criteria:
1. Choice of multiple colors: At the time of writing this review, we looked at women's running shoes that offered more than just pink or blue.
2. Unisex-friendly silhouette: Not all men's shoes look good after 'shrinking-and-pinking'. Some models have a sleeker profile as compared to others. Models like the Nike Vaporfly and Saucony Endorphin Pro are sold as unisex running shoes.
3. Multiple widths: Although the standard fit for a women's running shoe is a narrow 'B,' we've included models that offer multiple widths.
1) Best for daily runs: Brooks Ghost 15 Women's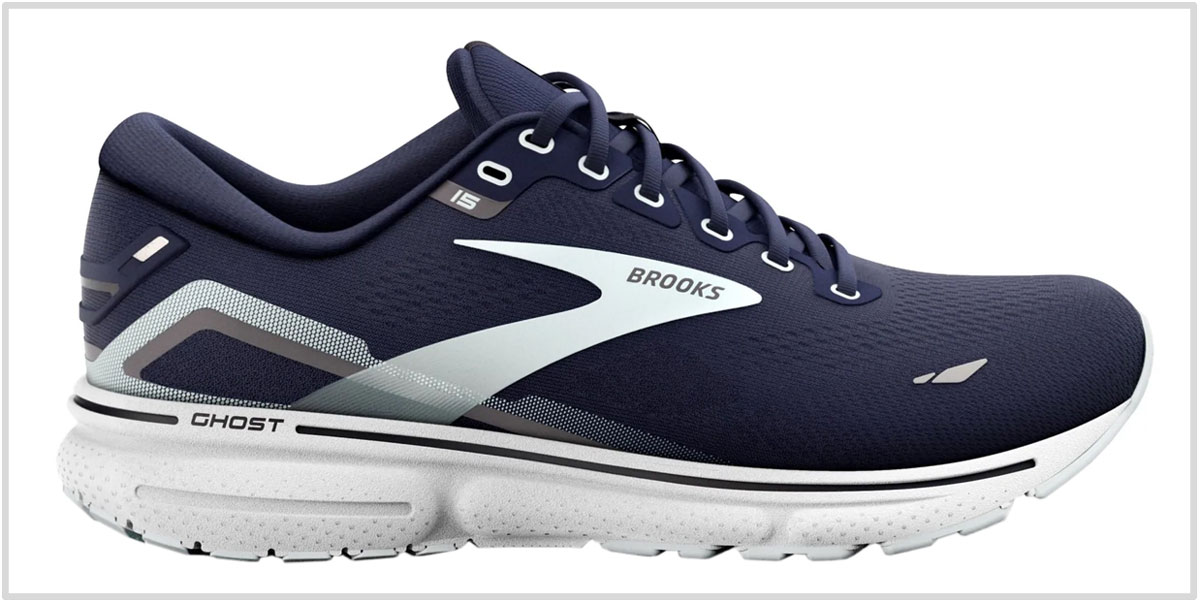 The Brooks Ghost 15 is an excellent do-it-all shoe, and that isn't mere marketing fluff. Everything about the Ghost is an example of moderation; the various components work together to deliver a comfortable ride and smooth upper fit. Our review take a closer look at the Ghost 15's on-road performance.
Just like the Ghost 14, the Ghost gets a single-density midsole that no longer uses a separate crash pad.
That delivers the familiar cushioning comfort of the Ghost but with a smooth ride from heel to toe. The midsole is thick enough to make most runs comfortable without being mushy.
The Ghost's upper has come a long way from the time when it was overly layered and complicated.
The V15 has a simple exterior that relies on a breathable engineered mesh and plush padded areas to result in a near-seamless and secure fit. There are multiple widths, ranging from a narrow (AA) to wide (D).
That said, the absence of an inner sleeve is a surprise.
Also see: Asics Cumulus 24 (our review, here), New Balance Fresh Foam 880V12.
2) Best for daily runs: Nike Pegasus 39 Women's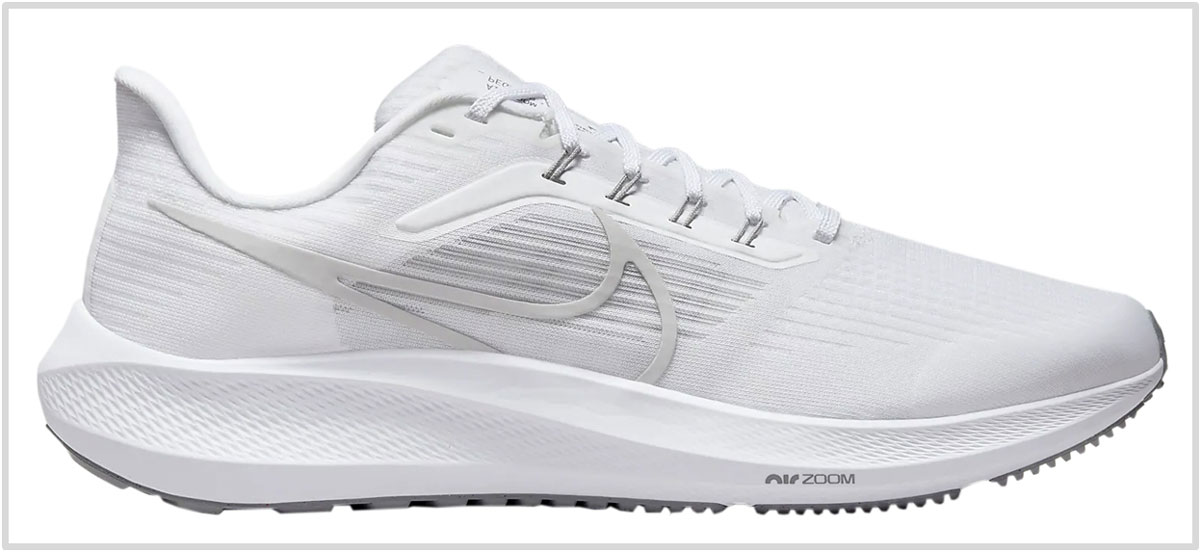 Regardless of the level of running experience, it's very hard to go wrong with the Nike Pegasus 39 – particularly after this year's redesign.
Unlike the Pegasus 38, the new Pegasus has two Zoom Air bags inside the React foam midsole. This makes the cushioning snappy enough for faster-paced training (5 min/km, 8 min/mile range) while being comfortable enough for long-distance runs.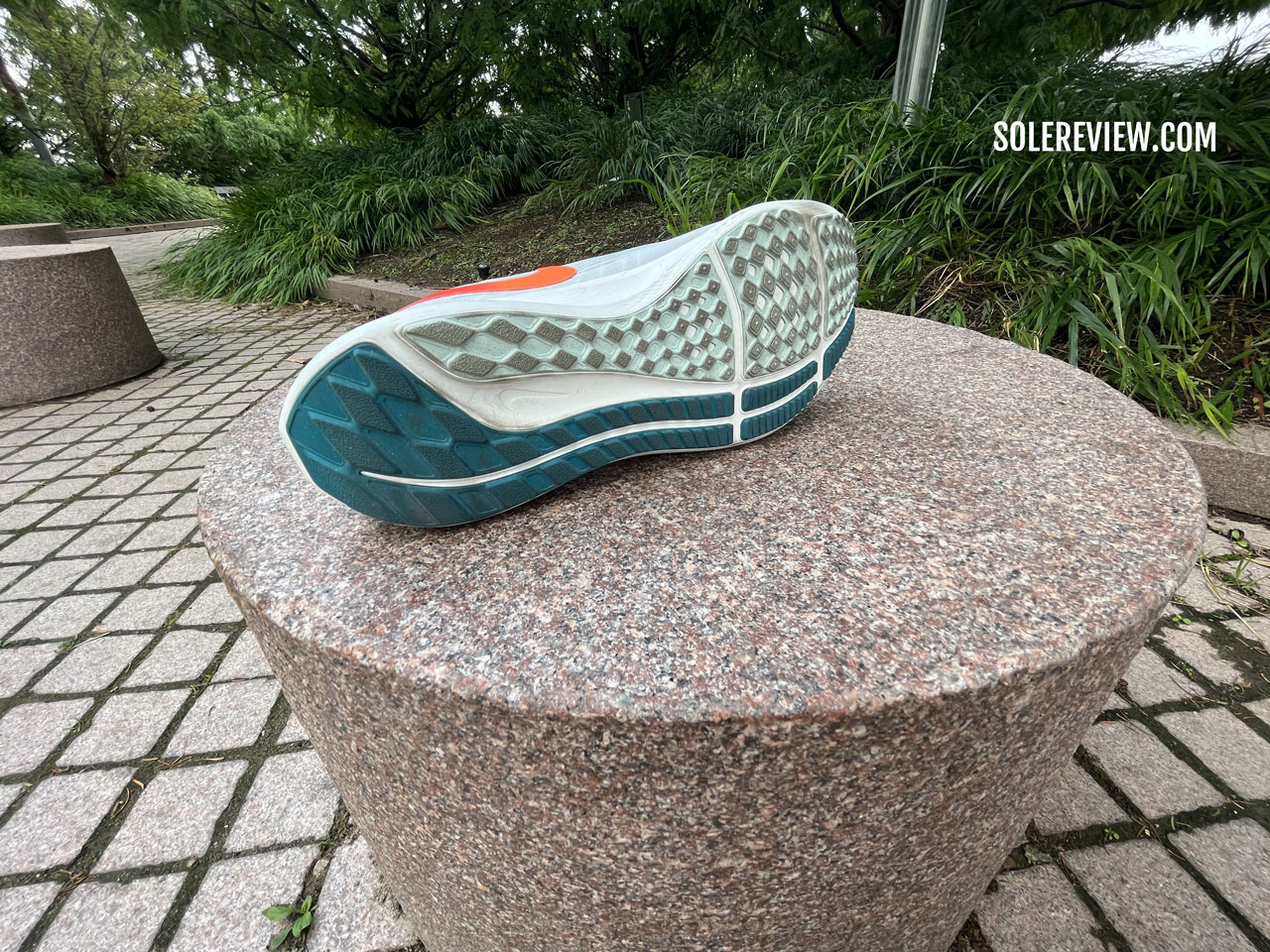 The traction offered by the rubber outsole is excellent.
The sleeved upper has a smooth, secure, and true-to-size fit. The return of the Flywire-assisted lacing improves the midfoot lockdown. Our in-depth review can be read here.
Nike also offers a winterized version called the Pegasus 39 Shield. It has the same midsole as the standard Pegasus but with a sticky rubber outsole and weather-resistant upper.
Also see: Saucony Ride 15. (Our review, here)
3) Best for a soft ride: New Balance 1080V12 Women's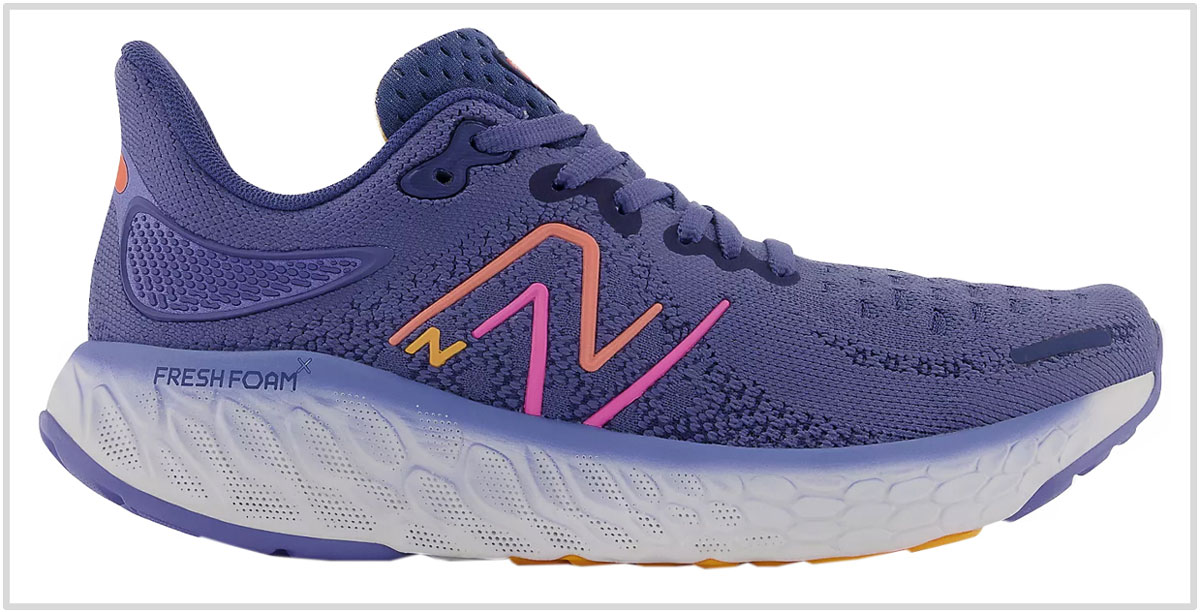 Some running shoes do a fine job of balancing cushioning softness with ride versatility.
The New Balance 1080V12 is one such shoe. The Fresh Foam stack and Ortholite insole make high-mileage cruising comfortable without sacrificing versatility.
The semi-rocker midsole allows the foot to roll off quicker during transitions, so the 1080V12's on-road versatility is excellent. Use it as an everyday trainer or a marathon shoe – the 1080V12 is a good fit for different use cases. Our 1080V12 review is here.
We love the stretchy knit upper too. The elastic mesh snaps securely over the foot, and its softness makes the interiors comfortable. The 1080V12 is available in multiple widths.
Also see: Saucony Triumph 20.
4) Best for half-marathons: Hoka Clifton 8 Women's
The Hoka Clifton 8 hasn't changed, and in a good way.
It's similar to the earlier versions – which means we get a familiar ride quality, but with an improved upper fit. The EVA foam midsole doesn't use the latest and greatest cushioning technology, but it performs as advertised. Here's our in-depth review – just in case you're interested.
The cushioning isn't very soft; the Clifton 8's ride is borderline firm. At the same time, there's no lack of ride comfort. The midsole keeps the feet cushioned over long distances, whereas the rocker profile makes the loading process smooth.
These qualities make the Clifton 8 an excellent shoe for half-marathons and long training sessions.
The redesigned upper uses soft meshes and lining materials for enhanced interior comfort. From a fit perspective, the Clifton 8 fits true-to-size but with a snug forefoot.
We've been tracking the Clifton's evolution since its first version, and this is the best one yet.
Also see: Asics Novablast 3.
5) Best for half-marathons: Saucony Endorphin Pro 3 Women's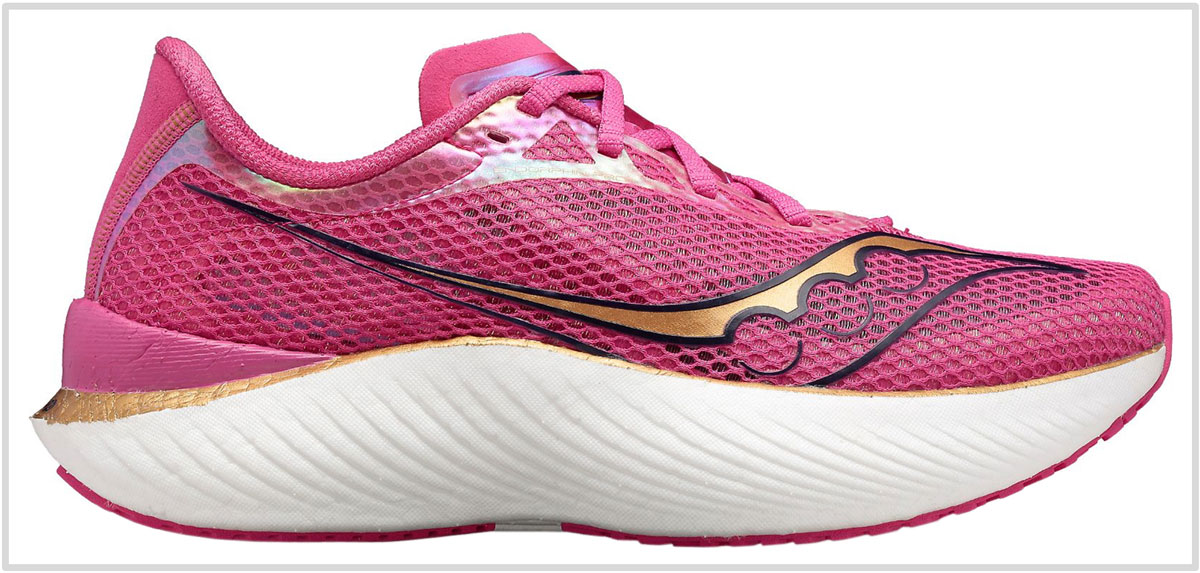 The Saucony Endorphin Pro 3 and Nike Vaporfly Next% V2 are equally competent marathon racers. But for the sake of brevity, we've featured the Endorphin Pro 3 over the Vaporfly.
Saucony has completely designed the Endorphin Speed and Pro, so both models are very different from their previous versions.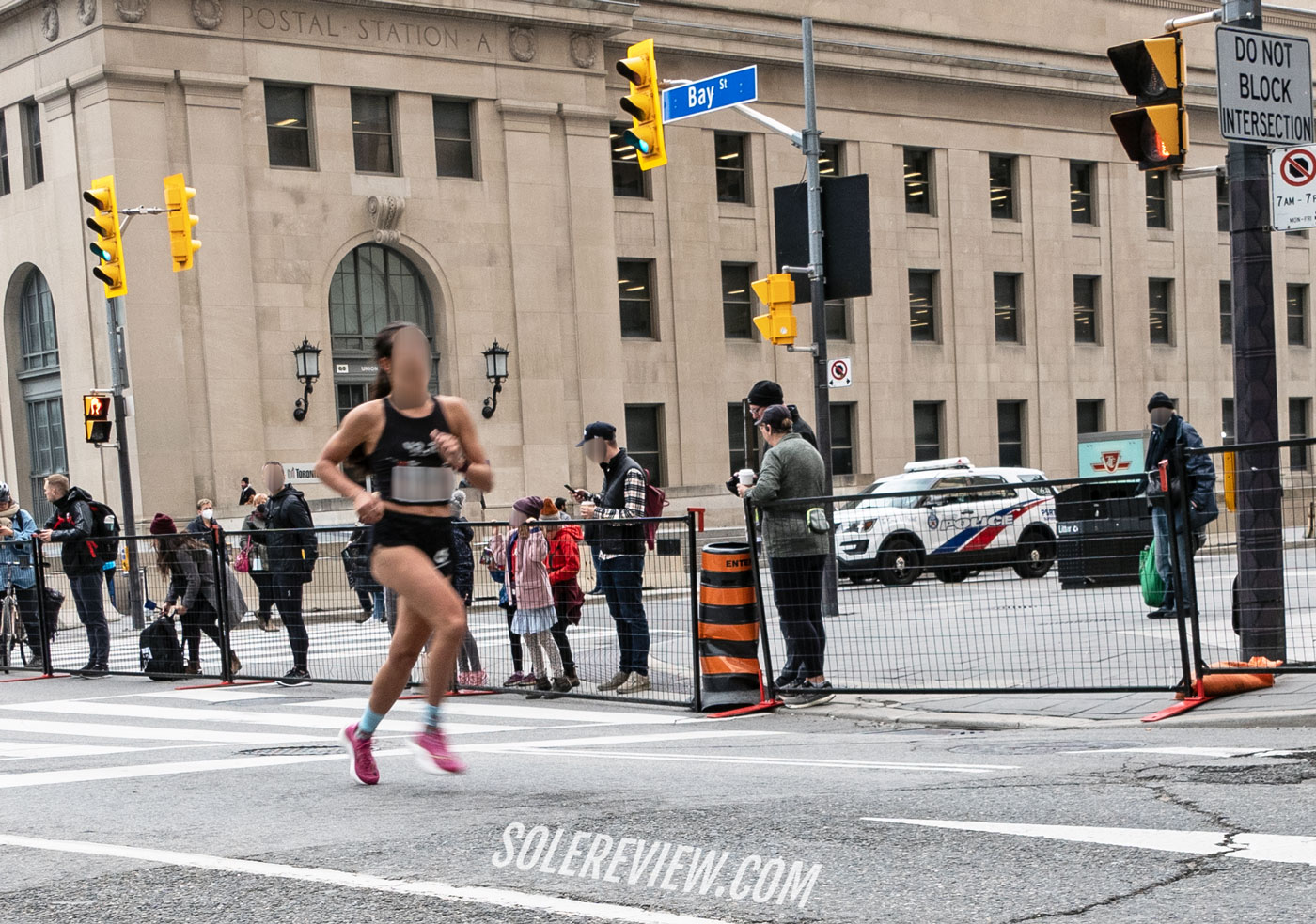 While the Endorphin Pro 3's thick PEBA foam (Pwrrun PB) midsole and Carbon plate deliver a highly cushioned yet responsive ride, there are a couple of noteworthy updates that make this version an improvement.
The midsole base is wider and taller than before, so the Pro 3 delivers its springy ride with improved stability. The cut-outs on the outsole reduce weight as well as increase the ride comfort.
The snappy Carbon plate makes the Endorphin Pro 3 quick enough for marathon personal bests, whereas the soft and bouncy foam keeps the feet fresh during grueling long-distance runs. Our review explains what makes the Pro such an excellent marathon racer.
And we almost forgot – the uber-lightweight mesh upper is one of the most breathable we've ever had the pleasure to test.
Also see: Nike Vaporfly Next% V2 (Our review, here) and Saucony Endorphin Speed V3 (read our in-depth review).
6) Best for stability: Saucony Tempus Women's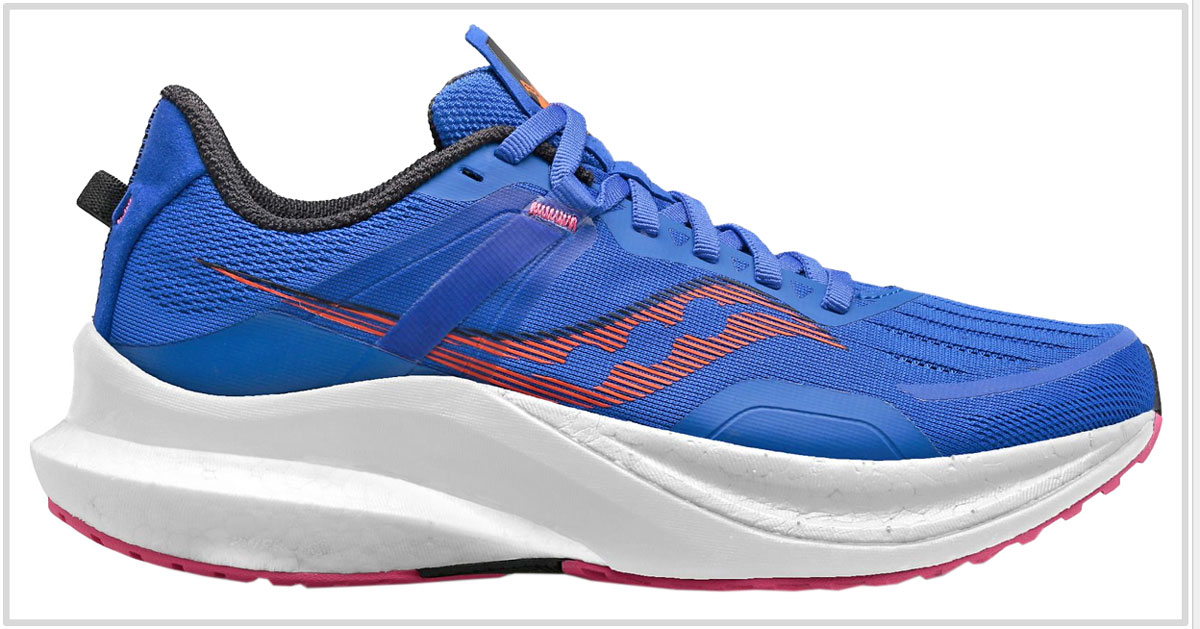 The Saucony Tempus isn't a traditional stability shoe like the Asics Kayano 29. You know, the kind with a firmer midsole wedge. We praised the Tempus in our detailed review for its sensible approach to how the ride stability is delivered.
Instead of a medial post, the Tempus wraps a firmer (and supportive) EVA frame over a cushioned PEBA foam core. This is the same cushioning material (Pwrrun PB) that's used on the Endorphin Pro and Speed, so the Tempus ends up being a unique stability running shoe.
On one hand, the cushioned midsole adds long-distance comfort for everyday runs and even half-marathons. At the same time, the EVA frame adds stability without adding motion-control bias.
The sleeved upper is excellent too. It's breathable, comfortable, secure, and true to size.
Also see: Asics Kayano 28 – a stability shoe with a medial post.
7) Best for heavy runners: Brooks Glycerin 20 Women's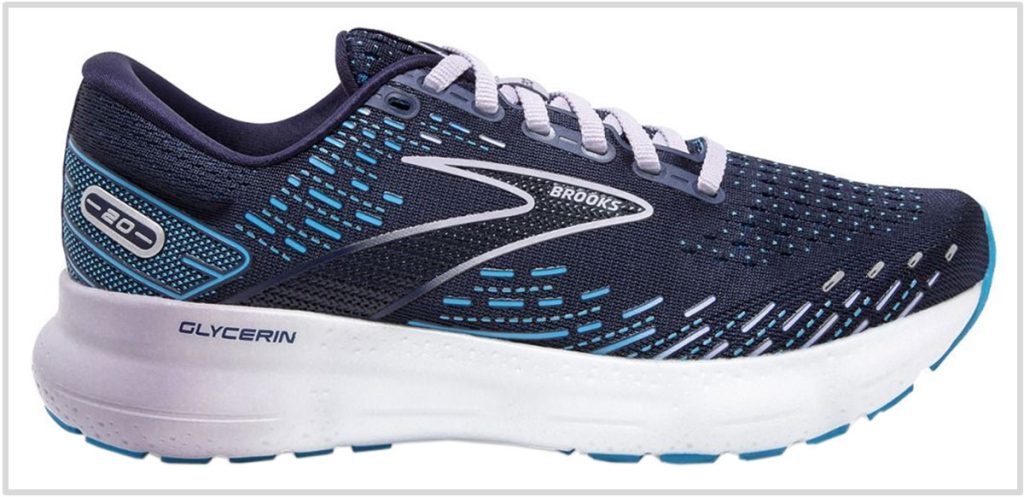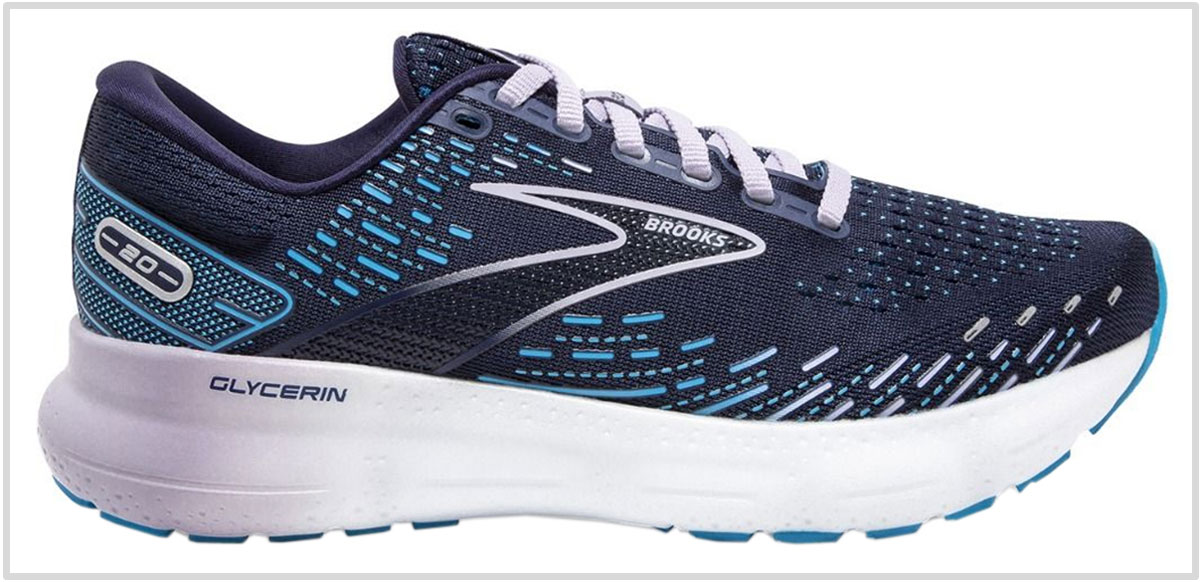 The Brooks Glycerin 20 is the more cushioned version of the Ghost 15 that uses a wider midsole made of a different foam.
It's not soft in the traditional sense, so don't go by what Brooks says. It's cushioned, but with a firm undertone – and that's a good thing for runners with a higher bodyweight.
This isn't to say that the Glycerin is only meant for heavy runners; it's actually a great everyday trainer. Our detailed review explains why it's so.
That being said, features like the wide midsole base and firm foam make the Glycerin 20 one of the most stable neutral trainers. As long as you're not pushing higher speeds, this is also a suitable shoe for half marathons.
The Glycerin has always had a plush upper, so that's what you also get here. Also included is a true-to-size fit that's available in optional widths.
8) Best for tempo runs: Saucony Kinvara 13 Women's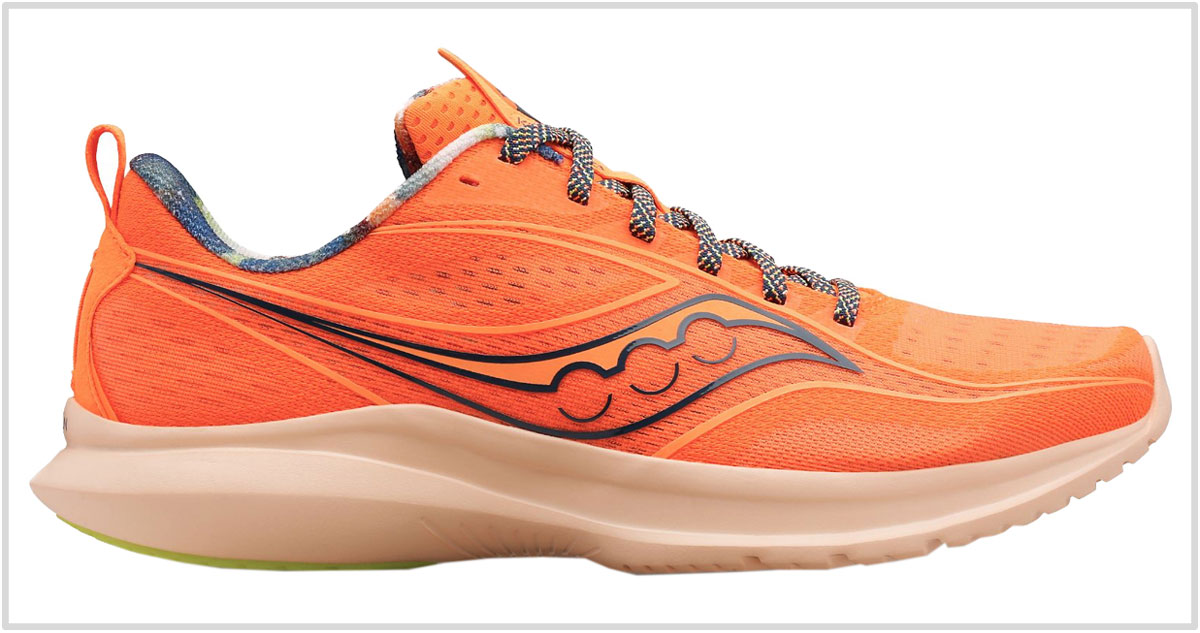 The 7.2 oz Kinvara is probably the most recognizable 4 mm drop lightweight trainer of all time. An airy and lightweight upper fits securely and comfortably over the foot.
This shoe is good for daily training, half-marathons, and everything in between – including tempo runs. The firm midsole offers a comfortable ride, courtesy of a Pwrrun+ Top. This secondary insole acts as a layer of step-in softness.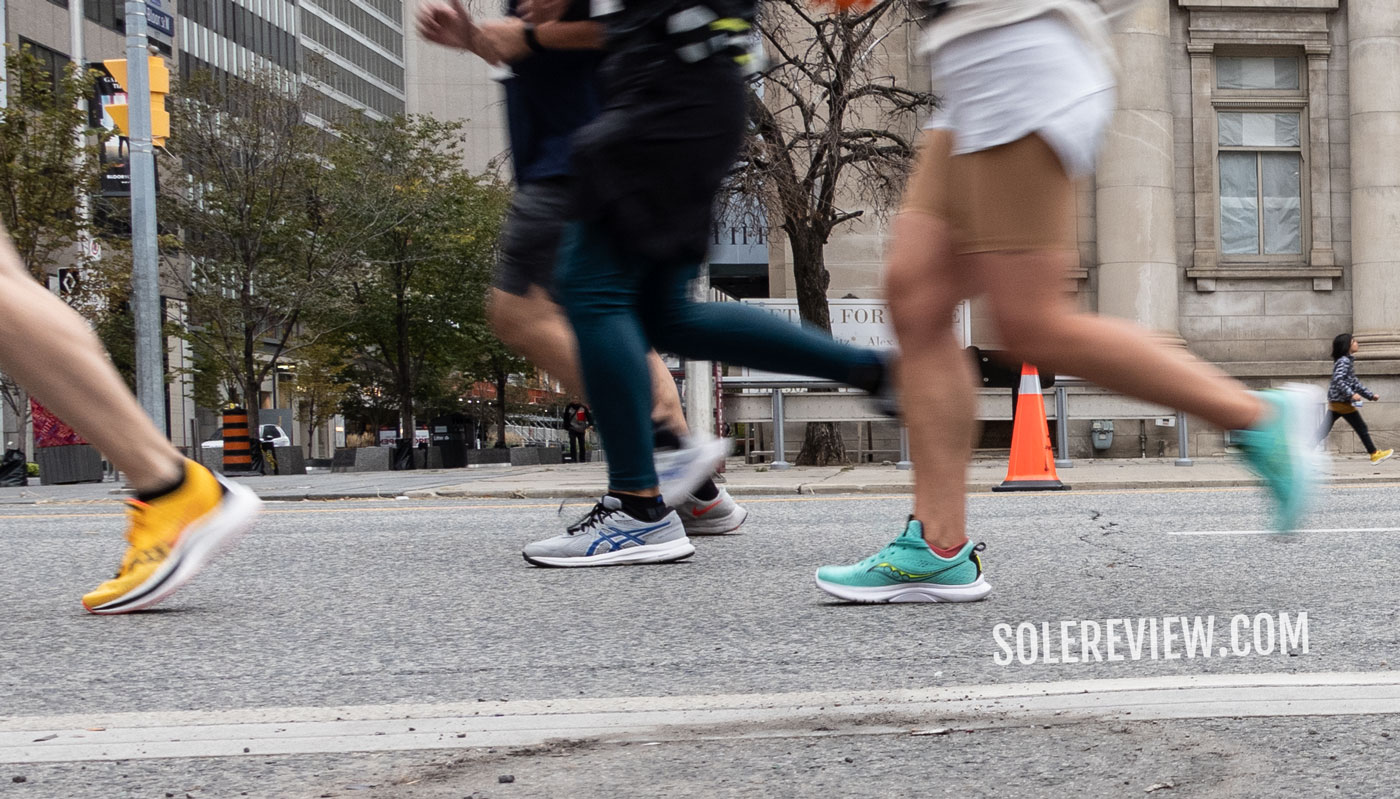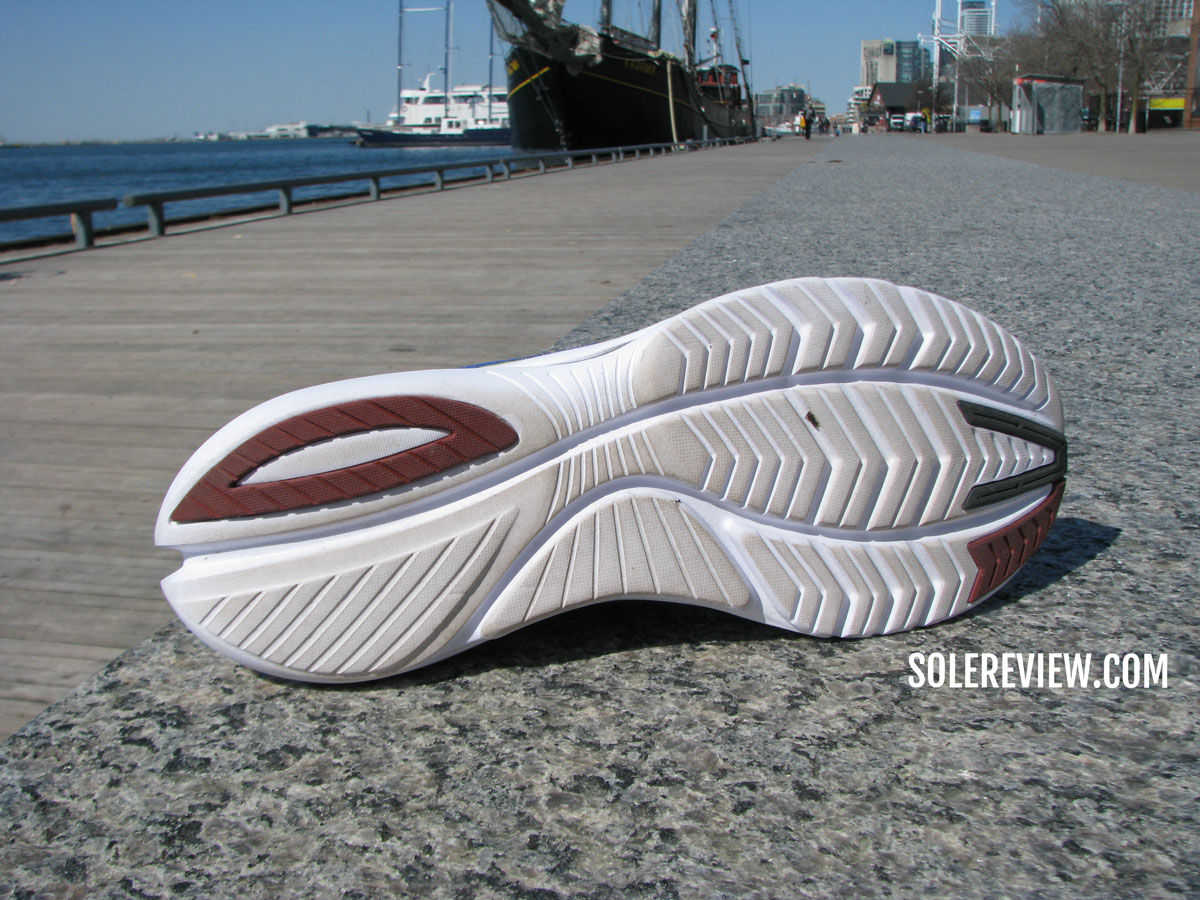 The low-profile cushioning works very well for tempo runs. The firm midsole feels efficient at 4:30 min/km (7:00 min/mile) paces, but without beating your foot down.
9) Best for short races: Hoka Mach 5 Women's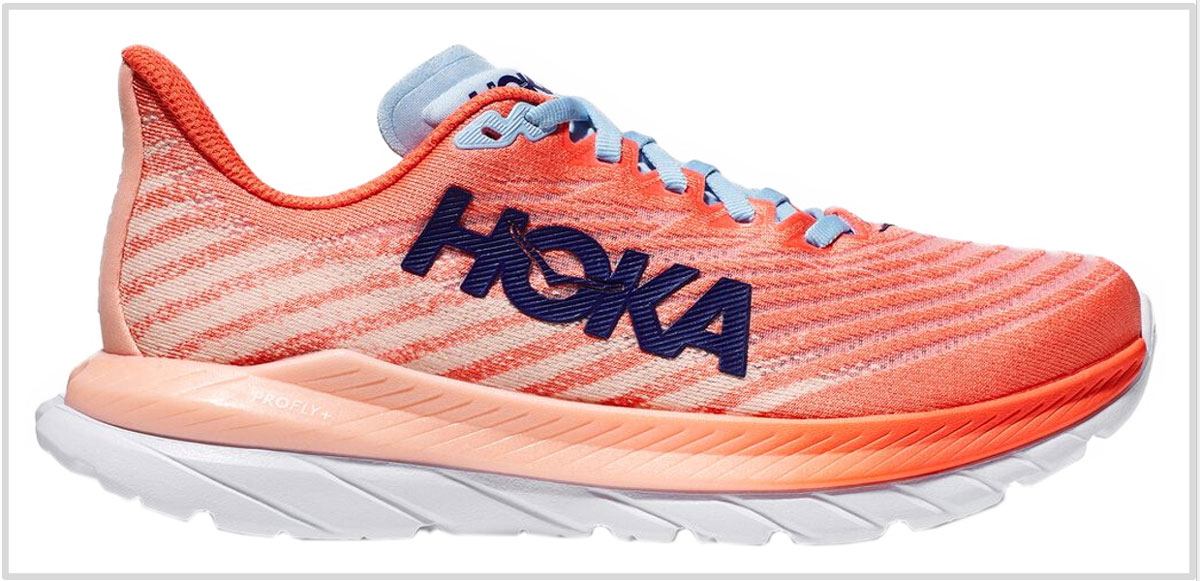 Every once in a while, Hoka has a winner other than the Clifton and Bondi. For this year, that shoe is the Mach 5.
The 'Mach' in the shoe's name suggests that this is a speed shoe, and it is one. However, the Hoka Mach 5 is a lot more than just a racer. It's surprisingly comfortable for a shoe that weighs less than 7 ounces.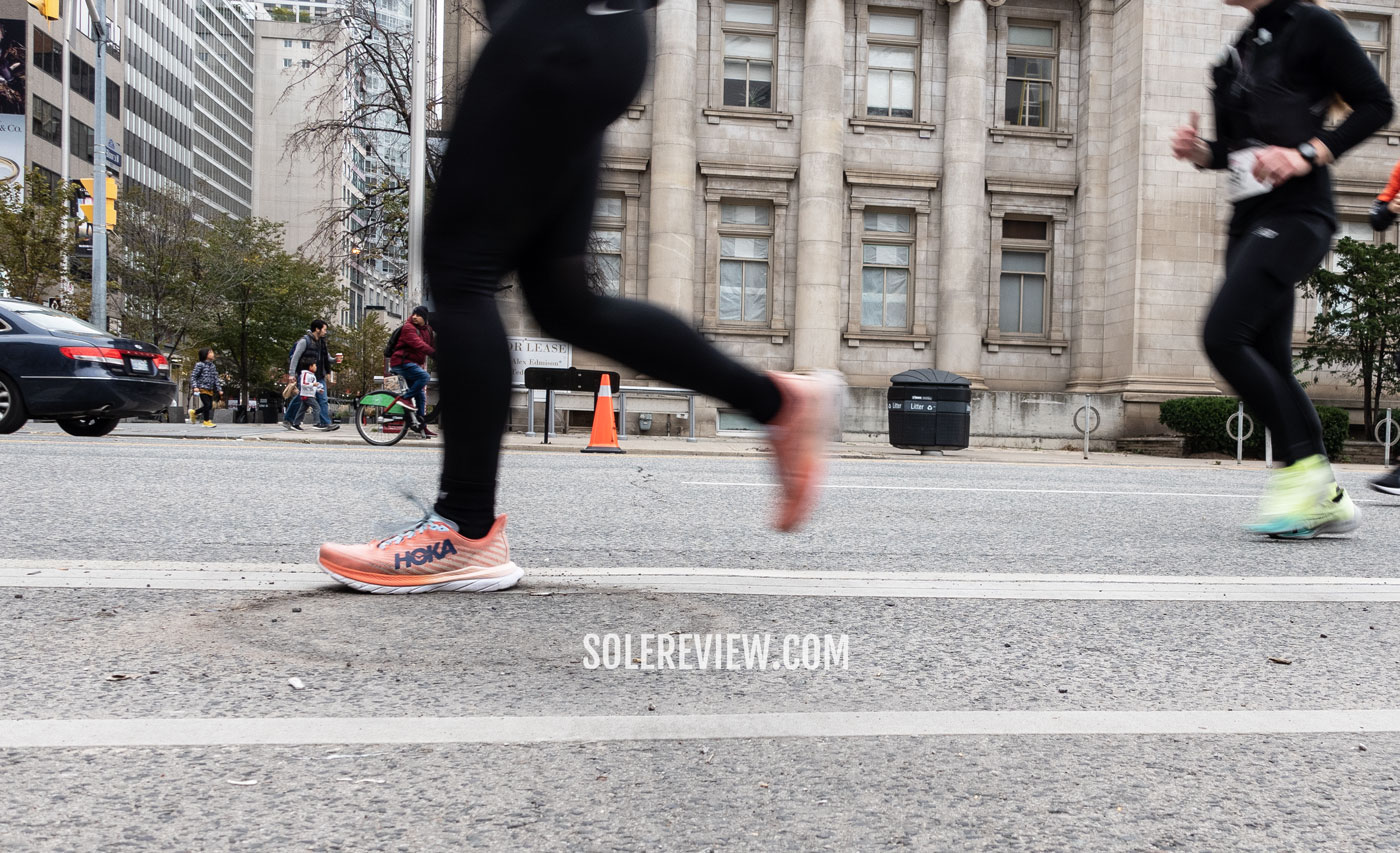 The midsole uses two different densities of foam that blends a comfortable ride with efficient transitions. The soft top layer keeps the foot padded during short races (ideally 10K and below), whereas the firmer bottom layer helps with quicker turnovers.
The soft and breathable upper has a snug fit – as it should, considering that it's a racer.
Also see: Asics Hyperspeed 2.
10) Best for trail runs: Salomon Speedcross 6 Women's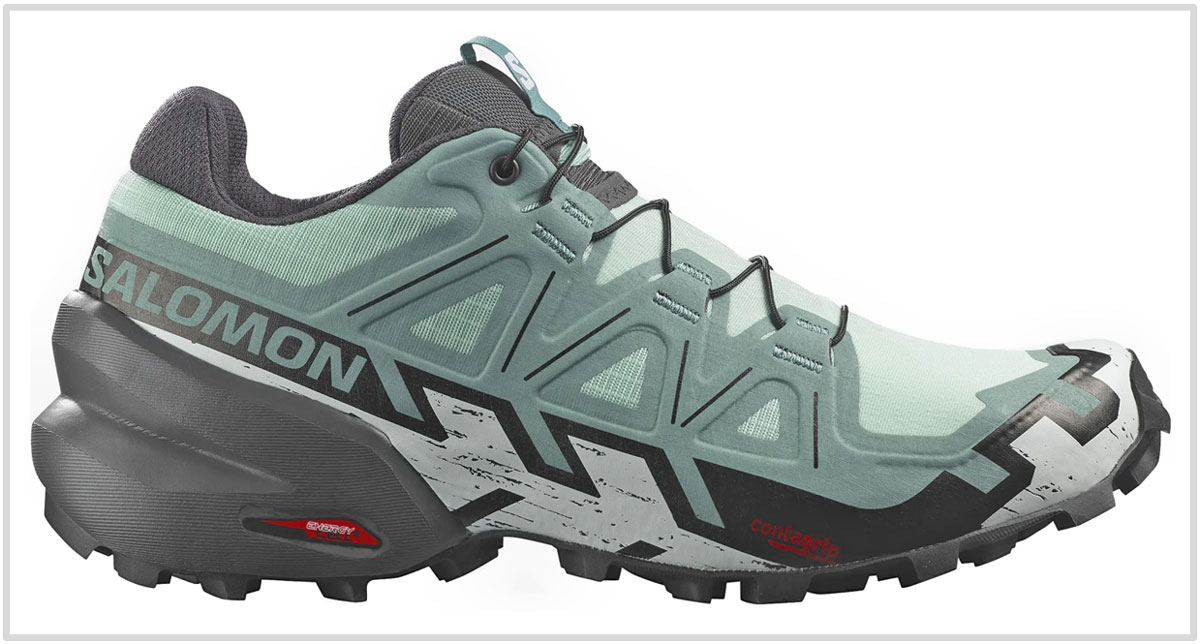 If we were to pick one trail running shoe to do everything off-road, it would be the versatile Salomon Speedcross 6. Our detailed review explored the capabilities of this focused trail shoe.
It has all the essential ingredients of a capable off-roader; the upper is secure and protective, and the widely-spaced outsole lugs offer excellent traction on different kinds of terrain.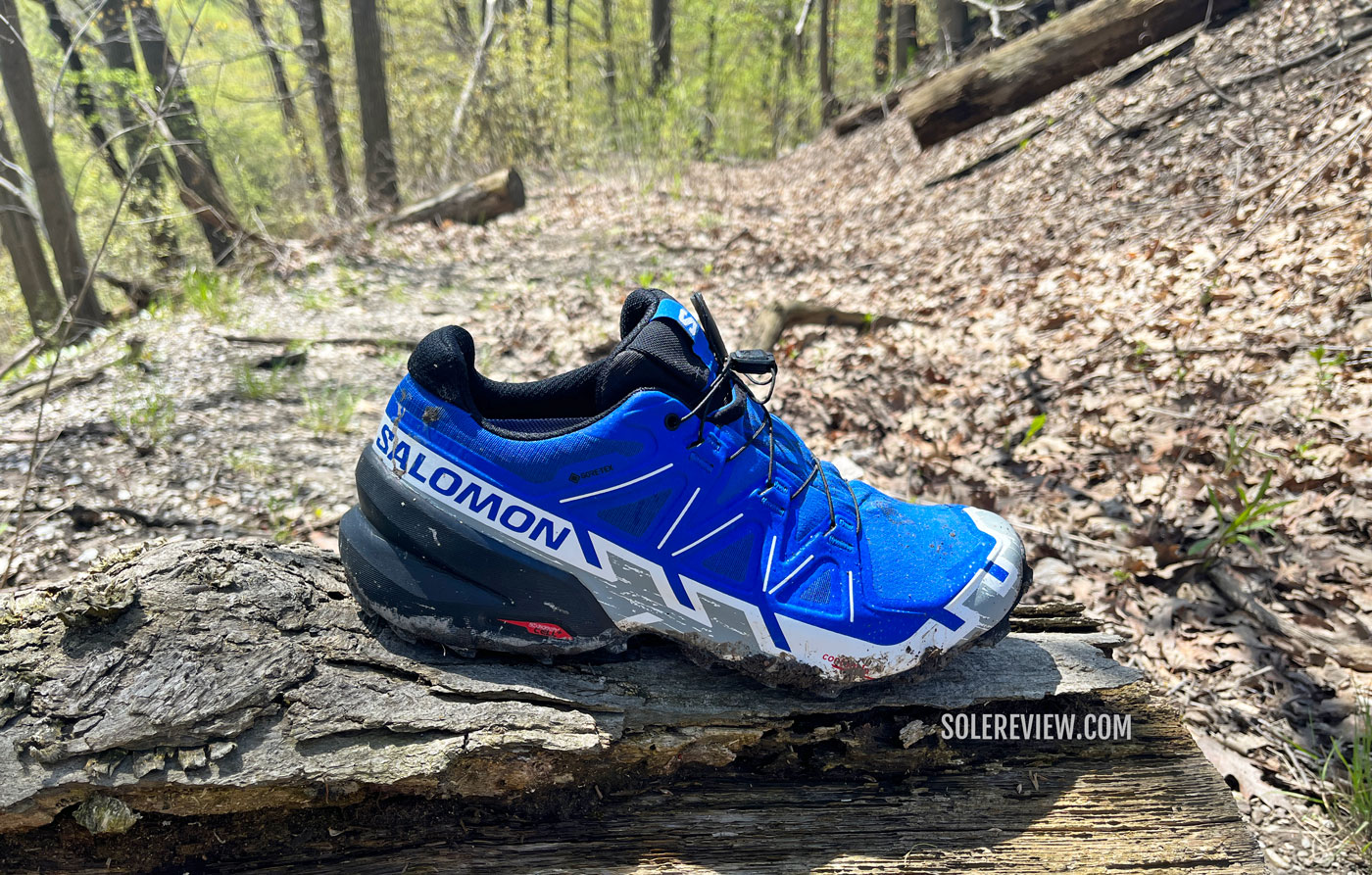 The concealed midsole and Ortholite insole make the ride comfortable and also protects the foot on the trails.
There are a few things that are unique to the Speedcross. This is the only shoe to use a 'double-lasted' design – the midsole is wrapped by the upper on the outside, thus creating a compact form factor. This also helps with stability as well as the power transfer from the foot to the ground.
The Speedcross is one of the few trail runners to use a bungee cord closure. The lace-free design makes it easy to secure the fit, even with gloved hands. The excess loop can be tucked into a lace 'pocket' or 'garage' on the tongue for a distraction-free experience.
The upper mesh is generously layered, and that accomplishes two things. One, it's easy to wipe clean the surface after a messy trail run. The welded overlays also keep the foot protected on off-road terrain.
We recommend the waterproof Gore-Tex variant of the Speedcross for its all-weather capabilities.