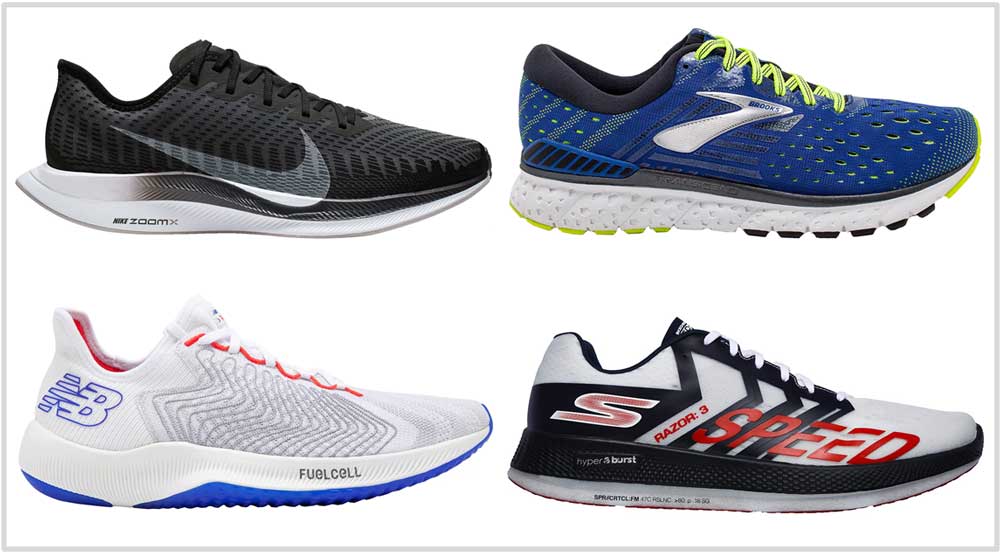 If you've been around for a while and have tracked the gradual evolution of running footwear, you'd agree that as recently as the mid-2000s, shoes were purposely designed for rearfoot striking.
For instance, most of the cushioning tech was crammed under the heel. Moreover, running shoes with a low heel-to-toe offset didn't become popular until the barefoot running boom of the late 2000s.
The thought of altering foot-strike also didn't occur to the general population of runners, so the market didn't exist. Even though the minimalist shoe phenomenon is credited with promoting low-drop footwear and full-contact landings, social media and smartphones helped disseminate information.
That eventually led to a slew of balanced choices. There's something for everyone, no matter what your preferences or running mechanics are.
Do you want maximal cushioning, or for that matter, a low drop shoe? Or do you want both in one shoe? Many products meet these criteria.
Likewise for runners who prefer to make full-contact landings, which is loosely classified as midfoot/forefoot striking. We must point out that here that if you currently land rearfoot and are running injury-free, there's no reason to alter your technique just because somebody says you should.
While there is plenty of anecdotal support for forefoot striking – we also feel that full-contact landings are more efficient – but there's a lack of scientific evidence which proves that forefoot striking is biomechanically more efficient or leads to a reduction of injuries.
There are so many facets of a good running form, so a mere foot-strike change isn't the panacea to all ills. That said, we do suggest to avoid over-striding and exaggerated Dorsiflexion, a state in which your toes point skywards during heel landing.
Running shoes which are suitable for forefoot and midfoot striking needs to fulfill several requirements. To begin with, it must have a stable forefoot. This selection criterion could be met by either a firm midsole, a wide flare or surface area, or a combination of both along with a secure upper fit. High midsole stack isn't an issue as long as the other two aspects add up.
The quality of transition also determines whether a shoe is compatible with full-contact landings. Again, smooth transitions are associated with multiple design factors like the foam density and formulation, the outsole geometry and grip, or the midsole structure itself.
Though some runners prefer a cushioned forefoot, this need depends on what you're using the shoe for. Is it just a 5K run or short interval training? In this case, a soft midsole would impede your workout.
On the other hand, if a marathon is what you plan to run, then a cushioned ride is desirable.
We also don't think that not having a low heel-to-toe drop is a deal-breaker. We're not talking about a 12 mm offset shoe here, but even 8-10 mm works as long as the heel midsole doesn't have a long overhang.
Most beveled heel designs work well for ground-contact landings. The Nike Vaporfly is not exactly a low-drop running shoe but it works like a charm for forefoot and midfoot striking runners. The bottomline is, if you get a low-drop shoe, that's a bonus. Else, it's a non-issue.
Now that we've done with the pre-guide spiel, let's get into the list. These top 15 shoes are sorted alphabetically by brand. Some of you might look at the list and say, hey – where's Newton or Topo? Those brands are relatively harder to find so the omission is intentional.
We cover a lot of categories here across half a dozen brands, ranging from stability shoes like the Brooks Transcend and Nike Structure to lightweight racers such as the New Balance Hanzo S V2.
You'll also find ultra-cushioned shoes in the form of the Nike Vaporfly and a couple of Hoka models. Take your pick.
1) Brooks Transcend 6
The Transcend was one of the first in the industry to make the non-medially-posted stability shoe concept popular. And look where we are now; many shoes from this category have either ditched the firmer wedge or are evolving into 'supportive neutrals'.
There are several reasons why we recommend the Transcend for forefoot strikers seeking a stability shoe. The single-density DNA Loft midsole makes the ride cushioned and smooth; the wide midfoot and forefoot add plenty of stability.
2) Brooks Levitate 2
Brooks uses a unique midsole construction technique for this neutral shoe. A soft and bouncy Polyurethane core is sealed inside a Urethane chamber, so you get a consistent and responsive cushioning character along with a stable ride. Despite its 8 mm offset, the forefoot midsole has sufficient cushioning for long runs or daily training.
The thin semi-clear outsole rubber offers excellent grip for efficient push-offs.
3) Hoka Bondi 6
Here's a max-cushioned shoe which doesn't feel lethargic, thanks to its rocker-shaped midsole. The midsole is wide throughout its length, and this geometry makes the shoe stable regardless of how one lands.
The midfoot outsole is bridged on the medial side for smooth transitions during the gait cycle. If you think that the Bondi has too much midsole, then the next shoe – the Clifton 6 – could be just the thing.
4) Hoka One One Clifton 6
If you don't want into the deep end of Hoka's maximal cushioning, then the Clifton 6 is a good place to get started. Like most of Hoka One One's line, the Clifton 6 broad outsole footprint provides adequate stability during running.
You also get the transition-friendly rocker midsole for quick roll-offs and all the cushioning one needs for longer runs. The Clifton's 5 mm heel offset also complements midfoot-striking.
Also see : The Hoka One One Rincon
5) New Balance Fresh Foam Beacon V2
This 6mm drop shoe is a versatile trainer weighing less than 8-ounces. The single-density Fresh Foam has a medium-soft cushioning which you can use for daily training as well as faster workouts.
We recommend the Beacon due to its consistent midsole character with an even spread of cushioning.
6) New Balance FuelCell Rebel
The FuelCell Rebel has all the tell-tale signs of the quintessential forefoot striker's shoe.
The heel outsole is noticeably slimmer than the forefoot, and the latter even gets the FuelCell insert. The midsole base is flared from the midfoot to the forefoot.
If it isn't already obvious, runners who land mid to forefoot get the benefit of the cushioning, the midsole flare, the wide footprint, and the FuelCell insert.
7) New Balance 1080V9
If you're not sold on the Hoka's or simply want a choice of widths, then the New Balance 1080V9 is an excellent alternative.
Whatever New Balance has done to its 2019 Fresh Foam formula should be the defacto standard going forward. It is comfortable and smooth without feeling like running on molasses.
The 8 mm drop midsole's wide geometry aids stability and transition efficacy.
8) New Balance Hanzo S V2
A forefoot striker-friendly shoe, that's what the Hanzo S V2 is. All the grippy stuff is tacked under the forefoot for quick push-offs during those 5K races.
This is pretty much a road-racing flat, so if you're not forefoot striking in this shoe, you're doing it wrong.
9) Nike Zoom Pegasus Turbo V2
This is no Vaporfly, and yet the Pegasus Turbo's has a midsole very amendable to non-rearfoot strikers. When we cut open the Turbo V1 – which has the midsole has the V2 – we discovered that the forefoot has a higher ZoomX to React foam ratio than the heel.
It's no surprise, then, that the Turbo's forefoot feels very forgiving and fatigue resistant over long miles. The dual-density midsole also feels very efficient and offers decent levels of support.
Also see: The Nike Epic React Flyknit 2
10) Nike Air Zoom Structure 22
Unlike many Nike models, the Structure 22 has a Zoom Air only under the forefoot. This stability shoe has a firm ride with a bit of responsive pop in the front.
Even with the Zoom Air bag, the midsole doesn't have much compression 'give' so it's an efficient shoe no matter how you land.
11) Nike Vaporfly 4% Flyknit
With the Vaporfly 4%, you get a prodigious amount of responsive forefoot cushioning. A clever design ensures that neither stability or the transition quality is compromised.
After all, the broad end of the Carbon plate is anchored under the forefoot and results in exceptional rigidity. This stiffness makes the forefoot stable while allowing for quick roll-offs.
Also see: The Nike Vaporfly Next%
12) Nike Zoom Rival Fly
Forefoot strikers loved the Zoom Elite. The now-discontinued running shoe had a forefoot Zoom Air bag along with a firm midsole which worked great for fast training runs.
The Zoom Rival Fly is a successor of sorts. The forefoot Zoom Air bag adds the familiar snap while the softer-than-the-Elite cushioning makes the ride (more) comfortable without the lazy, cushy feel.
13) Saucony Kinvara 10
The Kinvara's wide, flared forefoot midsole has always functioned well together with the 4 mm heel-to-toe offset. The low gradient means that the midsole foam has a near-even distribution across the heel and the forefoot.
As a result, the wide front offers an optimal blend of cushioning and support. The Kinvara 10 now comes standard with an Everun Topsole, so there's a welcome layer of responsiveness over what is a comfortable and efficient ride.
14) Saucony Freedom ISO 2
Both the Kinvara and Freedom share a common spec in the 4 mm midsole, but the Freedom is a very different shoe due to its Everun midsole.
This e-TPU foam midsole gives forefoot strikers a denser kind of cushioning than the Kinvara, one which is also more responsive. In what's an uncommon running shoe design, the midsole sidewalls are flared on the forefoot sides for support.
The Crystal rubber outsole adds durability and traction below.
15) GoRun Razor 3 Hyper
Skechers's Razor 3 Hyper was a run-away hit due to its high cushioning-to-weight ratio.
The low-drop shoe works particularly well for midfoot and forefoot strikers due to its supportive and responsive midsole. The outsole geometry also helps achieve a smooth transition cycle.
Also see: The Skechers GoRun Ride 7.