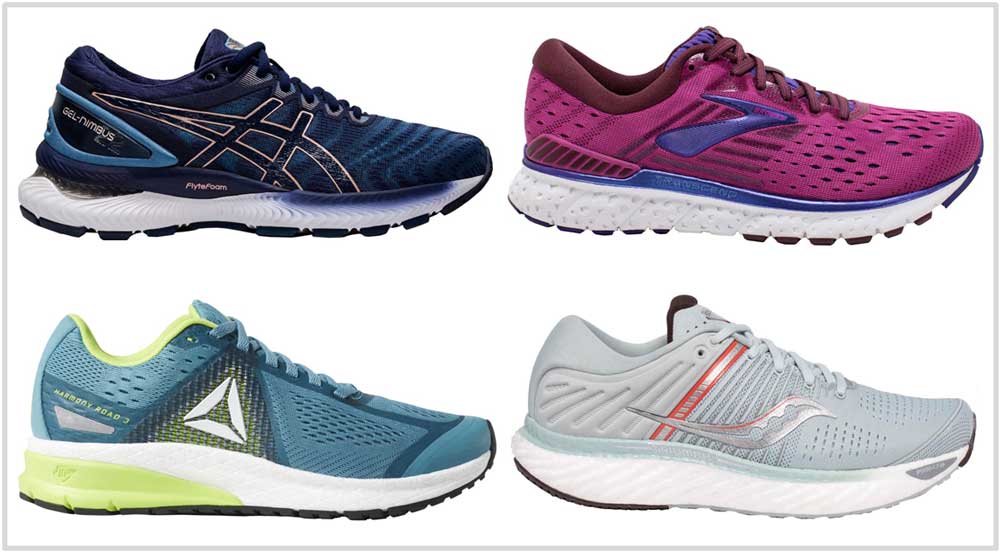 This article has been updated with current models for January 2020. We replaced the Saucony Triumph ISO 5 and the Brooks Levitate 2 with the Triumph 17 and Levitate 3 respectively. The Asics Gel Nimbus 22 is a fresh addition.
This is a slightly different take on the men's buyer's guide by the same name. That said, our rationale for selecting the shoes for this guide is the same, so have a quick read if you can.
But hey, we understand – you're pressed for time and don't want to go to the trouble of toggling screens, so here's a recap.
Do not buy pillowy-soft running shoes – though that's the most likely advice you'll receive from store associates or online forums. You'll hear or read reasoning on the lines of 'a shoe with soft cushioning provides better impact protection for heavy runners', or 'they're good for your knees'.
People might also suggest the use of 'stability' running shoes. You know, the ones that have a firmer wedge called a medial post.
That has been the conventional wisdom passed down through the generations. But that's far from sound advice.
Let's assume that you're 5'7'' tall and weigh 180 pounds with a Body Mass Index of 28. Or you're a muscular athlete with the same height and weight, in which case the BMI is a meaningless measurement. Your above-average weight could also be a result of being a large-framed female.
If any of the above conditions apply to you, running in extremely soft shoes will do more harm than good. Such running shoes are usually unstable and may cause injuries because your musculoskeletal system will constantly try to compensate for the shoe.
We're not saying that your running shoes should be rock hard; just avoid shoes with max-soft cushioning if you're a heavy female. A few examples would the Nike Vaporfly 4%, the Hoka Clifton and their kind. Even the New Balance 1080V9 is a borderline choice.
Heavy women runners should also stay clear of stability shoes with a biased ride – a design that makes the outer side of the midsole softer than the inner sidewall. For this reason, you won't see models like the Asics Kayano 26 here.
On a side note, the medial-post bias of present-day shoes is nowhere as acute as it used to be. But when you have superior alternatives, taking chances makes little sense.
If running shoes from the said categories are off the menu for weighty women, what kind of footwear should you buy?
Or more specifically, what qualities should you look in a running shoe?
The cushioning should be smooth and supportive with a tinge of firmness
We've only cautioned you against ultra-soft shoes and not cushioned footwear; there is a difference. A shoe can be cushioned without being pillowy. A good example is the Brooks Glycerin 17, one of the recommended shoes on this list.
Not only does the G-17's have a cushioned ride, but its relatively firm midsole foam and grippy outsole also add stability. The single-density midsole construction ensures a smooth ride without instability-inducing sink spots.
In short, a cushioned midsole works for heavy women as long as it doesn't create an unstable ride. The level of support should be a result of both the midsole geometry and the foam density.
Look for non-EVA foam midsoles
New-age materials like the adidas Boost, Saucony Everun, and Reebok Floatride Energy – which are based on expanded Polyurethane – hold their cushioning better over time. At the same time, these foams do a better job than EVA when it comes to delivering cushioning for heavier runners.
Technologies like Nike React and Brooks DNA AMP also have similar properties concerning cushioning retention.
Standard EVA (Ethylene Vinyl Acetate) foams tend to pack and lose their structure over time; which ultimately leads to instability.
A secure upper fit
A stable midsole isn't of much use when paired with a sloppy upper fit. An interior that locks the foot down securely over the midsole increases the overalls stability levels during runs.
We've curated a list of top eleven running shoes spread across a wide range of brands and ride quality.
1) Asics Gel Nimbus 22 Women's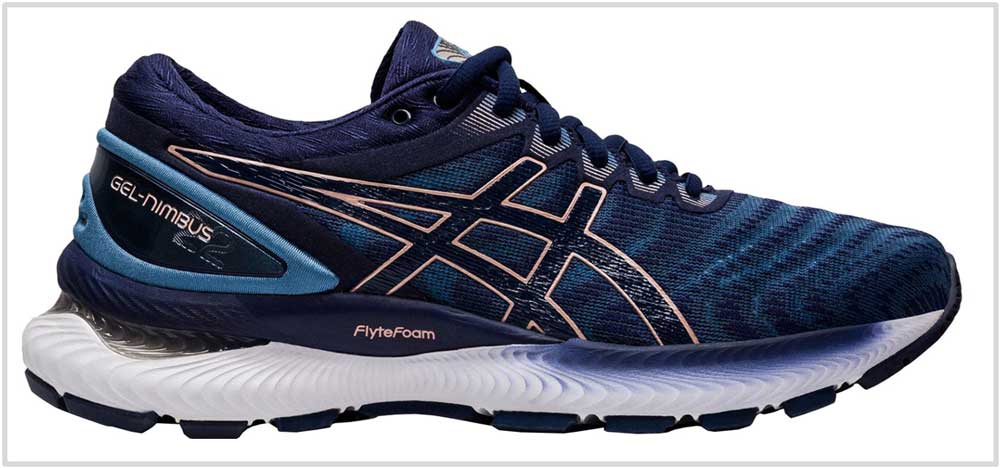 If you've read our review, you know why the Nimbus 21 did not feature on the previous edition of this article.
Thankfully, the Nimbus 22 goes back to being a safe, dependable shoe that offers a cushioned and supportive ride quality. The reworked midsole has a wide flare under the heel and forefoot for a higher level of support.
There's sufficient cushioning available in the layered Flytefoam midsole but not the mushy kind. And that's a good thing if you're looking for a running shoe that is comfortable and stable enough for your daily runs or long-distance cruising.
You should know that the women's Nimbus has a higher offset (+3 mm) and a thicker heel (+2 mm) than the men's Nimbus.
2) adidas Solar Drive 19 Women's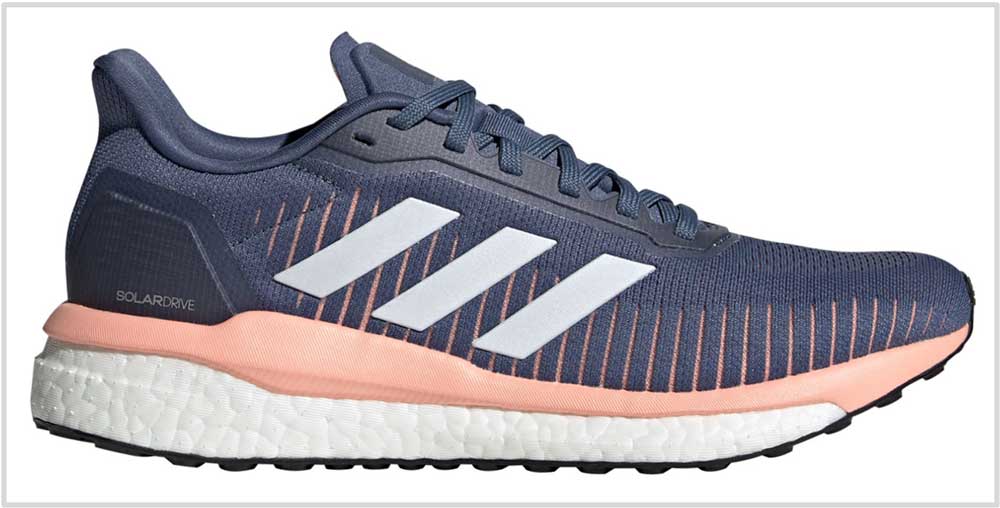 We recommend the Solar Drive 19 over the other adidas Boost models because of its lower-volume midsole. There's also a separate EVA layer atop the Boost midsole – this makes the Solar Drive more efficient and responsive.
This way, you get the comfort and durability of the adidas Boost cushioning but without the uber-soft feel.
3) Brooks Glycerin 17 Women's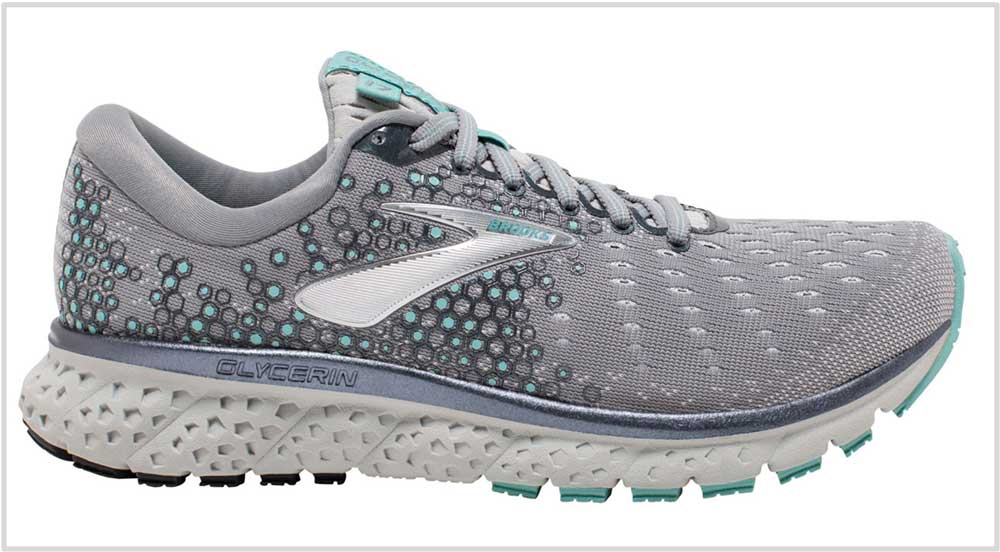 We referenced the Glycerin in our preface, pointing out why it was a running shoe suited for heavy female runners.
Need we say more? This smooth-riding daily trainer is comfortable, stable, and also comes with a plush upper that secures the foot in place. Here's the full review.
4) Brooks Levitate 3 Women's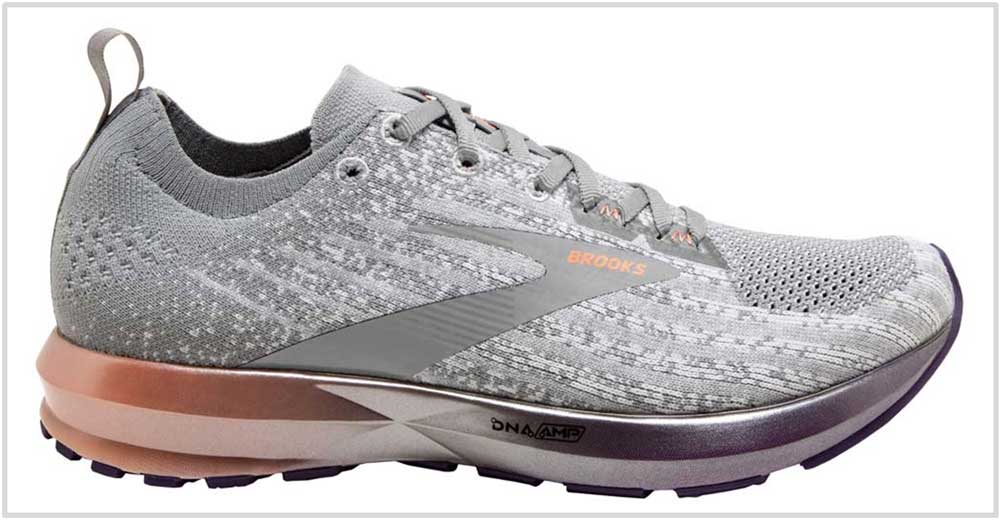 The Levitate 3 has a unique midsole design, the kind that makes it a good fit for this buyer's guide. A dense core of Polyurethane foam is protected by a thick urethane sheath to create a cushioning experience that is stable and responsive.
The softer core delivers underfoot comfort while the thicker 'skin' prevents it from bottoming out.
5) Brooks Transcend 6 Women's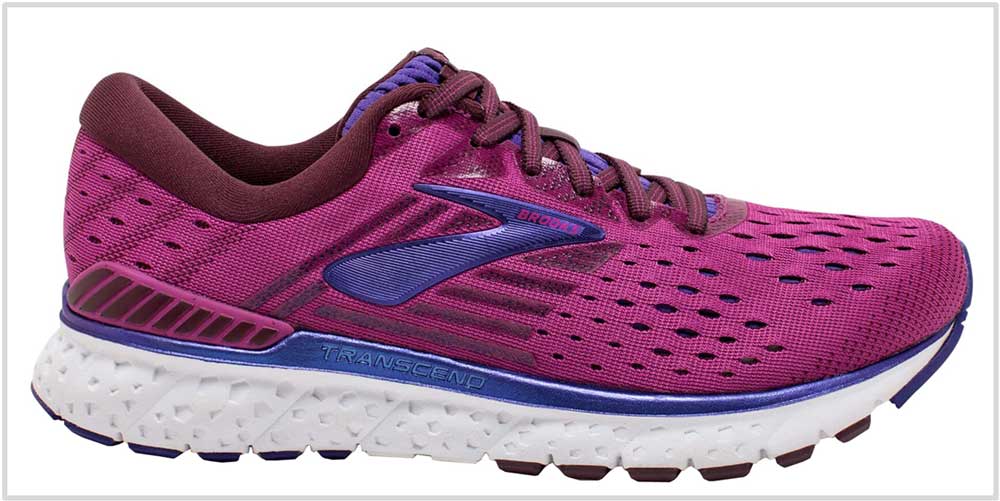 The Transcend 6 does everything that the Glycerin 17 can do, but with a lot more stability. Just like the latter, the single-density midsole made of the DNA-Loft foam delivers a smooth and cushioned ride.
At the same time, the wider outsole footprint and the elevated GuideRails cup the foot on the sides. These attributes make the Transcend 6 a great choice for 180 lb+ women runners.
6) Mizuno Wave Rider 23 Women's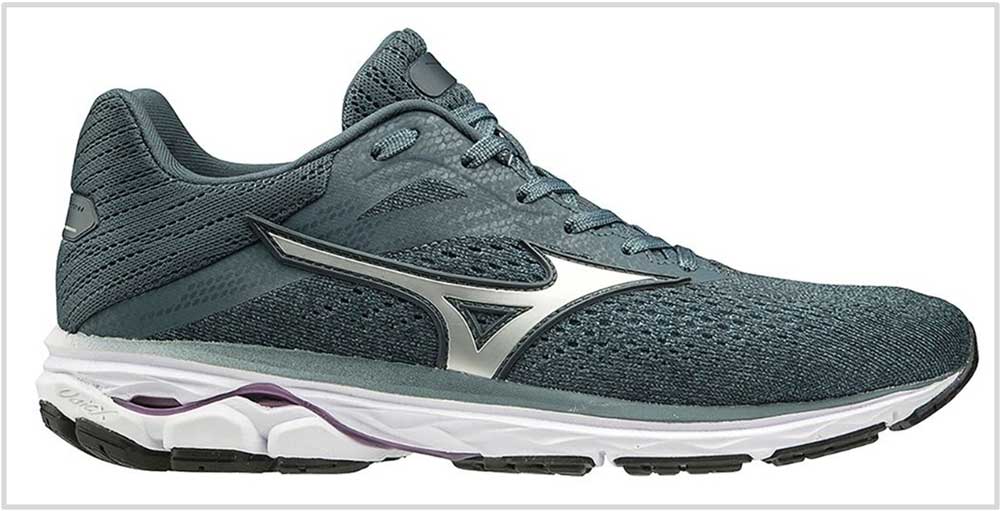 Regardless of the gender, the Wave Rider 23 has always been a safe choice for heavy runners. The plastic Wave plate is sandwiched between two layers of firm midsole foam, a set-up that serves a cushioned ride with a healthy level of stability.
If you own a pair of the Wave Rider 22 and have plans to upgrade, the Wave Inspire 16 is also an option.
7) Nike Epic React 2 Flyknit Women's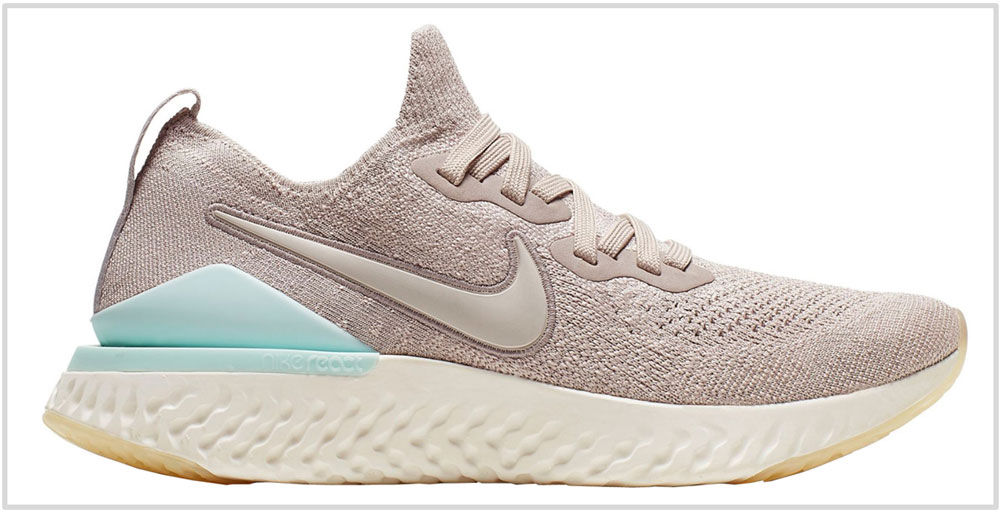 A synthetic rubber midsole with dense cushioning. A flared forefoot and heel midsole geometry. A secure Flyknit upper with a stabilizing heel clip. These are all ingredients of a running shoe that is suitable for heavy runners. You get high-quality cushioning without any of the mushiness.
The Epic React Flyknit 2 is the lightest shoe in this guide. So if you find the other shoes (listed here) bulky, you know which shoe to buy.
Also see: The Nike React Infinity Run – a more supportive version of the Epic React Flyknit.
8) Reebok Harmony Road 3 Women's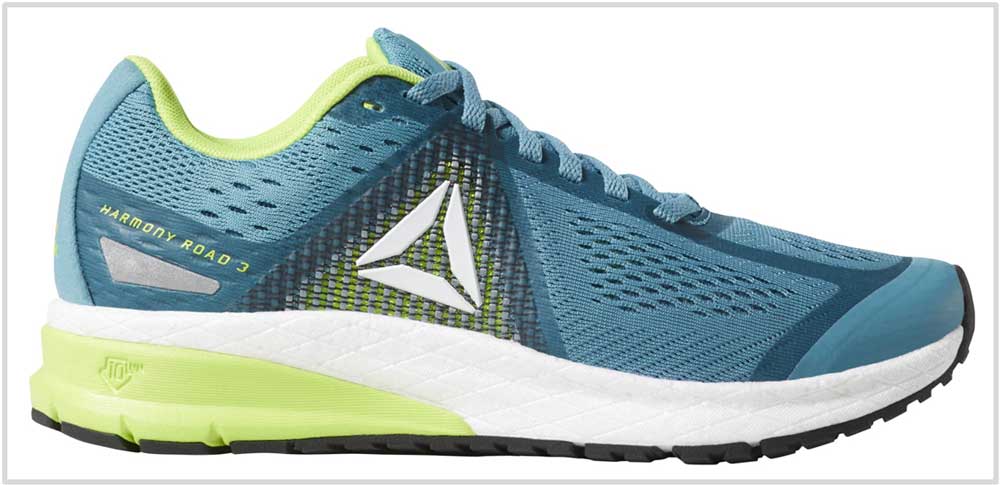 Reebok's Floatride e-TPU foam is firmer than adidas Boost so it strikes a fine balance between cushioning comfort and stability.
Making things more supportive is the firmer midsole heel plug, so the Harmony Road is a safe bet for heavy or large-framed women.
9) Saucony Triumph 17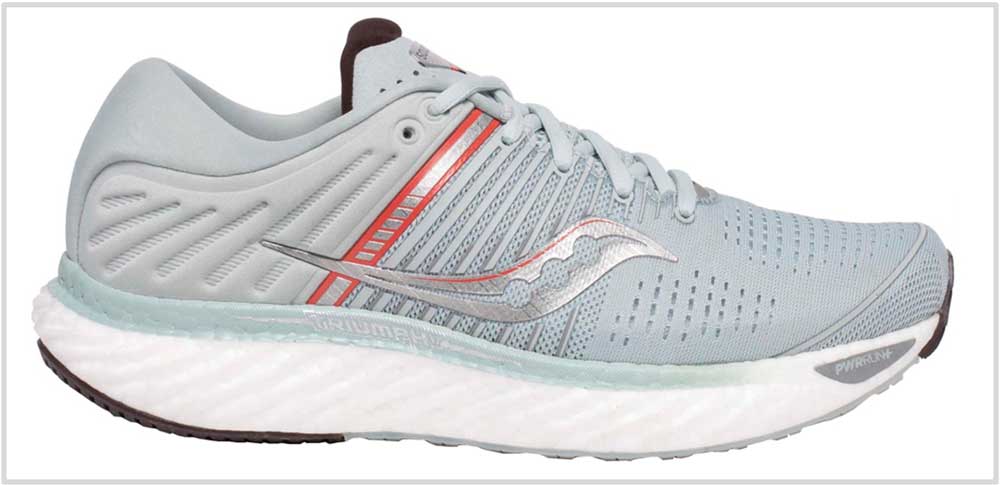 The Saucony Triumph 17 is very different from its predecessor, the Triumph ISO 5. The older Everun midsole-based model was all about a dense, firm ride that required a certain level of effort to let its responsive character out.
With the new Pwrrun+ foam, cushioned responsiveness is available right out of the box. The overall ride resembles adidas Boost, only much livelier.
And why is the Triumph 17 a good fit for runners with a higher bodyweight? For starters, the wide midsole creates a supportive foundation under the foot. Also, the e-TPU based foam is fatigue resistant; it will retain its cushioning over the life of the shoe.
The crystal rubber outsole is extremely durable and is highly resistant to abrasion.
10) Saucony Freedom ISO 2 Women's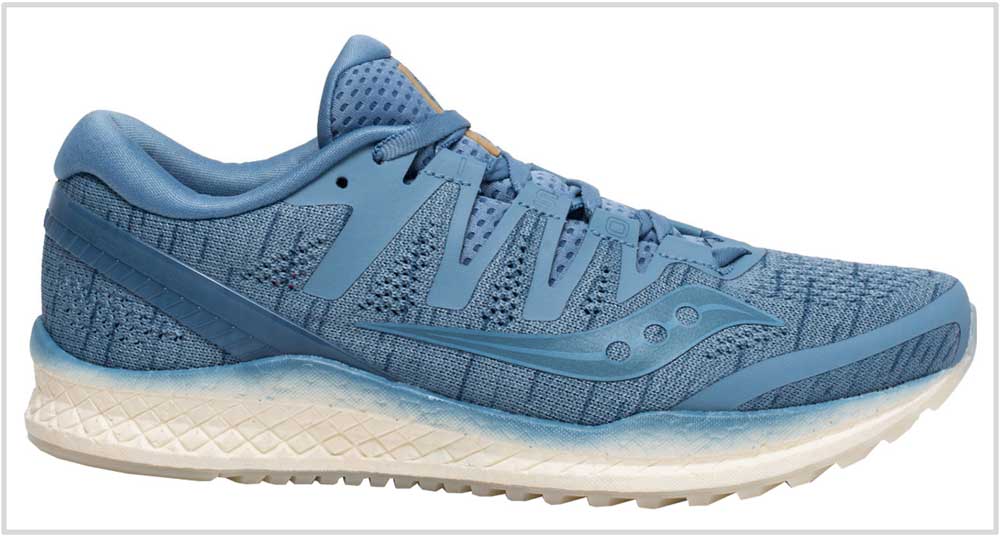 For some female runners, the Triumph 17 might feel like too much of a shoe. If that happens to be you, give the Saucony Freedom ISO 2 a try.
The Freedom features the same Everun foam as the last-gen Triumph ISO 5 but in a lower-to-the-ground avatar. At 4 mm, the heel drop is lower too. The dense and low-profile cushioning is ideal for runners with an above-average body-weight.
If you want a Freedom ISO 2 with a hint of support, then the Liberty ISO 2 (see next) is your shoe.
11) Saucony Liberty ISO 2 Women's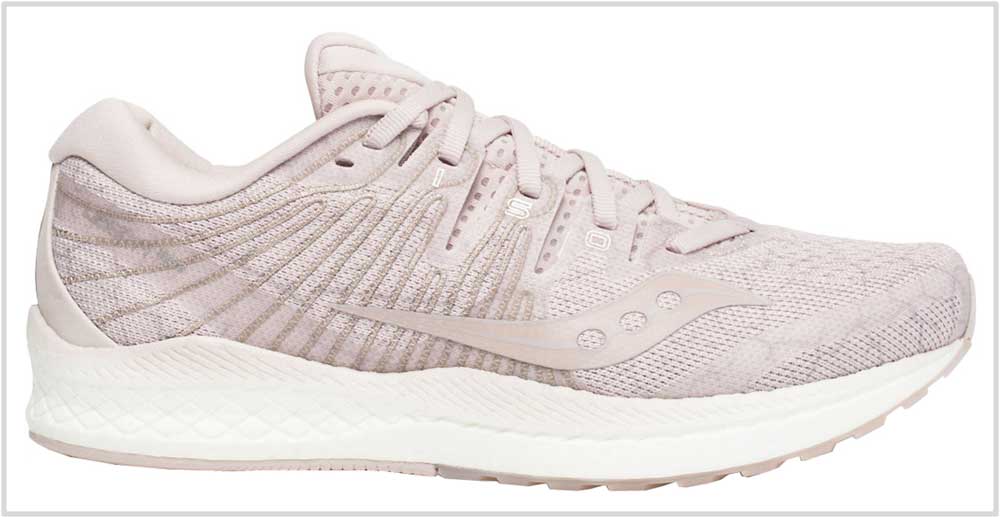 What's the difference between the Saucony Freedom and the Liberty? Not a lot. If you didn't notice it already, even these two words are synonymous.
But there exists a separation in features. The Liberty ISO 2 has a tiny plastic stabilizer (not a post, though) over the inner midsole as well as an outsole design with more exposed space. If you pay close attention, you'll also observe slightly raised midsole sidewalls and a more supportive ISOFIT upper.
So there you have it – the Liberty and Freedom are similar running shoes that work equally well for heavy female athletes.
The Liberty is a bit more supportive, that's all.