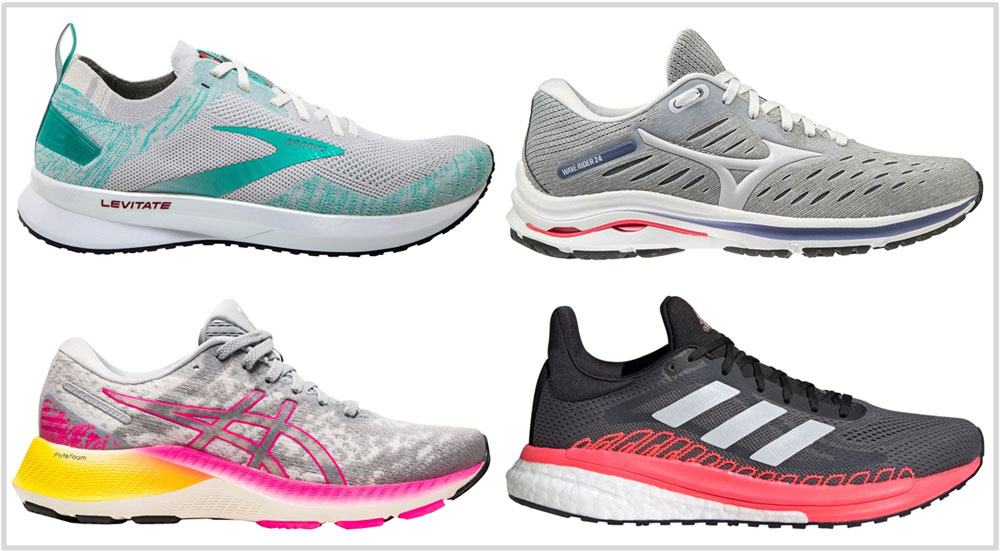 This article has been updated with current models for December 2020. The Brooks Glycerin 17, Brooks Levitate 3, Mizuno Wave Ride 23, Saucony Freedom ISO 2, and the Saucony Triumph 17 have been replaced with their updated versions. The adidas SolarGlide 3 ST, Altra Lone Peak 4.5, Asics Kayano Lite, Brooks Adrenaline GTS 21, Saucony Peregrine 10, Saucony Ride 13, and the Skechers GoRun Razor+ are new additions. The adidas Solar Drive 19, Asics Nimbus 22, Brooks Transcend 6, Nike Epic React 2, Reebok Road Harmony 3, and Saucony Liberty ISO 2 have been removed.
This is a slightly different take on the men's buyer's guide by the same name. That said, our rationale for selecting the shoes for this guide is the same, so have a quick read if you can.
But hey, we understand – you're pressed for time and don't want to go to the trouble of toggling screens, so here's a recap.
Do not buy pillowy-soft running shoes – though that's the most likely advice you'll receive from store associates or online forums. You'll hear or read reasoning on the lines of 'a shoe with soft cushioning provides better impact protection for heavy runners', or 'they're good for your knees'.
People might also suggest the use of 'stability' running shoes. You know, the ones that have a firmer wedge called the medial post.
That has been the conventional wisdom passed down through the generations. But that's far from sound advice.
Let's assume that you're 5'7'' tall and weigh 180 pounds with a Body Mass Index of 28. Or you're a muscular athlete with the same height and weight, in which case the BMI is a meaningless measurement. Your above-average weight could also be a result of being a large-framed female.
If any of the above conditions apply to you, running in extremely soft shoes will do more harm than good. Such running shoes are usually unstable and may cause injuries because your musculoskeletal system will constantly try to compensate for the shoe.
We're not saying that your running shoes should be rock hard; just avoid shoes with max-soft cushioning if you're a heavy female.
Heavy women runners should also stay clear of stability shoes with a biased ride – a design that makes the outer side of the midsole softer than the inner sidewall. For this reason, you won't see models like the Asics Kayano 27 here. We do, however, have the Kayano Lite listed here. That's a completely different shoe than the K-27.
On a side note, the medial-post bias of present-day shoes is nowhere as intrusive as it used to be. But when you have superior alternatives, why settle for less?
If running shoes from the said categories are off the menu for weighty women, what kind of footwear should you buy?
Or more specifically, what qualities should you look for in a running shoe?
The cushioning should be smooth and supportive with a tinge of firmness
We've only cautioned you against ultra-soft shoes and not cushioned footwear; there is a difference. A shoe can be cushioned without being pillowy. A good example is the Saucony Triumph 18, one of the recommended shoes on this list.
Not only does the T-18's have a cushioned ride, but its resilient midsole foam and grippy outsole also add stability. The single-density midsole construction ensures a smooth ride without instability-inducing sink spots.
In short, a cushioned midsole works for heavy women as long as it doesn't create an unstable ride. The level of support should be a result of both the midsole geometry and the foam density.
Look for non-EVA foam midsoles
New-age materials like the adidas Boost, Saucony Everun, and Reebok Floatride Energy – which are based on expanded Polyurethane – hold their cushioning better over time. At the same time, these foams do a better job than EVA when it comes to delivering cushioning for heavier runners.
Technologies like Nike React and Brooks DNA AMP also have similar properties that help retain long-term cushioning.
Standard EVA (Ethylene Vinyl Acetate) foams tend to pack and lose their structure over time; that ultimately leads to an unstable ride.
A secure upper fit
A stable midsole isn't very useful when paired with a sloppy upper fit. An interior that locks the foot down securely over the midsole increases the overall stability levels during runs.
We've curated a list of dozen running shoes spread across a wide range of brands and ride quality. We've grouped the shoe by their sub-categories. Some models cater to different use-cases and range from 9-ounce cushioned trainers to 5-ounce lightweight marvels. Some guides that recommend running shoes for heavier runners only recommend heavy shoes – that's silly.
Best women's neutral running shoes for heavy runners
1) Asics Kayano Lite Women's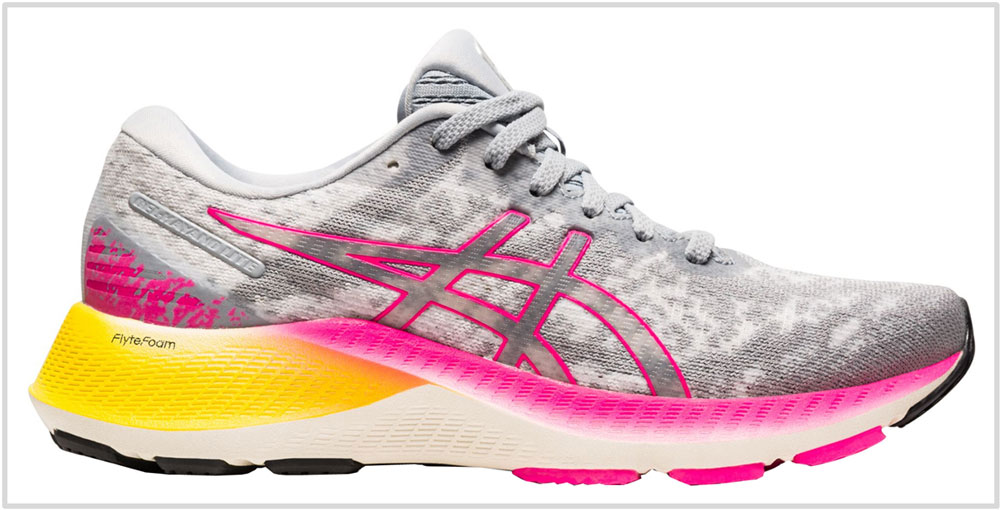 The Asics running shoe line is evolving – and fast. And this infusion of newness isn't mere lip service to updates, but a strategic move that appears to be well thought through.
How else would one explain the introduction of models like the Novablast, Glideride, and the Metaracer? Even the old roster of models like the Nimbus and Kayano receive noteworthy ride and fit upgrades, and it doesn't stop there.
The Kayano has a spin-off called the 'Lite' version (not to be confused with Lite-Show). It lives up to its name; for a shoe with a 25 mm thick heel and 12 mm forefoot, it is lightweight at 7.6 ounces. The thick midsole provides the ride comfort for all runs, long or short. At the same time, the medium-soft Flytefoam and the flared heel create a stable foundation for heavy runners.
Just watch out for the pointy toe-box and shorter sizing of the knit upper – especially if you're used to the regular Kayano 27's fit.
Editor's note: The women's Kayano Lite has a 2 mm thicker heel than the men's version. The men's Kayano Lite also has a lower heel-to-toe offset of 10 mm.
2) adidas SolarGlide 3 ST Women's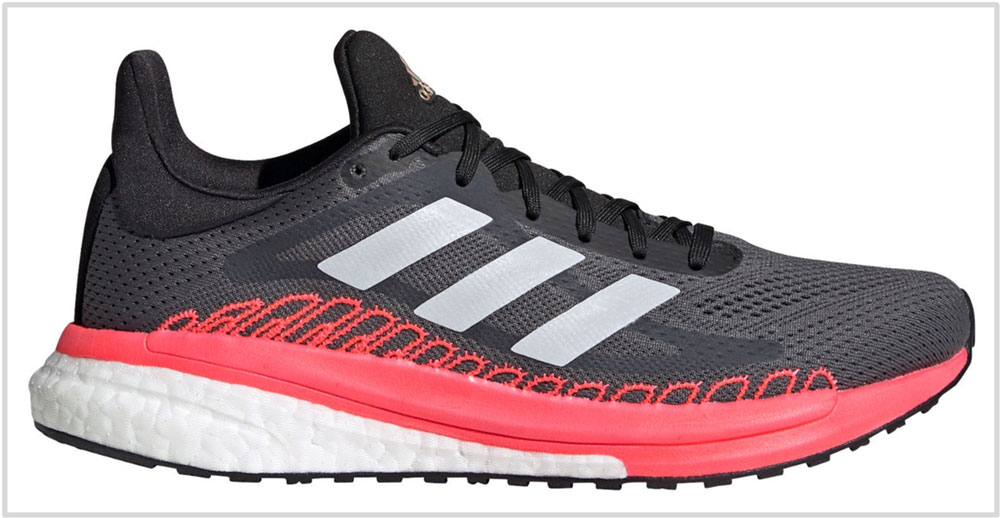 The ST suffix implies that this variant is the stability version of the namesake neutral trainer. And it is, to a certain extent.
While the SolarGlide 3 ST has a cushioned Boost midsole that makes long runs less punishing on the feet, there are additional support features. A sizeable EVA 'rim' separates the Boost foam from the upper – more so on the inner side.
It's worth pointing out that the e-TPU Boost foam is highly resistant to long-term cushioning loss, no matter what the bodyweight.
Also, the plastic 'Torsion' shank extends into the forefoot and heel. This also adds a layer of stability under the midsole, and so does the full-length Continental rubber outsole.
The snug and smooth-fitting upper secures the foot over the midsole without any slippage.
3) Brooks Glycerin 18 Women's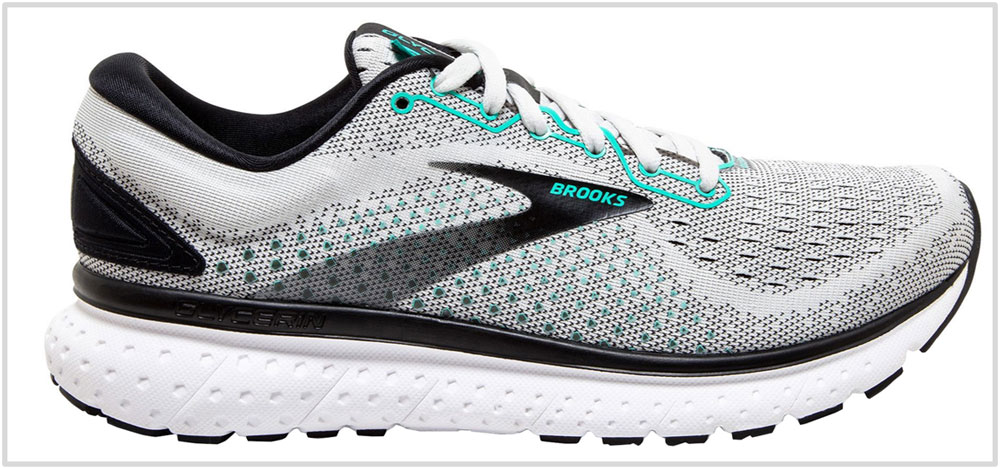 How times have changed. The Women's Brooks Glycerin 18 is a 9-ounce shoe. The Glycerin is no longer what it used to be; there are no more layered uppers or clunky outsoles to deal with.
Instead, Brook's premium neutral cushioned trainer relies on a single-density midsole and Ortholite insole that delivers a smooth, comfortable, and supportive ride.
This form factor works for most situations, be it daily runs or long-distance cruising. A combination outsole (blown and firm rubber) outsole creates the familiar transition and grip quality that is associated with Brooks running shoes.
Need we say more? This smooth-riding daily trainer also comes with an upper that plushly holds the foot in place.
Also see: The Mizuno Wave Sky 4 Waveknit.
4) Brooks Levitate 4 Women's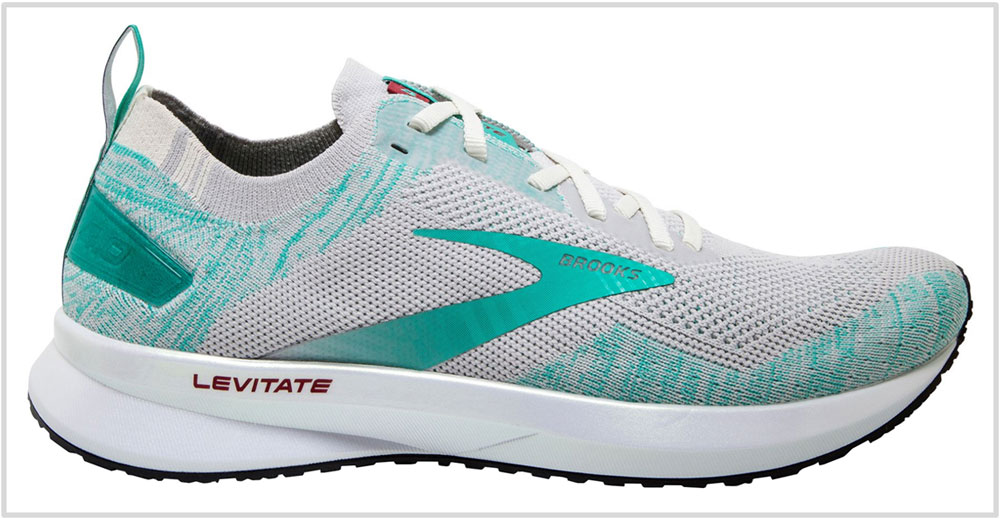 The Levitate 4 has a unique midsole design with qualities that makes it a good fit for this buyer's guide. A dense core of Polyurethane foam is protected by a thick urethane sheath to create a cushioning experience that is stable as well as responsive.
The softer core delivers the desired underfoot comfort whereas the thicker 'skin' prevents it from bottoming out. The ride feels very different than other foams; the cushioning is vertical and has a quick rebound. It doesn't flatten as EVA foams do, and this makes it a good fit for heavier runners.
The outsole grip is excellent, by the way.
5) Mizuno Wave Rider 24 Women's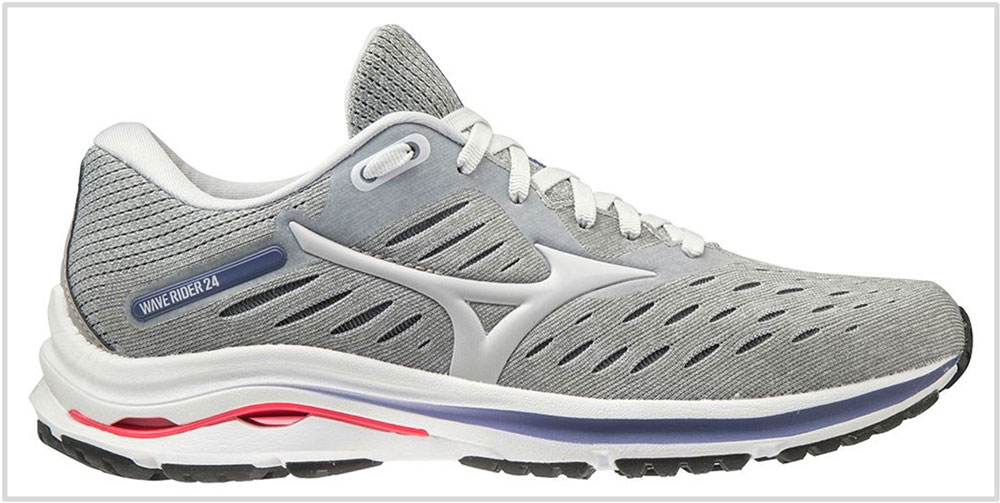 Regardless of the gender, the Wave Rider has always been a safe choice for heavy runners. The plastic Wave plate is sandwiched between two layers of firm midsole foam, a set-up that serves a cushioned ride with healthy levels of stability. And this isn't a heavy shoe either; the Rider 24 tips the scale at 8.3 ounces.
If the Wave Rider 24 feels noticeably different under the foot as compared to the 23, you're not imagining it. The Wave plate is smaller and no longer forms the midfoot shank.
These changes make the ride softer, but without compromising on the familiar stability feel that Mizunos are known for. The upper fits snugger than older Rider models like the 22, but the insides feel near seamless and plush.
Also see: The Mizuno Wave Inspire 16.
6) Saucony Ride 13 Women's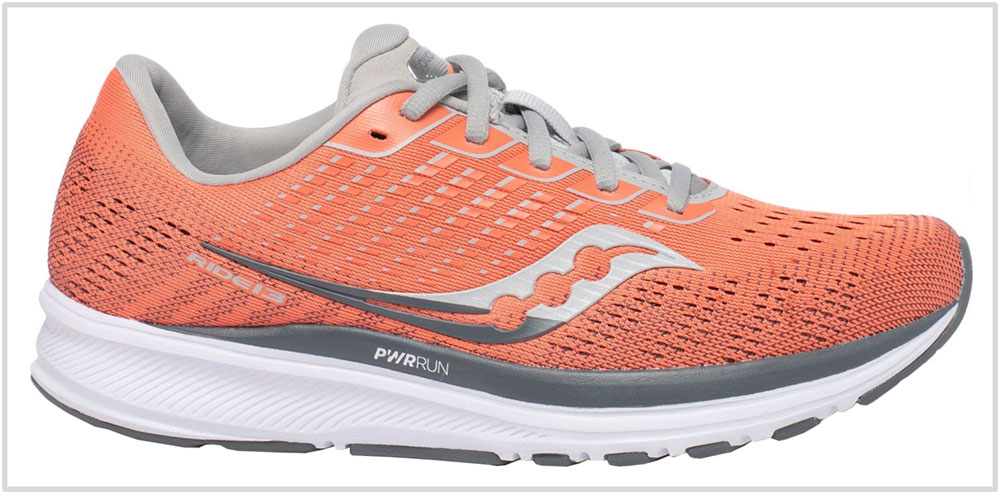 It isn't without good reason that the Ride 13 also features in our best women's running shoe guide. This neutral trainer with a firm ride is extremely versatile – not just for different running activities but for various weight classes as well.
Unlike many neutral trainers, the midsole isn't overly soft. Even with the recent switch to the Pwrrun foam midsole, the ride character retains the firm underfoot feel. A firm midsole also equates to better stability for light and heavy runners alike.
The 8.6-ounce weight and an 8 mm heel to toe offset put the Ride 13 in the sweet spot of neutral trainers. The knit upper fits true to size and is available in a wide too.
7) Saucony Triumph 18 Women's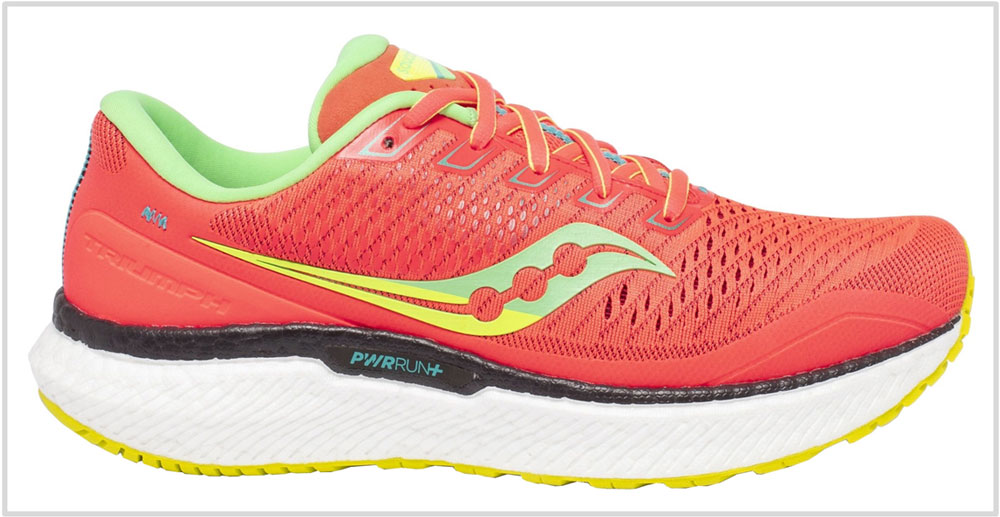 Last year, the Saucony Triumph swapped its dense and firm Everun foam for Pwrrun+. Both are made of expanded Polyurethane foam, but they differ in their cushioning delivery.
With the new Pwrrun+ foam, cushioned responsiveness is available right out of the box. The overall ride resembles adidas Boost, only much livelier.
And why is the Triumph 18 a good fit for runners with a higher bodyweight?
Regardless of the soft ride, the wide midsole creates a supportive foundation under the foot. Also, the e-TPU based foam is fatigue resistant; it will retain its cushioning over the life of the shoe.
8) Saucony Freedom 3 Women's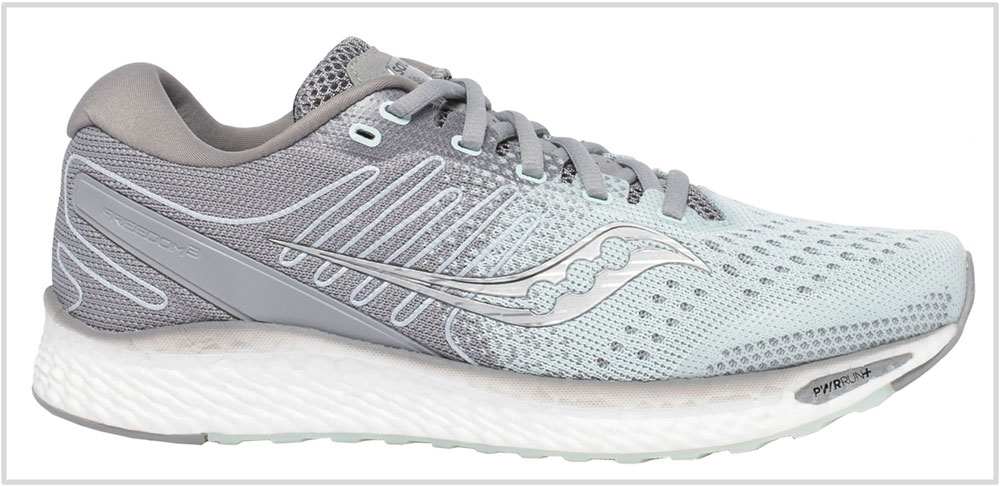 If the Triumph 18 feels a bit much of a shoe, then it's a good idea to give the Saucony Freedom 3 a try.
The Freedom features the same Pwrrun+ foam as the Triumph 18 but in a lower-to-the-ground avatar. At 4 mm, the heel drop is lower too. The dense and low-profile cushioning is ideal for runners with an above-average body-weight. The e-TPU foam resists permanent deformation over time, and that's good news for cushioning retention.
The upper no longer has the ISOFIT midfoot strapping system. It relies on a simple lacing system that gets the job done. The Freedom has always had a snug forefoot fit, and the V3 is no different.
If you want a Freedom 3 with a hint of support, then the Liberty ISO 2 is your shoe.
Best women's mild-stability running shoes for heavy runners
Brooks Adrenaline GTS 21 Women's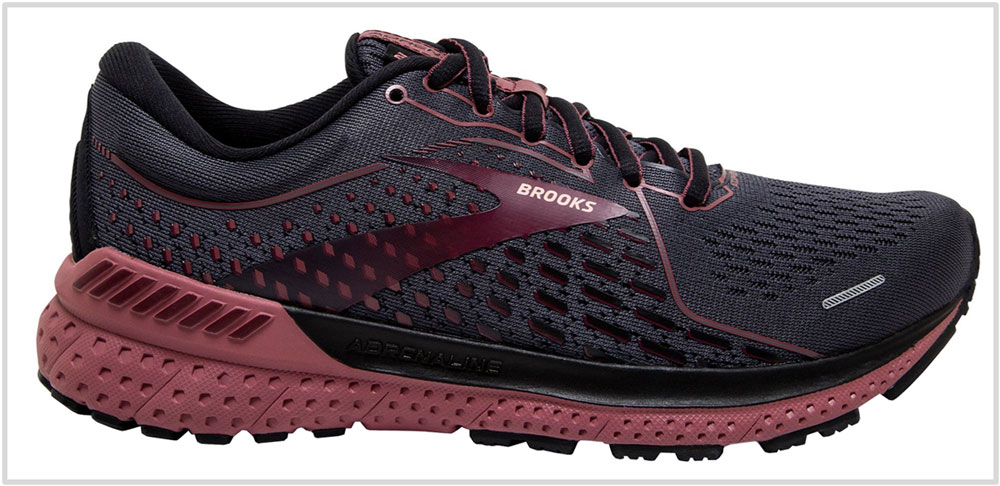 Just like the rest of Brooks' ever-evolving line, the Adrenaline GTS 21 is nothing like what it used to be five years ago. That means the midsole no longer has a firmer medial post, and the raised 'Guiderails' are what gives the GTS 21 its supportive character.
The midsole is rather soft, and not dissimilar to the neutral Brooks Ghost 13. Even the midsole is now single-density, instead of using a different density heel crash pad.
That said, the high sidewalls provide a cupping action and under-arch support that is not a part of the Ghost. This way, the Adrenaline GTS 21 offers mileage-friendly cushioning that is also supportive.
The upper is plush, smooth-fitting, and holds the foot sans slippage – what's not to like?
If a firmer stability shoe is on your shopping list, we recommend the Saucony Guide 13.
Best women's racing shoe for heavy runners
Skechers GoRun Razor+ Women's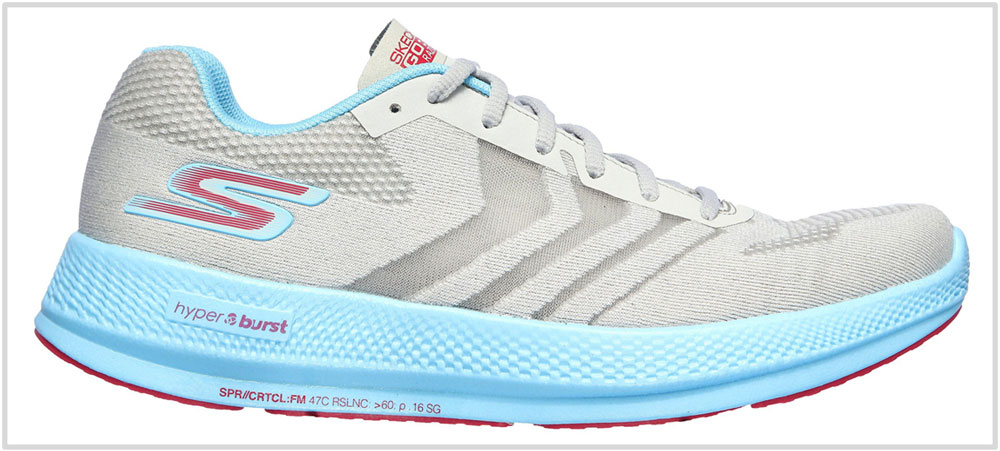 The Hyperburst midsole is the only reason why the Razor+ features on this list. After all, this EVA-blend compound offers an exceptional weight to cushioning ratio, all while being very stable for its class. It's easy to forget that this is a 5-ounce speed racer.
Unlike regular foam-based midsoles, Hyperburst is resistant to bottoming out when weight loaded. That's one of the many good things about the Razor+ – this ride character is excellent for fast runs while keeping the foot adequately protected.
This upper fits narrow and a half size short, so try before you buy.
Best women's trail-running shoe for heavy runners
1) Altra Lone Peak 4.5 Women's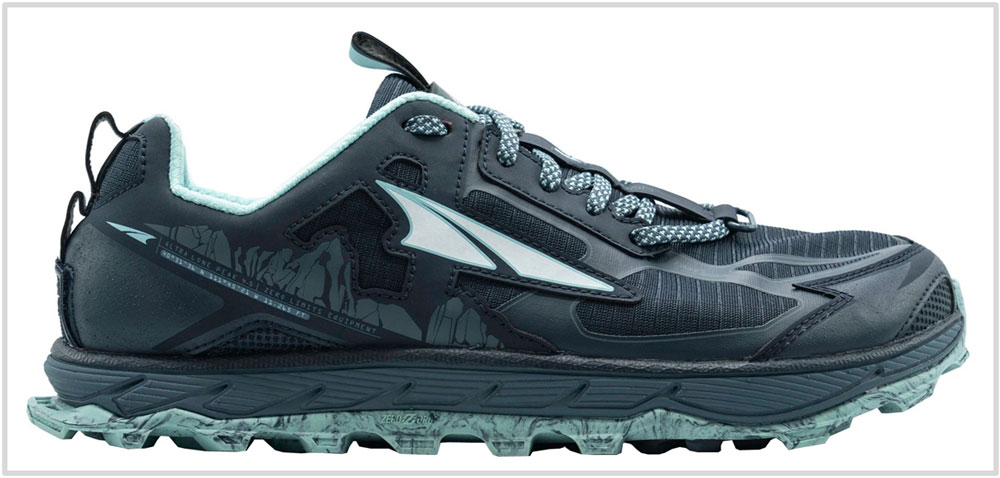 The Altra Lone Peak 4.5 has everything that a versatile trail running shoe should have. The closed mesh and synthetic leather upper is equal parts protective and comfortable, and has bonus features like gaiter attachment points.
Underneath, a sticky rubber outsole combines aggressive lugs and a stone-guard for traction and protection. Between the outsole and upper is a zero-drop foam midsole that is cushioned as well as supportive.
And yes, the Lone Peak gets the special Altra treatment; the upper fit is specially designed for women's feet. Yay.
2) Saucony Peregrine 10 Women's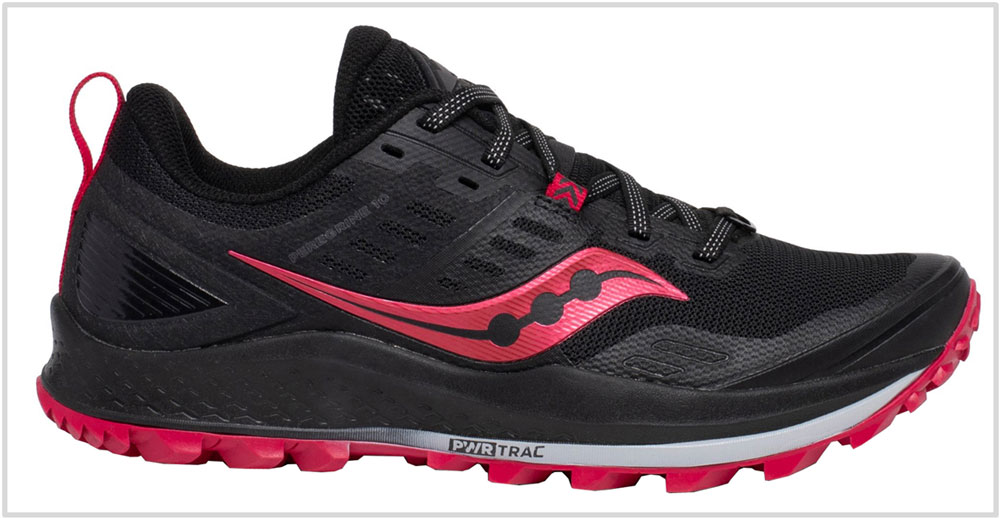 We had the Peregrine 10 listed in our men's best shoe guide, and the same qualities make it an excellent trail running for women as well.
The firm Pwrrun foam midsole makes the ride very stable regardless of the runner's weight. There's also a rock-guard for protection, along with an aggressively designed outsole made of a grippy rubber compound.
The layered upper is comfortable, secure, and uses a closed-type mesh to keep the debris out. And if that wasn't enough, there are gaiter attachment points should one become necessary.
The Peregrine 11 is just out, but it'll be a while before it becomes readily available.