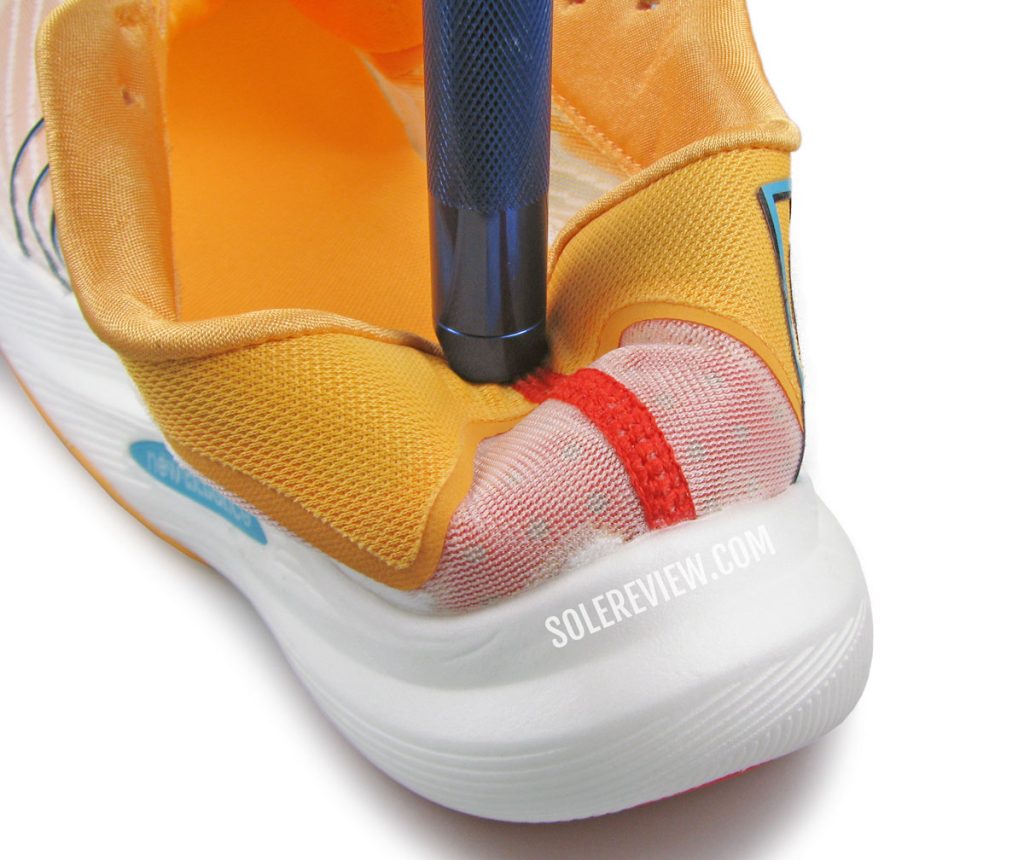 This article has been updated with current models for February 2022. The Nike Free RN 2018 Flyknit and Free Run 5.0 are new additions.
These are unusual times for anything travel-related. From the looks of it, things won't return to normal for the next couple of years or so. You know, things like international travel with no restrictions and such.
Having said that, the criteria for a travel-friendly shoe hasn't changed. Regardless of the mode of travel, the four basic criteria stay the same – comfort, versatility, low weight, and a compact form factor.
And if we're talking about air travel, the choice of a shoe may mean the difference between having a checked-in bag and not having one. A single checked-in bag attracts a fee of $20 or more, so the best way to travel is without one.
Ok, you may have Airline status and do not have to pay for extra baggage. But then, who wants to waste time dropping bags at the counter or wait for the carousel to spit up the luggage at the destination?
Frequent travelers will attest that traveling without a check-in bag is a very liberating experience.
Let's assume that we need to pack for an overnight trip, and space is at a premium. Running shoes occupy quite a bit of room, so what's the workaround?
The easiest way to carry a shoe is to simply wear them. But while this may work for vacationers, your corporate overlords might frown upon such casual attire. Or maybe you just want to look dapper in your Calfskin wingtips.
Following packing best practices like rolling the garments instead of stacking them certainly helps. Or stuffing the insides of your shoes with smaller items or undergarments. Also, bags with an expandable textile shell accommodate more items when compared to hard luggage.
Playing the footwear card right is not only going to free up space, but also make the bag lighter.
So what kind of running or walking shoes make the best travel companions? Feel free to scroll down now, but the following criterion have been considered.
Follow these golden rules, and you can also explore options outside the limited assortment featured on this list.
The shoe needs to be lightweight.
There's a Spanish proverb that goes something like this: "On a long journey, even a straw proves heavy."
While this was written before the age of air travel, a lighter shoe means more weight off your shoulders. So all the shoes in this guide weigh less than 290 grams/10 ounces for the median size. (Related read: The lightest running shoes)
The midsole should be flexible.
Ever wonder how professional contortionists fit into an unimaginably cramped space? Besides applying the proper technique, the artists also take advantage of their flexibility.
The same analogy applies to shoes. A flexible build makes the shoe easier to pack, as the midsole can be bent to fit into tight spaces. A chunky midsole equipped with too much Gel, compressed Air bags, or a Carbon plate isn't going to cut it, sadly.
The upper should be semi-collapsible.
A stiff upper is a detriment to efficient packing. Just like the flexible midsole, the upper needs to flatten to make room for the rest of your essentials.
A collapsible heel counter design is preferable; the second-best option is a thin and flexible heel counter.
(Related read: The best running shoes with a collapsible heel)
Avoid running shoes with thick midsoles
This one is a no-brainer for saving space. Thick midsoles equate to more room occupied by the shoe. So while we don't recommend ultra-flat midsoles due to their lack of versatility, they shouldn't be too thick either.
As a general rule, the thickness should be somewhere between a regular trainer and a racing flat.
Should contain little, and preferably no metal at all
Not triggering a metal detector is another desirable trait of travel-friendly shoes. Even dress sneakers (we featured a bunch of them here) have metal eyelets, but running shoes do not.
The shoe should be cushioned and supportive
Many travelers mix gym workouts with running. It stands to reason that the shoe should be stable enough for weight training and calisthenics. At the same time, it should be cushioned enough for road or treadmill running. Some prefer not to engage in any form of athletic activity but want a shoe that is comfortable for long walking tours.
Others prefer a travel shoe based on a minimalist design. While that is great for saving space, the lack of cushioning may not suit everyone.
Now let's get into the thick of things; here's our top pick of shoes. Flexible Nike Free running shoes dominate the list, along with stand-alone products from Altra, ON running, New Balance, and Skechers.
The best travel-friendly shoe we've ever owned was the long-discontinued Nike Free 4.0 Flyknit. If Nike ever decides to reissue that model, we'd buy a couple of pairs in a heartbeat.
Solereview recommends: The Nike Free RN Flyknit 2018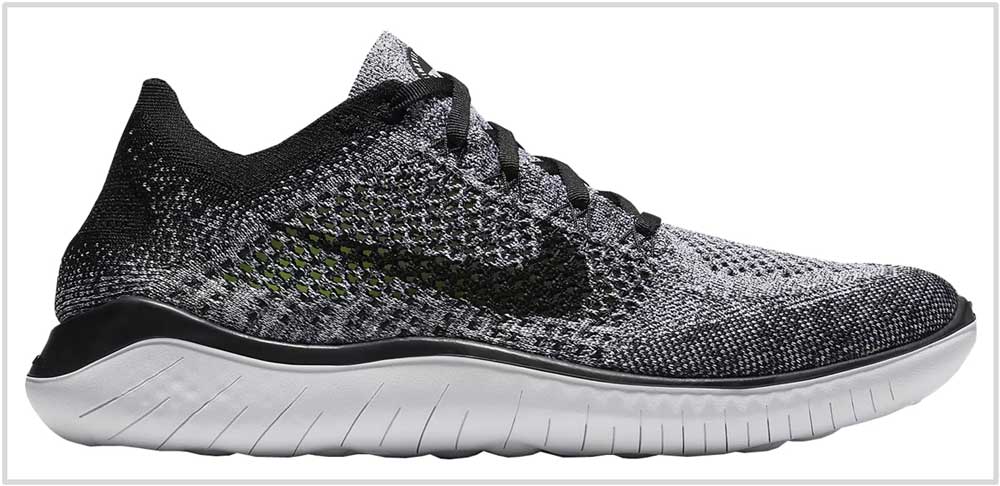 The Free RN Flyknit 2018 is the near-perfect travel shoe. The deconstructed Flyknit upper can be flattened to make room for other travel essentials, and if that wasn't enough, the ultra-flexible midsole can be bent to fit into tight corners.
Even though the midsole isn't thick, it's sufficiently cushioned for short-distance (up to 10k) runs. That means it's perfectly capable of away-from-home workouts and gym sessions.
Its 7.5-ounce (213 gram) weight is a bonus. This mesh and foam package contains no metal, so it's easy to breeze through metal detectors at the airport.
Also see: The Free RN 2018 (Non-Flyknit model).
2) Nike Free Run 2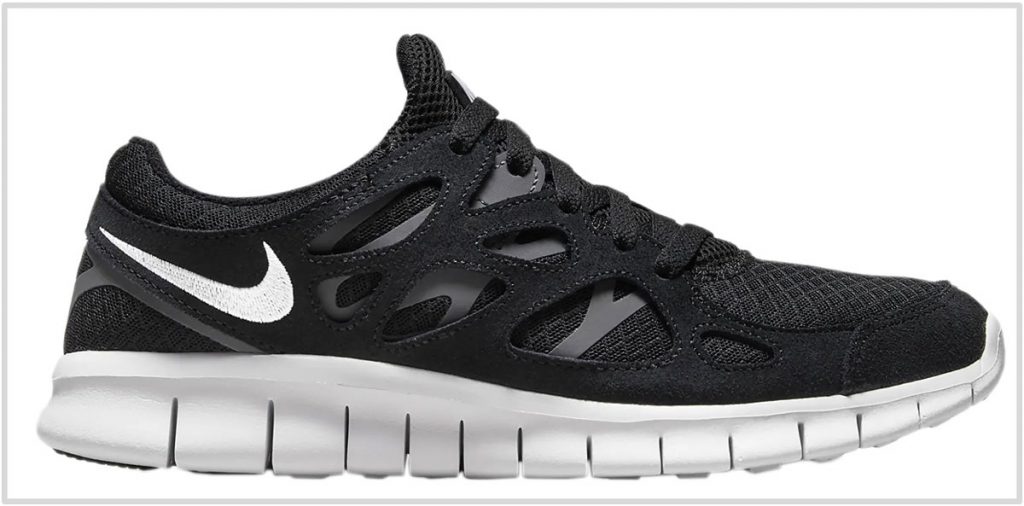 Nike has brought back the retro sneaker of 2006 vintage – the successor to the original 2004 model. It's also convenient that the Free Run 2.0 has several characteristics that make it an excellent travel sneaker.
A fully collapsible upper? Yes. A flexible midsole? Very. Lightweight? Of course.
And is it good for treadmills, gym workouts, walking around, short road runs, and everything in between? Check. Its small footprint occupies less space when packed, leaving room for the more important stuff.
There's only thing that one needs to keep in mind. The Free Run 5.0 V2 was notorious for its hard-to-get-into upper – and this advice is targeted at people with wide feet. The bootie entry is made of soft mesh, but it is not elastic.
3) The Nike Free Run 5.0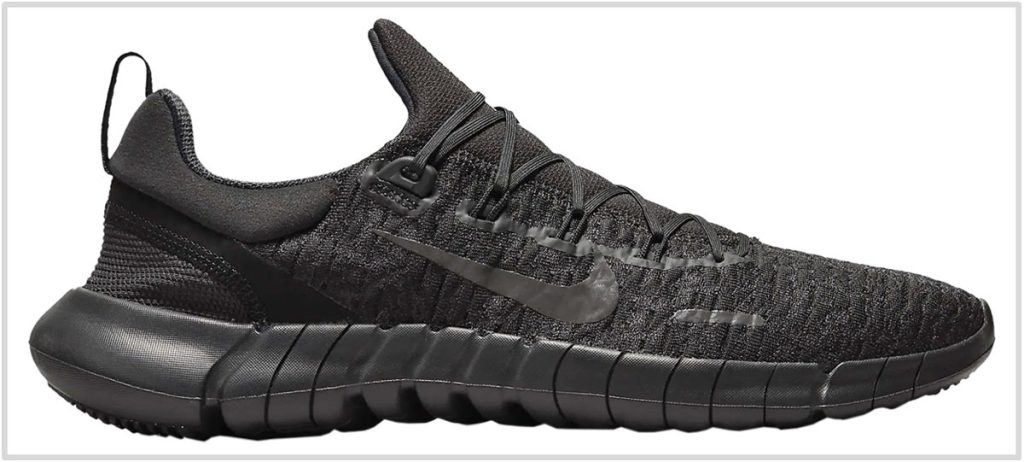 This model was released last year, and is a modern version of the Nike Free. The sock-like upper has a plusher interior than the Free RN 2018 because of its padded tongue and heel. The slimmer last and the cord-based lacing makes the fit performance-oriented.
The cushioning is powered by a generously-grooved EVA foam midsole that suffices for low-mileage runs on the road and treadmill.
And like most Nike Free running shoes, the absence of stiff components in the upper allows it to be packed flat.
4) New Balance FuelCell Rebel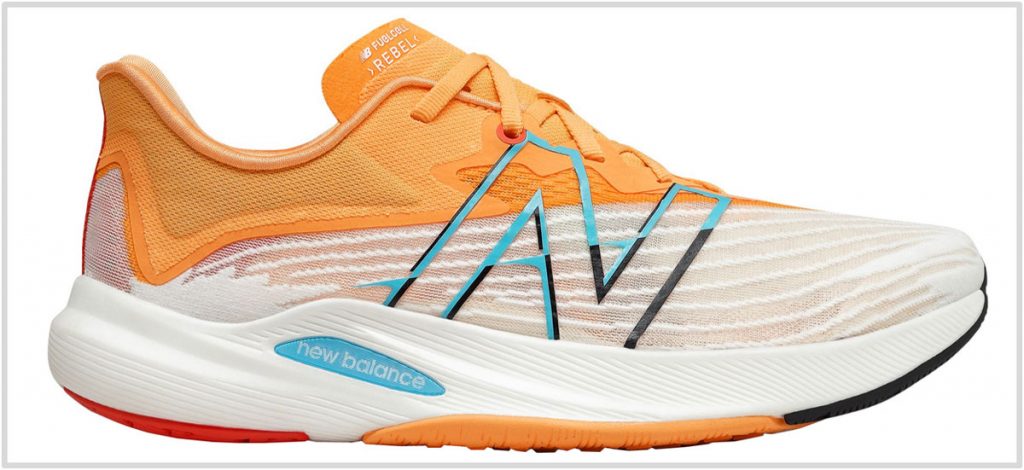 Despite some of its shortcomings that were highlighted in our detailed review, the Fuelcell Rebel V2 is an excellent shoe for travel. The heel is semi-collapsible, and the lightweight upper packs flat without resistance.
The Fuelcell foam makes the shoe extremely lightweight as well; its 7.2-ounce (204 gram) weight makes the best of the limited baggage allowance.
At the same time, the midsole is cushioned enough for most runs and comfortable enough for long walks. Just make sure to buy a half size larger than your regular size because of the Rebel's small fit.
5) Nike Flex Experience RN 10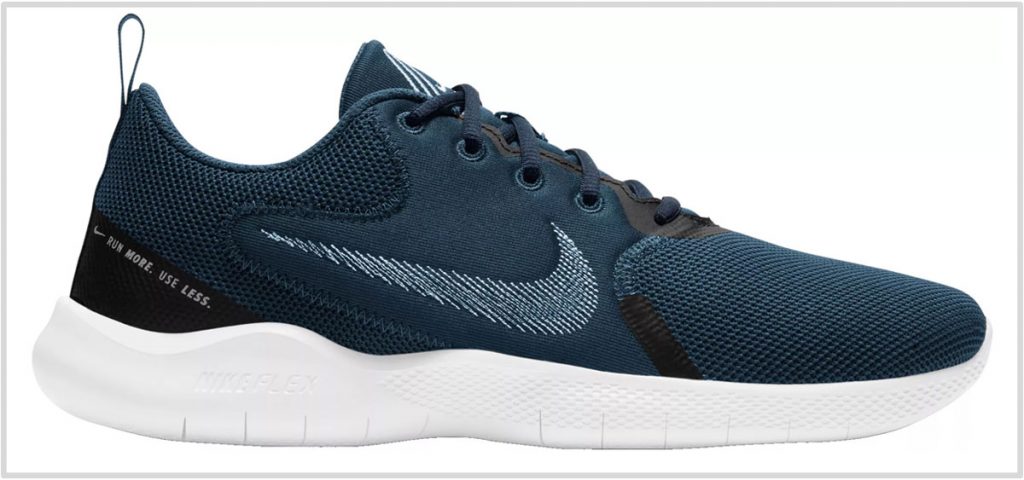 Think of the Flex Experience RN 10 as a stripped-down version of the Free platform at an affordable price. This budget shoe is priced at $65, but there's usually a deal available – thus making it even more accessible.
However, the budget price isn't why the shoe features on this list. Its generously grooved foam midsole makes the ride cushioned and flexible. The low weight and pliable construction with a semi-collapsible heel create room for the more important things in your bags.
While it's not a shoe that one picks for hardcore speed and/or distance, it makes easy runs and urban walks very doable. The Flex Experience RN 10 is available in a variety of colors for style versatility.
6) On Cloud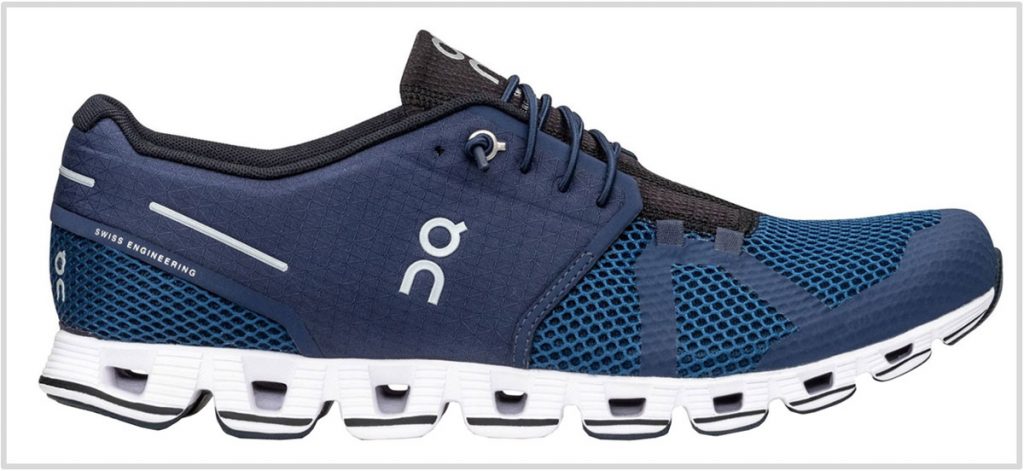 The On Cloud is a lightweight, do-it-all running shoe with a comfortable upper. Its elasticated cord-based lacing is great for frequent airport transits and the security checks that accompany them.
And even though the upper doesn't have a sock-like design, the gusseted tongue and stretch laces allow the ON Cloud to be used as a slip-on sneaker. The thick midfoot panels and fused toe-bumper provide ample protection.
The foam midsole has a colony of the trademark hollow chambers, making the ON Cloud great for short to medium-distance runs.
In the last few years, ON running shoes have acquired a casual and somewhat upmarket athleisure image, so that doesn't hurt either.
Also see: The ON Cloud Flow.
7) Saucony Kinvara 12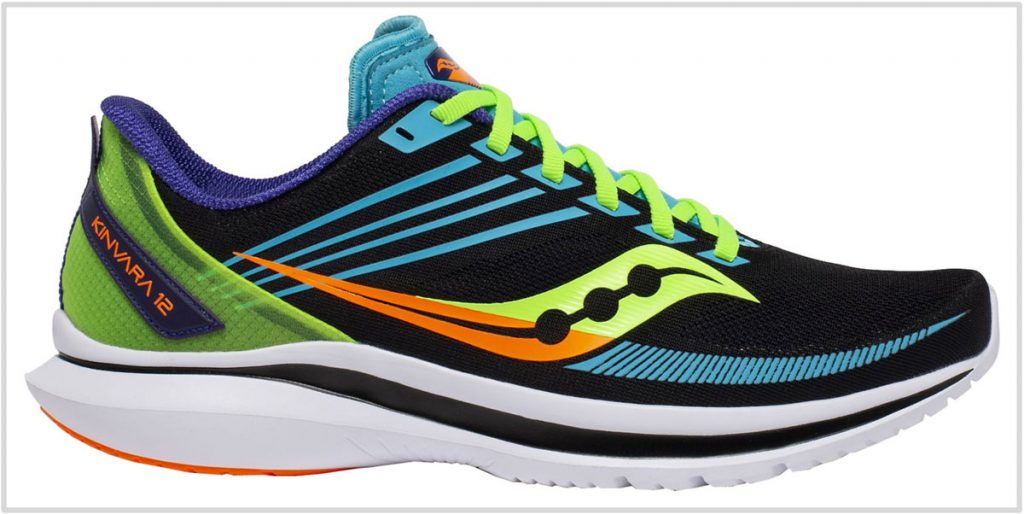 Not only is the Kinvara 12 lightweight enough for travel packing, but it's also a proper running shoe to do it all.
The EVA + E-TPU (topsole) midsole has enough comfort for serious runs and casual walks alike, and the breezy upper doesn't occupy a lot of room. The firm cushioning also makes it ideal for the gym environment, be it weight training or treadmill runs.
The soft upper materials and deconstructed build result in a very comfortable interior – regardless of how it's used. The heel counter isn't fully collapsible but it's close – Saucony uses a semi-stiff heel for easy wearing.
And like all the prior Kinvara versions, the V12 doesn't cost the earth. Its $110 retail price is very competitive considering the trim and spec level.
8) Altra Escalante 2.5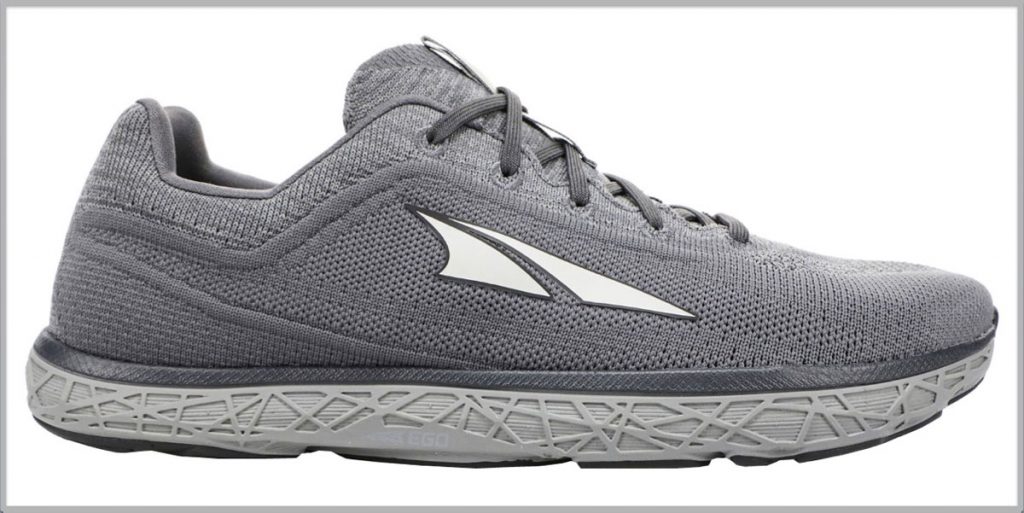 The knit, sock-like upper and the just-right cushioning of the zero-drop midsole are ingredients of a travel-friendly shoe. The 8.5 Oz/241 gram also keeps the weight of the bags low without taking up a lot of room.
The soft upper is semi-collapsible, so you can pack it almost flat. The 24 mm thick midsole doesn't add bulk; also, the 6 mm insole adds plenty of step-in softness for easy runs and casual use.
As a running shoe, the Escalante 2.5 is no slouch. Its medium-thickness midsole blends ride comfort with use-case versatility.
9) Skechers Ultra Flex 2.0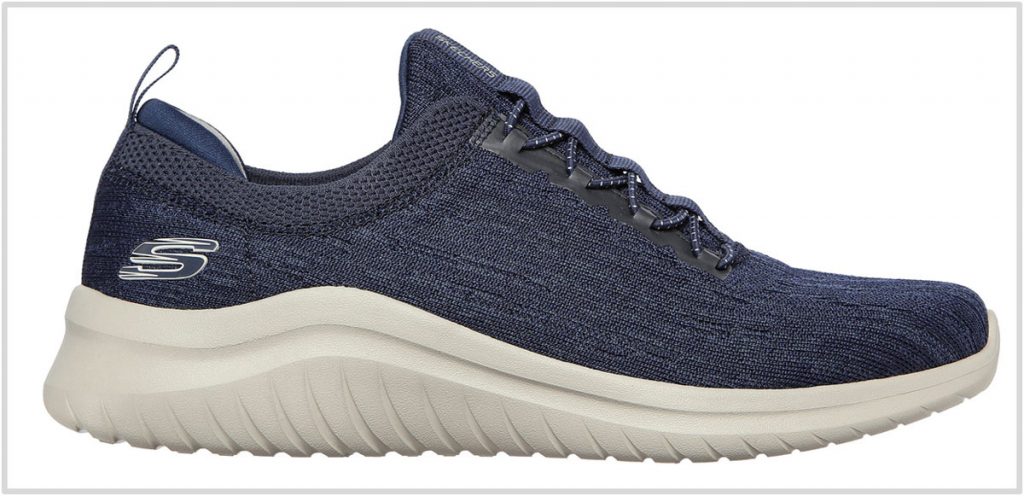 The Skechers Ultra Flex 2.0 is not a serious performance running shoe, but it's great for short runs, gym training, and everything in between. Its $65 price makes it an excellent budget choice as a travel shoe.
You get a flexible and cushioned midsole under a soft, true-to-size upper that doesn't occupy a lot of space inside your bag.