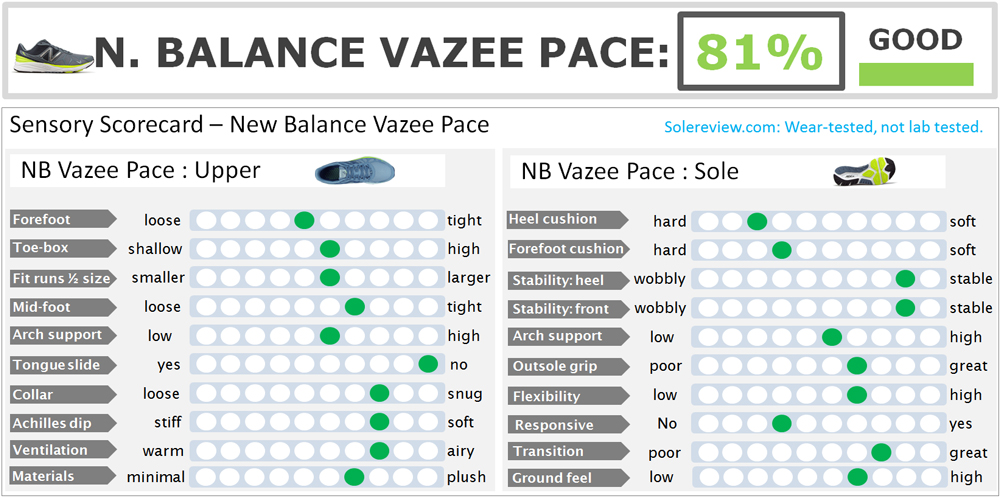 Color: Grey with hi-lite and dark grey.
New Balance's marketing pitch: Engineered for the relentless pursuit of faster.
Surfaces tested on: Road, ambient temperature of 21° C/70° F
Upper: Mesh, no-sew synthetic leather, urethane welding. Sleeved upper construction.
Midsole: Single density, compression molded foam. 6 mm heel to toe drop.
Outsole: Carbon rubber under heel, blown rubber under forefoot.
Weight: 255 gms/ 9 Oz for a half pair of Men's US11/UK 10.5/EUR 45/CM 29
Widths available: D - standard (reviewed), 2E-wide.
The Vazee Pace is a performance thoroughbred with a very specific purpose. It shines only under the ideal set of circumstances - which is when running fast.
New Balance Zante, NB1500 V1
Snappy transitions, spacious forefoot, lightweight
Laces too long, midsole under-arch pokes in over longer runs
Much of the mainstream media's attention is focused on three publicly traded sportswear giants – adidas, Nike and Underarmour. Ok, maybe skechers too till recently. Then the brand missed its sales forecast recently, which led to a stock price drop,  and suddenly became less of a media darling in the process.
The theme doesn't change. Which is how UnderArmour is a serious threat to Nike, and how the Baltimore based brand has eclipsed adidas's sale in north America, and so forth. There is a lot of merit in the reporting, given UA's aggressive outreach and growing sales along with their hiring spree of experienced talent.
And yet when it comes to running footwear, the true challenger to Nike and adidas is not Baltimore, but Boston. New Balance has quickly shed its image of a brand selling staid white sneakers, and metamorphosed into a running shoe brand embracing a fast and youthful product design. It has even gone as far to abandon its legacy numbering system, and now preferring to call its newest shoes by names and not numbers.
It doesn't stop there. New Balance has moved its operations into a glass and steel building which looks like a mediterrean cruise ship. A few weeks ago, it stole a march over Asics by taking over the sponsorship of the New York Marathon, and then some.
New Balance also announced its plan of footwear using 3D printed parts, though honestly that is more of a marketing gimmick than anything else. 3D printing has been used in the footwear industry since the mid-nineties; the only difference being that it was always used internally for rapid prototyping. Brands have had the capability of printing flexible shoe parts for nearly a decade now.
So nothing new with consumer facing 3D printed footwear products, and it offers little benefit to the user except for the customization part. 3D printed parts are difficult to scale, expensive, and heavy – the latter being the reason why adidas's and NB's 3D printed concepts have generously perforated/latticed midsoles, designed to shed weight.
But for whatever it's worth – New Balance's relatively bold steps signals the brand's renewed focus.
So if adidas's and Nike have a running brand to worry about, it is New Balance, and not UnderArmour. Running footwear is the largest category after lifestyle and basketball, so New Balance's push has the potential to bite a huge chunk of the performance running market.
UA has a couple of hits, but there is a difference between compression apparel and running footwear. UA had the first mover advantage in compression apparel (which was a gateway into its now strong apparel business); it does not have the same leverage in the hard-to-crack running shoe market.
New Balance's 'fresh' beginnings kicked-off with the original Fresh Foam, which was somewhat of a letdown given its firm ride, but nonetheless provided a glimpse of New Balance's grander ambitions.
Soon after, the superlative Zante made its debut, followed by the Boracay, which was an improved 980. And then, there was this perfection of a shoe called the 1500 v1, which was the sum of all footwear design best practices rolled into one.
The Vazee line-up arrived late this summer, with the tri-pack of Vazee Pace, Rush and Coast. We have little idea on how the Rush and Coast rides, but after putting on some early miles in the Vazee Pace, we have a fair idea of its place in the New Balance playbook.