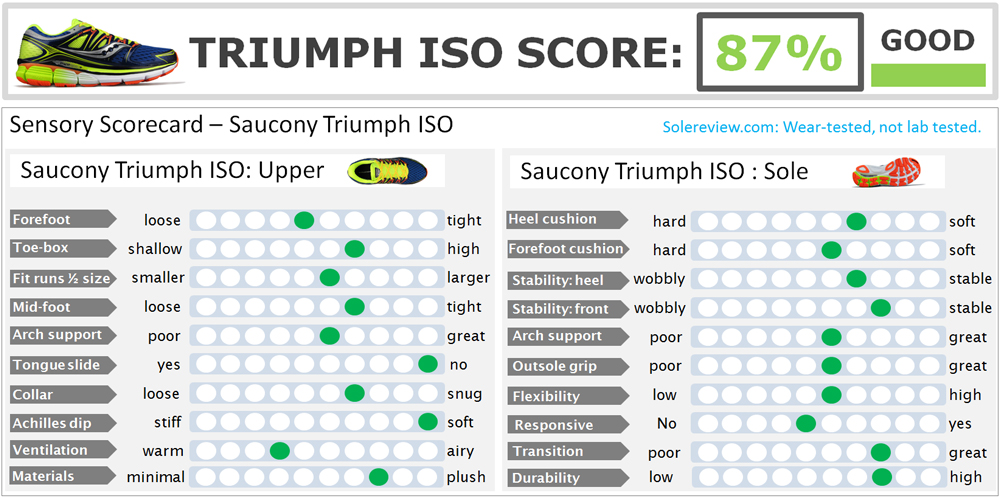 Color: Blue/Citron/Vizi Orange
Saucony's marketing pitch: Plushest, most cushioned experience they've ever created.
Surfaces tested on: Road, ambient temperatures of 21° C/70° F
Upper: Mesh, synthetic leather, fused overlays, molded plastic counter.
Midsole: Combination of compression and injection molded dual-density EVA foam. 8mm heel drop.
Outsole: Carbon rubber in heel, blown rubber under forefoot.
Weight: 318 gms/ 11.2 Oz for a half pair of US11/UK10/EUR 45
Widths available: Regular (reviewed), Wide.
Saucony's premium neutral trainer goes through sweeping design changes, most of it taking place on the upper. The Triumph ISO has an excellent upper fit, yet it is not as cushioned and plush as one would expect it to be.
Saucony Ride 7, Nike Pegasus 31, Hoka Clifton
Upper fit, plush materials, reflectivity, stability, transition
Finish quality, tongue could be longer
Recently, brands seem to have snapped out of their temporary phase of design inertia, churning out model updates with a newfound ferocity. adidas continues to build on the Boost momentum, Nike's doing their thing with the new Pegasus/Structure/Lunarglide and Flyknits; and Brooks has thrown some of their older ideas out of the room, for better or worse. Ok, same-old, same-old Asics is an exception, but come next year, and many of their shoes will follow in industry footsteps.
Hoka, a goofy sounding brand from Europe continues to disrupt the status quo with a huge cushioning lever, greatly influencing the state of affairs in the running shoe game. It's an European redux in a way, with memories of Vibram taking the minimalist lead not very long ago.
Saucony is upping its ante too. Ride 7, a $120 cushioned neutral was impressive, finding favors with many. Their Kinvaras are going strong too, the latest refresh increasing cushioning levels of the low drop offering. Just a month ago, Saucony released the latest version of the Triumph following a period of  low key PR and pre-release teaser campaigns. The marque technology is the new 'ISOFIT' construction, along with claimed enhancements to its cushioning platform.
Shoe reviews are fun to do when there's a lot to talk about, and the new Triumph ISO doesn't disappoint. The last version we reviewed was the Triumph 9 a few years ago, and we weren't particularly impressed. It was a good shoe, no doubt, but somehow it didn't work out in our case. Compared to the 2011 version, the new shoe is a thorough reworking from ground up.
It might be more helpful if we throw in a comparison with the best selling Ride 7. One might assume that ISO's $30 premium would automatically make it a better shoe, but as it turns out, things are never that simple. Sure, there are areas in which the Triumph 12 betters the $120 model, but then the Ride 7 comes packing some ammo of its own. However, this isn't the right place or time to dive deep into that discussion, we'd prefer to go over that once we're done with the ISO as a standalone shoe.
In its promo material, Saucony points out two areas where the Triumph ISO is supposed to excel in. There's this new upper fit system called the ISOFIT, a construction template which appears to be the way forward for their premium models. The second claim is enhanced cushioning, with Sock-a-nee saying things like 'the plushest, most cushioned Triumph ever created'. Does all this newness turn out to be as good as it sounds?
In one word, yes. The upper fit does what it sets out to do, and the new midsole is certainly cushioned, but with a caveat – an explanation of which would require the Ride 7 to be involved. And like most shoes, the Triumph ISO comes with areas for improvement, something which we'll talk about after the good news is done and dealt with.
Start from the top, and that shall be the ISOFIT upper. If one cuts through the flowery marketing jargons and strip down to fundamentals, it translates into floating synthetic side panels over an inner sleeve, with plenty of upper padding joining the party. We'll cover each component in detail in our expanded upper breakout.
Pass the lacing through these (four) independent eyelets, and that results in a secure midfoot lockdown – that is the basic premise of this design.
Triumph ISO uses a full mesh sleeve made of four different fabrics. The mesh on midfoot sides is a spongy spacer mesh with smooth lining. The midfoot panels are seam connected to the forefoot mesh, which is plush and padded with large pored structure.
Tongue center has a funnel shaped design, the top part being wide and then progressively becoming narrower towards the front. The reverse side of tongue has two lining meshes, a blue strip running along the center and another at the top.
The funnel shaped tongue has molded details on top, a treatment which you don't see often. Remove the lacing, and the text 'ISOFIT' is visibly molded on top, surrounded by other raised details. Collar and heel lining is built using the moisture wicking 'Rundry' fabric, which also forms part of the tongue. There's a liberal level of foam packing inside those collar walls, and more so at the back where the upper meets the Achilles tendon.
In a way, the Triumph ISO's tongue top and collar treatment is akin to the Kinvara 5, with common design cues.
External heel is reinforced with a transparent, molded plastic counter which is called the 'support frame'. The spacer mesh underlay is visible beneath, and makes for a neat visual effect. The molding lines on the support frame adds aesthetic dimension, and looks novel since there isn't much of a precedent in running shoes with transparent heel counters.
The 2008 adidas Megabounce had a transparent half-heel, but other than that, the only parallel could be found in the motorcycle boots. Racing shoes like the Sidi Vertigo Corsa came with transparent heel overlays. Of course, we're only talking aesthetics here, since functionally those shoes perform very differently.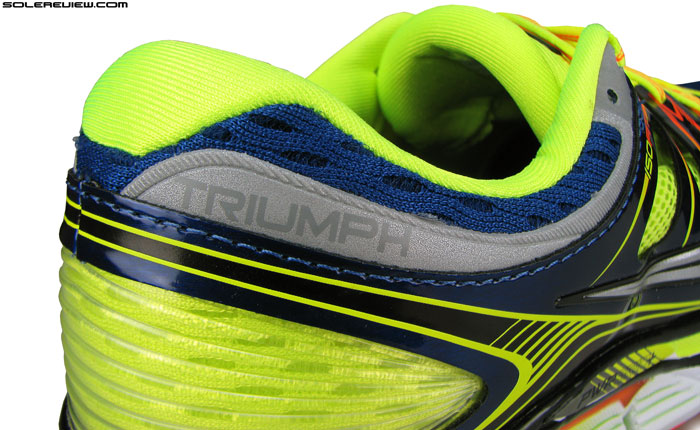 Top part of outside heel has the same mesh as the forefoot, creating an aesthetic tie-in and balance. Reflective strips are fused on this part, with branding callouts on the side.
A floating synthetic panel works in conjunction with the inner sleeve, both of which when combined, form the ISOFIT. Like we briefly explained earlier, the design is very simple, really. Two large panels of glossy synthetic leather rise up on either sides, and they split into four different 'fingers' which then connect to the laces. The V-shaped openings between these fingers allow each of the latter a freedom of movement, with the last part (near tongue top) having maximum leeway.
The idea is to have each of these section apply their own level of pressure, more localized than widespread. It also helps these sections sit flush over the tongue, connected by semi-elastic flat laces.
And this upper design works. The Triumph ISO upper wraps the mid-foot in padded excellence, and does so with the support and comfort expected of it. Pressure feels secure and consistent, with the molded tongue top making short work of lacing pressure.
If you're used to Nike shoes with inner sleeves, then it will be useful to know that the Triumph ISO differs in one important way. Base of the sleeve is attached close to the midsole edge, unlike a Lunarglide 6 execution, where the sleeve comes attached a bit distanced from the edges.
This has the ISOFIT achieve what we feel is a delicate balance between snug and relaxed, and we say this as a compliment. Forefoot is snug but you still have splay room, with the molded toe bumper not restricting movement in any way. And if you feel the need for more space, then an option of a wide fit is also available.
Toe box height has all the right dimensions, neither too shallow nor too high. There's open area around the toe tips, though some runners might feel the Triumph ISO sizing to run slightly smaller. And why is that so?
That would be the plush collar's doing. The neoprene like mesh packed with foam goodness provides superlative grip around the Achilles, but we suspect the extra padding nudges the foot forward, marginally reducing toe-box room.
From our experience, the ISO upper runs true to size, but still recommend potential buyers to first try and then decide sizing.
A slightly longer tongue would have been nice, for couple of reasons. One, if you end up using the last row of eyelets, doing so will have the laces end up on tip of the tongue. No slip was noticed due to the turned seam (bump) keeping the laces locked over, but a little more margin would have been comforting.
Two, a shorter tongue results in a padding gap between the collar and tongue, the consequence of which is a could-be-improved collar fit on the sides. In the existing arrangement, there's an absolute lack of insulation between the sock clad foot and lacing threaded through the last eyelet.
But when viewed as an overall sum of parts, the upper scores highly on important functional aspects such as snug lockdown and comfort. Also, Triumph ISO is a go when you want to run without socks.
There are a number of flat-lock seams inside the sleeve, but none get in the way. Saucony definitely has a win here with the new upper, and it will be great to see more of their shoes featuring ISOFIT.
Living upto its tag as a bigger brother to the Ride 7, the 2015 Triumph comes assembled with multiple areas of reflectivity. There're these two collar wraps which light up at night when the situation demands it, and a slender midsole overlay chips in too.
And like the Kinvara 5, the outsole also sports a visible strip, seen when light shines on it during motion. Our images above simulate how all of these bits look like at night.
Much is being said by Saucony about the Triumph ISO's cushioned ride. There's no denying the fact that stack heights have been beefed up; there's a 3 mm thickness increase in both rear and forefoot over previous generation Triumph 11. Midsole construction has a familiar look and feel, retaining the combination of a large primary midsole section, separate crash pad and a plastic stabilizer (called impact interface) over the lateral crash pad. What's missing is the plastic shank, which now has been replaced with a midsole foam fill – a trend seen in many running shoes, both within Saucony's line and outside it.
And you might not agree with what we're going to say next, but here it comes – the shoe actually rides firm. We're not saying that the shoe isn't cushioned; the Triumph is padded, but with an unmistakable firm undertone. Here's the thing – when brands say 'plushest' and 'most cushioned', it automatically sets up a virtual sparring match with a shoe like the Hoka Clifton. We also found the Saucony Ride 7 to run softer than the Triumph ISO, which to us was a genuine, unexpected surprise.
We wouldn't make a statement like that unless we were absolutely certain of the reason(s). For a clearer explanation, it is imperative that we bring the Ride 7 into the picture, so we'll do exactly that.
Triumph ISO claims to use 'Powergrid+' cushioning, and ironically this '+' version ends up being the biggest contributor to the relatively firm ride. For long, the Powergrid system has involved using a second layer of perforated foam between the strobel (insole) and midsole.
This made landings soft yet responsive, as the Grid layer compressed independently in relation to rest of the midsole. Even the Kinvara has it, although not in a full length version which the Ride 7 came with.
However, the Triumph ISO does not make use of the additional midsole layer. All it does is simply punch some square shaped depressions in the primary midsole layer, and that's that. Like we said, we are absolutely sure of this – and the image above is proof of that. Note how the 'Grid' is just a top texture, and is not another embed. We cut the strobel in a place where an injection molding screwhole is visible. The same material continues from top to bottom. Contrast this with the picture from inside a 2015 Guide 8, where you can actually see the grid as an independent overlay.
It isn't hard to guess what comes next from a ride perspective. There's no initial layer of cushioning or responsiveness, and whatever cushioning exists comes from the combination of foam compression, including one from the crash pad with mounted outsole pods, removable insole and last but not the least, the splaying of outsole. In contrast, the Ride 7 might not have the stack height of Triumph, but feels softer with better feedback. This behavior was noted both with the sockliner and without it.
And yes, the sockliner, that's another area. The Triumph ISO uses a slightly firmer (than Ride 7) insole, so that also adds to the firmness in ride. We don't think that the plastic 'impact interface' insert makes a difference. It is after all, only limited to the lateral fringe, and does not come directly under the foot.
So know that when Saucony says things like 'most cushioned and plushest', it is with reference to previous versions of Triumph. This is far from an industry standard for a cushioned ride, so expectations need to be managed.
We did not test last year's Triumph 11, but Saucony described the midsole to be 'made entirely of Powergrid'. We assume that the 2013 Triumph also came with the 'new' grid design.
Not sure why the older Powergrid disappeared on the newer Triumphs, it makes little sense. We also noticed that Saucony has sneakily changed the  earlier Powergrid graphic to this lean '+' version in all of their product descriptions. This (incorrectly) applies to even the ones which do not feature the '+' construction, like the Guide 8 and Ride 7 for example. This might indicate that future models might come only with the 'Powergrid+' version. Definitely a sign of cost cutting across.
Anyway, Saucony has strayed so far away from the original Powergrid concept, it's pointless to warrant a comparison. It's like Brooks pulling a 'SuperDNA' on some of their recent updates. This is what most brands do – start with a brand new technology and then water it down as the years go by. Nike Flywire is another stellar specimen of the said dilution.
Stability is great on the new Triumph, and so is transition. There's ample heel and forefoot flare, making for a solid base underfoot. The shoe also maintains a very neutral behavior, without excessive lateral bias.
The molded stabiliser over the lateral crash pad prevents the heel from leaning too much towards the outside. Heel to toe weight loading is smooth, with the full ground contact outsole doing its bit.
Outsole rubber placement is contemporary Saucony design. Blown rubber covers the forefoot area, and hard wearing carbon rubber protects the heel from accelerated wear.
The heel rubber is indeed hardy, as not much wear was seen even after multiple days of wear-testing the Triumph ISO.
Component fitting and finish is an area which could do with serious improvement. The reflective strips on the midsole and outsole were haphazardly stuck on, the component majorly misaligned with the groove it is supposed to sit flush with. Upper patterns on heel area are also out of place – see the image in which you can clearly see the lack of symmetry. This did not affect the fit, but certainly has the potential to influence in some cases. The black midsole paint is also flaky, already seen peeling off on the back part of heel.
Is it worth upgrading from a previous version of the Triumph? As far as cushioning is concerned, can't say for sure, because we haven't reviewed the T-11. However, upper updates are huge and for that reason alone, it might be worth considering buying the Triumph ISO.
What do we think of a Ride 7 to ISO upgrade? To answer that question, we'll simply lay out the facts and then the informed decision is for you to take. Triumph ISO's greatest strength is its upper, and performs much better over the tongue sliding Ride 7. That's what you get by paying $30 more. The ISO upper also looks striking, but that is purely a subjective play.
The Ride 7 does better on weight, coming in a full one ounce lower than the Triumph. It is also more ventilated, as the midfoot wrapping ISOFIT overlays makes the Triumph upper slightly warmer in comparison.
Don't get us wrong. The Triumph is a very good shoe with more than adequate cushioning, stability, and a visual beaut of an upper. It is just that it doesn't feel as immersive or engaging as it should. Ground feedback feels muffled by the extra stack heights, and after tasting blood on the Cliftons, the cushioning experience feels second rung.
The key to enjoying the new Triumph ISO lies in managing expectations.
(Disclaimer: For this review, solereview bought the shoe at full US retail price.)