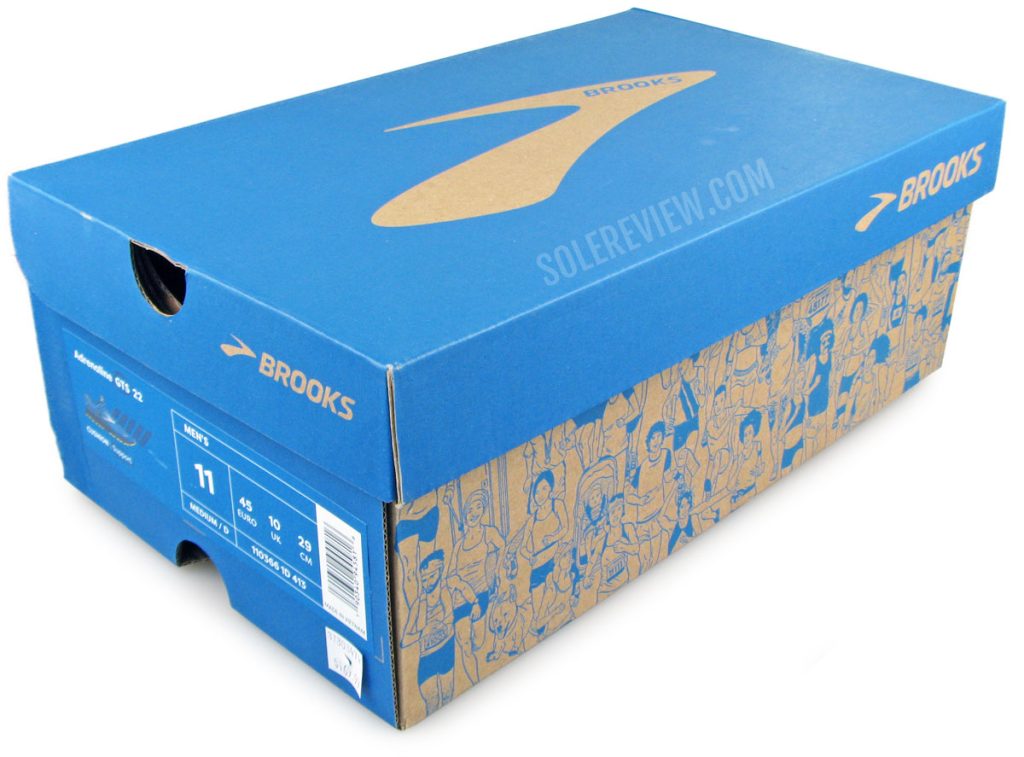 This article has been updated with current models for May 2022. The Inspire 17 has been replaced with its updated version.
Earlier this year, we wrote about running shoes with an 8-10 mm drop, and described this as the 'sweet spot' of heel-to-toe offsets.
Anybody who is not familiar with the running shoe industry will find this a bit odd. Because, if 0 mm is the lowest possible heel drop and 12 mm the unofficial high, then by logic, a 6 mm drop should be the middle ground.
While running shoes with a 6 mm drop exist (the New Balance Tempo is a good example), most runners see an 8 mm drop shoe as the Goldilocks zone of midsole gradients.
It's fair to say that psychology, not a cold number, dictates running shoe preferences. The same psychology also draws a line with 12 mm drop running shoes. Most people view a 12 mm offset as the mental cut-off; anything higher is a hard sell.
Before heel drops turned into a topic of conversation, a 12 mm heel-to-toe offset was the de facto standard.
Today, while a 12 mm drop is considered on the higher side, there's a lot of history behind it. Let's explore some of those reasons, and why a lot of them still matter today.
A 12 mm heel-to-toe drop makes running easier for beginners
Recreational running is a relatively new phenomenon. If someone wore a pair of running shoes (and shorts) and went for a jog in the early 1960s, people would have wondered if it was an unfortunate case of loose screws.
As a sport, running was limited to competitive events, and the general public had yet to embrace it. As time went by, running became popular as a general fitness activity. With that came a need for suitable footwear.
(Related read: The best books on shoes – these cover the history of shoes, and the evolution of the modern athletic shoe.)
Unlike competitive running that employed racing flats without any cushioning, everyday running shoes needed to be more comfortable. And it wasn't just about ride comfort, but also the need to make running less stressful on the musculoskeletal system.
It also helps to run uphill sections in a higher drop (but not necessarily a higher stack) shoe, as that alleviates pressure on the Achilles.
A higher heel-to-toe drop – which is the difference in thickness between the heel and forefoot midsole – reduces stress on the Achilles Tendon. This makes it easier for new runners to get comfortable while minimizing the risk of soreness.
That performance need hasn't changed today. A higher heel drop is a good starting point for new runners and less stressful for runners who are recovering from injuries.
A thicker heel was necessary to accommodate cushioning inserts
In the dawn of the running shoe industry, most midsoles were made of die-cut EVA foam with a slim base. The earliest foam materials were not very durable and flattened after a couple of hundred miles. The EVA midsoles were also not very comfortable either.
Eventually, the running shoe design evolved to include thicker Strobel-lasted midsoles and cushioning inserts like Brooks Hydroflow, Nike Air, Saucony Grid, and Reebok Hexalite. Further adjustments were made to include stability devices like medial posts and such.
In 2022, while serious running shoes do not have bulky cushioning inserts, one thing stays the same. Having a thicker heel makes rearfoot landings comfortable.
Rearfoot landing was – and is still – the preferred motion path
Despite the barefoot running movement and rise of running shoe minimalism that followed, a rearfoot landing continues to be the preferred foot-strike pattern. Don't take our word for it; there is plenty of epidemiological data to support it.
A thicker heel with a beveled design and cushioned midsole makes the rearfoot landings smooth and comfortable.
Solereview recommends: Brooks Ghost 14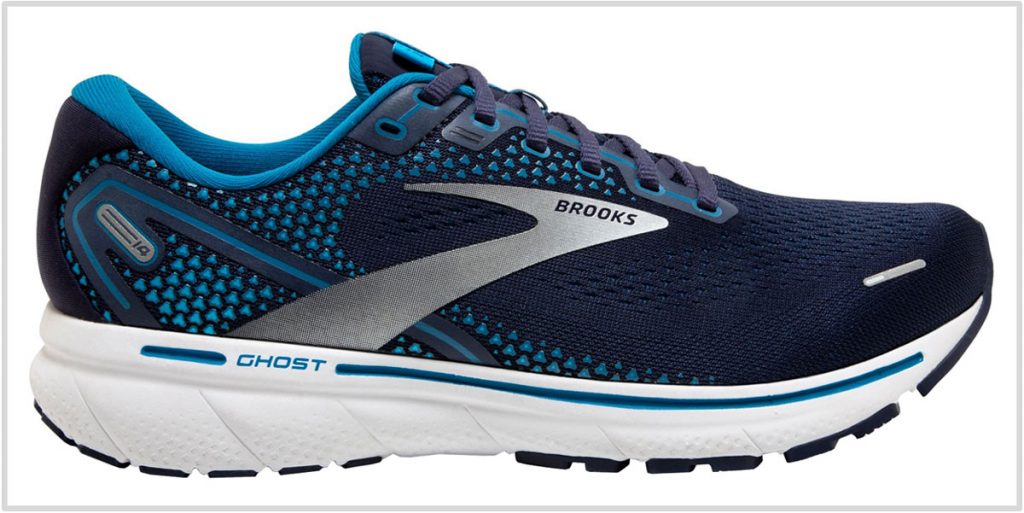 Though our guide contains many running shoes with a 12 mm heel-to-toe offset, the Brooks Ghost 14 is our top pick. The Ghost is one of Brooks's most popular running shoes, and it's easy to see why.
The single-density DNA Loft (an EVA foam blend, we presume) provides ample cushioning that's versatile enough to be used as a daily trainer or long-distance cruiser.
The soft upper is packed with comfort-oriented features like a smooth lining and padded heel. There are also multiple widths available, a wide choice of colors, and sizing that extends to a US 15.
Not to mention, the Ghost 14 is widely available at most retailers and geographies.
Interestingly, most running shoes with a 12 mm are sold by Brooks – the Seattle-based brand makes a clean sweep. On the other hand, adidas, Asics, New Balance, and Nike max out at 10 mm drops.
The only exception in New Balance's catalog would be the 840 V5 and 940V5, but they are blocky and traditional shoes rather than modern running shoes. Mizuno's Wave Rider 25 and Inspire 18 are both 12 mm drop running shoes.
Besides the Brooks Ghost 14, here are our other recommended running shoe with a 12 mm heel-to-toe offset.
1) Brooks Adrenaline GTS 22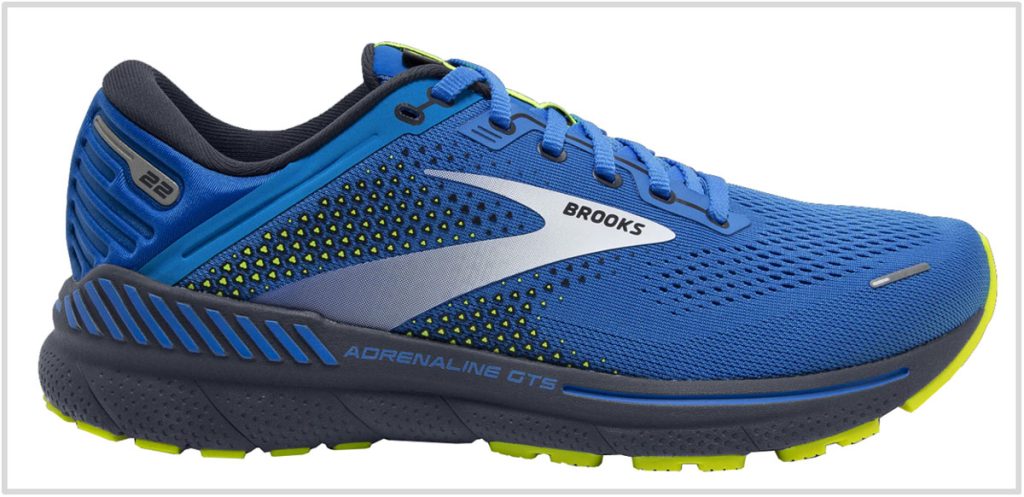 The Adrenaline is the stability version of the Ghost 14; its DNA Loft midsole offers a similar ride as the Ghost, but with one important difference. The midsole has raised sidewalls called 'Guiderails' that cup the foot on either side.
Do the Guiderail work? Like, as in affect the gait during runs? We highly doubt it. That being said, it does offer a cushioned and stable ride with a heightened sense of under-arch support.
Just like the Ghost, the GTS 22's upper is accommodating. It won't be a stretch to call it plush due to the use of spongy spacer mesh and foam-quilted heel.
We published an in-depth review of the GTS 22 earlier this year. Go on, read it. We know you want to.
2) Mizuno Wave Rider 25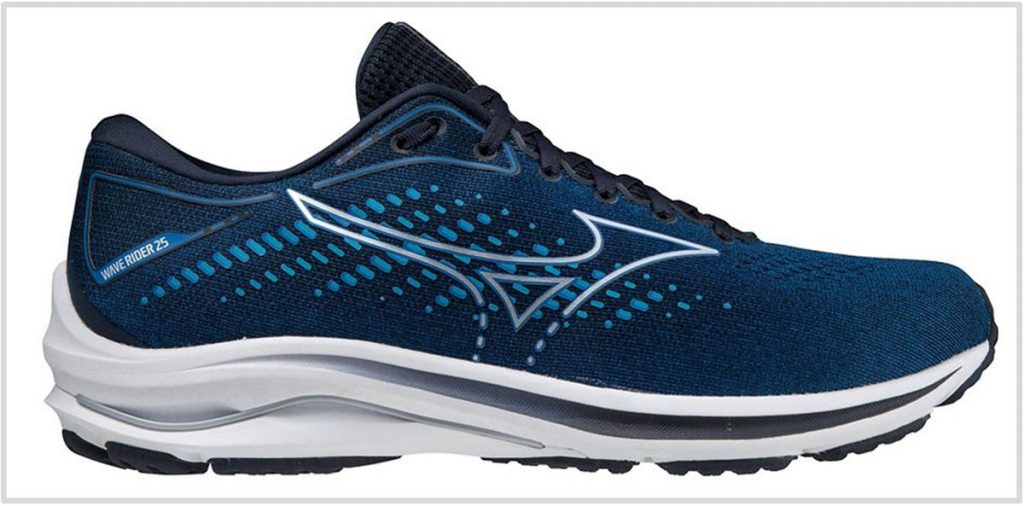 For a very long time, Mizuno catered exclusively to the crowd that loved the PEBAX plate-infused ride quality. A stiff PEBAX plate sandwiched within the foam midsole gives most Mizuno shoes – including the Rider 25 – a signature pop and stable ride.
Times have changed, and so has Mizuno. In 2022, the Wave Rider 25 still has the wavy plate but is a much softer shoe. The Wave plate is smaller and no longer forms the midfoot shank. The midsole foam is softer as well.
So even though the plate makes the Rider 25 stable and transition-friendly, the soft cushioning no longer needs a break-in period. The Mizuno Wave Rider 25 is an excellent alternative to the Brooks Ghost 14 if a firmer and slightly 'faster' ride is preferred.
The spacer mesh upper is mildly padded, so that creates a soft foot covering. There's an inner gusset too – a feature that was missing on the Wave Rider for a long time.
3) Brooks Trace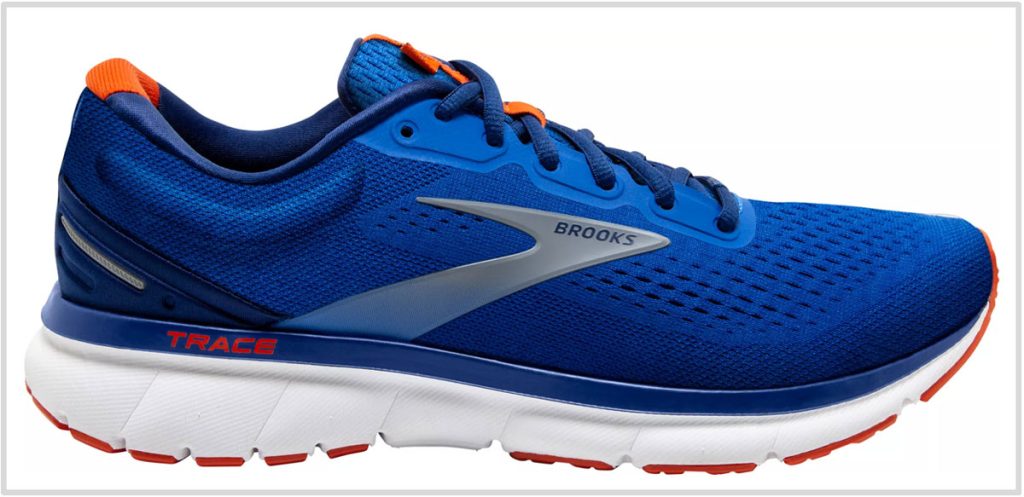 This $100 running shoe is the Brooks Ghost on a budget. Given its market positioning, the upper is a bit light on the details.
Nonetheless, all the necessary bits are present – like a breathable engineered mesh upper, padded heel, and a 6+1 row lacing setup. However, there are no optional widths.
The midsole uses a lower-tier foam tech called BioMogo DNA – an EVA foam blend that used to be the cushioning workhorse on the older versions of the Brooks Ghost.
At 8.9 ounces/252 grams, the Trace is fairly lightweight. This gives the midsole a surprisingly high level of versatility; use the Trace as a daily trainer or even a tempo trainer.
Also see: The Brooks Anthem 4 – an $85 running shoe with a 12 mm drop.
4) Mizuno Wave Inspire 18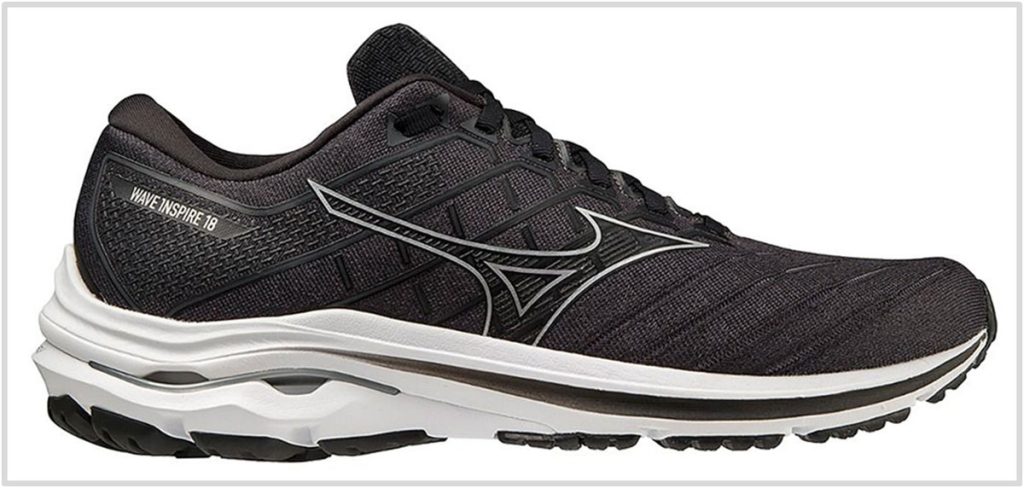 The Brooks Adrenaline GTS 22 is the 'stability' version of the Ghost. Similarly, the Mizuno Inspire 18 is the 'supportive' variant of the Wave Rider 25. But take that analogy with a grain of salt; the Inspire isn't all that different from the Rider.
Both the Rider and Inspire have a soft midsole with a stiff Wave plate under the heel.
The only difference is that the Inspire 18's plate is reinforced on the inner side to make it stiffer. The Inspire's upper also has more layering in the form of fused overlays and logos.
There's a striking parallel between the Saucony Guide 15 and Inspire 18, as both shoes use a higher level of upper layering to create a visual separation from their 'neutral' versions.
Everything else feels similar to the Rider 25, so the cushioning achieves the same result. The Inspire 18 is a stable running shoe that's good for everyday miles and slightly faster paces.
5) Brooks Addiction GTS 15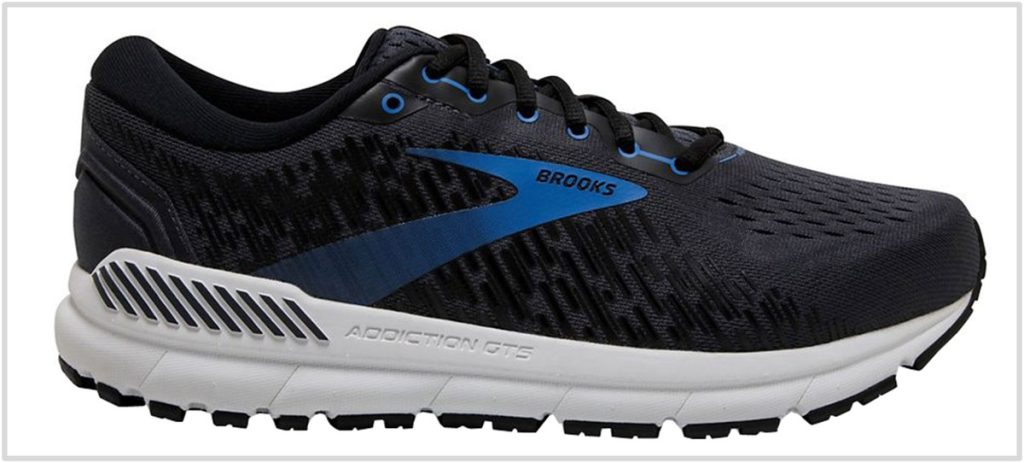 Even though the Addiction GTS 15 is a marked change from the Addiction 14, one feature stays constant – its 12 mm heel drop.
We'd classify the Addiction GTS as a walking shoe rather than a running shoe. The 12.2-ounce/346-gram weight makes it difficult for the Addiction to be taken seriously as a running shoe.
In return for its 12-ounce bulk, the Addiction GTS 15 offers an ultra-supportive midsole with a generous amount of cushioning. The GTS 15 has one important feature that the Addiction 14 did not have – the midsole has 'Guiderails' on its side for increased under-arch support.
The engineered mesh upper is soft, spacious, breathable, and sells in three additional sizing widths.
6) New Balance 940 V4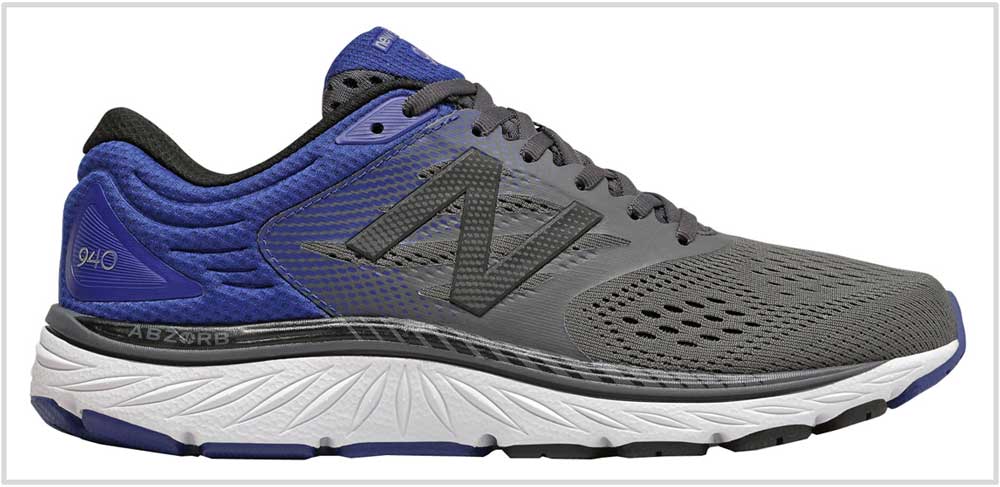 The New Balance 940V4 looks a bit dated due to the traditional stability shoe design, but it works. Its 12 mm drop is also a marker of footwear conventionalism, and so is the medial post and plastic midfoot shank. The 'T-Beam' footbridge is straight out of 2014.
As one expects, the ride is stable yet firm. The cushy insole and blown rubber outsole are the only layers of softness.
The upper fit is an improvement over the V3. The busy overlays have been replaced with fused layers to make the fit smoother and more accommodating.
Also see: New Balance 840V5.