This article has been updated with current models for November 2022. The Icebug Metro 2 BUGrip, Icebug Stavre BUGrip GTX, and Salomon Spikecross 5 are new additions. The Pajar Icepack Ice-gripper boot and Salomon Shelter Spikes CSWP have been removed.
Metal spikes, cleats, studs – call them what you will. Only cleats, not rubber, provide safe and non-slip traction on ice. We'll spend some time discussing the newer rubber outsoles that claim to grip on ice, and why those are (mostly) useless in real-world conditions.
When we say 'ice', we refer to hardened ice (black ice included) that often forms either after a period of freezing rain or other circumstances. It's important to make this distinction clear, because soft and slushy ice is nowhere as dangerous.
It's very common during winters for a heavy snowfall to be followed by warmer temperatures, and then back to freezing.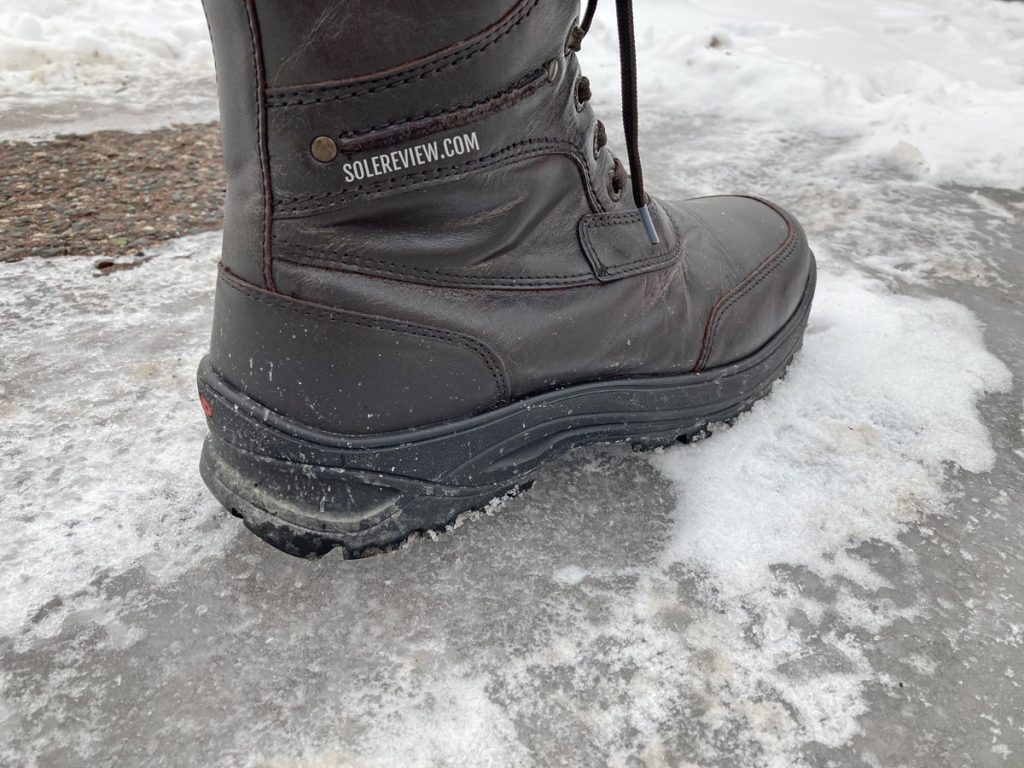 When that happens, all the puddles from the snow melt turn into solid ice, sometimes overnight. The following morning, commuters in the city or walkers on a trail find their shoes to offer no traction at all. Even shoes that are supposed to be 'non-slip' are ineffective on slippery ice.
Many studies show that slipping and falling over frozen surfaces lead to an increased incidence of injuries during winter. This makes choosing the right shoe very important.
The basic science behind how shoe outsoles grip
The level of friction (also known as the friction coefficient) between the two opposing surfaces is what determines how well (or not) the shoe will grip.
In short, if more force is required to push a certain object over a surface, that means that the object grips better.
The opposite is also true; something that's easy to slide over a surface has a lower grip. The overall friction depends on the material, contact area, and the force (weight) applied from the top.
Ever played Air Hockey at the local arcade? The flat puck slides effortlessly over the glossy surface when struck; a slab of Tofu or Steak will not. As you can see, the friction coefficient makes all the difference.
Winter car tires work on a similar principle. The softer winter compound doesn't harden in the cold, thus providing the necessary levels of traction and contact area.
However, shoes don't have the advantage that winter tires do. When walking or running on ice, there's only a small patch of the outsole that's in contact with the ground. And unlike a car, both feet are never in contact with the surface at the same time. And if we were to walk on all fours, that would improve the grip by a significant margin.
And that's why it becomes necessary to 'brute force' the grip on ice through spikes and cleats. That's the only reliable method of latching on to the frozen ground. While some aftermarket traction devices like the Yaktrax use coiled metal, the shoes on this guide only use spikes.
Now let's look at some examples of surface ice.
A few examples of icy surfaces
Believe it or not, on a relative scale of 'safe to hazardous', the picture above is an example of a 'safe' surface. This pavement has been salted to lower the freezing point of water, thus preventing the formation of slippery ice. That's why you'll see small puddles on a salted sidewalk, even on a very cold day. Most outsoles grip well on wet sidewalks, even foam ones.
A snow-ice slush isn't particularly dangerous if you know how to walk on them. The semi-solid surface crumbles when the weight is applied, thus providing adequate surface area for outsoles.
Here, most rubber soles (like the ones on Blundstone boots) grip well, as long as the outsole isn't completely smooth.
Now, we're getting into slip-and-fall territories. Flat, hardened road ice is akin to a bumpy skating rink, but with smoother ice. It gets worse on frozen slopes like icy driveways.
Here, most rubber outsoles effectively lose traction. Walking like a penguin – which is taking short steps with a fully-planted stride and lowering the center of gravity – minimizes the chances of falling.
Lastly, if we're talking about hikes and treks on ice, then it's crampons or nothing. For day hikes on iced-over trails that do not involve alpine climbing, short crampons with six points will do. A more aggressive crampon geometry with 8-10 points is needed for activities that involve climbing. This buyer's guide does not address those use cases.
A brief commentary on Vibram Arctic Grip rubber and similar technologies that claim to grip well on ice
Here's the lowdown. Please do not buy shoes with a Vibram Arctic Grip outsole (or similar tech) if you intend to use them on hard ice.
We're no strangers to shoes with an Arctic Grip outsole. On this site, we have reviewed a few shoes with an Arctic Grip outsole, and our opinion hasn't changed.
Vibram advertises its outsole as suitable for 'wet ice'. The rough sandpaper-like texture of the rubber lugs is supposed to increase the friction between the outsole and ice to improve the grip.
Now, 'wet ice' is not what most walkers and runners need to be worried about. They're more likely to slip and fall on hardened ice, like the kind that we showed you.
And unlike Vibram's marketing campaign that had people testing the outsole on a slope of wet ice with supporting handrails, there are no handrails on the slippery roads and pavements.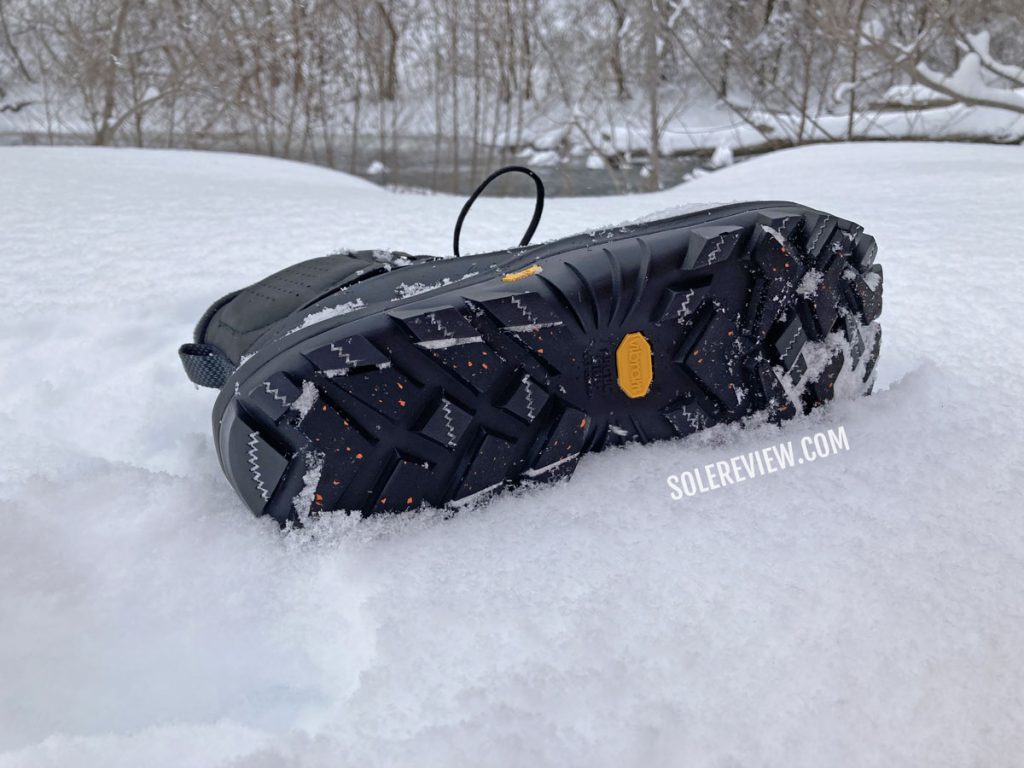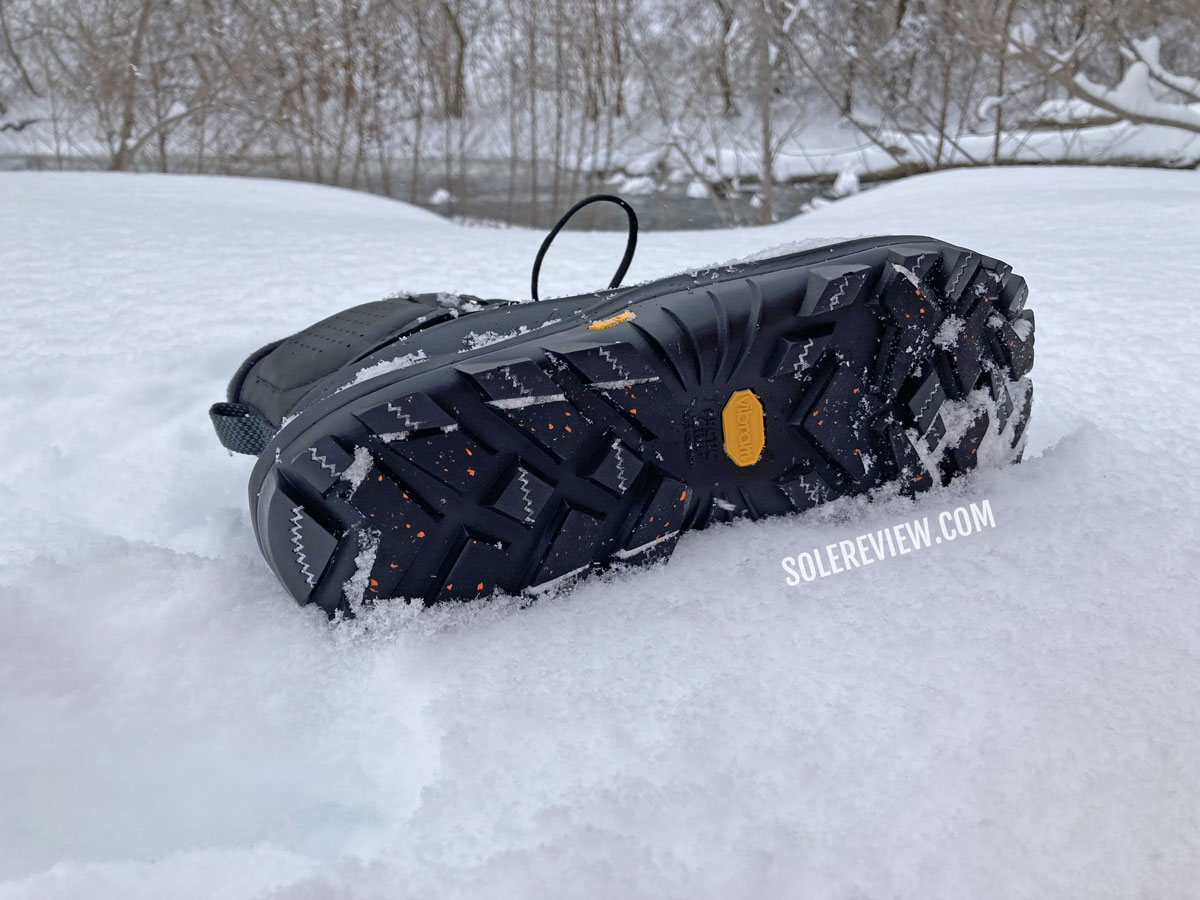 On these hazardous surfaces, the Vibram Arctic Ice rubber and its kind are ineffective. Brands like Keen and Dr. Martens market similar outsoles, and all of them are equally bad. They do not offer any slip resistance on black ice.
That being said, the grip of Vibram Arctic Ice on wet pavements is superlative.
Two kinds of studded outsoles for ice
Fully cleated outsoles are relatively easier to find. Salomon does an excellent job with the Speedcross, and the Swedish brand Icebug has built a vast collection of spike-tipped shoes.
Carbide-tipped steel spikes are embedded into the rubber outsole and placed under the forefoot and heel areas for traction. Our top pick here would be the Snowspike Climasalomon Waterproof – a shoe that we reviewed a few years ago.
Fully cleated shoes are the safest for walking on ice, and generally deliver decent levels of versatile traction on softer surfaces like slush and snow.
The biggest drawback with fixed studs is that they cannot be used indoors. Metal cleats grip very well over ice, but will slip on smooth surfaces as well as damage them.
The second group of shoes is somewhat hard to find. The outsole has retractable spikes for dual-purpose use – which means the shoes can be used on ice and indoors.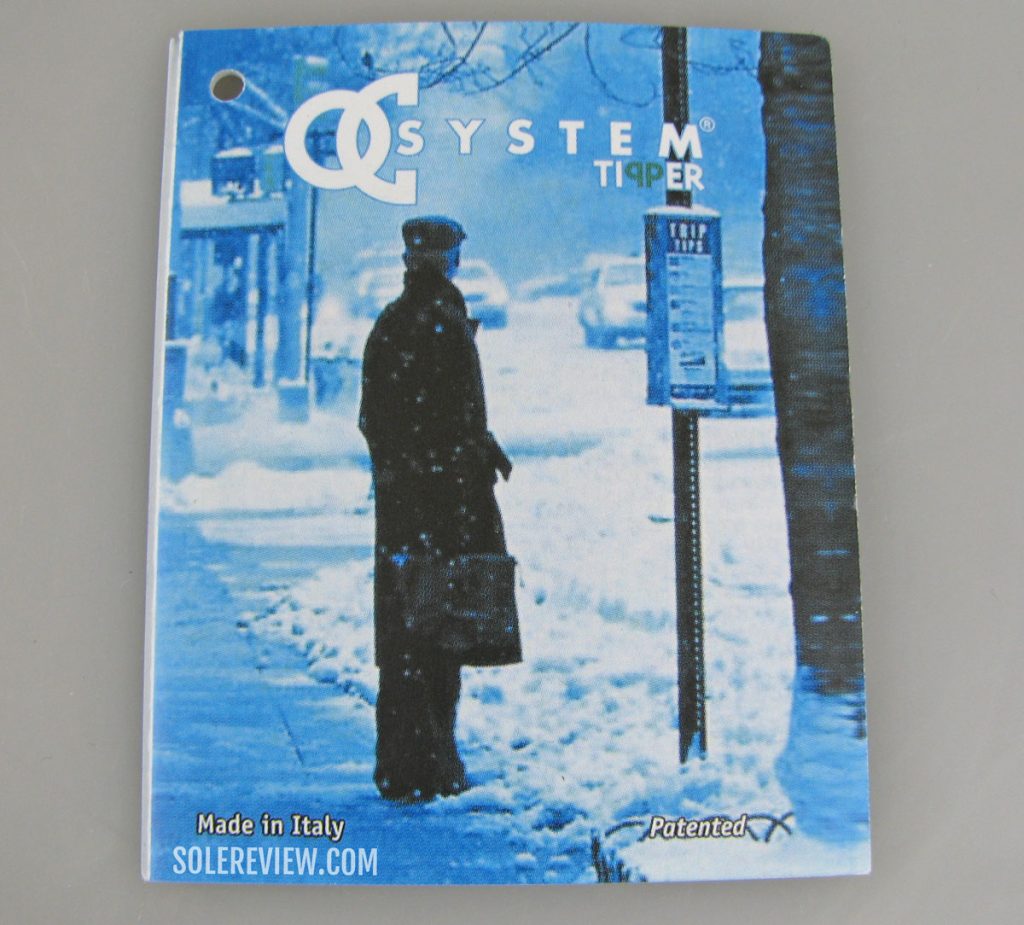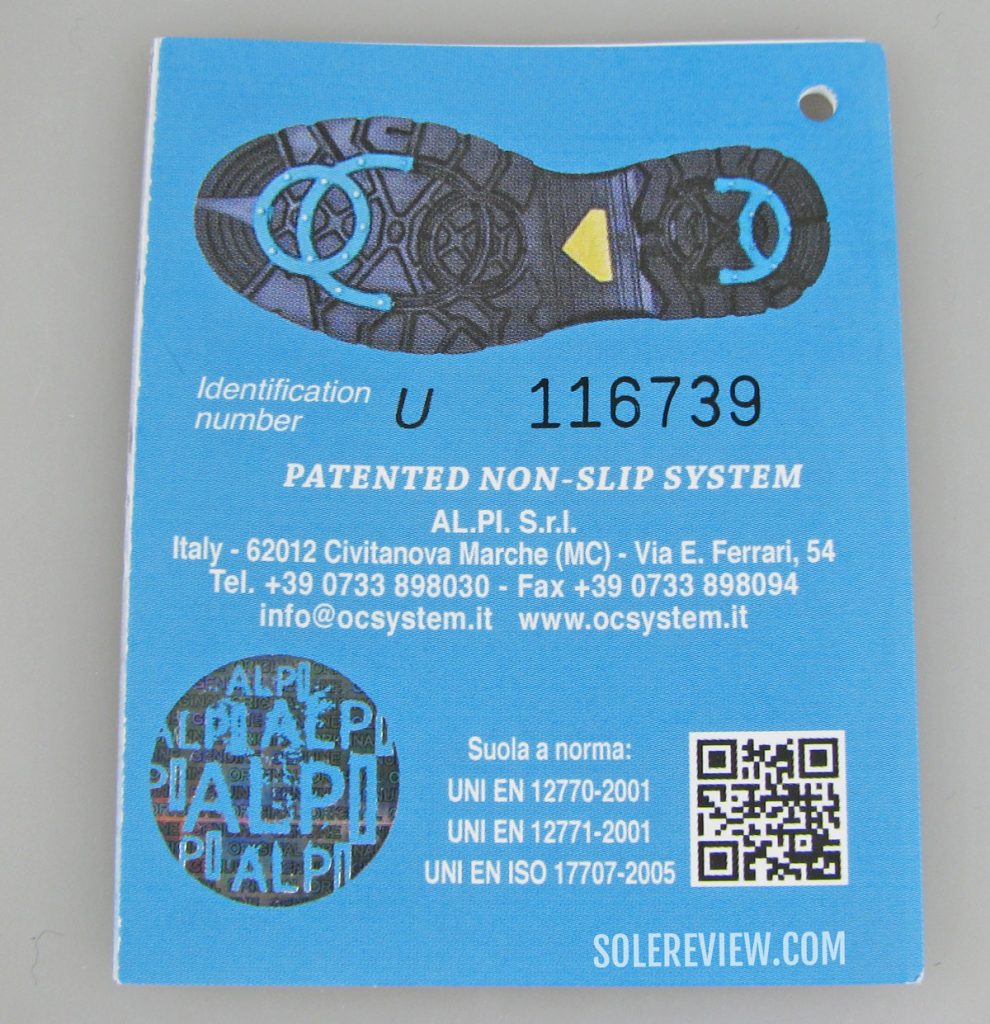 Based on our experience, only the 'OC system' outsole has a functional 'on-off' design that works as advertised.
The metal spikes are mounted on a hinged section made of TPU, and flipping the said hinge exposes them. When not needed, the spikes can be retracted into the rubber outsole. It's an interesting design that requires a 'key' to switch on the spike.
The OC system isn't without its share of compromises. The hinge mechanism takes up a lot of outsole real estate and makes the outsole 'flat' when the spikes are in a retracted position. The lack of deep lugs makes the outsole slippery on slush.
Pajar, the Canadian boot brand sells a wide assortment of boots with OC System. Naot – an Israeli shoe company – offers a couple of models as well, but Pajar does a much better job with the upper design.
Korkers also sells a few boots with an optional cleating system. However, unlike the OC system, the Korkers spike system is a separate component. So you're better off buying standalone traction devices so that they can be used with other shoes as well. We recommend the Kahtoola Exospike – a traction system that we use regularly.
Here are our recommended shoes and boots that deliver a reliable grip on ice.
1) Salomon Snowspike CSWP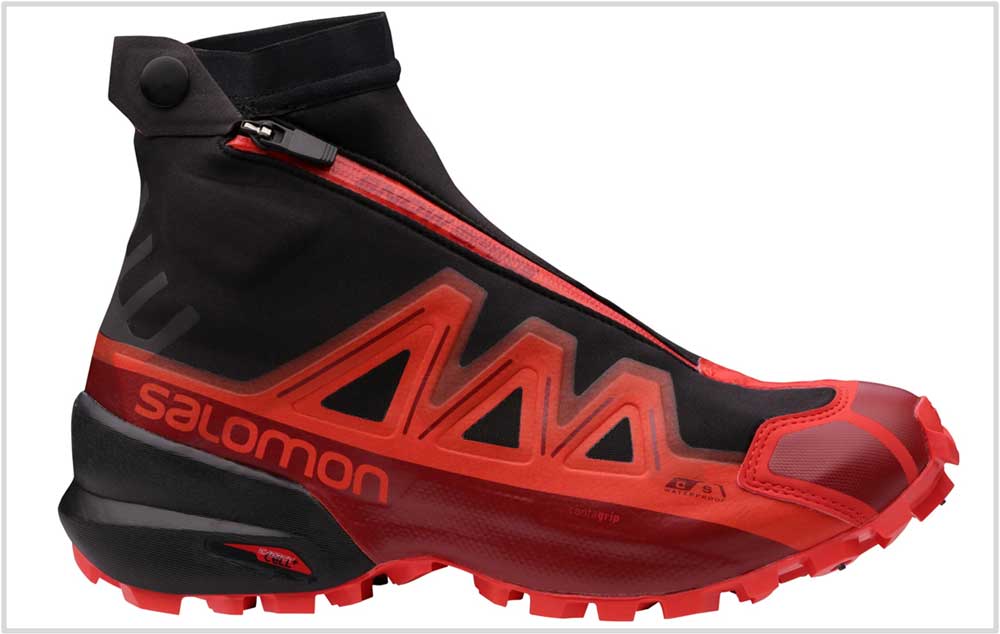 We reviewed the Snowspike two years ago, and we've yet to come across a cleated running shoe that gets so many things right.
The Contagrip outsole is fitted with a colony of Carbide-tipped lugs for confidence-inspiring traction on icy pavements and trails alike. Besides the metal spikes, the soft rubber sole grips well on wintery surfaces.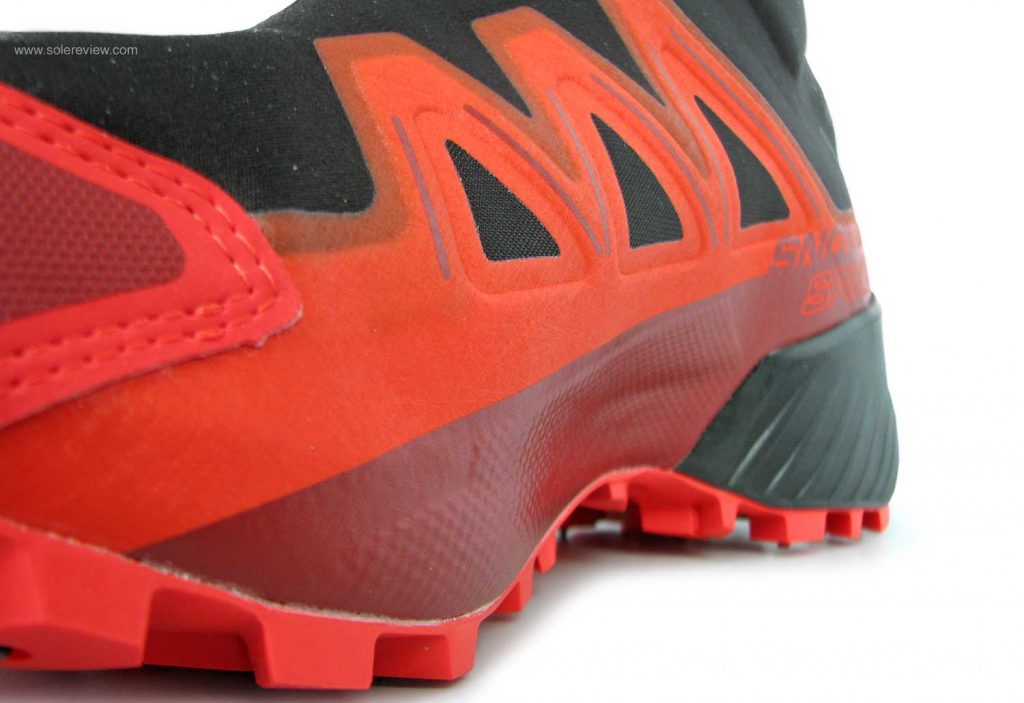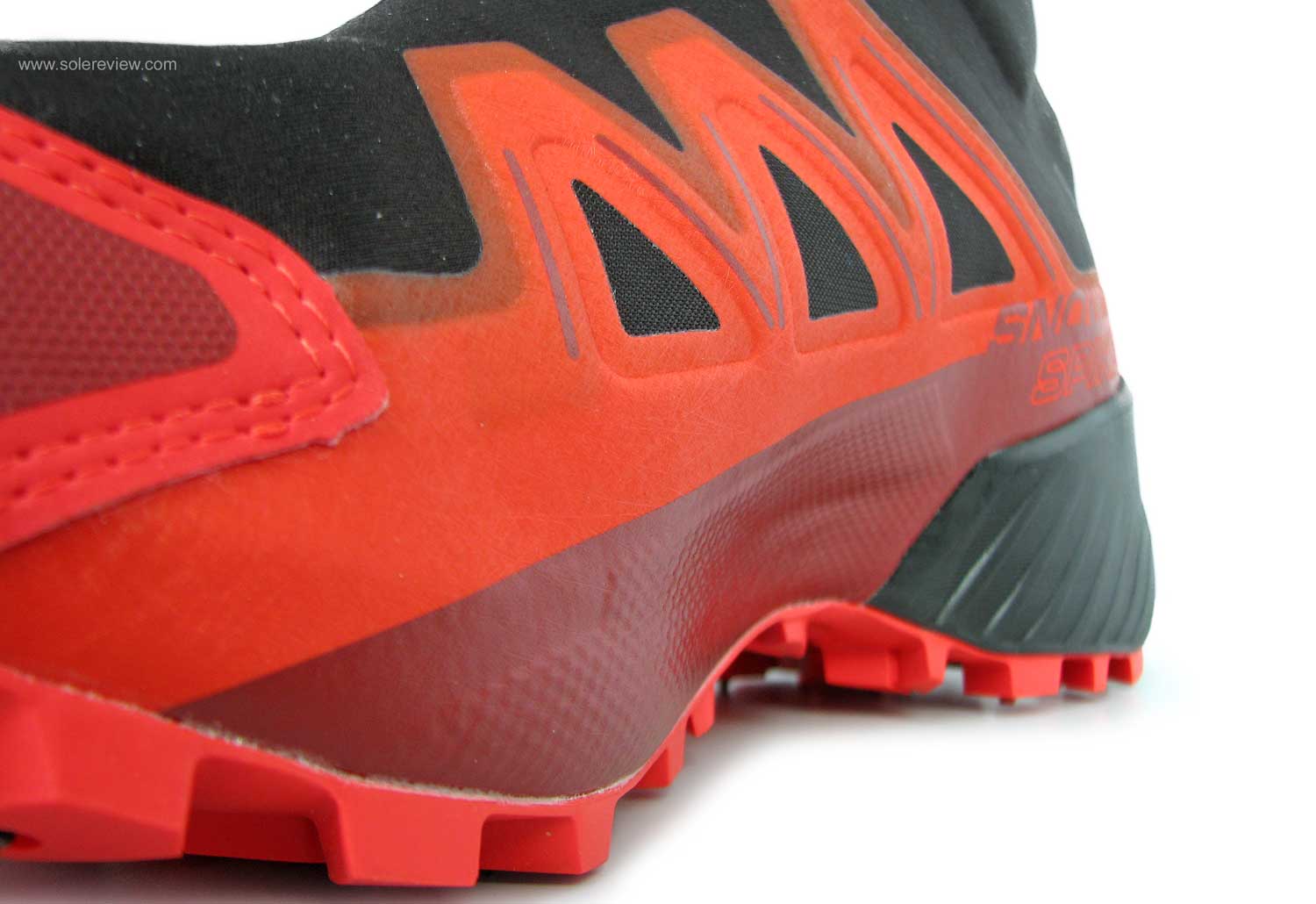 And it's not just about the ice-friendly outsole. The double-lasted midsole adds plenty of cushioning for high-mileage runs, and the foot is secured inside an inner shoe that's based on the Speedcross silhouette.
A zipped waterproof gaiter keeps the snow and water out.
2) IceBug Metro 2 BUGrip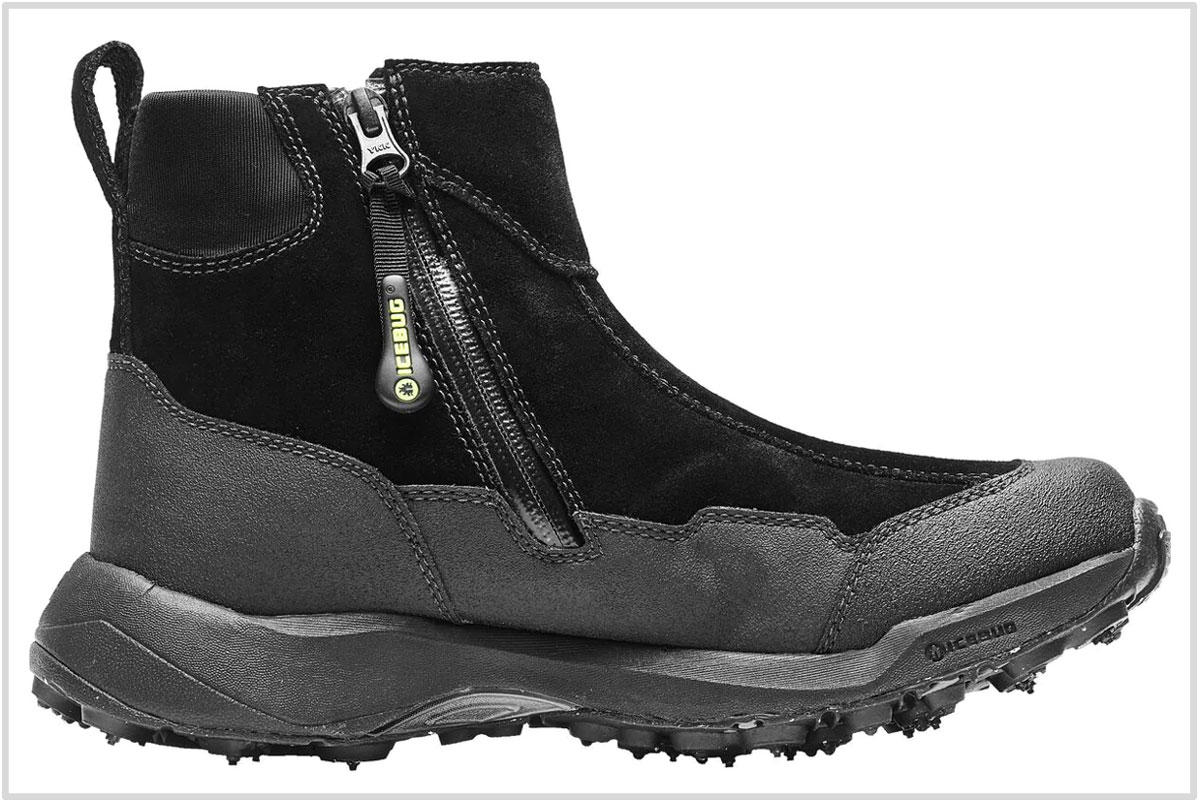 The Metro 2 BUGrip is a practical everyday boot for icy commutes. Its raison d'etre is, of course, the BUGrip outsole with 16 Carbide-tipped steel studs.
Between the outsole and zipped upper are an EVA midsole and Ortholite insole for walking comfort. The upper is easy to get in and out of, thanks to the side zipper entry. While the upper is made of water-repellent suede, the synthetic guards keep the slush and mud out.
When paired with woolen socks, the fleece-lined upper is warm enough for freezing winters.
Just know that there are two versions of the Metro 2 – one with the studded outsole and another with the non-spiked Michelin rubber. Make sure to order the studded version.
3) Icebug Hova Insulated Waterproof boots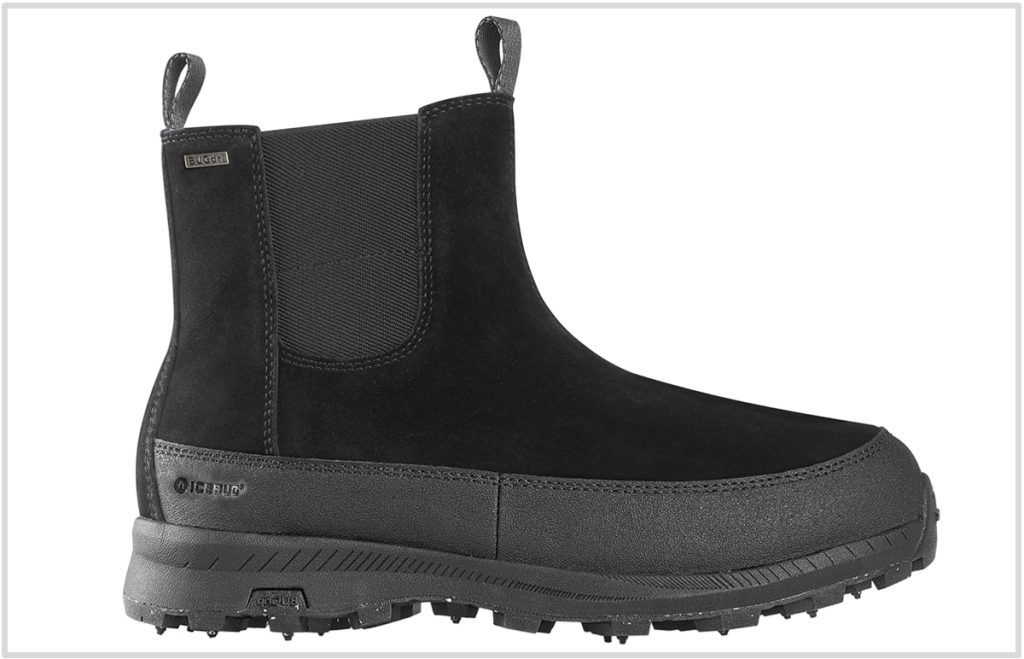 This is a proper winter Chelsea boot that is also rated up to -32 C (-25F). In real-world conditions, such shoes keep the insides warm till -20 C (-4F). That's cold enough for most winters, and low enough for surface ice to harden.
That's where the Hova boot's 16 spikes come in handy. The metal studs vastly reduce the chances of slipping on ice.
The ride and fit comfort is delivered by the Primaloft Bio insulated suede upper over a wool-topped footbed and EVA midsole.
4) Salomon Spikecross 5 GTX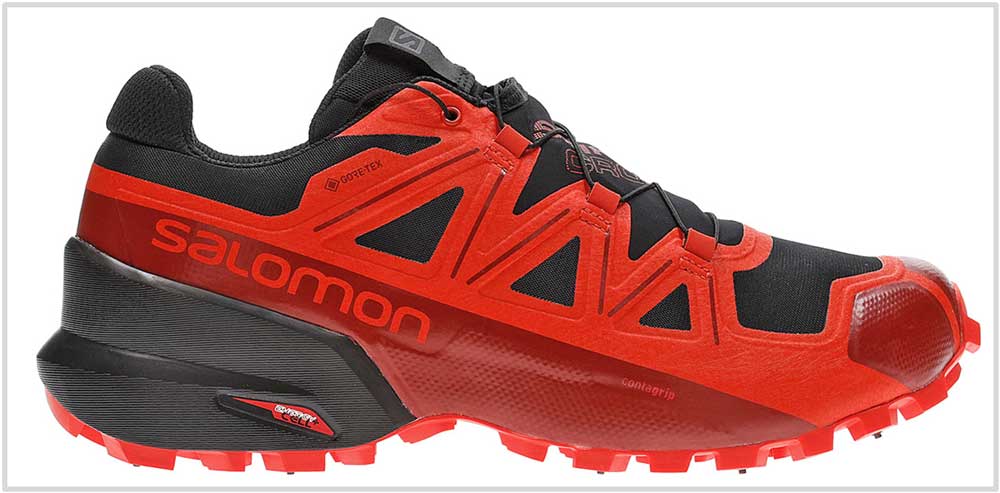 The Salomon Spikecross 5 GTX is the low-cut version of the Snowspike CSWP, so it's the same shoe but minus the zipper shroud. The upper also uses a Gore-Tex waterproof membrane instead of the ClimaSalomon Waterproofing on the mid-ankle model.

But except for these two differences, the Spikecross 5 GTX has the same sole unit. Like the Snowspike, the Spikecross 5's dozen Tungsten Carbide spikes over the grippy Contagrip rubber outsole make it ideal even for severe winter surface conditions.
The upper is borrowed from the Speedcross trail running shoe line-up, so it offers similar benefits. The cord lacing is easy to use even with gloved hands, and the layered upper keeps the slush out. The Speedcross upper uses a 'double-lasted' design for an extremely secure fit experience.
5) IceBug Stavre BUGrip GTX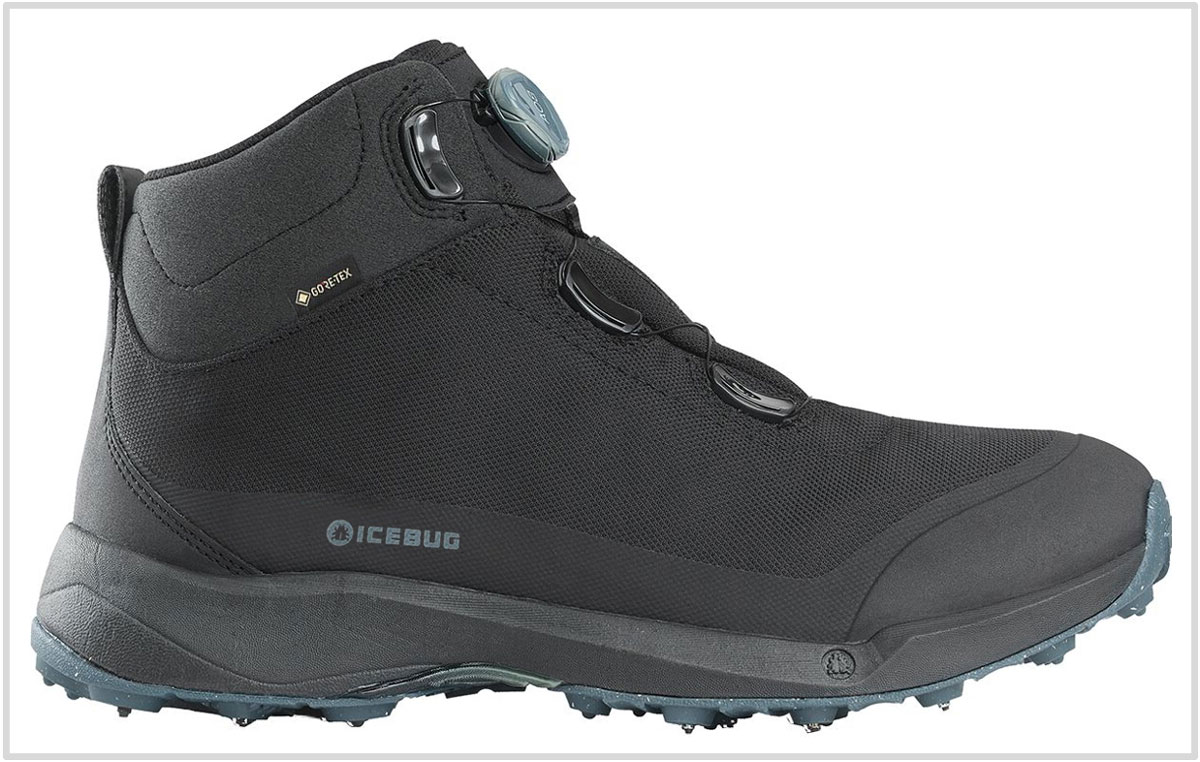 If your idea of a winter walk involves icy trails, the IceBug Stavre BUGrip is a better choice than the Metro 2 and Hova. Even though all three IceBug models share the same studded outsoles, the Stavre's upper has a few things that the Metro and Hova do not have.

The upper has a waterproof Gore-Tex membrane and a BOA lacing system. The BOA dial creates a more secure fit on hiking trails than urban boots, and the shoe can be fastened even with gloved hands.
The synthetic mesh and thinner mudguards also make the upper conforming and comfortable.
The Ortholite insole and compression-molded EVA midsole make the midsole comfortable enough for day hikes.
Note: There are two variants of the Stavre – one with the studded sole (BUGrip) and another without. (Michelin rubber)
6) Pajar Carson ice-gripper boot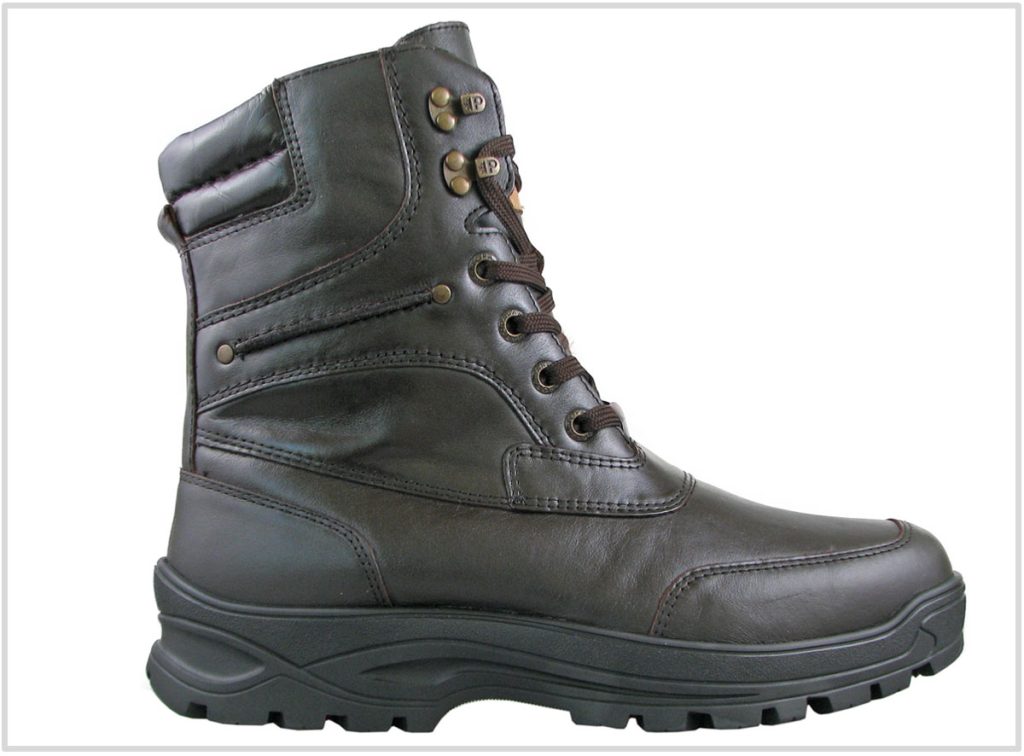 The Pajar Carson boot has a leather upper with genuine shearling. Even the removable insole uses Shearling fleece (not Sherpa or Merino), so the insides are extremely warm and comfortable.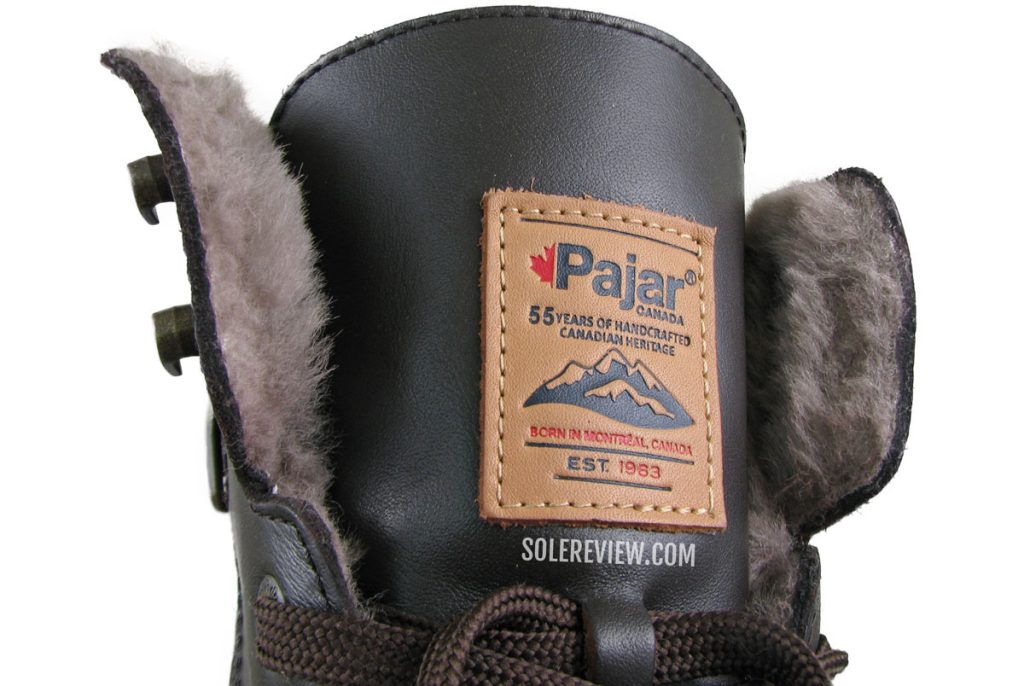 This is Pajar's top-of-the-line boot. Though its basic design is very rudimentary, it makes up through premium materials and North American manufacturing; the Carson boot is produced in Canada. The fit is large and sloppy, so we highly recommend trying them before buying, if that's possible.
The rubber outsole has OC System's patented ice-gripping system. Admittedly, finding the 'slot' for the provided metal key takes a while getting used to. Other than that, the changeovers are way easier than retrofitting a traction device.
Just remember to flip the outsole back to the non-cleated position when going indoors. On the 'flip' side, the outsole traction is poor on softer surfaces like slush and snow due to the flat outsole geometry.
Our detailed review of the Pajar Ice-gripper boot is here.
7) Icebug NewRun BUGrip Gore-Tex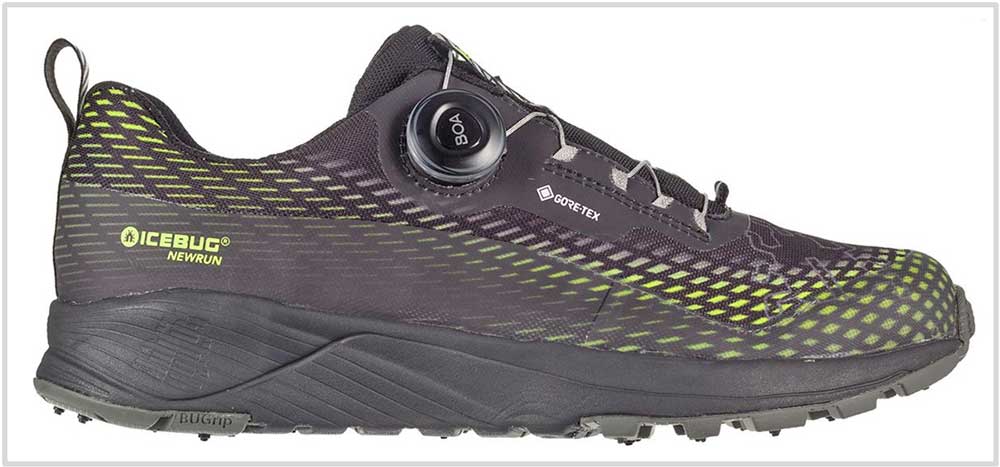 The NewRun BUGrip has been featured on and off on this website in our other buyer's guides.
It's not winterized or insulated, but uses a closed mesh upper that's also waterproof. With the right pair of running socks, the Icebug will work as a winter running shoe for up to -5 C ( 23F) or even slightly colder. The fused synthetic cladding also blocks the wind and moisture.
The Newrun's outsole is generously spiked – a total of 17 Carbide-tipped studs offer a reassuring grip on ice-covered roads and sidewalks.
An EVA foam midsole and Ortholite insole provide the ride comfort that's expected of a performance running shoe.