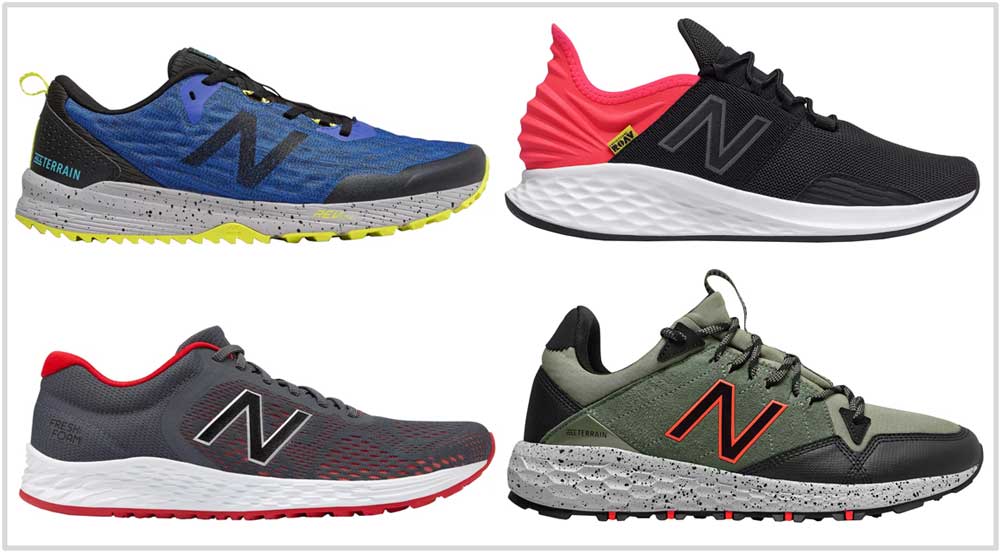 This article has been updated with current models for January 2020. We've removed the District Run and the 590V4 Trail.
The New Balance running shoe assortment is a lot more than skin deep.
If you scratch the surface made of the Fresh Foam and FuelCell collections, you'll discover many affordable products hiding in plain sight.
Here's a trend that we've observed over the last couple of years; New Balance is gradually phasing its numbered models into obsolescence and replacing that with a new generation of Fresh Foam-based footwear.
Also, modern 'athleisure' silhouettes are making their way into this price-segment. These shoes aren't meant for serious performance running but rather have a general, multi-purpose design intent.
You can, of course, use them for running as long as the workouts aren't demanding. During your downtime, these leisure-performance crossovers make for comfortable daily-wear footwear.
Within this buyer's guide, the Fresh Foam Roav is a good example.
Just like adidas, New Balance sells many trail running shoes below $100. There are a couple of models with Fresh Foam midsoles while the rest have a traditional build. What's interesting is that these are purpose-built trail shoes and not merely road-running models retrofitted with a knobby outsole.
Mind you, the following list includes only those New Balance shoes which have an MSRP of less than $100. There are many models which might have a healthy knock off their original retail price, and end up at a final price in double digits.
You can visit the New Balance website and go treasure-hunting yourself. You can also read our main guide to pick the New Balance shoe that's right for you.
Without further ado, here're our seven affordable picks sorted by category.
Category 1: Road and indoor running
1) New Balance Ventr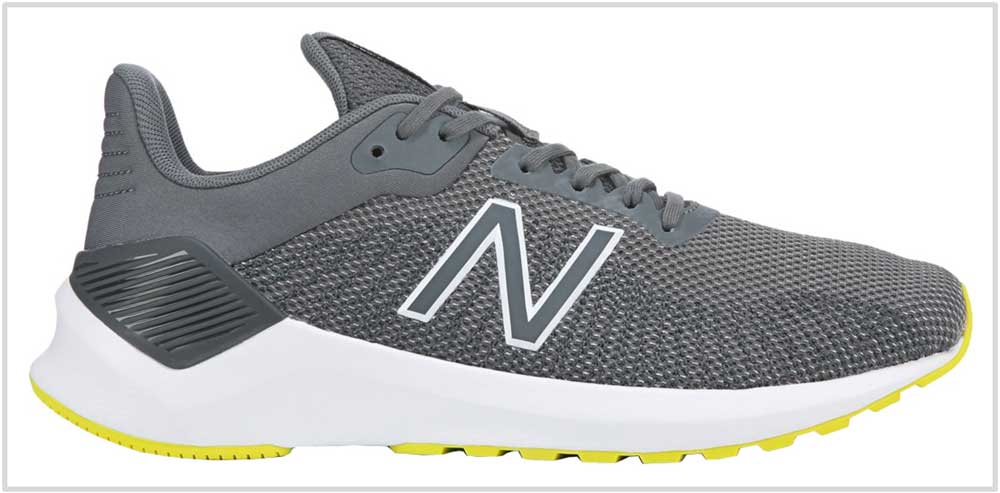 There's no Fresh Foam here. The Ventr is a basic running shoe that derives its cushioning from a single piece EVA foam midsole. A mostly-mesh upper has a snug fit and comes with a TPU heel clip for added stability.
For $65, the New Balance Ventr is a decent starter shoe that meets the bare minimum of cushioning and the upper fit requirements.
2) New Balance Fresh Foam Arishi V2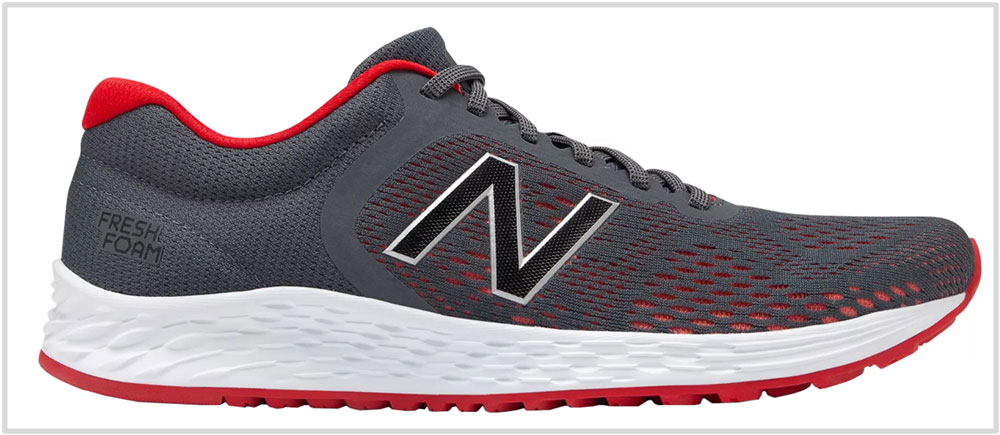 This is a no-frills neutral New Balance running shoe with a basic Fresh Foam midsole and a breathable engineered mesh upper. It even has a regular heel fit – just in case you don't like the molded heel of the recent Fresh Foam models.
The single-density, 8 mm drop midsole offers a smooth and moderately cushioned ride for most runs. At the same time, you won't find the softness of the more expensive Fresh Foam products; the Arishi has a firm cushioning that is vaguely reminiscent of the original 980.
3) New Balance 680V6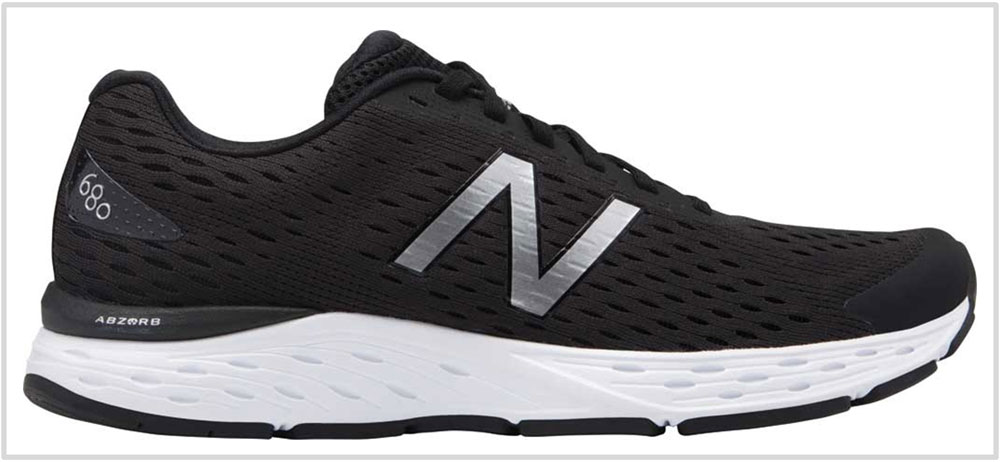 This is the only conventional road running shoe in this guide. It doesn't have a Fresh Foam midsole or an upper designed to attract Gen-X consumers. The 680V6 has a toned-down running shoe design with a dual-density midsole; the 680 has a softer Abzorb foam layer under the heel.
Though the upper uses a modern engineered mesh and a sleeve-less tongue, the synthetic toe-bumper and the regular heel is a reminder of how most running shoes once used to be. The interiors fit true to size and are comfortable enough for everyday wear.
The articulated outsole complements the EVA midsole to result in a cushioned yet supportive ride for daily runs. The 680V6 is good value at $75 retail.
4) New Balance Fresh Foam Roav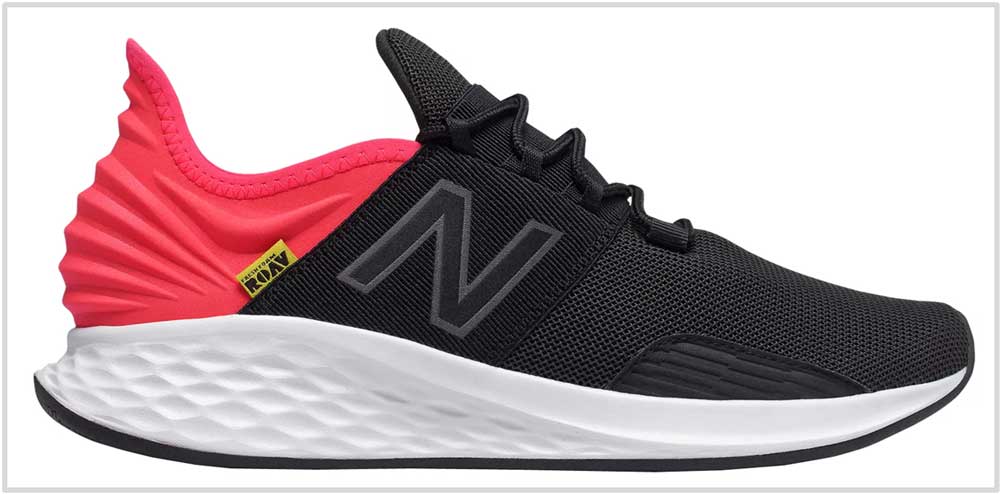 Be warned, this shoe is more daily style and less performance running. Though the full-length Fresh Foam midsole provides sufficient underfoot padding, the upper doesn't have the level of secure lock-down required for the more serious stuff.
The Origami-esque heel design doesn't grip as securely as it should, and the bootie midfoot fit with its stretch band has an easygoing nature.
As long as you're aware of the Fresh Foam Roav's limited performance range, it is a comfortable everyday trainer capable of mild athletic activity.
A 2E (wide) width is an optional purchase.
Category 2: Trail running shoes
1) New Balance Nitrel V3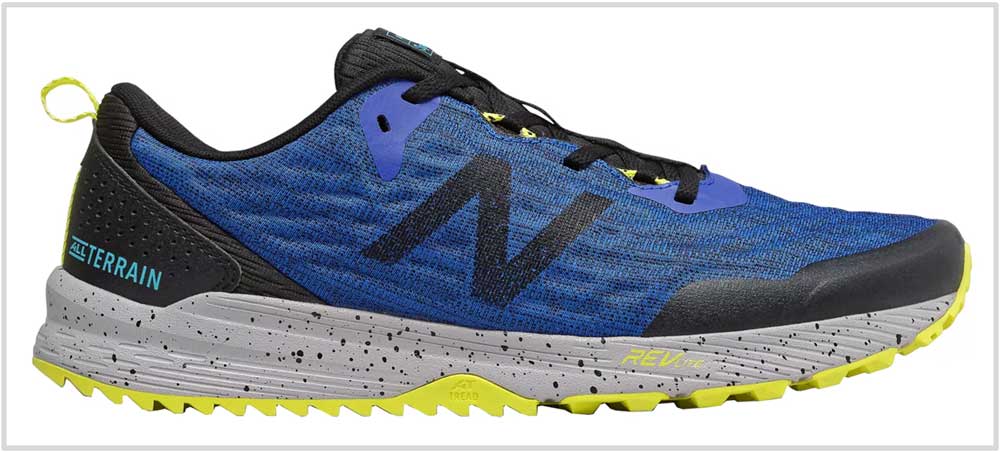 The Nitrel V3 is a crossover trail shoe that works on both asphalt and off-road. The Revlite midsole serves a dual-purpose; that of providing cushioning and protection from the outdoor running surface.
The molded mesh upper has a seamless interior feel with a reinforced forefoot for protection.
2) New Balance Fresh Foam Kaymin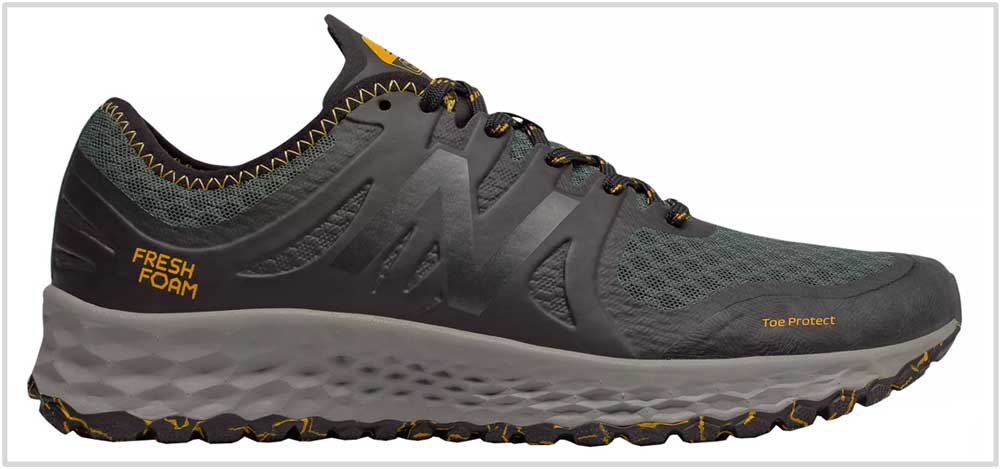 You have to give it to New Balance – this is a feature-rich trail shoe that is well worth its $75 price tag. The thick, protective Urethane layers protect the foot while outdoors. The upper has a secure fit, though the raw tongue flaps require a break-in period to soften up. The Kaymin TRL isn't a shoe you'd like to run sock-less in.
The 10 mm drop Fresh Foam midsole is padded enough for both the trail and road. Given its various functional bits, the Kaymin is a legit running shoe for non-technical trails.
3) New Balance Fresh Foam Crag Trail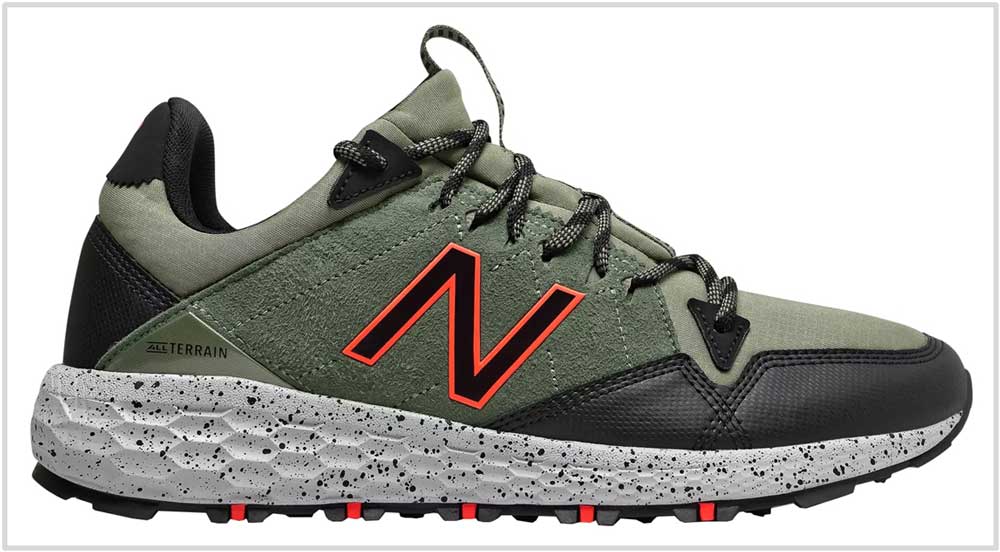 This is an interesting shoe with a few pros and cons. Let's start with the pros. The retro-outdoor theme with its angular upper patterns is a play on the '90s hiking boot aesthetic. The splattered midsole sidewall and the faux ripstop upper mesh makes the Fresh Foam Crag appear fashionable.
And that's what the Crag Trail is – an athleisure shoe with outdoor pretensions. That, by itself, isn't a bad thing. The outsole coverage and the thick midsole give you the underfoot protection you require but the upper functionality isn't worthy of serious trail runs. The bootie upper is hard to get in and out of and also makes the fit hard to customize.
We suggest giving the NitrelV3 or Kaymin TRL a go instead if you want something more trail-oriented at a sub-$100 price.